There's something about an Italian breakfast that just screams 'comfort.' These traditional Italian breakfast foods embody that for the most important meal of the day!
Maybe it's the warm, well-balanced flavors. Or maybe it's the seasonal ingredients like fresh fruit and the Italian love of good food.
Whatever it is, one thing's for sure. Having an assortment of Italian breakfast recipes in your back pocket for the first meal of the day is essential to living the good life. Luckily, you're here!
Let's dive into twenty-one of the best breakfast recipes and Italian meals hailing from the motherland of flavor: Italy.
What's the Most Popular Italian Breakfast?
A good place to start with a country's cuisine is usually by looking at what the locals eat the most. In the case of Italy, breakfast is typically a little lighter to make room for the larger meals in the day.
Think buttery pastries like an Italian croissant, Italian coffee, or a sweet treat like cookies; it's almost always sweet.
While this might be a little shock for anyone used to a savory meal first thing in the morning, it's rare to find savory Italian food on the menu around breakfast time in Italy.
That said, every family does their Italian breakfast table their way! The list of Italian cuisine recipes ahead is a wide range of potential Italian breakfast recipes, so go forth and explore!
It's time to put down the breakfast cereals and enjoy your morning coffee with this collection of Italian breakfast recipes.
Typical Italian Breakfast Recipes
Let's start with the most popular breakfast foods you'll likely find on a nonna's kitchen table. Made with love and care, each easy recipe is guaranteed to arm you with the nutrients to take on any day.
Source: lucismorsels.com
While French toast is usually sweet, this savory spin uses Italian flavors to spark your tastebuds. This savory breakfast is a great way to enjoy a healthy – yet indulgent – breakfast.
The best part is that French toast is quite easy to make. You only need an egg, herbs, and a high-quality type of bread to work. This is comforting, fragrant, and ideal for a Sunday morning.
Source: yummyaddiction.com
Pancakes have long been home to some of the world's most well-loved flavor combinations. This orange and ricotta cheese pancake recipe proves what good hosts pancakes are to great taste!
You can have a plate of luscious pancakes ready in just twenty minutes in the best way. That makes this hearty breakfast recipe so good for entertaining family and friends for brunch.
Source: threeolivesbranch.com
If you fancy yourself a breakfast master, this traditional breakfast recipe is essential to your cookbook.
Classic Italian flavors combine with a traditional English breakfast to make a perfect choice!
Imagine the buttery glaze of hollandaise sauce cut through with sweet balsamic vinegar. There's a reason this is a popular choice and restaurant favorite for Italian hotels.
Pair this with some fresh citrus fruit, an Italian pastry, and a double shot of espresso for a complete Italian culture breakfast.
Source: the-bella-vita.com
Lean into Italian tradition with this delicious example of a simple, sweet breakfast. Whether you need a quick start or a delicious end to the day, this lemon bread will serve you well.
The sweet bread itself is buttery and crumbly, with a light lemon tang. The glaze with a sweet flavor on top holds most of the lemon flavor, so you can control how strong you'd like it to be.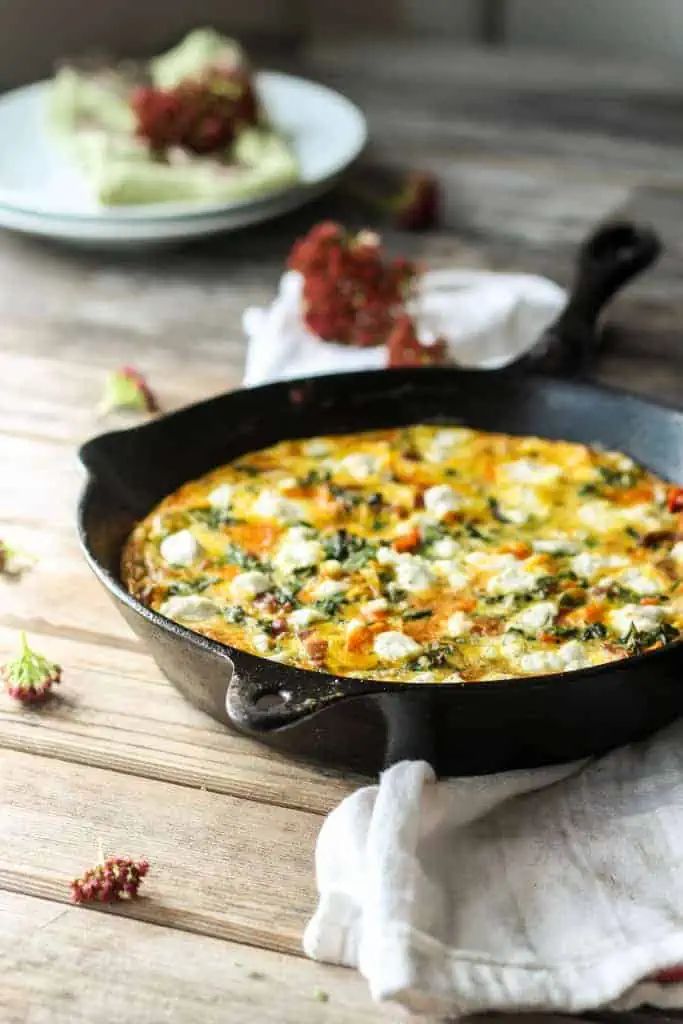 Source: coleycooks.com
A frittata might be the ultimate breakfast recipe if you are looking for savory options for a healthy breakfast.
Everything you need to get through your day is contained in a simple egg dish! The flavors, textures, and even looks are out of this world.
This super healthy frittata comes together in no time. One pan will easily feed a four-person family, and you can tweak the ingredients to suit everyone's tastes.
Source: cookingwithmammac.com
Zabaglione is traditionally an alcoholic dessert. But this version swaps out the booze for beans, adding a dose of much-needed espresso to your morning. It's sweet, creamy, and super smooth.
Best of all, this breakfast only uses two ingredients! Raw egg yolks and sugar cook gently together into the perfect custard. This is ideal for special occasions (or spooned over a cup of coffee).
Source: brunchandbatter.com
Never let leftover panettone go to waste! This bread pudding recipe gives excess panettone new life, using oranges, almonds, and tons of heavy cream to reawaken the leftovers.
Like all bread puddings, this proves that comfort can come in food form. The panettone base cranks up the flavor! Make your holidays something to remember with this delightful breakfast.
Source: theforkedspoon.com
Sneak some greens into your meals with this delicious broccoli frittata first thing in the morning. This is a great way to get your kids on the broccoli train, especially if they love eggs for breakfast!
The storm of Italian flavors hiding in every spoonful will distract them from the greenery.
Source: easyhomemaderecipes.ca
Ricotta is beautiful with citrus, so you can change out any form of citrus to enjoy the interplay of acidity and creaminess. This lemon and ricotta blend is the perfect filling for a pancake.
Serve them hot with a knob of butter and a handful of berries to complete the picture. This is sweet, fluffy, and rich. The perfect way to start a lazy Sunday!
Source: saporitokitchen.com
Take twenty minutes to create this family-friendly Italian classic. Kids and adults will love this fluffy, salty start to the day.
Pastina is a tiny type of pasta – any shape. When cooked with egg, it becomes fluffy, almost like scrambled eggs with cheese! Top with crispy prosciutto for the ultimate kickstarter.
Enjoy more egg recipes like this yummy cast iron breakfast skillet!
Source: lovefromthetable.com
Crank your toast up a notch with a smear of creamy ricotta. You can top this versatile ingredient with any fruit, so get creative! Top with a drizzle of honey for the best experience.
This is a crunchy, creamy, sweet, refreshing way to start the day.
You'll enjoy these other lovely healthy toast ideas for breakfast!
Source: healthyrecipes101.com
When we think of 'Italian breakfast,' many people think of bruschetta first! This refreshing recipe is perfect for a summer brunch.
You can easily feed many guests without spending hours in the kitchen. Pro tip: make sure you're using seasonal ingredients! That makes them taste their absolute best.
Italian Breakfast Pastries
Next, we're in the realm of pastry! It's a good place to be.
These Italian pastries are typical, especially in the city where cafes and bakeries run amok. Kick off your day with a spike of sugar and caffeine to be ready for whatever the world has waiting.
Source: tyberrymuch.com
Start your day with a delicate, buttery pastry topped with crunchy almonds. This is a crumbly pastry that goes beautifully with a cup of coffee.
This is an example of cozy holiday baking. The cake takes only twenty minutes of hands-on time. Then you have enough to feed a crowd of hungry holiday attendees.
This is also a wonderful option for taking a picnic or a potluck!
Source: barleyandsage.com
Biscotti is another perfect example of a classic Italian breakfast. They're small, sweet, crunchy, and heaven with a cup of coffee. If you're headed somewhere for breakfast, bring these with you!
Not only will they impress with their flavor, but they won't go stale in the time it takes to reach your destination. Perfect cookies without needing a hermetically sealed container? I call that a win.
These tasty biscottis are one of the best breakfast potluck ideas!
Source: tyberrymuch.com
Panettone is just one of those things many vegans feel they have to give up… but never fear!
This delicious recipe is soft, fluffy, and packed with all the little trimmings you expect from the genuine article. The lack of dairy doesn't hurt the flavor or texture of this tasty dessert.
So, you can serve this as your main event without worrying that non-vegans will complain. Trust me. They won't even know the difference.
Enjoy these other decadent vegan brunch recipes!
Source: knifeandpaddle.com
Zeppoles are Italy's answer to the donut hole, cranked up 500%. They're insanely light and fluffy, with an addictive cinnamon-sugar coating on the outside to add texture and flavor.
When you're celebrating something special, there's nothing better than a batch of zeppoles to get you in the mood for fun. Serve with a cup of coffee for a warm, comforting start to the day.
Source: christinascucina.com
Brioche might be the king of bread. You make brioche with an enriched dough, meaning there is dairy, whereas other loaves of bread have none. These buns come straight from Sicily.
There, serving your brioche buns with cream-topped granita is par for the course. The cool, refreshing dessert is perfect for warm and fluffy brioche.
Source: marcellinaincucina.com
Set aside the American apple pie in favor of Italy's more refined apple cake. This is a moist and dense cake – almost like a coffee cake. It's the perfect way to kick off brunch with friends!
Serve with your favorite hot beverages to counteract the dense crumb. The apples keep everything naturally sweet without tipping things into 'candy' territory.
This yummy raspberry smoothie would pair nicely with your apple cake!
Italian Breakfast Casseroles
Finally, we have some of the simplest recipes you can reach for when feeding an entire family. There's nothing like the warm embrace of a delicious casserole in the morning.
Source: cookingwithmammac.com
Feed a crowd for breakfast in a hurry with this tasty casserole. Packed with sausage meat and minced peppers, this egg casserole is like the easier version of a frittata.
The key to this casserole's success is being generous with the cheese. The melted cheese on top brings everything together, adding a golden brown that calls you to keep eating.
Source: threeolivesbranch.com
Did somebody say 'hashbrown casserole'?
This Italian twist on a family favorite combines a hashbrown casserole with a fresh caprese salad. The basil and tomato lift the flavor of the hashbrowns, adding a dash of acidity that livens it up.
Source: smalltownwoman.com
Finally, we have one of my favorites, the pizza casserole! This quick and easy dish is great for breakfast, lunch, or dinner. It even makes wonderful leftovers the next day.
Instead of a bread crust, this recipe uses a bed of marinara pasta to add the essential carbs. Top that with your favorite pizza toppings and a generous layer of cheese, then bake!
What emerges is a crowd-pleaser of a dish, guaranteed to bring the whole family running to the table, no wake-up call needed.
Which Italian breakfast recipes are your favorite? Did I miss any essentials? Let me know in the comments below which recipes you'll try in the coming week!
Check out the rest of All Nutritious for more round-ups of delicious food from all over the world.
21 Popular Italian Breakfast Recipes to Start The Day
Take your breakfast game to the next level with these Italian breakfast foods and recipes - full of fresh, wholesome ingredients.
Ingredients
1. Savory French Toast
2. Orange Ricotta Pancakes
3. Prosciutto Eggs Benedict
4. Lemon Bread
5. Butternut Squash, Bacon, Kale, and Goat Cheese Frittata
6. Zabaglione with Berries and Espresso
7. Panettone Bread Pudding
8. Broccoli Frittata
9. Lemon Ricotta Pancakes
10. Pastina with Egg
11. Ricotta Toast
12. Tomato Bruschetta
13. Vegan Italian Pear Almond Cake
14. Anise Biscotti
15. Vegan Panettone
16. Homemade Italian Zeppoles
17. Brioche Bun
18. Apple Cake
19. Sausage and Peppers Casserole
20. Caprese Hashbrown Casserole
21. Pizza Casserole
Instructions
Scroll up to get a bunch of easy, yummy, and delicious Italian recipes. Don't be afraid to get creative with the ingredients, you might discover a flavor you didn't know you liked.
Get your shopping list going, and make sure you've got all the ingredients.
Get cooking and make your next Italian Breakfast Recipe!
Notes
Which one of these recipes was your favorite? Let me know in the comment section or on Pinterest!