Got some chicken? Make these delicious Filipino chicken recipes and bring new flavors into your kitchen.
Chicken is a staple ingredient in Filipino cuisine, which means there are hundreds of recipes to choose from. Hundreds of utterly delicious, flavor-packed, fresh Filipino recipes.
Today, we're diving through just twenty-seven of those delicious recipe ideas: each one heroes juicy, delicious chicken pieces prepared in a new and exciting way.
With such an approachable core ingredient, this list is a great place to start if you're a new adventurer in the land of Filipino cooking.
Filipino Chicken Thigh Recipes
White meat might soak up flavor like a sponge, but dark meat is the center of flavor on a bird. That's why these Filipino chicken thigh recipes are guaranteed to be flavor-packed.
Another great thing about chicken thighs is how cheap they are. Regarding meat prices, chicken thighs come out on top as the most affordable. That makes them a perfect canvas for weeknight family meals.
Source: thatsusanwilliams.com
Chicken adobo is a time-honored Filipino recipe that stews chicken thighs in a delicious soy-based sauce with bay leaves. Served over fluffy jasmine white rice with a sprinkling of fresh green onion, this chicken adobo recipe is heaven on a plate.
This recipe uses an Instant Pot to get the job done. It grants you plenty of hands-off time to handle other things, and you can lift the lid on a thick, sticky adobo sauce you can be proud to serve next time.
Get more inspiration with these cheap crockpot recipes.
Source: greedygourmet.com
Walking the line between rustic and refined, chicken calderata is a Filipino dish that lives up to the name 'comfort food.' It's warm, hearty and full of great protein and vegetables like green peas.
This well-rounded delicious Filipino chicken recipes is perfect for meal-prepping to enjoy the next day or weeknight meals with the family. Serve it up over mashed potatoes or rice for a filling, flavorful dish that will satisfy everyone at the table.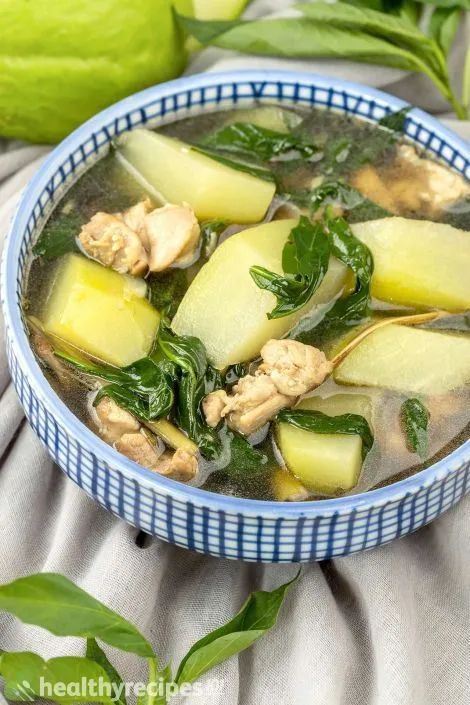 Source: healthyrecipes101.com
Chicken tinola is the Philippines' answer to chicken noodle soup. Nothing better to have when you're sick or when a blanket of snow is coating the ground outside.
The soup incorporates chayote, a melon-like fruit popular in the Philippines and known for its freshness. Combined with juicy chicken thighs in ginger chicken broth and olive oil, it's the ultimate healing dish.
Source: spendwithpennies.com
If you don't have an Instant Pot, it's time to whip out your slow cooker! Of course, this version of chicken adobo has a longer cooking time than the Instant Pot version, but the flavor of this Filipino chicken adobo recipe is worth the wait.
You can put all the ingredients in before heading off to work, then come home to a delicious mixture with flavorful sauce ready to be spooned over rice. Serve it up with some fresh vegetables to add a fresh touch.
Source: allwaysdelicious.com
One recipe was sticky; one used a dry rub; this Instant Pot chicken adobo produces a deliciously spicy sauce that will blow your mind. If you're a fan of spice, I highly recommend this recipe.
Once again, it's super simple to make, requiring only some essential main ingredients like white vinegar, green onions, and a bay leaf along with the chicken legs and minimal prep time. Nail this stand-out dish and impress your dinner guests with a culinary delight unlike any other.
Source: asianinamericamag.com
Who doesn't love barbecued chicken? This is a quick and easy way to elevate your grilled chicken game. The sauce is a lovingly-concocted collection of herbs, spices, and condiments.
The result is a sticky and well-charred chicken thigh on a skewer, ready to be devoured. Each bite is juicier than the last! This is a great recipe to whip out at your next summer barbecue, birthday, or for special occasions.
Best Filipino Chicken Recipes
The real question here is, what are the best Filipino chicken recipes? With so many to choose from, it's hard to narrow it down. But for this list, I've relied on one thing: flavor.
These are the most delicious chicken recipes you could ask for. Each one represents a different core element of Filipino cuisine, highlighting this delightful region of the world.
Whether you're catering a neighborhood potluck or serving up a five-course dinner, there's a chicken recipe on this list. Let's dive in.
Source: theforkedspoon.com
This next recipe is the definition of comfort food. This savory rice porridge dish incorporates chicken stock, some classic aromatics, and a healthy serving of juicy chicken.
This fantastic winter meal uses cheap, accessible staples to achieve a delicious result. Once you've got this rice porridge, you can use it for anything from breakfast to dinner prepping!
Source: manilaspoon.com
This version of the classic chicken adobo achieves a beautiful char on the chicken skin, adding even more flavor to the mix. This is sizzling away in the six hours, and oodles of flavor are soaking into the meat.
The result is a dish that is a treat for the eyes and the tastebuds! If you want to take your meal to another level, make this a day or two ahead and let it sit in the fridge overnight.
Doing this allows the flavors to intermingle, creating a richer, more rounded flavor in your chicken adobo.
Source: theodehlicious.com
This is one of the most unique dishes coming out of the Philippines and one of the tastiest. If you're a fan of chicken livers, you can't look past this stunning recipe.
Shredded chicken and livers pair with an array of aromatics like garlic, onion, and chilies to create a symphony of flavor! Impress your family with this mouth-watering weeknight-friendly dish.
While the recipe uses a cast-iron pan, you can always use a baking dish if you don't have one available.
Source: healthyrecipes101.com
If you are fond of chicken drumsticks, this next recipe is for you. Chicken afritada is a chicken drumstick stew with a tomato-based broth and plenty of fresh vegetables.
It's a weeknight-friendly meal and a real crowd-pleaser, so you know the whole family will love it. Serve it solo, over rice, or even over mashed potatoes for an extra filling portion.
This is a fantastic leftover-busting dish. If you've arrived at the end of your week with more vegetables than you think you can use, whip up a big batch of afritada for the coming week!
This a delicious Sunday dinner anyone will love!
Source: lowcarbyum.com
If you're looking for the simplest way to create a tasty chicken adobo, you've found it. All you need for this recipe is a pan and ten minutes of quality time over the stove to whip it up.
This is a quick and easy recipe with a short ingredients list, so it's great as a last-minute meal. You can also use this recipe for a hassle-free meal prepping schedule.
If you're shooting for a low-carb meal, serve this with fried Asian greens rather than jasmine rice.
Source: theodehlicious.com
Chicken giniling is one of the quickest and easiest chicken dishes in the Filipino region. It's essentially ground chicken and vegetables fried with a delicious array of spices.
While best eaten with rice, you can serve this however you like. It's a great way to use any leftover vegetables from the week. Plus, ground chicken costs barely anything, so it's super cost-effective!
If you'd like to turn it into a soup instead of a dry dish, try adding half a cup of stock at the end. Cook it just enough to warm it, then serve for a delicious winter warmer.
Source: seasiderecipes.com
There are hundreds of fried chicken variations worldwide, each one better than the last. This Filipino take on fried chicken uses the fish sauce to add a punchy flavor to an already tasty dish.
Think of this as Filipino KFC, but even better. The skin is light and crispy, while the inside is juicy and tender. The flour mixture is packed with delicious spices to make each bite sing.
This is a great dish to try if you're trying to get into Filipino food. After all, you can't go wrong with good fried chicken.
Source: manilaspoon.com
Chopsuey is a Chinese-inspired dish featuring tons of fresh vegetables and your choice of meat in a tasty sauce. It's quick, easy, and great for getting the kids on board with eating vegetables.
The best way to serve this dish is over rice, which helps it stretch a lot further. This is another excellent recipe for meal-prepping, as one batch of chop suey will provide you with many lunches.
Experiment with the vegetables you want to include! There are no hard and fast rules; use what you have to make it sing.
Source: vikalinka.com
This final take on chicken adobo produces a dark, delicious sauce struck through with notes of ginger and garlic. One thing to note is that chicken adobo is usually served with a slice of Filipino lime.
It's not the easiest to source, so it's best to serve it with a slice of lime. It won't achieve the same taste, but it provides the sharp cut of citrus needed to balance a plate of delicious adobo.
Source: theodehlicious.com
Searching for a breakfast meal to kick your day off right? Chicken tocino is the way to go. This is a delicious breakfast dish that perfectly walks the line between sweet and savory.
To tenderize the meat, the chicken is marinated in an aromatic blend of brown sugar, garlic, and pineapple juice. Serve with garlic rice and an egg for a deliciously filling start to the day.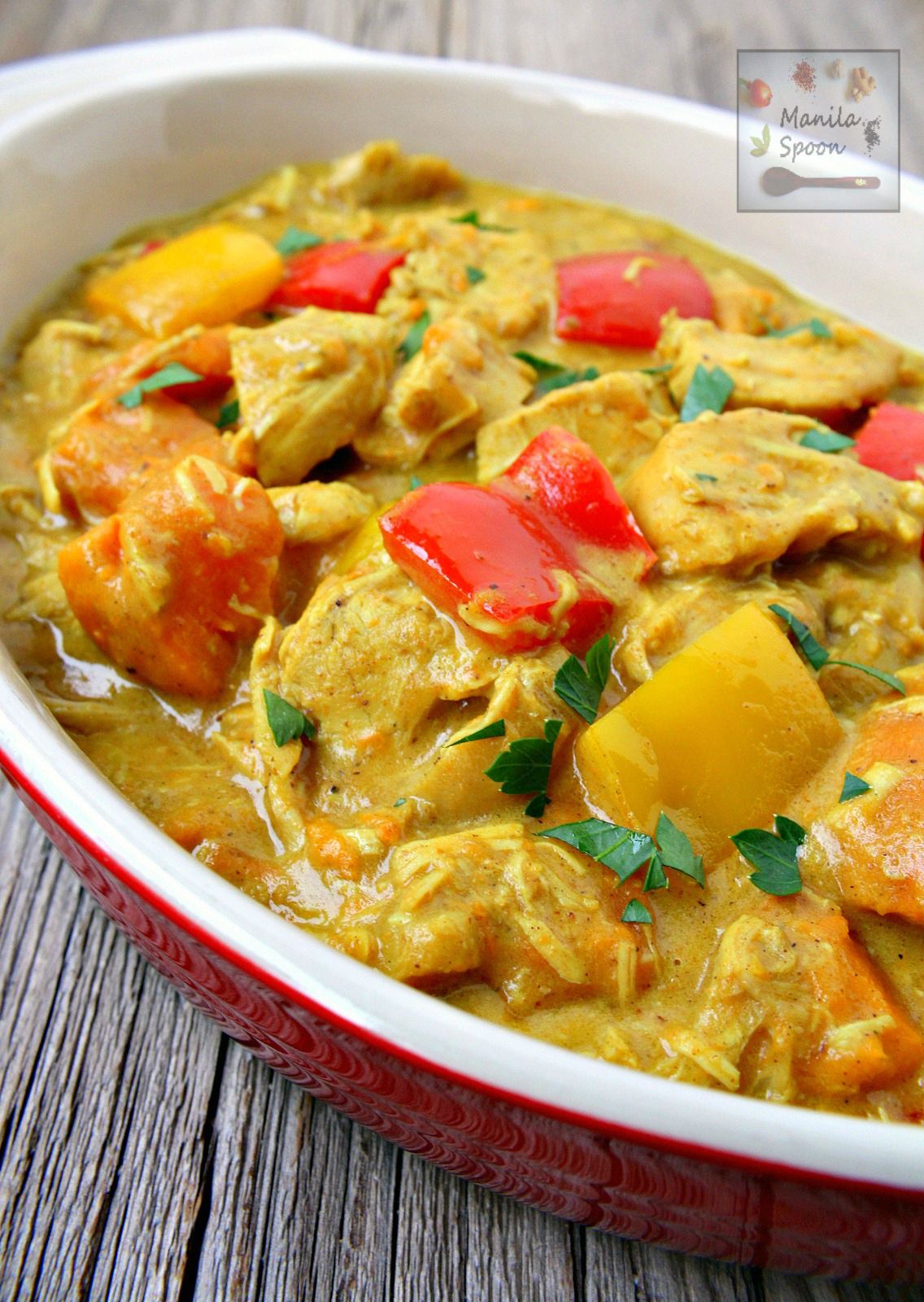 Source: manilaspoon.com
Don't throw your leftover roast chicken away. Instead, use it to make this deliciously creamy and fragrant Filipino coconut chicken curry. This is such a simple recipe with such a flavorful result.
I love this recipe for meal prepping. The ingredients are cheap and easy to access in large quantities, so you can have your whole week of lunches sorted in a single batch.
Experiment with whichever vegetables suit your taste. A traditionally Filipino choice would be to incorporate green papayas or bell peppers for a slightly sweet, sharp element.
This is an easy college dinner the students can make!
Source: theodehlicious.com
Chicken longganisa is a Filipino breakfast sausage with a rich, sweet, salty flavor perfect for waking you up in the morning. These are super simple to prepare in advance.
Have some waiting in your fridge for a Sunday morning fry-up. No extra hassle is required! You can serve these with anything you like, but the traditional choice is garlic rice and a tasty fried egg.
Source: panlasangpinoy.com
Pininyahang Manok ('pineapple chicken') is the ultimate demonstration of sweet, juicy, tender chicken. Because acidic pineapple makes up a significant portion of the meal, the chicken is extra tender.
This is another Filipino dish that walks the line between sweet and savory. While pineapple makes up the base of the stew stock, other ingredients like carrots, bell pepper, and chicken pull it back.
Source: allrecipes.com
Ginataang Manok ('coconut chicken') is a creamy stew-type chicken dish featuring coconut milk and ginger. Blended with potatoes and chicken, this stew is a warming winter delight you can't miss.
It's a simple meal to prepare any night of the week, so it's great for family dinners.
Source: panlasangpinoy.com
This next dish is like chicken noodle soup taken to an entirely new level. The secret is: chicken macaroni sopas incorporates chicken livers to boost the chicken flavor.
While the macaroni catches and holds pockets of soup for you to enjoy, flakes of chicken and vegetables are just waiting to be snapped up. It's the perfect recipe to care for a sick loved one.
Check out more easy cheap dinner recipes here.
Source: kitchenconfidante.com
Arroz Caldo – or chicken and rice soup – is another great meal for cold winter evenings and sick days. It's warm, comforting, and has all the elements of a perfect homecooked meal.
Best of all, it's super simple to make. Infuse your rice and chicken with incredible flavor in just half an hour!
Source: kawalingpinoy.com
Tender chicken, fresh green papaya, and wilted spinach come together in this warming ginger broth. This healthy Filipino soup is ideal for enjoying cold days with your family.
Each element balances another, making each bite so well-rounded and delicious you won't be able to stop eating.
Source: panlasangpinoy.com
Chicken Lumpia are similar to spring rolls, but the filling is distinctively Filipino. These are fantastic to have to wait in the freezer for a day you don't feel like cooking but still want homemade dinner.
The hearty filling is enough to sustain you until the next meal. Plus, the flavor of aromatic chicken inside a crispy spring roll casing is unbeatable.
Check out more freezer meals here.
Source: kawalingpinoy.com
Chicken Pastel – or Pastel de Pollo – is a Spanish-inspired Filipino pie similar to a chicken pot pie. The presentation is super impressive, so it's great for dinner parties with friends.
It's hearty and filling, with all that rich goodness hiding beneath a golden flaky pie crust. One could argue that there's nothing more satisfying than a bite of this pie.
Source: salu-salo.com
Here's another take on chicken afritada, and this time it's simpler. This is the perfect recipe to whip out when you want something warm and comforting at the end of the week.
Change up the ratio of vegetables depending on which is your favorite. I like many carrots in mine as they soak up the sauce's flavor, turning into little flavor bombs!
Source: pinoybites.com
Finally, we're finishing off our list with a classic favorite worldwide: sweet and sour chicken. As you can tell by now, this is a flavor combination hugely favored in the Philippines.
Making your own sweet and sour chicken at home is easy, and the results are to die for. While there are a lot of ingredients, the recipe itself is pretty straightforward.
You can even prepare the sauce ahead of time and store it in the fridge. Then, when the cravings for a takeout start, whip it out and make a meal ten times better!
So, which of these Filipino delicacies has caught your eye? Which ones have you had before? Let me know in the comments!
27 Best Filipino Chicken Recipes
Got some chicken? These Filipino chicken recipes are easy, delicious, and nutritious.
Ingredients
1. Chicken Adobo
2. Chicken Caldereta
3. Chicken Tinola
4. Slow Cooker Chicken Adobo
5. Instant Pot Chicken Adobo
6. Inihaw Na Manok
7. Arroz Caldo
8. Slow Cooker Chicken Adobo
9. Chicken Sisig
10. Chicken Afritada
11. Easy Chicken Adobo
12. Chicken Giniling
13. Crispy Fried Chicken
14. Chopsuey
15. Chicken Adobo
16. Chicken Tocino
17. Coconut Chicken Curry
18. Skinless Chicken Longganisa
19. Pininyahang Manok
20. Ginataang Manok
21. Chicken Macaroni Sopas
22. Arroz Caldo
23. Tinolang Manok
24. Chicken Lumpia
25. Chicken Pastel
26. Chicken Afritada
27. Sweet and Sour Chicken
Instructions
Scroll up to get a bunch of easy, yummy, and delicious recipes. Don't be afraid to get creative with the ingredients, you might discover a flavor you didn't know you liked.
Get your shopping list going and make sure you've got all the ingredients.
Get cooking and make your next Filipino Chicken Recipe!
Notes
Which one of these recipes was your favorite? Let me know in the comment section or on Pinterest!