Chicken leg recipes are a great option if you're looking for an affordable protein. They're quick, easy to cook on a weeknight, and versatile. Is there anything better than that?
If you're looking for chicken leg recipes, I've got thirty-one for you to choose from.
From tender, juicy crockpot recipes to quick and easy-baked chicken legs, let's check out some of the best ways for cooking chicken legs with these favorite chicken leg recipes!
Is Chicken Leg Healthy?
Chicken legs can be a healthy source of protein, vitamins, and minerals when prepared healthily. However, their health can also depend on how they are cooked and consumed.
Chicken legs can be high in fat when compared to chicken breast, particularly saturated fat, which is not as healthy when consumed in excess.
That's why it's important to choose lean cuts of chicken and remove the skin to reduce the amount of fat consumed.
Should I Cover My Chicken Legs with Foil When Baking?
Covering chicken legs with aluminum foil when on a baking sheet can help to keep them moist and prevent them from drying out.
If you want a nice crispy skin on your chicken legs, leaving them uncovered while baking is best. This will allow the skin to brown and crisp up.
On the other hand, if you prefer your chicken legs to be more tender and juicy, covering them with foil can help to trap moisture and prevent them from drying out under high heat.
If you decide to cover your chicken legs with foil, remove the foil during the last 10-15 minutes of baking to allow the skin to crisp up.
Now, this – of course – isn't the only way to cook delicious chicken legs. In this article, we'll review thirty-one ways to make your tender chicken legs taste amazing. Let's get to it!
Best Chicken Leg Recipes
Here are some of the best chicken meals you'll ever try! Simple, easy to make and delicious.
Source: allnutritious.com
First, we must acknowledge that chicken legs are fantastic for meal prep recipes. Since the cuts are bone-in, they stay moist for longer, and enjoy the extra flavorful meat of a bone-in cut!
A few simple ingredients help this easy meal come to fruition, like olive oil, chickpeas, quinoa, fresh parsley, black pepper, and of course, bone-in chicken legs.
This juicy chicken recipe is one of my own, and it's a favorite when I need something simple for a busy week.
Naturally sweet, spiced chicken with high-protein chickpeas and vegetables? Sign me up.
Source: shelovesbiscotti.com
Chicken leg quarters have a little extra meat on them because of the broad cut, so they're great for grilling. The extra meat means they don't dry out quickly, and the bone-in cut certainly helps.
The secret to this chicken's delicious success is the spice rub soaked into every nook and cranny of the chicken skin. It's warm, vibrant, and perfect for spicing up your mid-week meals.
Source: airfryeryum.com
Looking for something keto-friendly? These air fryer chicken legs are doused in a dark, sticky teriyaki sauce, making them wildly addictive. Every bite is bursting with the richness of the sauce.
The best part is the recipe doesn't feature any difficult batter ingredients, just pantry staples like garlic powder, onion powder, and teriyaki sauce.
Simply brush the prepared sauce onto the chicken legs, drop it into your air fryer, and press go for the best results.
The hot air and high temperature of your air fryer with create crispy chicken legs the entire family will love.
Find more cheap recipes here.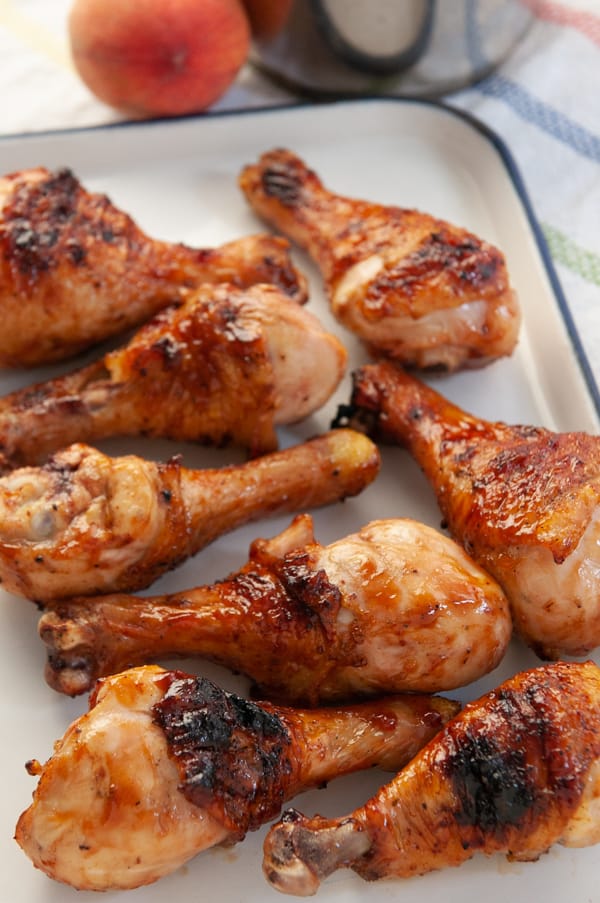 Source: twoluckyspoons.com
When peaches are in season, and the sunshine calls you outdoors, this is the recipe you should reach for! These ginger and peach BBQ chicken legs are naturally sweet, smoky, and tender.
The secret is the BBQ sauce, peach preserve, and crushed ginger sauce. By basting your chicken legs in this addictive mix, you guarantee that everyone in attendance will want a bite.
Wondering what the best way to use leftovers is? These leftover BBQ chicken recipes will wow you!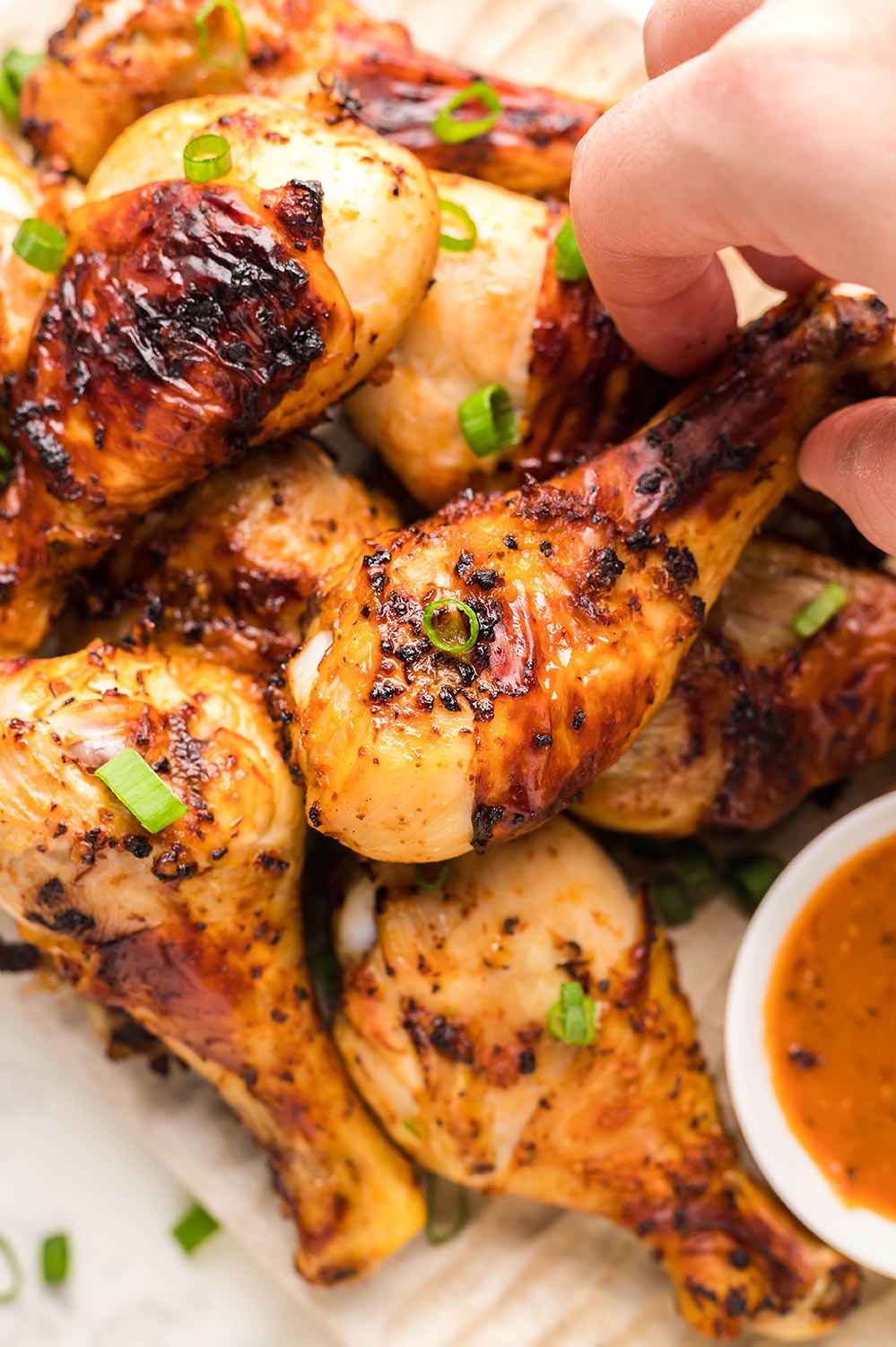 Source: cookedbyjulie.com
Here's another way to enjoy chicken drumsticks in your air fryer! This time we're highlighting ginger and garlic flavors, which are versatile enough to enjoy with any side dish.
This quick and easy chicken leg recipe feeds a crowd in just thirty minutes. Find more fun dinner ideas!
Source: windingcreekranch.org
If you have some time and a real love for smoked meats, this smoked chicken legs recipe is a must-have in your cookbook. Making takes a couple of hours, so it's ideal for a summer Sunday.
Although it might take a bit of time, the results are worth the effort. Smoky, slightly sweet, and undeniably juicy, this is a beautiful way to cook chicken legs.
Source: acedarspoon.com
Tandoori chicken might be one of the best ways to enjoy this protein, especially since chicken legs are a dark, moist meat. However, most of us aren't lucky to have a tandoor oven at home.
Not to worry, you can get similar results when you use an air fryer! This is a simple air fryer recipe that – while it takes a while – doesn't have a lot of hands-on cooking time.
It's guaranteed to impress anyone coming around for dinner, trust me! Find more chicken sheet pan dinners here.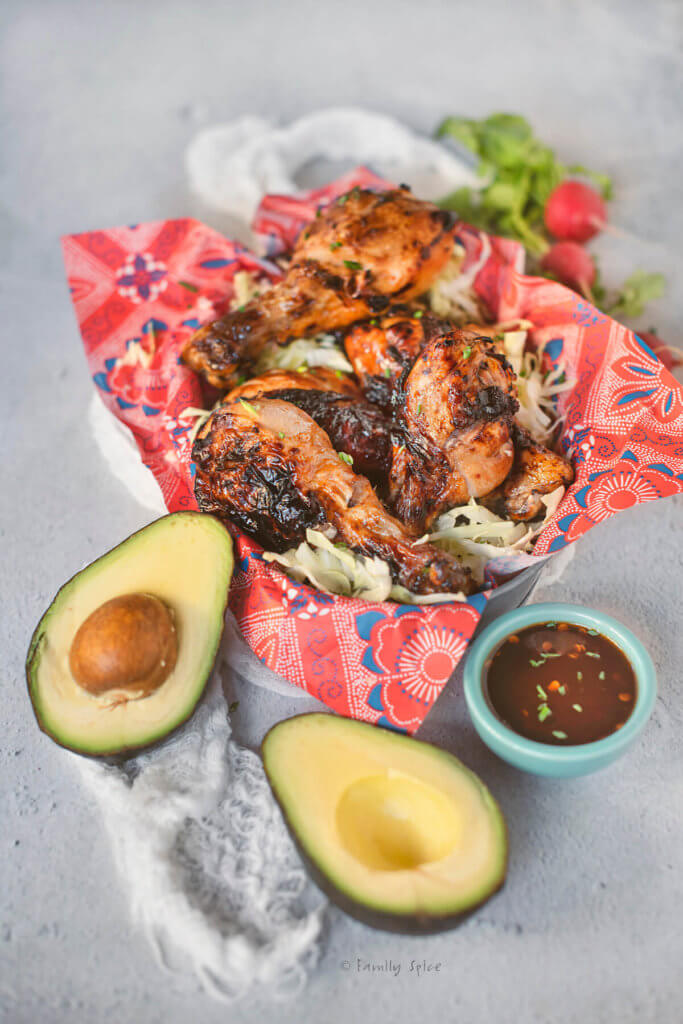 Source: familyspice.com
Looking for something with Mexican flavors? I've got the recipe for you! These air fryer chicken drumsticks have an insanely tasty chipotle glaze, making them sticky, spicy, and addictive.
These are gorgeous, with a side of refreshing guacamole or even a fresh salsa to add some light sweetness.
You might also enjoy this juicy cast iron skillet chicken breast!
Source: paintthekitchenred.com
Traditional jerk chicken is a study in balance, with many different spices coming together to create a sweet, sour, hot flavor you can't beat. It also usually takes a few hours to prepare.
However, if you're strapped for time and need some jerk chicken on the double, this recipe is for you.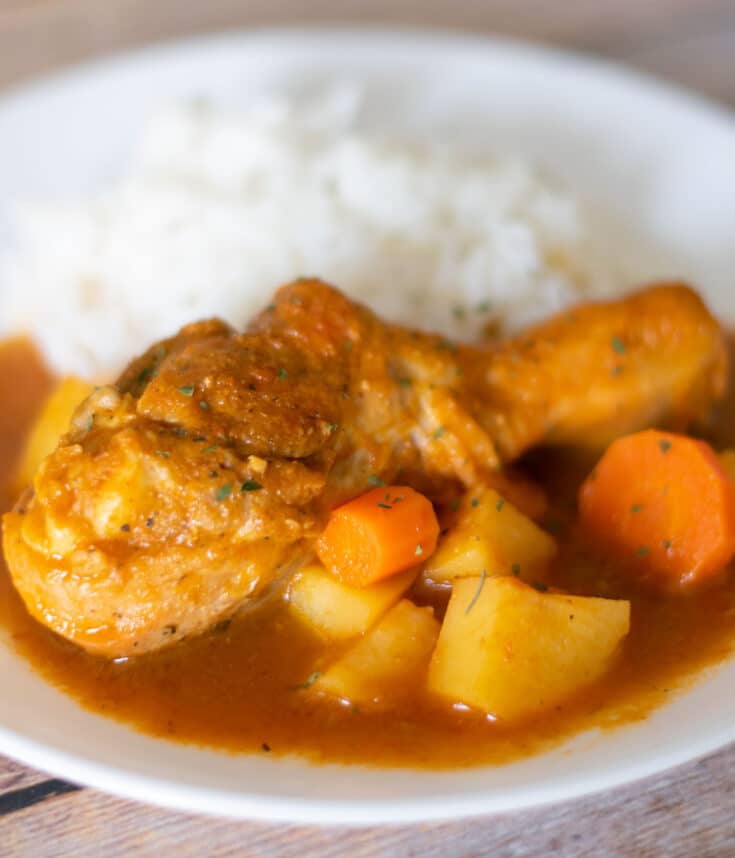 Source: thriftandspice.com
Also known as a chicken stew, pollo guisado is an inexpensive Mexican dish that's fun for the whole family. Warming, comforting, and full of great protein, this is perfect on a bed of steamed rice.
If you don't have time to wait hours for a stew, this recipe only requires an hour to create. Despite that, it's rich and packed with vibrant flavor every step of the way.
Source: cookwhatyoulove.com
Do you have a few hours to spare this coming weekend? Spend them outside lovingly tending to your pellet smoker as you bring this delicious recipe to life.
The smoked chicken legs on their own are delicious. But they become even more so when you consider the smoky, spicy, slightly sweet bourbon glaze brushed onto them.
Source: lanascooking.com
If you're looking for flavor-packed, inexpensive ways to enjoy chicken, you can't do any better than Indian food. This coriander chicken recipe cooks in under an hour, and it's to die for.
This recipe uses chicken leg quarters marinated perfectly in a rich array of spices. Once cooked in this recipe's gravy, they become super tender and flaky.
Baked Chicken Leg Recipes
Source: dishnthekitchen.com
Baking your chicken legs is a fantastic way to save yourself both time and effort! These lemon and paprika-baked chicken legs prove you can enjoy a delicious dinner with minimal work.
The delicious blend of spicy paprika and acidic lemon adds tons of flavor, all while tenderizing the chicken with the extra acid. The longer you marinate your chicken, the more tender it becomes!
This is one of the best cheap healthy recipes to stay on budget!
Source: flavorfuleats.com
If you're a fan of spicy food, having a quick and easy spicy chicken recipe on hand for a little extra kick is the ideal way to get through your week with enough spice.
Every bite of these spicy chicken legs is a treat for the senses.
Best of all, they're so easy to make that you can enjoy them any night of the week. Simply grab a large bowl, spices such as cayenne pepper, and a sheet pan.
If you like easy sheet pan recipes, check out these other chicken sheet pan dinners!
Source: falasteenifoodie.com
Middle Eastern spices mixes are more than spicy. They're the perfect balance between various sweet, fragrant, and smoky spices designed to enhance any meal.
This Middle Eastern spiced chicken is super healthy and oozing with flavor from every bite. I can't stress enough how delicious this is and so easy to make!
Source: theflavoursofkitchen.com
Take a busy week in stride with this super simple one-pan dinner and family favorite recipe.
This is a crowd-pleasing dish that the whole family will love, packed with enough protein and vegetables to keep them going.
The best part of this dish is arguably the ranch marinade, with imparts a creamy, herbaceous flavor onto the skin of the chicken.
By cooking it together with the vegetables, they become even more tasty.
Source: recipesfromapantry.com
Speaking of all-in-one meals, here's another one for your consideration! You can't go wrong with a classic pairing like chicken and potatoes.
These baked chicken legs are brushed with plenty of lemon juice to make them extra tender. Along with the herbs and spices in the basting, this recipe creates a classic flavor combo you can't beat.
Source: kidtestedrecipes.com
There's something so addictive about the combination of honey and BBQ. It creates a super sticky and sweet glaze that makes your mouth water and keeps calling you back for more.
If anyone in your family is a picky eater, try making this dish for them. I guarantee it will win them over!
Source: runningtothekitchen.com
Speaking of addictive flavor combinations, have you ever tried miso and maple together? The white miso in this glaze is full of umami, which perfectly contrasts with the sweet maple.
Baked onto the chicken, the glaze forms a delicious golden crust that melts in your mouth, providing a complex flavor with every bite.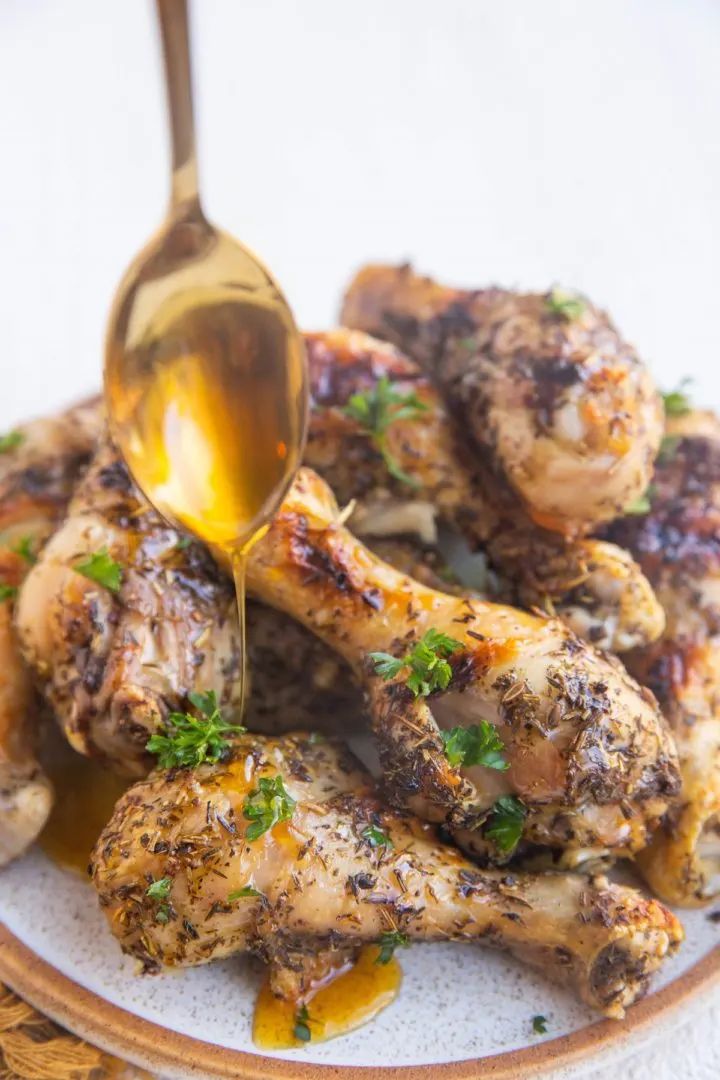 Source: theroastedroot.net
Whenever you add something sweet to a protein dish, cutting that sweetness with some acidity and earthiness is a good idea. That's what makes these honey herb drumsticks so well-balanced.
The honey, lemon, and herbs all contrast, pulling the dish into perfect harmony. Serve these drumsticks on a weeknight with a side of steamed rice, or enjoy them on their own as a snack!
Source: whereismyspoon.co
Butterflying your chicken legs is a method that cuts the chicken legs in half most of the way, leaving them joined together along one edge. Butterflying the legs helps them to cook much faster.
On top of that, it allows you to sear the skin to perfection without burning it, as the inside will be perfectly cooked by the time you're done cooking.
Source: chocolatemoosey.com
Looking for a holiday meal that won't break the bank? These maple-roasted chicken quarters are the perfect solution. The beauty of this dish is what cooking everything together does.
Cooking the vegetables underneath the chicken legs keeps the meat and vegetables super moist. Baking them like this also transfers the flavor throughout the whole dish.
Source: tiffinandteaofficial.com
We're solving busy weeknight dinners one single-pan dish at a time! This time, we have a Greek-inspired chicken and potatoes dish that takes only forty-five minutes to prepare.
With minimal clean-up and a handful of fragrant, herbaceous flavors, this is the kind of dish your whole family will love.
Source: askchefdennis.com
This is the maximalist dish on this list, with flavors chiming in from all over the world. First, there's the fragrant Asian-style sticky glaze on the chicken. Then, there's the salty, crispy bacon.
Finally, there's the refreshing pineapple salsa to top it all off. This would be an amazing dish to cater a party, as it's easy to prepare and will blow your guests away!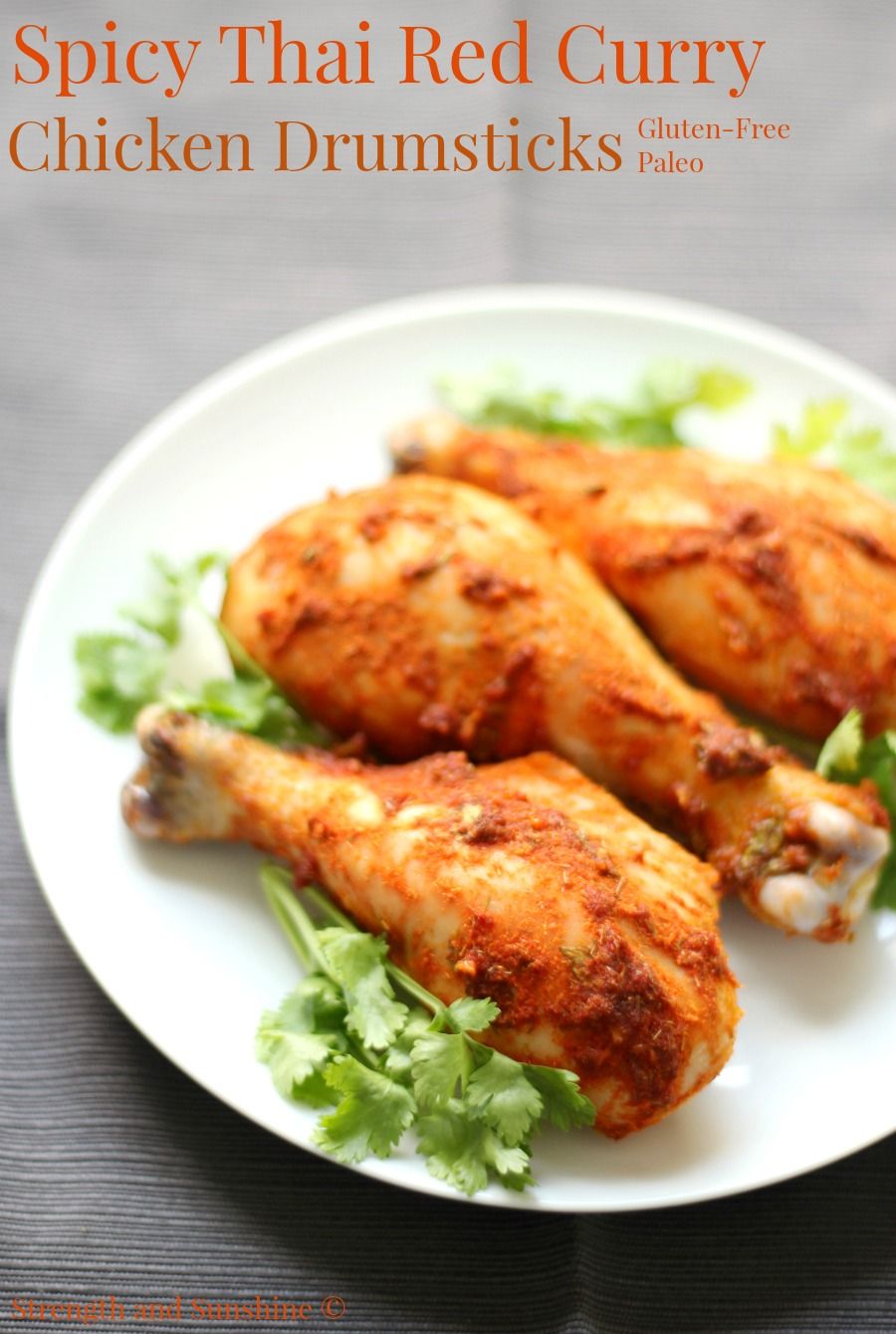 Source: strengthandsunshine.com
if you love Thai red curry flavors but don't have the time to whip up a full batch, try this recipe! These delicious drumsticks have spices from said curry baked right into the skin.
Rather than waiting hours to enjoy a Thai red curry, you can have these ready in as little as 45 minutes. Talk about convenience!
Crockpot Chicken Leg Recipes
Source: slowcookermeals.com
Crockpots are a fantastic way to cook chicken legs. Their patented low-and-slow technique cooks the chicken over time until it's ready to fall off the bone at the slightest touch.
In this case, you're cooking the chicken legs in a BBQ sauce mixture. The result is sweet, sticky, smoky, and perfect as a mid-week pick-me-up.
If you are looking for cheap chicken recipes for a family dinner, this is a great option!
Source: fearlessdining.com
Here's another delicious take on slow-cooked chicken legs. This time, the cooking liquid is a bold, vibrant curry mixture that packs a real punch!
You can cook the vegetables in the broth simultaneously, making this a super simple one-pot meal ideal for a quick dinner.
You might enjoy these other delicious slow cooker chicken recipes!
Source: bitzngiggles.com
Our final crockpot recipe hails from Italy, using garlic and Italian herbs to create a moist, well-flavored chicken leg. This recipe is proof that you can make slow-cooked chicken crispy!
This is a versatile recipe you can serve with any side you like. Try it with garlic asparagus and a side of creamy mashed potatoes.
Fried Chicken Leg Recipes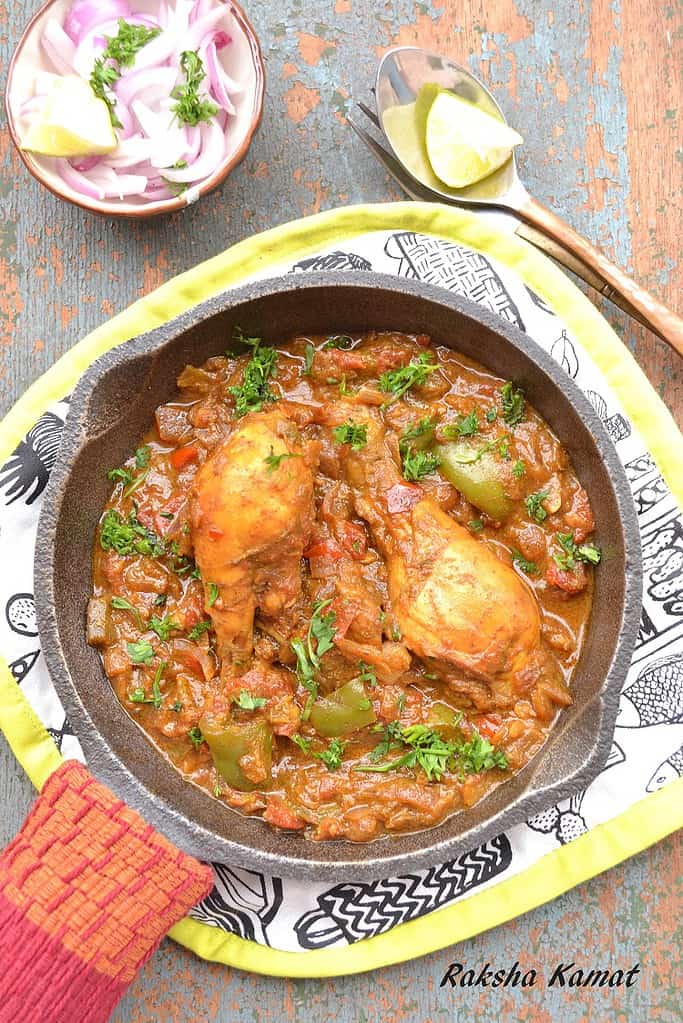 Source: rakshaskitchen.com
This might not be your typical idea of what fried chicken looks like, but it still fits the bill! Not to mention, it's insanely tasty.
The rich gravy is the perfect thing to enjoy on a cold winter's night, especially when having friends over.
Source: dishnthekitchen.com
Funnily enough, you can make fried chicken in an oven! This uses much less oil than traditional shallow frying, meaning your chicken will be healthier thanks to the lack of saturated fats.
This buttermilk-brined chicken is ultra tender, and the buttermilk brine brings out all the chicken's natural flavor.
Source: temeculablogs.com
Finally, we have the classic fried chicken recipe. This is a crispy battered chicken that's been shallow fried to within an inch of its life… and it's perfect. KFC wishes they could make chicken this good.
Impress the heck out of your friends and family with delicious soul food sides and a huge fried chicken dish in the middle of the table. Believe me. They'll be dying to dig in!
31 Mouth-Watering Chicken Leg Recipes
Find ideas for dinner and indulge in the irresistible flavors of these tender and juicy chicken leg recipes.
Ingredients
1. One-Pan Chicken Legs with Chickpeas and Quinoa
2. Grilled Chicken Leg Quarters
3. Air Fryer Chicken Legs
4. Ginger Peach Barbecued Chicken Legs
5. Air Fryer Garlicky Chicken Drumsticks
6. Smoked Chicken Legs
7. Air Fryer Tandoori Chicken Legs
8. Air Fryer Chicken Drumsticks with Chipotle Glaze
9. Grilled Instant Pot Jamaican Jerk Chicken
10. Pollo Guisado
11. Smoked Chicken Legs with Bourbon Red Pepper Glaze
12. Coriander Chicken with Cilantro Rice
13. Lemon Paprika Chicken Legs
14. Spicy Chicken Legs
15. Middle Eastern Spiced Chicken
16. Chicken Legs and Vegetables
17. Baked Chicken Leg Quarters
18. Honey BBQ Chicken Drumsticks
19. Maple Miso Chicken
20. Honey Herb Chicken Drumsticks
21. Spicy Butterflied Chicken Legs
22. Maple Roasted Chicken Quarters
23. One Tray Greek Chicken and Potatoes
24. Asian Glazed Bacon Wrapped Chicken Legs
25. Spicy Thai Red Curry Chicken Drumsticks
26. BBQ Chicken Legs
27. Curry Chicken Legs
28. Italian Garlic Chicken
29. Skillet Chicken Legs Indian Style
30. Buttermilk Brined Crispy Oven Fried Chicken
31. Fried Chicken Legs
Instructions
Scroll up to get a bunch of easy, yummy, and delicious chicken recipes. Don't be afraid to get creative with the ingredients, you might discover a flavor you didn't know you liked.
Get your shopping list going and make sure you've got all the ingredients.
Get cooking and make your next Mouth-Watering Chicken Leg Recipe!
Notes
Which one of these recipes was your favorite? Let me know in the comment section or on Pinterest!