Brown rice makes the best gluten-free flour for many delicious recipes. Whether you have celiac disease or looking to try new whole grain flours these brown rice flour recipes are sure to impress!
Brown rice flour is a healthier alternative to white rice flour. It is ground from whole-grain brown rice and has a mild, nutty flavor, unlike white flour.
Gluten-free brown rice flour leaves the exterior bran-rich layer of the grain for higher fiber content than all purpose flour.
Brown rice flour is an excellent source of fiber and antioxidants. That is alongside vitamins and minerals, also thanks to the rice grains.
What is Brown Rice Flour Best Used for?
Brown rice flour is naturally gluten-free. Therefore, it's a great substitute for flour for gluten-free diets.
If you wish to add a bit more flavor to your recipe, it's great for that too! Both savory and sweet dishes can benefit from using brown rice flour, even if you don't have gluten sensitivity.
Best Brown Rice Flour Recipes
Have a browse below to discover the best brown rice flour recipes!
Source: theforkedspoon.com
The tacos here are a vegetarian spin on a much-loved dish. Bland cauliflower is taken up a notch for this taco filling!
Your cauliflower florets are covered in a crunchy breadcrumb coating that adds a good amount of fiber, thanks to the brown rice flour substitute. You will then bake them to perfection in the oven.
Your bang bang sauce has a good balance of spicy and sweet. The spice comes from the Sriracha, and the sweetness comes from the honey.
Layer your tortillas with a mixture of your baked cauliflower florets and spicy sauce. Add some crunchy cabbage and juicy tomatoes for extra textures!
Not sure what to serve with these? These best sides for tacos will help!
Source: kiipfit.com
To create these vegan dumplings, you will create your own wrappers! This will bring you a huge sense of achievement.
Your dumplings are filled with tofu and crunchy vegetables. These are cooked with nutty sesame oil and seeds.
Garnish your steamed dumplings when ready to serve. Chili oil, soy sauce, sesame seeds, and green onions are ideal!
Source: strengthandsunshine.com
These wheat thins are a gluten-free copycat of Nabisco's classic cracker. They are ideal for snacking, pairing with salads, or toppings with spreads.
When you've made these, you'll be left with a crunchy, buttery cracker. They are sure to bring back memories from your childhood!
The crackers are so versatile. Dip them in homemade hummus. Top them with cream cheese for a snack. Or crush the crackers to use as gluten-free breadcrumbs!
This is one of the best pantry recipes to whip up for potlucks and get-togethers!
Source: kiipfit.com
Coconut cake is an ideal summer dessert! Your cake will be packed with delicious coconut flavors. It will also be covered with a creamy coconut frosting.
Coconut comes from a variety of ingredients here. These include coconut cream, extract, milk, and flakes.
The natural sweetness is derived from using a ripe banana. This also works as your egg substitute.
It's essential to stick to the measurements in this recipe. Brown rice flour doesn't absorb too much liquid. However, your cake will still be soft and fluffy!
Source: theroastedroot.net
Banana brown rice flour pancakes are perfect for a laid-back weekend breakfast. Pile them as high as you can go for the ultimate pancake stack!
You will add cinnamon, avocado oil, and almond milk to your pancakes to get that fluffy texture. These will all give your pancakes a hint of additional flavor.
Stack your fluffy pancakes with layers of sliced bananas. A drizzle of maple syrup completes the pancake mountain!
Source: theforkedspoon.com
Bang bang cauliflower is an ideal dish for your party table at any time of year.
Your cauliflower florets are coated in crunchy breadcrumbs. Then you will bake them till they're golden all over.
Your bang bang sauce has just the right amount of sweetness and spiciness. The Sriracha adds heat, and the honey adds sweetness.
Store the sauce in the fridge until ready to use. Drizzle it over your cauliflower before serving!
You'll love this healthy summer recipe for a quick dinner any night of the week!
Source: theroastedroot.net
Everybody has their opinion on the texture of a perfect brownie. This recipe leaves you with a moist and fudgy brownie of pure decadence.
The aroma of these brownies while baking will leave you wishing time away! Dark chocolate chips and rich cocoa powder provide chocolaty bliss.
Serve your brownie warm from the oven. A scoop of homemade vanilla ice cream is the ideal accompaniment!
Source: madhuseverydayindian.com
A dosa is a rice and urad dal-based, thin, crispy, and savory pancake. It's a popular South Indian breakfast enjoyed around the globe.
This recipe does involve many hours of waiting around before enjoying the dosa. The dal needs to soak for five hours. The batter needs fermenting for 12-14 hours.
However, when these are complete, the dosa takes only two minutes to cook! Serve immediately with potato masala and chutney.
Source: theroastedroot.net
Honey-sweetened banana walnut muffins make a delicious snack. They're even healthy and nutritious enough for breakfast.
Your banana muffins hold a strong cinnamon flavor. They also contain walnuts for an alternative crunchy texture.
Let your muffins cool a little after you take them from the oven. Then, serve them warm with butter and honey!
Source: rhiansrecipes.com
The perfect homemade gluten-free breads are soft on the inside and crusty on the outside. That is precisely what you have with this gluten-free rice flour bread.
You will be oven-steaming the bread instead of baking this gluten-free alternative. This method is easier than it sounds. It also creates a better flavor!
Eat it fresh on the day with some homemade soup. If it's not eaten fresh, it's best toasted. Spread it with butter and your favorite jam.
Source: thishealthykitchen.com
Cauliflower buffalo wings are a tasty, meat-free alternative to chicken wings. Each "wing" is packed with crunch and spicy flavor.
Your wings are not a "dump and go" recipe. They require attention by often turning during cooking. However, this ensures the perfect crispness!
Serve your wings alongside raw veggie sticks, with ranch dressing for dipping.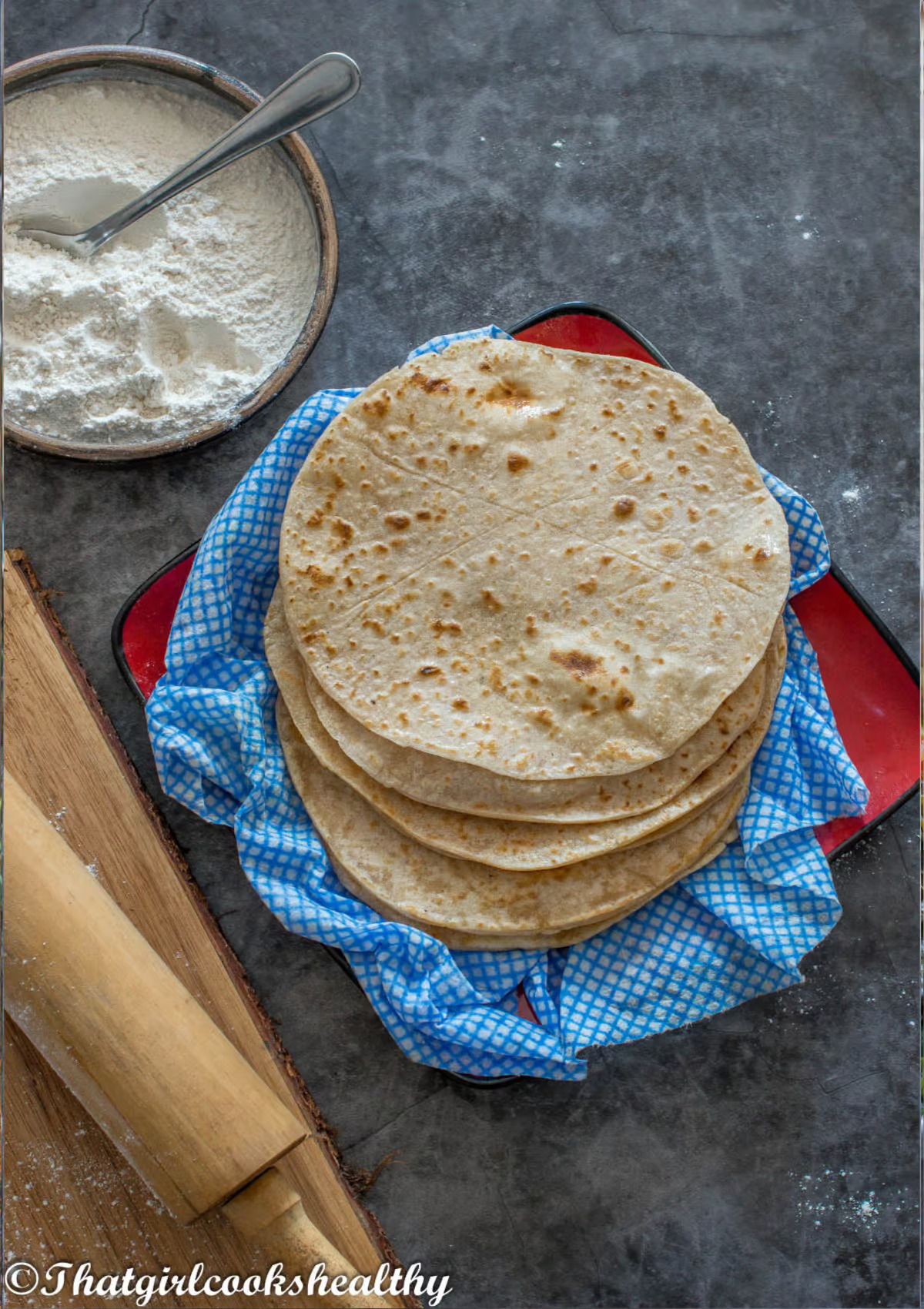 Source: thatgirlcookshealthy.com
Roti is a round flatbread, traditionally from India. However, it also has roots in the Caribbean! It's made from atta (stone ground whole wheat flour), oil, and water.
Brown rice flour is the vital ingredient for this gluten-free roti recipe. It stops the roti from becoming chewy and gummy. Nobody likes that, do they?
Olive oil and pink salt are used to enhance the taste of your roti. Serve alongside delicious goat curry or Jamaican stew!
Source: healthyseasonalrecipes.com
Pan-fried fish is ideal to try if you're new to cooking fish. A mild-tasting white fish like cod or tilapia is perfect for this recipe.
Brown rice flour will create a crispy golden crust for your fish. Frying in butter and a neutral-tasting oil will help with the browning.
Serve your fish with a caper sauce and nutritious green beans.
Source: healthiersteps.com
This vegan carrot cake is moist and light to eat. It has a perfect balance of sweetness and flavor.
For a traditional spiced taste, you will use ground cinnamon, nutmeg, and ginger. Crushed pineapples lend a moist texture to your cake.
Some other simple ingredients will help this gluten free recipe come together, like almond flour, coconut oil, coconut sugar, and vanilla extract.
Cover your cake with delightful vegan coconut cream. Sprinkle with chopped walnuts if desired for a nutty taste!
This carrot cake is one of the most popular fall desserts for vegans!
Source: egglesscooking.com
Everybody needs a chocolate chip cookie recipe in their life. If you require a gluten-free one, then this will be perfect!
From start to finish, you will have them ready in less than 30 minutes. For vegan cookies, leave out the chocolate chips or replace them with vegan ones.
All you need are simple ingredients already in your pantry, like regular or organic brown rice flour, oat flour, granulated sugar, and the star ingredients – additional chocolate chips!
You will never believe that these cookies are made with brown rice flour. They still have a deliciously chewy texture!
Source: glutenfreebaking.com
This lemon cake tastes and smells just like summer! It's a one-bowl recipe, so it is super easy to make.
All you need to do is mix the dry ingredients, then whisk in the wet ingredients. Next, bake in one cake pan for approximately 30 minutes.
Finish with a powdered sugar lemon glaze. A lemon syrup glaze works well too!
This is one of the most fun things to bake when you're bored!
Source: healthyseasonalrecipes.com
Your final brown rice flour recipe is this fall-inspired applesauce snack cake. Baking it in a bundt pan means it's easy to portion into snack sizes!
You will use honey as a natural sweetener alongside the applesauce. A warming fall flavor will be provided by using cinnamon or pumpkin pie spice.
Your cake will be a tasty addition to a coffee break!
17 Best Brown Rice Flour Recipes
From sweet to savoury, these brown rice flour recipes are an incredible flour alternative if you are on a gluten free diet.
Ingredients
1. Bang Bang Baked Cauliflower Tacos
2. Vegan Dumplings
3. Gluten-Free Wheat Thins
4. Vegan Coconut Cake
5. Banana Pancakes
6. Skinny Baked Bang Bang Cauliflower
7. Gluten-Free Brownies
8. Brown Rice Flour Dosa
9. Banana Walnut Muffins
10. Gluten-Free Rice Bread
11. Cauliflower Buffalo Wings
12. Gluten-Free Roti
13. Pan Fried Fish
14. Vegan Carrot Cake
15. Chocolate Chip Cookies
16. One Bowl Lemon Cake
17. Applesauce Snack Cake
Instructions
Scroll up to get a bunch of easy, yummy, and delicious brown rice flour recipes. Don't be afraid to get creative with the ingredients. You might discover a flavor you didn't know you liked.
Get your shopping list going, and make sure you've got all the ingredients.
Get cooking and make your next Brown Rice Flour Recipe!
Notes
Which one of these recipes was your favorite? Let me know in the comment section or on Pinterest!