Got some cheese fondue and not sure what to serve with it? Check out these tasty dippers and sides to serve with cheese fondue.
Fondue is a classic melted cheese dish to whip out for fancy meals. It's fantastic for small, intimate dinners with a group of friends, a date, or even for special occasions.
With that bubbling pot of delicious cheese as the centerpiece of your table, the question is: what should you surround it with at your next cheese fondue party?
You could go the standard route, but why not try some unique fondue ideas? Lay out a big spread of different options, and break out the fondue forks and fondue burner to create an exciting, irresistible meal your guests won't forget!
What Side Dishes Go with Cheese Fondue?
Cheese fondue is a super versatile base for your meal. It's rich and delicious, offering the ultimate way to elevate anything you serve alongside it.
The traditional pairing for fondue is stale bread, as the meal originated when Swiss locals needed a way to reawaken old, crusty bread.
However, there are many more options for enjoying this cheesy treat these days. Cured meats, baby potatoes, and even fresh vegetables all have their place on the table.
Let's look at the twenty-one best cheese fondue dippers and sides to elevate your next fondue dinner.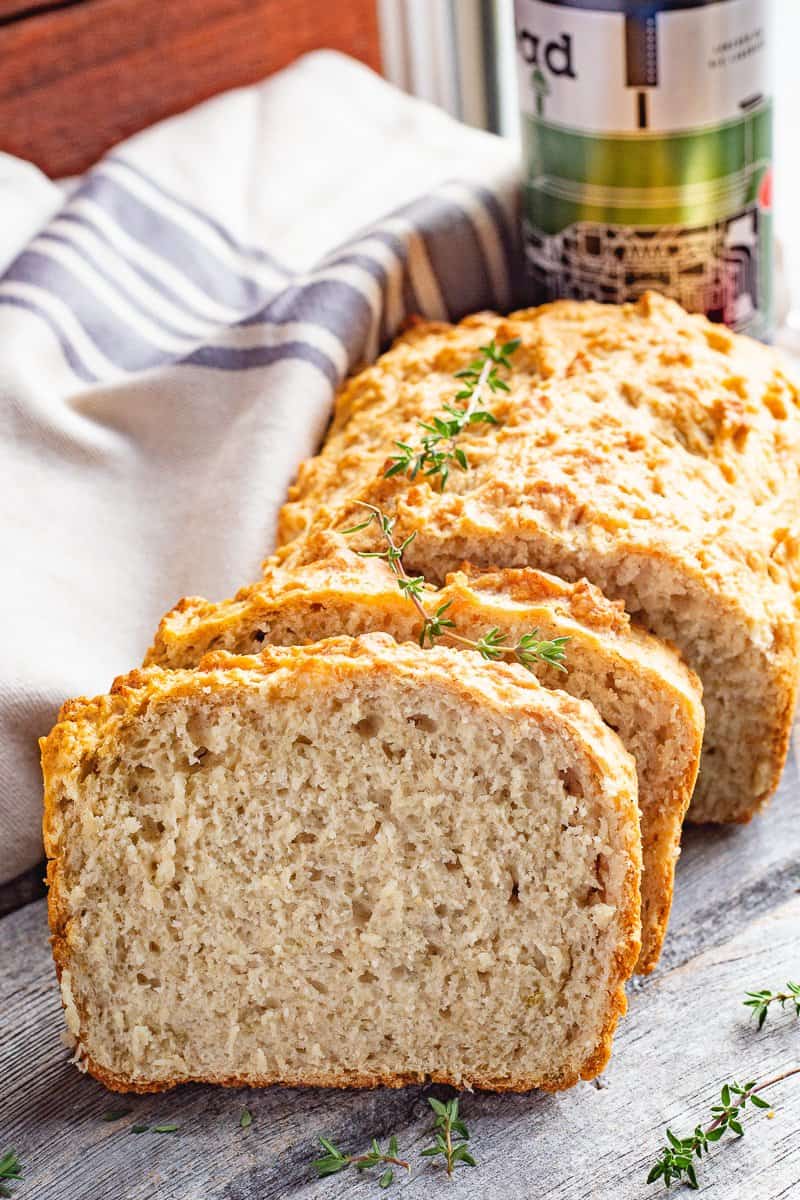 Source: shesnotcookin.com
This is the easiest bread to make, and it tastes incredible. If you're whipping up a last-minute fondue meal and need a bread accompaniment, this recipe is for you!
Beer bread is super clever because it uses the yeast in beer to create a rise. You don't need to worry about keeping the yeast alive as you bake or letting the dough rise before baking.
Mix the ingredients, shape it into a rustic loaf, and bake. They say the best things in life are simple, and nothing proves that phrase better than this recipe.
You can also serve this side dish with fish.
Source: rachaelhartleynutrition.com
Since fondue is such a rich dish, having a fresh element on the table is perfect for balancing it out. This citrus and arugula salad, with its light flavor and texture, is just what the doctor ordered.
Pair this salad with various fondue dippers and a nice glass of white wine to round out your table. It looks as delicious and vibrant as it tastes, helping break up the starchier options we typically reach for in fondue.
This is also one of the best side dishes for shrimp.
Source: nourishplate.com
Potatoes and cheese; what could go wrong? This pairing is as old as time itself, so it makes sense to lay the table with some delicious roast potatoes next time you bring out the fondue pot to make a nice cheese fondue recipe.
These small roast potatoes are great for dipping. You can easily skewer them, and the delicious herb seasoning with black pepper, garlic powder, and grated cheese will wonderfully complement the fondue.
Best of all, you can whip these up in your air fryer in just twenty minutes! Minimal effort for maximum taste is the order of the day.
Serve these potatoes as a side with salmon.
Source: heartbeetkitchen.com
If beer bread is the easiest bread to make, focaccia is the second easiest. This sourdough bread version's soft, spongy texture is out of this world. It's a perfect base to enjoy a generous dollop of fondue with your favorite cheeses.
This recipe is mostly hands-off, so it's excellent for beginners who haven't made much bread. You will need a sourdough starter. If you don't already have one, they're easy to purchase online!
Adorn with the herbs and vegetables of your choice to customize the flavor and texture of your signature focaccia bread cubes.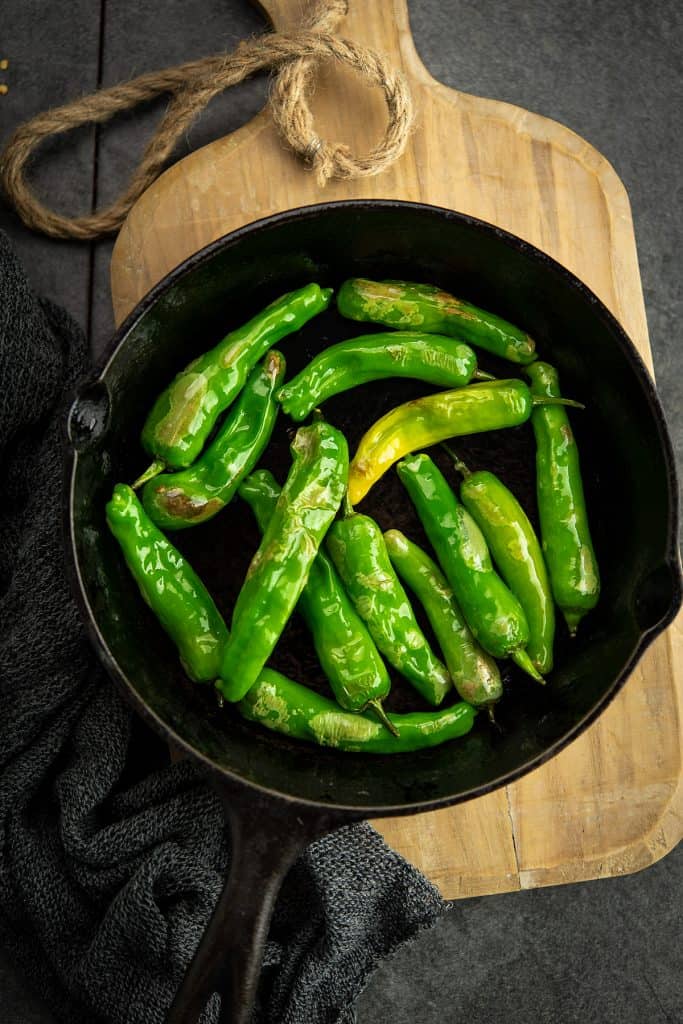 Source: pepperbowl.com
There's a reason that jalapeno poppers are so popular: the combination of cheese mixture and chili is unbeatable!
These delicious roasted shishito peppers are slightly sweet and smoky. They're a Japanese varietal, so you might need to hunt around your local markets to find them. But it's worth the effort.
Combined with decadent, creamy cheese fondue, these peppers are to die for. Preparation-wise, there's not much to this recipe. You simply need to brush them with oil and slow-roast to perfection.
Source: acedarspoon.com
Here's another salad to freshen up the table! This one is a little more complex, incorporating parmesan, pine nuts, and heirloom tomatoes to make the salad sing.
This also works as an appetizer before the main event of classic cheese fondue hits the table. Awaken your guests' appetites, then set them loose on a delicious communal pot of fondue with the right cheese. You'll be the queen of dinner and fondue parties!
This is also one of the best side dishes for chicken.
Source: summeryule.com
A fondue is a great option if you're keto because you can dictate which dipping dishes you serve alongside the cheese. These air fryer green beans are a perfect example of a keto-friendly choice.
They're warm and crispy, and they taste absolutely delicious. Best of all, you can make them in your air fryer in virtually no time! Great for a last-minute gathering of friends and family.
Once the recipe is down, feel free to experiment with other spice mixes and coatings for the green beans.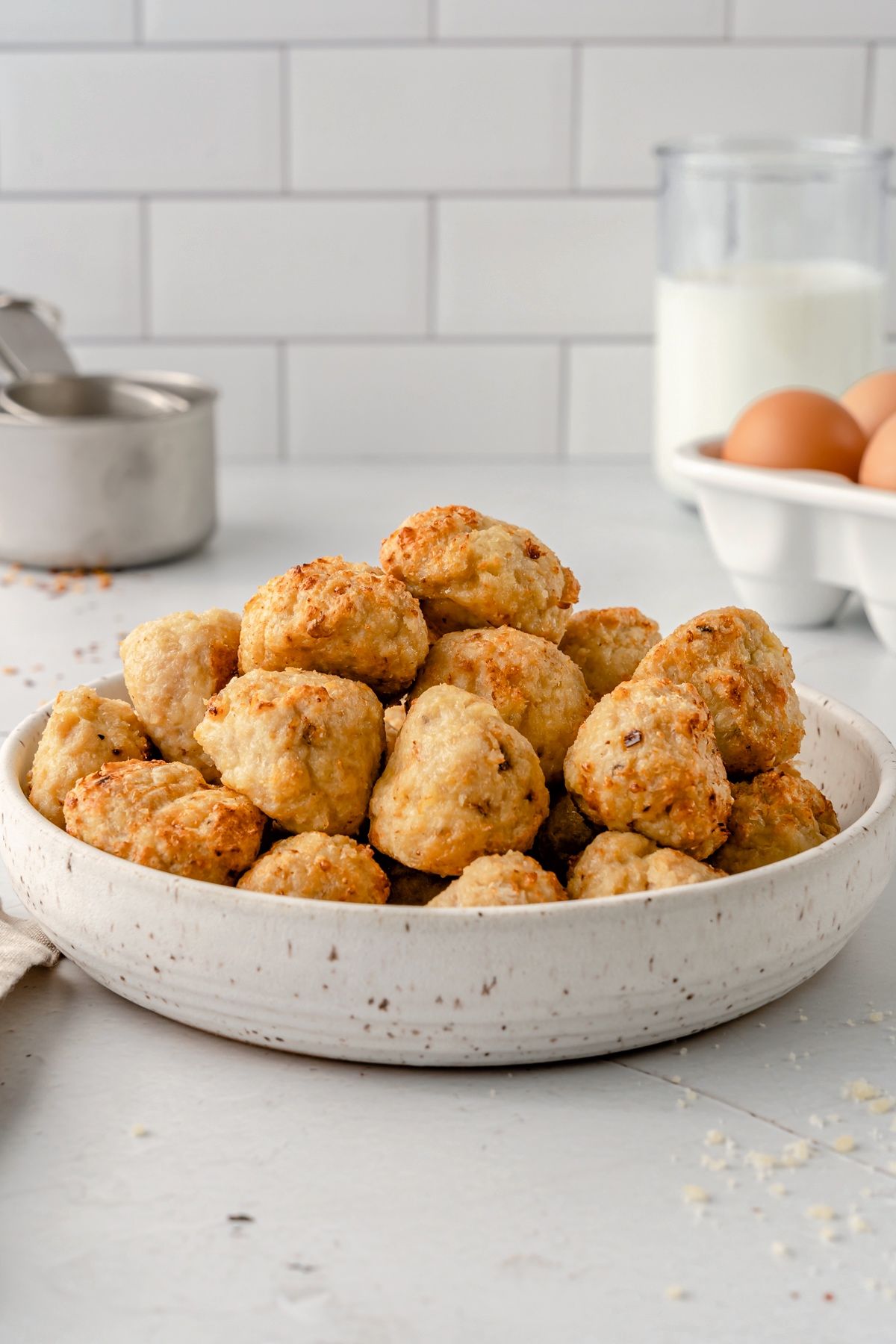 Source: balancewithjess.com
Speaking of air fryers, they're not just for cooking vegetables! These delicious and juicy air fryer chicken meatballs are an excellent addition to your fondue spread.
These really do go with everything, so keep this recipe up your sleeve for your next impromptu dinner.
Requiring only minced chicken, some spices, and a binding agent, this cheap and delicious option will elevate your fondue evening.
Source: theforkedspoon.com
Are you searching for a healthy dipping option to balance the fondue's rich cheese? These grilled veggie skewers are ideal. Full of smoky flavor, these are perfect for celebrating seasonal vegetables.
I highly recommend serving these as part of your next outdoor gathering. Whether a small dinner party with friends or a neighborhood potluck, serve these up with fondue to get your guests excited!
This is also a great side dish for BBQ chicken.
Source: biteswithbri.com
These sweet potato cubes are ultra-tasty and ultra-dippable, thanks to their size. They cook in almost no time, but the crunch and smokiness in each bite make them feel restaurant quality.
The air fryer is your best friend here. While ovens are great for roasting sweet potatoes, the air fryer keeps them dryer and crispier. That's why they're so good for dipping in fondue!
If you want to provide extra options, you can serve relish or aioli alongside the cubes and fondue.
The extra splash of flavor offers a palette cleanser, so you'll want to dive back in for more cheese after just one bite!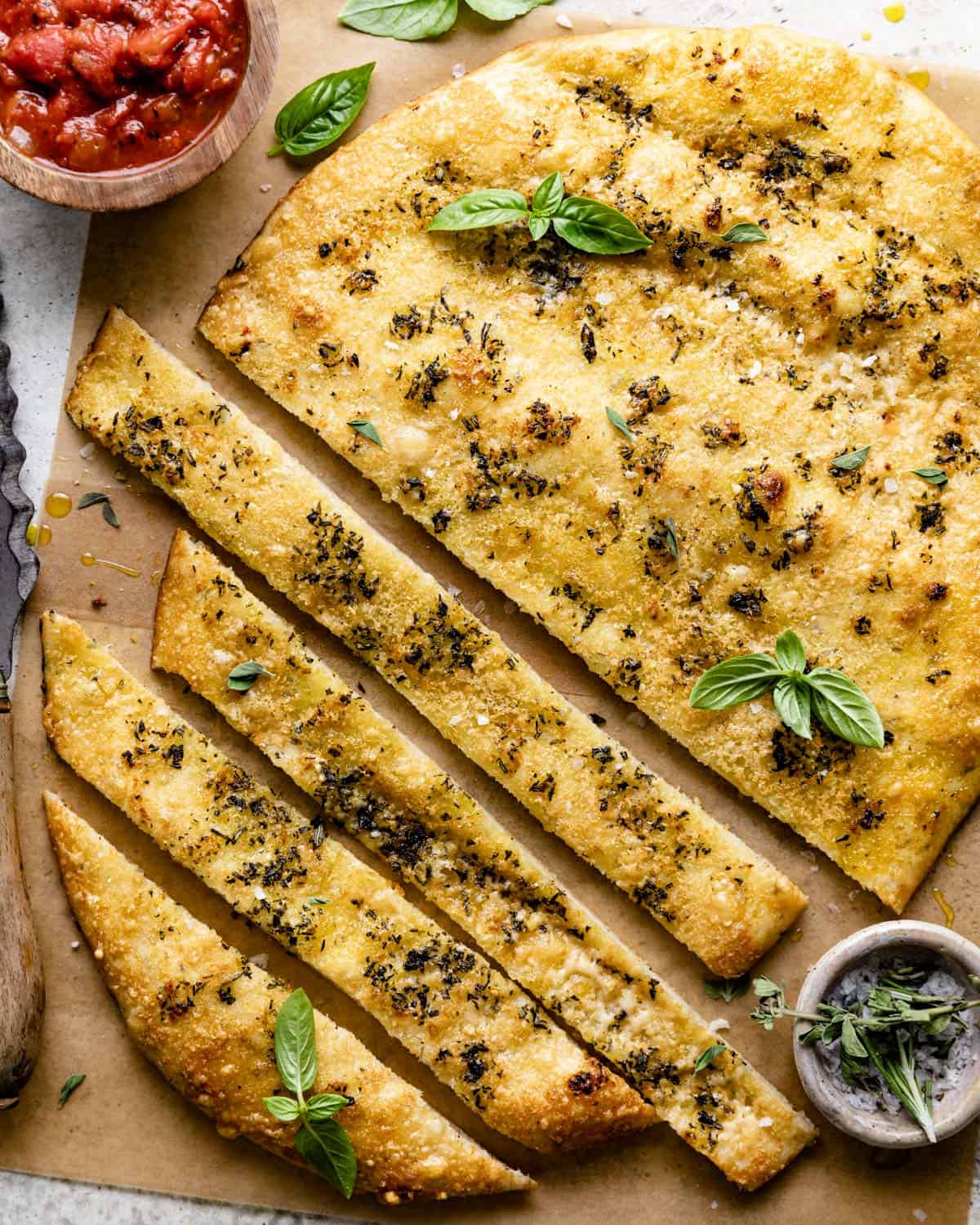 Source: biteswithbri.com
There's nothing better than pizza, and that's why this rosemary parmesan bread is the perfect addition to your fondue spread. It's quick and easy, resulting in a golden, crispy bread.
This herbaceous blend is the perfect companion for melted cheese. It's like a deconstructed pizza with all the cheese you want.
While the recipe calls for rosemary and parmesan, you can use the bread base to experiment with any flavors you like.
Source: throughthefibrofog.com
This tropical mango coleslaw is a great way to blend sweet and savory on your fondue table. While it's not ideal for dipping, it does make a perfect palette cleanser between decadent bites of cheese.
It's free of mayo and dairy to enjoy the refreshing crispness offered by a delicious assortment of fresh fruit and vegetables. Best of all, it's easy to make in advance.
Bring this together a day before your fondue gathering, leave it in the fridge, and serve when ready!
Source: lovefromtheoven.com
Pretzels and cheese get along like a house on fire. They're natural companions, with the delicious saltiness of a well-made pretzel only getting better smothered in smooth, creamy cheese.
This recipe is great for baking beginners, especially if you're interested in learning how to work with yeast. It's simple, but your result will blow your mind every time!
Impress at your next picnic or potluck with these bad boys.
Source: throughthefibrofog.com
Here's another option to freshen up your table. This time, we're taking a punchy route that combines radish, apple, and fennel into an ultra-refreshing table salad.
Whether you're kicking off the evening with an appetizer or need something to balance the richness on the table, this recipe is for you. It's quick, easy, and the perfect way to celebrate these elements.
This salad only requires a few simple steps to make. However, the way it looks and tastes is sure to impress your guests.
Source: lowcarbyum.com
You all know I love a sheet pan recipe. They're effortless, leave almost no dishes behind, and don't require a lot of brainpower. That's great if you have many other elements on the go!
This oven-roasted asparagus might be an unexpected addition to your fondue, but I guarantee it will be welcomed. Asparagus is like a flavor sponge, soaking up the salty richness of the cheese.
Because it's roasted, it offers just enough bite to keep the texture exciting. Stick with simple salt and pepper, or get a little crazy and raid your spice cabinet for a new combination.
Source: throughthefibrofog.com
Are you looking for a low-histamine, vegan, gluten-free option that still looks and tastes delicious? Then this herbaceous batch of roasted potatoes and zucchini is perfect for you.
This is another one-dish recipe, requiring only a baking dish to bring together. Simply toss your potatoes and zucchini in olive oil, herbs, and a generous dusting of salt to prepare them.
Once roasted, these serve as a great side dish for fondue. Thanks to their simplicity, they're also great for weeknight meals and meal prepping!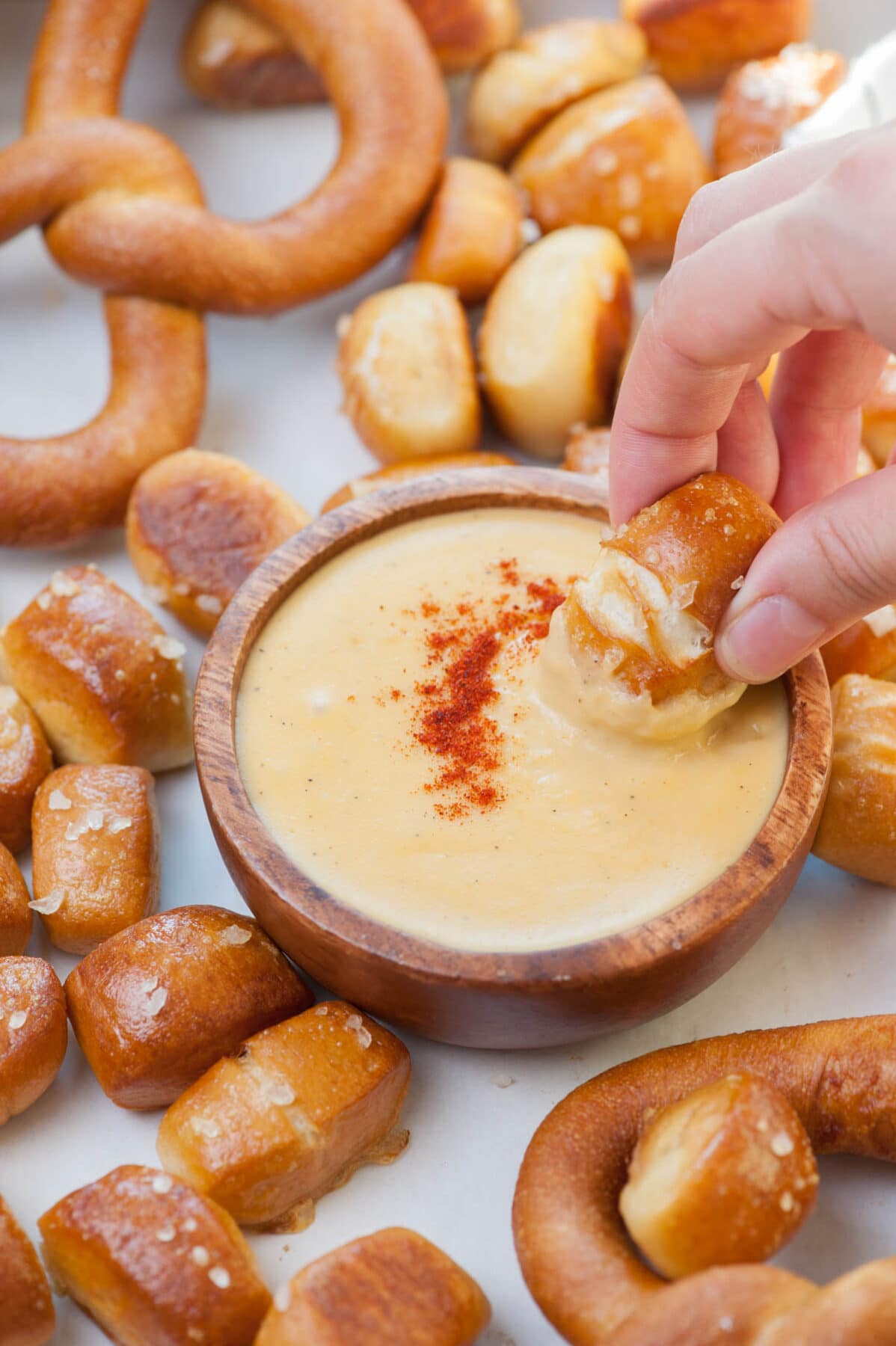 Source: everyday-delicious.com
If you're not in the mood for full-sized pretzels, these soft pretzel bites are the perfect way to enjoy this much-loved snack. Once again, they're super simple to make and look fantastic!
These pretzel bites would be great among a few other elements on your fondue table. Give your guests everything they could want in a dipper with these pillowy, salty treats.
If you're a snacking fiend, these are also great to have hiding in your pantry when cravings strike. Make a big batch and store it in an airtight container for impromptu snack sessions or lunches.
Source: rachelsteenland.com
No matter what else is on offer, cornbread will always belong on the table. It's moist, crumbly, and packed full of incredible buttery flavor.
This recipe also happens to be vegan, so it's an excellent substitute for the fondue if you have guests with dietary restrictions.
The best part? You can whip up a big batch of this delicious bread and keep it in the freezer for up to three months.
Source: alwaysusebutter.com
We've already talked about air fryers on this list, so you know how much of a fan I am. Combine that fantastic convenience with the taste of potato wedges, and you've got yourself a winner.
These air fryer potato wedges are perfect for watching the game or enjoying at a neighborhood barbecue. Dip each delicious piece of potato into your fondue for your own little slice of heaven.
Source: plantbasedonabudget.com
If you don't have an air fryer at home, don't worry. You can still get incredible wedges the old-fashioned way. These tasty oven-baked garlic parsley fries take home fries to a new level.
Sprinkled with parsley and shredded roast garlic clove, these wedges are punchy and full of flavor from the very first bite. The only thing that could make these better is a giant vat of cheese…
Source: healthyrecipes101.com
Our final recipe is a personal favorite; air fryer cauliflower bites. These tasty treats are perfect for serving with fondue, thanks to their crunchy texture and juicy, savory flavor.
These only take thirty minutes to make from start to finish, and they come together so conveniently in the air fryer, all you need is cauliflower florets, spices, and a large bowl. That's why they're so great to break out at parties!
So, no matter what kind of gathering you've got going on, there's a fondue side dish on this list for you. Let me know in the comments which ones you want to try, and happy dipping!
What to Serve with Cheese Fondue: 21 Tasty Dippers
Wondering what to serve with cheese fondue? Give these delicious dippers a try!
Ingredients
1. Herbed Beer Bread
2. Citrus and Arugula Salad with Marcona
3. Air Fryer Roasted Potatoes
4. Sourdough Focaccia
5. Roasted Shishito Peppers
6. Lemon Arugula Salad with Pine Nuts
7. Air Fryer Green Bean Fries
8. Air Fryer Chicken Meatballs
9. Veggie Skewers
10. Air Fryer Sweet Potato Cubes
11. Rosemary Parmesan Bread
12. Tropical Mango Coleslaw
13. Homemade Pretzels
14. Apple Fennel Radish Salad
15. Oven Roasted Asparagus
16. Roasted Zucchini and Potatoes
17. Soft Pretzel Bites
18. Vegan Cornbread
19. Air Fryer Potato Wedges
20. Oven Baked Garlic Parsley Fries
21. Air Fryer Cauliflower
Instructions
Scroll up to get a bunch of easy, yummy, and delicious dipper recipes. Don't be afraid to get creative with the ingredients, you might discover a flavor you didn't know you liked.
Get your shopping list going and make sure you've got all the ingredients.
Get cooking and make your next Tasty Dipper!
Notes
Which one of these recipes was your favorite? Let me know in the comment section or on Pinterest!