Tart cherries are in a league of their own. With their unique flavor, you can use this delicious fruit in so many different ways. Enjoy these scrumptious sweet and savory tart cherry recipes.
From the juice to the fresh cherries themselves, people have hundreds of recipes to use the different parts of tart cherries. Knowing how to treat this fresh fruit is the key to getting the best out of it.
With a bit of tender loving care, fresh tart cherries can turn into sweet delights with their unique flavor. Discover thirty-one ways to transform tart cherries into amazing desserts and dishes.
What Can Tart Cherries be Used For?
For many people, their first instinct is to use tart cherries for desserts like fruit crisp or a nice tart cherry galette.
Since they're fruits, the natural sweetness and wonderful tart flavor in tart cherries makes them a great dessert ingredient.
Tarts, cakes, pie crusts and cocktails are all great ideas for a sour cherry recipe. But there are other places it can be helpful this cherry season!
Many savory dishes benefit from its presence. The sweet tartness acts as a great contrast for savory meats and cheeses.
Best Tart Cherry Recipes
If you have a punnet of tart cherries in your fridge, it's time to grab your cherry pitter and act!
Discover these favorite cherry desserts and savory recipes that show you the best of what tart dark cherries offer.
Source: pintsizedbaker.com
Start summer the right way with this delicious cherry pie ice cream.
This is vanilla ice cream with a ripple of dark sweet cherries, and coarse crumbs of golden brown graham crackers sprinkled throughout. In other words, it's delicious!
This is a slow-churned ice cream that requires an ice cream maker. Before starting on your mixture, freeze the ice cream maker bowl overnight.
Keep a freezer-safe container on hand for the finished ice cream!
Don't have any heavy cream on hand for this recipe? Check out these best heavy cream substitutes!
Source: runningtothekitchen.com
Baking a crisp recipe with a crumbly topping and cherry mixture is so much fun. It's less hassle than pie, but you get the same delicious result. This is a great recipe to whip out for the 4th of July!
It's also gluten-free and vegan so everyone can tuck into this tasty crisp. The key to a great crisp is lots of butter on top of the crumble, and a scoop of vanilla ice cream, so make sure you're generous!
Source: baking-sense.com
Next up is a simple cherry strudel made with phyllo pastry. This is ideal for brunches or picnics outside.
The self-contained strudel is easy to transport, so there is no need to worry about making a mess.
This recipe is straightforward if you use store-bought phyllo dough. The tart cherries turn pink as you stew them in the pot. Once baked, slicing through the crust reveals them in their glory!
Source: theroastedroot.net
Love the taste of cherry pie but don't want to go to all that trouble? These five-ingredient low-carb bars are the solution!
These bars have a rich, buttery crust and tasty crumble on top to make them feel pie-like. The real hero, of course, is the cherry filling. The idea is to create a jam-like filling that can be set on its own.
Try making these in advance! They keep super well, so they're great for a next-day potluck party.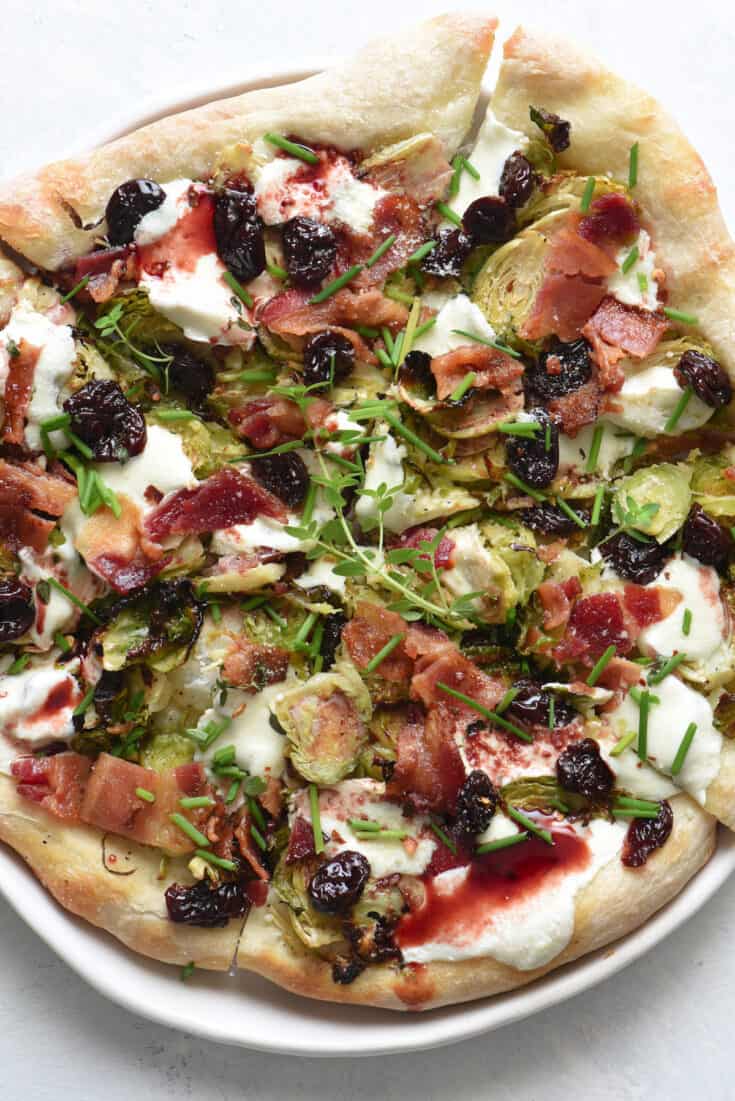 Source: foxeslovelemons.com
Here's a recipe that proves just how tasty tart cherries can be in a savory context! I know brussels sprouts on a pizza can sound odd, but trust me. This flavor combination is super good.
The brussels sprouts offer some crunchy freshness, while the bacon and cherries contrast each other. The result is an addictive slice that will pull you back for bite after bite!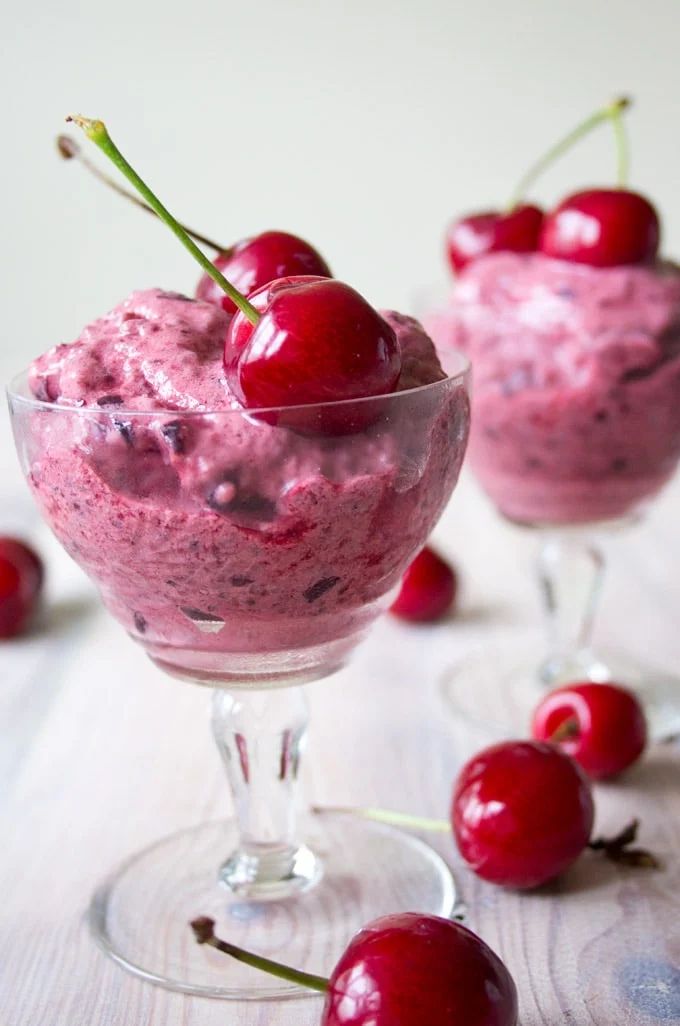 Source: sugarfreelondoner.com
Enjoy a delicious dessert with this sugar-free frozen yogurt. One of the core ingredients is chia seeds, which are filling and tasty.
The best part is that you can enjoy this frozen yogurt in as little as ten minutes! Blitzing frozen cherries means the yogurt is ready to enjoy right away. No ice cream maker is needed.
Source: foxeslovelemons.com
Our next recipe is an adorable appetizer idea. This is perfect for brunches or picnics outside! Every jar is stuffed with all the tasty elements of a regular charcuterie board.
Each guest gets their portion so everyone can try a little bit of everything. The tart cherries feature right at the center of the jar. They make all the salty and creamy elements pop.
Source: heartbeetkitchen.com
Sometimes, you have to give it up for the simpler things in life. This fantastic cherry pie recipe is somehow gluten-free, but you wouldn't know it from the crispy crust and tasty sweet cherry layer!
The perfect cherry pie filling and crunchy pastry will have your guests in awe of your baking skills. Bring this as a holiday offering, or cook it up for Christmas dessert next time.
Plus, it takes only twenty minutes to prep! What's not to love?
Source: mealsbymolly.com
If you prefer tarts, this tart recipe will blow your mind. The buttery shortbread crust is the perfect vehicle for a smooth cherry filling.
If you're planning an event, this is a great element to make in advance.
The light twist of lemon in this cherry filling makes it sing. The lemon and cherries combine to create something so vibrant. It tastes like a summer day in a tart shell!
Source: eastewart.com
No matter who sits down to dinner, they'll love having their squash to dig into! This is a fall favorite with so many delicious little elements in it.
You can serve this as a side dish, a main, or even a shared appetizer. The tart cherries help bring out the earthy flavors in the squash and quinoa.
This is one of the most mouth-watering Thanksgiving or Christmas recipes your guests will love.
Source: sabrinacurrie.com
Next up is a quick and easy dessert you can prepare in mere minutes. They're also fancy enough to hold their own at a dinner party. These French cherry fritters are light, buttery, and flaky.
You can keep leftovers fresh for up to three days! That's what makes these great as party favors or gift bags. Whip up a big batch ahead of time and hand them out to your guests to make them smile.
Source: peaktoplate.com
Venison is gamey meat, which is why the tart cherry juice goes so well with it. The dark sweetness and tart flavor of the pie cherries borders on savory.
Paired with venison, it tastes like a rich dark sauce.
This is a lot like enjoying apple sauce with your pork. It lightens the meal, breaking up the intense flavor and letting you enjoy it for longer. I call that a win-win situation!
Love venison? These easy ground venison recipes are perfect to warm you up this winter.
Source: zhangcatherine.com
Get the kids on board to create these cute cherry thumbprint cookies. The tart cherry jam cuts through the buttery sweetness of the cookies. These treats are seriously addictive!
These cookies are so simple. So, they're great for enjoying some quality family baking time.
Shape each little heart with tiny thumbprints and fill them with either homemade or store-bought cherry jam. Super simple and delicious.
Source: sweetmouthjoy.com
Blondies don't get nearly enough love. The lighter cousin of brownies, these delicious treats can act as hosts to so many different flavors.
In this case, the double cherry jam packs these blondies with tart sweetness. The slivered almonds on top are perfect for adding some crunch. Best of all, you can freeze them to enjoy later!
These blondies are the perfect things to bake when you're bored!
Source: allweeat.com
When the days start getting too hot to handle, it's time to break out this recipe. These cherry ice pops are so refreshing! The tart yet sweet fruity flavor hits the spot on a hot day.
All you need is a food processor to make these ice pops happen. They come together in no time and freeze faster than a whole pint of ice cream. So you can enjoy them even sooner!
Source: savvymamalifestyle.com
Whether you want breakfast or a dessert, these cherry chocolate chip waffles are on your side. The chocolate and the cherry combo is as old as time itself (and just as delicious as you'd expect).
These golden waffles are super easy to whip up on a Sunday morning. Serve with a whipped cream smile and a drizzle of cherry syrup for an extra flavor kick.
Source: saltedplains.com
Vegan pies can be tricky, but crumbles are super easy to make vegan! This gluten-free, vegan cherry crumble proves that you don't need dairy or gluten to make delicious desserts.
Digging into a bowl of this crumble is so comforting. There are so many textures to enjoy. The cherry flavor hums through it all, pulling all the elements together into a perfect bite.
Source: amummytoo.co.uk
Do you have a cheesecake lover in the family? Then they'll adore receiving this for their birthday!
This is an incredible occasion cake that looks complex but is quite simple to make. The tart cherries on top of the smooth custard are a match made in heaven.
Source: apaigeofpositivity.com
Enjoy all the flavors of a luxury dessert in the form of a healthy smoothie. This recipe is one for the history books. It somehow captures that amazing chocolate and cherry flavor but makes it healthy!
Since this is a smoothie, you can whip it up in almost no time. Make sure you use pitted cherries to keep your smoothie maker from combusting!
Source: entirelyelizabeth.com
This recipe is great if you need to send something along to school with your little ones. It's also ideal for office get-togethers or potlucks. That's right. It's blondies!
These cherry and white chocolate blondies are super fudgy and sweet. The tart cherries help reign in all that sweetness. So, in the end, you have a perfectly-balanced blondie ready to be enjoyed.
Source: apaigeofpositivity.com
Cobbler is one of those iconic desserts you must make at least once in summer. Might I recommend giving this one a try?
The cherries and blueberries in this cobbler make a perfect pair. The biscuit-like crust on top traps all the flavor inside a layer of fantastic crunch.
Every spoonful of this is like sinking into a warm blanket. It's that comforting!
Source: abakingjourney.com
Next up is a classic French dessert you can add to your arsenal. Cherry Clafoutis – baked cherries in custard – is a light and rich dessert for the whole family.
Bring this out to impress your guests for afternoon tea or dessert. It can be served warm or cold, so it's great all year round. This is a simple, refined dessert you can make with ease.
Source: twobittart.com
This isn't your typical scone. Instead of the light and fluffy British version, this scone is all-American. The pastry is buttery and crumbly, and the lines of chocolate on top add a lovely crunch.
The real hero is the filling. The tart cherries hiding inside the scone are soft and fruity. In the spectrum of scones, finding one that could beat this would be tough!
Source: mommyevolution.com
This recipe walks the line between sweet and savory. It's a delicious appetizer that looks super fancy, so it's great for dinner parties and refined gatherings.
The brie and phyllo pastry add crunch and creaminess, while the cherries are a burst of tart sweetness. You can whip these up quickly with some store-bought phyllo cups.
So, reach for this recipe when you need something tasty, simple, and refined!
Have some extra phyllo? Make any of these tasty phyllo dough recipes!
Source: chocolatemoosey.com
Create your small batch of sour cherry jam without any pectin! This is a great recipe to keep on hand for any baking.
Swirl your jam through cakes or drizzle it on pastries for a sweet kick. This is a great place to start if you've never made jam.
The recipe is super easy, and you don't need many elements.
Source: cinnamonandcoriander.com
German baking knows how to make amazing use of sour cherries. Case in point: this sour cherry cake. This is almost like a pie! The crust houses a layer of cherries, a crumble, then cream.
Every mouthful has the perfect balance of textures and flavors. This dessert is delicious no matter what time of year it is. But it would be extra good come Christmas!
Source: chocolatemoosey.com
Individual portions are a great way to make each guest feel special. That's why these mini cherry pies are so great! The pies are simple to make, but they taste incredible.
The trick to these little pies is to use ramequins instead of an outer crust. That way, you can save yourself much time on the assembly.
Source: acedarspoon.com
Calling all almond lovers, this cake is for you! Almond flour gives baked goods the best crumbly texture. That's why this cake is so light yet somehow also moist.
While the cake takes an hour to bake in the oven, it takes only ten minutes to prepare. Plus, if you have cherries on hand, the rest of the ingredients will be easy to find in your pantry.
Source: heartbeetkitchen.com
If you don't have an ice cream maker, don't despair. This no-churn cherry nut ice cream recipe is here to save the day! With crunchy and chewy bits in creamy ice cream, this is to die for.
This recipe has a little trick to make the cherries extra good. By soaking them in rose wine, you can plump them up while adding fragrance.
Source: keep-calm-and-eat-ice-cream.com
Speaking of delicious ice cream, here's another flavor for you to try! Every bite of this ice cream is like digging into a slice of black forest cake.
This recipe requires a churner to ensure all ingredients are thoroughly mixed. However, many no-churn versions allow you to achieve the same effect.
Source: runningtothekitchen.com
Our final recipe is a little off the beaten track. It's not a dessert or a treat… It's a sleep aid. Tart cherry is known for having medicinal properties that help us get deep sleep.
While it's not a guarantee, these gummies are easy to make and try! Pick up a mould for them, or just cut them into squares. No matter the shape, these gummies taste great.
31 Tart Cherry Recipes That are Easy as Pie
From delicious desserts to tasty meals, here are the best sweet and savoury tart cherry recipes for you to try.
Ingredients
1. Cherry Pie Ice Cream
2. Sour Cherry Crisp
3. Cherry Strudel
4. Cherry Pie Bars
5. Brussels Sprouts Pizza with Cherries and Bacon
6. Cherry Chia Frozen Yoghurt
7. Charcuterie with Pickled Cherries
8. Homemade Cherry Pie
9. Cherry Tart
10. Stuffed Acorn Squash
11. Cherry Fritters
12. Venison Steaks with Cherry Sauce
13. Cherry Thumbprint Cookies
14. Double Cherry Bakewell Blondies
15. Cherry Ice Pops
16. Cherry Chocolate Chip Waffles
17. Fresh Cherry Crumble
18. Cherry Cheesecake
19. Chocolate Cherry Smoothie
20. Cherry White Chocolate Blondies
21. Cherry Blueberry Cobbler
22. Cherry Clafoutis
23. Sour Cherry Chocolate Scones
24. Brie and Dark Cherry Phyllo Cups
25. Sour Cherry Jam
26. German Sour Cherry Cake
27. Mini Cherry Pies
28. Cherry Almond Cake
29. No-Churn Tart Cherry Nut Ice Cream
30. Black Forest Ice Cream
31. Tart Cherry Gummies
Instructions
Scroll up to get a bunch of easy, yummy, and delicious recipes. Don't be afraid to get creative with the ingredients, you might discover a flavor you didn't know you liked.
Get your shopping list going and make sure you've got all the ingredients.
Get cooking and make your next Tart Cherry Recipe!
Notes
Which one of these recipes was your favorite? Let me know in the comment section or on Pinterest!