Picked up some tajín seasoning from the grocery stores and not sure what to do with it? These mouthwatering tajin recipes will give you inspiration for to use this popular seasoning mix!
Tajin is the Godfather of Mexican spice mixes, reigning supreme over all other mixes! It's the ultimate punchy seasoning. Kids love it because it's tangy, salty, and not too spicy with a lime zest.
This popular Mexican spice blend is made up of chili powder, dehydrated lime juice, and sea salt.
While most people only use tajin as a seasoning with meats or stews, this delicious seasoning is quite versatile.
What Can I Do with Tajin?
Like any other seasoning, the ways you can use Tajin are only limited by your imagination! Thanks to its tangy undertones, you can use Tajin on sweet and salty foods.
The tiniest kick of spice elevates almost every dish, and the bright citrus flavor at its fore means it's just as at home on a dessert as it is a main course.
Best Tajin Recipes
Looking to broaden your horizons? Discover twenty-one unique Tajin recipes that will expand your idea of how you can use this delicious chili lime seasoning.
Source: thelittlestcrumb.com
Let's kick things off with something unique! This delicious margarita recipe will put a whole different kind of kick into your Friday night drinks thanks to the seasoning blend.
Spicy, sweet, and just a little tangy, this is the kind of margarita your friends will love. The Tajín clásico seasoning is just the cherry on top!
Pair this tasty drink with your favorite Mexican cuisine!
Source: kidtestedrecipes.com
Roasted chickpeas are an excellent snack to keep around the house. They're tasty, full of protein, and last for a long time in an airtight container.
Plus, they're really simple to make. Dust your roasted chickpeas with Tajin seasoning to give them a lovely kick.
Source: agrillforallseasons.com
Grilled Tajin chicken breasts are a great summer BBQ dish.
The pre-made seasoning with chile powders makes it easy to create a delicious rub to coat your chicken, giving it a tangy flavor in a great way.
This approach works well for any part of the chicken. Make spicy Tajin tenders, wings, or drumsticks to grill to perfection on the BBQ.
Source: joyfilledeats.com
A classic cucumber salad is cool and refreshing. A little sprinkle of Tajin chile-lime seasoning salt is perfect to bring it up a notch!
Imagine that cool cucumber sensation paired with a tangy, citrusy lime flavor kick. This is a great side salad for any Mexican dish with much flavor, especially if it's ultra-spicy!
Source: quichemygrits.com
This Mexican shredded beef can be used in a hundred different ways. Make cheesy quesadillas, burritos, or nachos with this punchy, bold shredded beef mix.
The Tajin seasoning is a vital part of the flavor profile. It's a quick and easy way to add a ton of flavor!
Source: thefoodhussy.com
This one goes out to vegans and vegetarians. Knowing how to cook with vegetables means becoming well-acquainted with your spice cabinet since spices are the key to all good flavor.
In this case, the Tajin seasoning is a delicious spice rub on the cauliflower, making it smoky and tangy. Just grab your corn tortillas.
Source: quichemygrits.com
Chicken tacos are a great weeknight meal that the whole family can enjoy! Whip this recipe up quickly and serve it with all your favorite taco fixings.
This is the ideal meal if you have some picky eaters in your family. This way, they can assemble their perfect taco and dodge the ingredients they don't like.
This taco recipe makes one of the best Sunday dinner ideas!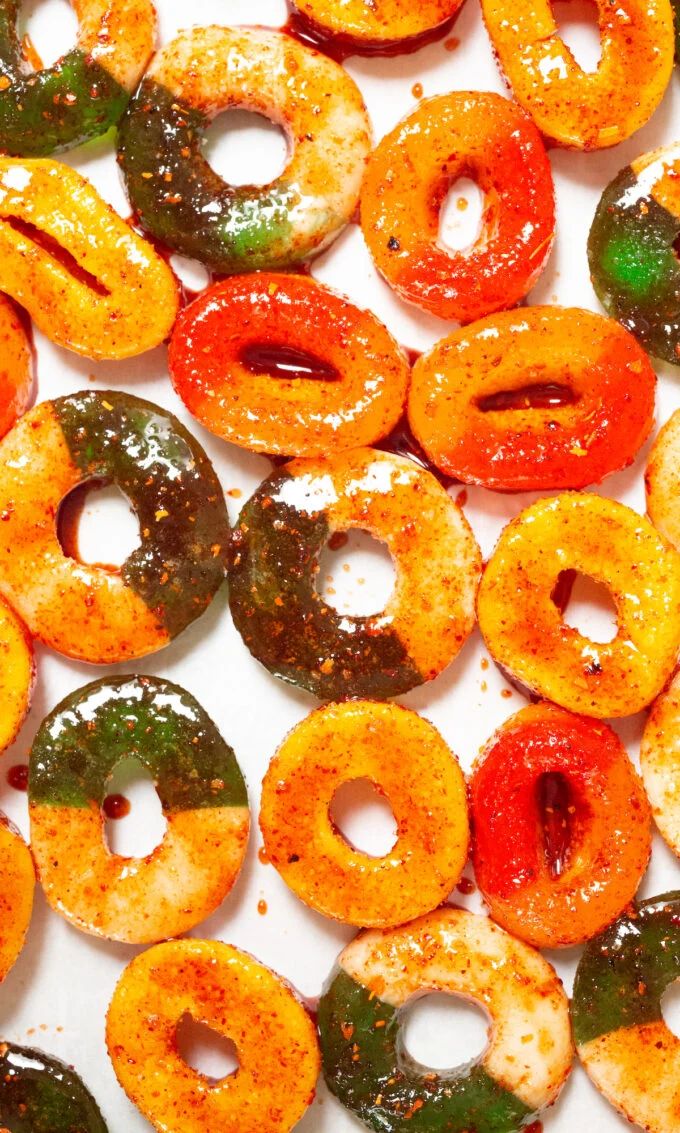 Source: cookingwithjanica.com
Craving something sweet and unique? Use your favorite gummy candies to create this spicy Mexican candy! The Tajin and Chamoy seasonings make every bite a little spicy and much more delicious.
This is a great snack to put out at birthday parties or to take on road trips. Trust me. You'll get addicted to this unique flavor in no time.
Source: summeryule.com
This is a great place to start if you've never cooked with jicama. This hardy root vegetable needs a bit of tender love and care to turn delicious, but the effort is worth it.
Serve your spiced jicama fries with a creamy dipping sauce to contrast the Tajin seasoning perfectly.
Source: hotrodsrecipes.com
Crank your standard tuna salad sandwich up a notch with this amazing recipe! Tajin plays a big part in adding a ton of flavor to the mix, vastly improving the usual taste of a tuna salad sandwich.
Bring a platter to your next potluck to surprise and impress your guests!
Source: cookingwithjanica.com
Looking to get the party started? Look no further than the Mexican candy shot! This recipe uses shot glasses encrusted with Tajin to deliver a kick that has nothing to do with the alcohol.
The sweet and spicy flavors paired with the jelly texture will make this alcoholic shot a big hit at your next event.
Source: drugstoredivas.net
Deviled eggs are a staple of neighborhood gatherings everywhere. However, preparing a ton of them can feel like quite a chore!
Take some of the pressure off with these super simple Tajin deviled eggs. Every bite sings with the bright, citrusy flavor of this classic seasoning.
Having a letter party? This is one of the best foods that start with D!
Source: littleferrarokitchen.com
The citrus undertones of this delicious cocktail are a perfect pair for Tajin seasoning. This classic, refined cocktail tastes just as good as it looks. So, it's ideal for your next party!
Source: drugstoredivas.net
The only thing better than grilled corn is grilled corn that's been seasoned. Enter, Tajin seasoning! This versatile spice is the perfect rub to crank up the flavor of your favorite Mexican side dish.
The smokiness of the grilled corn pairs perfectly with the tangy spice, making every bite taste as mouth-watering as it smells.
This grilled corn would also make a great base for Mexican street corn with cotija cheese! This tajin recipe is one of the best potluck ideas to feed a crowd!
Source: thishealthytable.com
I have yet to meet someone who doesn't like watermelon, so this fresh fruit salad will surely be a crowd-pleaser! The secret weapon hiding in this salad's flavor profile is, of course, Tajin seasoning.
The lightest of spicy flavor kicks help to balance out all that sweetness, making this salad truly addictive.
This watermelon salad is also one of those perfectly pink foods!
Source: fromachefskitchen.com
Are you in for a busy week ahead? Then there's nothing better than having this fajita recipe in your back pocket!
The fajitas are super simple to prepare on a single sheet pan. Thanks to the pre-made spice mix, you can have the chicken in the oven in a matter of mere moments. That's convenience for you.
Source: theartoffoodandwine.com
Add a little bit of adventure to your next Mexican night with these unique spicy mango margaritas! Featuring everyone's favorite chili and lime seasoning, these margaritas are packed with bold flavors.
Try crusting your glasses in the seasoning for a unique look!
Source: midwexican.com
Cucumber salsa is meant to be refreshing and cooling to take away from the spice of the main dish. By adding a little bit of Tajin, you can add the barest hint of spice while keeping things cool and light.
This fresh salsa would make a great side dish for fried fish!
Source: theurbenlife.com
Texas Ranch Water is a delicious cocktail best suited to a night with friends sitting on the porch, sipping drinks, and watching the sunset. It's ultra-easy to prepare.
The Tajin is meant for crusting the glass, adding a welcome little punch of citrus and spice to every sip.
Source: ohmy-creative.com
Put a delicious spin on the classic mojito with this genius recipe! Silver tequila and strawberries have never tasted so good.
Since strawberries are so sweet, this cocktail might have tasted overwhelming if not for a sprinkle of Tajin. The chili lime helps to pull back on the sweetness, making every sip addictive.
Source: aubreyskitchen.com
Finally, we have an adorable summertime treat for all ages. This delicious Mexican fruit cup is proof that Tajin can make pretty much everything better.
Fill a cup with your favorite fruit and dust with a generous sprinkle of Tajin. The chili lime mixture helps to bring out the refreshing flavor of the fruit, making this ideal for hot summer afternoons.
21 Tasty Tajin Seasoning Recipes
We've rounded up our favorite tajin recipes to provide some inspiration if you're looking to make the most of this spice.
Ingredients
1. Mango Jalapeno Margarita
2. Chile Lime Flavored Roasted Chickpeas
3. Tajin Chicken
4. Cucumber Salad
5. Mexican Shredded Beef
6. Air Fryer Cauliflower Tacos
7. Baja Chicken Tacos
8. Spicy Mexican Candy
9. Air Fryer Jicama Fries with Dipping Sauce
10. Tuna Salad Sandwich
11. Mexican Candy Shot
12. Deviled Eggs
13. Raspberry and Citrus Mezcal Cocktail
14. Grilled Corn Ribs
15. Mexican Watermelon Salad
16. Grilled Chicken Fajitas
17. Spicy Mango Margaritas with Chili Lime
18. Cucumber Salsa
19. Texas Ranch Water
20. Strawberry Tequila Mojito
21. Mexican Fruit Cup
Instructions
Scroll up to get a bunch of easy, yummy, and delicious tajin recipes. Don't be afraid to get creative with the ingredients. You might discover a flavor you didn't know you liked.
Get your shopping list going, and make sure you've got all the ingredients.
Get cooking and make your next Tajin Seasoning Recipe!
Notes
Which one of these recipes was your favorite? Let me know in the comment section or on Pinterest!