This spicy chicken is a delicious Instant Pot meal. You can get it on the table in just 25 minutes and keep your family full!
It's a nutritious, high protein, high fiber meal that's also dairy-free, gluten-free, and macro-friendly.
I'm a big fan of chicken as I'm sure many of you are too. After all, who doesn't love chicken?
But after a while, your chicken dinners (or lunches) can get kind of boring. So, if you're looking to switch things up, this dish is for you.
On the menu is chicken with quinoa. The crispy red and green peppers add a nice crunch.
Meanwhile, the red kidney beans make this dish extra filling.
And the chicken breasts are bursting with flavor. That's because you're using 6 different spices.
The mild salsa adds a bit of kick to the chicken- but not too much. So, your kids can eat it too.
Winner, winner, chicken dinner.
Why You Should Make Instant Pot Meals
We all live busy lives, I included. So, the last thing you want to do is spend hours in the kitchen.
We'd rather order takeout than slave in the kitchen, right? But takeout is often unhealthy.
Plus, it can get pretty expensive, even you order takeout just a few times a week.
That's where Instant Pot Meals come in handy. You can prepare healthy, delicious meals in a fraction of the time it takes in a slow cooker or the stovetop for that matter.
So, you can have yummy, homecooked meals in minutes, rather than hours.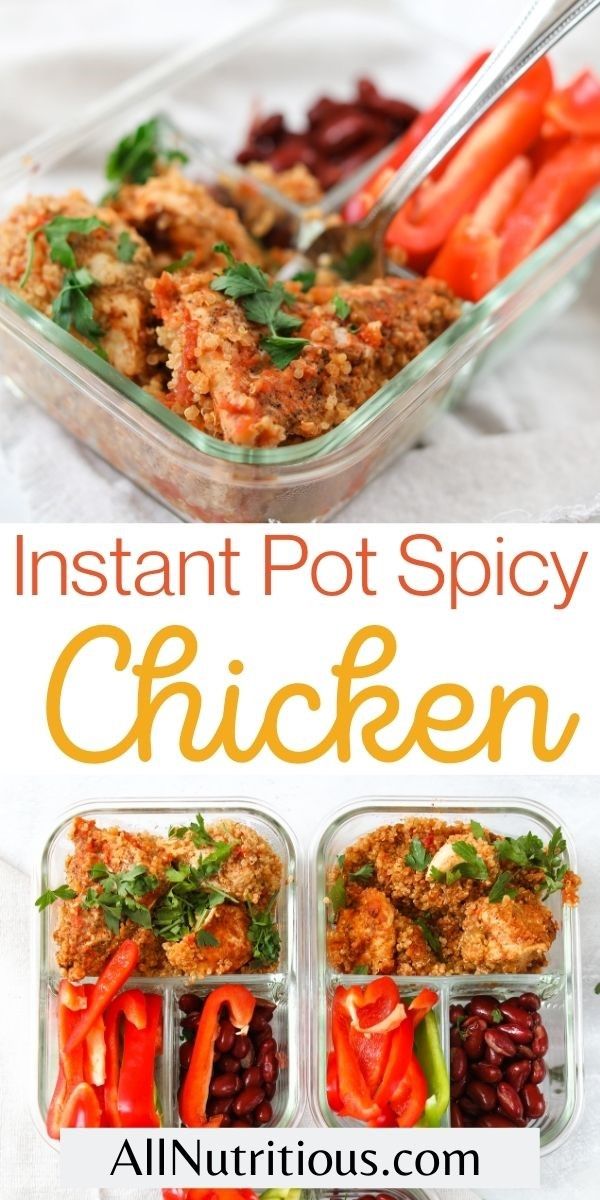 Making Instant Pot Meals also saves you money. That's because it's faster and easier to cook budget-friendly food items like dried beans and cheaper cuts of beef in an Instant Pot instead of the stove.
So, you can ditch the canned beans and more expensive beef cuts.
Also, cooking with an Instant Pot is so efficient. For instance, you can sear and saute your food in your Instant Pot, instead of using a frying pan.
So, you end up just using one pot- your Instant Pot. This makes clean-up a breeze.
Using your Instant Pot to make meals is perfect if you live in a tiny place. You can cook your rice in it, steam veggies and fish, even make yogurt and cake.
Thus, you can get rid of all the kitchen gadgets that are clogging up your counter space and just use an Instant Pot. If you're in the market for an Instant Pot, there's a high-quality one here.
Why Should You Meal Prep Chicken?
Meal prepping your chicken frees up your time during the week. Cook once, eat all week is the motto I like to live by.
By having your meals all prepped for the week, you save yourself the stress… of wondering what's for dinner or lunch.
By meal prepping your chicken, you also make eating healthy the easy choice.
And talking about healthy, this chicken meal prep is pretty healthy. It's packed with protein.
In fact, one serving provides a whopping 65 grams of protein. So, it's perfect for growing children.
It's also rich in fiber. Just one serving provides 120% of your daily fiber needs.
Fiber is not only good for your digestion, but it helps you feel full too.
Also, it's an excellent source of Vitamins A and C. So, it's good for your immune system.
It's also rich in iron. So, it keeps your energy levels up.
And it has a decent amount of calcium. So, it's good for your bones.
Finally, it's gluten-free too.
How to Make Instant Pot Spicy Chicken with Quinoa
Get your instant pot out and add in quinoa, water, salsa sauce, salt, black pepper, and olive oil. Drop-in cut chicken breasts.
Time for spices! Add in cumin, paprika, garlic powder, and chili powder! Then, make sure to seal the instant pot with the lid and cook on high pressure for 8 minutes.
Once you're finished with cooking, release the pressure quickly using the valve. Don't leave it to sit.
Chop the parsley, bell peppers and rinse and drain the red kidney beans.
Divide the chicken into food containers. I'm using ones with compartments. You can get them here.
Finally, add sliced veggies and red kidney beans into other compartments.
How Long Do I Cook Chicken in My Instant Pot?
It takes very little time to cook chicken in your Instant Pot. How long it takes depends on the cut of your chicken and how well you want it done.
For this dish, you're using cut up chicken breasts. So, all it takes is 8 minutes under high pressure.
Once your chicken is done, just release the pressure quickly.
If you don't cut up your chicken breasts, it takes a bit longer- about 2 extra minutes.
And if you want your chicken breasts to be easy to shred, you're looking at 15 minutes of cook time.
How Much Water Do I Put in the Instant Pot for Chicken?
How much water you put in the Instant Pot for your chicken depends on the size of your Instant Pot.
For a standard 6-quart Instant Pot, like the one I used, you need to add 1 cup of water.
If you're using a smaller 3-quart Instant Pot, you'll be adding ¾ cups of water.
And if you're using an 8-quart Instant Pot, you'll be adding 1 ½ cups of water.
Can I Put Frozen Chicken In My Instant Pot
You sure can. It will just take longer to cook.
That's because the frozen chicken will cool down the insert of your Instant Pot. When this happens, it will take longer for the instant pot to come to pressure.
You're looking at an extra 5 minutes for your Instant Pot to come to pressure. So, factor in that extra time if you're cooking your chicken from frozen.
Other Meal Prep Ideas

Watch Full Instructions
Instant Pot Spicy Chicken with Quinoa
In just 25 minutes, you can make these instant pot spicy chicken bowls! They're high protein, flavorful, spicy, and just yummy! A great high protein meal prep to have for lunch.
Ingredients
Spicy Chicken
1 cup quinoa
1 cup water
14 ounces of mild salsa sauce (400g)
1/2 tsp salt
1/2 tsp black pepper
1 tsp olive oil
1 lb chicken breasts (cut into 6 pieces) (450g)
1 tsp cumin
1 tsp paprika
2 tsp garlic powder
2 tsp chilli powder
For Later
14-ounce can red kidney beans (rinsed & drained)
fresh parsley (chopped)
1 red bell pepper (sliced)
1 green bell pepper (sliced)
Instructions
Get out the instant pot and add quinoa, water, salsa, salt, black pepper, and olive oil to it. Then, cut chicken breasts into 6 pieces or so and place them on top of everything.
Add in cumin, paprika, garlic powder, and chili powder.
Cook in the instant pot on high pressure for 8 minutes. Once done, release the pressure quickly using the valve.
Divide the chicken with quinoa into the meal prep bowls. Sprinkle with parsley.
Add sliced bell peppers and red kidney beans into additional compartments of the meal prep. Keep refrigerated for up to 3 days.
Nutrition Information:
Yield:

3 meal prep bowls
Serving Size:

1 meal prep bowl
Amount Per Serving:
Calories:

767
Total Fat:

11g
Saturated Fat:

1.8g
Trans Fat:

0g
Unsaturated Fat:

7g
Cholesterol:

112mg
Sodium:

1627mg
Carbohydrates:

104g
Net Carbohydrates:

74g
Fiber:

30g
Sugar:

12g
Protein:

65g
Nutritional values were obtained with automatic software using the amounts of products used. To get the most accurate representation of the nutritional values, you should calculate them with the actual ingredients used in your recipe. You are solely responsible for the nutritional information obtained to be accurate.