If you have leftover shredded pork, you can easily stretch it to two or three different meals. It's incredibly versatile! These recipes with shredded pork will impress you!
Lunches and dinners are sorted with these best recipes for tasty shredded pork. There is even a breakfast option in there, too!
What Can I Make with Shredded Pork?
From BBQ pizza to camping tacos to rice bowls to green chili. You can use many dishes as a base that flavors your leftover pork the next day.
As it takes a while to make, you may as well enjoy it more than once! Enjoy these best leftover pulled pork recipes next time!
Recipes That Use Shredded Pork
These are the best delicious recipe ideas that use tasty shredded pork in the most delicious way!
Source: alittleandalot.com
Tender shredded pork is tossed with a tangy mustard sauce and piled on a soft bun!
Finish with crunchy pineapple slaw for a delicious blend of salty, sweet, and savory flavors the whole family will love.
Slow-cooked pork carnitas are the highlight of your sandwich. The tangy mustard takes the pork from just delicious to extra delicious!
Make your mustard sauce with Dijon, hot sauce, and Worcestershire sauce. White vinegar and cider vinegar deliver a tangy burst!
This best pulled pork recipe is sure to become one of your favorite ways to use the best cut of meat!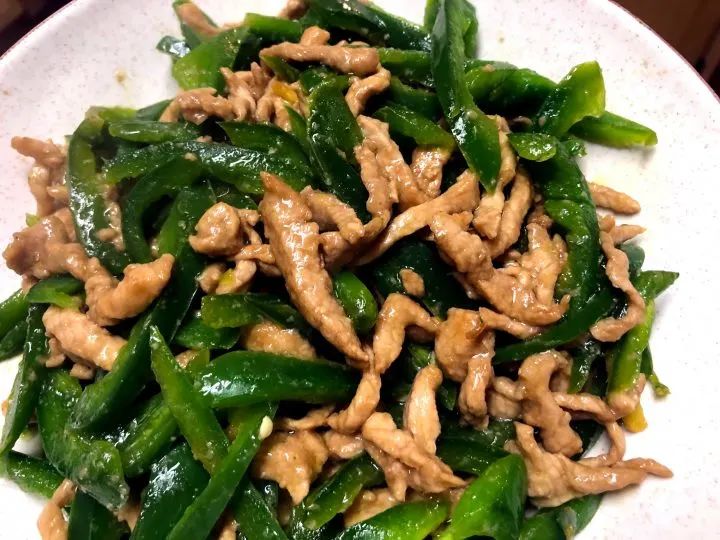 Source: ohsnapletseat.com
Shredded pork stir fry provides a balanced combination of delicious protein and veggies in the best way!
This comfort food recipe doesn't use shredded pork in the usual sense. Instead, slice your pork into thin strips. It still soaks up the tasty flavors!
Mix soy sauce, oil, and cornstarch for your marinade. Fry your pork with fresh ginger for a fragrant taste. Add sliced green bell peppers and cook until soft and tender!
Check out these other delicious green pepper recipes next!
Source: zonacooks.com
These tasty burritos contain smoky pulled pork, tender rice, and a green enchilada sauce.
Slow-cook a pork roast with liquid smoke for a delicious depth of flavor. Mix the shredded pork with cooked rice, green enchilada sauce, diced green chilis, cumin, and chili powder.
Add your pulled pork mixture to soft tortillas with shredded Monterey Jack before folding and adding to a baking dish. Sprinkle extra cheese over your burritos for a gooey melted topping!
Source: theroastedroot.net
These are a delicious fusion of your favorite BBQ pork and classic enchiladas!
Slow-cook a pork shoulder roast with BBQ sauce until tender. Divide your shredded pork between soft tortillas before wrapping and placing them in a baking dish.
Pour extra BBQ sauce on top and sprinkle with pepper jack cheese. Bake your enchiladas until the tortillas are lightly browned and the cheese is gooey and melted!
Source: thedevilwearssalad.com
This delicious salad combines sweet, tangy, and smoky BBQ pulled pork with crunchy slaw!
Coat your pork roast in a flavorsome rub before slow-cooking until tender. Make the rub with smoked paprika, garlic powder, cumin, onion powder, dried oregano, and cayenne.
Mix your shredded pork with BBQ sauce, then toss it with a crunchy salad. Shredded kohlrabi, purple cabbage, green apple, and carrot are perfect!
Shredded Pork Taco Recipes
Find the best shredded pork taco recipes below!
Source: callmepmc.com
Slow-cooker pulled pork is tender, juicy, and delicious, perfect for piling in soft tacos!
Coat a pork roast with your favorite BBQ rub or homemade BBQ sauce.
Add it to your slow cooker with apple cider vinegar, Worcestershire, and liquid smoke. Shred the cooked pork and divide it between warm tortillas.
Finish your tacos with crunchy kale slaw to complement the tender pulled pork. Add a drizzle of tangy chipotle ranch, too!
This is one of the most fun weekend dinner ideas for family night!
Source: alittleandalot.com
Tender shredded pork is marinated in citrus and chili and topped with taco favorites!
Marinade a pork roast for at least 12 hours in red chili sauce, jalapeno, orange, and lime juice. Coat it in chili powder, ground cumin, garlic powder, and onion powder before slow-cooking until tender.
Divide your shredded pork tacos between warm corn tortillas. Top with Pico de Gallo, slices of zesty orange, and salty queso fresco!
Source: zonacooks.com
Crunchy taco shells and tender pulled pork combine for these smoky tacos!
Divide smoky pulled pork between taco shells and drizzle with tangy barbecue sauce. Sprinkle with shredded cheddar and bake until the cheese is melted!
Combine mayo, mustard, vinegar, and celery seeds and toss with shredded coleslaw mix. Pile it on your tacos and serve immediately!
Source: midwexican.com
Use leftover pulled pork for these delicious crispy tacos with BBQ sauce!
Reheat your pork in a skillet using bacon fat or oil until it's golden and crispy. Divide your pork between flour tortillas and serve with your favorite toppings.
Crisp shredded lettuce, diced red onion, cotija cheese, and hot sauce are excellent options!
Source: modernhoney.com
Green chili pork carnitas is tender with a citrus flavor and a kick of heat!
Slow-cook your pork roast with jalapenos, onion, green chilies, garlic salt, and cumin. Add orange and lime juice for a zesty burst of flavor!
Divide the shredded pork between corn tortillas and finish with your favorite toppings. Salty queso fresco, guacamole, fresh cilantro, and tomatillo salsa are perfect!
Source: sidewalkshoes.com
Tender shredded pork, creamy pinto beans, and a crunchy pepita slaw make these delicious tacos!
Your shredded pork cooks in a flavorful sauce. Combine shallots, chicken stock, ground cumin, minced garlic, and smoked paprika.
Pinto beans offer creamy bites of texture. Smash a few of them with a fork to help thicken the sauce. Divide your pork and bean mixture between soft tortillas.
Make your tasty slaw with shredded red cabbage, fresh cilantro, and toasted pepitas. Add it to your tacos on top of a creamy avocado-yogurt dressing for a great Saturday dinner idea!
Source: feastingnotfasting.com
Pork tenderloin carnitas is slightly healthier than regular carnitas as it contains less fat. However, it's still as delicious and crispy!
Slow-cook your pork tenderloin with ingredients that pack a punch in flavor. Think chipotle in adobo, cilantro, lime, and orange juice. Add ground cumin, Mexican oregano, and chili powder, too.
Crisp your shredded pork by placing a single layer on a baking sheet and broiling. Pile it on soft tortillas with shredded lettuce, Pico de Gallo, guacamole, and queso fresco!
Shredded Pork Crock Pot Recipes
Use your crock pot to make these delicious shredded pork recipes. They need a long time to cook, but it's worth it!
Source: healthymomhealthyfamily.com
Tender Coca-Cola pulled pork is delicious and versatile. Use it for sandwiches, tacos, or a salad!
Coat your pork roast in a dry rub before adding it to the slow cooker. For the rub, use smoked paprika, garlic powder, cumin, salt, and pepper.
Pour in Coca-Cola and liquid smoke for a beautiful depth of flavor. The soda tenderizes the meat, and the sugar caramelizes for a hint of sweetness.
Source: freeyourfork.com
This crispy crockpot carnitas is coated with a tasty spice mix and cooked with citrus for a beautiful flavor!
Coat your pork roast in a flavorsome dry rub before cooking. Use cumin, dried oregano, garlic powder, smoked paprika, chili powder, and ground coriander. A pinch of cinnamon, too.
Squeeze lime juice all over your pork to infuse a zesty flavor. Spread your shredded pork on a baking tray and broil until it's lovely and crispy!
Source: jawnsicooked.com
This Cuban-style slow cooker pork has a zesty fresh citrus and herb flavor!
You'll use a wet rub for your pork in this dish. Blend lime and orange zest, scallions, dried oregano, ground cumin, onion powder, and garlic powder. Fresh cilantro makes the rub "wet."
Rub the zesty mixture all over your pork. Cook it in lots of lime and orange juice that you mix in after shredding!
Source: cookingwithcarlee.com
This comforting chili is flavorful and perfect for leftover pulled pork!
Green bell pepper and yellow onion add an extra layer of flavor to your pulled pork chili. The only prep you have to do is chop your veggies! Throw them in your slow cooker with the pork.
Canned chili beans offer creamy bites to your chili. Add canned tomatoes, BBQ sauce, beef broth, and chili powder. Serve your delicious pulled pork chili with your favorite toppings!
Source: brooklynactivemama.com
Pork tenderloin is coated in a delicious tangy, sweet glaze before being perfectly cooked!
Coat your pork tenderloin with dried sage, minced garlic, salt, and pepper before cooking. You'll add your glaze in the final hour.
Balsamic vinegar and brown sugar are prominent flavors in your glaze. The sugar leaves a caramelized taste and helps it turn crispier if you broil it!
Source: thissillygirlskitchen.com
Rub a pork loin in a delicious mix of spices before slow cooking until it's tender.
Use brown sugar in your rub for a beautiful caramelized flavor. Mix it with paprika, garlic powder, cumin, onion powder, salt, and pepper.
Shred the pork and stir in your favorite BBQ sauce before serving in slider buns with pickles!
Source: homeschoolandhappiness.com
Pork and apple is a classic flavor combination. This pulled pork with cider takes it to the next level of deliciousness!
The recipe is effortless. Pop your pork roast in your slow cooker with a cup of sparkling cider, and let it work magic. Shred your pork and mix in your favorite BBQ sauce!
Source: thegiftedgabber.com
Smoked pork chili with beans and salsa Verde is comforting, cozy, and delicious.
Cumin and chili powder coat your pork roast before adding it to your slow cooker. Use three types of canned beans for different flavors. Red kidney beans, Great Northern beans, and pinto are perfect.
Throw in a jar of salsa Verde and chopped yellow onions, and let the slow cooker do its thing until the pork is tender. Serve your warming chili with wedges of lime and crunchy tortilla chips.
Easy Shredded Pork Recipes
These shredded pork recipes don't take much effort to be tasty!
Source: cookingwithcarlee.com
This one-pan leftover pulled pork dish is packed with flavor and texture.
Yellow onion and colorful bell peppers provide the base flavor. Add jalapeno if you like it spicier! Stir in pulled pork and rice and cook until tender.
Add wholesome canned diced tomatoes and black beans. Yellow corn kernels add pops of sweetness to every bite. Stir in BBQ sauce, sprinkle with cheese, and broil until it's gooey and melted!
Source: thehealthyepicurean.com
Rice bowls are an ideal way to get the perfect balance of flavor and nutrition. Black beans, plantains, and tender rice join spiced shredded pork.
Cook your pork with onion, garlic, and orange juice for a delicious depth of flavor. Season your creamy black beans with cumin and paprika. Garlic adds a beautiful taste, too.
Use lime zest, juice, and cilantro to impart a zesty herb flavor to your rice. Caramelize sliced plantains in hot oil. Divide your pork, rice, beans, and plantain between bowls and serve immediately!
Source: stetted.com
This tasty pizza is loaded with flavor and texture, from tender pulled pork to tangy BBQ sauce to sharp red onions!
Assemble your pizza, starting with a layer of BBQ sauce. Sprinkle shredded cheddar and mozzarella for a gooey layer. Add the pork next, with more cheese and sliced red onion.
Bake this fun dinner idea until the crust is golden brown and the cheese is melted, then drizzle with more BBQ sauce!
Source: sweetpealifestyle.com
This tasty chalupa combines tender pulled pork, creamy pinto beans, and a blend of spices.
Combine pulled pork with sautéed onions and pinto beans. Stir in Rotel and canned green chilis for a spicy tomato base. Ground cumin and dried oregano add extra flavor.
This is delicious, served in a bowl with your favorite taco toppings!
Source: brooklynactivemama.com
Traditional Hawaiian kalua pork is smoked and cooked in an underground oven. However, you can cook this in your Instant Pot and yield the same great taste!
Liquid smoke adds a delicious depth of flavor to your pork. Use kosher salt, too, for an authentic kalua taste. Serve your shredded pork with steamed rice and sweet pineapple!
Source: chocolatemoosey.com
Use leftover pulled pork for this delicious mac and cheese with a subtle smoked flavor.
The creamy cheese sauce is easy to make with a simple roux. Add onion and garlic for an aromatic taste. Whole milk produces a silky smooth, creamy texture. Use smoked cheddar for the best flavor!
Stir your pulled pork into the sauce, then add tender elbow macaroni. Garnish with sliced green onion before serving!
Source: thesaltypot.com
The delicious juices from this tender slow cooker pulled pork are used for dipping. Nothing goes to waste!
Flavorsome ingredients combine with the pork juices to make a tasty sauce. Add your pork to the slow cooker and sprinkle a packet of ranch seasoning and au jus mix.
Throw in a chunk of butter, pepperoncini peppers, and their juices. When the pork is tender, remove it to shred, and pour the juices into ramekins for dipping!
Assemble pork dips with toasted baguette, sliced Swiss cheese, and pork. Broil until the cheese is melted, then get dipping!
Source: razzledazzlelife.com
These bite-sized pulled pork sliders are loaded with flavor and texture and are easy to make!
Assemble your sliders using leftover pulled pork mixed with BBQ sauce. Add a slice of cheese – provolone, Swiss, or mozzarella are ideal. Complete them with crunchy purple cabbage slaw.
This is one of the best meat recipes for dinner!
Source: theforkedspoon.com
Shredded pork and tender veggies are cooked in a tangy, tomato-based broth. It's comforting and delicious!
Onion and garlic deliver an aromatic base flavor to your stew. Ideal veggies are potatoes, sweet corn, and diced tomatoes. Add your favorite canned beans for texture, too.
Cook until your pork is tender enough to shred, then add BBQ and Worcestershire sauce. Brown sugar offers a caramelized taste that complements the pork beautifully.
Source: boulderlocavore.com
These breakfast tostadas are quick, easy to prepare, and have a delicious variety of textures!
Begin your tostadas with a layer of melted cheese. Add scrambled eggs, warm black beans, shredded pork, and the juices from cooking your pork.
Complete your tostadas with slices of creamy avocado, fresh cilantro, and wedges of lime!
Source: 24bite.com
Mexican tamales consist of shredded pork inside a corn husk with masa dough. It's then steamed to perfection.
Season your pork roast with salt, pepper, and onion powder before slow-cooking until tender. You'll make a masa dough, but it's easy with simple ingredients.
Spicy red tamale sauce goes into your shredded pork filling and dough for a delicious taste through your tamales.
31 Recipes with Shredded Pork To Use Up Leftover Meat
Elevate your cooking game with these savory, succulent and simply irresistible recipes with shredded pork.
Ingredients
1. Pulled Pork Sandwiches
2. Chinese Shredded Pork with Peppers
3. Cheesy Smothered Pulled Pork Burritos
4. BBQ Pulled Pork Enchiladas
5. Pulled Pork Salad
6. Slow Cooker Pulled Pork Tacos
7. Camping Tacos
8. Smokey Pulled Pork Tacos
9. Leftover Pulled Pork Tacos
10. Green Chilli Pork Carnitas Tacos
11. Shredded Pork Tacos with Pepita Slaw
12. Pork Tenderloin Carnitas Tacos
13. Coca Cola Pulled Pork
14. Crispy Crockpot Carnitas
15. Slow Cooker Cuban Pork
16. Pulled Pork Chili
17. Slow Cooker Pork Tenderloin
18. Slow Cooker Pulled Pork Sliders
19. Cider Pulled Pork Recipe with Sparkling Cider
20. Smoked Pork Green Chili
21. One Pan BBQ Pulled Pork and Rice
22. Cuban Pork Black Bean Rice Bowls
23. BBQ Pulled Pork Pizza
24. Pulled Pork Chalupa
25. Kalua Pork
26. Pulled Pork Macaroni and Cheese
27. Mississippi Pulled Pork
28. BBQ Pulled Pork Sliders
29. Brunswick Stew
30. Spicy Shredded Pork Breakfast Tostadas
31. Tamales
Instructions
Scroll up to get a bunch of easy, yummy, and delicious pork recipes. Don't be afraid to get creative with the ingredients, you might discover a flavor you didn't know you liked.
Get your shopping list going and make sure you've got all the ingredients.
Get cooking and make your next Shredded Pork Recipe!
Notes
Which one of these recipes was your favorite? Let me know in the comment section or on Pinterest!