Looking for Puerto Rican inspiration? You can enjoy more Puerto Rican cuisine in your home when you prepare any of these rich and flavorful Puerto Rican recipes.
Puerto Rico has one of the most unique culinary scenes on Earth. It resides in the middle of the Caribbean, so Puerto Rican cuisine has various influences.
Many people compare the food of puerto ricans to Spanish food, but that's not true. Spanish, African, American, and Taino flavors are all a part of what makes Puerto Rican dishes so unique.
All those spices and techniques blend to create an incredible array of food. With so much to try, it's hard to narrow down the best recipes. But this list is going to try!
What is a Popular Puerto Rican Dish?
There are many popular Puerto Rican dishes, so it's hard to know which is the most common. However, some local favorites include:
Arroz con gandules
Mofongo
Tostones
Pasteles
Empanadillas
Puerto Rican Chicken Recipes
Many different types of meat are commonly used in Puerto Rico, including the chicken! Chicken is often prepared with a spice rub, allowing it to take on a bunch of flavors.
Grilling or smoking chicken is also very common to add a delicious smoky flavor. Some Puerto Rican chicken dishes – like arroz con pollo – are known all over the world for how tasty they are!
Best Puerto Rican Recipes
If you're new to the Puerto Rican food scene, use this list of puerto rican recipes to tour the best! Each of these delicious Puerto rican recipes is great for beginners.
So, jump on board and discover this fantastic cuisine!
Source: theforkedspoon.com
First on our list is one of Puerto Rico's most popular dishes: Arroz con Pollo! This traditional dish has Latin American origins. You only need one pan and an hour to turn this recipe out.
Picture this. Perfectly-browned chicken with fragrant rice and a side of delicious spiced vegetables like bell pepper? That's what you get when you make this main course!
This popular puerto rican recipe is super delicious and well worth the time spent making it.
Source: cutefetti.com
Enjoy an American classic with some Puerto Rican flair. Sazon is a Puerto Rican spice mix that goes perfectly in burgers. Paired with classic burger ingredients, this warm and fragrant spice is terrific.
This is a great place to start if you've never cooked in this arena. This easy recipe is delicious, and familiar.
Source: inthekitch.net
Put a unique twist on the classic Cuban with the Tripleta sandwich. Named for the number of meats in the bun, this sandwich is one for meat lovers!
This is an ideal recipe for picnics or road trips. The sandwich is easy to transport and won't get soggy quickly. Best of all, they look and taste delicious.
Ready for more sandwich inspiration? Check out these healthy sandwich ideas for lunch!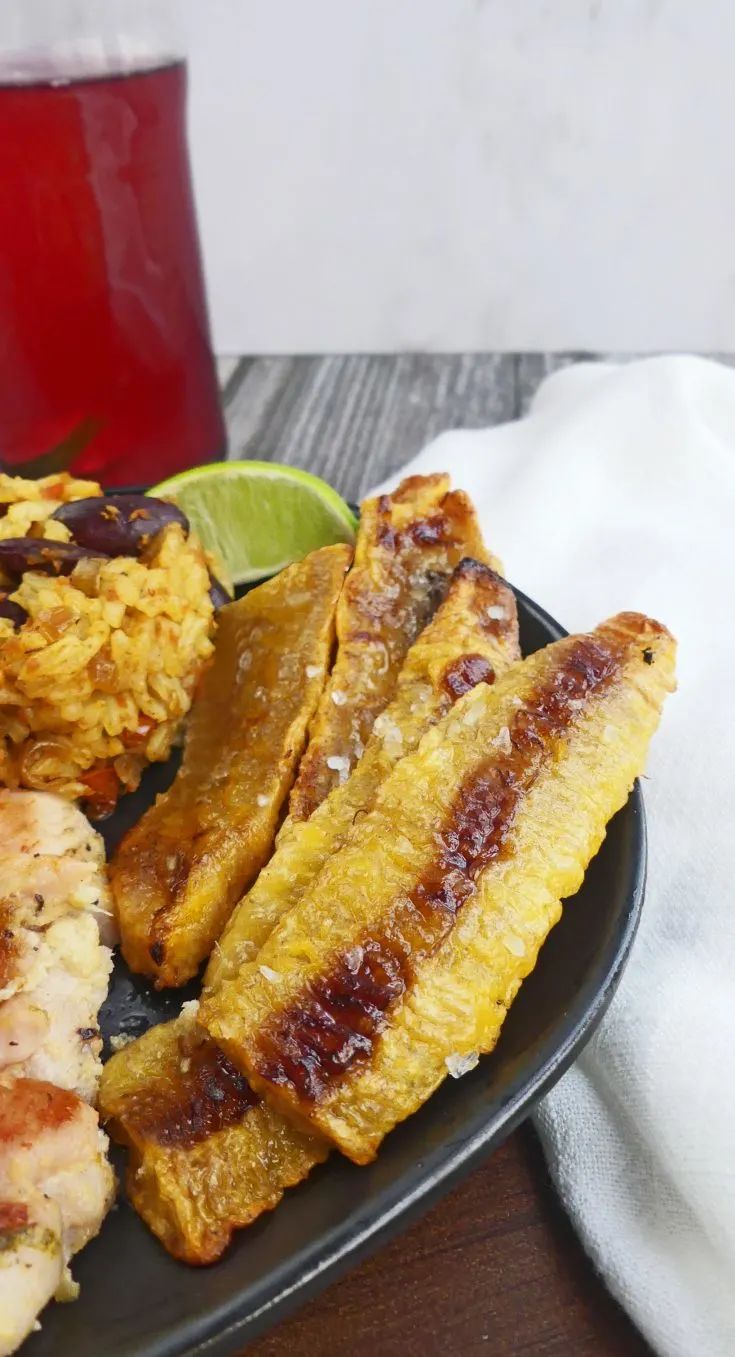 Source: kidtestedrecipes.com
If you've never had sweet plantains before, you're missing out! This simple baked plantains recipe is a great way to try this classic Puerto Rican dish.
Ripe plantain are like smaller, sweeter bananas. No green bananas here! They turn into tender, chewy treats when cooked with some spices.
This is an easy dessert that's also a little bit healthy so that you can enjoy it guilt-free!
Source: ihearteating.com
Flan de Queso – literally 'cheese cake' – is a Puerto Rican take on a classic dessert. Picture a crème caramel merged with a cheesecake, and that's what you get.
Every bite is smooth and silky. The gold caramel sauce oozes off the top of the cream cheese base and adds a lovely sweetness. This is the solution if you're stuck for a summer dessert idea!
Source: savorandsavvy.com
Our next dish uses humble ingredients to make something super tasty. Olive oil, tomato sauce, beans, onions, and potatoes, and adobo seasoning combine to create a riot of flavor on the plate!
This is a fantastic recipe for feeding large crowds. Why? Because it's a simple one-pot wonder that easily allows you to make big batches.
It also uses affordable ingredients, so your wallet will thank you.
Source: dinneratthezoo.com
If you love traditional beef roasts, then you'll love this recipe. Ropa vieja is a flavor-packed beef roast slow cooked in tomatoes and a whole heap of spices and bay leaves. It's tender, juicy, and irresistible!
The beef gets so tender that it becomes flaky and easy to tear. So, you can enjoy this with white rice and beans or even on a sandwich if you prefer.
Either way, make sure you serve it with plenty of fresh cilantro.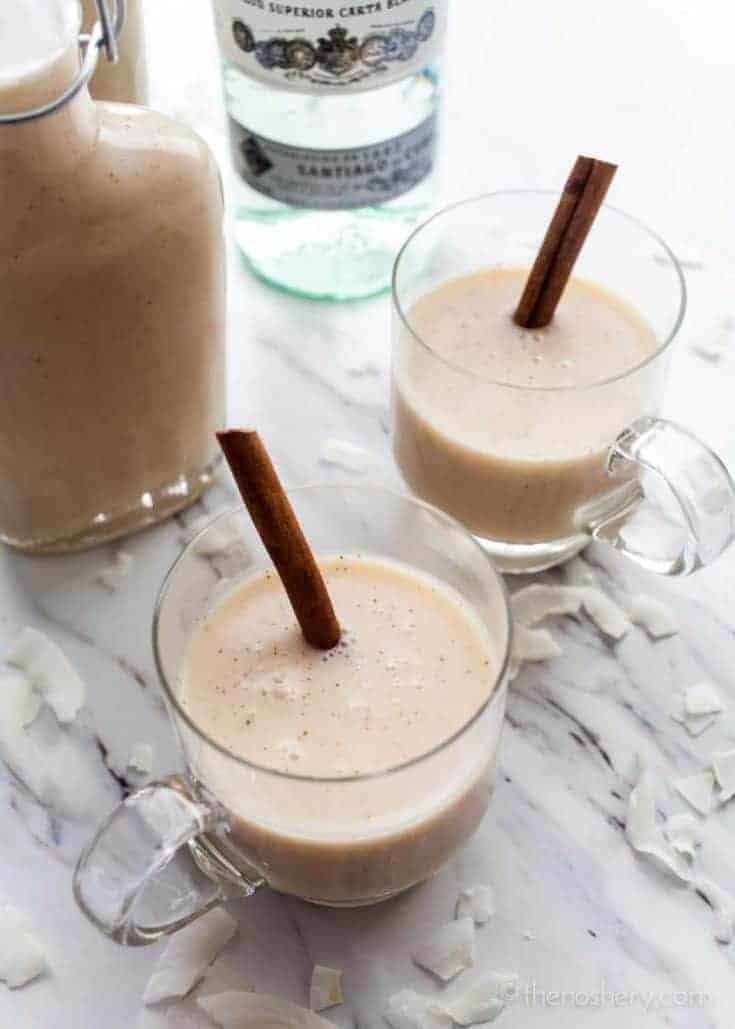 Source: thenoshery.com
Also known as 'coquito,' coconut nog is one of the things that makes Christmas special in Puerto Rico! This tropical version of traditional eggnog is a great way to enjoy a spin on a classic.
This is one of the easiest holiday drink recipes, thanks to canned coconut milk. Notes of rum, coconut, and cinnamon sticks all blend into perfect harmony.
Bring a bottle of this to any party, and you'll be the hero of the evening!
Source: strengthandsunshine.com
Tostones are fried green plantains. This delicious savory dish is favored all over Puerto Rico as a tasty side dish or snack. The tostones are super crunchy, starchy, and salty with a hint of lime juice!
Whip out this recipe for game day to impress your friends and family. It won't take longer than fifteen minutes to bring this to life in your air fryer. Talk about convenience!
Source: savorandsavvy.com
Here's another take on habichuelas guisadas! This recipe uses olives to add a very welcome salty kick.
You can enjoy these beans on rice for a light but protein-filled lunch. However, they're also great as a side dish with a larger meal. Keep them in the fridge to enjoy the next day.
Source: healthyrecipes101.com
Pina Coladas are one of the most popular cocktails in the world! These tropical delights are a delicious blend of coconut and pineapple. Enjoy with a splash of rum or as a virgin drink.
Either way, these cocktails are great for summer occasions. You can prepare the mix in advance and keep it in your fridge until it's time to serve the beverages.
Top with a skewer of fresh pineapple for an extra special touch!
Source: cookedbyjulie.com
This name translates to 'chicken stew.' However, that doesn't sound nearly as exciting as what you get! This stew is so rich and flavorful that you won't ever have to worry about leftovers.
This puerto rican chicken stew is super easy to make on a stovetop or in a crockpot. I recommend using bone-in chicken thighs to get the most flavorful meat.
Whichever chicken you have on hand will work just as well!
This Pollo Guisado is one of the most easy crockpot recipes anyone can make!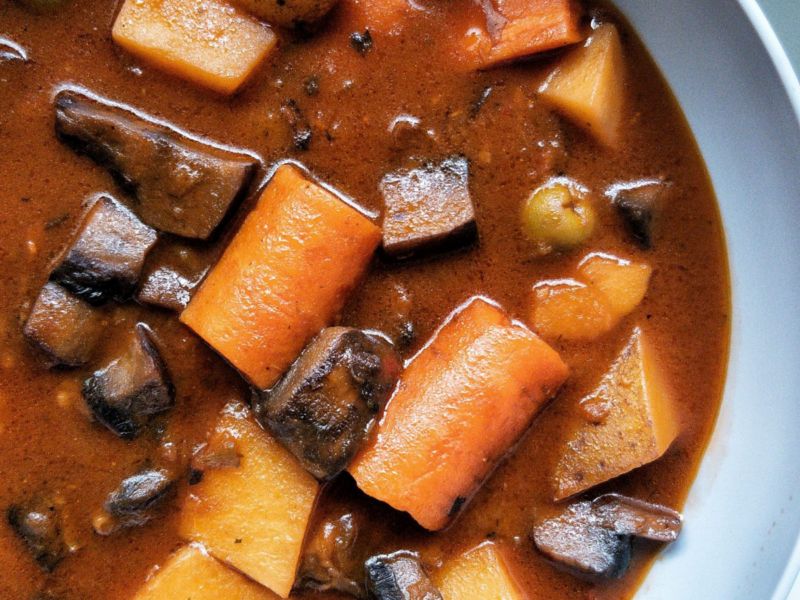 Source: plantbasedandbroke.com
This is a meatless beef stew! I know, it sounds crazy. But the hearty stew and rich, flavorful stock prove that such a thing is possible.
This stew uses a Puerto Rican-style recipe but makes it plant-based. Instead of beef, we use mushrooms to create that meaty taste and texture. Whether you're vegan or not, you'll love this.
Source: cookedbyjulie.com
Arroz con Dulce – or coconut rice pudding – is a classic Puerto Rican dessert. It's super creamy and full of warm, comforting flavors. You can enjoy it cold or warm, so it's great year-round!
Best of all, you can make this dessert ahead of time. Prepare these delicious desserts the night before and let them sit in the fridge to become soft. Serve on a cool day for the best effect.
Source: thetravelpalate.com
It's time to break out one of the best appliances in the world: the Instant Pot! This convenient recipe gives you a flavor that should have come from hours and hours of stewing away.
But in reality, you only need an hour and a half from start to finish to make this. Only fifteen minutes of that time is for preparation! Rich, hearty, and filling, this is a great winter warmer.
Source: inmamamaggieskitchen.com
Next is a Mexican recipe that's become popular in Puerto Rico: steak and onions! This quick and easy barbecue recipe is great for entertaining friends and family.
Set everybody up outside and get to grilling! The thin strips of beef and tender onions cook in mere minutes. With spices wafting through the air, it won't be long before this is all eaten.
Source: coolmomscooltips.com
Sancocho is a super versatile soup you can make with absolutely any protein. You can include it here, no matter what you have in your fridge.
While the broth might look delicate, it's packed with hearty flavor! The onions and plantains create a robust base of flavor. The cilantro and corn lift it, making it a perfectly balanced broth.
This is one of the most delicious healthy fall soup recipes.
Source: savorthebest.com
Who doesn't love good roast pork? This recipe uses a three-day marinade, but it's worth it. This spicy garlic paste soaks into the meat, making it rich and earthy.
Then, you roast it low and slow to create a delicious crust on top and tender meat in the middle. Once you've tried this pork roast, you'll never return to salt and pepper again!
Source: plantbasedandbroke.com
Also called "Arroz con Gandules," this fragrant Puerto Rican rice is great as a lunch or side dish. Try whipping it up at the start of the week for your meal prep!
The rice keeps its flavor and texture for a while in the fridge. It's high in protein, thanks to the pigeon peas peppered throughout. The sazon also adds a warm, lovely spice that's hard to beat.
Source: anediblemosaic.com
Picadillo is a delicious ground beef dish with olives, tomatoes, and plenty of spices. This Instant Pot recipe allows you to whip up this hearty stew in as little as an hour!
Prepare to give your spice cabinet a workout with this dish. Every inch of it is packed with punchy flavor, so there's nowhere to hide from the taste! Serve with a side of rice, and enjoy.
This is also one of the best cheap dinner ideas for when you are on a budget.
Source: plantbasedandbroke.com
Living the vegan lifestyle shouldn't mean giving up taste or convenience! Take twenty minutes out of your evening to create this delicious vegan habichuelas guisadas.
This recipe uses homemade sofrito – an herb and spice paste – for an extra level of flavor. With your Instant Pot in play, you only need to wait twenty minutes to enjoy this delicacy!
Source: bellyfull.net
Speaking of homemade sofrito, here's a recipe to make your own! This is an essential part of Puerto Rican cooking. This spice paste forms the base of so many different Puerto Rican dishes.
The good news is that you can easily make a big batch and keep it in your fridge. A batch like this will keep for up to two weeks if you store it in an airtight container.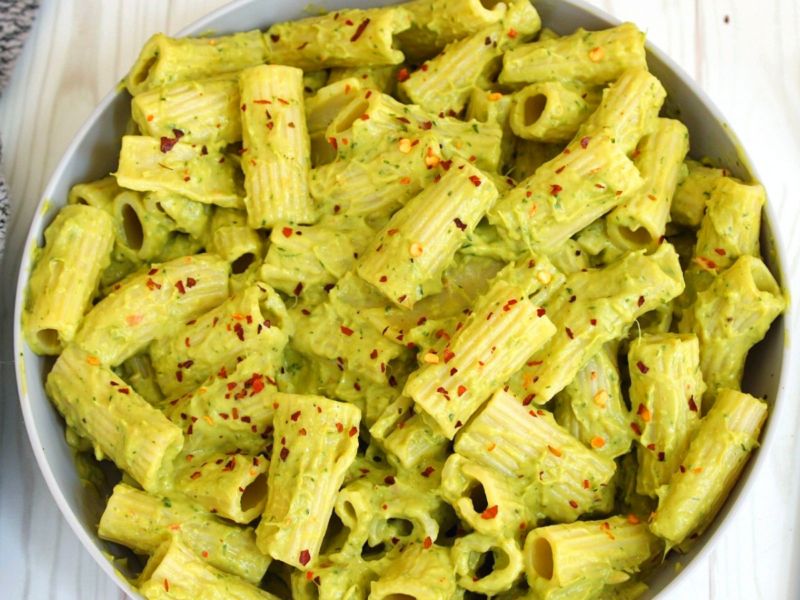 Source: plantbasedandbroke.com
Enjoy this pasta dish with a Puerto Rican twist! This vibrant green sauce will stand out no matter what else is on the table. This is perfect for potlucks, as you can make it ahead of time.
The rigatoni would also suit a weeknight dinner for the family. It's creamy and delicious but full of delicious vegetables to keep everyone healthy. Even the pickiest of eaters will want a bite!
Source: lemonblossoms.com
Spanish Flan is very popular in Puerto Rico. So, it has to appear on this list of the best Puerto Rican recipes! This recipe teaches you how to make a basic caramel flan.
But don't let the word 'basic' fool you. This flan hums with delicious caramel flavor. The creamy texture will blow your mind and delight your tastebuds.
Source: thatgirlcookshealthy.com
You can think of this layered dish as a plantain lasagna made with green plantains. Instead of the pasta sheets, we use cooked plantains to separate layers of tasty elements.
This dish features fragrant ground beef and plenty of cheese. If you're looking for a healthier alternative to lasagna, you just found it!
Source: thatgirlcookshealthy.com
If you love the idea of coquito but don't want alcohol, this recipe is for you. This rum-free Christmas beverage tastes so delicious that everyone will want a sip.
This is a great drink at your Christmas party if your kids want to get in on the fun.
Source: easyanddelish.com
Yuca – also known as cassava – is a popular root vegetable in South America. It also made its way over to Puerto Rico thanks to historical influences. That's where this recipe comes in.
Yuca fries are a healthier alternative to the standard potato French fry. Baked in salt rather than fried, they are thick, crispy, and fluffy.
Serve these with a sprinkle of your favorite seasoning for a tasty treat.
Source: thethingswellmake.com
It's time for a healthy take on a classic barbecue meal! These marinated chicken skewers highlight everything good about Puerto Rican food.
The delicious spice only improves once you whack these skewers on the grill. Make sure to give the chicken a lovely char to give them as much flavor as possible. For the best results, use thigh meat.
Looking for the best sides for your pollo? Check out these best side dishes for chicken!
Source: aimeemars.com
Next up is a dish with Brazilian and Argentinian influences. You might think the steak is the hero of the dish. However, it's the chimichurri.
Chimichurri is a super flavorful condiment made by blitzing many herbs, spices, and lime. The punchy sauce is so good on any meat! Make a big batch and keep it in your fridge if you like.
Source: chunkyinkentucky.com
Also called fricase de Pollo, this Instant Pot recipe grants you Cuban-style food in minutes. This is a comfort food staple in Latin America and the Caribbean.
So, it's sure to be a hit at your place too! This is a hearty dish perfect for whipping up on a cold winter weeknight. You only need thirty minutes to get this on the table.
Source: simplylowcal.com
These air fryer plantains are a simple way to make this famous Puerto Rican dish. They're healthy and full of flavor without requiring much oil.
Sprinkle with sugar and cinnamon to enjoy as a dessert. Or you can use them as a meat substitute in your next stew!
So, has this list sparked your interest? What's the first Puerto Rican dish you'll try? Let me know in the comments below!
31 Best Puerto Rican Recipes That are Yum
Here are some Puerto Rican recipes that you can make at home. There are plenty of healthy meal ideas to make for the family.
Ingredients
1. Arroz Con Pollo
2. Sazon Burgers
3. Tripleta Sandwich
4. Baked Sweet Plantains
5. Flan De Queso
6. Habichuelas Guisadas
7. Ropa Vieja
8. Coconut Nog
9. Air Fryer Tostones
10. Puerto Rican Style Beans
11. Pina Colada
12. Pollo Guisado
13. Vegan Carne Guisada
14. Arroz Con Dulce
15. Instant Pot Carne Guisada
16. Bistec Encebollado
17. Sancocho Soup
18. Pernil Asado
19. Puerto Rican Yellow Rice
20. Instant Pot Picadillo
21. 20-Minute Habichuelas Guisadas
22. Sofrito
23. Creamy Rigatoni with Sofrito Avocado Sauce
24. Flan
25. Pastelon
26. Vegan Coquito
27. Yuca Fries
28. Pinchos De Pollo
29. Churrasco with Chimichurri Sauce
30. Instant Pot Chicken Fricassee
31. Air Fryer Sweet Plantain
Instructions
Scroll up to get a bunch of easy, yummy, and delicious recipes. Don't be afraid to get creative with the ingredients, you might discover a flavor you didn't know you liked.
Get your shopping list going and make sure you've got all the ingredients.
Get cooking and make your next Puerto Rican Recipe!
Notes
Which one of these recipes was your favorite? Let me know in the comment section or on Pinterest!