Love Mexican cuisine? Incorporate these Mexican Desserts into your menu and enjoy a Mexican night!
Mexican cuisine is known for its mouth-watering and easy desserts. These authentic Mexican desserts aren't only easy to cook and perfect for big parties and events.
So, if you are having guests over, you need to check out these 27 Mexican Desserts to make your dinner a huge success.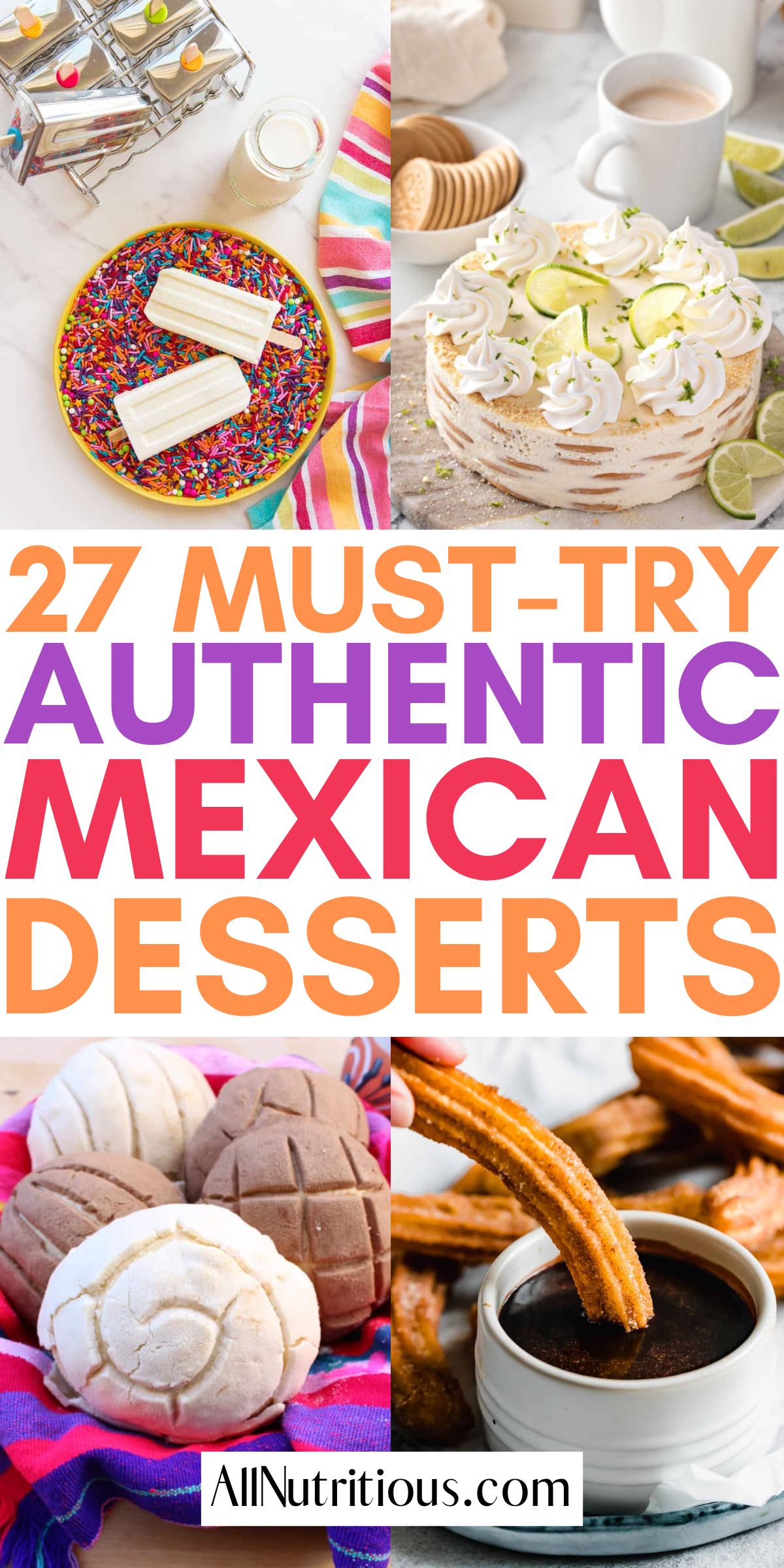 What is a Popular Dessert in Mexico?
From Churros to a variety of Flan, Mexicans know how to make their desserts flavorful and filling. The most popular Mexican desserts you can try for your Mexican theme party are Churros, dulce de leche, Flan, and Chocolate chili pots.
Following are some of the best delicious Mexican dessert recipes you can easily make at home.
Traditional Mexican Desserts
Mexican cuisine isn't complete without its traditional desserts. If you have ever been to Mexico or authentic Mexican restaurants, you'll know how Mexicans love their traditional sweets full of flavor and festive taste.
Here are some of the most loved traditional Mexican desserts.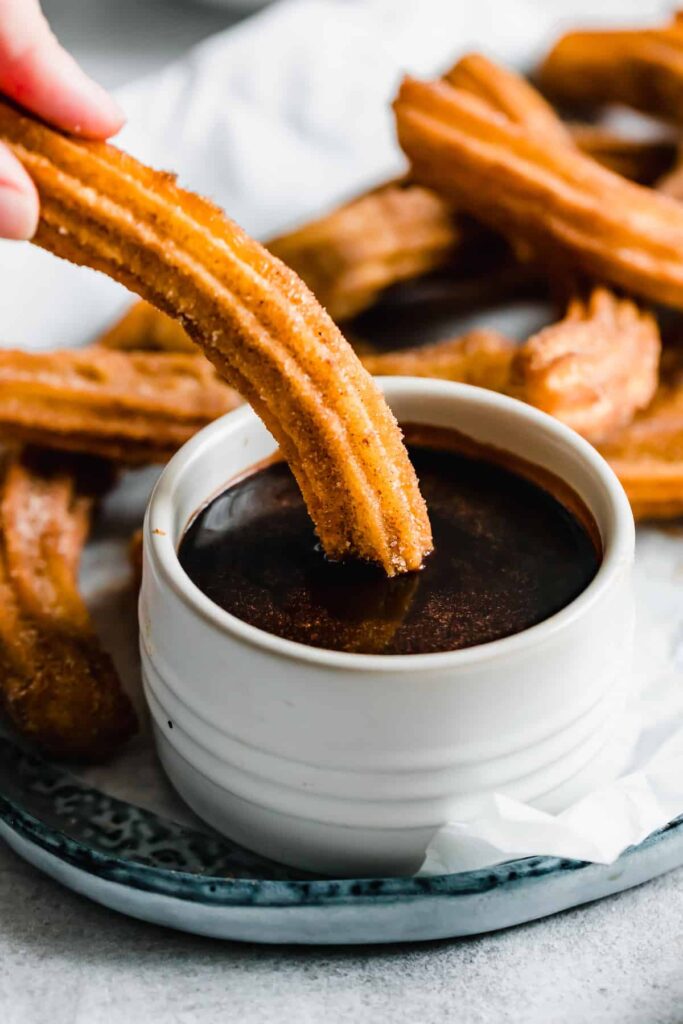 Source: easyweeknightrecipes.com
Let's start with the most famous Mexican desserts; these Churros will turn out so crispy and yummy that you will lick your fingers after finishing each sweet treat.
There is no fun in making Churros if you haven't got a dipping sauce. So, make sure you add this Chocolate Dipping Sauce to your Churros dessert.
This sweet Mexican dessert is easy to follow. Prepare your batter, fry it and sprinkle a good amount of sugar or powdered sugar and cinnamon mixture while the churros are still hot.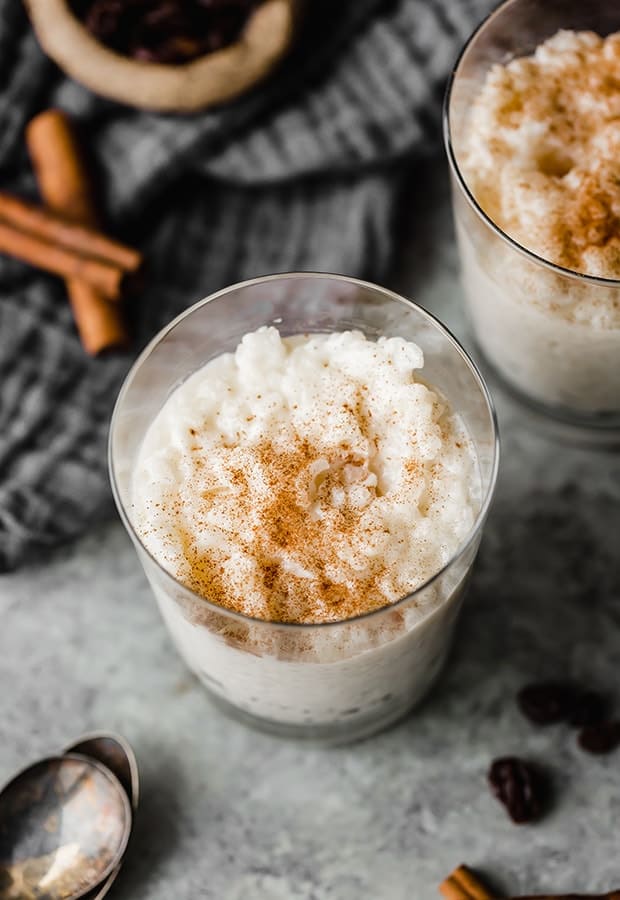 Source: saltandbaker.com
If you are a fan of puddings and need a filling recipe for a delicious treat, this Arroz Con Leche is all you need for your sweet tooth.
Making Arroz Con Leche is not as difficult as pronouncing its name. All you need to make this rice pudding is white rice, Cinnamon sticks, salt, water, Vanilla extract, Sugar, your preferred kinds of Milk, and ground cinnamon for decorating.
Source: inmamamaggieskitchen.com
Did you know that flan is one of the most popular Mexican sweets ever? Mexicans enjoy Flan as their everyday food, so you can enjoy this decadent dessert whenever you visit the country.
There are so many types of Mexican Flan you will have a hard time picking one flavor. To make Flan at home, you will need sugar, eggs, milk, vanilla, and orange zest.
If you aren't a fan of orange and vanilla, you can add your preferred flavors to the basic Flan recipe and make your custom Flan in no time to compliment your favorite Mexican food.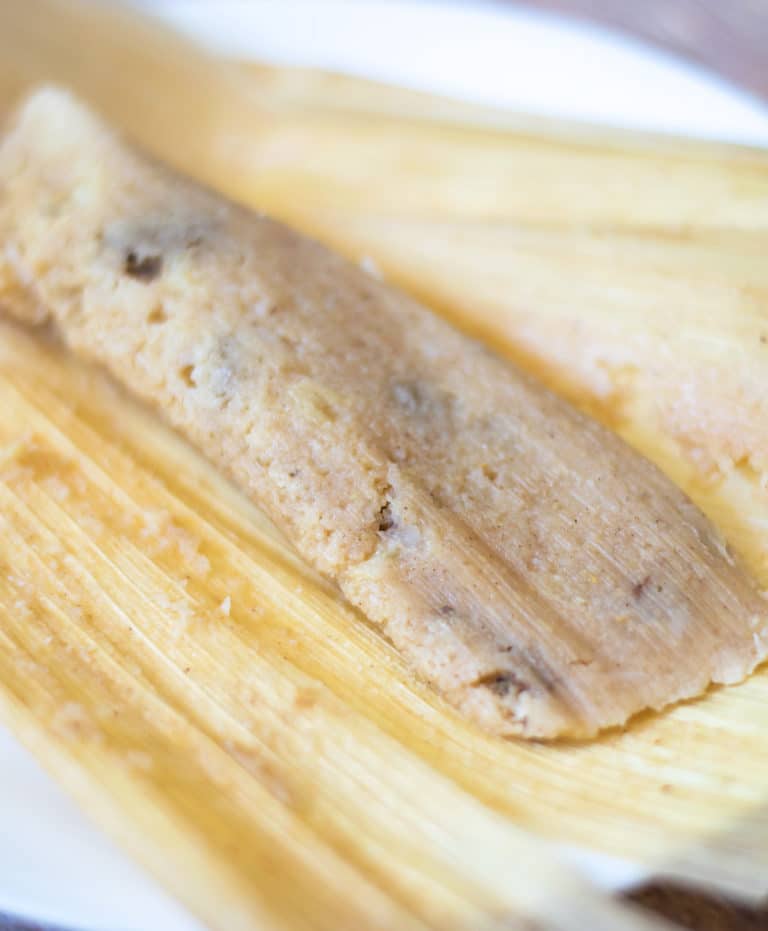 Source: thriftandspice.com
What I love about Mexican desserts is how they are full of tasty and healthy ingredients. Take this Tamales Dulces recipe, for instance. This recipe has Pecans, cinnamon, butter, milk, pineapple, sweetened coconut, and corn husks, among other ingredients.
You can enjoy this sweet dessert at breakfast with a hot cup of coffee or a glass of milk. This is also a Christmas special, so you make sure to try some around the holiday season.
Source: kitchengidget.com
Just like Churros, Bunuelos are also a popular traditional dessert in Mexico. These crispy pastries are a real treat for those who love Mexican cuisine.
These Bunuelos are an effortless Mexican sweet bread recipe to make; since we have used store-bought tortillas, there is nothing to this delicious dessert other than frying them and sprinkling them with sugar and cinnamon mixture.
Source: mamalatinatips.com
Mexican desserts may be hard to pronounce but relatively easy to cook. If you don't believe us, take these Mantecadas, for instance.
Prepare your Manrecadas batter with all-purpose flour, salt, baking powder, eggs, sugar, milk, vanilla extract, and orange zest. To add a traditional touch, bake these in red liners.
Source: inmamamaggieskitchen.com
Concha translates to Shell, and this sweet bread from Mexico is cooked in the shape of a shell. It's the perfect dessert for both an ocean theme party and a Mexican theme party.
If you have never made bread, this is the perfect 1st recipe to try. The trick to making the Conchas rise well is giving the dough time to proof. It's best if you mix the dough a day before baking it.
Source: tashasartisanfoods.com
If you have ever been to a Mexican wedding, you'd know that in Mexican culture, they are big on Mexican wedding cakes and sweets. They love wedding cookies as much as wedding cakes. Here's the foolproof recipe for Mexican wedding cookies.
When baked well, these powdered butter cookies melt in the mouth like the most delicious dream.
Mexican Desserts for Cinco De Mayo
Cinco De Mayo translates to the 5th of May. Mexicans celebrate Cinco De Mayo as a day celebrating the Mexican army defeating France at the Battle of Puebla in 1862.
This day is celebrated with great food, sweets, and music. Here are some of the common desserts that are cooked on this day.
Source: mommykatandkids.com
If you are feeling bored with your run-of-the-mill dinner, you need to add this super cool Tres Leches Cake to your meal.
This dessert will make the family look forward to dinner. To make the Tres Leches Cake, you need a cake mix, milk, oil, eggs, whipping cream, condensed milk, rum flavoring, Icing Sugar, and pecans.
Source: chocolatemoosey.com
The best way to enjoy your favorite Mexican drink in a dessert is to have bite-size cheesecakes. There is nothing better than Mexican Mini Margarita Cheesecakes.
To many, the cheesecake may be a hard dessert to make, but if you try these mini cheesecakes, you will become the master of this dessert.
For these easy Mexican desserts, you will need graham crackers, butter, full-fat cream cheese, sugar, egg, lime zest, tequila, flour, and whipped cream.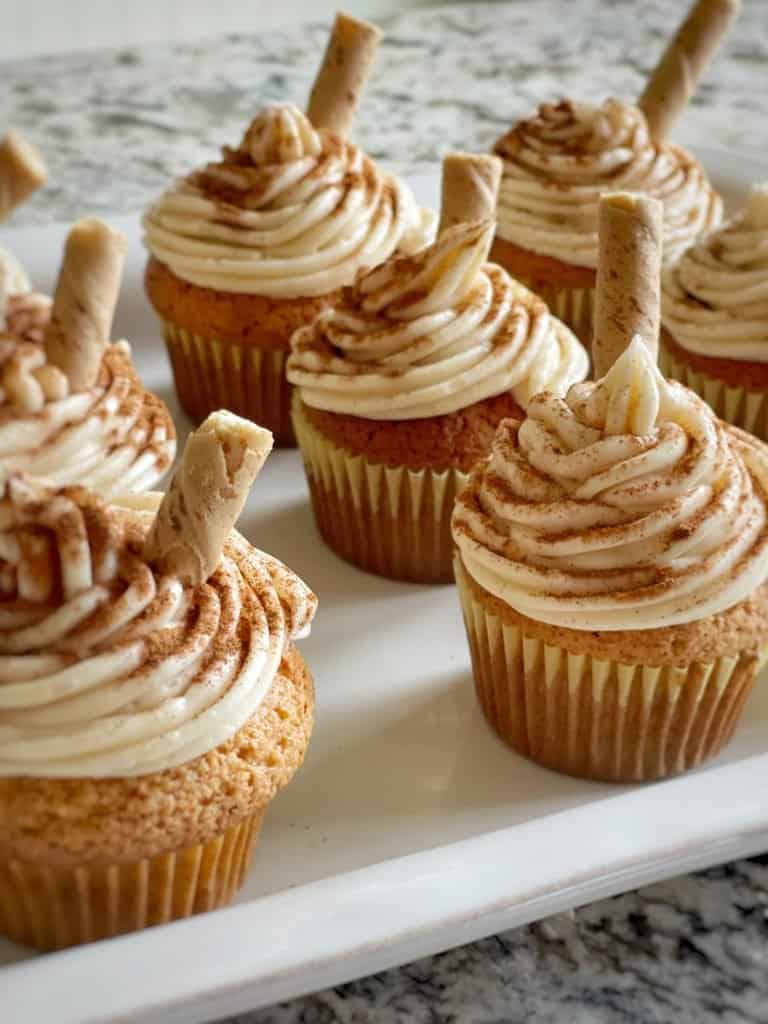 Source: stacyling.com
Rumchata cupcakes are one of the easiest and kid's friendly Mexican desserts you will ever try. These are so easy to make that you will forget any other cupcake recipe.
Moreover, these cupcakes go best in all seasons, holidays as well as all meals because you can have them with your coffee, eggnog, milk, and all kinds of liquors
Source: honestandtruly.com
Have you ever heard of dessert Nachos? No. Well, you are missing out on the best dessert in Mexico. Your family, especially your kids, will love these Mexican-inspired Nachos.
To make the base for this dessert nachos recipe, you need uncooked tortillas brushed with butter, cinnamon, and sugar. For the topping, you can have anything you and your kids like.
Source: daniscookings.com
If you are looking for a dessert that will be gone within minutes, you need to try these Mini Oreo Cheesecake Tacos. However, these do take a bit of time to prepare and cook.
The prep time for this dessert is 40 minutes, and the cooking time is 30 minutes, but it's the perfect dessert for picnics and birthday parties.
Source: baking-sense.com
Here's a recipe every adult in the house will go crazy about, the Margarita Pie. It's your basic key lime pie with a twist of Margarita hidden in its folds.
The key here is to add just the right amount of alcohol to taste like the famous Margarita drink but still keep its pie consistency.
When you get the hang of it, this will become your staple Mexican dessert.
Source: senseandedibility.com
Here's your tres leches cake with a twist of sweet mixed with cold. This dessert is perfect for a hot summer day or a pool party you want to throw for your friends or kids.
This frozen treat will be well-received by all, and the best part is that you can make these one day ahead so that there is one less job to do on the main event.
Need more authentic dessert inspiration? Check out these Filipino desserts.
Mexican No-Bake Desserts
I love no-bake desserts. Not only are they easy to cook, but they are way less hassle than baked desserts.
Source: thriftandspice.com
Filled with ripe and juicy strawberries, this Fresas con Crema recipe is the best thing your kids will ever have as a dessert.
If your kids aren't fans of fruits, you can use this recipe to add more fruit to their diet. What's great is that you can use any fruit instead of strawberries.
The best thing about this recipe is that you can use seasonal fruits to replace the strawberries if you like.
Source: gardeninthekitchen.com
You can make the best Mexican recipes, even desserts if you have an instant pot. If you don't believe us, you should try this Instant Pot Dulce de Leche recipe today.
The best part about this recipe is that it's nothing more than two ingredients and 40 minutes in the instant pot.
Cook your can of ​​sweetened condensed milk in an instant pot for 40 minutes straight. Take it out and fold in vanilla extract. That's it; your Instant Pot Dulce de Leche is ready.
Source: mamalatinatips.com
Making delicious desserts is my favorite thing to do in the world. I love how these simple ingredients come together to make the perfect dessert. Take this Milk Gelatin, for instance.
This recipe takes no more than a few ingredients to make the perfect dessert that you can enjoy with fresh fruits and berries. You'll need low-fat milk, cinnamon sticks, flavorless gelatin, and sweetened condensed milk.
Source: chocolatemoosey.com
Mexicans know how to enjoy their spices. They even add them to their icecreams. If you want to add a kick to your ordinary ice cream, you need to add a little mild chili powder.
However, if you want to make the Mexican Chocolate Ice Cream from scratch, you will need heavy whipping cream, cocoa powder, cinnamon, mild chili powder, semi-sweet chocolate, whole milk, sugar, salt, egg yolks, and vanilla
Source: fabfood4all.co.uk
If you know Mexican cuisine, you must have heard about savory Quesadillas, but have you heard about sweet Quesadillas? No? Well, here's the best Banana Chocolate Quesadilla you will ever experience.
To make your sweet Banana Chocolate Quesadillas, you need uncooked tortillas, bananas, and a chocolate spread of your choice. Serve these with ice cream and call it a day.
Find more banana desserts here.
Source: cookingwithmammac.com
Most people are so intimidated by Fried Ice Cream that they don't even order it at a restaurant, let alone try and make it at home.
But with this super easy Fried Ice Cream in a Pan recipe, you will become a master of this hot treat. To make this dessert, you will need the ice cream of your choice. Vanilla ice cream works best, Corn Flakes, Honey, and Whipped Cream
Source: lemonblossoms.com
Here's the perfect recipe for confusing your taste buds; it's both sweet and tangy. Let the flavors of Carlota de Limon do Jarabe Tapatío in your mouth.
This irresistible traditional Mexican cake is so easy to make that you will have the time of your life making this for your family.
Healthy Mexican Desserts
Sweet and healthy, this is how Mexicans like their desserts. Here are some of the most nutritious desserts you can enjoy in Mexico or make at home for your Mexican-inspired dinner.
Source: easybudgetrecipes.com
Can a fruit salad count as dessert? Well, yes, if you know how to make it the Mexican way. This refreshing and flavorful salad takes no more than 6 ingredients and is ready in just minutes.
Apart from using the fruits mentioned in the recipe, you can always use seasonal fresh fruits. The salad works fine either way.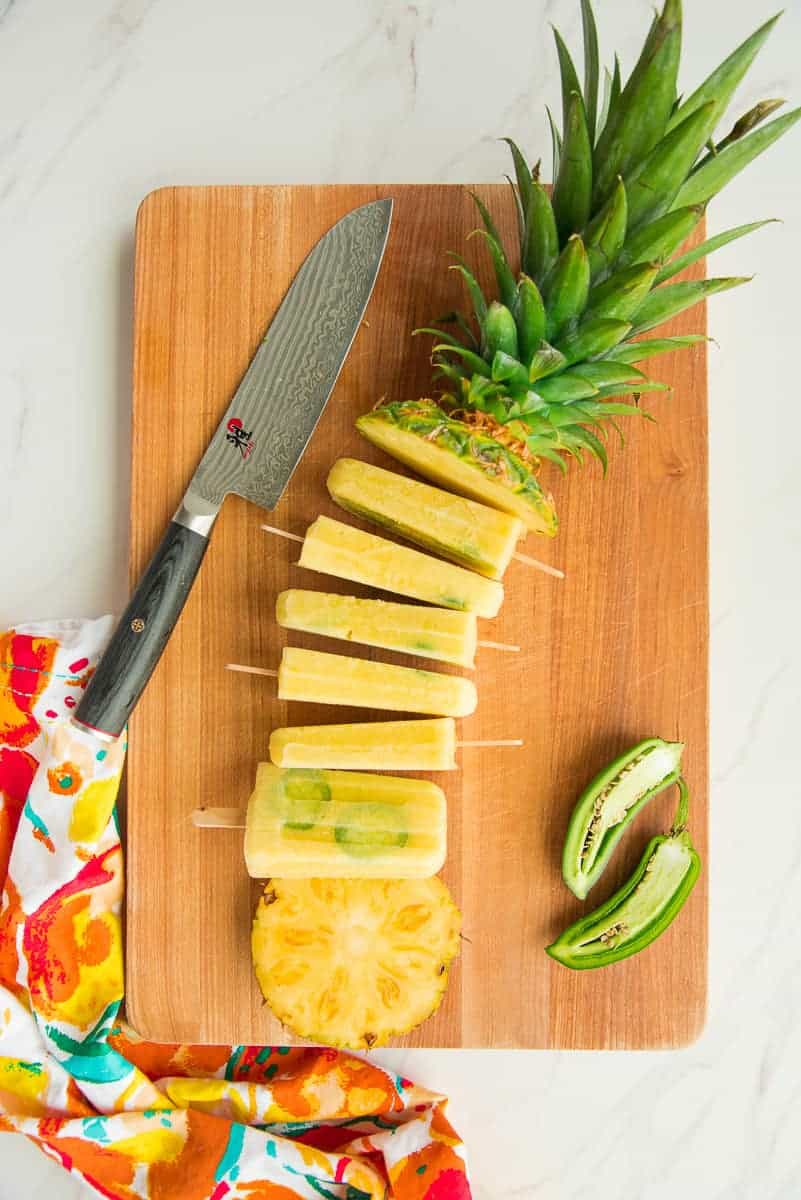 Source: senseandedibility.com
Have you ever heard of blended jalapenos in a dessert? If not, you haven't seen the real Mexico yet. These Spicy Pineapple Paletas will change the definition of dessert in your dictionary.
Moreover, these are super easy to make, and you can prepare these ahead of time as well. This recipe is perfect for pool parties and even Halloween parties.
Source: theartoffoodandwine.com
This Churros recipe will make you fall in love with Mexican cuisine for all the Churros lovers out there. Most people can't enjoy churros as they are fried in deep oil. But now you can enjoy these Baked Churro Donuts without feeling guilty.
To make these Churro donuts, you need Unsalted Butter, Milk, Eggs, Vanilla Extract, All-purpose Flour, Sugar, Cinnamon, Baking Powder, and Salt.
Source: strengthandsunshine.com
Vegan and Gluten-free Pastel de Elote is a super moist and bread pudding-like dessert that is perfect for Holidays and festivals. It's the ideal dessert for a family reunion.
To make this dessert, you will need a bundt pan. You can make it in a circle or square shape in any old pan, but the holiday season calls for a little creativity.
Source: plantbasedonabudget.com
When it comes to making vegan desserts, my favorite is the Vegan Mexican Hot Chocolate. You can make it in under 10 minutes.
All you need for this recipe is almond milk, semi-sweet chocolate chips, ground cinnamon, chili powder, vanilla extract, and cayenne pepper.
Mexican desserts are one of the best desserts one can make at home. Not only are they easy to make, but they also have the most flavorful taste and texture.
27 Easy Authentic Mexican Desserts
Bring in those Mexican flavors with these delicious Mexican desserts. Easy, delicious, and so yummy.
Ingredients
1. Churros Chocolate Dipping Sauce
2. Arroz Con Leche
3. Flan
4. Tamales Dulces
5. Bunuelos
6. Mantecadas
7. Conchas
8. Mexican Wedding Cookies
9. Tres Leches Cake
10. Mini Margarita Cheesecakes
11. Rumchata Cupcakes
12. Dessert Nachos
13. Mini Oreo Cheesecake Tacos
14. Margarita Pie
15. Tres Leches Paletas
16. Fresas Con Crema
17. Instant Pot Dulce de Leche
18. Milk Gelatin
19. Mexican Chocolate Ice Cream
20. Banana Chocolate Quesadilla
21. Fried Ice Cream in a Pan
22. Carlota de Limón
23. Mexican Fruit Salad
24. Spicy Pineapple Paletas
25. Baked Churro Donuts
26. Vegan and Gluten-free Pastel de Elote
27. Vegan Mexican Hot Chocolate
Instructions
Scroll up to get a bunch of easy, yummy, and delicious recipes. Don't be afraid to get creative with the ingredients, you might discover a flavor you didn't know you liked.
Get your shopping list going and make sure you've got all the ingredients.
Get cooking and make your next Authentic Mexican Dessert!
Notes
Which one of these recipes was your favorite? Let me know in the comment section or on Pinterest!