Canned sardines are a humble ingredient, but there's so much you can do with them! The trick is to know how to treat them. Try these canned sardine recipes and discover a new love for this salty fish.
Since they're so cost-effective, sardines are a great ingredient to keep in the house. If you have a few of these recipes in your back pocket, you'll never worry about what to make for dinner again.
What Can You Do With Canned Sardines?
Canned sardines are deliciously salty. That means they can inject a bunch of flavor into any meal.
Canned fish is a versatile ingredient that fits in everything from snacks to full-on dinners.
The key is to balance their natural salty flavor with other bold flavors.
You can enjoy a can of sardines in a million different ways! Straight out of the can. Mixed with mayonnaise on a sandwich. On a pizza. Even tossed in a salad with a squeeze of fresh lemon juice.
The possibilities with a tin of sardines are only as limited as your imagination!
Best Canned Sardine Recipes
These canned sardine recipes are the cream of the crop for every sardine lover. Each tasty recipe teaches you a new way to appreciate this unique, affordable, and delicious ingredient.
Check out twenty-three favorite ways you can transform your cans of sardines with items from your local grocery store!
Source: cooklikeczechs.com
We're kicking things off with a recipe from the Czech Republic. This simple sardine spread only needs a few ingredients, like cream cheese to get off the ground. And you can use it in many different ways!
This spread is delicious on a cracker for a quick snack. You can also use it on crostini with some pickles to make a tasty appetizer.
Source: knifeandsoul.com
Sardines and pasta are a match made in heaven. Sardines are pretty common on the coasts of Italy, so you'll find them in many Italian recipes like this Sicilian pasta.
In this case, you can enjoy them in this refreshing, citrusy pasta seasoned with lemon zest, sea salt, black pepper and fresh herbs. This is a tasty weeknight meal you can make in mere minutes.
This easy pasta is one of the best college meal ideas too!
Source: peelwithzeal.com
If you're living the low-carb lifestyle, you can make a low-carb sardine pasta too! This is a high-protein dinner thanks to the many sardines and artichokes in the mix which are a good source of protein.
The zoodles also help to keep the dish nice and refreshing. If you're in a rush and don't have a long time, this is the recipe to reach for.
You can have this main dish on the table in just twenty minutes, just toss the ingredients in a frying pan!
Source: strengthandsunshine.com
Living the Paleo life doesn't have to mean giving up sushi. This paleo-style sushi is packed with protein, fatty acids and paleo-friendly ingredients. Even though there's no rice, it still tastes great!
Try using this technique to make paleo sushi of your own. Switch out the ingredients to suit your favorites!
This is a quick and easy lunch recipe you can enjoy any day of the week or any time of the day.
Source: littlesunnykitchen.com
Our next recipe with this oily fish works well as a snack, a lunch, or an appetizer. Crunchy bread and fresh tomato are the perfect base to incorporate sardines and their health benefits.
Even though these look super refined, they come together in no time. This is a great way to use up any bread starting to grow stale!
If you are on a tight budget this makes one of the best cheap dinner ideas.
Source: summeryule.com
I love a one-pan meal! They make getting through busy weeknights so simple. That's why this one-pan sardine bake is a great meal for the whole family.
You can also reach for this meal with delicious sardines if your grocery budget is feeling a little tight. All the ingredients are cost-effective and last well, so there's little chance of wasting them.
Source: glutenfreehomestead.com
Sardines on toast is a treat that everyone should be able to enjoy. This keto-friendly version offers a clever way to make it without any toast.
Cauliflower is your savior in this meal. You create a great base for sardines, tomatoes, and plenty of cilantro by frying shredded cauliflower into a toast shape. Quick, refreshing, and simple!
Source: summeryule.com
Speaking of quick and straightforward, here's another sardine dish that fits the bill. This sandwich is packed with healthy collard greens that will make your stomach thank you.
Feel free to play around with the ingredients to find the right balance. A signature sandwich is a point of pride for us home cooks, after all!
Source: runningtothekitchen.com
This simple sardine salad is a lot like a dip. You can enjoy it in many different ways! Try it as a side dish, the center of an appetizer, or a quick high-protein snack.
I recommend taking this to a summer potluck or picnic. The refreshing flavors are great for enjoying on a warm day. And it's easy to transport with some crackers or toast to round out the meal.
Source: summeryule.com
Crispy sardine fritters are a real treat. But who wants to stand over hot oil all night to make them?
This clever technique uses an air fryer to create the same crispy fritters. Every bite is packed with the salty tang we all know and love. Serve with a quick tartare sauce or side salad to complete the meal.
Source: greedygourmet.com
Sometimes, simplicity is best. This salad proves that point with its stunning array of colors and flavors. Trust me. You'll never want to reach for another salad recipe ever again!
The salty sardines almost act like croutons. They provide crunch and a burst of salt that lifts the flavor of the other elements.
Check out these other summer salad recipes to complete your summer bbq!
Source: champagne-tastes.com
Fish cakes are such a classic party treat. Sardines are a great way to make this snack more affordable while cranking up the flavor.
These fish cakes have plenty of spice to keep your tastebuds interested. Try making the batter in advance and storing it in the fridge. This will save you a lot of cooking time during the day!
These little fish cakes are the perfect potluck idea!
Source: confessionsofanover-workedmom.com
Here's another take on sardine spread. This time, the recipe calls for a little Mediterranean flair!
Cilantro, capers, and other fresh components help highlight the salty sardines. It's like taking in a big breath of ocean air every time you take a bite. Serve with crusty bread, crackers, or breadsticks.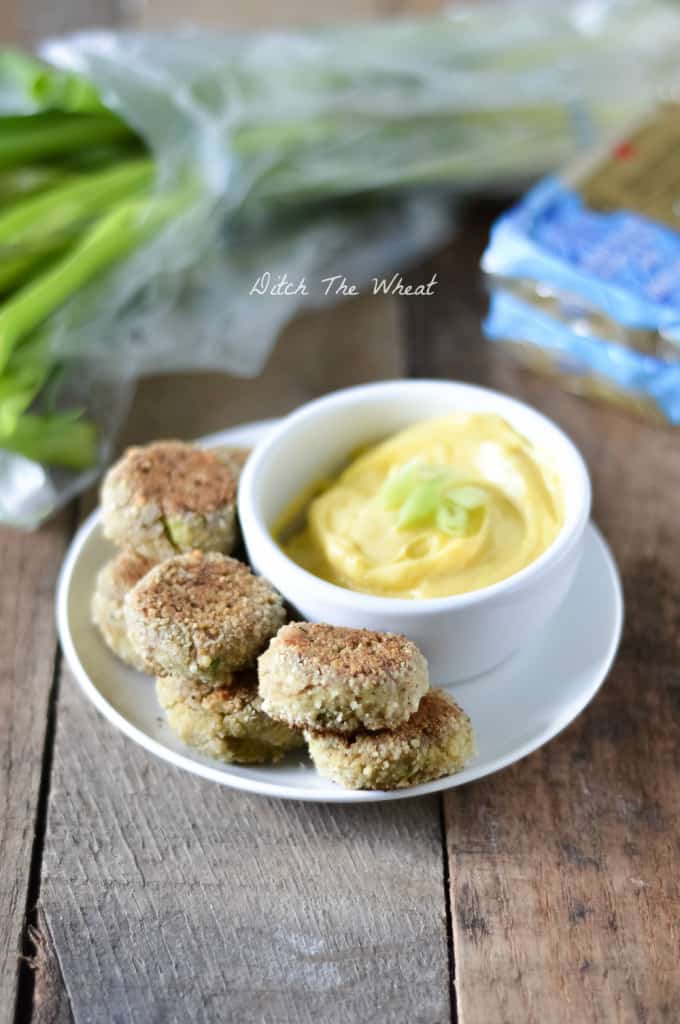 Source: ditchthewheat.com
Next up, we have a keto-friendly version of sardine fish cakes. Fish cakes usually use breadcrumbs as a binder. But this clever recipe uses coconut flour and almond flour.
The coconut flour keeps the cakes light, while the almond flour helps make the edges crunchy. It's the perfect combination. You won't miss the breadcrumbs when you give these a try.
Source: kitchengidget.com
Whip up this super quick lunch whenever you need something healthy and cheap. Rice, sardines, tomato, and an egg. That's all you need to bring this recipe to life!
Despite the simple ingredients, this sardine bowl is packed with flavor. Every bite is bold and punchy. Ensure you cook the egg, so the yolk is still runny to provide a little more sauce.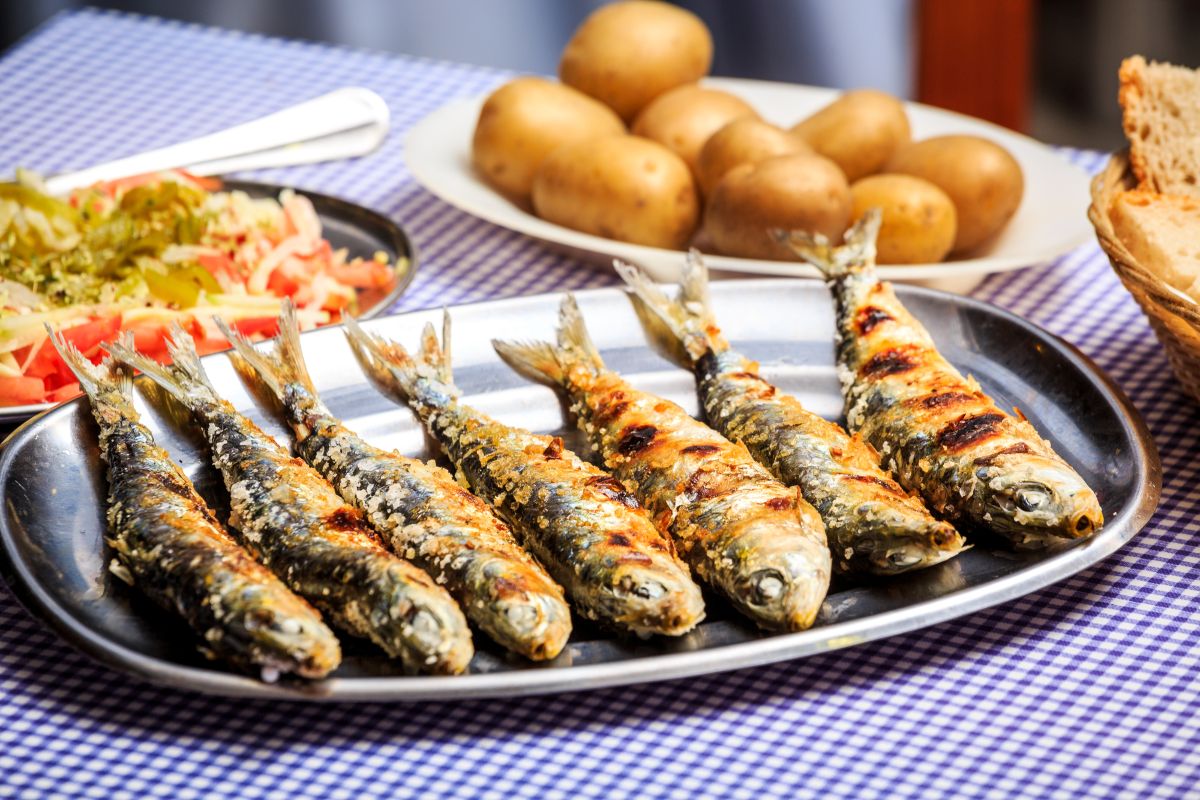 Source: olivetomato.com
These Mediterranean roasted sardines make for a great appetizer course. They're small enough to tempt your guests but tasty enough that they'll be clamoring for more.
This is a mediterranean diet recipe you can also prepare in advance. Though the sardines are an acquired taste that are best served immediately, you can prep the sauce up to two days before.
Source: cookedandloved.com
This next recipe is so good that it will convince anyone to like sardines. Yes, even the ones who say they can't stand them! This pate's bold, punchy flavor will have them eating their words…
…and more pate. This is a gluten-free, paleo, keto-friendly recipe, so it's great for taking to gatherings. No matter who's about, they'll most likely be able to enjoy it.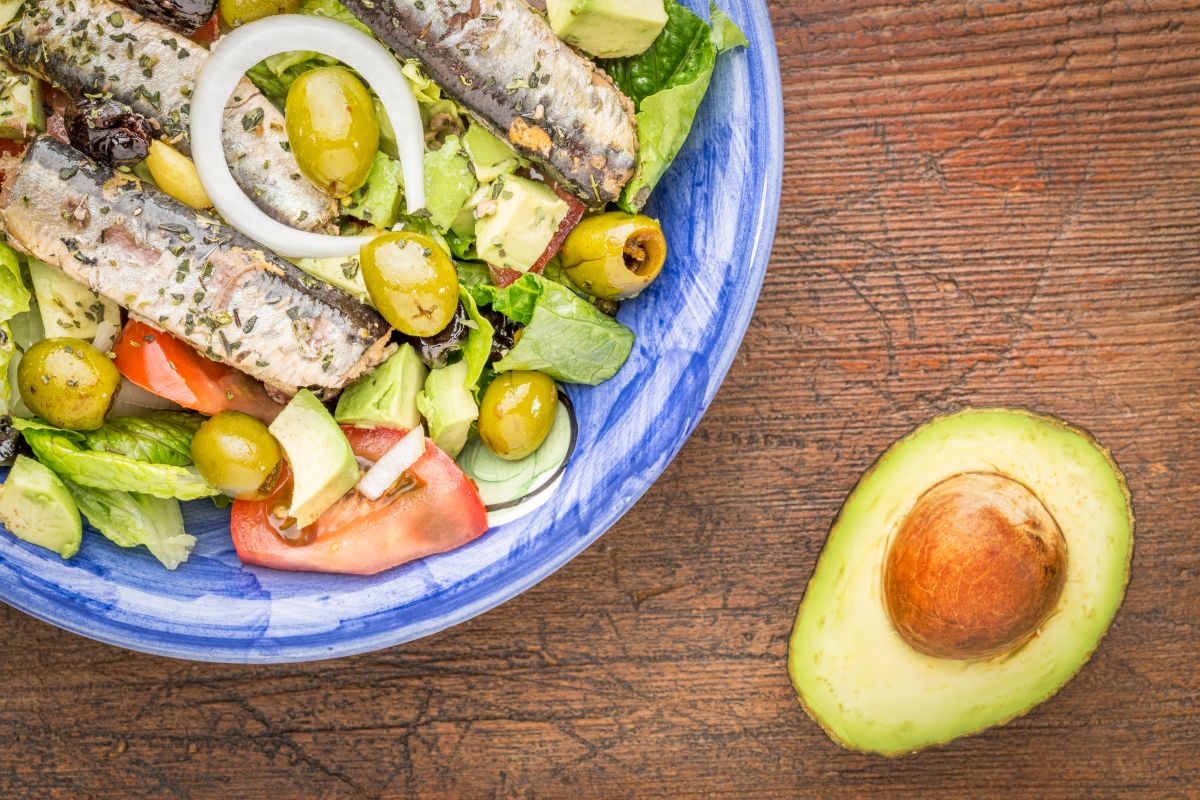 Source: wickedspatula.com
Give your stomach something to thank you for with this delicious sardine salad. The fried sardines on top of the leafy greens are a delightful combination.
Pair that with an addictive vinaigrette, and you've got a winner! This is a great recipe to bring to the office or to whip up on a busy day. You barely need ten minutes to pull it together.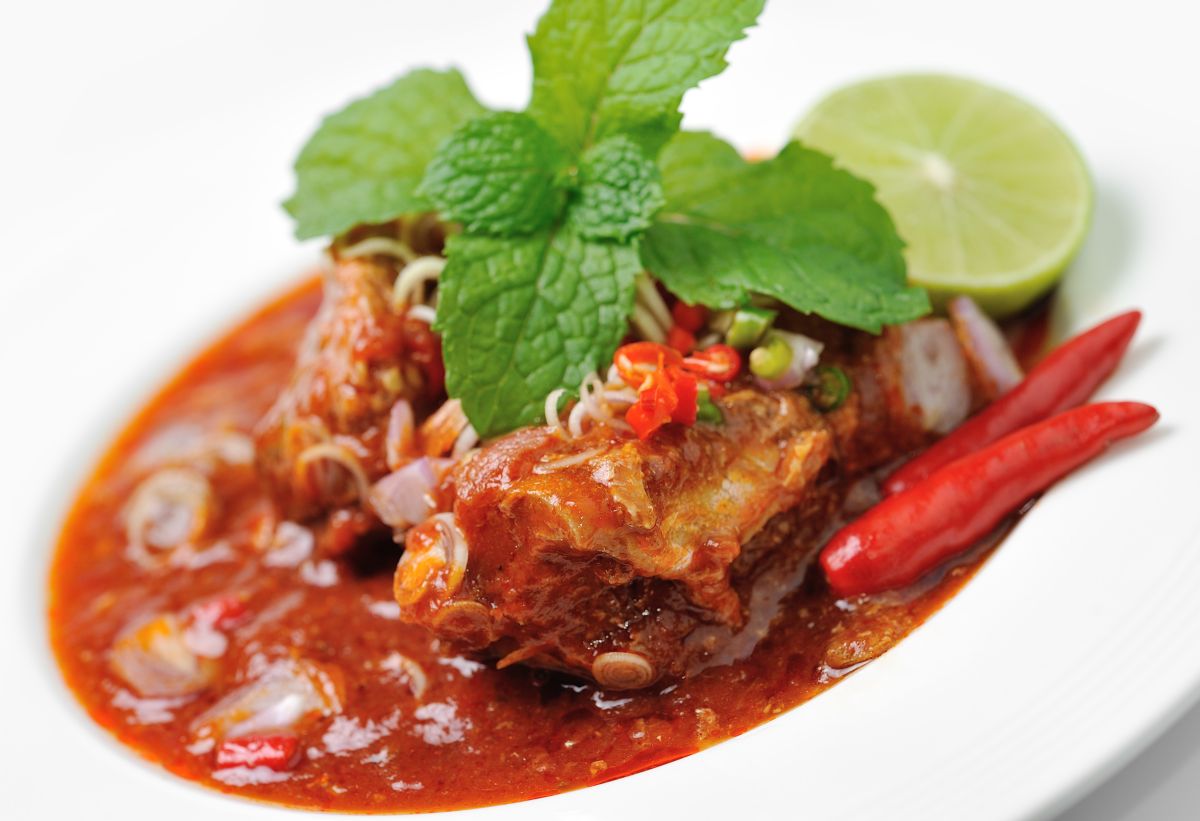 Source: cookmeindonesian.com
Next up is an Indonesian-inspired dish that celebrates chilis! This dish is proof that chili can make anything better. Sticky onions and plenty of red chili pack every mouthful with flavor.
The sardines are there to anchor this dish with their saltiness. Enjoy it as a side dish or over some rice for the main course.
Looking for other meals with items hiding in your pantry? Check out these healthy pantry recipes.
Source: farahjeats.com
Malaysian-inspired recipes have so many different new tastes and textures to offer. This fantastic recipe creates something like a shakshuka but with sardines.
This type of meal is typically eaten around Ramadan. But you can enjoy it year-round! The spicy, salty sauce is the perfect foundation for the runny eggs.
Source: iheartbrazil.com
Sardines are also a common ingredient in Brazil, where this recipe was born! A sardine pie is a great way to make a delicious weeknight meal without too much hassle.
This pie bursts with spices and vegetables. Every inch is packed with flavor, so it tastes like it took hours to make. But it only takes an hour from start to finish!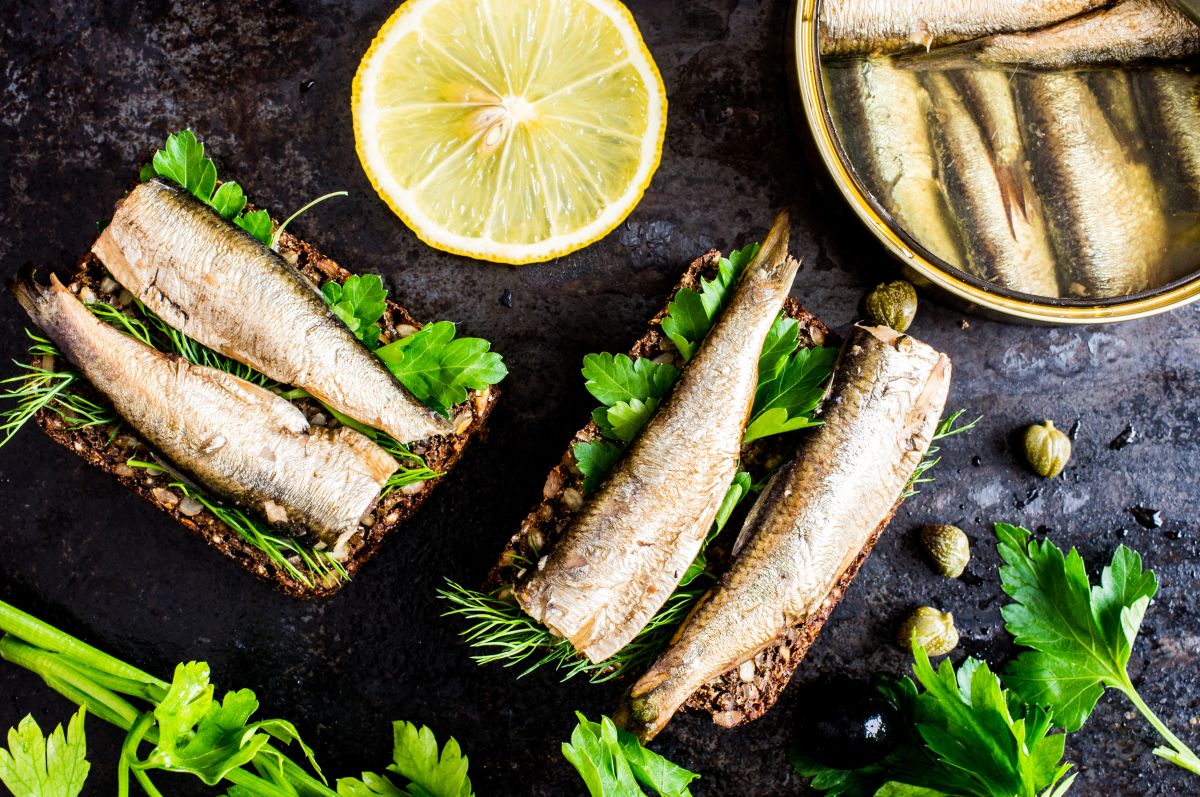 Source: saveur.com
Enjoy a simple, delicious lunch thanks to this tasty sandwich recipe. Tomatoes and sardines were meant to be together, and nowhere proves that better than between two layers of bread.
The juicy tomatoes and salty sardines make every bite addictive. Add a little pepper and olive oil, and you've got a winner.
This is a great sandwich to make for the whole family! Whether you're headed to school, the office, or out on a trip, this will do beautifully.
Get more lunch inspiration with these other healthy sandwich ideas!
Source: jernejkitchen.com
Our final recipe appreciates sardines for precisely what they are. Simply grilling them in some oil allows the flavor of these little fish to speak for itself.
Pair the grilled sardines with lemon juice or chimichurri to take it over the edge.
That's our tour of the best canned sardine recipes completed! Which recipe was your favorite? Do you have any canned sardine recipes you reach for regularly?
Let me know in the comments below to expand our horizons!
23 Best Canned Sardine Recipes That Taste Delicious
These tasty canned sardine recipes showcase the best ways to use this fish. Try these simple dishes for a healthy meal at home.
Ingredients
1. Sardine Spread
2. Spanish Sardines Pasta
3. Sardine Zoodles with Artichokes and Lemon
4. Paleo Sushi
5. Sardines on Toast
6. Roasted Canned Sardine Bake
7. Sardines on Cauliflower Toast
8. Sardine Salad Sandwich
9. Simple Sardine Salad
10. Air Fryer Sardine Fritters
11. Sardine Salad
12. Mini Fish Cakes
13. Mediterranean Sardine Spread
14. Keto Sardine Cakes
15. Sardine Rice Bowl
16. Mediterranean Garlic and Herb Crusted Roasted Sardines
17. Sardine Pate
18. Pan Fried Sardine Salad
19. Sauteed Canned Sardines
20. Spicy Sardine with Eggs
21. Sardine Pie
22. Canned Sardine, Tomato, and Caper Sandwiches
23. Grilled Sardines
Instructions
Scroll up to get a bunch of easy, yummy, and delicious recipes. Don't be afraid to get creative with the ingredients, you might discover a flavor you didn't know you liked.
Get your shopping list going and make sure you've got all the ingredients.
Get cooking and make your next Canned Sardine Recipe!


Notes
Which one of these recipes was your favorite? Let me know in the comment section or on Pinterest!