Ditching the salt shaker? Don't fret! These low sodium dinner ideas will show you that less sodium doesn't mean less flavor.
Cutting back on sodium means improved blood pressure, lower risk of heart disease, fluid regulation, and balanced metabolic functions.
But it doesn't have to mean consuming a bland diet, too! These low sodium recipes will prove just that!
Salt may not be on your dinner table, but tasty dishes can still be prepared in a great way. Just check out these delicious dinners that are low in sodium for your low sodium diet.
These low-sodium meals are packed with meat, veggies, lots of nutrients, and incredible flavors.
Your dinner can still be exciting, even if you're limiting your amount of sodium to not much sodium.
What is Considered a Low-Sodium Dinner?
Low-sodium diet, as the name suggests, is a diet that consists of lower milligrams of sodium content.
That means that salt consumption is seriously decreased to not much salt, usually to no more than 2 to 3 grams, or about 2,000 to 3,000 mg of sodium.
The main focus of the diet is healthy recipes packed with fresh veggies, fruits, meat, fish, eggs, grains, unsalted nuts, seeds, and dairy.
Basically, you should avoid eating anything that is processed, salty, or heavily seasoned to help lower high blood pressure.
Of course, your easy recipes can be well-seasoned, but only with aromatic spices and herbs that do not contain salt.
The bottom line? Make more meals at home! You can even make a low sodium version of your favorite foods and even fast foods!
Is Chicken Low in Sodium?
Natural chicken is generally low in sodium. For instance, 3 ounces of roasted chicken breasts have approximately 65 milligrams grams of sodium.
Thighs and darker meat contain slightly more. Or about 75 grams.
Still, you're aiming for 2,000-3,000 mg. Eating a 3-ounce chicken will use only 3% of your daily sodium intake.
So yes, chicken is low in sodium. So, feel free to make it a frequent addition to your dishes.
Low Sodium Dinner Ideas for Family
Feeding a crowd? Don't worry! With these delicious recipes, no one will be able to notice the lack of salt in the low-sodium version.
Source: the-pasta-project.com
Lentil soups make great lunches. But add some pasta to the bowl, and a filling, crowd-feeding dinner will be served.
This traditional Umbrian recipe brings the flavors of Italy to your kitchen.
It is packed with onions, celery, carrots, garlic, rosemary, and some tomato paste. That makes the dish aromatic and full of flavor.
Plus, it is ready in just 30 minutes and requires only one pot. So it is also quick, convenient, and perfect for a weeknight meal.
You'll also want to know these best low sodium frozen meals for dinner in a pinch!
Per Serving:
Calories: 572
Fats: 12g
Protein: 22g
Carbs: 83g
Sodium: 66mg
Source: temeculablogs.com
Air fryer shrimp without breading! This lovely recipe can be made with both fresh and frozen shrimp. And it couldn't be simpler!
Simply toss the shrimp with some paprika, garlic powder, or your favorite low-sodium seasoning. Place it in the basket, and press a button.
It's ready in just 10 minutes and can be paired with corn, potatoes, rice, or whatever side dish you prefer.
And it makes a great addition to pasta, tacos, or risotto. You'll also enjoy these other shrimp recipes for dinner!
Per Serving:
Calories: 64
Fats: 7g
Protein: 0.1g
Carbs: 0.5g
Sodium: 1mg
Source: ifoodreal.com
This pan-fried tofu is so delicious and "meaty" that you can easily trick your kids into thinking they're enjoying chicken.
Tofu is pretty neutral and takes on seasonings well. And these marinated cubes are nothing but smothered with flavor and aroma.
For this recipe, use firm tofu only. As the soft cubes may fall apart.
This comes together in 20 minutes, and you will be licking your fingers at the end.
Per Serving:
Calories: 123
Fats: 7g
Protein: 9g
Carbs: 7g
Sodium: 250mg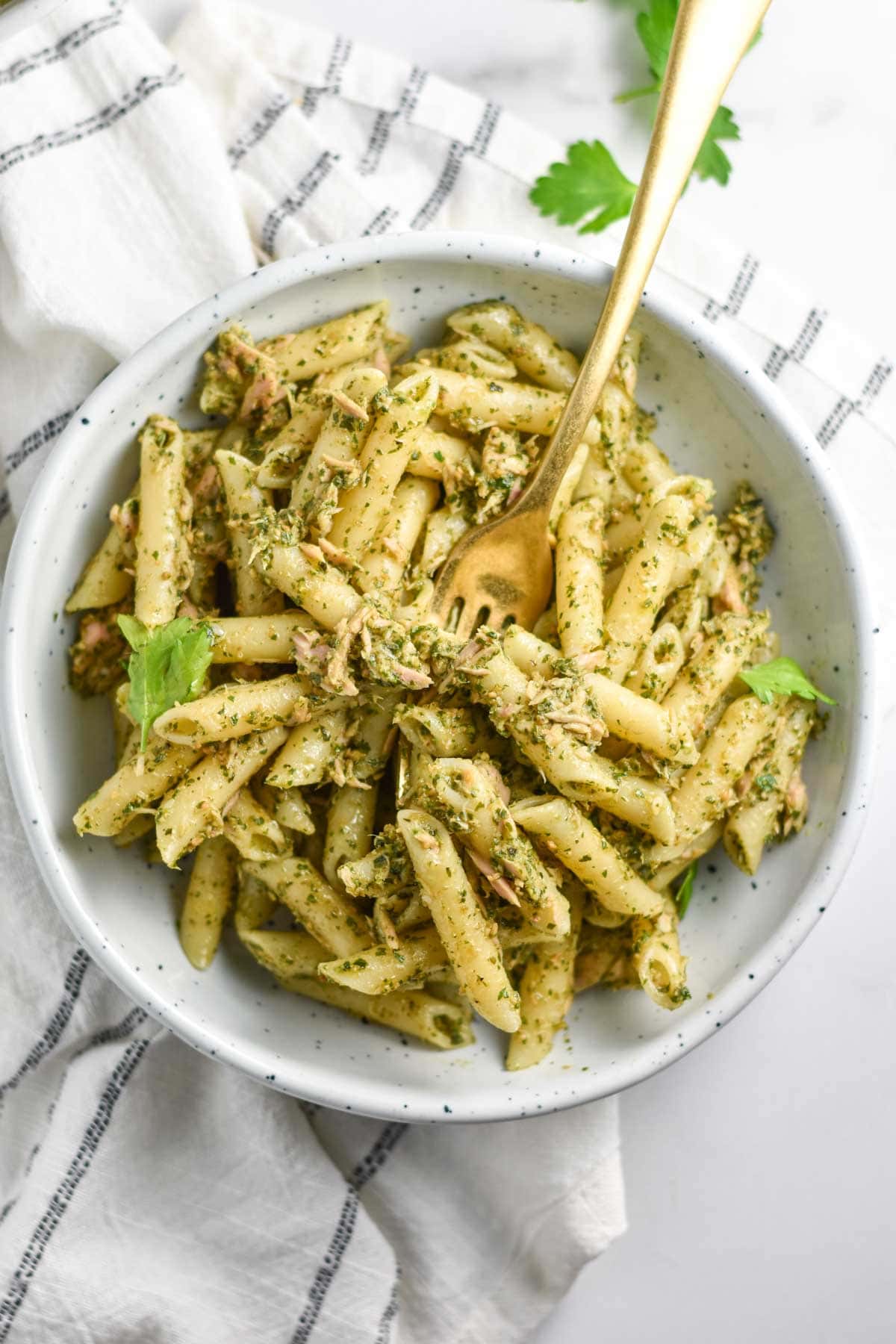 Source: thedizzycook.com
Tuna and pesto sauce work well together in this nutritious and filling pasta recipe.
You can whip this up using a jar of store-bought pesto, as long as it is low in sodium.
However, this recipe features a method for homemade pesto. And I strongly recommend you to give it a try.
Creamy and delicious, this pasta dish can be served cold. Which makes it the perfect thing to have on the go.
Per Serving:
Calories: 233
Fats: 3g
Protein: 8g
Carbs: 43g
Sodium: 8mg
Source: recipezazz.com
This dish has a bit over 100 mg of sodium, and it is the juiciest, spiciest lean burger you'll ever try.
The burgers are made with turkey meat, onions, and eggs. And it has some diced Jalapenos to give you a slight kick with every bite.
The garlic and Worcestershire give tons of flavor, but you can use other seasonings as well.
Serve in a bun or with a simple salad on the side. Delicious and filling, anyway!
Per Serving:
Calories: 160
Fats: 2.3
Protein: 27.7g
Carbs: 7.7g
Sodium: 101.4mg
Source: homecookingcollective.com
If you're into Indian food, you'd be happy to hear that this Dal Tadka has found its way into your low-sodium recipe folder.
Dal Tadka is a red lentil dish that has an onion and tomato base. A crispy garlicky topping (tadka). And a combination of flavorful seasonings that makes it anything but boring.
The texture is creamy and mushy, with a slight crispiness that excites.
You can serve this with rice, pita chips, or on its own.
Per Serving:
Calories: 432
Fats: 9g
Protein: 17g
Carbs: 73g
Sodium: 23mg
Source: runningonrealfood.com
If chicken's out of the table, then tofu can be the perfect substitute. Because these meatless nuggets are just as delicious and meaty as the real thing. Minus all the bad fats and calories.
The tofu is paired with soy sauce, garlic, oregano, and paprika. But again, feel free to play around with the seasonings here as well.
The breadcrumb topping makes a golden and crispy skin that is so darn hard to resist.
Per Serving:
Calories: 31
Fats: 2g
Protein: 2.5g
Carbs: 0.7g
Sodium: 38mg
Source: jessicainthekitchen.com
Do you like the idea of having tofu nuggets as a snack? Then here's another recipe that I simply couldn't leave out of this list.
Marinated in a smoky and garlicky soy mixture. Then dipped in flour and nut milk. And finished off with a crispy and spicy breadcrumb topping.
These vegan fake cheese bites are baked, not fried. And that's yet why they're healthier than the real kind.
Serve with some dipping sauce on the side, and everyone will go crazy for these irresistible bowls.
Per Serving:
Calories: 34
Fats: 1g
Protein: 2g
Carbs: 6g
Sodium: 82mg
Source: occasionallyeggs.com
Quinoa, chard, kale, and spinach. These yummy patties are not only healthy, but they taste amazing, too.
They are also loaded with lemon flavors to give some zestiness to the herbs. And the recipe uses three eggs, so everything's tied well together.
These patties have to be the perfect last-minute dinner option. They only take 25 minutes to make and are prepared in a frying pan.
Per Serving:
Calories: 86
Fats: 3g
Protein: 3g
Carbs: 12g
Sodium: 116mg
Source: drivemehungry.com
This recipe makes stir-fried ground tofu, and it is the perfect ground meat substitute you will ever find.
This stir-fry also combines peppers, onions, and green beans. But it is the generous amount of basil that gives it fresh notes and tons of flavor.
The tofu is glazed in a sugary, garlicky, and gingery sauce. And it has a touch of chili for a slight heat.
This is one of the best cheap healthy recipes to stay on a budget!
Per Serving:
Calories: 270
Fats: 20g
Protein: 9g
Carbs: 15g
Sodium: 89mg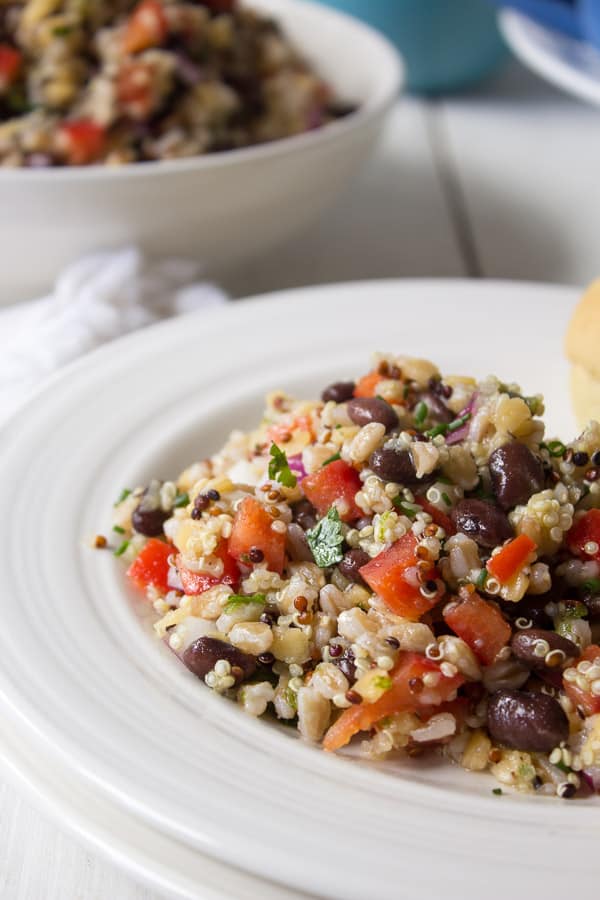 Source: beyondthechickencoop.com
This farro and quinoa salad is packed with peppers, black beans, and red onions. And it is whole-grain, nutritious, and incredibly healthy.
Plus, with all the grains, it is super filling and can easily feed a large family for dinner.
The salad is tossed in a zesty vinaigrette. Limes, lemons, chives, cilantro, and garlic, are what give this dish a nice and well-rounded taste.
Per Serving:
Calories: 322
Fats: 8g
Protein: 11g
Carbs: 51g
Sodium: 6mg
Source: joskitchenlarder.com
If potatoes and salmon for dinner sounds like a simple choice, that's because it really is. There is nothing too fancy about this pairing, and yet, it packs a really tasty punch.
Just arrange the potatoes in a large dish and top with the salmon filets. Then pop it into the oven, and that's it.
The dish has lemony and thyme notes, but you can add other aromatics, like garlic, as well.
Per Serving:
Calories: 458
Fats: 18g
Protein: 38g
Carbs: 36g
Sodium: 88mg
Source: thedizzycook.com
Are you a fan of goat cheese? Then you probably already know how well it pairs with veggies like zucchini and other greens.
This recipe also uses basil and corn, and it is lean, healthy, and satisfying.
A perfect summer pasta, this creamy fettuccine bowl is ready in 20 minutes. And it's enough for a family of four.
Per Serving:
Calories: 333
Fats: 12g
Protein: 14g
Carbs: 42g
Sodium: 120mg
Source: sidewalkshoes.com
Here's another recipe for salmon and potatoes. Only here, we have an extra ingredient. Mushrooms.
One-pan dish loaded with protein, starches, and nutrients. Enough to make one filling dinner for the whole family.
The roasted fish and veggies are drizzled with a mustardy vinaigrette at the end. And that gives them a pop of flavor that rounds out the dish.
Per Serving:
Calories: 422
Fats: 22g
Protein: 39g
Carbs: 18g
Sodium: 133mg
Source: easyhealthllc.com
A simple fish filet recipe that you can pair with potatoes, rice, or a portion of veggies on the side.
This recipe relies on Old Bay seasoning with low sodium. But you can use whatever seasonings you enjoy the most.
You can also drizzle the fish with lemon juice and top with some herbs for added aroma.
Per Serving:
Calories: 82
Fats: 1g
Protein: 17g
Carbs: 0g
Sodium: 44mg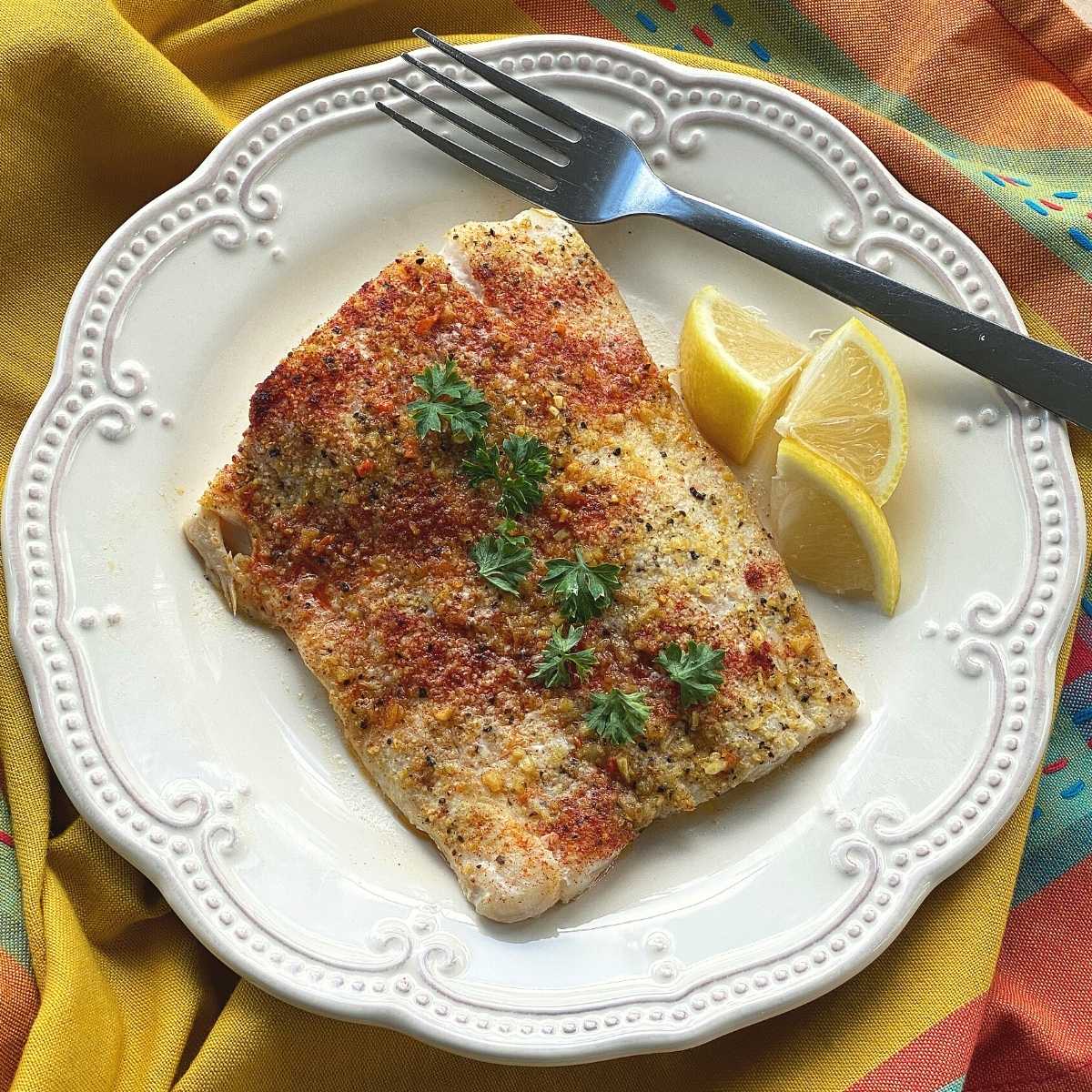 Source: dinner-mom.com
Enjoying white fish filets has never been so delicious! This white corvina recipe has a golden and crispy crust. And a buttery taste that runs throughout.
The recipe makes baked fish, but you can also grill or pan-fry it.
Lemony flavors, butter, and garlic are in charge of adding flavor to the fish.
If you want to, you can also coat it with some parmesan cheese.
Per Serving:
Calories: 186
Fats: 10g
Protein: 23g
Carbs: 1g
Sodium: 131mg
Low Sodium Dinner Ideas with Chicken
Craving chicken for dinner? Then pick one of these low-salt recipes for guaranteed dinner satisfaction!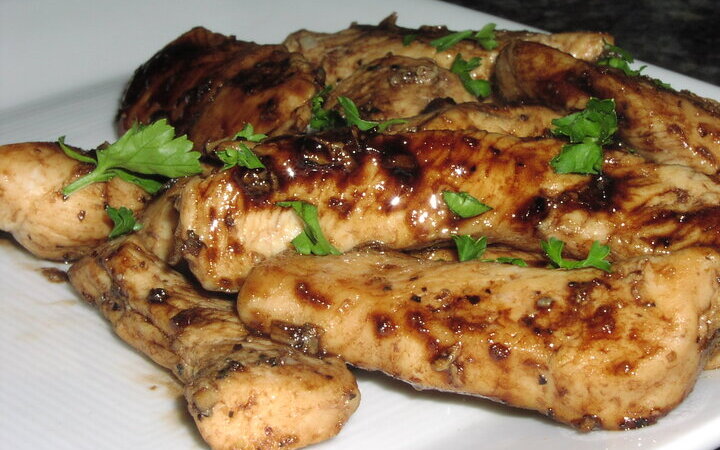 Source: recipezazz.com
Glazed in balsamic vinegar, these chicken pieces are tangy and sweet enough to have you hooked from the first bite.
The recipe also uses a teaspoon of minced garlic. That adds a nice flavor and aroma that goes well with the meat.
The chicken is pan-fried, but it also can be baked or made on the grill.
Wow'd by these chicken cutlets? You need to try these other tasty chicken cutlet recipes!
Per Serving:
Calories: 159.9
Fats: 3.1g
Protein: 26.5g
Carbs: 4.6g
Sodium: 121.5g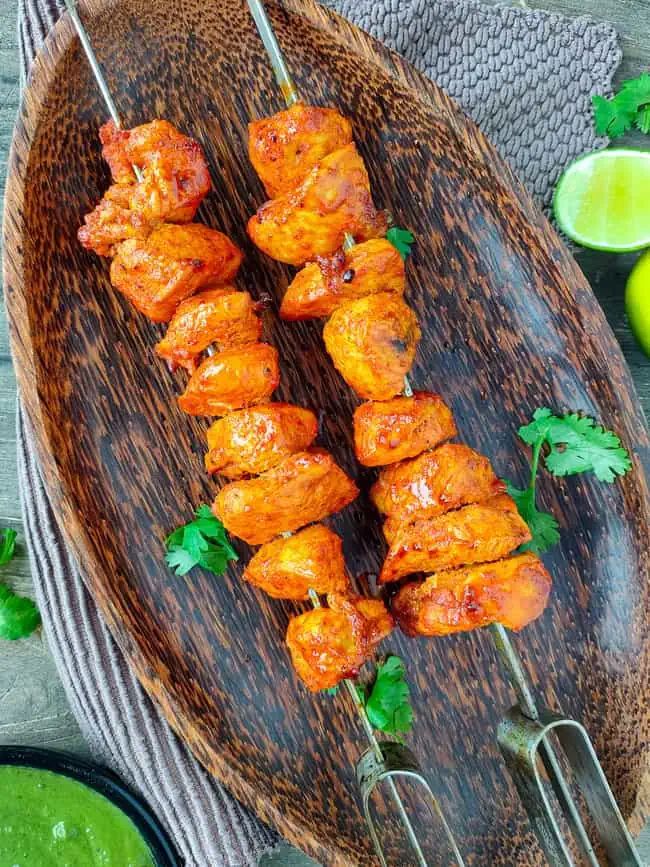 Source: gohealthyeverafter.com
This recipe is inspired by the traditional marinated chicken baked in a clay oven. And it offers the same flavor and taste.
Only in a slightly more convenient form. Skewers.
The marinated is really heavily spiced, but don't worry. A portion of this delight will cost you only 105 mg of sodium. So you're good to go.
Smothered in a yogurt mixture with garam masala, ginger, garlic, chili powder, and a whole other spices. This dish is nothing but flavorful.
It is made in the oven, but frying or grilling the skewers will also be great.
Per Serving:
Calories: 201
Fats: 7.4g
Protein: 30.1g
Carbs: 3.4g
Sodium: 105mg
Source: joyfilledeats.com
Are you craving chicken tonight? Do you want it to be quickly put on your table? Then, this fast and simple recipe is definitely what you should be making tonight.
Air-fried chicken wings for a last-minute dinner that will have you licking your fingers. And palms. Messy, I know!
Feel free to toss the wings in your favorite sauce or spices. Then, arrange them in the basket, and press the button.
Per Serving:
Calories: 135.9
Fats: 9.8g
Protein: 11.2g
Carbs: 0g
Sodium: 44.7mg
Easy Low Sodium Dinner Ideas
For easy, convenient, and uncomplicated dinner cooking, check out these delicious low-sodium recipes.
Source: noshingwiththenolands.com
Okay, hold your horses! I know that you CAN'T eat seasoning for dinner. But this recipe is on this list to show you how quick it is to make a nice seasoning mix without any salt.
And if you choose to pair this mixture with chicken or peppers and onions for fajita? Then you can have a low-sodium dinner that will knock your socks off.
Chili, paprika, garlic, and onion powder are the stars here. With a secret ingredient – cornstarch.
Per Serving:
Calories: 42
Fats: 1g
Protein: 1g
Carbs: 9g
Sodium: 137mg
Source: hauteandhealthyliving.com
Who needs seasoned canned sauces when you can make your own from scratch?
This way, you know exactly what's in it. And you can adjust the salt content according to your dietary needs.
This lovely sauce includes onions, garlic, basil, and a touch of oregano. It is smooth and creamy and pairs perfectly with your bowl of spaghetti.
Sprinkle some parmesan cheese over it, and it is literally to die for.
Per Serving:
Calories: 57
Fats: 4g
Protein: 1g
Carbs: 6g
Sodium: 19mg
Source: the-pasta-project.com
I am a hardcore mushroom fan. Especially for the more flavorful kinds. Like porcini.
This bowl of tagliatelle is the definition of what I consider comfort food. Buttery, aromatic, garlicky. And with a bite that turns on all of your senses.
It is best to have a good-quality white wine for cooking. It really makes a lot of difference to the taste.
Occasional mushroom foragers, you will hold this recipe very dear!
Per Serving:
Calories: 603
Fats: 18g
Protein: 18g
Carbs: 78g
Sodium: 33mg
Source: healthykidsrecipes.com
Who needs tomatoes when there are carrots? This smooth carrot mixture will show you that this root veggie can make one heck of a pasta sauce, too.
Vibrant, creamy, and with a deep flavor that comes from the roasting part.
This recipe is perfect for fussy kids and picky eaters. Because they will get their vitamins without actually knowing they're eating carrots. Sneaky, sneaky!
Per Serving:
Calories: 269
Fats: 1g
Protein: 9g
Carbs: 44g
Sodium: 104mg
Source: goldengracekitchen.com
Versatile enough to become a regular at your house. These refried beans are perfect for nachos, tacos, salads, or wraps.
Tossed with lots of spices for the best flavor ever, these beans will offer a decent taste even to bland dishes.
Make sure not to drain the can liquid, though, as that makes the yummiest sauce.
Per Serving:
Calories: 40
Fats: 4g
Protein: 0.2g
Carbs: 1g
Sodium: 15mg
Source: wholesomemadeeasy.com
A stovetop recipe for Spanish rice. Packed with beans and onions and smothered in yummy tomato sauce.
This recipe packs a lot of flavor but is very low in sodium.
And since it is made in just under half an hour, it is perfect for this "easy dinner" list.
You can eat it on its own or add it as a side to meat, fish, or in burritos.
Per Serving:
Calories: 191
Fats: 2g
Protein: 7g
Carbs: 36g
Sodium: 86mg
Source: thefeatherednester.com
Gluten-free, low-sodium, and much healthier than your regular lasagna. This recipe has all the joy of the traditional pasta dish but in a slightly healthified way.
Ground beef, ricotta, mozzarella, parmesan, and tomato sauce are still the stars here.
The only difference is that the salt content is lowered.
Still, with so much sauce and cheese, it packs about 182 grams. But if you've been very mindful of the salt intake throughout the day, you can allow yourself an extra portion.
Per Serving:
Calories: 586
Fats: 25g
Protein: 27g
Carbs: 59g
Sodium: 182mg
Source: rachnacooks.com
A colorful salad that features orange, purple, and green. So vibrant and happy, it looks like sunshine in a bowl. Plus, it is super nutritious, too.
The ingredients here are simple, and this recipe doesn't try to state otherwise. Just plain garlic powder, vinegar, parsley, and some sugar to sweeten things up.
Perfect alongside pork, beef, or even on its own.
Per Serving:
Calories: 110
Fats: 8g
Protein: 2g
Carbs: 10g
Sodium: 44mg
Source: thecleaneatingcouple.com
This may be classified as a vegetarian side dish. But this salad is so full of flavor and filling that you'd be serving it for dinner, too.
Rich in fiber and nutrients and a lovely dressing for flavor. This versatile and easy salad will make regular appearances on your table.
It also combines tomatoes, corn, pine nuts, and feta. So it also has a layered texture, as well.
Per Serving:
Calories: 339
Fats: 13g
Protein: 10g
Carbs: 49g
Sodium: 147mg
Source: theforkedspoon.com
Hosting a barbecue party? There will be vegetarians coming over? Then this is a recipe you must know of.
Layered veggies. Threaded onto skewers. And grilled to perfection.
The choice of veggies includes zucchini, peppers, and red onions. And it combines bell peppers of different colors.
The thing you'll enjoy the most? The garlicky and herbal drizzle on top.
Use up the rest of your bell peppers with these yummy green pepper recipes!
Per Serving:
Calories: 324
Fats: 19g
Protein: 5g
Carbs: 36g
Sodium: 26mg
Source: joyfoodsunshine.com
A five-ingredient recipe. Such an easy and super healthy meal. Plus, it is gluten-free, low-sodium, vegan, and very nutritious.
Balsamic and honey beets are roasted until tender. And are best if served warm.
I absolutely love pairing these with feta cheese and couscous. If you like that idea, you'll have a wholesome and filling dinner in no time.
Per Serving:
Calories: 61.2
Fats: 2.4
Protein: 1.1g
Carbs: 9.7g
Sodium: 142.3mg
Source: diabetesstrong.com
This homemade salsa is perfect for those cutting back on salt.
It is healthier. More flavorful. And basically, a blank canvas. You can put whatever ingredients you prefer. And on top of that, you can easily control the sodium intake.
This recipe combines jalapenos, green onions, and lime. And? It takes no more than 10 minutes to prepare.
Per Serving:
Calories: 10
Fats: 0g
Protein: 0.3g
Carbs: 2g
Sodium: 6.8mg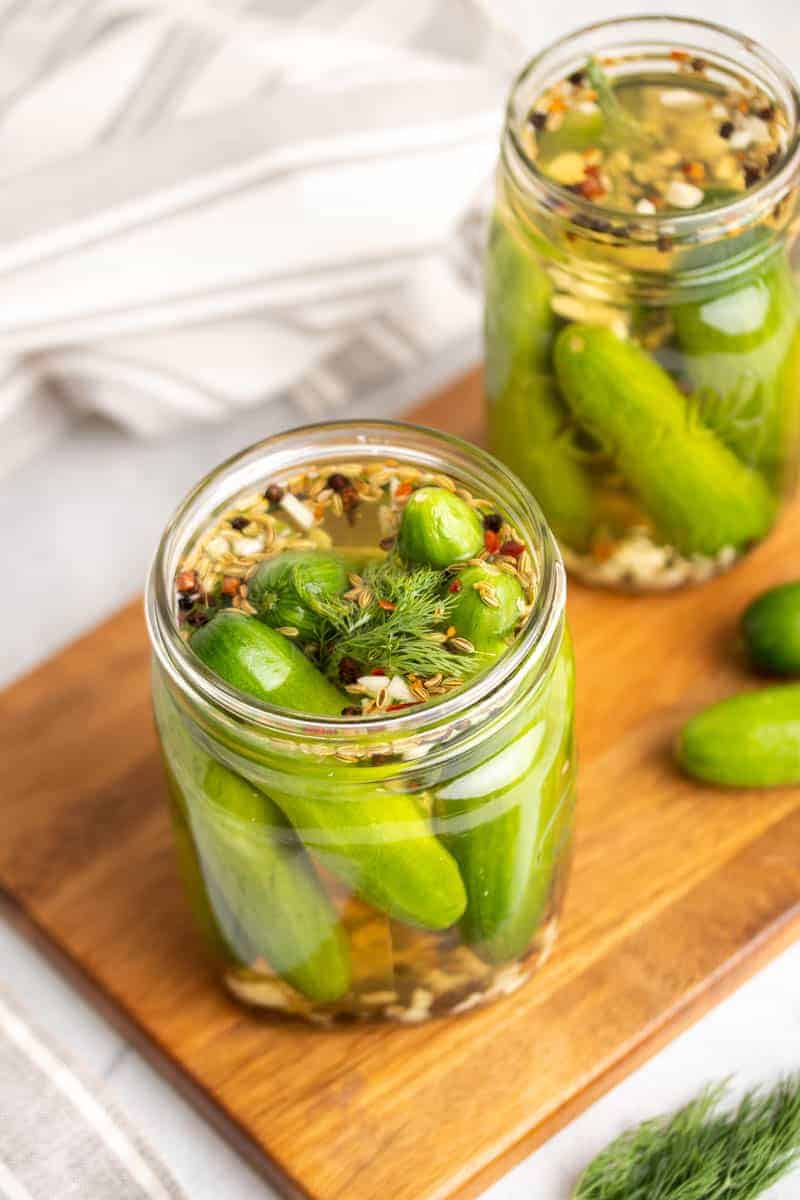 Source: diabetesstrong.com
I am used to having the occasional pickle-craving moments. But I no longer buy them from the store.
A single dill pickle can pack up more than 300 mg of sodium.
For that reason, I choose recipes like this one.
These yummy and garlicky pickles contain 3.7 mg of sodium per serving. And can be enjoyed without a shred of guilt.
Per Serving:
Calories: 44
Fats: 0.2g
Protein: 0.5g
Carbs: 9.1g
Sodium: 3.7mg
Source: eatplant-based.com
Avocados do not only give some extra nutrients and healthy fats. But they also give the sandwich a creaminess and texture, Which pairs well with almost anything.
This recipe also uses tomatoes, onions, and a spicy vegan mayo for flavor.
It is healthy, quick, easy, and pretty filling, too.
Per Serving:
Calories: 215
Fats: 15g
Protein: 3g
Sodium: 40mg
Source: eatplant-based.com
The thing about bulgur is that it is super crumbly and has an amazing texture. So much so that it really reminds me of ground meat.
Which is why most bulgur meals don't even need this animal protein. Because they are filling enough on their own.
This recipe contains a foolproof method on how to cook plain bulgur. But, of course. You should add your seasonings or other add-ins that you prefer.
Herbs, spices, or some butter for silkiness. Or all three. The choice is yours.
Per Serving:
Calories: 76
Fats: 0g
Protein: 3g
Carbs: 17g
Sodium: 14mg
Source: vegrecipesofindia.com
Dosa is a very popular breakfast in India. It is often served as a snack, too. But who says you cannot have it for dinner?
Basically, this is a healthier version of a crepe. It is light, airy, and takes on flavors very well.
It is made from rice and/or lentils. The process may be a bit lengthy. But the results are definitely worth the wait and trouble.
Per Serving:
Calories: 74
Fats: 2g
Protein: 2g
Carbs: 12g
Sodium: 75mg
Source: joyfoodsunshine.com
Kale chips may not be a typical dinner choice. But if you're trying to cut back on the calories and you wish to end the day with a light snack, kale chips are what you should be having.
It is addicting and irresistible. This is why it is the perfect companion while you're snuggling on the couch, watching your favorite show.
Not to mention, it is incredibly nutritious, too!
Per Serving:
Calories: 62.3
Fats: 3.9g
Protein: 2.6g
Carbs: 6.2g
Sodium: 52.4mg
Source: fooddoodles.com
Let me be perfectly clear. Broccoli is probably the easiest and the hardest thing you can cook. Why? Because the line between perfectly steamed and ruined is very thin.
This recipe teaches you how to boil broccoli without a mistake.
You can then pair it with some lean protein for a full-blown dinner.
Per Serving:
Calories: 22
Fats: 0.2g
Protein: 2g
Carbs: 4g
Sodium: 21mg
Source: cookeatpaleo.com
Whether on a low-carb diet or not. Cauliflower rice is a nutritious dish that you should definitely try for dinner. Especially if you're thinking about losing some weight.
This recipe is a foolproof method on how to nail the preparation. However, I'd add some more butter to it just for some silkiness and depth in flavor.
Add your favorite veggies and protein to it, and you've got a wholesome meal in no time.
Per Serving:
Calories: 57
Fats: 3g
Protein: 2g
Carbs: 5g
Sodium: 32mg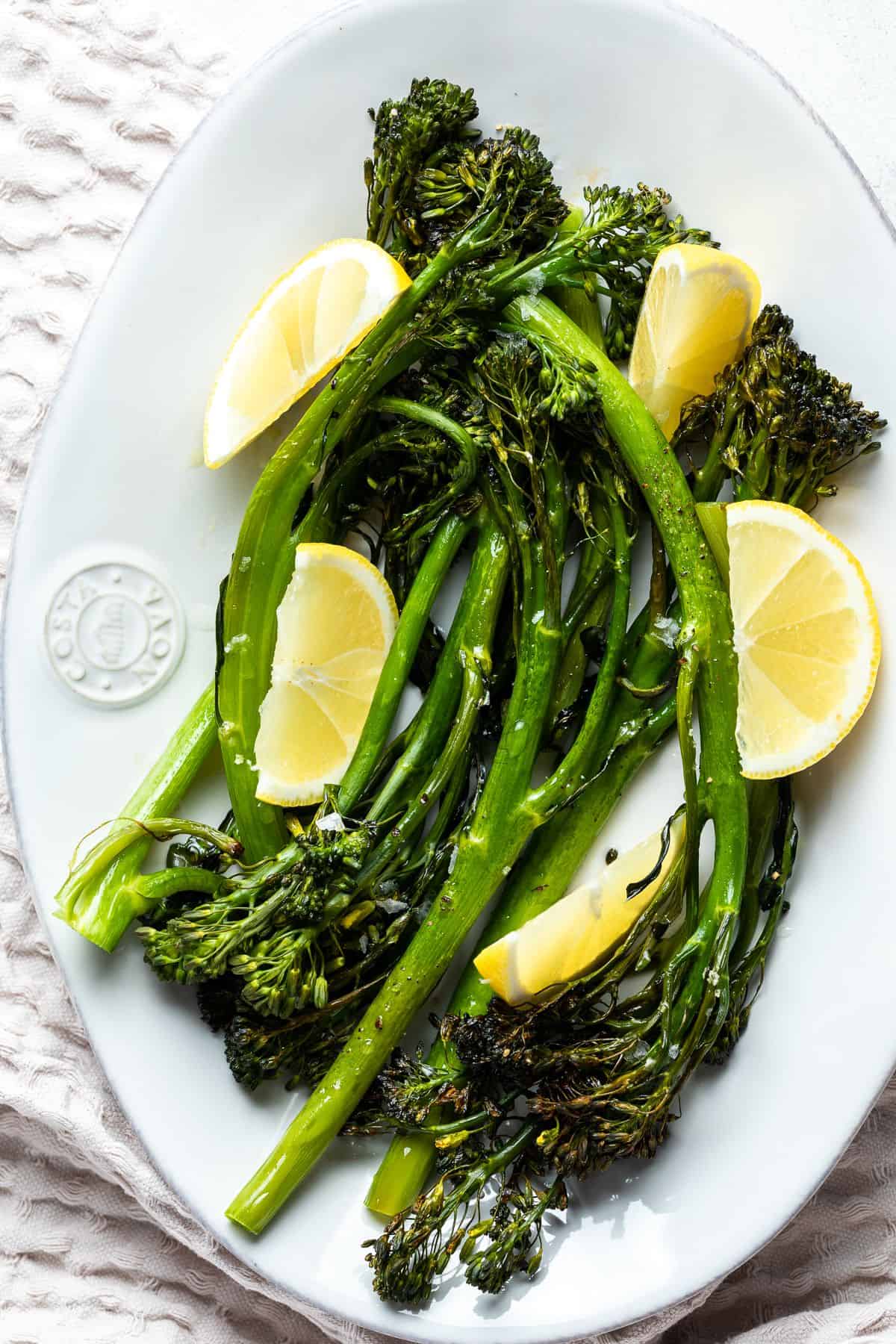 Source: itsnotcomplicatedrecipes.com
More of a side dish, but not if you add some fish next to these beautiful stems. Tenderstem broccolini goes perfectly with lean protein, so white filets are my preferred choice.
This recipe cooks them to perfection. And even drizzled them with some lemony oil for flavor.
Of course, you can add other ingredients to it. But the main thing is to follow the preparation step, so you never eat mushy broccolini again.
Per Serving:
Calories: 93
Fats: 7g
Protein: 3g
Carbs: 5g
Sodium: 22mg
Source: cookathomemom.com
Eggs for dinner? Why not? I love hardboiled eggs and have no problem having them for breakfast, lunch, dinner, and snacks.
They are rich in protein and can even curb chocolate cravings. So, feel free to indulge!
This recipe makes eggs in the Air Fryer. And it is a method that is really convenient and fuss-free.
It takes about 10-12 minutes to cook them perfectly, so it is quick, too.
Per Serving:
Calories: 72
Fats: 5g
Protein: 6g
Carbs: 1g
Sodium: 71mg
Source: theshortordercook.com
A rice salad with fava beans for a tummy-filling, palate-pleasing, and healthy dinner.
Tossed with lemony and tangy flavors. Topped with zestiness and scallions for color. And most importantly, low in sodium.
This salad offers only 112 mg of sodium for a really generous portion.
Besides, it can be stored in the fridge for two days. And it tastes amazing cold.
Perfect for the next day's lunch. Don't you agree?
Per Serving:
Calories: 393
Fats: 11.6g
Protein: 13.4g
Carbs: 59.8g
Sodium: 112mg
41 Low Sodium Dinner Ideas That Actually Taste Good
Discover delicious and heart-healthy low sodium dinner ideas to satisfy your cravings. Easy, delicious and full of flavors.
Ingredients
1. Lentil Soup with pasta
2. Air Fryer Shrimp
3. Pan Fried Tofu
4. Tuna Pesto Pasta
5. Jalapeno Turkey Burger
6. Dal Tadka
7. Baked Tofu Nuggets
8. Vegan Chicken Nuggets
9. Quinoa Swiss Chard Patties
10. Thai Basil Tofu
11. Quinoa Farro Salad
12. Salmon and Potatoes
13. Corn, Zucchini and Goat Cheese Pasta
14. Roasted Salmon with Potatoes
15. Baked Fish
16. Baked Corvina
17. Chicken Tenders
18. Baked Chicken Tandoori
19. Air fryer Chicken Wings
20. Fajita Seasoning
21. Homemade Tomato Sauce
22. Tagliatelle Porcini Mushrooms
23. Carrot Pasta Sauce
24. Refried Black Beans
25. Spanish Rice and Beans
26. Lasagna
27. Cabbage and Carrot Salad
28. Farro Salad
29. Veggie Skewers
30. Roasted Beets
31. Homemade Salsa
32. Pickles
33. Avocado Sandwich
34. Bulgur
35. Dosa
36. Baked Kale Chips
37. Broccoli
38. Cauliflower Rice
39. Roasted Broccolini
40. Air Fryer Eggs
41. Rice and Fava Bean Salad
Instructions
Scroll up to get a bunch of easy, yummy, and delicious recipes. Don't be afraid to get creative with the ingredients, you might discover a flavor you didn't know you liked.
Get your shopping list going and make sure you've got all the ingredients.
Get cooking and make your next Low Sodium Dinner Idea!
Notes
Which one of these recipes was your favorite? Let me know in the comment section or on Pinterest!