Put some healthy dishes on your dinner table with these mouth-watering low-sodium chicken recipes!
Cutting back on sodium to help prevent heart disease and high blood pressure, but craving chicken?
Then these low sodium chicken recipe ideas with simple ingredients couldn't have come at a better time!
Whether breasts, thighs, wings, or legs. Baked, grilled, stir-fried, and even air fried. This low-sodium recipe collection is loaded with yummy low-salt chicken dish ideas for every occasion.
They are healthy and delicious and could be turned into restaurant-worthy delicacies without added salt with ease.
How Do You Reduce Sodium in Chicken?
Chicken from the grocery store can be loaded with hidden mg of sodium. It is not uncommon for chicken to be injected with saltwater during processing, raising the amount of sodium.
If you want to remove the excess salt from this meat, don't worry. There is still a way to lower your sodium intake.
Even rinsing under water and leaving it to soak for a few minutes will remove some of the salt.
Your best bet, though, is buttermilk. Soaking chicken in buttermilk will draw much of the salt content out of the meat, creating low-sodium chicken breasts with ease.
Low Sodium Chicken Recipes
Here are the ultimate low-sodium diet recipes with chicken that are delicious, healthy, and low in sodium but have so much flavor.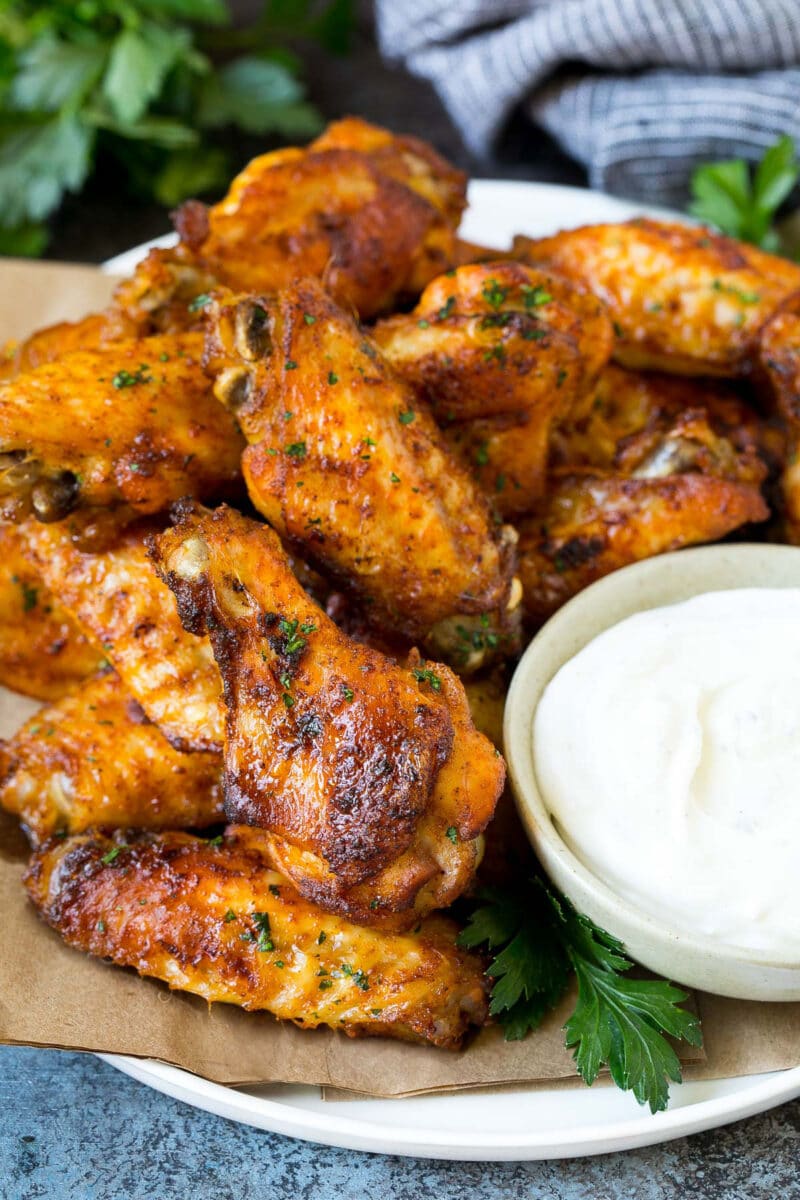 Source: dinneratthezoo.com
Coated with a barbecue spice rub. And roasted until golden and super crispy. These chicken wings will have you licking your fingers.
This recipe gives you everything you're looking for in chicken wings. Great seasoning and texture. And super juicy meat.
So simple to put together. This will become your favorite baked chicken wings recipe.
And if you serve it with some dipping sauce? Well, no one will be able to resist! The best part is it's a great option without much sodium!
Per Serving:
Calories: 312
Fats: 20g
Protein: 22g
Sodium: 89mg
Source: hintofhealthy.com
Juicy. Tender. And with such a fragrance that will draw everyone in your house to the kitchen.
This moist chicken recipe is packed with lemon and rosemary flavors. And it is super aromatic.
The prep is minimal, but the outcome can feed a crowd. A real family dinner that also works for holidays and special occasions.
Serve with mashed potatoes, peas, green beans, or your favorite side of fresh veggies.
Per Serving:
Calories: 425
Fats: 29g
Protein: 36g
Carbs: 3g
Sodium: 142mg
Source: whiskaffair.com
Looking for a light chicken soup? Look no more!
This clear, hearty, and comforting soup will nourish you from the inside out with its great taste. It is soul-warming and soothing, and it also tastes amazing.
Loaded with thyme and bay-leaf aroma, it is also quite flavorful.
Make sure to use bone-in chicken, as the recipe uses water, not stock. Try these other chicken breast on the bone recipes!
Per Serving:
Calories: 172
Fats: 11g
Protein: 14g
Carbs: 2g
Sodium: 71mg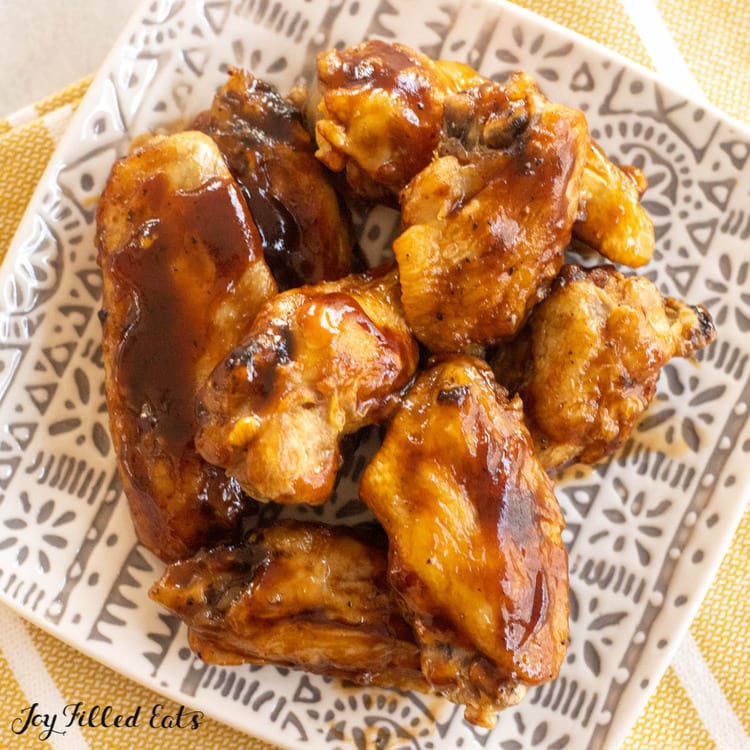 Source: joyfilledeats.com
Made from frozen, this has to be the simplest and most convenient recipe for chicken wings.
The Air Fryer will make sure they turn out super crispy and delicious. And you won't even need to add fat to them.
Once fried, feel free to coat them with your favorite sauce. If not using a sauce, you can coat them with low-salt spices before frying.
You'll want to try these other low sodium frozen meals!
Per Serving:
Calories: 135.9
Fats: 2.1g
Protein: 11.2g
Carbs: 0g
Sodium: 44.7mg
Source: sprinkledwithbalance.com
When it's your turn to host a taco night, make this recipe.
These chicken pockets are so soft, fresh, and crunchy at the same time that it's impossible not to fall in love with them.
Made in the Air Fryer, these are as crispy as they possibly can be. So you better double the batch.
They combine shredded chicken with avocados, tomatoes, lettuce, and cilantro. And are best served with your favorite salsa.
Per Serving:
Calories: 203
Fats: 10g
Protein: 14g
Carbs: 13g
Sodium: 131mg
Source: saltandlavender.com
Call them legs or drumsticks. This chicken finger food is so delicious. Plus, a lot of fun to make and eat. And kids will love these!
The seasoning here is kept to a minimum. Just smoked paprika and some salt and pepper.
Of course, that can be customized. Just make sure not to go overboard with the spices if you're watching the sodium content.
Pair these with potatoes of any kind, and enjoy! If you loved this recipe, you need to try these other mouthwatering chicken leg recipes!
Per Serving:
Calories: 162
Fats: 12g
Protein: 13g
Carbs: 1g
Sodium: 79mg
Source: saltandlavender.com
We all need that one roast chicken recipe that is perfect every single time. And I'm talking about THIS recipe.
If you want your chicken to be perfectly juicy inside with a skin that is super flavorful and crispy, then this is it. This is the one recipe you've been looking for.
With just five ingredients and 10 minutes of preparation, this also fits the "easy recipes" category.
It is moist, aromatic, and will satisfy a crowd.
Per Serving:
Calories: 351
Fats: 27g
Protein: 24g
Carbs: 3g
Sodium: 157mg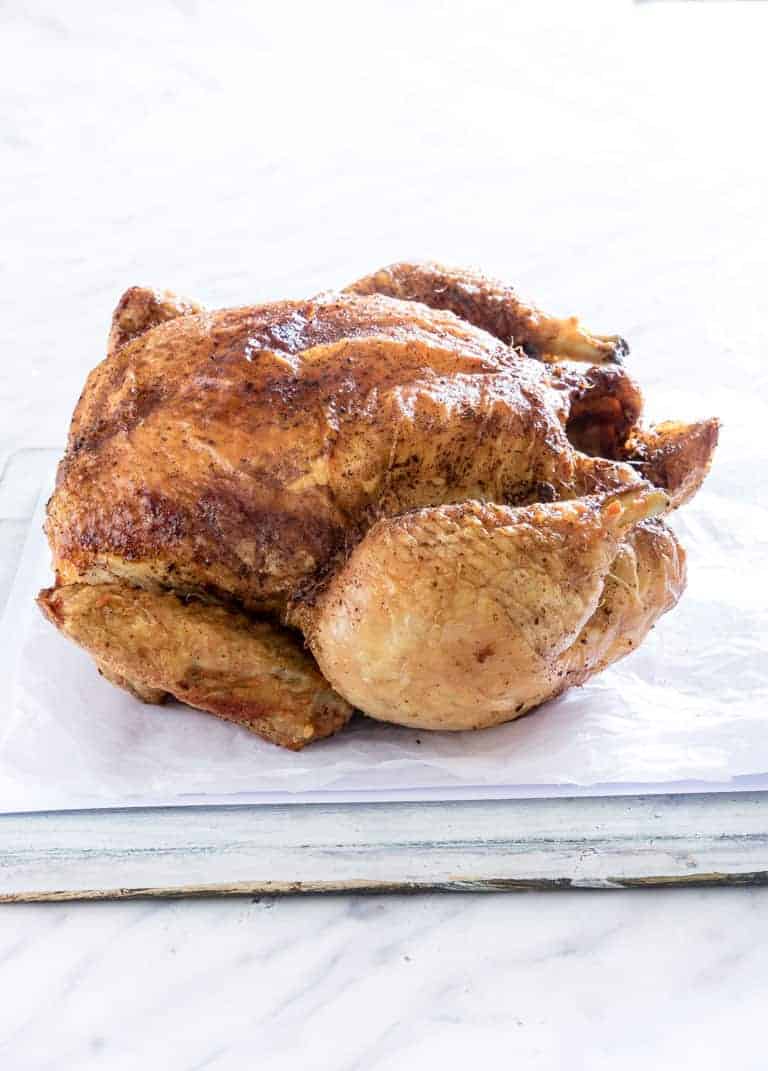 Source: recipesfromapantry.com
Coated with a tablespoon of dry rub. Placed in the Air Fryer. Cooked for 30 minutes. Then, flipped over and cooked for some more.
It's really as simple as that. A juicy rotisserie chicken with a crispy skin to die for.
This recipe is a definite keeper if you own an Air Fryer.
Per Serving:
Calories: 275
Fats: 19g
Protein: 24g
Carbs: 1g
Sodium: 89mg
Low Sodium Chicken Breast Recipes
If you want some lean meat cuts, these low-salt delicious recipes with chicken breast will be a perfect choice.
Source: diabetesstrong.com
Baking chicken breasts, as simple as it sounds, can often be overwhelming. It is not uncommon for the meat to end up dry or even bland.
But not with this chicken breast recipe!
If you want that crispy skin and juicy meat next time, this foolproof method provides just that.
With some seasoning and salt (omit for a super low-sodium diet), you can easily flavor up the meat.
You don't really need fancy ingredients for an amazing taste. And this recipe proves just that!
Per Serving:
Calories: 125
Fats: 1.1g
Protein: 26.1
Carbs: 0g
Sodium: 73.7g
Source: diabetesstrong.com
An intense aroma that will bedazzle you! This Tuscan-inspired chicken is something you must try.
Plus, you can serve it at a fancy party. Or as a simple weeknight meal. It works either way.
This lovely chicken recipe uses butter, rosemary, and garlic. And each bite is powered by the fragrant vermouth infusion.
And it only takes 30 minutes to make! This is one of the best fall chicken recipes for harvest season!
Per Serving:
Calories: 187
Fats: 11.4g
Protein: 16.6g
Carbs: 0.9g
Sodium: 183.6mg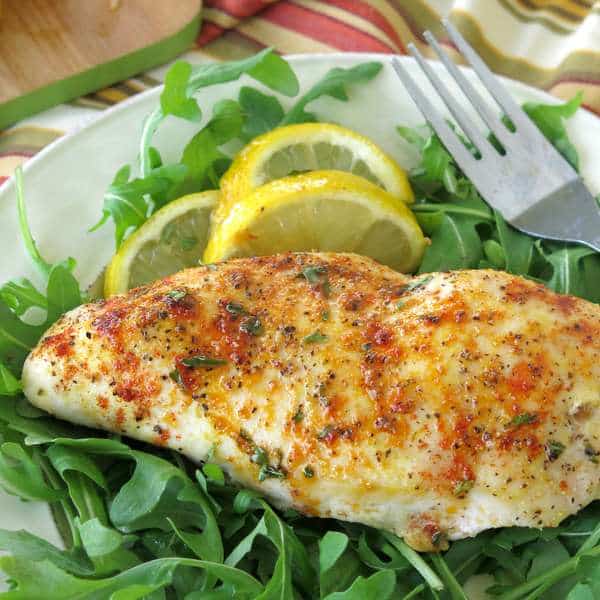 Source: dinner-mom.com
Lemon Pepper chicken tastes citrusy, fresh, and buttery at the same time.
These chicken breasts are coated with lemon pepper seasoning. Drizzled with lemon juice. Topped with butter slices. And baked until golden.
Garnished with lemon slices and parsley, it can also make one fancy dinner.
This recipe is super versatile and pairs with side dishes well. Potatoes, rice, and even pasta. Everything tastes delicious with this lemon pepper chicken.
Per Serving:
Calories: 170
Fats: 7g
Protein: 24g
Carbs: 1g
Sodium: 168mg
Source: littlesunnykitchen.com
Colorful peppers. Onions. Chicken breasts. And some fajita seasoning. Oh, and an Air Fryer, of course!
This convenient recipe is made in the Air Fryer and comes together in just 20 minutes.
It is flavorful and succulent, perfect for wraps, sandwiches, pasta, or rice dishes.
Per Serving:
Calories: 154
Fats: 10g
Protein: 11g
Carbs: 4g
Sodium: 42mg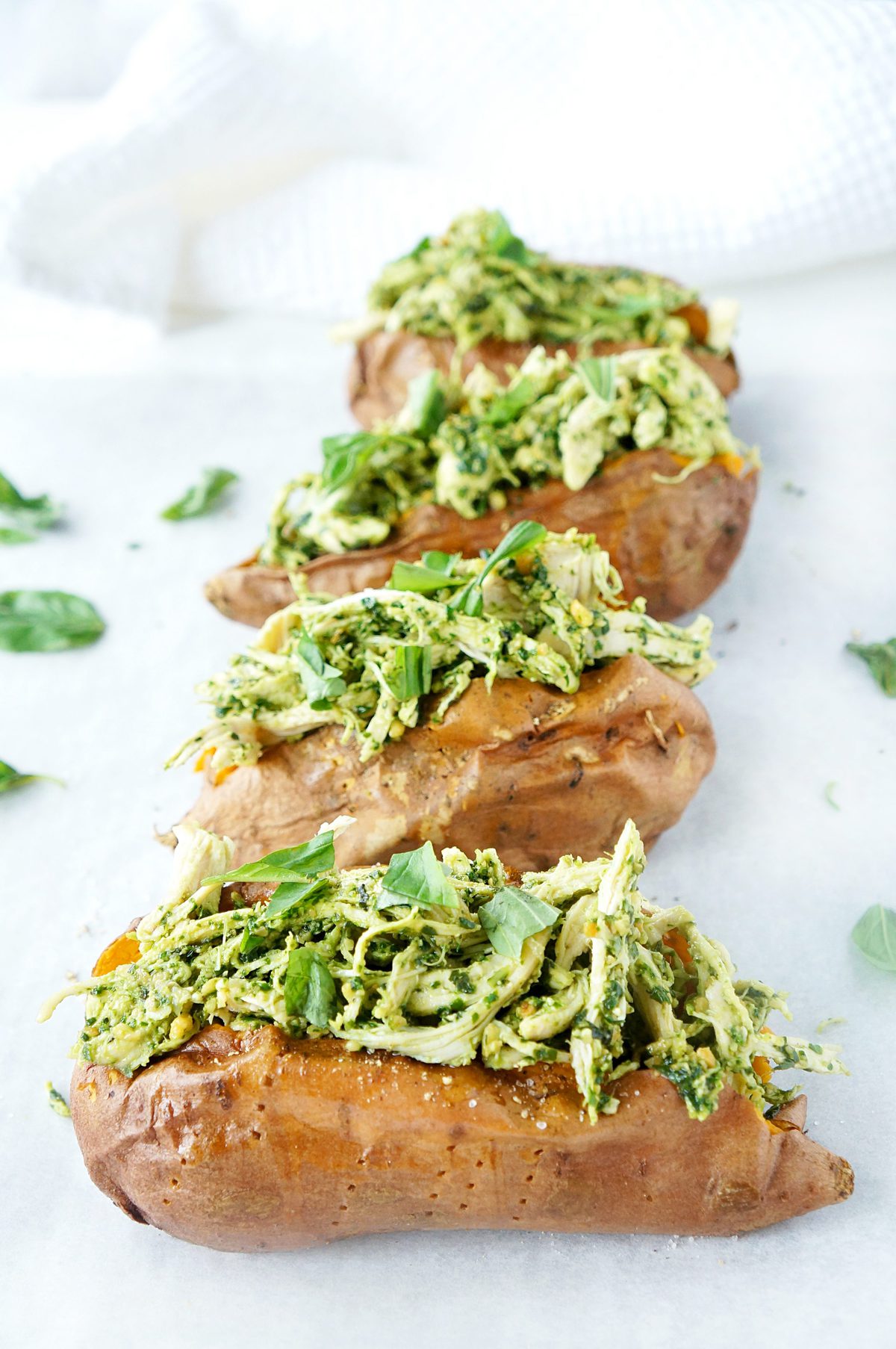 Source: hauteandhealthyliving.com
Sweet potatoes stuffed with a chicken and pesto sauce mixture. This really tastes as exciting as it sounds. Just try it out and see for yourself!
The crispy skin of the potatoes. The soft interior. And the herbal chicken. Everything tastes incredible!
This recipe makes one fun dinner choice. And it is paleo, dairy-free, and gluten-free, too. How can you not love it?
You might also enjoy these delicious stuffed chicken recipes!
Per Serving:
Calories: 418
Fats: 24g
Protein: 22g
Carbs: 32g
Sodium: 215mg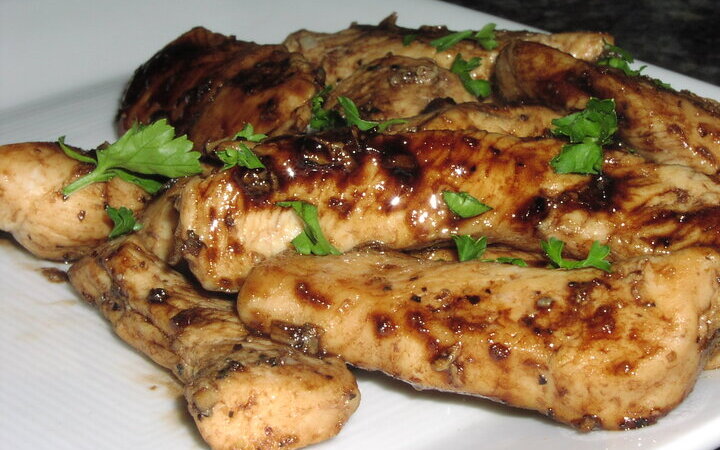 Source: recipezazz.com
Glazed with balsamic vinegar and pan-fried, this chicken Is full of flavor.
It also includes garlic for some fragrance. And a tablespoon of honey that works so well against the balsamic acidity.
These tenders are fun to make and eat. And the kids will go crazy for them! And how can they not when they'll be licking their fingers the whole time?
Paired with French fries, you know that these will be irresistible.
Per Serving:
Calories: 159.9
Fats: 3.1g
Protein: 26.5g
Carbs: 4.6g
Sodium: 121.5mg
Source: throughthefibrofog.com
Garlic, citrus, and herbs. That is what gives this chicken flavor and aroma. And it is so rich and delectable that you will be coming back to this recipe monthly. Mark my words.
The chicken is fresh, juicy, and tender. The marinade makes it flavorsome. And the apple juice gives the meat a sweet, tasty note.
If you want it to be even more intense in flavor, marinate for 2 hours.
Per Serving:
Calories: 215
Fats: 1.1g
Protein: 26.1g
Carbs: 0g
Sodium: 73.7mg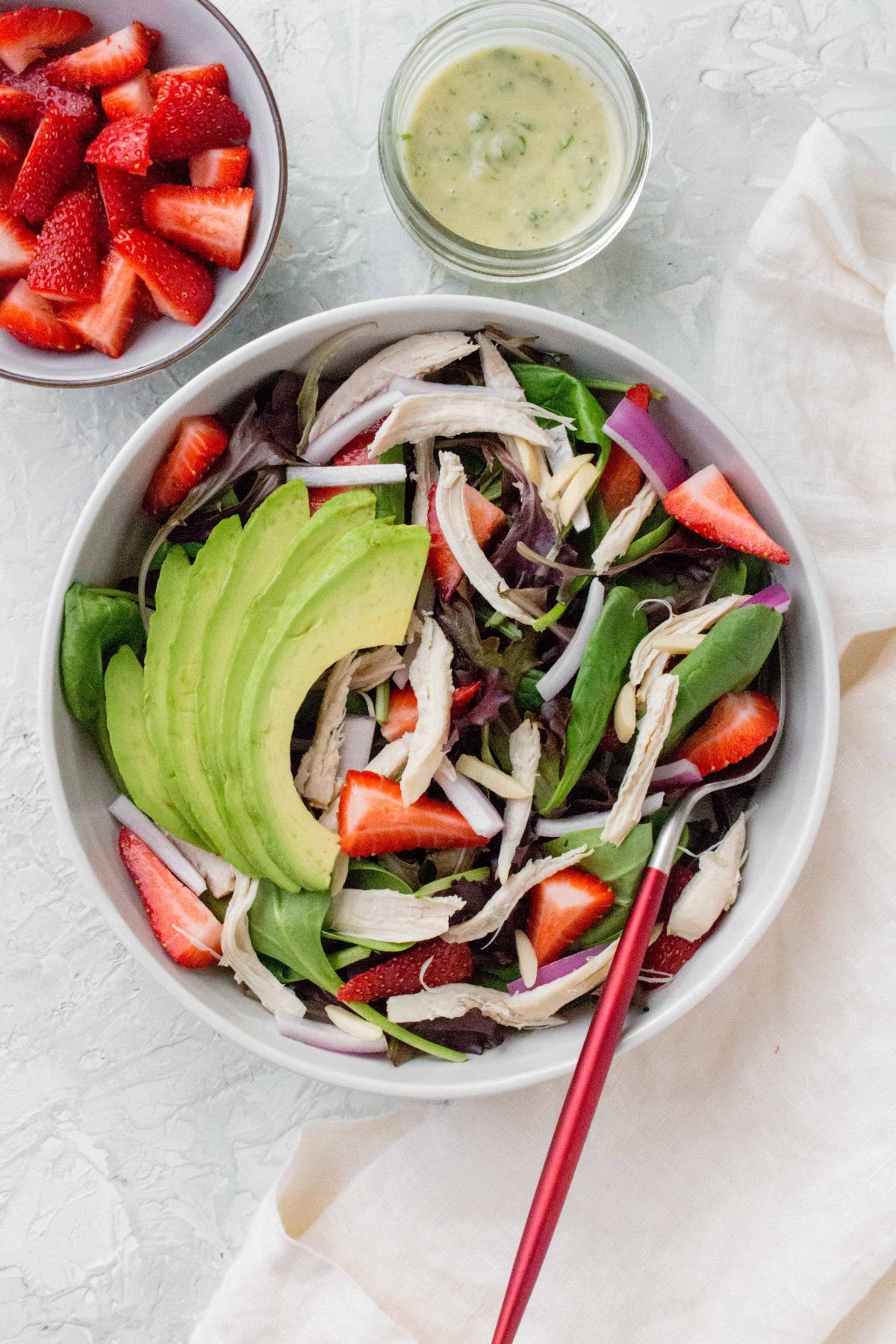 Source: carmyy.com
This chicken salad is a bright summertime bowl of happiness. It combines avocados, strawberries, onions, and greens.
It is packed with basil and tarragon for freshness. And it features almonds for crunchiness.
The salad is loaded with complementing textures. And it's just the thing to serve at backyard parties. Don't you agree?
Per Serving:
Calories: 438
Fats: 21g
Protein: 21g
Carbs: 22g
Sodium: 107mg
Low Sodium Chicken Casserole Recipes
Two low-sodium casserole recipes that everyone should try making at least once.
Source: beyondthechickencoop.com
Chicken strips with peppers, onions, and shredded cheese. Melty, cheesy, and so delicious!
This has to be the easiest fajita recipe ever. And it only requires 10 minutes of cooking.
Sour cream, avocados, tomatoes, and jalapenos. They all pair well with this recipe. And the combos are so tasty if served in tortillas.
Per Serving:
Calories: 146
Fats: 7g
Protein: 17g
Carbs: 5g
Sodium: 157mg
Source: thecleaneatingcouple.com
You don't need this recipe to tell you that chicken and rice are a delicious combo. But you need it to show how easy it is to make such a luscious and cheesy casserole.
It features chicken broth, broccoli, and a great deal of cheese.
It is healthy, filling, creamy, and super cheesy. It's a melt-in-your-mouth goodness, for sure!
Per Serving:
Calories: 423
Fats: 13g
Protein: 34g
Carbs: 41g
Sodium: 243mg
Low Sodium Chicken Thigh Recipes
Chicken thighs with super low sodium content. These recipes are a must-have on your low-salt dieting journey.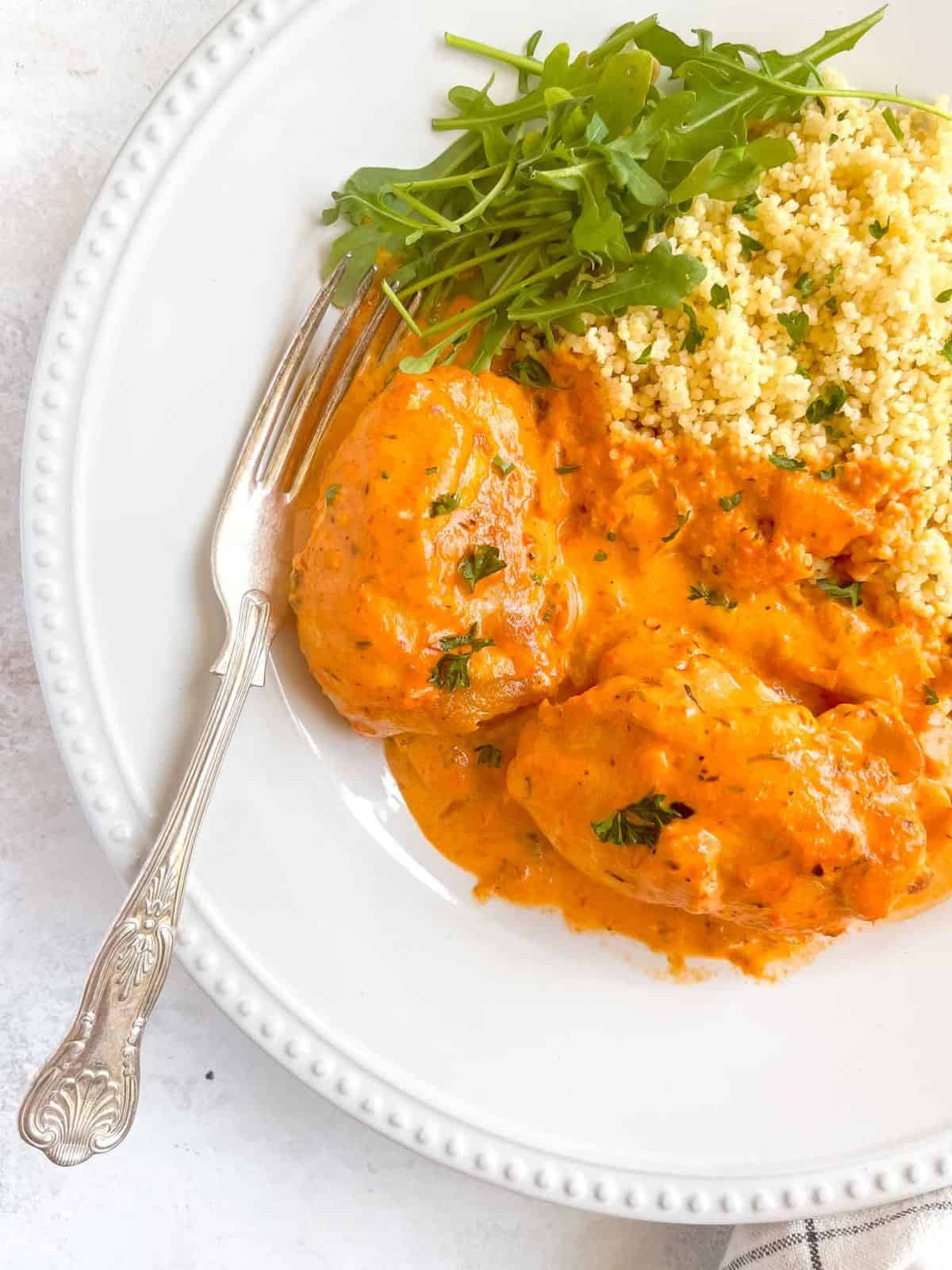 Source: throughthefibrofog.com
So simple to make in a skillet, this creamy chicken dinner is to die for.
It features a flavorful roasted red pepper sauce. It is flavored with garlic, onion, and thyme.
The heavy cream here is a must. As it gives silkiness to the dish that you will enjoy deeply.
Perfectly fitting for a family dinner, this recipe will wow everyone!
Per Serving:
Calories: 388
Fats: 32g
Protein: 20g
Carbs: 6g
Sodium: 136mg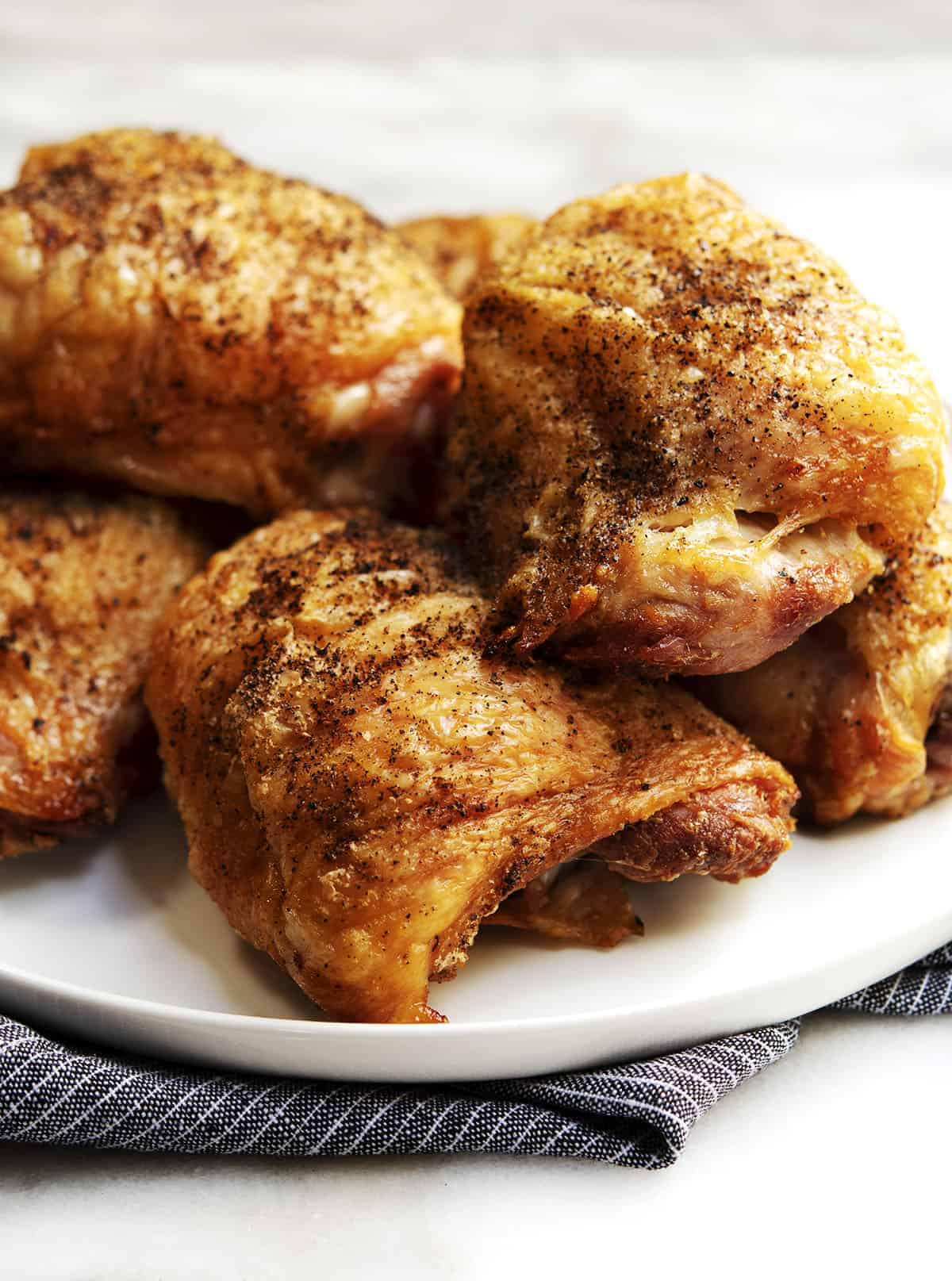 Source: pinchandswirl.com
If you have yet to learn how to nail perfectly grilled chicken thighs, that ends here.
This simple recipe uses nothing but salt and pepper. And it shows you the foolproof method of grilling thighs.
This recipe gives you perfectly crispy skin. And the meat will stay incredibly juicy.
Per Serving:
Calories: 316
Fats: 24g
Protein: 23g
Carbs: 1g
Sodium: 111mg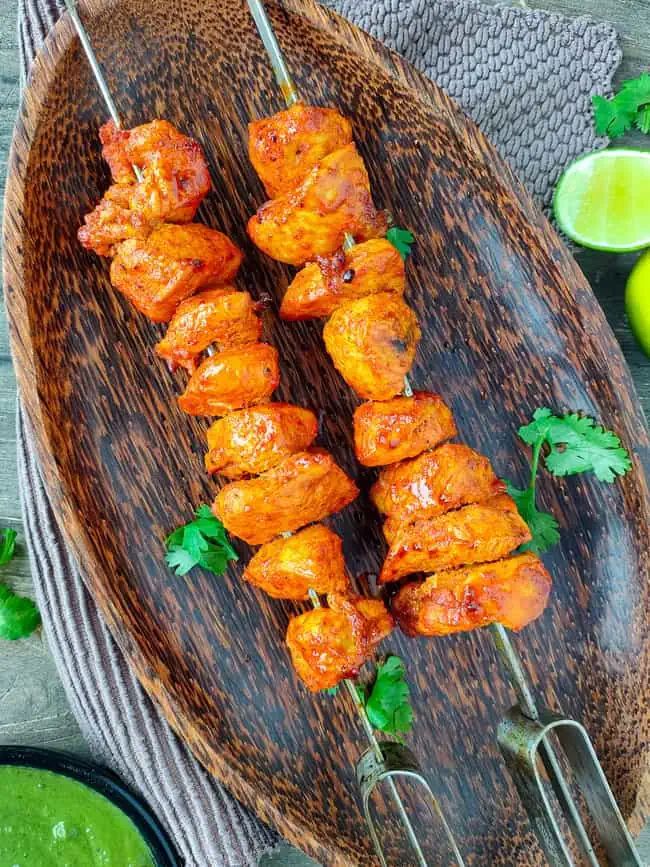 Source: gohealthyeverafter.com
You don't need a tandoor for this recipe! These oven-baked chicken skewers are so perfect that this will become the only tikka recipe you'll be making.
Marinated in a spicy yogurt mixture, the meat is well-seasoned and full of flavor.
It is also juicy and moist. And I bet it will be a total hit on your dinner table.
Per Serving:
Calories: 201
Fats: 7.4g
Protein: 30.1g
Carbs: 3.4g
Sodium: 105mg
21 Low Sodium Chicken Recipes That Taste Divine
From grilled to baked, find the perfect low-sodium chicken recipes for your next meal. Flavorful and easy to make!
Ingredients
1. Baked Chicken Wings
2. Roast Chicken with Lemon
3. Clear Chicken Soup
4. Air Fryer Frozen Chicken Wings
5. Chicken Tacos
6. Baked Chicken Legs
7. Easy Roast Chicken
8. Air Fryer Whole Chicken
9. Simple Oven Baked Chicken Breast
10. Rosemary Chicken
11. Baked Lemon Pepper
12. Air Fryer Chicken Fajitas
13. Pesto Chicken Stuffed Sweet Potatoes
14. Chicken Tenders
15. Lemon Balm Chicken
16. Chicken Strawberry Avocado Salad
17. Chicken Fajita Casserole
18. Chicken and Rice Casserole
19. Roasted Red Pepper Chicken Skillet
20. Grilled Chicken Thighs
21. Baked Chicken Tandoori
Instructions
Scroll up to get a bunch of easy, yummy, and delicious recipes. Don't be afraid to get creative with the ingredients, you might discover a flavor you didn't know you liked.
Get your shopping list going and make sure you've got all the ingredients.
Get cooking and make your next Low Sodium Chicken Recipe!
Notes
Which one of these recipes was your favorite? Let me know in the comment section or on Pinterest!