Chicken sausages are a versatile protein that can create many delicious dishes. But this article of chicken sausage recipes definitely scratches the surface!
Nothing beats the charred taste of grilling sausages. But don't limit yourself to the grill!
There are many different ways to make sausages for an easy meal. And this roundup of recipes is here to show you not one but thirty-one exciting flavors.
With these delicious chicken sausage recipes, you will discover a whole new world of cooking sausages.
And I bet you'll like every single one of these protein-packed delights!
Are Chicken Sausages Healthy?
Looking for a great option for an alternative to fat-loaded pork sausage or beef sausages? Then chicken sausages or turkey sausage are a decent choice.
The meat is leaner. And it also provides less sodium to your meals. Plus, chicken sausages have fewer calories and are overall a better option.
However, keep in mind that chicken sausages are still processed meat. That means that there is still some added fat, nitrates, and salt.
What Goes Good with Chicken Sausage?
Whatever makes sense with regular sausages pairs perfectly with chicken sausages, too.
If you ask me? Well, French fries and mustard top the list. But there are many tasty alternatives for you to try for an easy weeknight meal.
Sauteed peppers and onions, baked beans, mashed potatoes, coleslaw, roasted veggies, polenta, garlic bread, salads, and even applesauce.
Recipes with Chicken Sausage
You can make many delicious meals with chicken sausages. But these hand-picked recipes really top the list for an easy weeknight dinner!
Source: thedizzycook.com
Beyond simple to put together! These lovely zucchini boats are loaded with Italian chicken sausage. And are an easy protein dinner.
Besides sausages, the filling also combines basic ingredients like tomatoes and goat cheese in a great way.
The shredded mozzarella on top is surely the best part. And if you want a crunchier texture, add some panko breadcrumbs over, too.
So cheesy and flavorful! You'll be tempted to put a second boat onto your plate.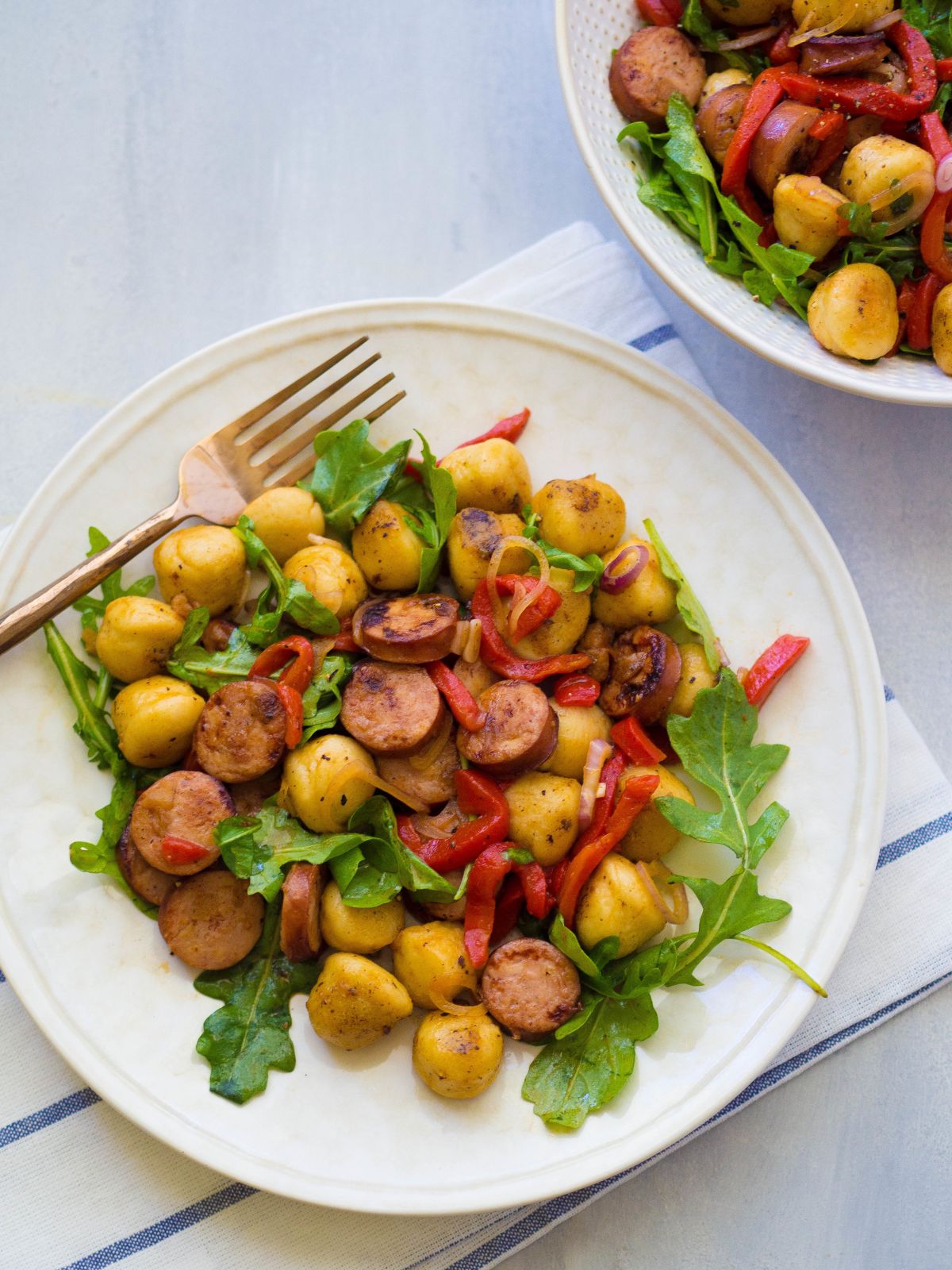 Source: rachaelhartleynutrition.com
If you haven't had gnocchi with sausages before, this recipe will introduce you to this delicious combo in one of my favorite ways!
This busy weeknight recipe has added nutrition from arugula and peppers. And it is a perfectly rounded meal for a filling and delicious dinner with lean chicken sausage.
Besides, it takes about 30 minutes to make. And this chicken sausage dish pairs so well with a tall glass of wine. Just saying!
Source: entirelyelizabeth.com
Craving flaky pastry with meat? Then I suggest you give these yummy sausage rolls a try!
Just the perfect appetizer for parties. These finger foods are so addictively tasty and made with simple ingredients!
The recipe uses ground chicken. Which is basically chicken sausage minus all of the seasonings. For that reason, the meat here is spiced up with an onion soup mix.
If you're using spicy chicken sausage, though, you may want to go lighter on the seasoning.
Source: twopinkpeonies.com
Sheet pan dinners are the definition of easy weeknight meals. And how can they not be? All you have to do is chop everything up, arrange it onto a sheet, and bake.
This recipe may be simple. But it is actually bursting with flavor. And it packs some powerful nutrients, too.
Apple chicken sausage links with broccoli, peppers, zucchini, tomatoes, and onions. Plus, some Italian seasoning to blend everything nicely.
Source: noshingwiththenolands.com
This healthy chicken sausage pasta recipe is described as "the perfect spring combination of flavors." And it really is!
With zucchini, onions, garlic, parsley, and pine nuts. Plus, a generous amount of parmesan cheese. That gives sharp notes that incorporate everything well.
It is made in 20 minutes from start to finish. And you cannot help but make this creamy dish your regular.
This is one of the best dinner ideas for two for the best date night!
Source: therusticfoodie.com
Drowned in creamy tomato sauce. Loaded with slices of chicken sausage. Enriched with healthy kale. And packed with parmesan cheese for the ultimate flavor.
This spaghetti bowl is definitely crave-worthy!
It is made in a skillet. And it comes together in just 35 minutes.
If you're craving some bold Italian dishes this evening, this will be the perfect dinner choice.
Source: lolohomekitchen.com
To say that this healthy chicken sausage skillet is chock full of flavor would be an understatement.
It has deep notes that run throughout each bite. And the color is so bold and rich. You will be tempted to devour it all at once.
Orzo, chicken sausage, broccoli, and garlic. For the easiest and most delicious dinner ever.
The fall chicken recipe is topped with parmesan cheese, which makes it super melty.
Source: disheswithdad.com
Bean soups taste best if they're made with sausage. This chicken sausage and kale version is lighter, hearty, and has that rustic look you want on your table.
Perfect for colder fall or winter months. This thick soup makes one cozy dinner that warms you up instantly.
For a filling dish, serve with some crusty garlic bread on the side.
Source: corriecooks.com
For those mornings when you want some quick and protein-packed meat and egg breakfast. Serve this lovely quiche!
Made in the Instant Pot in just 20 minutes. And it requires only 5 minutes of prep time. This dish is perfect for busy mornings.
Loaded with spinach, tomatoes, onions, sausage, and cheese. It is as nutritious as it is tasty!
If you loved this flavor combo, you need to try these other chicken and spinach recipes!
Source: beginwithbalance.com
Dreaming of a healthy meal that has minimal cleanup? Try this lovely sheet pan, then!
A combination of chicken sausage, broccoli, peppers, onions, and sweet potatoes. Flavored up with Italian seasoning. And then tossed with creamy pesto sauce.
This recipe is on your table in 30 minutes. And serves four generous portions.
Source: eatloveeats.com
A creamy goodness bursting with proteins, fiber, and an irresistible flavor!
This simple yet scrumptious dish uses chicken sausages, asparagus, peas, and beans. The flavors come from shallots, garlic, and Dijon. And the heavy cream gives it a smooth and velvety texture.
Serve with some crusty bread on the side. Because you won't be able to stop yourself from soaking up all of these tasty juices.
Source: savvysavingcouple.net
When you need a tasty and quick dinner, just grab the chicken sausages and pasta. Add some spinach and tomato sauce. And just in 15 minutes, dinner will be served.
It is loaded with garlicky flavors, and it is super creamy, too.
If you want to, you can top this pasta with some cheese.
Source: nutfreewok.com
A healthy, hearty, and super delicious meal made with a few pantry staples.
This recipe packs chicken sausages, tomatoes, spinach, and brie cheese. But it is the ½ cup of basil leaves that excite me the most.
So fresh and flavorful, this 30-minute dish is so worth trying.
If you don't like brie, you can also use feta cheese as a substitute.
Source: savvysavingcouple.net
If the time for carb-cleansing has come, you need some tasty Ket options to try. And this salad is definitely a keeper.
Grilled chicken sausages are sliced up. Then, combine with crispy bacon, avocados, tomatoes, and scallions.
It is also loaded with cheddar cheese. But it is the seasoned sour cream that gives it incredible creaminess.
So tasty and full of texture, this makes one heck of a healthy lunch.
Source: babaganosh.org
A versatile stir-fry mix for the easiest dinner ever!
No really! It takes just 25 minutes. Six ingredients. And a pretty straightforward preparation. How can you not make this on a busy night?
Besides, it is loaded with proteins and nutrients. Chicken sausage is mixed with peppers, onions, garlic, zucchini, and Brussels Sprouts. But other veggies can work here, too.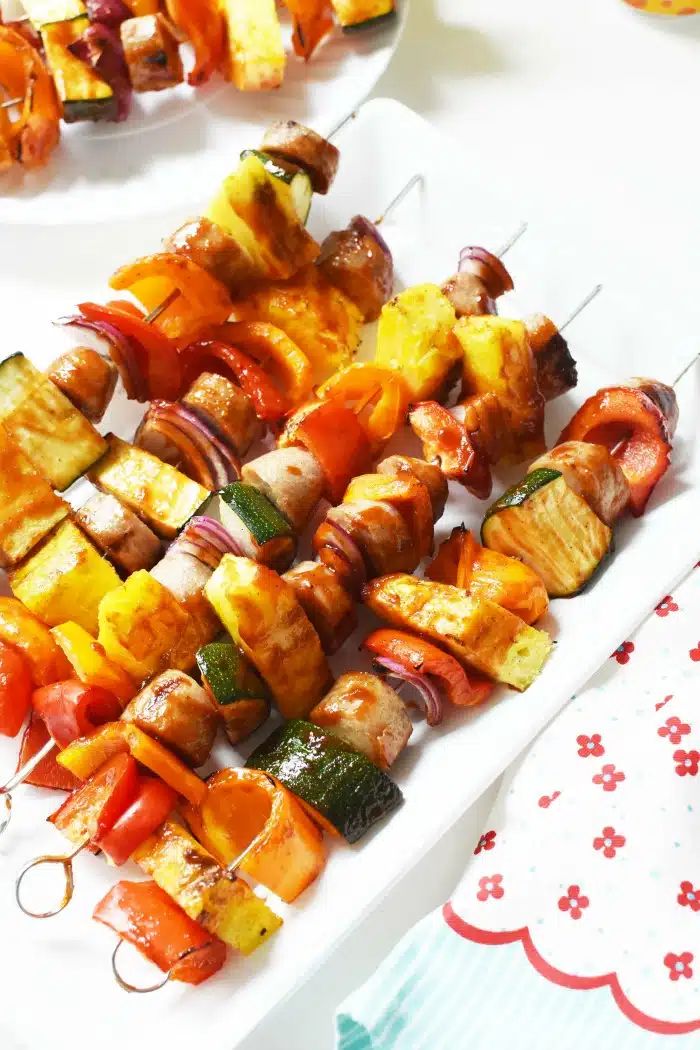 Source: savvysavingcouple.net
Chicken sausage and pineapple may be an odd combo that makes perfect sense. The sweetness of the fruit balances out the sausages and brings out the best flavor.
These kabobs also use peppers, zucchini, and red onions. And are coated with finger-licking BBQ sauce.
Vibrant, colorful, and with a pop of flavor that excites. Perfect for your backyard parties.
Source: onmykidsplate.com
Broccoli, peppers, onions, and chicken sausages. This sheet-pan dinner is quick and requires less hands-on cooking.
However, it can also be made in a pan over the stove.
The recipe uses quite a few herbs and spices, and it is just perfectly seasoned.
Source: sweetsimplemasala.com
Ground Italian Sausage. Cheese tortellini. And marinara sauce. Those are the stars of this creamy recipe made in the skillet.
This dish also uses peppers, onions, and mozzarella cheese. And it is cheesy, melty, and loaded with delicious protein.
This lazy lasagna-like dish will leave everyone breathless.
You'll love these other easy ground chicken recipes for dinner!
Source: cookingschooldropout.com
Browned sausage and sauteed peppers are one of those combinations that everyone enjoys.
This one, though, is made in the Air Fryer. It is fuss-free, simple, and will feed a family of four.
The recipe uses no more than garlic powder and black pepper. But feel free to add some more spices if you want deeper flavors.
You can even add chili flakes for a spicy kick.
Source: ifoodreal.com
Breakfast sandwiches should be loaded with eggs. And have breakfast of meat and cheese. But this one also combines kale and onions.
Basically, this recipe is an egg-and-sausage casserole that is served in buns. But for a low-carb version, omit the buns altogether.
This is perfect if served with some sour cream on the side, too.
Source: therusticfoodie.com
If you haven't found your favorite sheet-pan recipe in this list so far, maybe this will cheer you up.
Green beans, cauliflower, and peppers. Seasoned with garlic and onion powder. And topped with milk Italian chicken sausage.
Baked for half an hour and served for dinner.
Low in carbs and gluten-free. This nutritious Italian sausage recipe is perfect for everyone.
Source: montanahappy.com
Apples and chicken sausage is a dreamy combo you will seriously get addicted to!
Coated with sugar and simmered until the crystals dissolve. Then cooked briefly with the sausages and white wine. These sweet apples will bring a flavor to this recipe that you will adore.
Perfect for a cold fall dinner. This lovely dish will bring you nothing but comfort and coziness.
Source: cookingchatfood.com
Healthy, hearty, and packed with greens and sausages. This lovely pasta dish tastes amazing if paired with red wine. And it makes a lovely dinner to share with a loved one.
The tomato sauce is also infused with red wine, which gives it a delicious depth.
It is best to serve this topped with parmesan shavings.
Source: currytrail.in
One skillet. A handful of ingredients. And tasty dinner will be served
Smoked chicken sausage and baby potatoes are the stars of this recipe. While peppers, onions, and garlic enrich the skillet.
The dish is smoked, spicy, and nutritious. And it is pretty filling, as well.
For a better presentation on your table, use bell peppers in different colors.
Source: cookingchatfood.com
This pasta features hot and spicy chicken sausages. It is also packed with onions, garlic, and cannellini beans. And it is smothered in a tomato sauce.
The sauce also packs a powerful red wine infusion. And it is a true winter comfort food.
You cannot help but serve this creamy loaded goodness with parmesan cheese. But if you're not a fan, crumbled feta can be a decent substitute.
Source: joyfoodsunshine.com
Chicken sausage and peppers cooked until caramelized and glazed. They are loaded with Italian seasoning and balsamic flavors. And they're plate-lickingly good.
This healthy meal is perfect for enjoying over pasta and rice. But also next to potatoes. Or even on its own.
It comes together in 20 minutes, and it is the perfect choice for last-minute meals.
Source: acedarspoon.com
Shrimp and cajun is a match that never fails to impress. But did you know that this combo is even tastier with chicken sausage?
This loaded pasta is full of exciting flavors. It is not only packed with protein. But it also has spinach, colorful peppers, tomatoes, and garlic.
It also features heavy cream. Which is why it's so irresistibly silky.
Source: summeryule.com
Crustless quiche or frittatas. Call it whatever you prefer. But one thing is certain. These individual cheesy egg delights are just what your brunch party needs.
They are not only healthy and delicious, but they are also low in carbs and Keto-approved.
These are made in mini pie pans, but you can also use your muffin tin, as well.
Source: lovefromthetable.com
This gnocchi recipe makes a crispy dinner. It has an amazing texture. Also, it is rich in nutrients.
It features chicken sausage, broccolini, and cherry tomatoes.
The ingredients are tossed in olive oil and Italian seasoning. And they are baked until really tender.
Topped with parmesan cheese, this sheet pan is filled with flavors.
Source: sweetsimplemasala.com
You know how you're sometimes in the mood for nourishing soup but don't have the energy to cook? Well, this soup will be just the thing for you in those times of need.
Because with minimum effort, you will make a bowl of comforting, warming, and incredibly soothing soup.
It is made with chicken sausage, celery, garlic, carrots, onions, and a bunch of kale. It also combines 3 cups of stock. And some cannellini beans for a more filling dish.
With the prep of just 15 minutes, this soup is definitely worth pinning.
Source: homanathome.com
Another sheet-pan gnocchi recipe! And just as crispy and tasty as the last one. Minus all the veggies.
This recipe includes sausage and gnocchi. Plus, a touch of herbs and spices.
The seasoning of choice is garlic powder and Italian seasoning. But feel free to add your favorite flavors here. Parmesan cheese will also be a great addition.
31 Best Recipes with Chicken Sausage
Make mealtime unforgettable with these quick and easy chicken sausage recipes that the family will love.
Ingredients
1. Italian Chicken Zucchini Boats
2. Pan-Fried Gnocchi and Chicken Sausage Salad
3. Chicken Sausage Rolls
4. Chicken Apple Sausage Sheet Pan Dinner
5. Chicken Sausage Pasta
6. Chicken Sausage Spaghetti
7. Chicken Sausage, Broccoli, and Orzo Skillet
8. White Bean Soup with Kale and Chicken Sausage
9. Instant Pot Sausage Spinach Quiche
10. Pesto Chicken Sausage and Veggie Sheet Pan
11. Healthy Creamy Chicken Sausage Skillet
12. Penne with Spinach and Chicken Sausage
13. Pasta with Chicken Sausages, Tomato, and Brie
14. Keto Chicken Sausage Salad with Bacon, Cheese, and Avocado
15. Chicken Sausage Veggie Stir Fry
16. Grilled BBQ Chicken Sausage Kabobs with Pineapple and Veggies
17. Smoked Chicken Sausage and Roasted Vegetables
18. Lazy Skillet Lasagna with Tortellini
19. Air Fryer Sausage and Peppers
20. Healthy Breakfast Sandwich
21. Sheet Pan Chicken Sausage and Veggies
22. Skillet Chicken Sausage with Apples
23. Pasta with Chicken Sausage and Kale
24. Garlic Skillet Potatoes with Sausages
25. Spicy Chicken Sausage Pasta
26. Chicken Sausage and Peppers
27. Cajun Pasta with Chicken Sausage and Shrimp
28. Crustless Keto Mini Quiche
29. Roasted Gnocchi with Veggies and Sausage
30. Kale Sausage White Bean Soup
31. Sheet Pan Sausage and Gnocchi
Instructions
Scroll up to get a bunch of easy, yummy, and delicious recipes. Don't be afraid to get creative with the ingredients, you might discover a flavor you didn't know you liked.
Get your shopping list going and make sure you've got all the ingredients.
Get cooking and make your next Chicken Sausage recipe!
Notes
Which one of these recipes was your favorite? Let me know in the comment section or on Pinterest!