Trying to eat low-carb, and have a fridge/freezer stocked with chicken? This roundup of low-carb chicken recipes has got you covered!
Just imagine eating your favorite chicken meal while melting stubborn fat and shedding pounds!
If you know how to combine this poultry with the right simple ingredients, it is indeed possible. And this article is here to help with an easy low-carb chicken recipe!
Grilled or in a creamy sauce? In salads or casseroles? Spicy or without too many seasonings? Whatever your desired chicken dish looks like, there are plenty of delicious recipes here.
Here are the tastiest low-carb chicken meals that will help you lose weight!
Is Chicken Good for Low Carb Diet?
Chicken, on its own, contains no carbohydrates. Therefore, it is excellent for those following a low-carb or Keto diet.
However, you must keep an eye on what you pair your chicken meat with. Chicken may be carbless, but potatoes and rice are loaded with carbs.
What is the Best Way to Eat Chicken to Lose Weight?
Again, it all comes down to the pairings. If you decide to eat chicken with low-carb ingredients, you have nothing to worry about.
Opt for low-carb veggies like leafy greens, mushrooms, green beans, and zucchini, and your diet won't be disrupted.
You can also get creative and use low-carb swaps. For instance, grate some cauliflower and use it instead of rice. Or get your veggie spiralizer to work and make yourself some low-carb chicken pasta.
Low Carb Chicken Breast Recipes
The possibilities of cooking with chicken breast are almost endless. Here are the most delicious low-carb ideas.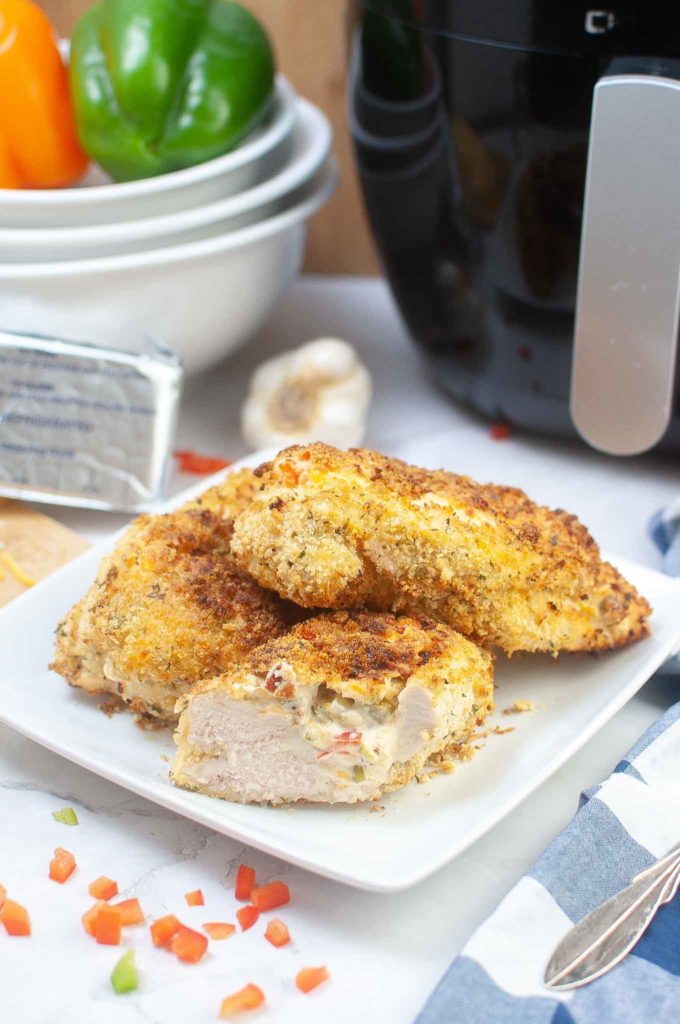 Source: airfryerfamilymeals.com
I admit! This recipe is not that low in carbs as it contains cornstarch and breadcrumbs. However, if you're craving some guilty crunchiness, I say go for it.
One chicken breast coated with breadcrumbs won't exactly shatter your weight-loss progress. And unless you've gone full Atkins, your carb intake surely allows some wiggle room.
If not, just use grated parmesan cheese instead of the breadcrumbs. As for the cornstarch, you can substitute it with some almond flour or glucomannan powder.
This keto chicken recipe is stuffed with cheese and peppers. And it is golden crispy and satisfies with every single bite!
Source: homemadeheather.com
The beauty of this recipe is that it is incredibly simple to make. No, really. Even if you haven't fried or cooked a thing in your life, this will turn out delicious.
Chicken breasts are coated with olive oil and a mixture of spices and then baked for 20 minutes in the oven.
Since chicken contains 0 carbs, feel free to add a portion of your favorite veggies on the side. The meat tastes great with some Greek salad on the side. Just saying!
Source: aforkstale.com
Pizza crust may not be allowed when you eat low-carb, but chicken surely is. And if you're craving both delicacies, this is the exact recipe you need to be making at this point.
Baked chicken breasts topped with pizza sauce, pepperoni, and cheese. You can even add some mushrooms or onions, too.
This recipe contains only 3 grams of carbs, and it definitely receives the green light from your diet.
Source: cookingschooldropout.com
Have you tried chicken with berries before? If not, this salad is just the exotic dish you've been secretly craving for.
A bed of greens. A touch of lemon juice. Juicy grilled chicken. And some fruity sweetness to tie it all together.
This recipe is loaded with nutrients and antioxidants, and it only contains 4 grams of net carbs. A true guilt-free pleasure!
Source: suebeehomemaker.com
There are no words that can describe the amount of joy your palate will feel when you take a bite out of this cheesy and tangy goodness.
Marinated chicken is grilled to perfection. Then, melted mozzarella cheese and tomatoes are placed on top. Plus, a touch of basil for freshness. And a balsamic glaze to really make everything pop.
Serve it with green salad, cauliflower rice, or on its own. This dish is filling, healthy, and will align perfectly with your weight-loss goals.
Source: healthytasteoflife.com
Your favorite filling, wrapped in a meaty roll-up, seasoned to perfection. Is there anything more comforting to have for lunch? This screams lunch box to me!
These roll-ups are stuffed with cheese, green beans, and peppers. But you can use whatever stuffing you prefer.
The flavor comes from a lovely peach vinaigrette, but again, any sauce will do fine here.
Serve these drizzled with sauce on top of a green salad, and everyone will go crazy!
Source: suebeehomemaker.com
Packed with veggies, protein, and lots of good fat. This lovely salad is the ultimate creamy indulgence.
Bacon, avocado, tomatoes, onions, eggs, lettuce, and feta, accompany chicken in this vibrant bowl.
But it is the sweet and tangy dressing that makes everything pop. It is made with yogurt, honey, mustard, vinegar, and olive oil. And it is really as finger-licking as it sounds.
The chicken is grilled, which gives this salad a distinctive touch of flavor.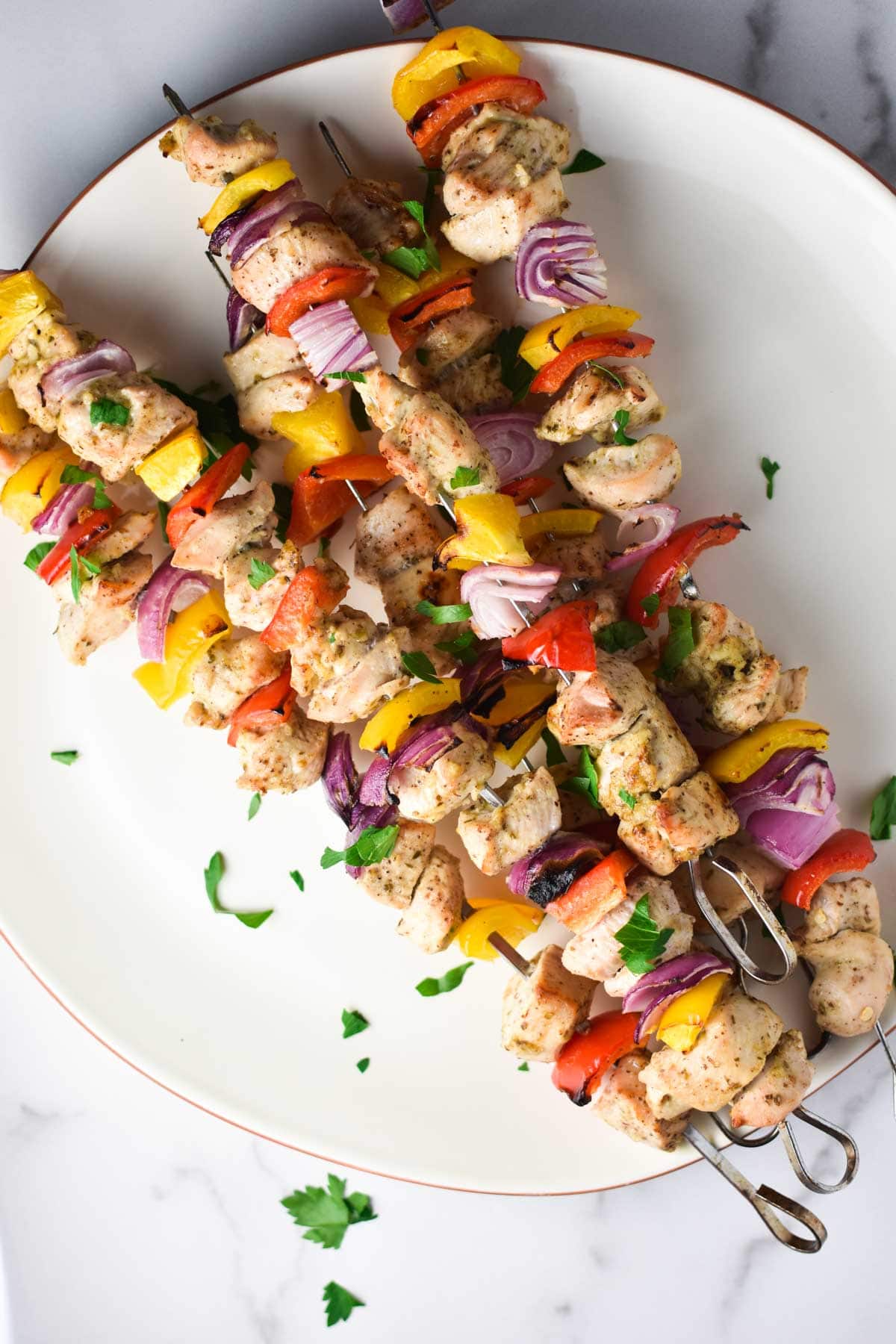 Source: thedizzycook.com
This recipe will not put your grill to work. Because these chicken kabobs can be made right in the oven.
Marinated with garlicky and mustardy flavors. Then paired with peppers and onions. How delicious does that sound?
You can serve them with cauliflower rice for a full-blown meal. Or a keto pita bread for a Greek-inspired dinner party.
Regardless, these meaty skewers will please even the fussiest eaters.
Source: acedarspoon.com
Are you a fan of Middle Eastern cuisine? Then these Lebanese kebabs are made for your dinner table!
Lemon, garlic, and flavorful spices and herbs. Marinate the chicken for the juiciest and most delicious skewers ever.
Besides, this dish takes only 30 minutes to make. How's that for a quick weeknight dish?
I suggest you serve this chicken with some low-carb Mediterranean veggies.
Source: currytrail.in
Yes, you've guessed it right! This dish is nothing but cheesy, melty, and gooey deliciousness.
It is smothered in tomato sauce and seasoned with Italian flavors.
A one-pan meal for a fuss-free dinner that only takes half an hour from start to finish.
If you have some veggie pasta, this will be the perfect addition to a low-carb dinner.
Source: glutenfreehomestead.com
Chicken and peppers. The name really says it all because there's all that is in this recipe. Baked chicken and peppers. Okay, and some onions for a boost in flavor.
But as simple as this sounds, it tastes absolutely amazing.
Well-seasoned chicken is grilled until perfectly charred. The veggies are also grilled until soft. Combined, they make one heck of a low-carb dinner.
Add your favorite sauce to this mix, and you will be licking your fingers, guaranteed.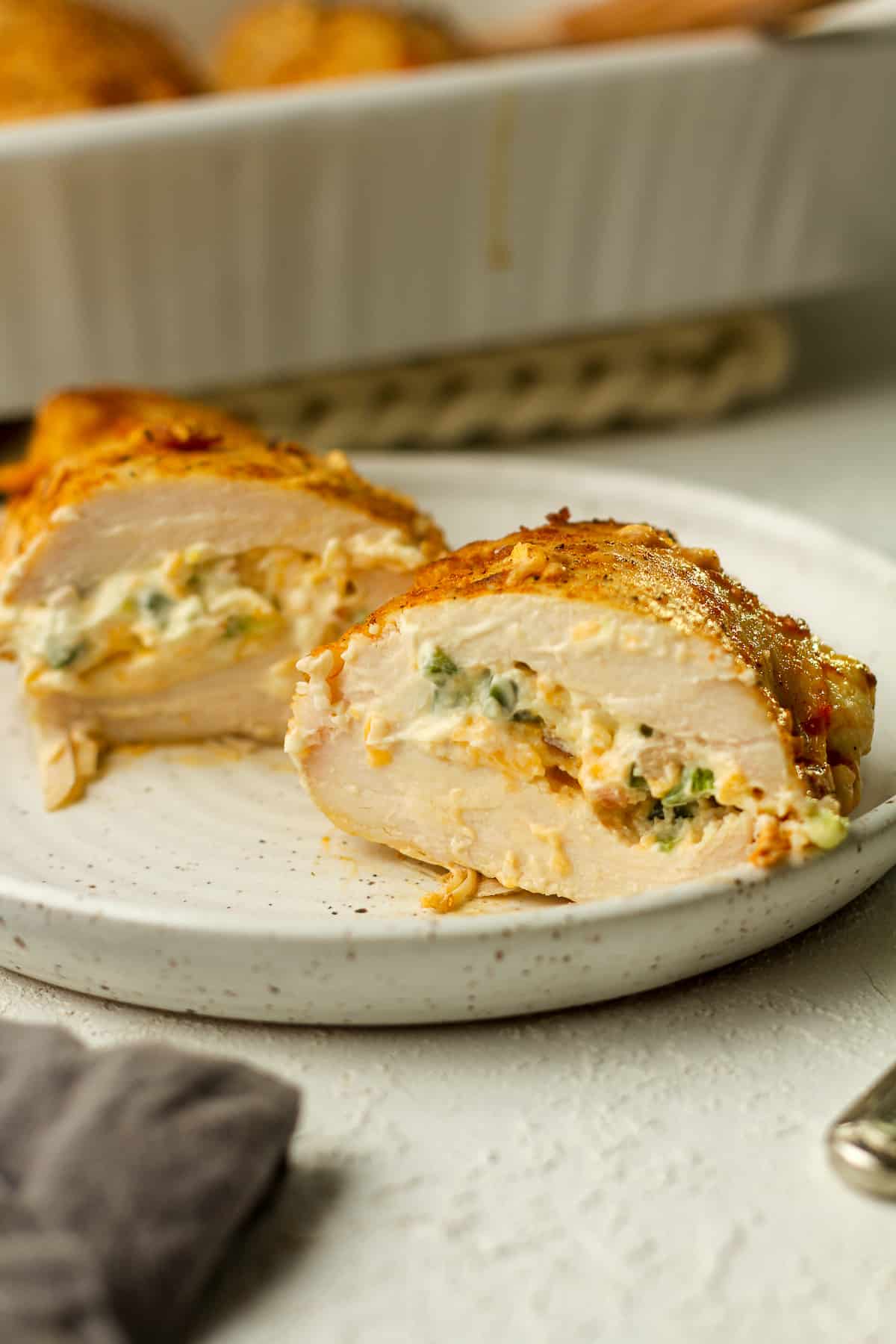 Source: suebeehomemaker.com
Beware! A flavor explosion is about to happen!
Plus, it is creamy, spicy, crispy, and perfectly seasoned.
These chicken breasts are stuffed with cream cheese, bacon, jalapenos, and cheddar. And you will not be able to get enough of them!
For the best taste, sear the chicken before putting it in the oven. This will "seal" the flavors and give the chicken a nice brown skin.
Source: flavorfuleats.com
Everything that you adore about Jalapeno poppers is here. Except, this dish is incredibly creamy, cheesy, and loaded with shredded meat.
This recipe can be enjoyed on its own, along with a side. It can also be used as a stuffing or pasta sauce. Take your pick!
The best thing about this recipe is the fact that it's made in a slow cooker. The prep is minimal – literally less than 5 minutes – but the results are amazingly tasty.
Source: madcreationshub.com
This is a simple and clean recipe that is simply bursting with flavors. Pan-seared chicken drizzled with the most fantastic sauce ever.
Lemony and herbal butter, on top of well-cooked meat. No chicken dinner gets better than this, trust me.
The recipe uses gelatin to thicken the sauce, which is perfect for all you low-carb eaters out there.
Source: cookingwithk.net
If you haven't tried fennel with chicken, this is the perfect recipe to give this combination a try. Fennel takes a bit longer to cook, so bone-in chicken is perfect for this.
Along with onions and lemons, fennel manages to add a deep and lasting flavor to the chicken that runs throughout each bite.
The dish is light and juicy, and it pairs well with many sides. Just make sure they are also low in carbs, and you're all set.
Source: thisoldgal.com
This chicken from the Instant Pot takes only 20 minutes to cook. It is loaded with Roma tomatoes and mozzarella, and it tastes as Italian as it sounds.
It is juicy and moist, and there is enough sauce to dip your bread (low-carb version in your case!) into it.
The recipe uses regular Pesto sauce, and it gives the chicken a deep flavor that pairs perfectly with the cheese and tomatoes.
Low Carb Crock Pot Recipes
Do you own a crockpot? Then you'll be getting your money's worth on the appliance with these yummy chicken recipes.
Source: thecleaneatingcouple.com
Chicken breasts, pepper, onions, diced tomatoes with green chilies, and taco seasoning. If that doesn't scream Mexican, I don't know what does.
This shredded chicken filling is so flavorful and tasty. I guarantee that you will be devouring it on its own. Even without any tortillas.
Pair it with sour cream and lime wedges, and it will be a total hit.
Source: thecleaneatingcouple.com
With the crockpot, it is true that you need about three and a half hours to wait impatiently for these finger-licking wings. But the crispy and yummy results will be so worth it!
Besides, it only takes five ingredients and practically no prep.
Buffalo sauce and orange juice are the main flavors here, and they give the chicken an amazing taste.
You will be snacking on these until the platter becomes empty!
Source: soreyfitness.com
This is a recipe for a Keto crack chicken made in the crock pot. It uses cream cheese, bacon, and cheddar. And it is so creamy and delightful that it will become a regular in your house.
The chicken is flavored with a packet of Ranch seasoning. And it is just the thing you need in a wrap. Or as a dip. Whatever you prefer more.
Low in carbs and delicious, how can you not give this a try?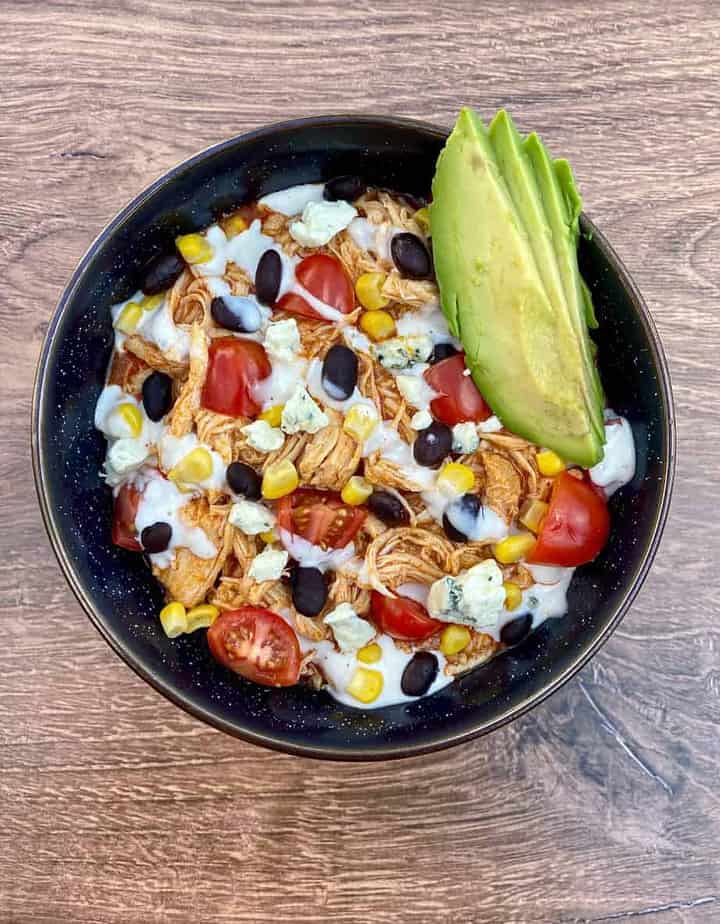 Source: happyhoneykitchen.com
Looking for a low-carb comfort dish? Then this chicken bowl with buffalo sauce and ranch dressing is the ultimate meal. And it is super creamy, too!
Top it with cherry tomatoes, avocados, and crumbled cheese, for a well-rounded taste. If your carb intake can allow, add some black beans or corn to the dish.
You have to admit that this dish is perfect in wraps.
Source: neutraleating.com
White chili minus the carbs. This bowl is made with chicken, cheese, peppers, salsa, sour cream, and a whole other flavor inducers. Plus, it also features heavy cream for the most velvety texture ever.
Protein-packed and creamy, this white chili takes four hours in the crockpot. But it is definitely worth the wait.
It asks for salsa verde, but regular salsa will do just fine.
Source: freeyourfork.com
Perfect for batch-cooking and meal-prepping. This salsa chicken is the definition of hands-free, no-fuss cooking.
This dish is really a dream of every busy mom or worker. And even more so if you're both a busy worker and a mom.
Seriously, all you have to do is open up a jar and press the button.
With only two ingredients – salsa and chicken – this recipe saves you from spending weekly hours in the kitchen.
Just make a larger batch and use it in wraps, casseroles, pasta… The choices with this dish are countless.
Low Carb Recipes with Chicken Thighs
Chicken thighs are fattier, more flavorful, and can be turned into wonderful dishes. These low-carb recipes with thighs belong in your recipe folder.
Source: twokooksinthekitchen.com
Delicious, however you serve it. That's what describes this marinated chicken dinner, and I am officially obsessed.
So simple flavors, and yet, such a powerful infusion. Lemon zest, Dijon mustard, olive oil, garlic, and herbs. I bet you can almost taste this goodness.
The chicken thighs are grilled, but you can use the same recipe and bake them in the oven.
For a low-carb meal, I suggest serving them with some fake rice, such as cauliflower. Yum!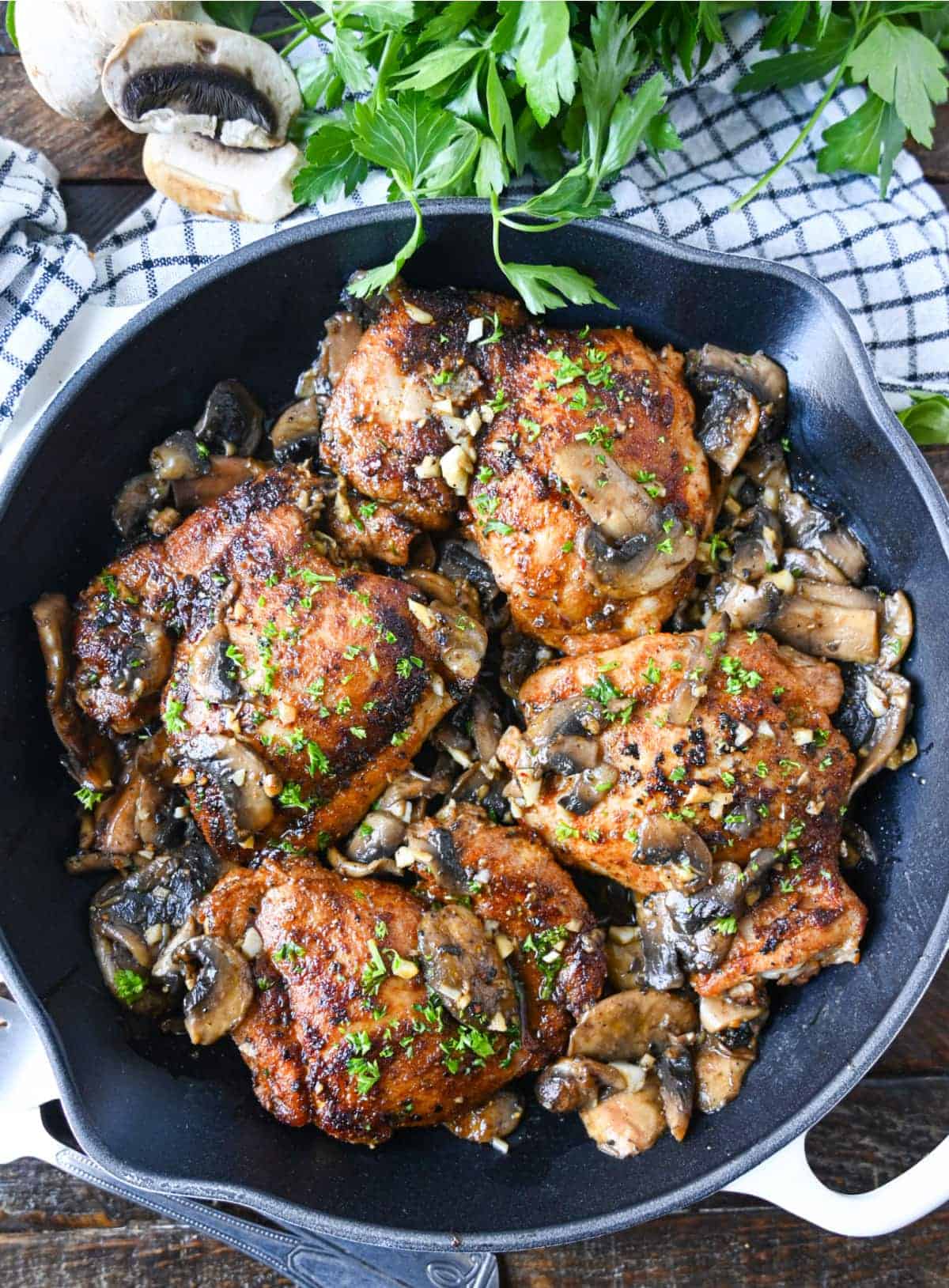 Source: butteryourbiscuit.com
Garlic and mushrooms are all you need to make a lovely chicken thigh dinner. And with a handful of seasonings, no one will be able to resist.
This recipe requires only 30 minutes of your time. Plus, a hot iron skillet.
Sauteed in butter and smothered in a garlic infusion, this qualifies as a weeknight family favorite.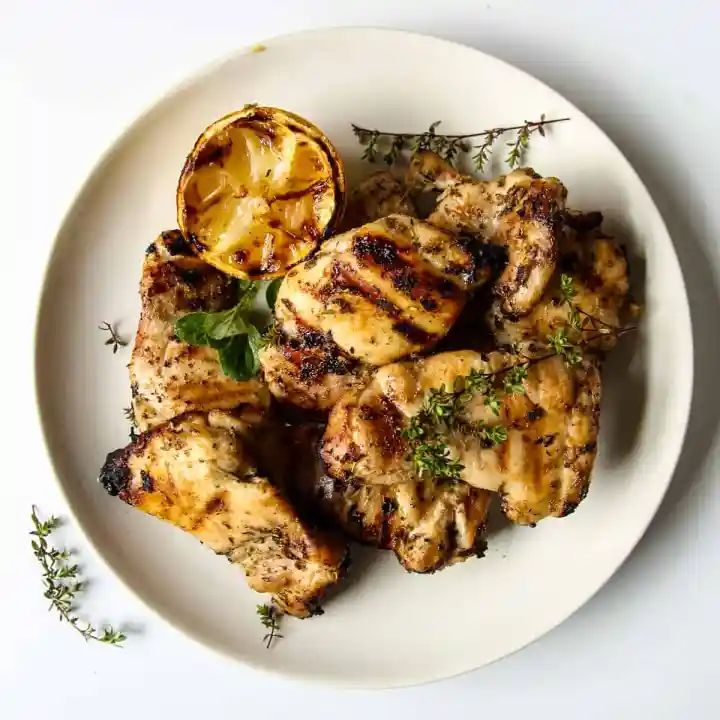 Source: thefoodblog.net
Lemon and herbs go well with chicken. We all know that. But did you know that only in 15 minutes, you could have perfectly grilled chicken thighs on your table?
Flavored with rosemary, thyme, and lemon, this will become a summertime special in your household. Especially if you have a backyard. Because this recipe is made for BBQ gatherings.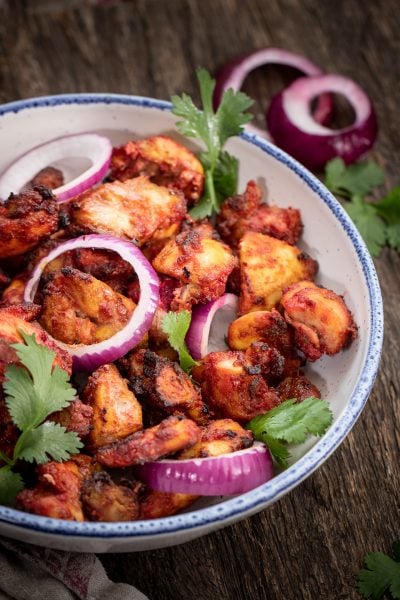 Source: indiaphile.info
Chicken tikka bites are small pieces of marinated chicken. The marinade traditionally uses yogurt as a base. The chicken is usually grilled. But this recipe uses the Air Fryer for convenience.
It also relies on a handful of spices for seasoning. And let me tell you, the taste is incredible.
Tikka masala and ginger play an important part in flavoring the meat. But it is the grated beet that is the secret ingredient here.
Serve with a dip on the side, and your guests will beg you to make another batch. This is one of the best keto air fryer recipes out there!
Source: neutraleating.com
Chicken and mushrooms are an unbeatable combo, and this recipe is another proof of that.
This recipe is referred to as "lazy skillet recipe," and it is said to be melting in your mouth.
Infused with bay leaves, Worcestershire, and broth, the sauce in this recipe is packed with flavor that you will not resist dipping your bread (low-carb!) into.
The heavy cream makes it smooth, and the balsamic vinegar gives it a tanginess that wraps it all tastily.
Source: thedevilwearssalad.com
Tired of mayo-smothered Keto salads? Well, this one doesn't contain any mayonnaise. In fact, it is only tossed with yogurt. And it has a delicious avocado dressing. Pretty healthy, right?
It also combines radishes, spinach, and raspberries. But it is the macadamia nuts that give a crunchy texture that you will find the most satisfying.
The chicken thighs are baked in the oven and sliced. But you can also use the grill or even the Air Fryer for this recipe.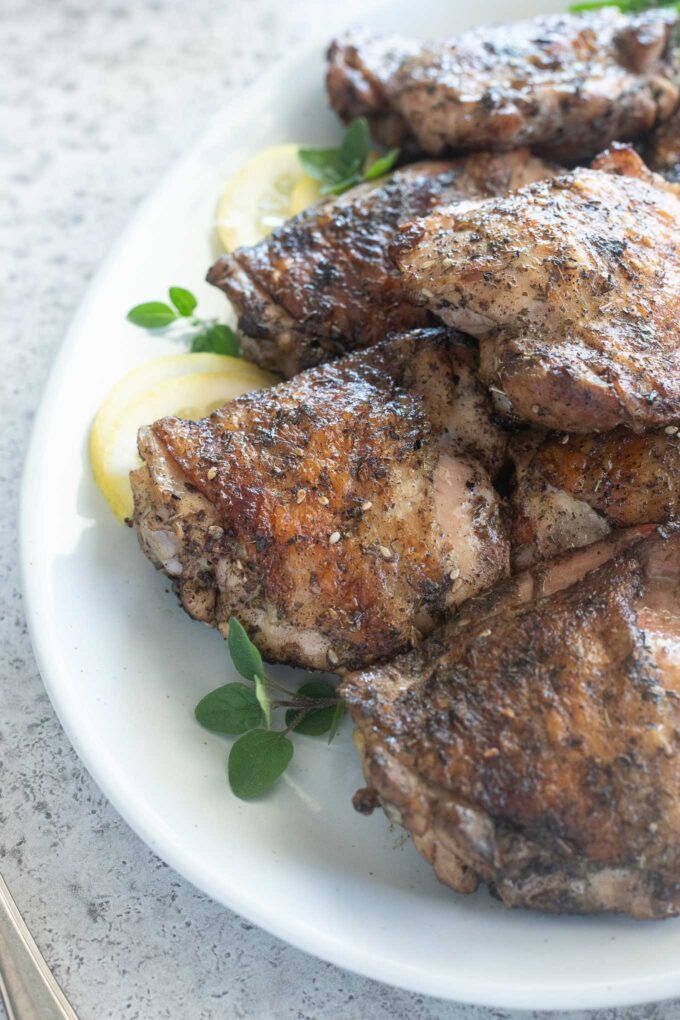 Source: flavorthemoments.com
Speaking of grilling, here is another chicken thigh recipe that you shouldn't miss.
With six cloves of garlic and a generous tablespoon of za'atar seasoning, you can rest assured that these thighs are packed with nothing but flavor.
They are also tossed with some lemon juice for freshness, and they pair perfectly with the heavy seasonings.
Source: thaicaliente.com
This curried Thai chicken dish is served over a bed of zoodles (zucchini noodles!).
As most Thai recipes go, this one also includes coconut milk and bamboo. Fish sauce and coconut sugar also enhance the flavor.
This results in a creamy and tasty sauce. So how can it not go perfectly with any kind of pasta? Fake zucchini noodles, included!
Source: butteryourbiscuit.com
This recipe is a reminder that you don't necessarily need fancy ingredients to cook some first-class meat.
Paprika, garlic powder, salt and pepper. And that's it!
The thighs are first seared in coconut oil in a skillet. That gives them a nice and crispy skin. They are then finished off in the oven until browned to perfection.
You'll become obsessed with these juicy chicken thighs.
Source: acedarspoon.com
Using only three ingredients, you'd be surprised just how much flavor these simple chicken thighs pack.
Seasoned with ranch seasoning and some salt and pepper to taste. You need nothing more than a hot skillet and some olive oil to make these crispy and flavorful thighs.
Eat them with rice or veggies on the side. Slice them up and add to salads, wraps, or sandwiches. Or even enjoy them on their own.
Source: wewanttoeat.com
Creamy pesto chicken for a tender and juicy meat dinner!
The sauce features tomatoes, pesto, parmesan cheese, and onion. It also has butter and heavy cream for silk creaminess.
If it is too dry for your taste, you can always add some more broth. If it is too runny, cut the broth in half.
Play around with the ingredients and adjust to taste. Just stick to these ingredients because the taste is really something else.
Source: theroastedroot.net
Sheet pan dinners are those throw-what-you-have-in-the-oven kind of meals. And I love them for it!
This sheet pan includes chicken thighs, zucchini, cherry tomatoes, onions, olives, and feta. And while the Greek flavors are tasty, you can substitute them with whatever you have in your fridge.
An easy and delicious dinner that will serve great as a last-minute dinner choice.
Source: currytrail.in
Effortless. Quick. Simple. Flavorful. Irresistible. If that doesn't make you put this together now, nothing well.
Ready in 15 minutes, this sweet chicken dinner is a great weeknight meal idea.
It is made with garlic, honey, and soy sauce. But make sure that you use sugar-free honey for a low-carb version.
It is also glazed and sticky, and I guarantee you will be licking your fingers after you're done.
The outer crust is crispy, but the inside is super tender and juicy.
Source: hildaskitchenblog.com
Asian-inspired recipe, but without the usual sugar content. These low-carb chicken thighs are full of flavor but will not work against your diet goals.
The thighs are best if marinated for two hours before grilling. But if you're in a hurry, 15 minutes will do, too.
Lime and balsamic vinegar are both used, and they offer tanginess that combines the rest of the seasonings well.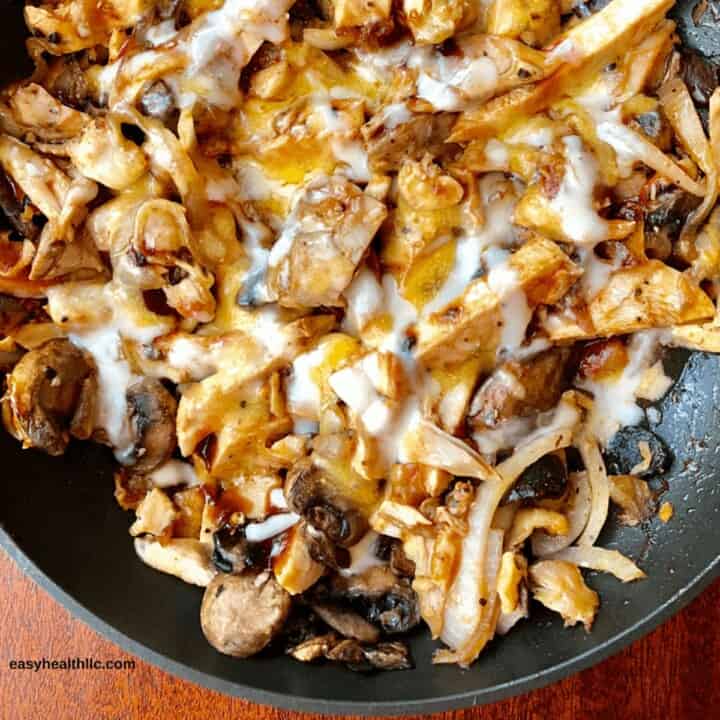 Source: easyhealthllc.com
Barbecue chicken thighs, but in a bowl. A delicious low-carb dish that takes only 30 minutes and five ingredients. Pretty simple and quick!
All you need are thighs, onions, barbecue sauce, shredded cheese, and a touch of olive oil for cooking.
The meat is juicy and cheesy, and it pairs well with almost anything. If you ask me, this meal is dying to be put in a tortilla.
Check out these other quick keto dinners you can make in under 30 minutes!
Source: thehealthnutmama.com
I love wrapping meat in bacon. Not only does it give it depth in flavor, but it also gives it a nice and crispy texture.
This recipe is simple. You just season the chicken thighs to taste, wrap them in bacon, and place them in the oven.
Crispy, juicy, and nothing but yummy.
Source: thefoodblog.net
Recreating buffalo chicken at home can be challenging. But not with this simple boneless recipe.
Why? Because this recipe uses only three ingredients. And it couldn't be simpler to whip up.
Just hot sauce, butter, and chicken. This recipe calls for Frank's Red Hot. But any spicy sauce will do fine.
The chicken is first marinated in the hot buttery mixture. And it is submerged once more before baking. Spicy, juicy, and finger-licking.
Source: joyfullymad.com
I've added my fair share of lemony chicken to this list, but trust me, this one is a real keeper.
Zesty, fresh, and with a touch of sweetness. This lemon, parsley, and honey chicken thighs are full of flavor.
They are marinated for an hour for the best results, then grilled until slightly charred.
Source: wewanttoeat.com
Broccoli is a low-carb ingredient that goes super well with chicken. So if you're looking for both veggies and protein in one pan, this is a must-try.
It also includes peppers, garlic, and cashews. It is smothered in a gingery soy sauce, which boosts the flavor.
The recipe uses sugar-free honey, so you're good to go. These other keto one pan meal ideas are a must-try!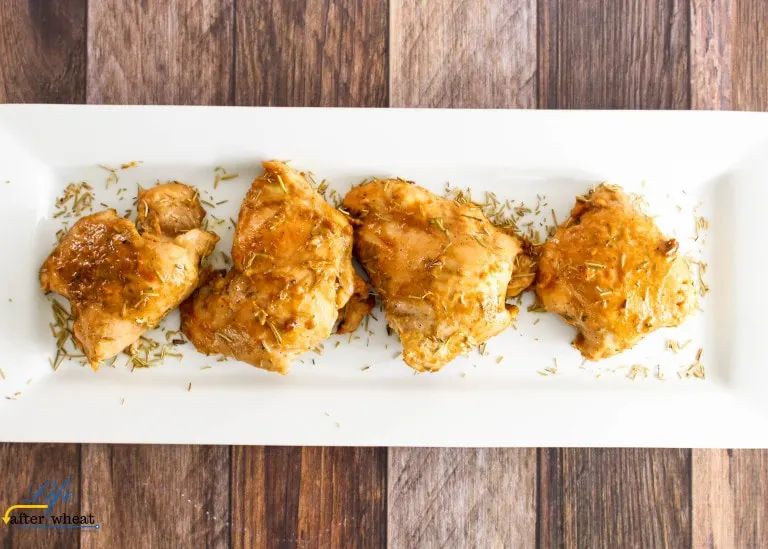 Source: thereislifeafterwheat.com
Rosemary and ranch dressing. Plus, a touch of yogurt, lemon juice, and soy sauce to combine everything well.
The sauce is poured over the chicken, and they're cooked and covered in a pan.
Juicy and tender, these taste so good. Especially if you pair them with some sauteed low-carb veggies.
Source: cookingwithk.net
If the crispy skin is what you enjoy the most when eating chicken thighs, this recipe is definitely for you.
The thighs are first browned in a skillet with the skin-side down and then transferred into the oven to finish off cooking.
They are prepared alongside green beans, so this is really a full and filling low-carb dinner.
They are also flavored with butter and garlic, which add more flavorful notes.
Source: madcreationshub.com
This recipe melts in your mouth. I suppose that's enough for you to give it a try, but let me say a word or two more.
A mildly spicy curry that is super creamy and loaded with flavors. It is made with Korma paste and Greek yogurt, and it is a low-carb gem you will gladly be coming back to.
It's ready in just 30 minutes, which is yet another plus.
Low Carb Chicken Casserole Recipes
Chicken casseroles for a fun, quick, and absolutely fuss-free dinner. Sounds like a plan? Then jump to these recipes and start cooking!
Source: thehealthnutmama.com
Spinach, chicken, artichokes, and onions. These ingredients are combined together with nutritional yeast. And then baked for about 40 minutes in the oven.
The result is a juicy, soft, nutritious, and really delicious dinner. And that's with only 10 minutes of prep time.
It is not only low in carbs but Keto, Paleo, and Whole-30 approved.
Source: theroastedroot.net
Although technically, this is a breakfast casserole, trust me, you'll be craving this for lunch and dinner as well.
Chicken, onion, sun-dried tomatoes, spinach, and feta cheese. Smothered in beaten eggs and baked until fully set.
This recipe is also great as a meal on the go, and I strongly suggest you give it a try.
You might also enjoy these other delicious keto chicken recipes!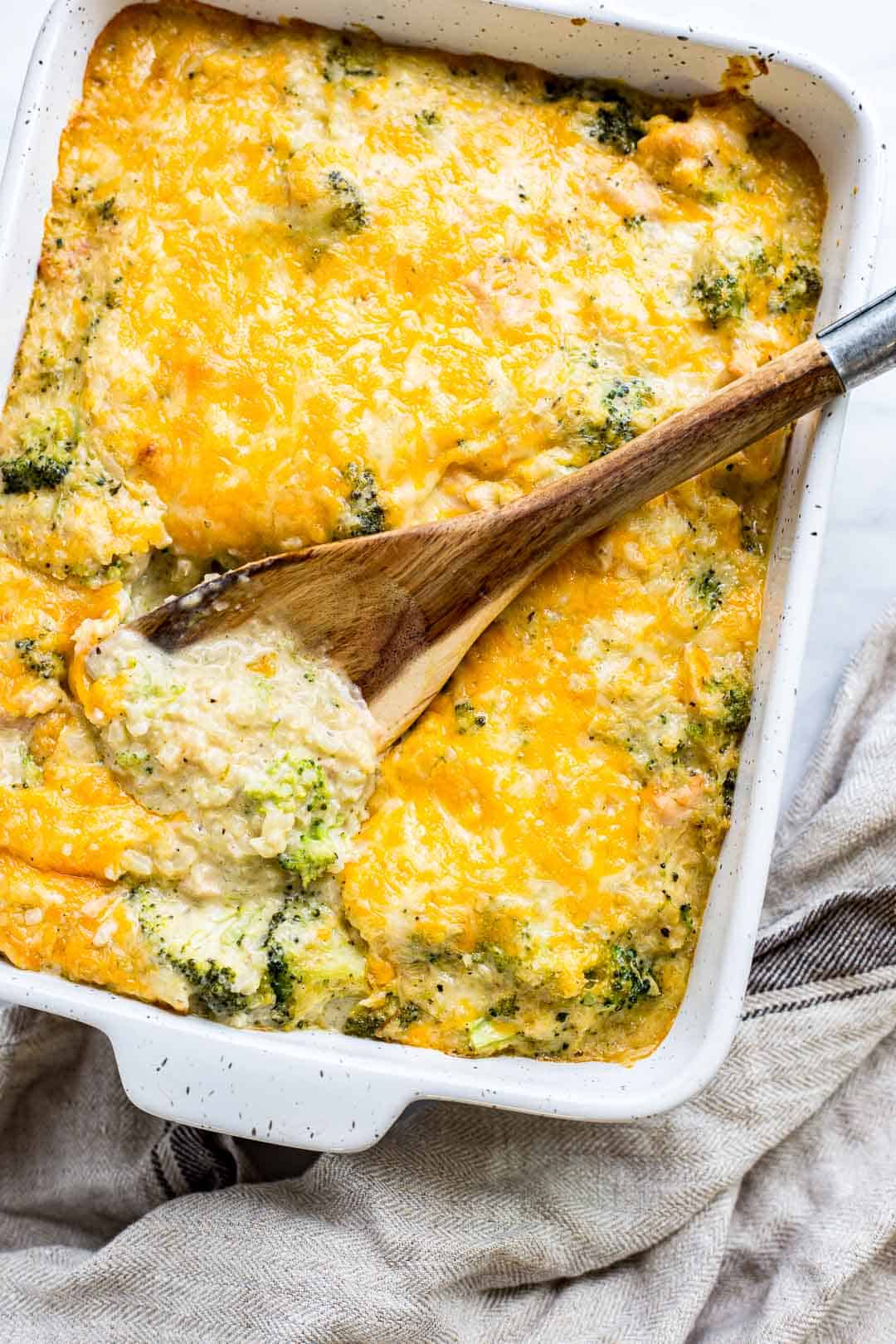 Source: platingpixels.com
A creamy chicken and rice casserole with broccoli. Only made in the Keto style. This low-carb dish uses cauliflower instead of regular rice. And it is much healthier and more nutritious.
The recipe calls for condensed cream of chicken soup, sour cream, and shredded cheddar. It is also seasoned with Italian seasoning. So you can imagine how tasty and creamy it really is.
A full low-carb meal that will satisfy even the pickiest eaters. Find more keto casserole recipes!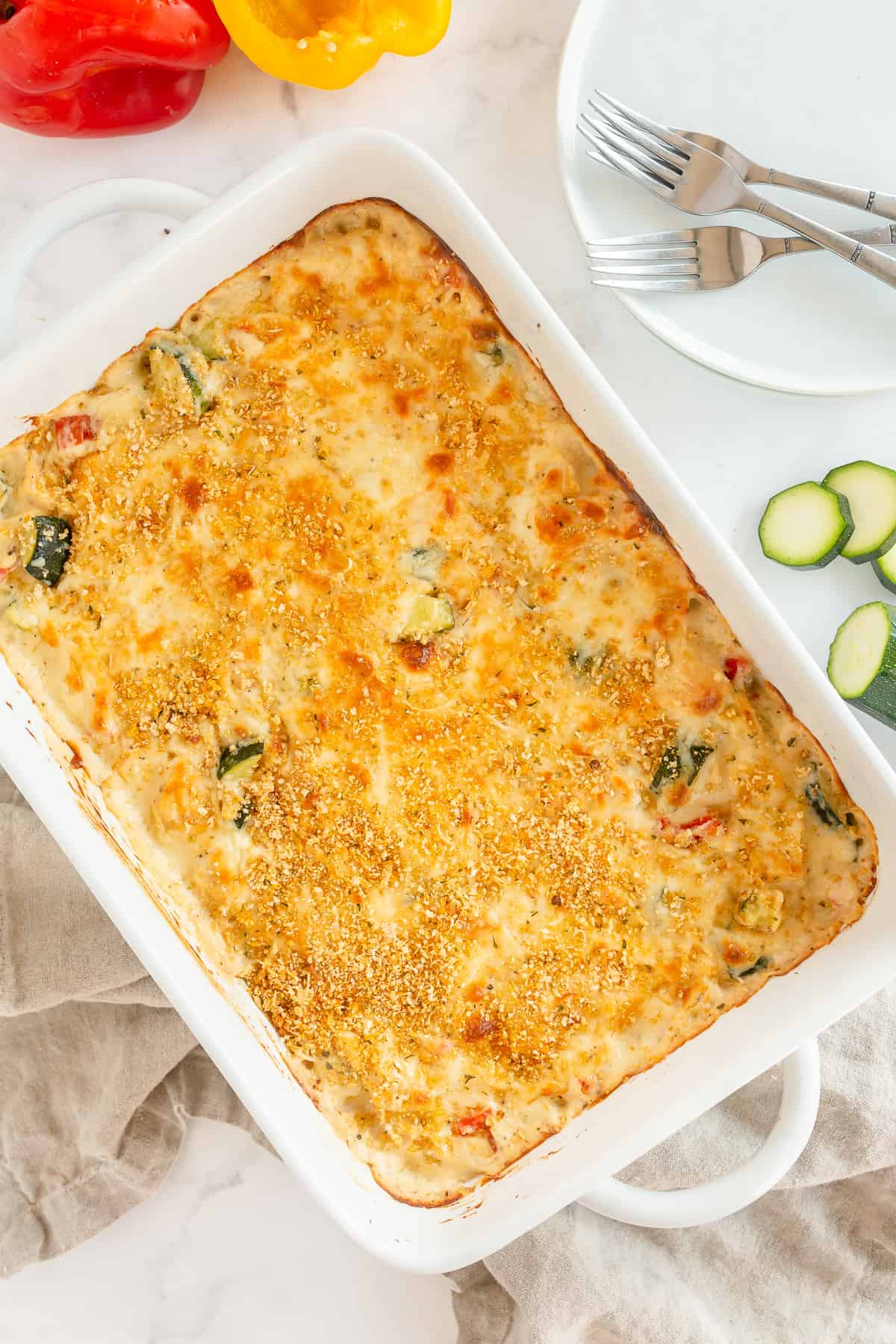 Source: wholesomemadeeasy.com
If you steer clear from zucchini because they always turn up mushy when baked, let me put your mind at ease. The zucchini here is not overcooked and still gives you a bite.
This chicken casserole also uses bell peppers. But it is the three kinds of cheese, milk, and butter that excites me most.
It's so creamy and cheesy I bet even the kids will go crazy for this dinner.
Source: laraclevenger.com
Chicken, ham, cheese, and a whole lotta love for this recipe. That's all you need to know, really, because this creamy goodness is ridiculously delicious.
A Keto and casserole version of the traditional Cordon Bleu for a crowd-pleasing meal that even carb lovers will become obsessed with.
If you don't like the breadcrumbs, feel free to omit them. However, the dish is much crunchier with the Panko topping.
Source: budgetdelicious.com
The thing I love about this recipe is that it can be made in the morning and popped in the fridge for later use. For dinner, you simply place it in the oven, and that's it.
A cheese-loaded chicken casserole with peppers, onions, and a generous Fajita seasoning.
Serve it with rice or pita (low carb, of course!) and enjoy this gooey deliciousness.
Source: cookingschooldropout.com
Your low-carb diet won't feel like a diet with meals like this one, trust me.
Roasted cauliflower. Juicy and tender chicken. Lovely cheese sauce. Crispy bacon. And smooth creaminess that wraps everything beautifully.
Plus, mushrooms and celery for some more nutrients and flavor.
This casserole serves eight generous portions. But I strongly doubt there will be any leftovers.
51 Low Carb Chicken Recipes
Following a keto diet? Make dinner exciting again with these low carb chicken recipes that won't knock you out of ketosis.
Ingredients
1. Air Fryer Stuffed Chicken Breast
2. Keto Baked Chicken Breast
3. Chicken Pan Pizza
4. Chicken Berries Salad
5. Grilled Caprese Chicken
6. Healthy Stuffed Chicken Roll Ups
7. Grilled Chicken Cobb Salad
8. Baked Chicken Kabobs
9. Lebanese Chicken Kebabs
10. Mozzarella Chicken
11. Chicken and Peppers
12. Creamy Jalapeno Stuffed Chicken
13. Jalapeno Popper Chicken
14. Chicken Limone
15. Roast Bone in Chicken Breast with Fennel
16. Pesto Chicken
17. Chicken Fajitas
18. Chicken Wings
19. Chicken Bacon Ranch
20. Buffalo Chicken Bowl
21. White Chicken Chili
22. Crockpot Salsa Chicken
23. Mediterranean Style Marinated Chicken
24. Garlic Mushroom Chicken Thighs
25. Lemon Herb Grilled Chicken Thighs
26. Chicken Tikka Bites
27. Crispy Chicken and Mushroom
28. Keto Chicken Salad
29. Grilled Chicken Thighs
30. Thai Green Curry Chicken
31. Crispy Skillet Chicken Thighs
32. Ranch Chicken Thighs
33. Pesto Chicken Thighs
34. Mediterranean Sheet Pan Chicken
35. Honey Garlic Chicken
36. Grilled Chicken
37. BBQ Chicken Bowl
38. Bacon Wrapped Chicken Thighs
39. Buffalo Chicken Thighs
40. Lemon Chicken Thighs
41. Honey Cashew Chicken with Broccoli
42. Rosemary Ranch Chicken Thighs
43. Garlic Butter Chicken Thighs
44. Saffron Chicken Korma
45. Spinach Artichoke Chicken Bake
46. Chicken and Spinach Breakfast Casserole
47. Chicken Broccoli Casserole
48. Chicken Zucchini Casserole
49. Chicken Cordon Bleu Casserole
50. Chicken Fajita Casserole
51. Chicken Cauliflower Casserole
Instructions
Scroll up to get a bunch of easy, yummy, and delicious recipes. Don't be afraid to get creative with the ingredients, you might discover a flavor you didn't know you liked.
Get your shopping list going and make sure you've got all the ingredients.
Get cooking and make your next Low Carb Chicken Recipe!
Notes
Which one of these recipes was your favorite? Let me know in the comment section or on Pinterest!