Cuban cuisine is one of the best in the world thanks to its many bold flavors. These best Cuban breakfast recipes are the best way to start your day and feel refreshed!
Spanish, African, and Caribbean influences make Cuban dishes stand out as one of the boldest and tastiest cuisines around.
That makes it such a great source of inspiration for your meals. If you're a fan of Cuban breakfasts, this is the place for you to be.
Check out twenty-one delicious ways to kickstart your day the Cuban way with these Cuban food recipes.
What is a Typical Breakfast in Cuba?
A typical breakfast in Cuba usually consists of a simple yet filling traditional Cuban meal.
One of the most popular and traditional Cuban recipes for breakfast is "pan con bistec," a sandwich made with thin-sliced steak, onions, and a special sauce on Cuban bread.
Another popular dish is "huevos fritos," fried eggs often served with toast and sometimes bacon or ham for the most important meal of the day.
Other delicious meals include "tostadas," which are toasted bread with butter and sometimes jam, and "café con leche," a strong coffee with milk for a complete meal.
Some people also enjoy a glass of fresh fruit juice or a piece of seasonal fruit to complete their typical Cuban breakfast.
Best Traditional Cuban Breakfast Recipes
Source: fatgirlhedonist.com
Stop any local Cuban on the street, and you'll find their blood runs rich with Cuban coffee. This thick, rich, dark liquid is an essential part of the day in Cuba.
As soon as you taste this easy recipe, it will become vital to you, too!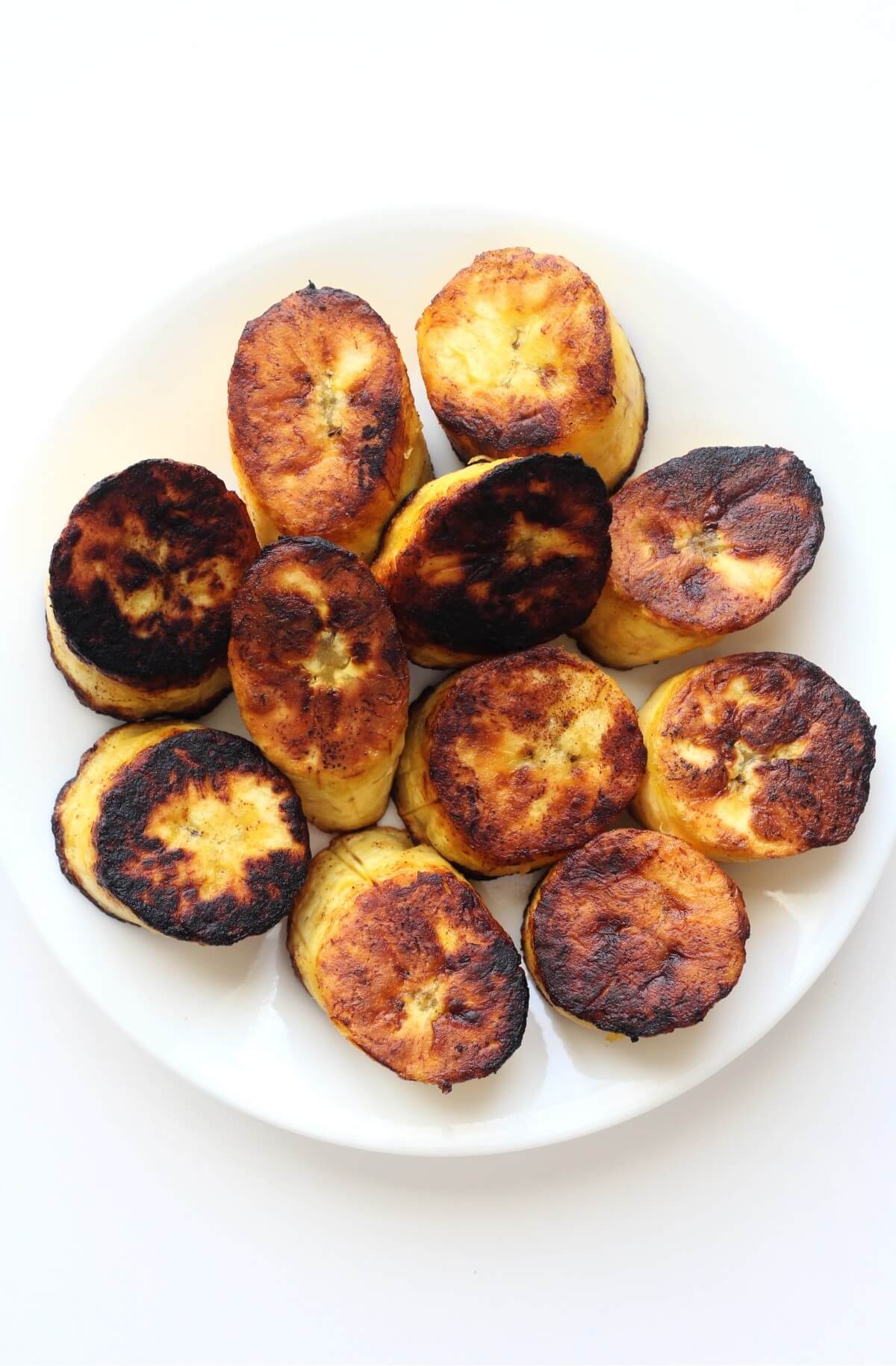 Source: strengthandsunshine.com
Also known as Maduros, these fried sweet plantains are a gorgeous way to start your day. Frying the plantains gives them an unforgettable custard-like texture. They even taste sweeter!
I love this delicious Cuban breakfast recipe because of how simple it is, and you can enjoy it at any time of the day. Whip out a plate of maduros for dessert, or enjoy them at the start of your day!
Source: flavorfuleats.com
The blueprint of the perfect Cuban sandwiches goes like this: ham, roast pork, Swiss cheese, pickles, and mustard. Pile on a roll, press to perfection, and enjoy!
Imagine adding an egg, bacon, and an English muffin to this equation. With that, you have the ingredients for the perfect breakfast sandwich.
Source: dishnthekitchen.com
This recipe combines many tasty Cuban elements, from sausages and baked eggs to fried plantains. For many, this breakfast is the first and last word in comfort food.
It's particularly good in the morning, but you can enjoy this meal at any time of the day!
Source: spabettie.com
Put a Cuban twist on your favorite vegan breakfast scramble. This Cuban breakfast scramble recipe calls for a delicious balance of savory ingredients, making every bite feel hearty and filling.
While this is a simple recipe for tofu scramble, you could easily swap out the tofu for eggs if you prefer!
You might also enjoy these other delicious vegan brunch recipes!
Source: fittoservegroup.com
Frittatas are a fantastic keto-friendly breakfast! They're high in protein and super low in carbohydrates, and you can pack them full of any flavors you like. In this case, we're going Cuban!
Turnips, chorizo, bell peppers, and plenty of onions are the ideal flavor combination in this stunning frittata. Kick your day off with a bang in just twenty minutes!
Source: conservamome.com
Guava pastries are a classic Cuban breakfast staple. They're usually enjoyed with a cup of warm coffee. Luckily, these pastries are dead easy to make for yourself at home.
All you need is some guava paste and some ready-to-bake puff pastry sheets! Serve with a cup of Café Bustelo for an authentic experience.
Source: fittoservegroup.com
There's nothing better than a casserole on a weeknight, am I right? This delicious Cuban casserole packs a ton of bold, vibrant flavors into a single dish with ease.
This crowd-pleasing dish is cheesy, comforting, and perfect for feeding your family.
If you are looking for breakfast potluck ideas this is a great one!
Source: coolmomscooltips.com
Here's another way to enjoy one of Cuba's favorite fruits in pastry form! These delicious crescent pastries can adorn your breakfast table or steal the show following a dinner with friends.
They're versatile, easy to whip up in just a few minutes, and taste out of this world.
Source: fittoservegroup.com
Empanadas are the perfect blend of convenience and taste. The little packages are easy to carry to work or school, making them the ideal lunchtime treat.
These keto ground beef empanadas will keep you and your family through midday slumps. Plus, they're super easy to prepare ahead of time.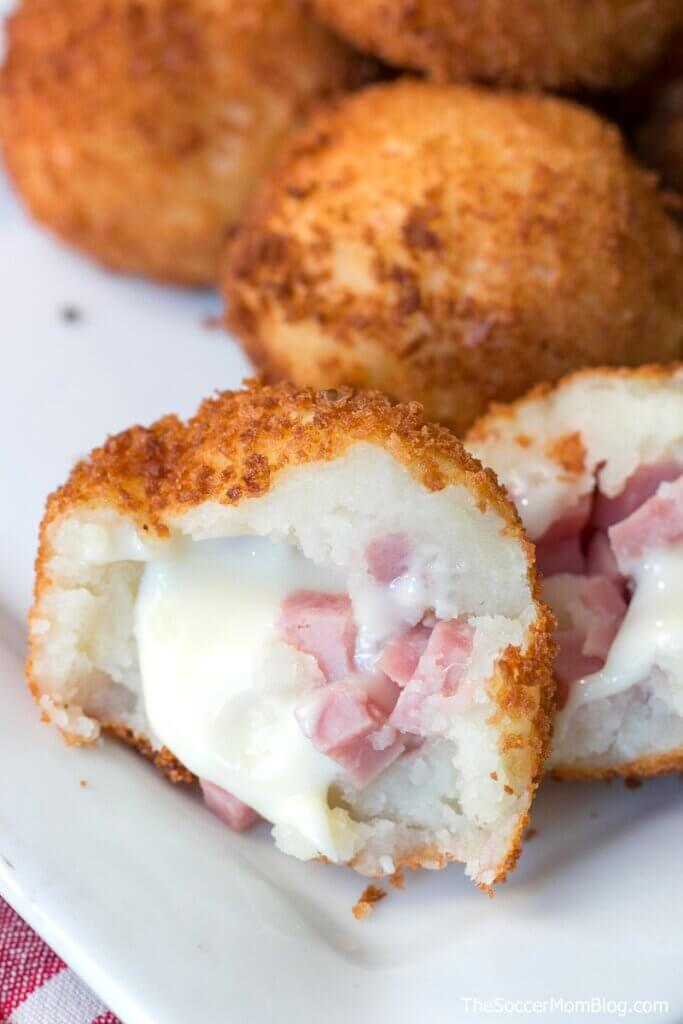 Source: thesoccermomblog.com
Are you searching for an indulgent snack or appetizer? These Cuban ham and cheese croquettes will do the trick! They're super crunchy on the outside and warm, gooey, and cheesy in the middle.
Pair that with a little kick of spice from your favorite chili for an addictive snack you won't be able to put down.
Source: thatgirlcookshealthy.com
Take one of the most comforting sweet breakfasts on the planet and give it a Cuban twist! This is an Instant Pot Cuban rice pudding recipe worth hanging onto.
The earthy black rice and sweet condensed milk pair perfectly. If you don't have an Instant Pot, this recipe is stovetop friendly!
Check out these other appetizing healthy breakfast bowls!
Source: fooddrinkdestinations.com
Here's another take on Spanish-inspired rice pudding. This one is a little more traditional than the previous black rice recipe, featuring a little bit of cinnamon and a dusting of lemon.
This is a typical Cuban restaurant recipe for a great breakfast or a delicious dessert on a cold night.
Source: callmepmc.com
Are you looking for something simple? Then look no further than this tasty recipe with Cuban black beans! A bowl of Cuban-style black beans and sausage is the ultimate pick-me-up in the morning.
This protein-heavy breakfast with Cuban beans will easily keep you going until lunchtime. It's also great for meal prep since it keeps well in the fridge and reheats like a dream.
Source: thisoldgal.com
Also known as Pasta de Bocaditos, this traditional Cuban sandwich is packed with enough cheese, ham, and red peppers to make your tastebuds sing.
This is the ultimate breakfast recipe to have on hand if you're taking the family out on a picnic. Serve with some pickles and a cold drink to complete the meal!
Source: mommytravels.net
Create something simple and delicious that the whole family can enjoy! This recipe uses staple Cuban ingredients – white rice, fried egg, and plantains (or bananas) – to make a filling meal.
The Cuban-style rice is super vibrant and flavorful. You can even make it in advance to make your morning easier!
This power breakfast idea is sure to get you going!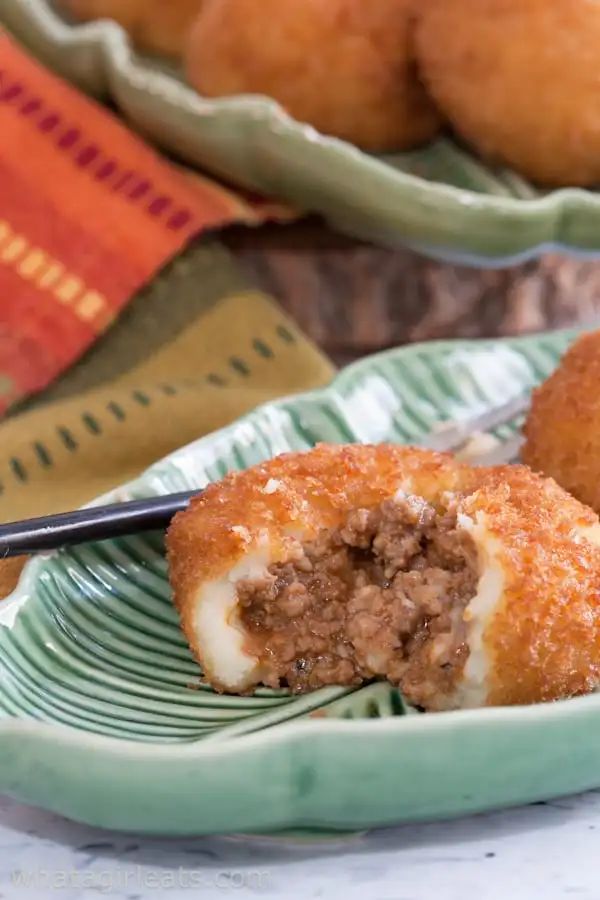 Source: whatagirleats.com
Papas Rellenas – or 'Cuban Potato Meatballs' – are out of this world! Crunchy on the outside and meaty in the middle, these fluffy potato balls are bound to impress.
If you plan on having guests around for breakfast and need to impress, this recipe will do it. Plus, you can have them ready in under an hour!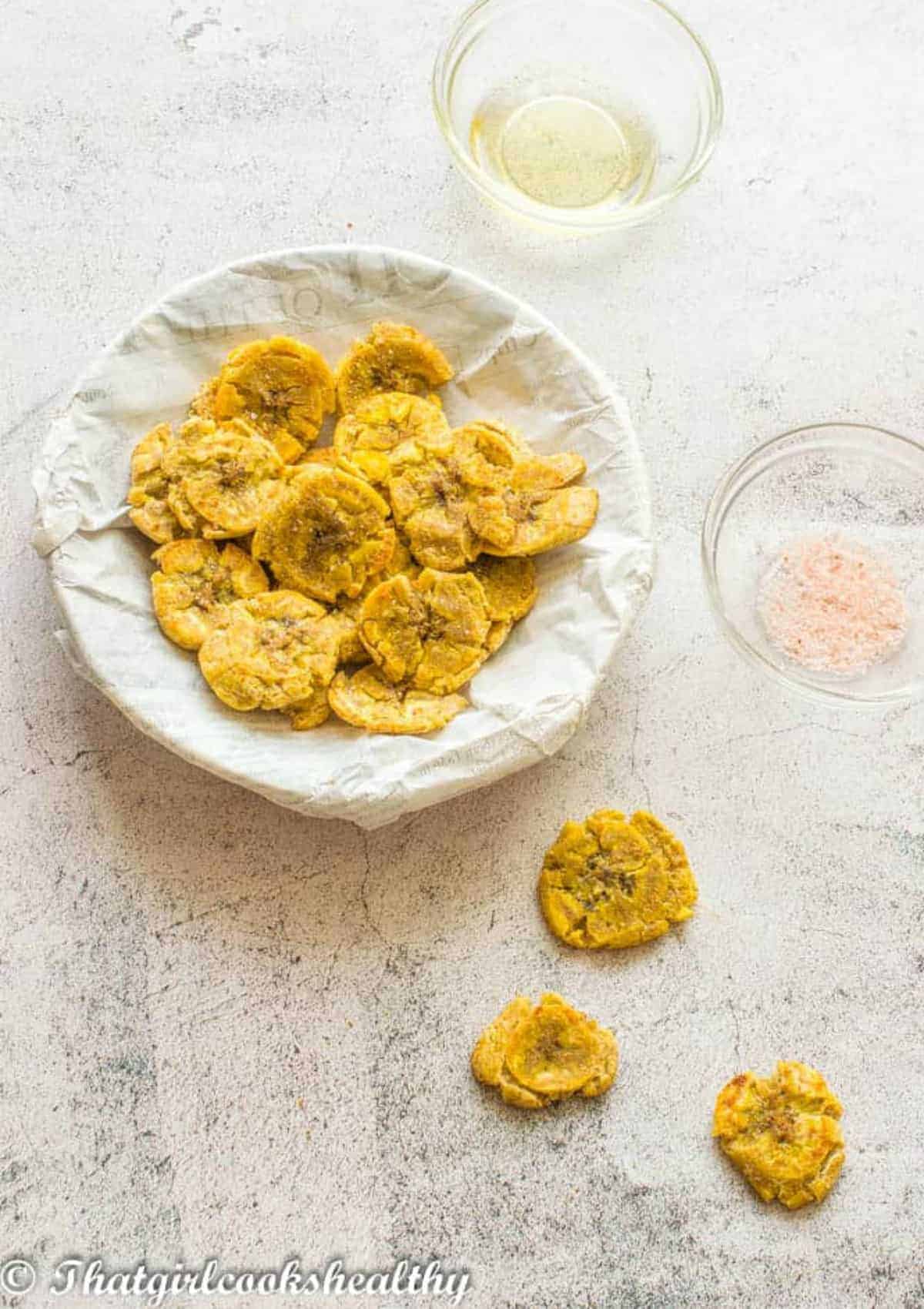 Source: thatgirlcookshealthy.com
Tostones are green plantains and a great base for a savory snack. The lack of sweetness means you can season them with whatever spice mix you like to create a tasty breakfast.
Whip these up in your air fryer, or use your oven to make a batch in under an hour!
Source: savorthebest.com
With a name as regal as 'Imperial Rice,' this dish has a lot of expectations to live up to. Luckily, it does so and more! This is a delicious rice casserole with flavor bursting from every mouthful.
Chicken and yellow rice are the foundation, with many spices and vegetables paving the road to Flavortown (population: you).
Source: sugarspiceneverythingnice.com
Use leftover chicken the night before to create the ultimate Cuban comfort breakfast! This chicken fricassee dish is bold, vibrant, and perfect for reawakening leftover chicken.
This would also make a great weeknight meal or even a make-ahead lunch for the whole family.
Source: muybuenocookbook.com
Our final recipe is another take on Maduros! This recipe tips this breakfast dish firmly into luxurious brunch territory thanks to butter, sugar, honey, and tequila sauce!
Serve with brunch to blow away your guests' minds (and tastebuds)!
Continue exploring different cuisines with these popular Italian breakfast recipes!
21 Best Traditional Cuban Breakfast Recipes To Try
Here are some Cuban breakfast recipes that you can make at home. There are plenty of tasty meal ideas to start your day right.
Ingredients
1. Cuban Coffee
2. Fried Sweet Plantains
3. Cuban Breakfast Sandwiches
4. Huevos Habaneros
5. Breakfast Scramble
6. Keto Cuban Tortilla (Frittata)
7. Guava Pastry Recipe
8. Keto Cuban Casserole
9. Guava Filled Crescents
10. Keto Ground Beef Empanadas
11. Ham and Cheese Croquettes
12. Instant Pot Black Rice Pudding
13. Arroz Con Leche
14. Black Beans and Sausage
15. Deviled Ham Sandwiches
16. Cuban Style Rice with Fried Eggs and Bananas
17. Papas Rellenas
18. Baked Tostones
19. Imperial Rice
20. Chicken Fricassee
21. Plantanos Maduros Con Miel
Instructions
Scroll up to get a bunch of easy, yummy, and delicious Cuban recipes. Don't be afraid to get creative with the ingredients, you might discover a flavor you didn't know you liked.
Get your shopping list going, and make sure you've got all the ingredients.
Get cooking and make your next Traditional Cuban Breakfast Recipe!
Notes
Which one of these recipes was your favorite? Let me know in the comment section or on Pinterest!