We all love a pancake, right? But can we make these healthy so we can enjoy them more frequently and without guilt? Enjoy more fluffy pancakes with these low-calorie pancake recipe ideas!
They always feel like a treat, and they are so inexpensive to make, so they really ought to be explored more and enjoyed more, so I have put together a collection of low-calorie healthy recipes that you can try.
There are different versions of low-calorie pancakes here, so be prepared to try something less traditional and find a new favorite healthy breakfast.
Source: sweetsimplevegan.com
What a find! This pancake mix is a vegan, egg-free, gluten-free version that is easy and tasty, with loads of options for additions and no need for added sugar.
Just using oats, almond milk, some mushy bananas, and a blender, this batter can be made in seconds, and there's a whole load of ways you can personalize these oatmeal pancakes.
Adding fresh berries, other fresh fruit, dates, or cinnamon are just a few ways you get your mouth watering.
This yummy apple banana smoothie would compliment these pancakes perfectly!
Per Serving:
• Calories: 276
• Fats: 15g
• Protein: 5g
• Carbs: 31g
• Fiber: 4g
• Sugar: 8g
Source: faithfullyfree.com
Who would have thought adding cream cheese to pancakes could have such an effect?
These fluffy, moist, and utterly delicious pancakes will give you a slightly different texture from regular pancakes.
If you like the idea of freezing pancakes ready to grab in minutes, this would be a great recipe, as the cream cheese does keep these from being dry.
Get chopping strawberries, as these go particularly well with them.
Per Serving:
• Calories: 290
• Fats: 5g
• Protein: 8g
• Carbs: 52g
Source: ihearteating.com
How about some perfect pancakes that are light and totally filling?
This stack of pancakes is made from a base of oats and cottage cheese and could be made into a great brunch to keep you full.
You will need a blender to get this healthy pancakes recipe going, as the oats need whizzing up with the rest of the ingredients to get a smooth batter.
The cottage cheese is a great addition, so if you have yet to try it in a pancake, now's your chance!
Per Serving:
• Calories: 43
• Fats: 1g
• Protein: 3g
• Carbs: 3g
Source: lettucevegout.com
If you're looking for a vegan pancake recipe that is healthy and full of good stuff, these flaxseed pancakes are really going to be a good option.
Egg-free, they use the binding properties of the flaxseed to keep this batter working well, and you can use whatever your favorite nut milk you like.
There are great ideas on what to serve with your pancakes here, too, so be inspired and whizz up a batch!
Have a plant-based together? This would be a perfect vegan brunch recipe!
Per Serving:
• Calories: 206
• Fats: 7g
• Protein: 7g
• Carbs: 29g
• Fiber: 5g
• Sugar: 4g
Source: kiipfit.com
These are big, mean, and green! Grab your blender and have some fun with these healthy and gloriously green pancakes.
If you want to pack a pancake as a snack for your child to take to school, these are great. They are healthy, egg and nut free.
This recipe uses some of my favorite healthy ingredients, such as ripe bananas, chia seeds, and hemp seeds, and packs some tasty protein into these pancakes.
Per Serving:
• Calories: 158
• Fats: 5g
• Protein: 5g
• Carbs: 25g
• Fiber: 5g
• Sugar: 12g
Source: neilshealthymeals.com
Tired of the usual maple syrup to drizzle onto pancakes? You may want to try making this recipe which uses a base of filling oats and yogurt and adds something a little different to serve.
These pancakes are added to by softened, sweet, juicy fresh plums, and this is a combo you need to try. No maple syrup is needed here, and this is a sugar-free recipe!
Per Serving:
• Calories: 43
• Fats: 1.9g
• Protein: 2.6g
• Carbs: 4.4g
• Fiber: 0.8g
• Sugar: 1.4g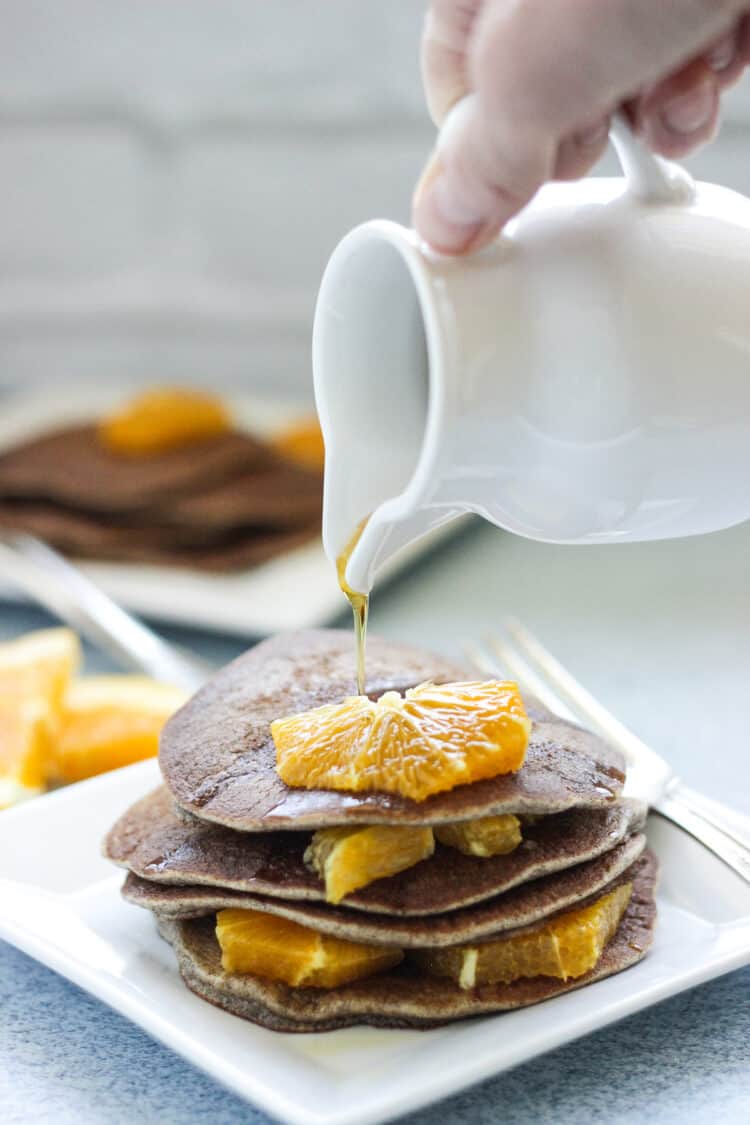 Source: cravingsomethinghealthy.com
Now let's get to grips with some really flavorsome pancakes that scream 'eat me!'
These pancakes are packed full of protein as they use buckwheat as a base, a tasty seed that can be eaten on a gluten-free diet. These are also great for gut health.
Cardamon and orange are a combo you need to try, so grab your pan and have a go.
These pancakes would be perfectly complimented by any of these low-calorie smoothies!
Per Serving:
• Calories: 253
• Fats: 6g
• Protein: 12g
• Carbs: 42g
• Fiber: 5g
• Sugar: 17g
Source: oohlalaitsvegan.com
Using pumpkin puree as a base for pancakes keeps this homemade pancake recipe healthy, moist, and so tasty.
These whole-wheat flour pancakes are great for vegans as they require no eggs.
Sweetened by applesauce and agave, these simple pancakes are super healthy compared to the processed, sugary versions of pancakes with all purpose flour out there.
I love the pumpkin pie spices that have been added to this low calorie pancakes recipe, and I reckon these would be especially good in the autumn for a low calorie breakfast.
Per Serving:
• Calories: 82
• Fats: 1g
• Protein: 3g
• Carbs: 18g
• Fiber: 3g
• Sugar: 5g
Source: thecleaneatingcouple.com
If you're someone who loves pancakes so much that you want to eat them every day, this is one of the best easy recipes for you.
These weight loss pancakes are lower in calories, fat, and sugar than other recipes, so they can be enjoyed every day.
Low-fat buttermilk, honey, vanilla extract, and apple sauce are used here and with a base of gut-friendly whole wheat flour for a fluffy texture.
This is one of the best low-calorie pancake mixes that will keep you full until lunchtime.
If you have picky eaters at home, this is a great breakfast idea for kids!
Per Serving:
• Calories: 230
• Fats: 5g
• Protein: 7g
• Carbs: 43g
• Fiber: 3g
• Sugar: 21g
Source: littlenomadsrecipes.com
Oh, these are so much fun for Halloween and the autumn! These dainty little pancakes are shaped like Jack-O Lanterns, and they are so yummy!
With an almond base and no flour, these are great for those who are avoiding gluten.
Some tasty cinnamon and ginger have been added to the recipe, which goes so well with the pumpkin puree.
Per Serving:
• Calories: 51
• Fats: 3g
• Protein: 2g
• Carbs: 4g
• Fiber: 0.5g
• Sugar: 1g
Source: cuisineandtravel.com
These oil and butter-free pancakes are a great low-fat find!
The recipe uses a few simple ingredients like apple cider vinegar and baking powder to create the soft fluffiness we love in a pancake.
Sweetened with maple syrup and vanilla, these aren't too sweet, but they are perfect for pancake day.
You can blend up your oats here to make the oat flour needed, just grab a non-stick pan, and voilà, you have made some healthy, tasty gluten-free pancakes!
Per Serving:
• Calories: 165
• Fats: 5g
• Protein: 6g
• Carbs: 24g
• Fiber: 2g
• Sugar: 3g
Source: creativenourish.com
If you need to avoid dairy, pancakes may not have been so successful. This recipe just may be the answer.
These pancakes are more like crepes, and if you get them thin enough, you can roll them up and make them into a rather portable snack.
This recipe is sugar-free, so there are some amazing possibilities to create some savory delights from these pancakes.
Per Serving:
• Calories: 124
• Fats: 3g
• Protein: 6g
• Carbs: 20g
• Fiber: 3g
• Sugar: 3g
Source: thelittlestcrumb.com
What can you get if you cross some oats, a banana, and an egg? This! A tasty, healthy pancake recipe!
Grab your blender, heat the pan, and you are ready to eat in minutes here. These are best served immediately, but I have a feeling there won't be leftovers here.
Per Serving:
• Calories: 292
• Fats: 7.2g
• Protein: 11.6g
• Carbs: 48.4g
• Fiber: 6.2g
• Sugar: 14.5g
Source: whatsmoking.com
What? Smoked pancakes? If you have never tried to smoke a recipe, this is your chance. It's easy and a great introduction to this cooking method.
This recipe doesn't provide a recipe for your pancakes and uses a packet mix for pancakes (you could make up your own, though).
It is a recipe that shows you step-by-step instructions on how to make a pancake by a smoking method.
Per Serving:
• Calories: 120
• Fats: 7g
• Protein: 3g
• Carbs: 10g
• Fiber: 0g
• Sugar: 2g
Source: thelittlestcrumb.com
Chai spice mix is utterly delicious, and this has been added to these different-tasting pancakes that you need to try!
Cocoa and chocolate chips have been added to the batter to give a deeply chocolatey taste, and when warm, those chips will be oozing and soft.
Per Serving:
• Calories: 200
• Fats: 7.1g
• Protein: 5.1g
• Carbs: 30.2g
• Fiber: 1.8g
• Sugar: 12.7g
Source: iheartvegetables.com
Pancakes made from yogurt are another way to create a slightly different taste in your pancake, and it's also a way to increase the protein in your batter.
These are based on the traditional recipe with flour, eggs, and baking powder, so you know you will get a great, fluffy, and light result.
Per Serving:
• Calories: 191
• Fats: 5.4g
• Protein: 6.8g
• Carbs: 28.6g
• Fiber: 1g
• Sugar: 2g
Source: summeryule.com
These are for you if there is a risk you will end up eating a whole batch of pancake batter in one go.
It makes one serving, and there is no messy frying pan washing up or turning on the hob. It's all done in the microwave.
Per Serving:
• Calories: 161
• Fats: 5.5g
• Protein: 4.2g
• Carbs: 21.8
• Fiber: 1.7
Source: julieseatsandtreats.com
Fluffy, soft, and the ultimate comfort food, these pancakes provide another option as a base – mashed sweet potatoes.
These are going to fill you up, so pick them for a day you need to be kept full of energy. There are eggs, baking powder, and soda in the batter, so there is still a light and soft texture too.
Have some spare yams? You'll also love this tasty breakfast skillet with sweet potatoes!
Per Serving:
• Calories: 250
• Fats: 6g
• Protein: 8g
• Carbs: 46g
• Fiber: 2g
• Sugar: 9g
Source: servedfromscratch.com
How romantic! This recipe uses strawberries in the batter, and it shows you how you can shape your pancakes into hearts, perfect for a loved one.
It's a gluten-free recipe, low fat, and sweetened with just bananas and strawberries. Try this for something a little different in taste.
Per Serving:
• Calories: 147
• Fats: 3g
• Protein: 5g
• Carbs: 25g
• Fiber: 4g
• Sugar: 5g
Source: myplantifulcooking.com
This recipe shows you the results of using soy milk as a base for your pancakes. These are moist, airy, and super tasty!
It also uses spelt flour (but this can be switched to regular flour) which can help towards improving your gut health as choosing a variety of different flours and food can help.
Per Serving:
• Calories: 201
• Fats: 2g
• Protein: 6g
• Carbs: 36g
• Fiber: 5g
• Sugar: 7g
Source: abakingjourney.com
This is a classic recipe that has been created with a nutty buckwheat flour. It's a good choice if you wanted to avoid gluten or improve the protein in your diet, as this flour is packed full of it.
These are particularly good to make into a savory pancake and a delicious lunch.
Ready for more weight loss breakfast ideas? Check out these easy low calorie breakfast recipes!
Per Serving:
• Calories: 97
• Fats: 2g
• Protein: 4g
• Carbs: 17g
• Fiber: 2g
• Sugar: 3g
21 Low-Calorie Pancake Recipes That Won't Break Your Diet
Here are some Low-Calorie Pancake Recipes that won't break your diet. Great when you are craving comfort foods but want to keep your calorie intake low.
Ingredients
1. 3-Ingredient Vegan Pancakes
2. Cream Cheese Pancakes
3. Cottage Cheese Pancakes
4. Vegan Oat Flour and Flaxseed Pancakes
5. Spinach Banana Pancakes
6. Scottish Porridge Oat Pancakes
7. Orange Cardamom Buckwheat Pancakes
8. Whole Wheat Pumpkin Pancakes
9. Healthy Pancakes
10. Jack-O-Lantern Pumpkin Pancakes
11. Oat Flour Pancakes
12. Whole Wheat Dairy Free Pancakes
13. 3 Ingredient Banana Oat Pancakes
14. Smoked Pancakes
15. Chocolate Chai Spiced Pancakes
16. Greek Yogurt Pancakes
17. Mug Pancakes
18. Sweet Potato Pancakes
19. Banana and Strawberry Oat Pancakes
20. Fluffy Soy Milk Pancakes
21. French Buckwheat Crepes
Instructions
Scroll up to get a bunch of easy, yummy, and delicious recipes. Don't be afraid to get creative with the ingredients, you might discover a flavor you didn't know you liked.
Get your shopping list going and make sure you've got all the ingredients.
Get cooking and make your next Low-Calorie Pancake Recipe!
Notes
Which one of these recipes was your favorite? Let me know in the comment section or on Pinterest!