You can easily enjoy the most important meal of the day on a weight loss diet with delicious oatmeal recipes like these healthy recipes for low-calorie oatmeal.
So many of us have a bag or box of instant oats or steel-cut oats in the cupboard, and they can create some great, nutritious, and filling recipes for us.
Here is a collection of some of the best oatmeal recipes that will keep you full. If you are looking for more unique ways to use up those steel-cut oats, this is the place to be!
When we stop snacking between meals, the weight can drop off.
So all of these best healthy oatmeal recipes are about keeping you full with more soluble fiber and energized and away from the extras you may come across!
Source: thecleaneatingcouple.com
Using egg white in an oatmeal recipe can pack the protein in and keep the fat a bit lower, as that is what the yolk contains.
This high-protein oatmeal recipe with old-fashioned oats is super speedy and super simple.
You can add any extras on top after cooking and create a really tasty, well-balanced breakfast with healthy toppings.
These low calorie egg recipes can also help you get your protein on a low cal diet!
Per Serving:
• Calories: 266
• Fats: 5g
• Protein: 13g
• Carbs: 40g
• Fiber: 5g
• Sugar: 12g
Source: hungryhealthyhappy.com
These muffins are like a meal! If you like the idea of a muffin for breakfast or a snack that will fill you up, you need to try these.
The recipe is a great alternative to a regular bowl of oatmeal.
Fresh berries like fresh blueberries, bananas, strawberries, nuts, and chocolate into the oats will give you a super boost of energy that will keep you full, and a touch of vanilla extract and honey for sweetness.
This is also one of the best make-ahead breakfasts to meal prep.
If you love grabbing a muffin on the go, you need these other skinny low calorie muffin recipes!
Per Serving:
• Calories: 180
• Fats: 4g
• Protein: 5g
• Carbs: 32g
• Fiber: 3g
• Sugar: 10g
Source: thecleaneatingcouple.com
If you love healthy oatmeal raisin cookies, this is one of the best foods for you! These would make a great breakfast or snack for you!
These are essentially one of the easiest and most inexpensive ways to get yourself a healthy protein bar into your diet.
Protein powder is used to boost energy and recovery/repair, so these would make a good post-workout snack.
Almond butter also helps give you more protein and vitamins and would help a weight loss plan.
Per Serving:
• Calories: 283
• Fats: 13g
• Protein: 11g
• Carbs: 34g
• Fiber: 4g
• Sugar: 15g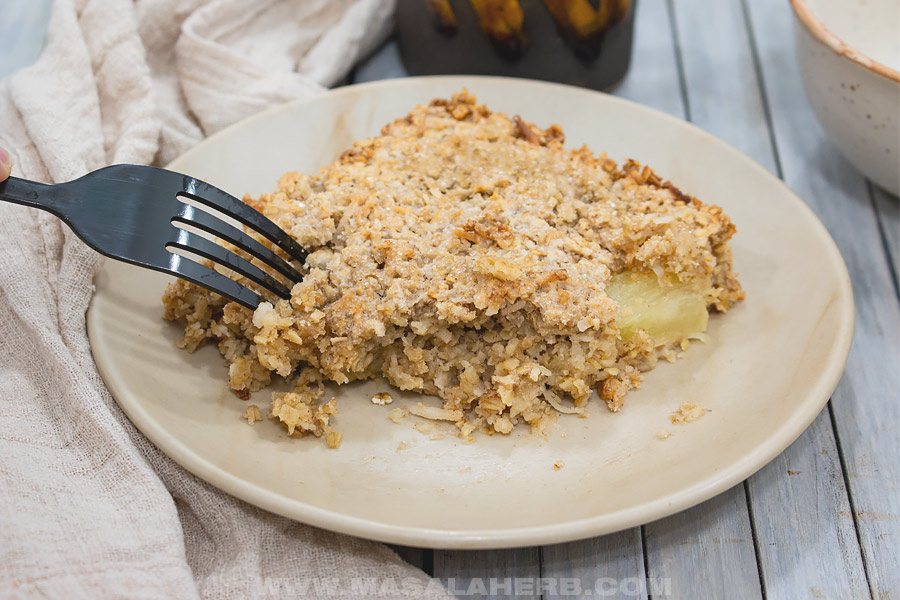 Source: masalaherb.com
Baked oatmeal must be one of the best inventions for the busy person who wants to eat well.
Oats for breakfast will keep you full and prevent snacking, but sometimes it's just not possible to find the time to stir oatmeal!
Prepare this the night before, place it in the oven in the morning and cook it whilst you are in the shower; simple! Enjoy the tropical tastes of summer for breakfast with this healthy breakfast recipe.
If you don't have coconut milk on hand, you can easily swap it for your favorite non-dairy milk!
Per Serving:
• Calories: 200
• Fats: 5g
• Protein: 4g
• Carbs: 38g
• Fiber: 3g
• Sugar: 21g
Source: theroastedroot.net
These oats have been mixed with sweet potato, protein powder, and extra egg whites in a great way to create a winning high protein breakfast combo.
These healthy heart pancakes will keep you full and also freeze well. How about baking up a batch and keeping them handy there, as they would make a healthy snack?
Love yams? You might also enjoy this yummy sweet potato breakfast bowl!
Per Serving:
• Calories: 94
• Fats: 2g
• Protein: 7g
• Carbs: 12g
• Fiber: 1g
• Sugar: 3g
Source: cuisineandtravel.com
Oats are so well known to be great for an overnight oats recipe, but how about giving this one a go?
It has been carefully created to give you a huge boost of healthy protein and extras to keep you energized.
Adding chia seeds, tips on other additions to increase nutrition, and ideas on storage and travel are all included, so have a go at improving your breakfast choice.
Per Serving:
• Calories: 263
• Fats: 9g
• Protein: 14g
• Carbs: 33g
• Fiber: 9g
• Sugar: 1g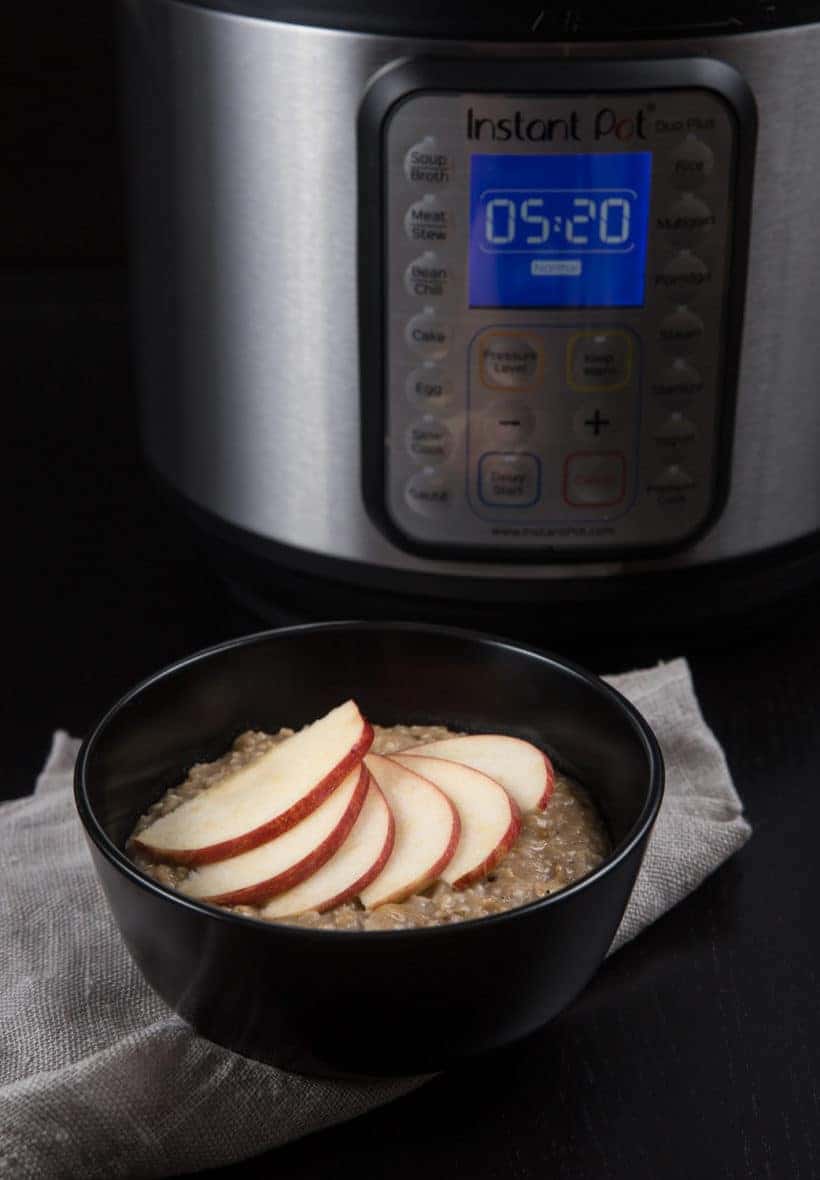 Source: pressurecookrecipes.com
'Seal it and forget it' here with this Instant Pot recipe. It's going to give you a different texture for your oatmeal, and if you love the chewy but soft results from oatmeal, this is a great recipe to try.
This one adds the delicious spices of nutmeg, cinnamon, allspice, and ginger, and the garnish of fresh apples will give you a fresh finish to this.
Per Serving:
• Calories: 257
• Fats: 6g
• Protein: 6g
• Carbs: 46g
• Fiber: 8g
• Sugar: 14g
Source: lbhealthandlifestyle.com
If you want to try making overnights a little differently, this recipe will capture your interest. This recipe uses tiger nut milk, something you may not have tried before, and it's utterly delicious!
The oats are mixed up with a different choice of frozen fruits to create some tasty combos that may inspire you to get back on the overnight oats again.
Per Serving:
• Calories: 298
• Fats: 8g
• Protein: 9g
• Carbs: 50g
• Fiber: 15g
• Sugar: 9g
Source: throughthefibrofog.com
Cinnamon is known to be an anti-inflammatory spice that can help a variety of health conditions, and it's the perfect companion to oats.
This overnight oats recipe has created the perfect blend of cinnamon and ginger, with an extra boost of protein, with chia seeds. It's a creamy, comforting, and delicious recipe for overnight oats!
Per Serving:
• Calories: 218
• Fats: 6g
• Protein: 9g
• Carbs: 33g
• Fiber: 6g
• Sugar: 3g
Source: maplewoodroad.com
Blueberries and bananas are such a tasty combination, and these healthy oatmeal muffins are going to give you just that – a combination of tastes!
The bananas are mashed into the base here with the oats, and these both will certainly keep you full and give your gut health a good boost. The addition of vanilla and cinnamon is the perfect extra.
Per Serving:
• Calories: 99
• Fats: 5g
• Protein: 1g
• Carbs: 13g
• Fiber: 1g
• Sugar: 8g
Source: plantedinthekitchen.com
Chia seeds and oats soaked together overnight give you a much softer and lighter texture than just oats on their own, and this recipe is a great example of this.
Chia seeds are packed full of nutrition too, so it makes sense to add them to a healthy breakfast option. They increase the protein, add some omega-3 to your diet, and they are a great texture here.
Per Serving:
• Calories: 249
• Fats: 6.2g
• Protein: 9.8g
• Carbs: 40.4g
• Fiber: 6.9g
Source: throughthefibrofog.com
How about some sunshine in your oatmeal? This oatmeal recipe is a great one for those who love turmeric or for those who would like to try something a little different.
Turmeric not only adds glorious, warm color to a dish and some earthy flavor, but it's also known to be a powerful anti-inflammatory with many health benefits.
This really is one of the best low-calorie breakfast recipes!
Per Serving:
• Calories: 148
• Fats: 6g
• Protein: 8g
• Carbs: 16g
• Fiber: 2g
• Sugar: 10g
Source: myplantifulcooking.com
This baked oatmeal is all the flavor and ingredients from the comfort of an apple pie or crumble but is made deliciously healthy.
It contains both apple sauce and diced apples, so some great texture. Flaxseed has been added to give you a super hit of omega 3.
Per Serving:
• Calories: 182
• Fats: 3g
• Protein: 5g
• Carbs: 34g
• Fiber: 4g
• Sugar: 13g
Source: thefoodolic.com
Oatmeal gets the cookie makeover here, and it becomes a healthy portable snack. It's a vegan cookie too.
The ingredients take minutes to stir together, and after a brief time to soak a little, they are ready for the oven.
These cookies would make a great handbag addition, just in case you are tempted by less healthy options when you are out and about.
Per Serving:
• Calories: 175
• Fats: 6g
• Protein: 4g
• Carbs: 29g
• Fiber: 4g
• Sugar: 9g
Source: asweetalternative.com
Oats have been soaked overnight here with cinnamon and maple syrup or honey to give a really simple recipe for a favorite.
You can use whichever milk you like here, and there's a great recipe for some sautéed apples to add to the top.
Per Serving:
• Calories: 192.5g
• Fats: 2.6g
• Protein: 5.4g
• Carbs: 37.3g
• Fiber: 4.4g
• Sugar: 8.8g
Source: tastygalaxy.com
The Instant Pot is such an easy answer to a busy morning when you fancy oatmeal. This pumpkin version has added pumpkin pie spice that will fill your kitchen with some warming aromas.
This oatmeal will be on the table in 10 minutes, so there's no excuse to skip breakfast and have to dash to the biscuits and crisps later!
Per Serving:
• Calories: 96
• Fats: 3g
• Protein: 3g
• Carbs: 17g
• Fiber: 2g
• Sugar: 7g
Source: oohlalaitsvegan.com
Overnight oats have been given a new level of taste here with the addition of pumpkin pie spices, maple syrup, and creamy yogurt.
To top these oats, there are some chopped maple syrup-crusted pecans that add some texture that makes this recipe feel rather special to be dipping into first thing.
Per Serving:
• Calories: 275
• Fats: 9g
• Protein: 8g
• Carbs: 44g
• Fiber: 7g
• Sugar: 16g
Source: littlesweetbaker.com
You may ask 'what makes this so healthy?" Well, this version is packed with strawberries and, blueberries, bananas, and it's low in sugar. It's great for gut health, and it will keep you super full.
There is a helpful tip to make this a vegan dish, too, so it's easy to avoid the egg here.
Per Serving:
• Calories: 156
• Fats: 1.2g
• Protein: 5.3g
• Carbs: 28.2g
• Sugar: 10.8g
Source: julieseatsandtreats.com
Waking up to this recipe, ready-cooked and waiting for you, is maybe just what you need to get out of bed with a smile.
Oatmeal in the crockpot, slow-cooked through the night, is a great idea, and this one is packed with peanut butter and flax seeds to make it ultra-rich and filling.
Per Serving:
• Calories: 244
• Fats: 10g
• Protein: 8g
• Carbs: 28g
• Fiber: 3g
• Sugar: 17g
Source: plantbasedwithamy.com
Even if mango isn't in season, you can use frozen slices or chunks here, and you can still enjoy the summery flavor in your oatmeal.
Almonds are also added to this oatmeal which will increase the protein and vitamins here, and some cinnamon also joins the flavor profile here.
Per Serving:
• Calories: 252
• Fats: 12g
• Protein: 8g
• Carbs: 32g
• Fiber: 7g
• Sugar: 7g
Source: hungryhealthyhappy.com
No way! Just two ingredients are needed to make these! You can, of course, add some extras (chocolate chips or blueberries are an option).
With no added sugar or processed extras, these are healthy and go to show you how a simple cookie can be tasty, filling, and good for you, so get mixing.
Ready for more oatmeal inspiration? Check out these healthy porridge recipes for breakfast!
Per Serving:
• Calories: 26
• Fats: 1g
• Protein: 2g
• Carbs: 18g
• Fiber: 2g
• Sugar: 3g
21 Low-Calorie Oatmeal Recipes for Weight Loss
Here are some Low-Calorie Oatmeal Recipes that you will love for a healthy and tasty breakfast for weight loss.
Ingredients
1. Egg White Oatmeal
2. Banana Oat Muffins
3. Oatmeal Raisin Bars
4. Pineapple Coconut Baked Oatmeal
5. Sweet Potato Rolled Oat Protein Pancakes
6. Overnight Oats with Protein Powder
7. Instant Pot Apple Cinnamon Oatmeal
8. Overnight Oats with Frozen Fruit
9. Cinnamon Overnight Oats
10. Banana Blueberry Oatmeal Muffins
11. Chia Seed Overnight Oats
12. Turmeric Oatmeal
13. Baked Oatmeal with Applesauce
14. Vegan Banana Oatmeal Cookies
15. Cinnamon Overnight Oats
16. Instant Pot Pumpkin Spice Oatmeal
17. Pumpkin Pie Overnight Oats
18. Healthy Baked Oatmeal
19. Peanut Butter Banana Crockpot Oatmeal
20. Mango Oatmeal
21. Healthy Banana Oat Cookies
Instructions
Scroll up to get a bunch of easy, yummy, and delicious oatmeal recipes. Don't be afraid to get creative with the ingredients. You might discover a flavor you didn't know you liked.
Get your shopping list going, and make sure you've got all the ingredients.
Get cooking and make your next Low-Calorie Oatmeal Recipe!
Notes
Which one of these recipes was your favorite? Let me know in the comment section or on Pinterest!