And here you thought all muffins were calorie-laden! With these delicious low-calorie muffins that are healthy, you can even have two!
Whether sweet or savory, a delicious and healthy muffin with your morning coffee is the most satisfying way to start your day. If you share this with me, then you're just at the right place!
With these 20 low-calorie and healthy muffin recipes, you will never ever enjoy a store-bought muffin again.
Whether loaded with fruits, veggies, eggs, or chocolate, there is something for every muffin lover here.
And the best part? Each and every one of these delightful grab-and-go delights is low in calories and in line with your dieting goals.
Source: allnutritious.com
Looking for the perfect breakfast on the go? These egg muffins loaded with veggies and satisfying flavors are a perfect choice.
Low in calories and super high in protein, these egg cups will not only fill you up but will provide enough energy to last you until lunch.
Broccoli, spinach, and peppers give a delicious crunch and nice color to make these egg cups even more tempting.
I really enjoy these with some sour cream on the side, so make sure to give that a try. Love this recipe? Check out more low calorie recipes.
Per Serving:
Calories: 81
Fats: 3.7g
Protein: 6g
Carbs: 6.1g
Fiber: 1.6g
Sugar: 2.9g
Source: hauteandhealthyliving.com
If you haven't tried sweet banana and sweet potato muffins before, then here is your chance to make up for that loss of culinary joy.
With applesauce, vanilla, peanut butter, and rich and warm spices, these soft, fruity, and nutty muffins are the perfect snack you need on a fall afternoon.
Packed with nutrients and low in calories, these moist and deeply flavorful muffins will be equally enjoyed by the adults and children in your family.
Per Serving:
Calories: 72
Fats: 5g
Protein: 3g
Carbs: 5g
Fiber: 1g
Sugar: 2g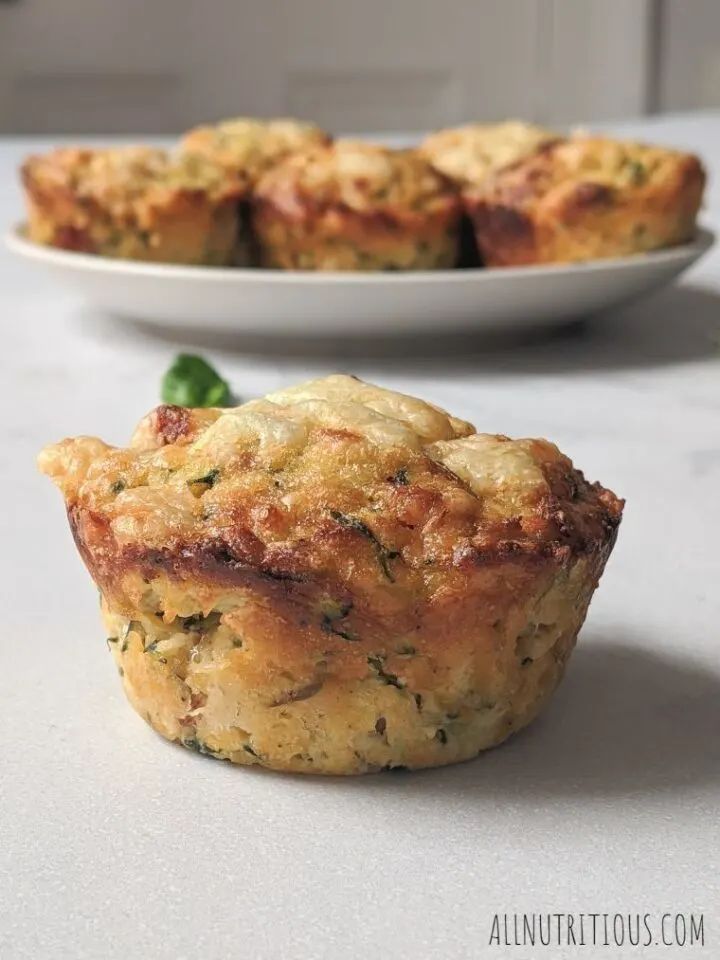 Source: allnutritious.com
If you cannot decide between pizza or veggie muffins, I've got the perfect solution for you – zucchini pepperoni cups.
Well-seasoned and cheesy, these pizza-like zucchini muffins are the perfect breakfast and snack.
Plus, they're so convenient on the go, that they make a perfect thing to put in your lunch box.
So flavorful, filling, and loaded with protein, these savory muffins will definitely become one of your favorites. I know I cannot get enough of them!
Per Serving:
Calories: 101
Fats: 6.3g
Protein: 6.2g
Carbs: 5.2g
Fiber: 1g
Sugar: 2.2g
Source: drugstoredivas.net
If you love carrot cake, then you will surely be a fan of this muffin version of the classic nutritious dessert.
And how could you not when this recipe is super easy to make? Made with a boxed cake mix, some water, and greek yogurt, this has to be one of the easier desserts ever.
If you need to further sweeten things up, feel free to add a handful of chocolate chips to the batter for a chocolatey and irresistible snack.
Per Serving:
Calories: 23
Fats: 1g
Protein: 1g
Carbs: 2g
Fiber: 0g
Sugar: 2g
Source: iheartvegetables.com
The name says it all – banana bread in a muffin tin, loaded with protein to kickstart your day and get you going!
The recipe uses Greek yogurt, which I believe is the secret to why these muffins are so moist, soft, and practically melt in your mouth.
Add some chopped nuts to the batter for a stronger fiber kick and a delightful crunch to make the bite even more satisfying.
Of course, you can never go wrong with some chocolate chips in your banana bread. And with only 63 calories here, you surely have room for some more sweetness.
Per Serving:
Calories: 63
Fats: 0.3g
Protein: 6.2g
Carbs: 9.6g
Fiber: 1.1g
Sugar: 1.5g
Source: summeryule.com
Made in the Air Fryer, these light and cinnamony banana muffins are not only easy to make, but super healthy, too.
The recipe suggests you mash the bananas until very smooth, but if you want to, you can leave some chunks if you are such a hardcore banana fan.
Needless to say, chocolate toppings will taste and look amazing on these muffins, so feel free to get your chocolate game on.
Per Serving:
Calories: 88
Fats: 2.2g
Protein: 2.3g
Carbs: 15.9g
Fiber: 1.9g
Sugar:
Source: nutriciously.com
Blueberry muffins have to be my all-time favorite sweet muffin recipe. And this vegan version is just one of the few I enjoy the most from my recipe folder.
Made with oats, dates, applesauce, soy milk, flaxseeds, and, obviously, blueberries, these naturally sweet and cinnamon-spiced muffins are the perfect treat.
Make sure not to omit the dates because they are the ones that give sweetness to this dish.
Also, the lemon juice adds a slight acidity that is much-needed here, which really transforms the taste.
Love blueberry muffins? You might want to check these oatmeal blueberry muffins.
Per Serving:
Calories: 92
Fats: 1g
Protein: 3g
Carbs: 19g
Fiber: 3g
Sugar: 8g
Source: ifoodreal.com
Eggs, quinoa, and veggies are one of the best nutritious combos you could possibly have for breakfast. And if they come in grab-and-go cups, even better.
With spinach, feta cheese, and sun-dried tomatoes, these protein-packed muffins are the perfect Greek-style lunch, breakfast, or snack you need to keep you full in between meals.
Plus, they are very freezer-friendly and nutrient-dense, perfect for healthy meal-prep enthusiasts.
This recipe doesn't include any fresh herbs, but if you want a more refreshing and palate-cleansing taste, add some chopped parsley or basil.
Love eggs? Check out these low-calorie egg recipes.
Per Serving:
Calories: 97
Fats: 5g
Protein: 6g
Carbs: 7g
Fiber: 2g
Sugar: 2g
Source: ifoodreal.com
Fluffy and super moist, these banana and strawberry muffins are just the thing you need when the afternoon hunger kicks in.
Plus, they are also loaded with chocolate chips, for some real dessert-like bites that will both fill you up and satisfy your sweet cravings.
This recipe uses chopped fresh strawberries, but you can also use fresh ones if you thaw them and chop them up.
If you're not a fan of strawberries, know that any berry type will taste amazing here.
Per Serving:
Calories: 104
Fats: 2g
Protein: 7g
Carbs: 16g
Fiber: 3g
Sugar: 4g
Source: healthbeet.org
If you love pistachios as much as I do, then you will definitely make this muffin recipe your number one snack/dessert.
With only 23 calories (crazy, I know!), these sweet, moist, and soft muffins that offer super crunchy bites, are perfect for your picnics and tea parties.
The recipe depends on buttermilk, but keep in mind that you can make your own by combining regular milk with some lemon juice or vinegar.
Per Serving:
Calories: 23
Fats: 0g
Protein: 1g
Carbs: 6g
Fiber:
Sugar:
Source: ifoodreal.com
Without even a grain of sugar, these applesauce-loaded banana muffins with spelt flour and maple syrup will be the perfect healthy snack for kids. And adults, too!
Moist, rich, and super flavorful, there is nothing I'd add to this delightful recipe. Okay, maybe some chopped nuts to give a slight crunchiness, but that's it.
Super sweet and rich in nutrients, these soft muffins are surely one of the best banana muffins you'll ever try.
Per Serving:
Calories: 107
Fats: 1g
Protein: 3g
Carbs: 24g
Fiber: 2g
Sugar: 10g
Source: healthbeet.org
Craving sweet muffins but don't have the time or energy for baking? Then this shortcut recipe is just the thing you need!
Made in a mug in just 5 minutes in the microwave, this has to be the easiest blueberry muffin you will ever make!
Healthy and with zero sugar, this low-calorie delight is the perfect guilt-free dessert.
The greek yogurt in this recipe boosts the moist texture, making this mug cake even more delicious!
Per Serving:
Calories: 103
Fats: 1g
Protein: 6g
Carbs: 18g
Fiber:
Sugar:
Source: primaledgehealth.com
Are you hooked on the spicy pumpkin fall flavors like I am? Then this low-carb and super low-calorie pumpkin muffin will be the ideal October treat.
Made with pumpkin puree and coconut flour, these muffins are light, airy, and oh-so moist and delicious.
The recipe uses both pumpkin pie spice and ginger powder for the ultimately fragrant and flavorful sweet but sugar-free treat.
Per Serving:
Calories: 44
Fats: 3.5g
Protein: 4g
Carbs: 3g
Fiber: 2g
Sugar: 1g
Source: masonfit.com
Pork carnitas has to be one of the most delicious, fast, and comforting Mexican food you will ever have. But have you ever tried it in muffins?
This breakfast delight has all the satisfying fast-food flavors, without the many calories or fattening carbs.
And the best part/. It is super filling and energizing for breakfast, giving you a strong protein kick to go about your day the right way.
Plus, with so much mozzarella cheese, how can a muffin taste anything but super delicious?
Per Serving:
Calories: 71
Fats: 2.4g
Protein: 9.6g
Carbs: 2.2g
Fiber: 0g
Sugar: 0g
Source: masonfit.com
Who can possibly say no to delicious, cheesy, pepperoni-filled pizza bites? These pizza-like muffins will surely become one of the most beloved snacks in your home.
The thing I love most about these bites is that they are not your regular pizza flavor. With pineapple tidbits and pickled jalapeno slices, these bites bring some spicy and sweet kick.
And besides, with a recipe that makes 24 pizza bites, these are the perfect party or game night food to munch on.
Per Serving:
Calories: 47
Fats: 1.8g
Protein: 4g
Carbs: 3.5g
Fiber: 0g
Sugar: 0g
Source: champagneandcoffeestains.com
Classic flavors minus all the empty calories, these oat and applesauce muffins with chocolate chips and cinnamon are destined to meet your sweet-tooth expectations.
So chocolatey and decadent with rich flavors and aroma that will bring warm and inviting vibes to your kitchen, you will have a hard time believing these are actually healthy.
Under 100 calories for a sweet breakfast/dessert/snack? Sounds pretty tempting to me!
Check out more healthy pantry recipes here!
Per Serving:
Calories: 94
Fats: 3g
Protein: 2g
Carbs: 15g
Fiber: 2g
Sugar: 9g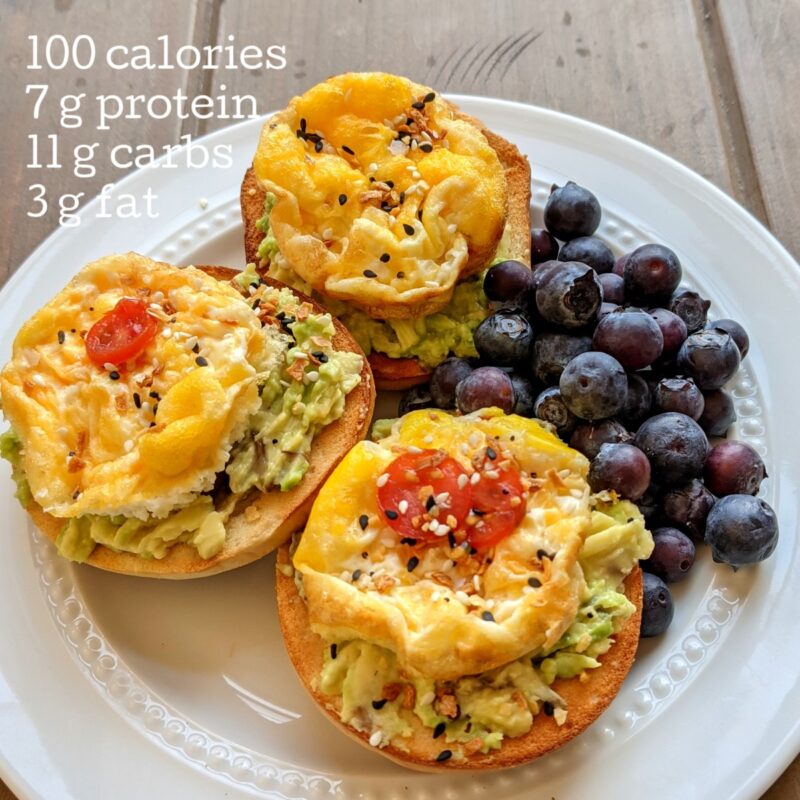 Source: healthbeet.org
Technically, these are not muffins but cheesy egg toppings for your mini bagels breakfast.
But, be as it may, these muffin-tin egg cups will offer a nice protein punch to your mornings in the most delicious and filling way possible.
If you want to add some more nutrients to your cups, chop some colorful veggies and herbs and add them to the cheesy egg mixture.
Per Serving:
Calories: 100
Fats: 3g
Protein: 7g
Carbs: 11g
Fiber: 0g
Sugar: 0g
Source: thegraciouspantry.com
I could never resist a good English muffin. But this healthy and clean version surpasses all expectations.
With less than 100 calories (94 to be exact), soft texture, and great taste, these super filling English muffins are the perfect alternative to the fattening white-flour classic.
Whether you serve them with jam, eggs, or a veggie spread, one thing is sure – you will instantly fall in love with these wonderful bites.
Per Serving:
Calories: 94
Fats: 1g
Protein: 3g
Carbs: 16g
Fiber: 2g
Sugar: 1g
Source: diabetesstrong.com
Wrapped in turkey bacon slices, and loaded with veggies, these spicy and nutritious egg cups are the perfect healthy breakfast choice.
If you want to take the heat off, omit the jalapeno chili. But do that at your own risk, as that spicy kick really takes the flavor to a whole new level.
Whether you use bell peppers and spinach or some other veggies, these protein-loaded egg cups will certainly jumpstart your mornings.
Per Serving:
Calories: 88
Fats: 4.3g
Protein: 10.8g
Carbs: 2.1g
Fiber: 0.6g
Sugar: 1.3g
Source: easyhealthllc.com
A crescent roll with diced ham, grated cheese, and egg! Isn't that the perfect breakfast or lunch-box favorite, or what?
And if you're counting the calories that go into your body daily, these portion-sized muffins with just 100 calories, will become a favorite!
Crispy, cheesy, and packed with a decent amount of protein, these casserole-like muffins are the ideal energizing food on the go.
Need more inspiration? Check out these Whole30 breakfast recipes.
Per Serving:
Calories: 105
Fats: 7g
Protein: 5g
Carbs: 9g
Fiber:
Sugar: 2g
20 Skinny Low-Calorie Muffins You'll Love
Give these healthy Low-Calorie Muffins a try! Easy to make, delicious, and great for a quick healthy breakfast.
Ingredients
1. Egg Muffin Cups
2. Sweet Potato Muffins
3. Keto Pepperoni Zucchini Muffins
4. Carrot Cake Muffins
5. Banana Bread Protein Muffins
6. Banana Muffins
7. Vegan Blueberry Muffins
8. Quinoa Egg Muffins
9. Whole Wheat Strawberry Banana Protein Muffins
10. Pistachio Muffins
11. Healthy Banana Muffins
12. Blueberry Muffin in a Mug
13. Keto Pumpkin Muffins
14. Carnitas Breakfast Muffins
15. Low Carb Pizza Muffins
16. Chocolate Chip Muffins
17. Egg White Muffin Bites
18. Clean Eating English Muffins
19. Healthy Egg Muffins
20. Breakfast Casserole Muffins
Instructions
Scroll up to get a bunch of easy, yummy, and delicious muffins. Don't be afraid to get creative with the ingredients, you might discover a flavor you didn't know you liked.
Get your shopping list going and make sure you've got all the ingredients.
Get cooking and make your next Low-Calorie Muffin!
Notes
Which one of these recipes was your favorite? Let me know in the comment section or on Pinterest!