Not all sweets derail you from your diet! You can enjoy these low calorie desserts with a smile on your face and without a shred of guilt!
Enjoying a dessert doesn't always mean sweating on the treadmill afterward! There's no need to be feeling guilty about devouring a sugary treat with these low-calorie dessert recipes!
Whether vegan, gluten-free, or low-carb. We've got your sweet tooth covered! Whatever your dietary needs, you will find a few sweet treats to enjoy from this list.
And the best part? This guilt-free, low-calorie desserts will not thwart your weight-loss goals!
What Sweets Are Under 100 Calories?
There are many store-bought desserts that you can enjoy without consuming more than 100 calories.
For instance, a 16-gram chocolate chip cookie has only 80 calories.
A regular Reese's cup has 88 calories. Enjoying 4 Oreo Thins will cost you 40 calories.
But if you're mindful of the calorie intake, it is wise to make your own healthy recipes.
And luckily for you, this article offers a plethora of lower-than-100-calorie healthy dessert recipes. Check them out!
Best Low Calorie Desserts
Here are the ultimate weight loss-friendly desserts that will not push you out of your daily calorie limit!
Source: allnutritious.com
You can easily whip up these coconut macaroons with only four ingredients and no more than half an hour.
Dipped in chocolate and with 58 calories each. You are risking becoming seriously addicted to these yummy little treats.
These favorite desserts are perfect for all of you weight watchers out there in a great way.
But they will also be very popular with the kids. And you can let them enjoy these sweets without worrying about sugar rushes.
Because this delicious low-calorie dessert recipe doesn't even use sugar.
Made with just a tablespoon of honey and some dark chocolate. This lower-calorie dessert recipe has to be the healthiest treat after dinner.
You'll also enjoy these other tropical coconut dessert recipes!
Per Serving:
Calories: 58
Fats: 4.7g
Protein: 0.9g
Carbs: 3.6g
Fiber: 1.2g
Sugar: 2.3g
Source: wholesomefarmhouserecipes.com
What better way to cool down on a hot summer day than by enjoying a bowl of melons by the pool? But this colorful and vibrant fresh fruit salad is not your regular bowl.
For the best look, use a melon baller to scoop out the fruit. But since not all of us have that in our utensil drawer, you can also use a cookie scoop or even a teaspoon for this fruity dessert.
You will need watermelon, cantaloupe, and honeydew for this healthy eating salad. And approximately 2 cups of scooped-out balls of each.
Combine these colorful fruity balls with some lemony flavors and sugars, and they're ready to be served.
Per Serving:
Calories: 60
Fats: 0.2g
Protein: 1g
Carbs: 15g
Fiber: 1g
Sugar: 14g
Source: allnutritious.com
Have you ever tried sweet Nachos before?
Well, these use the same principle of making but are sweet. Instead of tortilla chips, you use apple slices. And top them with sweet and delicious ingredients for a guilt-free dessert.
For these healthy nachos, you will need some warm nut butter to drizzle the apple with. You can use almond, peanut, or even cashew butter with no added sugar.
Then, you will sprinkle some shredded coconut over them. And top with dark chocolate chips to satisfy that chocolate craving.
Just make sure they're dark because they're much healthier and lower in calories, and have less sugar.
Crunchy, saucy, chocolatey, and super irresistible. This fancy platter will be the perfect afternoon treat.
Per Serving:
Calories: 315
Fats: 20g
Protein: 7.2g
Carbs: 32g
Fiber: 6g
Sugar: 21g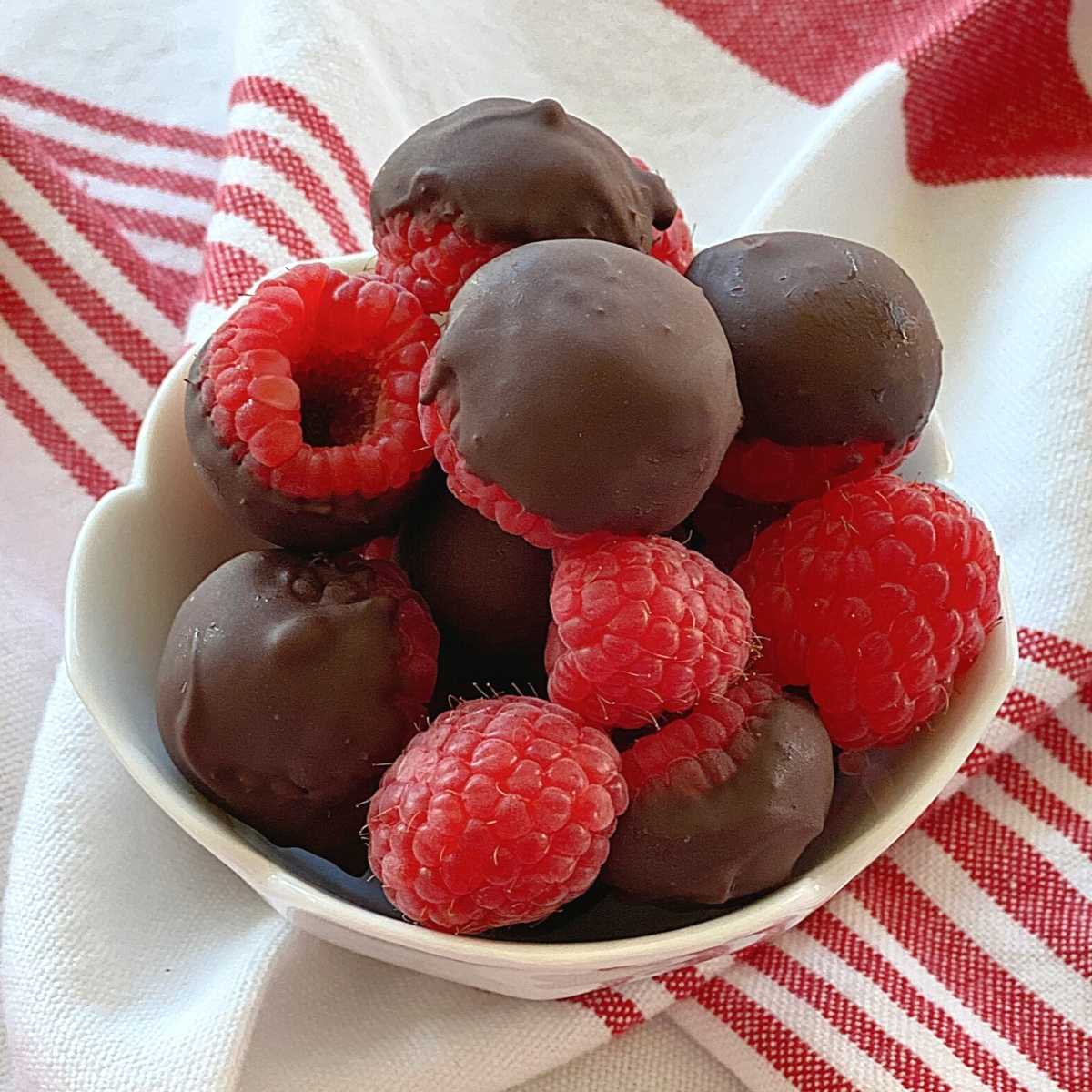 Source: dinner-mom.com
Frozen raspberries dipped in chocolate! Is there really a need to say anything more?
This frozen treat uses fresh raspberries. But if they're not in season, you can use frozen fruit, too. Just dip them halfway in chocolate, and allow them to set in the freezer.
The recipe uses about 20 raspberries and dark chocolate. And such a generous portion contains less than 100 calories. So dig in freely and satisfy your sugar craving!
Per Serving:
Calories: 98
Fats: 6g
Protein: 1g
Carbs: 12g
Fiber: 3g
Sugar: 1g
Source: allnutritious.com
When you're kids are begging you for something sweet, whip these crunchy apple snacks up!
Smeared with almond butter and topped with crunchy granola. These are not only sweet and healthy, but they have a satisfyingly crunchy texture, too.
And that's not even all. The thing that will make your kids fall in love with them? Dark chocolate chips, of course!
They are also sprinkled with a bit of cinnamon for flavor. But feel free to omit it if you don't enjoy the cinnamony fragrance.
Per Serving:
Calories: 40
Fats: 2.3g
Protein: 0.8g
Carbs: 4.4g
Fiber: 0.9g
Sugar: 2.8g
Source: healthmylifestyle.com
Yummy dates stuffed with peanut butter and coated with chocolate! The perfect sweet treat to enjoy when you're watching your waistline.
Because a generous portion of 12 small dates has just 90 calories.
For the same amount of calories, you can also use 6 large Medjool dates.
These are not only great to devour right away, but they also freeze well. And can even be enjoyed frozen.
Per Serving:
Calories: 90
Fats: 5g
Protein: 2g
Carbs: 11g
Fiber: 1g
Sugar: 9g
Source: simplylowcal.com
Whipped cream cracker sandwiches coated with rainbow sprinkles. A dreamy treat for every little girl. And adults, really. Because you will be licking your fingers after devouring this delight.
If you are not in the mood for making a dessert, plus you're counting calories, this recipe is a good choice.
What you need to whip this up (literally!) is whipped topping, Graham crackers, and optional sprinkles.
Just top the cracker with whipped cream. Place the other cracker on top. And enjoy! The price? Only 85 calories!
Per Serving:
Calories: 85
Fats: 1g
Protein: 1g
Carbs: 15g
Fiber: 1g
Sugar: 5g
Source: theshortordercook.com
If you're into parfait desserts, this is something you have to try. Creamy, whipped, and super-sweet strawberry mousse!
And you only need a handful of ingredients. Strawberries, sugar, whipped cream, vanilla, and a touch of lemon juice. This no bake dessert recipe is simple to make.
This easy recipe requires fresh strawberries, but you can also use frozen ones. Plus, you can also make this perfect low-calorie dessert with other fruits, too.
Per Serving:
Calories: 128
Fats: 7.5g
Protein: 0.7g
Carbs: 15.3g
Fiber: 1g
Sugar: 13.4g
Source: chefsavvy.com
I love individual desserts. Not because I don't like sharing food (Not a Joey, guys!) but because serving individual portions is much more convenient.
And this recipe couldn't be more convenient!
Just divide your berries among ramekins, top with a crumble mixture, and bake for half an hour. How easy does that sound?
The crumble mixture is a combo of flour, oats, butter, and sugar.
Per Serving:
Calories: 150
Fats: 9g
Protein: 2g
Carbs: 18g
Fiber: 3g
Sugar: 10g
Source: worldlytreat.com
I don't need to tell you how refreshing popsicles are. But these tangy pops will help you kick off the summer heat after the first lick.
Mangoes, pineapples, oranges, and lime. Plus, some tajin seasoning to add a touch of heat and tanginess. That perfectly balances the flavors and makes these popsicles irresistible!
If you were dreaming of summery tropical flavors, then this recipe couldn't have come at a better time.
Per Serving:
Calories: 71
Fats: 0.9g
Protein: 1.3g
Carbs: 15.8g
Fiber: 1.2g
Sugar: 13.6g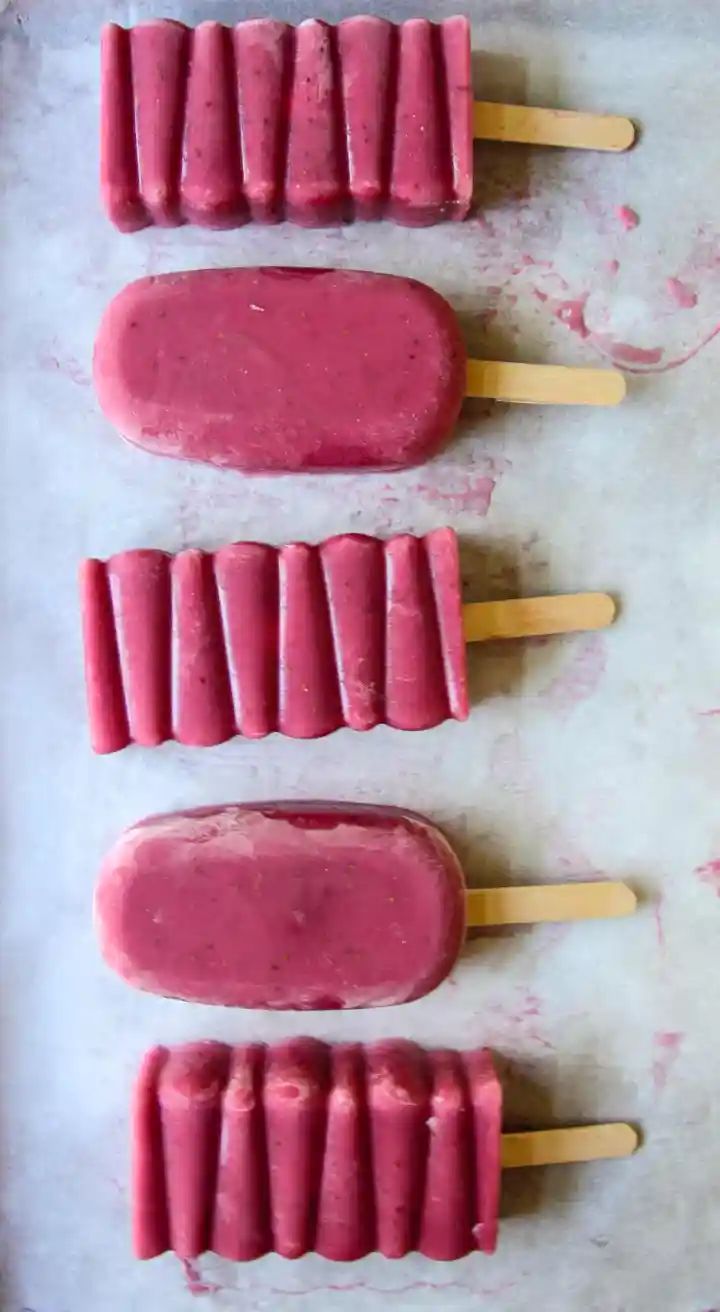 Source: thefoodblog.net
If the previous recipe drew water to your mouth, then you will be happy to know that I've got another fruity popsicle for you.
Only this one has only 21 calories. And 4 grams of carbs.
Because guess what? This recipe doesn't even use sugar. With only two ingredients – strawberries and almond milk – these popsicles have to be the healthiest treat ever.
Per Serving:
Calories: 21
Fats: 1g
Protein: 1g
Carbs: 4g
Fiber: 1g
Sugar: 2g
Source: nourishedwithnatalie.com
For this recipe, I have three magic numbers for you: 4, 17, and 73. 4 ingredients are needed. 17 minutes to whip this up. And only 73 calories per serving.
Bananas, oats, peanut butter, and chocolate chips. Soft, crispy, chocolatey, and incredibly flavorful.
They do not only make a perfect dessert or snack, but they can also be enjoyed for breakfast. Just serve a tall glass of milk with these, and everyone will be satisfied.
Per Serving:
Calories: 73
Fats: 4g
Protein: 2g
Carbs: 9g
Fiber: 1g
Sugar: 4g
Source: asweetalternative.com
Citrusy, tangy, zesty, and sweet enough to balance all of the other flavors. These lemonade popsicles are a super easy dessert to be having on a summer day. Plus, they're budget-friendly, too.
Lemon juice and zest, water, and maple syrup. These are vegan, paleo, and free of processed sugar.
Both kids and adults will absolutely love them.
Per Serving:
Calories: 41
Fats: 1g
Protein: 1g
Carbs: 10g
Fiber: 1g
Sugar: 9g
Source: flavourstreat.com
A creamy dessert that will satisfy all strawberry lovers!
Even if you're not a fan of frozen yogurt, you will love how easy it is to whip this up. All you need is 5 minutes and 4 simple ingredients.
Yogurt, honey, and lime are blended along with the strawberries for a creamy and flavorful mixture. The fruity yogurt is then transferred to a preferred container and frozen.
Per Serving:
Calories: 27
Fats: 0.01g
Protein: 0.05g
Carbs: 7g
Fiber: 0.05g
Sugar: 7g
Source: asweetalternative.com
Chocolate and banana popsicles. Your little ones will definitely enjoy these!
Ripe bananas, cocoa powder, maple syrup, and vanilla. That's all you need, really. But the taste is amazing.
A sweet treat that will satisfy you between meals in the summer. They're also vegan and paleo. And they're free of gluten and refined sugar.
Use up those bananas with these best-ever banana dessert recipes!
Per Serving:
Calories: 94
Fats: 1g
Protein: 1g
Carbs: 23g
Fiber: 3g
Sugar: 14g
Source: cinnamonandkale.co.uk
Not only is this cheesecake low in calories, but it also contains only 4 grams of fat.
It is made with a healthier base made with oats and applesauce. And it has a topping of cottage cheese and yogurt that is rich in lemon flavors.
It is best if you serve this cheesecake garnished with fresh fruits. But even without any drizzle or extra topping, this will be super indulgent.
Enjoy more guilt-free desserts with these other low-calorie cake recipes!
Per Serving:
Calories: 145
Fats: 4.1g
Protein: 9.2g
Carbs: 18.5g
Fiber: 1.4g
Sugar: 8.6g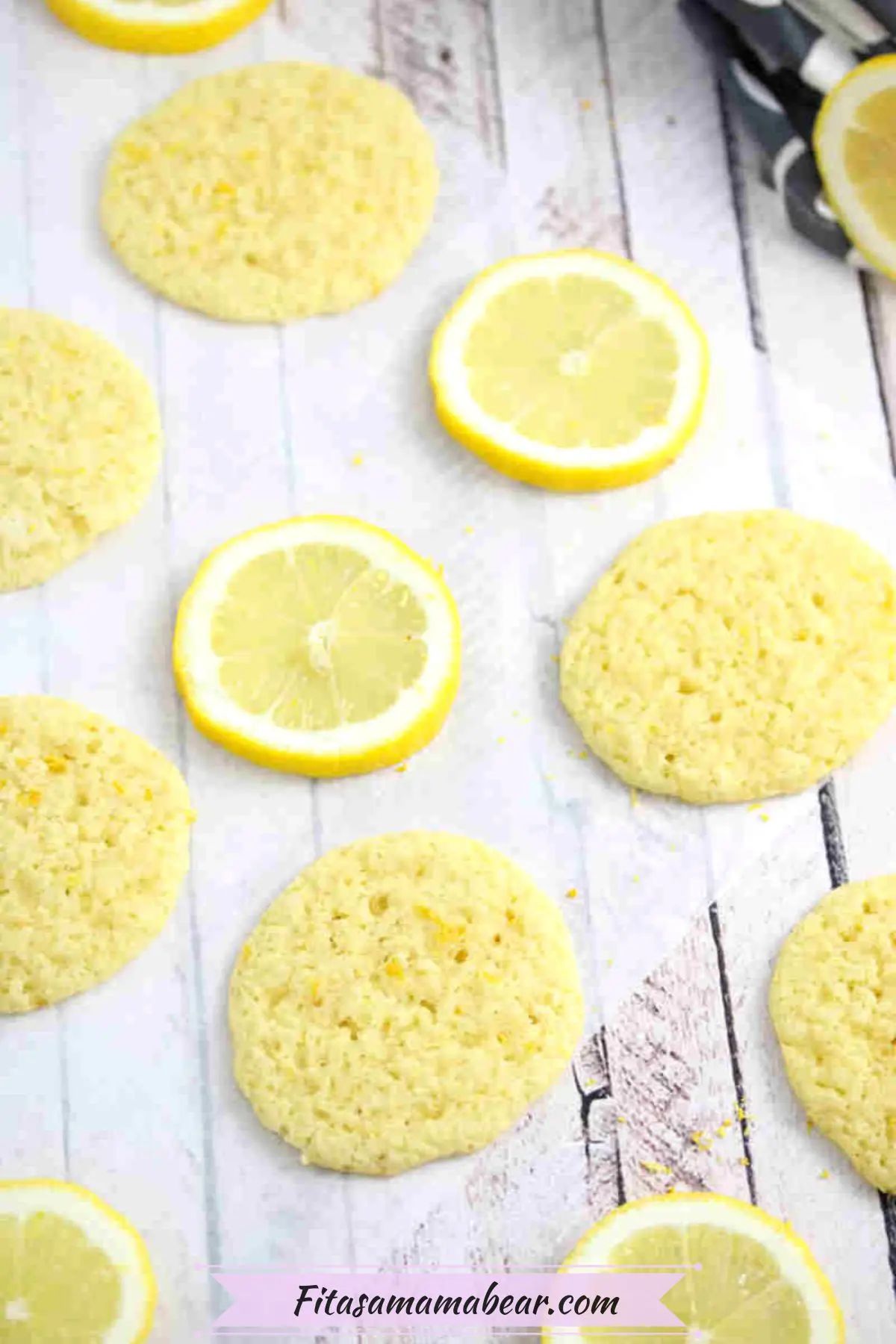 Source: fitasamamabear.com
Minimal ingredients but a super rich flavor. These lemon cookies are both skinny and satisfying.
These cookies are also sweet, chewy, and refreshing. They will make a tasty ending to any summer meal.
And this recipe is also gluten-free and vegan, which makes the cookies a safe treat for large parties when you're serving a crowd.
They contain only 68 calories, so they're also a guilt-free indulgence.
Per Serving:
Calories: 68
Fats: 3g
Protein: 1g
Carbs: 11g
Fiber: 1g
Sugar: 5g
Source: cinnamonandkale.co.uk
Packed with vibrant colors, fruity flavor, and a refreshing taste! This light summer treat will satisfy your whole family. From the little ones to the seniors.
All you need are some mixed summer fruits, gelatine, and some berry smoothie.
And after two hours in the fridge, it can be enjoyed without too much guilt. Because a portion only contains 125 calories.
Per Serving:
Calories: 125
Fats: 1.4g
Protein: 2.7g
Carbs: 25.3g
Fiber: 3g
Sugar: 17.6g
Source: theheirloompantry.co
Call it ice cream or nice cream; this creamy frozen dessert is healthy and super delicious.
It contains bananas, matcha powder, and a touch of milk and honey.
It also takes only 10 minutes to whip up. And it provides just 115 calories per portion of the full recipe. Perfect for those who usually feel guilty after a couple of scoops.
Per Serving:
Calories: 115
Fats: 1g
Protein: 2g
Carbs: 29g
Fiber: 3g
Sugar: 16g
Source: thedeliciousspoon.com
The recipe promises to cool you down in an instant, and I am here to confirm that.
But besides being incredibly delicious and refreshing, these simple swaps for regular popsicles look pretty fancy, too.
White popsicles with whole raspberry peaking through. The perfect end to a barbecue party with your friends.
Plus, they each have about 72 calories, so you will probably be tempted to reach for the second pop.
Per Serving:
Calories: 72
Fats: 3g
Protein: 6g
Carbs: 8g
Fiber: 2g
Sugar: 3g
Source: twocloveskitchen.com
Air-fried pears with cinnamon! Have you ever tried something like this?
If you are steering clear from cakes, cookies, and sweets altogether, this is a more nutritious alternative. And it is guaranteed to satisfy your sugary cravings with a little bit of spice.
Smeared with maple syrup and made in 10 minutes, I don't see how anyone can skip these delicious recipes. Can you?
Per Serving:
Calories: 156
Fats: 0.3g
Protein: 1g
Carbs: 41g
Fiber: 6g
Sugar: 29g
Source: artofnaturalliving.com
When 4th of July rolls over, make this lovely dessert for your backyard party!
You need red, blue, and white, so we have strawberries, blueberries, and whipped cream. Plus, some meringue stars add some texture and extra sweetness.
This parfait really cannot be simpler to make. And it will still look super fancy on your festive table.
These other patriotic 4th of July dessert recipes will help complete your spread!
Per Serving:
Calories: 136
Fats: 4g
Protein: 2g
Carbs: 23g
Fiber: 2g
Sugar: 20g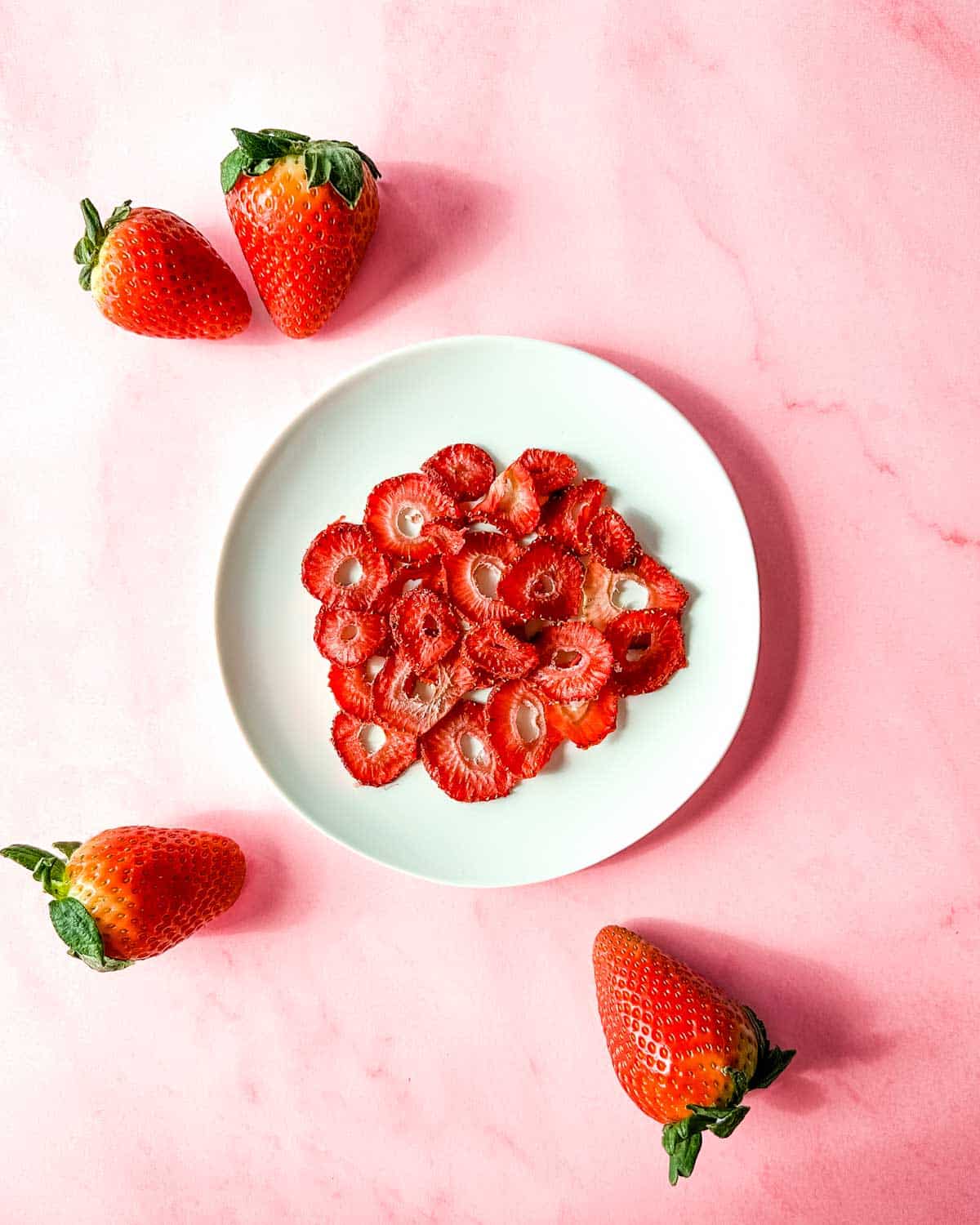 Source: twocloveskitchen.com
Dehydrated strawberries make a sweet and tasty snack. And they can also be served as a healthy dessert that is seriously low in calories.
These are crisp and super addictive, so you might want to double the batch, just in case.
And no need to feel guilty at all. These strawberry slices will inject a powerful Vitamin C dose and are also rich in antioxidants.
Per Serving:
Calories: 24
Fats: 0.2g
Protein: 1g
Carbs: 6g
Fiber: 2g
Sugar: 4g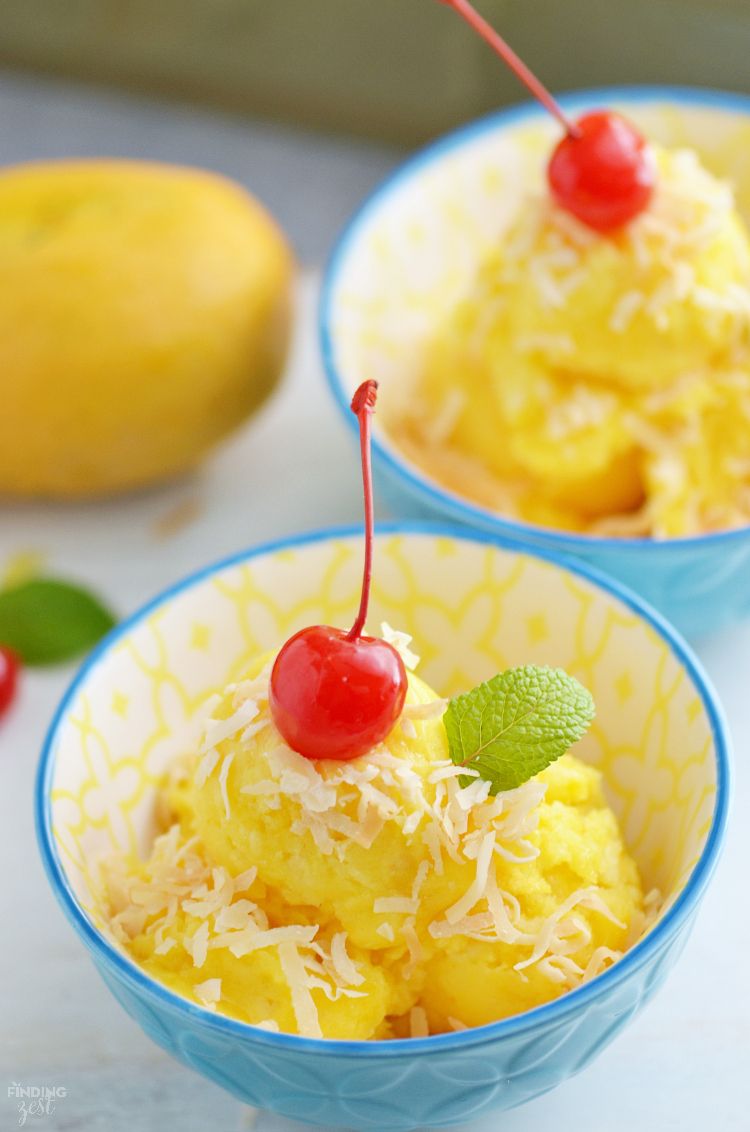 Source: findingzest.com
Tropical sorbet is never a bad idea when the weather outside is sizzling hot. And this one with mangoes and pineapples is seriously satisfying!
You just blend the fruit along with some maple syrup, then place it in the freezer. You don't have to wait until it's frozen all the way to enjoy it. And you probably will not have the patience, too.
If you don't have maple syrup, you can also use honey or agave nectar.
Then top it off with some toasted coconut for a dash of crunchiness.
Per Serving:
Calories: 104
Fats: 0.4g
Protein: 1g
Carbs: 27g
Fiber: 2g
Sugar: 22g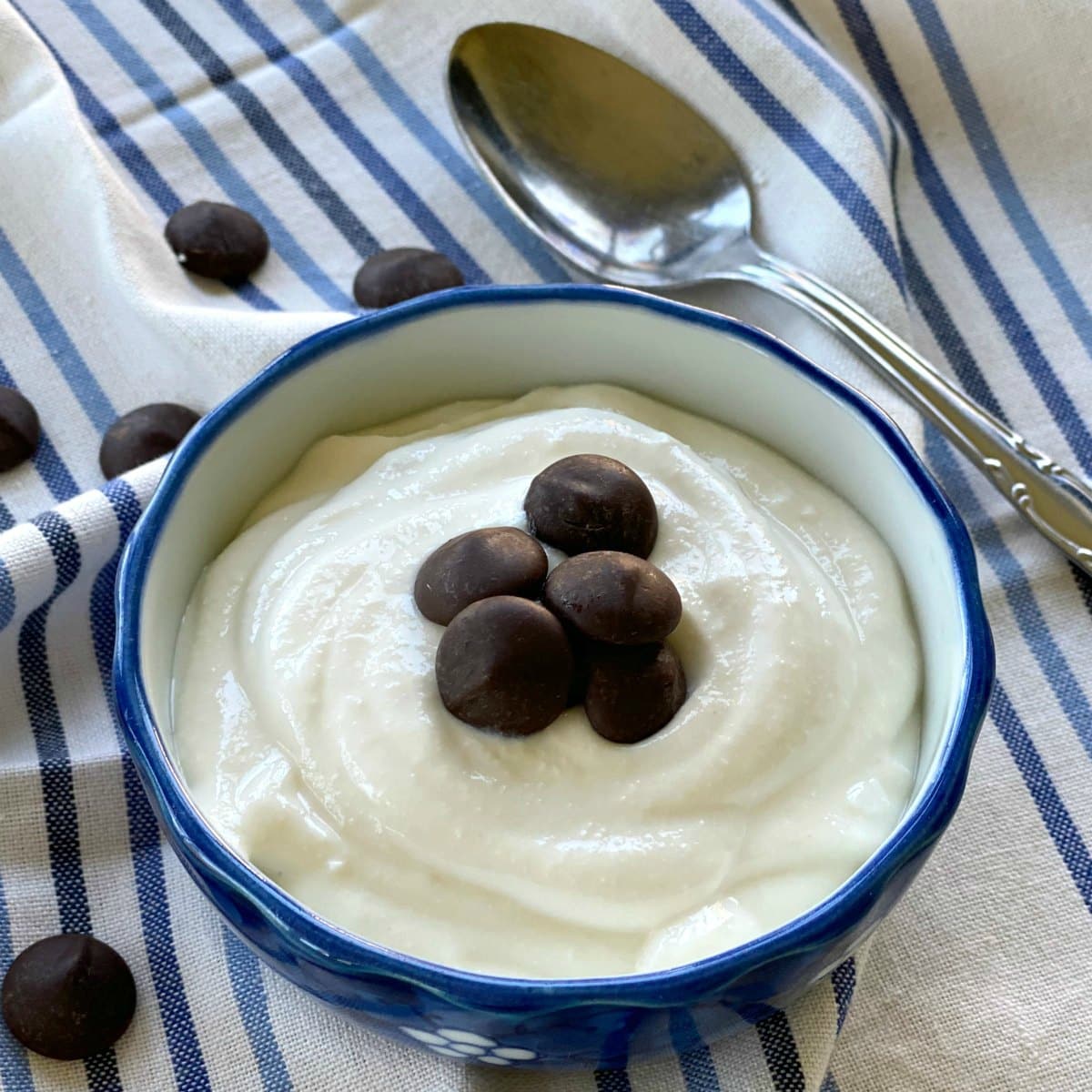 Source: dinner-mom.com
Vanilla-flavored and sweet cottage cheese. Whipped until a smooth and super creamy custard is made. That's what this recipe comprises.
Just plain milkiness that you can top with fresh berries. Or even drizzle with your favorite sauce. The options are practically endless.
For the best taste, use only full-fat cheese.
Per Serving:
Calories: 109
Fats: 5g
Protein: 12g
Carbs: 4g
Fiber:
Sugar: 3g
Source: healthmylifestyle.com
When the strawberry season is in full bloom, you can never have too many strawberry recipes in your folder. At least, that's the case in my kitchen.
And this vegan recipe is just a reminder that sometimes we need simple things to feel special.
So here's a simple recipe for chocolate-covered strawberries that will put a smile on everyone's face!
Per Serving:
Calories: 140
Fats: 7g
Protein: 2g
Carbs: 17g
Fiber: 2g
Sugar: 10g
Source: twopinkpeonies.com
A plain fruit salad without any special add-ins! Just fruits, sweeteners, and a touch of vanilla. Okay, and a few mints leaves for a fancy garnish if you prefer.
This salad combines mandarin oranges, blueberries, strawberries, and grapes. But you can use other fruits, too. Pineapples, mangoes, and even apples will be great here.
The most desired part of this has to be the orange-flavored syrup made with sugars and juice.
If you have a couple of oranges to spare, try these other refreshing orange dessert recipes!
Per Serving:
Calories: 109
Fats: 0.2g
Protein: 1g
Carbs: 28g
Fiber: 1g
Sugar: 26g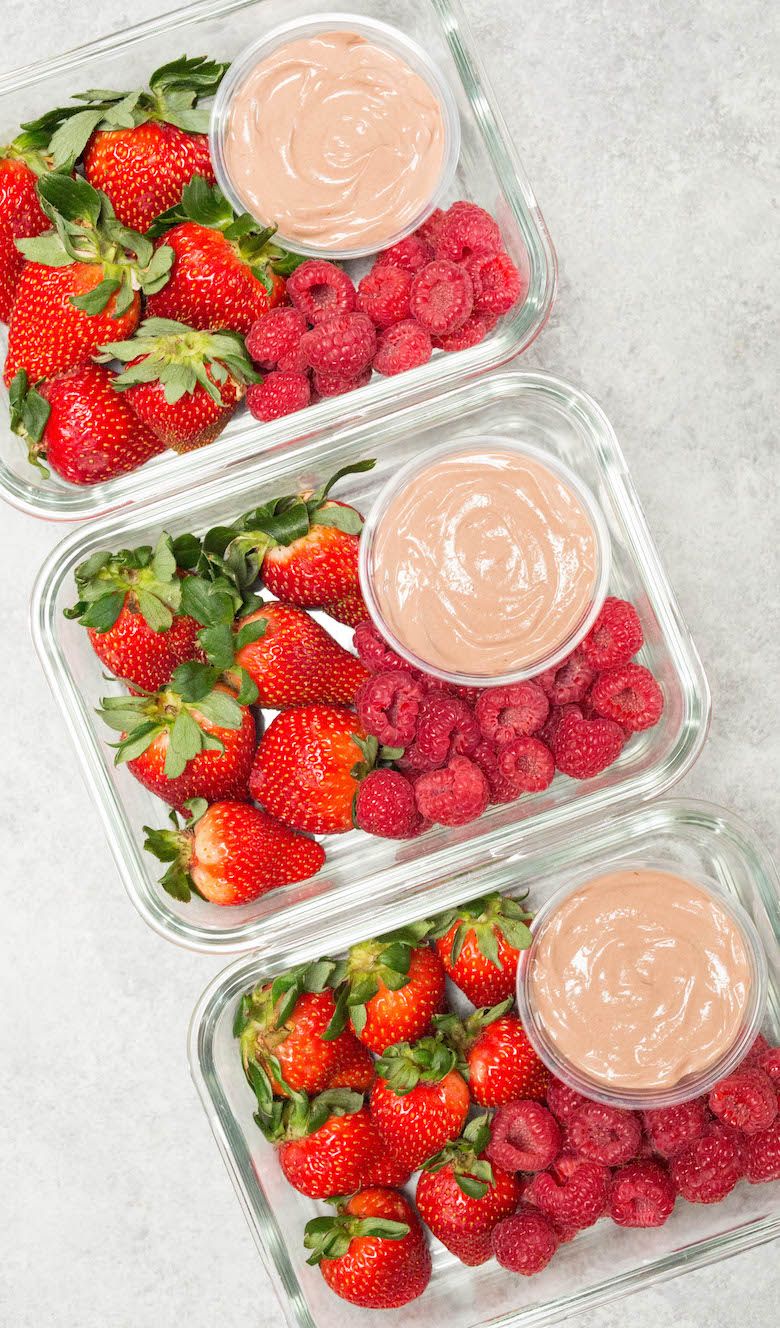 Source: ihatemealprep.com
Have you ever made a chocolatey yogurt dip before? If not, you shouldn't skip this recipe! Because your kids will go crazy about it!
Made with honey, cocoa, and yogurt. You just mix these up and pour them into a small container. Then you serve this alongside berries.
Now, you dip your berries into the creamy goodness and enjoy.
Per Serving:
Calories: 132
Fats: 1.4g
Protein: 5.1g
Carbs: 24.6g
Fiber: 3g
Sugar: 19.1g
Source: chefsavvy.com
When it comes to desserts, I'm often vanilla. I just love to keep things simple and healthier. And I absolutely enjoy pairing these plain flavors with fresh fruits.
So, this recipe is tailored to satisfy my palate.
Sugary and vanilla yogurt. Frozen until it becomes thick and refreshingly delicious.
The recipe also uses a touch of lemon, which gives this dessert some tart flavors that make it even yummier.
Per Serving:
Calories: 188
Fats: 1g
Protein: 15g
Carbs: 31g
Fiber:
Sugar: 30g
Source: ihatemealprep.com
I love chia puddings, so I may be biased when it comes to this recipe. But if you enjoy creamy and chocolatey desserts, then you should definitely try it, too.
Made with cocoa powder and not actual chocolate, this dessert is much healthier. Besides, it is also loaded with fiber, which is yet another reason to give it a try.
And if that's not convincing, then probably its delicious taste can change your mind.
Per Serving:
Calories: 132
Fats: 8g
Protein: 6g
Carbs: 13.8g
Fiber: 10.4g
Sugar: 3.4g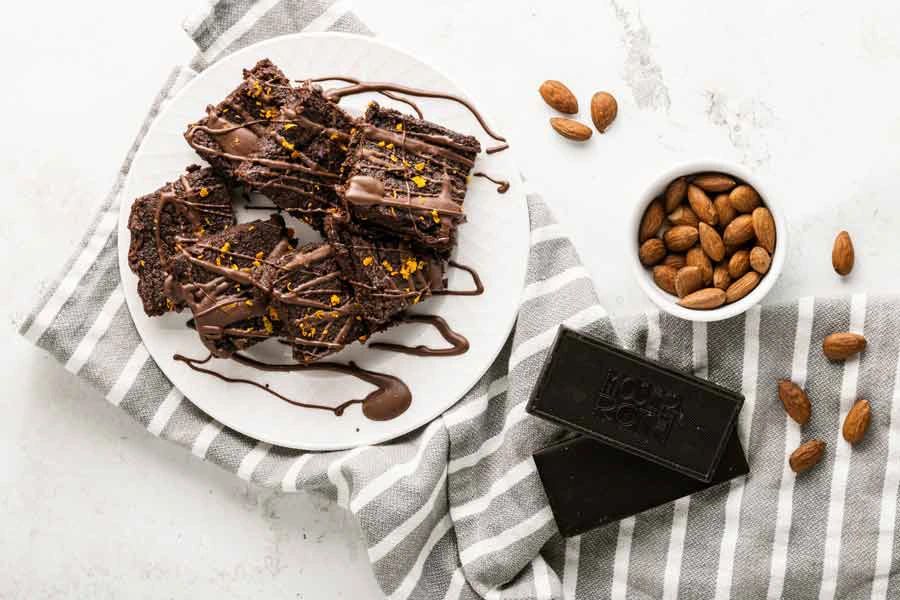 Source: cuisineandtravel.com
Do you usually say no to bars of brownies because you're watching your weight? Well, you'll freely devour this recipe.
Made with sweet potatoes, dates, cacao powder, and almond flour. This healthy dessert will become a regular treat in your house.
Besides, it only contains 124 calories. So there is really no need to sweat it off afterward.
Per Serving:
Calories: 124
Fats: 7g
Protein: 3g
Carbs: 16g
Fiber: 3g
Sugar: 8g
31 Best Low Calorie Desserts for Weight Loss
Unleash the power of healthy indulgence with our curated selection of irresistible low-calorie desserts.
Ingredients
1. 4-Ingredient Coconut Macaroons with Chocolate
2. Melon Ball Lemon Lime Fruit Salad
3. Healthy Apple Nachos
4. Frozen Chocolate Covered Raspberries
5. Healthy Apple Snacks
6. Chocolate Peanut Butter Stuffed Dates
7. Graham Cracker and Whipped Cream Sandwiches
8. Strawberry Mousse
9. Individual Mixed Berry Crisp
10. Tajin Mango Popsicles
11. Strawberry Popsicles
12. 4-Ingredient Cookies
13. Lemon Popsicles
14. Strawberry Frozen Yogurt
15. Banana Chocolate Popsicles
16. Low Fat Lemon Cheesecake
17. Chewy Gluten-Free Lemon Cookies
18. Summer Fruit Jelly
19. Vegan Matcha Nicecream
20. Raspberry Keto Popsicles
21. Air Fryer Pears with Cinnamon
22. Red, White, and Blueberry Parfait with Meringue Stars
23. Air Fryer Dehydrated Strawberries
24. Mango Sorbet
25. Whipped Cottage Cheese Dessert Cups
26. Vegan Chocolate Covered Strawberries
27. Dairy Free Fruit Salad
28. Chocolate Greek Yogurt Fruit Dip Meal Prep
29. Vanilla Frozen Yogurt
30. Chocolate Chia Seed Pudding
31. Fudgy Vegan Chocolate Brownies with Sweet Potatoes
Instructions
Scroll up to get a bunch of easy, yummy, and delicious deserts. Don't be afraid to get creative with the ingredients, you might discover a flavor you didn't know you liked.
Get your shopping list going, and make sure you've got all the ingredients.
Get cooking and make your next Low-Calorie Dessert!
Notes
Which one of these recipes was your favorite? Let me know in the comment section or on Pinterest!