If you're looking to whip up delicious meals that are both gluten-free and packed with flavor, you've come to the right place. These gluten-free chicken recipes are for you!
Whether you're following a gluten-free diet due to dietary restrictions like celiac disease or simply looking to try something new, I've got you covered with an easy recipe the whole family will love.
In this mouthwatering listicle, I've rounded up forty-one delicious gluten-free chicken recipes that are easy to make with simple ingredients.
These gluten-free dinner recipes are all incredibly tasty and perfect for satisfying those hearty cravings on busy weeknights.
From succulent chicken dishes infused with international flavors to classic comfort foods with a gluten-free twist, this list of delicious recipes has something for every palate.
So, without any further ado, let's get into these easy chicken recipes!
What Can You Cook for Someone Who is Gluten Intolerant?
Cooking for someone who is gluten intolerant means you need to be extra careful, but it's far from impossible! Remember to always read labels on packaging and look for hidden sources of gluten.
When in doubt, choose naturally gluten-free ingredients, like many of the ones on this list.
Prepare easy gluten free meals from scratch when and where you can, to make sure you know everything going into your favorite recipes.
What Type of Chicken is Gluten-Free?
All chicken is gluten-free in its natural form. So, if you're cooking from scratch, you're golden!
The potential for gluten comes in when you purchase processed, frozen, or pre-packaged chicken products.
Many of these products have coatings that contain gluten or might have cross-contamination.
Even if the packaging says the product is gluten-free, if it was produced in a factory setting, chances are it was produced around other products that do contain gluten.
Even pre-seasoned chicken might have this issue, depending on the brands you buy from. To ensure you're always serving gluten-free chicken, make sure to exercise caution and always read the label!
Gluten-Free Chicken Breast Recipes
When it comes to versatile and lean protein, few ingredients top the list quite like boneless skinless chicken breasts.
From succulent grilled delights to savory skillet sensations, these gluten-free chicken dinner recipes prove that gluten-free dining can be both delicious and nutritious.
Source: allnutritious.com
Get ready to embark on a culinary adventure with this Mozzarella-Stuffed Chicken Breast recipe.
Picture this: tender chicken breasts, delicately sliced open and generously stuffed with creamy mozzarella cheese.
The result?
A gluten-free masterpiece that's not just visually appealing but bursts with the flavors of perfectly seasoned chicken with olive oil and gooey cheese, creating a symphony of tastes in every bite.
Source: seasonalcravings.com
This gluten-free gem combines the simplicity of just five ingredients with the fresh and vibrant flavors of ripe tomatoes, fragrant fresh basil, and luscious mozzarella cheese.
Nestled alongside juicy chicken breasts, it's a delightful dish with fresh herbs that showcase the beauty of uncomplicated yet delicious cooking.
You might also enjoy this delicious chicken salad meal prep recipe!
Source: allnutritious.com
Become a culinary artist with our next recipe: Cast Iron Chicken Breast.
Learn the secrets to achieving the perfect sear on your gluten-free chicken, resulting in a crispy, golden-brown exterior while keeping the inside tender and juicy.
Source: cookingwithmammac.com
Elevate your dinner game with Cheesy Baked BBQ Chicken Breasts with Onions.
These gluten-free chicken breasts are smothered in smoky BBQ sauce and topped with melted cheese, creating the most delicious meal.
To finish things off, garnish the chicken with caramelized onions, creating a symphony of flavors on your plate. This is so easy, thanks to the baking method, so it's a great mid-week meal.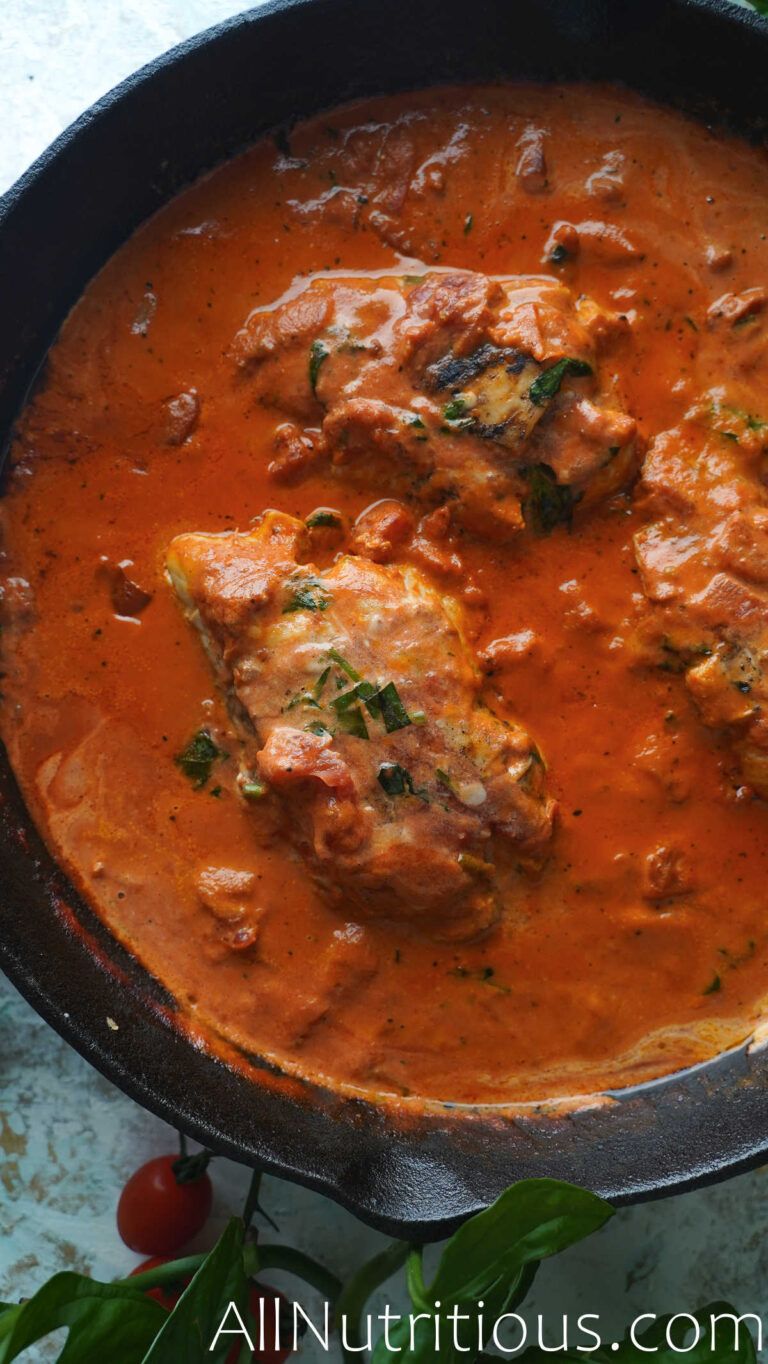 Source: allnutritious.com
Dive into a creamy and tomato-infused experience with a Creamy Tomato Chicken Skillet recipe. This simple recipe is one of mine, and I reach for it all the time!
You'll create a comforting, gluten-free meal by combining chicken, ripe tomatoes, and a rich cream sauce, all harmoniously cooked in one skillet.
Source: thecleaneatingcouple.com
Next up, embark on a culinary journey with a gluten-free Cashew Chicken recipe.
Picture this: succulent bite-sized pieces of chicken mingling with crunchy cashews for an easy weeknight dinner even picky eaters will love.
All of it is drenched in a luscious sauce that balances sweet, savory, and nutty notes. It's a taste sensation that'll transport you to the streets of Asia right in the comfort of your own kitchen.
You must try these other gluten-free and dairy-free recipes!
Source: allnutritious.com
Spice up your dinner routine with our Sheet Pan Chicken Fajitas. This gluten-free Tex-Mex-inspired recipe is a one-pan wonder that brings together juicy chicken, vibrant bell peppers, and onions.
The result? A flavor-packed evening with no hassle or mess. Plus, the easy cleanup means more time to savor the deliciousness of this fuss-free family favorite.
This is one of the best gluten-free chicken recipes for gluten-free meal prep!
Source: seasonalcravings.com
Craving the exotic flavors of a fragrant curry? This next Instant Pot Chicken Curry recipe has got you covered. This gluten-free delight is as quick as it is satisfying, thanks to the magic of the Instant Pot.
You'll be amazed at how effortlessly you can whip up a mouthwatering chicken curry that's brimming with aromatic spices and rich, savory goodness.
Source: allnutritious.com
Transport your taste buds to the sun-drenched Mediterranean with our Greek Sheet Pan Chicken Dinner.
Imagine succulent chicken, seasoned vegetables, and potatoes all roasting on a single sheet pan.
This gluten-free feast is not only a visual delight but also a flavorful journey that captures the essence of Greek cuisine with every bite.
Source: seasonalcravings.com
Discover the art of balance with Sheet Pan Chicken Sweet Potatoes. Here, gluten-free goodness meets convenience, as tender chicken harmonizes with the natural sweetness of sweet potatoes.
It's a simple yet satisfying dinner that not only fills your belly but also warms your heart, all while keeping cleanup to a minimum.
Source: allnutritious.com
Indulge in a culinary masterpiece with one of my favorites: an Air Fryer Bacon-Wrapped Chicken Breast recipe.
This gluten-free gem combines the best of both worlds: the irresistible crispiness of bacon and the tenderness of chicken.
Cooked to perfection in the air fryer, every bite offers a delightful explosion of flavors and textures, taking your chicken experience to new heights of culinary bliss.
Source: basicswithbails.com
Are you ready to take your chicken game to the next level? This gluten-free recipe is all about succulent chicken breasts wrapped in crispy bacon and cooked to perfection in the air fryer.
It's a delightful combination of textures and flavors that will make your taste buds sing with joy. A great mid-week meal that won't steal a lot of your time to prepare.
These smashed Brussels sprouts would make the perfect side dish for your chicken!
Source: cookingwithmammac.com
Craving a cheesy, tangy, and gluten-free chicken dish? Look no further! These baked BBQ chicken breasts are smothered in a layer of cheese and crowned with savory onions.
The result is a mouthwatering creation that combines the goodness of barbecue and the comfort of melted cheese.
Gluten Free Crock Pot Chicken Recipes
I can't overstate how much I love crock pot recipes. When you include chicken in the mix, it's such a great way to introduce a lean protein without bumping up the price tag too much.
These gluten-free crock pot chicken recipes are any busy home cook's answer to a mid-week meal.
Source: strengthandsunshine.com
Experience the rich flavors of the Philippines with this gluten-free and paleo-friendly chicken adobo recipe. Throw your chicken, spices, and vinegar into the slow cooker and let it work its magic.
You'll be rewarded with tender, flavorful chicken that falls off the bone.
Source: healthyfoodiegirl.com
Spice up your gluten-free repertoire with this slow cooker salsa verde chicken. If you're running low on time and need something to prepare over the course of a day, this is the recipe for you.
The tangy salsa verde infuses every bite with zesty flavor, while the slow cooker ensures that your chicken is incredibly tender. It's a hassle-free recipe that delivers big on taste.
Source: joyfoodsunshine.com
Make taco night a breeze with these gluten-free crockpot chicken tacos. Let your slow cooker do the work as it transforms chicken into a mouthwatering filling.
Grab your tortillas, add your favorite toppings, and enjoy a hassle-free fiesta.
Source: thespeltkitchen.com
Warm your heart and soul with this hearty gluten-free soup. It's a comforting blend of chicken, sweetcorn, and cabbage, perfect for those cold days when you crave something wholesome.
Plus, it's low in fat, clean, and gluten-free. What a great way to enjoy all the nutrients your body needs without stressing.
Source: kibitzspot.com
Sometimes, simplicity is the secret to deliciousness. This basic crockpot chicken recipe is gluten-free and incredibly versatile.
You can use it as a foundation for various dishes or savor it as is, paired with your favorite sides. It's a no-fuss winner.
Gluten Free Chicken Casserole Recipes
Whether you're a casserole connoisseur or simply looking for delicious and hassle-free dinner ideas, you're in for a treat.
From creamy and cheesy to savory and wholesome, these recipes combine the heartiness of chicken with the convenience of casseroles—all while being entirely gluten-free.
So, gather your ingredients and prepare to savor the warmth and flavor of these comforting dishes.
Source: dancingthroughtherain.com
Dive into a world of comfort with this gluten-free chicken broccoli casserole. Creamy, cheesy, and oh-so-delicious, it's a crowd-pleaser for all ages.
The combination of tender chicken and crisp broccoli smothered in a luscious sauce is pure comfort food.
Source: wellfedbaker.com
Get creative with your dinner plans by trying this unique gluten-free tater tot pot pie with chicken for the perfect meal.
This easy dinner is a delightful twist on a classic favorite, featuring tender chicken and crispy tater tots.
This easy meal is comfort food with a fun and delicious twist.
Source: stylishcravings.com
Embrace the flavors of fall with this cheesy chicken pumpkin casserole. It's a delightful fusion of savory and sweet, making it a gluten-free dish that's perfect for autumn gatherings.
The creamy pumpkin and cheesy chicken are a match made in comfort food heaven.
Source: joyfilledeats.com
Elevate your dinner game with this gluten-free twist on the classic chicken cordon bleu. This is a wonderful way to enjoy the flavors of a fancy dish in a more simplistic way.
Layers of chicken, ham, and cheese come together in harmony, creating a comforting and indulgent meal that's sure to satisfy your cravings.
Source: budgetdelicious.com
Embark on a culinary journey to the heart of Tex-Mex cuisine with this mouthwatering Chicken Fajita Casserole.
In this gluten-free delight, succulent pieces of chicken come together with vibrant bell peppers, onions, and a subtle kick of spice.
To top it off, a generous layer of melted cheese adds richness, making each bite a festive celebration of flavors.
Source: happy-mothering.com
Rediscover the comforting embrace of a homestyle favorite, now transformed into a gluten-free masterpiece.
The Homestyle Gluten-Free Chicken Pot Pie Casserole is a symphony of creamy textures, tender chicken, and a medley of mixed vegetables.
It's like receiving a warm, culinary hug on a plate, perfect for cozy gatherings or family dinners.
Source: glutenfreepalate.com
Versatility meets comfort in this Gluten-Free Chicken Casserole. A golden-brown crispy topping gives way to a velvety, chicken-filled interior.
Whether you're hosting a gathering or enjoying a quiet family dinner, this dish promises to pleaseyou with its comforting flavors and satisfying textures.
Source: glutenfreeonashoestring.com
Indulge your taste buds with the irresistible combination of Gluten-Free Chicken Bacon Ranch Casserole.
Tender chicken, crispy bacon, and the zesty allure of ranch dressing unite in this gluten-free feast. It's a hearty and savory dish that will have everyone clamoring for seconds.
Source: theroastedroot.net
The Wild Rice Chicken Casserole invites you to savor a wholesome gluten-free dish.
Nutty wild rice, succulent chicken, and a bouquet of savory herbs come together for a harmonious blend of flavors and textures. It's hearty, healthy, and simply irresistible.
Source: allergyfreealaska.com
Take your taste buds on a journey south of the border with the Gluten-Free Enchilada Casserole.
Layers of corn tortillas cradle seasoned chicken and bathe in zesty enchilada sauce, creating a satisfying dish with a delightful spicy twist.
It's a crowd-pleaser that adds a dash of excitement to your dinner table.
Gluten Free Chicken Soup Recipes
When it comes to comfort food, few dishes can rival the humble yet heartwarming chicken soup.
Whether you're feeling under the weather or simply craving a cozy meal, chicken soup is the ultimate go-to.
In this section, I've curated a collection of gluten-free chicken soup recipes that not only soothe the soul but also cater to dietary preferences.
From classic creamy renditions to exotic twists, these recipes will fill your kitchen with the comforting aroma of homemade goodness.
Source: wellfedbaker.com
Warm your soul with the comforting flavors of the Southwest in this Chicken Soup inspired by a beloved restaurant.
Loaded with tender chicken, robust vegetables, and a spicy kick, it's a taste of Tex-Mex comfort food that's sure to soothe your cravings.
Source: uniquecooks.com
Embark on a culinary adventure to Thailand with the Tom Yum Gai Thai Hot and Sour Chicken Soup.
This gluten-free soup beautifully balances spicy, sour, and savory notes, enveloping tender chicken and fragrant herbs. It's an aromatic journey to Southeast Asia, brought right to your table.
Source: glutenfreepalate.com
Experience the epitome of comfort food with this Gluten-Free Chicken Noodle Soup.
Packed with tender chicken, wholesome vegetables, and gluten-free noodles, it's the perfect remedy for cold-weather blues. Every spoonful is a warm and nourishing hug for your soul.
Source: glutenfreepalate.com
Cozy up with a steaming bowl of gluten-free comfort food. This creamy chicken soup is a nourishing classic that warms both the heart and the belly.
Filled with tender chicken and wholesome ingredients, it's a go-to recipe for chilly evenings when you crave a taste of home.
Source: fearlesseating.net
Embark on a culinary adventure with this gluten-free twist on the Thai classic Tom Kha Gai. Simplicity meets bold flavor in this dish.
Creamy coconut milk, fragrant lemongrass, and tender chicken create a harmonious blend that's both satisfying and exotic. Perfect for those who love to explore new flavors in the kitchen.
Source: adashofmegnut.com
Elevate your soup game with the smoky richness of roasted poblano peppers.
This gluten-free chicken soup is a tantalizing fusion of Mexican flavors, bringing together tender chicken, charred poblanos, and earthy spices.
It's a bowl of comfort with a delightful South-of-the-Border twist.
Gluten Free Chicken Thigh Recipes
From comforting classics to globally-inspired creations, these recipes showcase the delectable potential of chicken thighs while ensuring they remain entirely gluten-free.
Whether you're an experienced gluten-free chef or just starting on this culinary path, you're in for a treat. Get ready to savor the taste of tender, flavorful chicken thighs in every bite!
Source: allnutritious.com
When life hands you lemons, make these zesty, gluten-free lemon chicken thighs! The bright and tangy citrus infusion takes ordinary chicken to a whole new level.
It's a quick, easy, and incredibly flavorful dish that's perfect for brightening up any weeknight dinner.
Source: acedarspoon.com
Ready to spice things up? Dive into a world of bold and fiery flavors with this gluten-free harissa chicken.
The North African-inspired spice paste transforms chicken into a thrilling culinary adventure. It's a dish that'll make your taste buds dance with delight.
Source: acedarspoon.com
Bring the Mediterranean to your backyard with these gluten-free Greek marinated chicken kabobs.
Succulent pieces of chicken, marinated in Greek herbs and spices, skewered and grilled to perfection. Each bite is a journey to the azure shores and white-washed buildings of Greece.
Source: thecleaneatingcouple.com
Fire up the grill and let simplicity shine with these gluten-free grilled chicken thighs. Juicy and tender, they're a blank canvas for your favorite marinades or rubs.
Perfect for sunny days and outdoor gatherings, this recipe showcases the pure, smoky essence of grilled chicken.
Source: boxmixrecipes.com
Craving the irresistible crunch of fried chicken without the gluten? Look no further! These air fryer chicken thighs, seasoned with ranch flavors, are a healthier yet equally indulgent option.
Get ready for a delightful play of textures—crispy on the outside, juicy on the inside.
Source: scratchmarket.co
Take a culinary trip to the Caribbean with these Jamaican jerk chicken thighs.
The oven method ensures ease of preparation while delivering the complex, spicy-sweet flavors of traditional jerk seasoning. A taste of Jamaica awaits you in every bite.
Source: thedairyfreemenu.com
If you're on a gluten-free journey and love the idea of crispy chicken, these air fryer boneless, skinless chicken thighs are your ticket to guilt-free indulgence.
The air fryer achieves that perfect golden crunch while keeping the meat tender and juicy. Enjoy satisfying, healthier fried chicken at home.
There you have it, folks – 41 mouthwatering gluten-free chicken recipes that prove going gluten-free doesn't mean sacrificing taste or variety.
Whether you're dealing with gluten sensitivities, or simply looking to diversify your menu, there's something for every palate out there.
So, let's bid farewell to bland and uninspiring meals and say hello to a world of delicious, gluten-free chicken dishes that'll keep your taste buds dancing.
With these recipes in your culinary arsenal, you'll be cooking up flavorful, gluten-free goodness in no time. If you're searching for more recipes, I've linked some below to help you out.
Bon appétit, gluten-free foodies! Check out these best gluten-free appetizers next!
41 Best Gluten-Free Chicken Recipes
Cook up a storm with these gluten-free chicken recipes – a delightful fusion of flavors that will leave you craving for more.
Ingredients
1. Mozzarella Stuffed Chicken Breast
2. 5-Ingredient Caprese Chicken
3. Cast Iron Chicken Breast
4. Cheesy Baked BBQ Chicken Breasts
5. Creamy Tomato Chicken Skillet
6. Cashew Chicken
7. Sheet Pan Chicken Fajitas
8. Instant Pot Chicken Curry
9. Greek Sheet Pan Chicken Dinner
10. Chicken Curry
11. Chicken and Sweet Potatoes
12. Bacon Wrapped Chicken Breast
13. Cheesy Baked BBQ Chicken Breasts with Onions
14. Chicken Adobo
15. Salsa Verde
16. Chicken Tacos
17. Chicken Sweetcorn and Cabbage Soup
18. Crockpot Chicken
19. Chicken Broccoli Casserole
20. Tater Tot Pie
21. Cheesy Chicken Pumpkin Casserole
22. Chicken Cordon Bleu Casserole
23. Chicken Fajita Casserole
24. Chicken Pot Pie
25. Chicken Casserole
26. Chicken Bacon Ranch Casserole
27. Wild Rice Chicken Casserole
28. Enchilada Casserole
29. Southwest Chicken Soup
30. Tom Yum Gai
31. Chicken Noodle Soup
32. Cream of Chicken Soup
33. Tom Kha Gai
34. Roasted Poblano Chicken Soup
35. Lemon Chicken Thighs
36. Harissa Chicken
37. Greek Marinated Chicken Kabobs
38. Grilled Chicken
39. Chicken Thighs with Ranch Seasoning
40. Jamaican Jerk Chicken Thighs
41. Boneless Skin Chicken Thighs
Instructions
Scroll up to get a bunch of easy, yummy, and delicious recipes. Don't be afraid to get creative with the ingredients, you might discover a flavor you didn't know you liked.
Get your shopping list going and make sure you've got all the ingredients.
Get cooking and make your next Gluten-Free Chicken Recipe!
Notes
Which one of these recipes was your favorite? Let me know in the comment section or on Pinterest!