If you're a chicken lover, get ready to embark on a delicious journey through our list of delicious chicken slider recipes!
Sliders are perfect for parties, game days, or any occasion when you want to enjoy a variety of flavors in bite-sized sandwiches.
From spicy Buffalo chicken to savory Parmesan, these recipes cover a wide range of tastes.
So, let's dive in and discover some mouthwatering chicken slider creations that will leave you craving for more!
What Goes with Chicken Sliders?
Chicken sliders are a versatile and delightful snack. Or meal option that can be paired with a variety of tasty sides to enhance your dining experience.
Common choices include fries, a garden salad, coleslaw, or even a pickle. If you're looking for something more in the comfort food realm, macaroni and cheese or onion rings will do the trick!
Remember, the best side dish for your chicken sliders ultimately depends on your personal preferences and the occasion.
Whether you're going for classic comfort food or a lighter option. There are plenty of sides to choose from that will enhance your chicken slider feast.
Enjoy experimenting with different combinations to find your perfect pairing!
Best Chicken Slider Recipes
Grab your chicken and slider buns, and let's start going over the best chicken slider recipes. However, I'll warn you that they are all so delicious that you'll want to make all of them!
Source: carriesexperimentalkitchen.com
Get ready to take a flavorful trip to Italy without leaving your kitchen with these grilled chicken parmesan cheese sliders.
Succulent grilled chicken, bathed in marinara sauce and smothered in molten mozzarella cheese, is nestled between petite buns. These sliders redefine the notion of comfort food.
Source: flouronmyface.com
For those who crave a taste explosion. These Southwestern Chicken Sliders are your ticket to flavor nirvana and the perfect appetizer.
The spices of the American Southwest. Chili powder, cumin, and zesty jalapeños. They all come together to create a rollercoaster of tastes that will leave your palate tingling with joy.
Store your leftover little sandwiches in an airtight container. Then, enjoy delicious sliders the next day!
Source: divinelifestyle.com
Elevate your slider game to gourmet status with these Brie, Ham, and Grilled Chicken King's Hawaiian Sliders.
Imagine this: creamy brie, savory ham, and perfectly grilled chicken. All cradled within the embrace of King's sweet Hawaiian rolls.
This Hawaiian appetizer is a symphony of sweet and savory that'll leave you speechless.
Source: familyaroundthetable.com
Spice enthusiasts, rejoice! These Easy Buffalo Chicken Sliders are your spicy sanctuary and the perfect game day snack.
Rotisserie chicken tossed in fiery buffalo hot sauce and crowned with homemade blue cheese dressing. All of that in your favorite dinner rolls they're the MVPs of any game day spread.
Be prepared for a flavor explosion!
Source: threeolivesbranch.com
Take a classic Italian dish, shrink it down, and you've got these Chicken Parm Sliders. Tender, breaded chicken, dolloped with marinara sauce.
All smothered in a blanket of gooey mozzarella cheese, all tucked into a soft bun. Each bite is a symphony of Italian flavors that will transport you straight to the streets of Naples.
Source: gingercasa.com
Get ready to fiesta with these Chicken Enchilada Sliders.
Whether you're jumping into a new regional cuisine or you're already a fan of Mexican food. This recipe with simple ingredients is for you.
The chicken mixture of Shredded skinless chicken breasts. Then, drenched in mouthwatering enchilada sauce and hugged by layers of melted cheese – it's a party in your mouth with every bite.
Source: acedarspoon.com
Sometimes, simplicity is the secret ingredient to perfection. These Easy Chicken Sliders are a breeze to make, offering a pure chicken experience that's a canvas for your favorite toppings.
Whether it's crispy lettuce, juicy tomatoes, or your go-to sauce, these sliders are your blank slate.
Use a pastry brush to add some melted butter to the tops of the rolls and bake them until they're golden brown to take this easy recipe to the next level!
Source: gingercasa.com
Prepare for a culinary voyage to the vibrant streets of Mexico with these Chicken Fajita Sliders.
Brimming with tender chicken, sautéed bell peppers, onions, and an array of fajita seasonings, they transform every bite into a flavor-packed fiesta.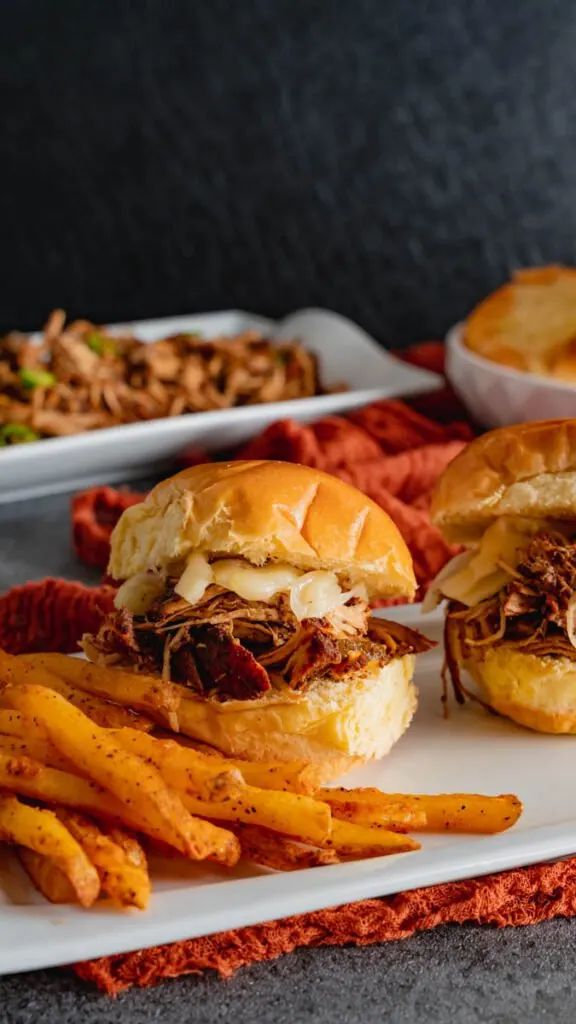 Source: mamaneedscake.com
Turn up the heat with these Instant Pot Jerk Chicken Sandwiches. Visualize tender chicken marinated in the bold, fiery flavors of jerk seasoning, served with your preferred fixings.
It's like a Caribbean escape without leaving the comfort of your kitchen.
Source: thekitchenismyplayground.com
Craving the essence of summer all year round? Look no further than these Honey BBQ Chicken Sliders.
They offer the perfect harmony of sweet and tangy, thanks to the luscious honey BBQ sauce and the crisp crunch of coleslaw. Each bite is akin to a backyard barbecue in slider form.
Source: thecozycook.com
Let the magic of your slow cooker take center stage with these Slow Cooker Honey Sriracha Chicken Sliders.
A harmonious blend of sweet honey and spicy sriracha infuses the tender chicken with layers of mouthwatering flavor.
These sliders are a culinary masterpiece that beckons you back for seconds and thirds.
Source: mommyevolution.com
If you've ever been torn between the desire for pizza and sliders, these Parmesan Pepperoni Chicken Sliders offer the best of both worlds.
Imagine succulent chicken layered with savory pepperoni and a blanket of melted cheese – it's a party for your taste buds.
Source: modernhoney.com
For those who are passionate about all things Buffalo, these Buffalo Chicken Sliders are nothing short of a flavor revelation.
With tender shredded chicken bathed in spicy buffalo sauce and adorned with cool blue cheese dressing, every bite is a touchdown celebration on game day.
Source: modernhoney.com
If you crave the classic Chicken Parmesan experience with a health-conscious twist, these Baked Chicken Parm Sliders are your answer.
They're cheesy, they're melty, and they're baked to perfection, ensuring you can savor every bite without guilt.
Source: fantabulosity.com
There are times when only the crispy and crunchy will suffice, and these Fried Chicken Sliders answer that call with gusto.
Featuring perfectly fried chicken and your choice of toppings, they are the epitome of comfort food, irresistibly beckoning you to indulge.
Source: kitchenfunwithmy3sons.com
Close your eyes and let your senses drift to the sun-soaked beaches of Hawaii with these exquisite Hawaiian Chicken Sliders.
Each bite is a symphony of flavors, as succulent chicken mingles with the sweet embrace of pineapple and the tantalizing allure of teriyaki sauce.
All this deliciousness is lovingly nestled within a soft and pillowy bun, creating a miniature tropical paradise in your mouth.
Source: kellyneil.com
If you're a devoted disciple of the crispy, savory wonder that is bacon, then these Chicken Bacon Ranch Sliders will be your gospel.
Imagine tender chicken harmonizing with the salty crunch of bacon while a creamy ranch dressing creates a heavenly sauce that binds them together. It's a flavor explosion you won't want to miss.
Source: littlenomadsrecipes.com
Embark on a culinary journey to Vietnam with these Mini Banh Mi Sliders. These little wonders pack a punch of bold and vibrant flavors.
It's all thanks to pickled veggies, fragrant cilantro, and exquisitely seasoned chicken. It's a burst of freshness in every bite, taking your taste buds on an exotic adventure.
Source: asouthernsoul.com
When simplicity meets flavor, you get these Crock-Pot Mississippi Chicken Sliders.
The chicken, slow-cooked to perfection, absorbs all the savory and tangy goodness, making it a mouthwatering delight for the senses. These sliders are perfect for a hassle-free yet delectable meal.
You must try these other delicious crockpot appetizer recipes!
Source: recipezazz.com
For those seeking the perfect balance between health-conscious and delicious, look no further than these Chicken and Spinach Sliders.
They blend the goodness of nutrient-rich spinach with the protein-packed embrace of chicken, making them an ideal guilt-free indulgence.
Source: recipezazz.com
Embark on a culinary expedition to India with these Tandoori Chicken Sliders. The aromatic spices and tender, marinated chicken create a flavor profile that's both exotic and comforting.
Topped with a cooling yogurt sauce, they're a delicious revelation. Best of all, they're much easier ot make than the name would imply. No big tandoori oven here, just your oven and smoky flavors.
Source: flouronmyface.com
Elevate your slider game with a touch of sweetness by indulging in these Crock-Pot BBQ Cranberry Chicken Sliders. Cranberry and chicken is a classic combination, so why wouldn't it suit sliders?
The cranberry sauce adds a delightful twist to traditional BBQ, creating a symphony of flavors that dance on your taste buds.
This fall appetizer recipe is a must-have for potlucks and parties!
Source: dudethatcookz.com
Garlic aficionados, rejoice! These Roasted Garlic Chicken Sliders are an ode to the fragrant bulb.
Picture succulent chicken infused with the rich, savory notes of roasted garlic, creating a harmony that's nothing short of magical.
Source: bellyfull.net
Strike the perfect balance between sweet and spicy with these tantalizing Sweet and Spicy Chicken Sliders. This is an amazing choice to impress at your local potluck or picnic.
Their harmonious blend of flavors—where sweetness complements spiciness—makes every bite an adventure for your taste buds. Add some crisp and crunch with crispy shallots or a creamy sauce.
This is one of the best summer appetizers for a backyard BBQ!
Source: foodfolksandfun.net
Breakfast meets savory indulgence in these Chicken Waffle Sliders. Imagine crispy, golden chicken paired with fluffy, syrup-soaked waffles.
This is one of those dishes that impresses people, no matter who they are or what they're used to eating. It's a delightful twist on a beloved classic.
Source: mykitchenlove.com
Sometimes, simplicity reigns supreme, and that's precisely what you'll find in these Mini Chicken Patties. These are super versatile, so you can use them in any number of ways throughout the week.
They're a timeless classic, offering a comforting and familiar taste that's perfect for a quick snack or a crowd-pleasing party appetizer.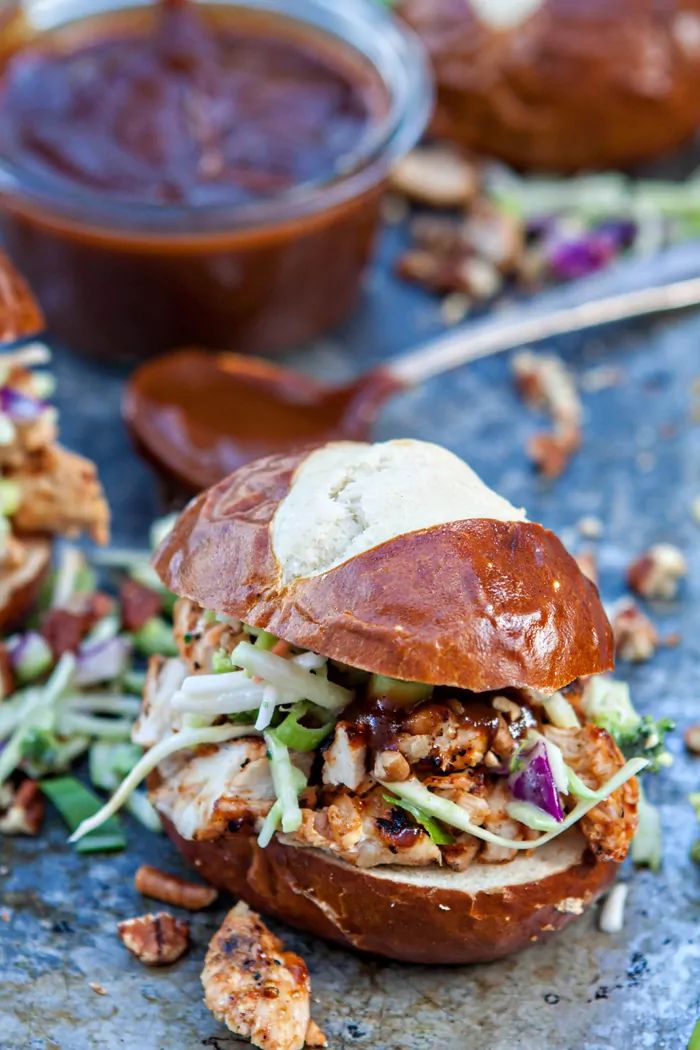 Source: goodlifeeats.com
Dive into the realm of sweetness and nuttiness with these Honey Pecan BBQ Sauce Chicken Sliders. Honey and pecan aren't a common flavor combination, but trust me on this!
The honey-pecan sauce lends an irresistible depth of flavor, turning these sliders into a mouthwatering treat that's truly unforgettable. They're so easy to prepare and great for a picnic.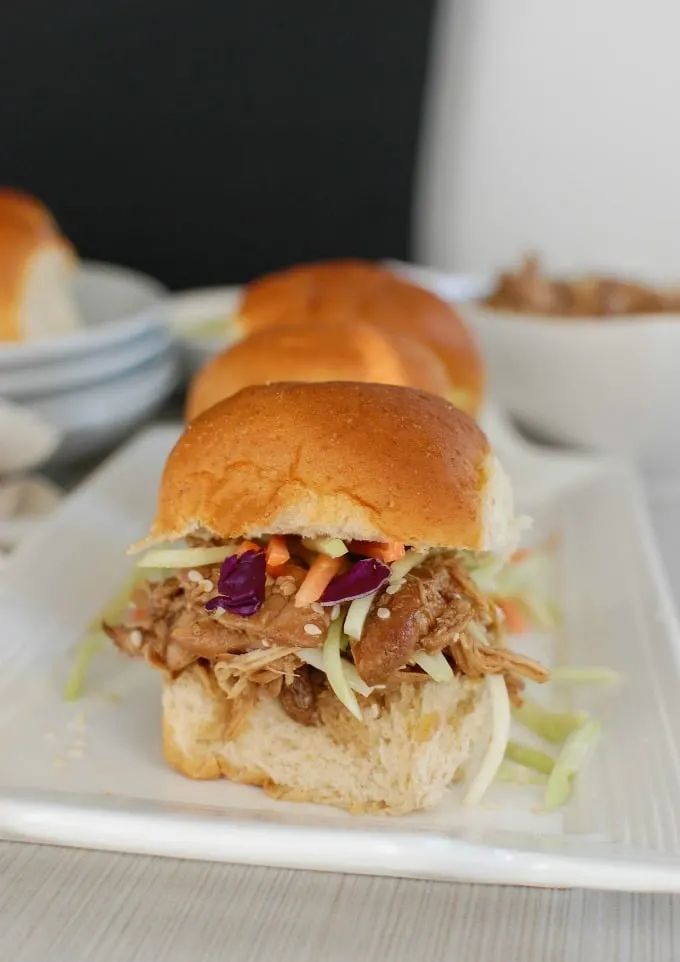 Source: acedarspoon.com
Let your trusty slow cooker take the reins in crafting these Asian-inspired sliders. The honey sesame chicken, with its tender and flavorful goodness, brings an exotic twist to your slider repertoire.
I'm a fan of this recipe because it puts a spin on the classic slider flavor profile. You can customize it to suit your unique tastes, too!
Source: practicallyhomemade.com
If Italian cuisine is your love language, then these Easy Shredded Chicken Parmesan Sliders are a declaration of devotion.
With gooey cheese and savory chicken, all nestled in a perfectly toasted bun, they are a slice of Italy you can hold in your hand.
Source: panningtheglobe.com
Elevate your grilling game with these Grilled Chicken Sliders, where BBQ caramelized onions, and chipotle coleslaw add a burst of flavor.
They're a sensory delight that combines smokiness, sweetness, and spice in every bite. Trust me, the time it takes to make these BBQ caramelized onions is worth the incredible flavor.
Source: twohealthykitchens.com
If you're craving the fiery tang of buffalo chicken without guilt, these Healthy Crock-Pot Buffalo Chicken Sandwiches are your answer. I'm in love with these as a game-day option.
They offer a lighter take on the classic buffalo chicken slider. It makes them the perfect choice for a guilt-free indulgence. Take them on a picnic, on a road trip, or even to work with you!
And there you have it – 31 mouthwatering Chicken Slider Recipes to satisfy all your cravings. Whether you're in the mood for something spicy, cheesy, or sweet, these recipes have you covered.
So, gather your ingredients, fire up the grill, and get ready to enjoy a slider feast that will have everyone asking for seconds.
Did I miss any essential recipes that you reach for all the time? What makes it onto your game day table? Let me know in the comments!
I've also included some more recipes below for you to explore! Build up that repertoire and blow your guests away. Happy cooking!
31 Best Chicken Slider Recipes
Elevate your party platter with these scrumptious chicken slider recipes for all occasions.
Ingredients
1. Grilled Chicken Parmesan Sliders
2. Southwestern Chicken Sliders
3. Brie Ham and Grilled Chicken Hawaiian Sliders
4. Buffalo Chicken Sliders with Blue Cheese Dressing
5. Chicken Parm Sliders
6. Chicken Enchilada Sliders
7. Easy Chicken Sliders
8. Chicken Fajita Sliders
9. Jerk Chicken Sandwiches
10. Honey BBQ Chicken Sliders
11. Sriracha Chicken Sliders
12. Parmesan Pepperoni Chicken Sliders
13. Buffalo Chicken Sliders
14. Baked Chicken Parm Sliders
15. Fried Chicken Sliders
16. Hawaiian Chicken Sliders
17. Chicken Bacon Ranch Sliders
18. Mini Banh Mi Sandwich
19. Mississippi Chicken Sliders
20. Chicken and Spinach Sliders
21. Tandoori Chicken Sliders
22. Cranberry Chicken Sliders
23. Roasted Garlic Chicken Sliders
24. Sweet and Spicy BBQ Chicken Sliders
25. Chicken and Waffle Sliders
26. Mini Chicken Patties
27. Honey Pecan BBQ Sauce Chicken Sliders
28. Asian Honey Sesame Chicken Sliders
29. Shredded Chicken Parmesan Sliders
30. Grilled Chicken Sliders with Caramelized Onions and Chipotle Coleslaw
31. Healthy Crockpot Buffalo Chicken Sandwiches
Instructions
Scroll up to get a bunch of easy, yummy, and delicious recipes. Don't be afraid to get creative with the ingredients, you might discover a flavor you didn't know you liked.
Get your shopping list going and make sure you've got all the ingredients.
Get cooking and make your next Chicken Slider Recipe!
Notes
Which one of these recipes was your favorite? Let me know in the comment section or on Pinterest!