French cuisine is generally simple and elegant. That's precisely the kind of French appetizer recipe you'll find here. Enjoy these classic French appetizers!
You won't be disappointed if you're looking for rich, decadent, buttery, cheesy finger food!
Whether you're looking for inspiration to switch up your weekly meal plan or you're hosting a French-themed dinner party, we've got you covered with a classic French appetizer.
What is a Typical Appetizer in France?
Many French appetizers don't take long to prepare and are made with minimal ingredients that impart maximum flavor.
Some typical examples are –
Gougeres – small bites of cheesy choux pastry
Escargot – garlicky snails in shells or puff pastry
Pate – a smooth spread, often made with chicken livers
Moules mariniere – mussels in a flavorsome garlic sauce
You can find all of these and more below with this collection of French appetizers. Bon Appétit!
Classic French Appetizers
Take your pick of these traditional appetizers from French cuisine for your cocktail party!
Source: savoryexperiments.com
This is most likely one of the first things that comes to mind when considering French hors d'oeuvre! When it's cooked well, it's delicious.
Cook your escargots in garlic butter. Blend your butter with fresh parsley and white wine for vibrant color and flavor.
Stuff your snails into shells, top with the butter, and bake until the butter is melted!
Check out these other must-have finger food recipes for your next party!
Source: cookingorgeous.com
Chicken liver pate is perfect for special occasions such as Thanksgiving or Christmas.
Lots of flavor goes into this French food recipe! Add flavor to your pate with shallots, garlic, and thyme. Capers add a briny taste. Add brandy for a rich, indulgent taste.
Blend your cooked chicken livers with heavy cream for a smooth texture. Let it set overnight before eating. Serve your delicious pate with toasted brioche and red onion marmalade!
Source: cookingorgeous.com
Sweet caramelized onions are the highlight of this dish and popular French appetizer. This traditional French appetizer is the perfect comforting food for cold winter nights.
The most time-consuming part of this perfect appetizer recipe is caramelizing your onions. The effort is worth it, however! All you need is lots of red and white onions and butter.
A good quality beef stock is essential to impart a rich flavor to your soup. Use garlic, sherry, bay leaves, and thyme, too. Smoked bacon adds a delicious smoky flavor!
Serve your soup alongside baguette slices topped with melted Gruyere and parmesan.
This is one of the most delicious hot appetizer recipes!
Source: maplewoodroad.com
Mussels with garlic and parsley are among the most popular classic French appetizers!
Get all ingredients for the classic French starter recipe ready before you begin cooking. The steps move fast!
Fresh mussels are best for your moules mariniere. Shallots, leek, garlic, and bay leaves add a delicious flavor. White wine adds a rich taste.
When your mussels are cooked, remove them from the pot and keep them warm. Add butter and crème fraiche to make a flavorsome creamy sauce for your next dinner party!
Source: gohealthywithbea.com
Prunes wrapped in crispy bacon are delicious and effortless to make, and they add a fancy twist! They're the perfect combination of sweet and salty.
Wrap sweet and sticky prunes with a slice of salty bacon and secure it with a toothpick. Bake your prunes until the bacon is golden and crispy!
Source: maplewoodroad.com
This appetizer is cheesy puff pastry! The small bites are soft and fluffy inside and crisp on the outside.
Make your pastry dough with melted butter, milk, and water. Eggs provide a silky texture. Add flavor with Dijon, nutmeg, black pepper, and cayenne. Stir in lots of shredded cheese, too!
Pop your dough into a piping bag and pipe mounds onto a baking sheet. Bake these French cheese puffs until they're puffed up and golden brown!
Source: healthyrecipes101.com
Lyonnaise salad is simple but delicious, with a perfect blend of textures and flavors!
Use crunchy, bitter frisée lettuce as the vessel for the rest of your salad. Add fresh herbs, crispy bacon, crunchy croutons, a poached egg, and earthy mushrooms.
Drizzle your salad with a tangy mustard dressing. Combine egg yolk with olive oil for a silky texture. Add Dijon, lemon juice, and red wine vinegar for flavor!
This would also make a nice side for your main meal that pairs perfectly with dinner drinks!
Source: gohealthywithbea.com
French rillettes are a delicious potted chicken spread. They're delightful spread on large pieces of fresh crusty bread!
Duck fat adds a rich depth of flavor to your rillettes. Cook your shallots until they're soft. You can then add shredded chicken and bone broth. Fresh tarragon adds a herbed taste to your rillettes.
Cook until the chicken absorbs all of the delicious flavors. Transfer to a glass jar and keep them stored in the fridge!
Source: artofnaturalliving.com
These delicious mussels are served in a creamy mushroom sauce with aromatic flavors.
Earthy morel mushrooms taste perfect in the sauce for your mussels. Add an incredible depth of flavor with sweet shallots, minced garlic, dry white wine, and chicken broth.
Cook your mussels in the broth, then remove them and set aside to keep warm. Pour heavy cream into your pot and stir until well combined.
Divide your mussels into bowls and pour over the delicious sauce. Serve with slices of crusty fresh bread to mop it up!
Easy French Appetizers
These French appetizers are easy from start to finish, perfect to enjoy before your main course!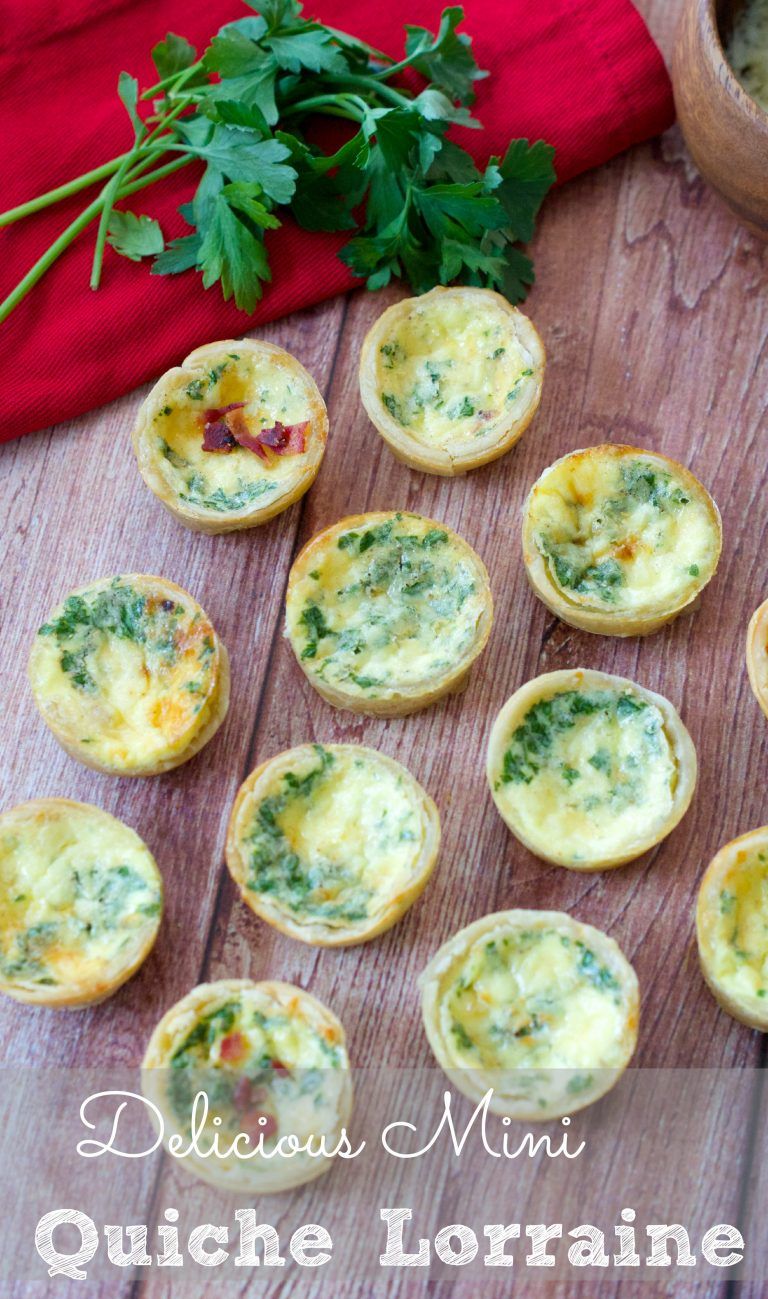 Source: livingsweetmoments.com
A crunchy golden pastry crust is the vessel for a deliciously creamy, cheesy filling!
Use the store-bought pastry to make the prep easier for this delicious appetizer. Add dough circles to a mini muffin tin and bake briefly before adding your cheese mixture filling.
Combine beaten eggs with half & half for a creamy texture. Add chopped parsley and nutmeg for flavor. Fill your pastry shells with bacon and shredded Gruyere, then pour in your egg mixture.
Sprinkle more cheese on top and bake until the top is browned and the crust is golden!
Source: thekitchenismyplayground.com
Use a medley of your favorite olives for this delicious spread. Throw the ingredients into your food processor, and blend!
Kalamata, Manzanilla, green Queen, and ripe black olives are perfect for this tapenade. However, use whatever you have available!
Add capers to your mix for a salty taste. Fresh lemon zest offers a bright freshness. Use parsley for an aromatic herbed flavor. Olive oil helps produce the smooth texture of your tapenade.
Serve your olive tapenade with slices of crusty bread for dipping or spreading!
This is one of the most delicious cold appetizer recipes!
Source: whatagirleats.com
This creamy, smooth chicken liver pate balances the salty and sweet flavor.
Cook shallots, pancetta, chopped apples, and thyme in melted butter. Deglaze the skillet with brandy for a rich taste!
Blend your apple mixture with cooked chicken livers and butter. Add warming flavors with nutmeg and ground cloves. Dry mustard powder delivers a tangy kick!
Serve your pate spread on crackers or crunchy apple slices.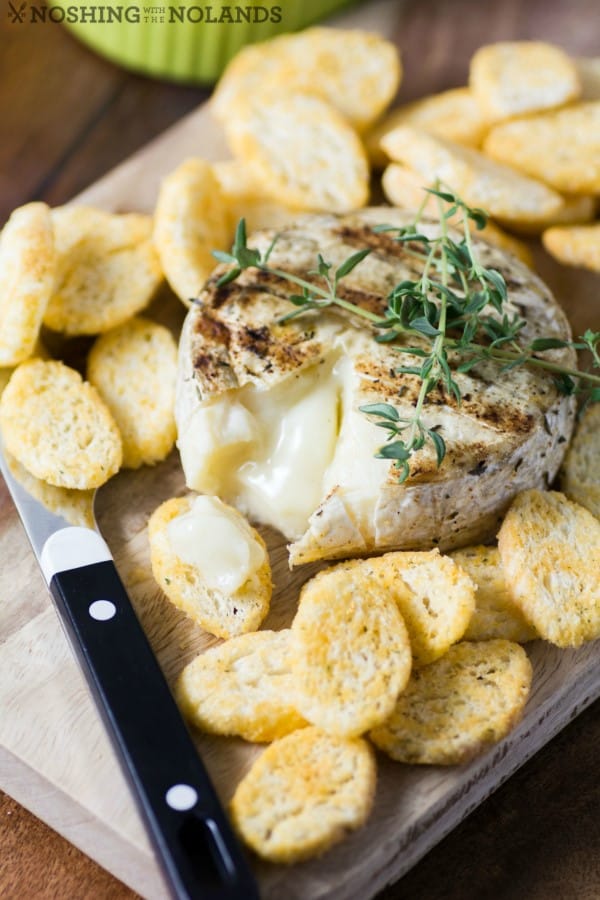 Source: noshingwiththenolands.com
A round of creamy brie cooked on the BBQ is easy and ideal for summer backyard gatherings!
Mix olive oil with lemon juice, cumin, chili powder, garlic salt, and thyme. Brush it on the outside of your brie and cook on the BBQ until the outside is nicely charred!
Serve your brie with crunchy pieces of toasted bread.
Source: chezlerevefrancais.com
These crab canapes are budget-friendly. They're creamy, fresh tasting, and delicious!
You can use canned white crab meat or fresh – whatever you can afford. Mix your crab with mayo, chopped English cucumber, green onions, and parsley. Lemon juice adds freshness.
Cut slices of bread from a baguette, brush with olive oil, and bake until crisp and golden. Spoon your tasty crab meat on top and sprinkle with paprika!
Source: bayevskitchen.com
Spiced strawberry jam takes this brie baked in bread to another level! The sweetness and spice pair perfectly with the salty cheese.
Make your spicy strawberry jam with fresh strawberries and sugar. Infuse it with cinnamon, chili flakes, cardamom pods, crushed cloves, and star anise!
Cut a hollow in a round loaf of bread, big enough to fit your brie into. Brush your strawberry jam on the inside of the bread and place your brie inside.
Bake your bread until golden brown, then sprinkle with oregano and thyme. Break off pieces of toasted bread and dip them into the gooey, melted brie!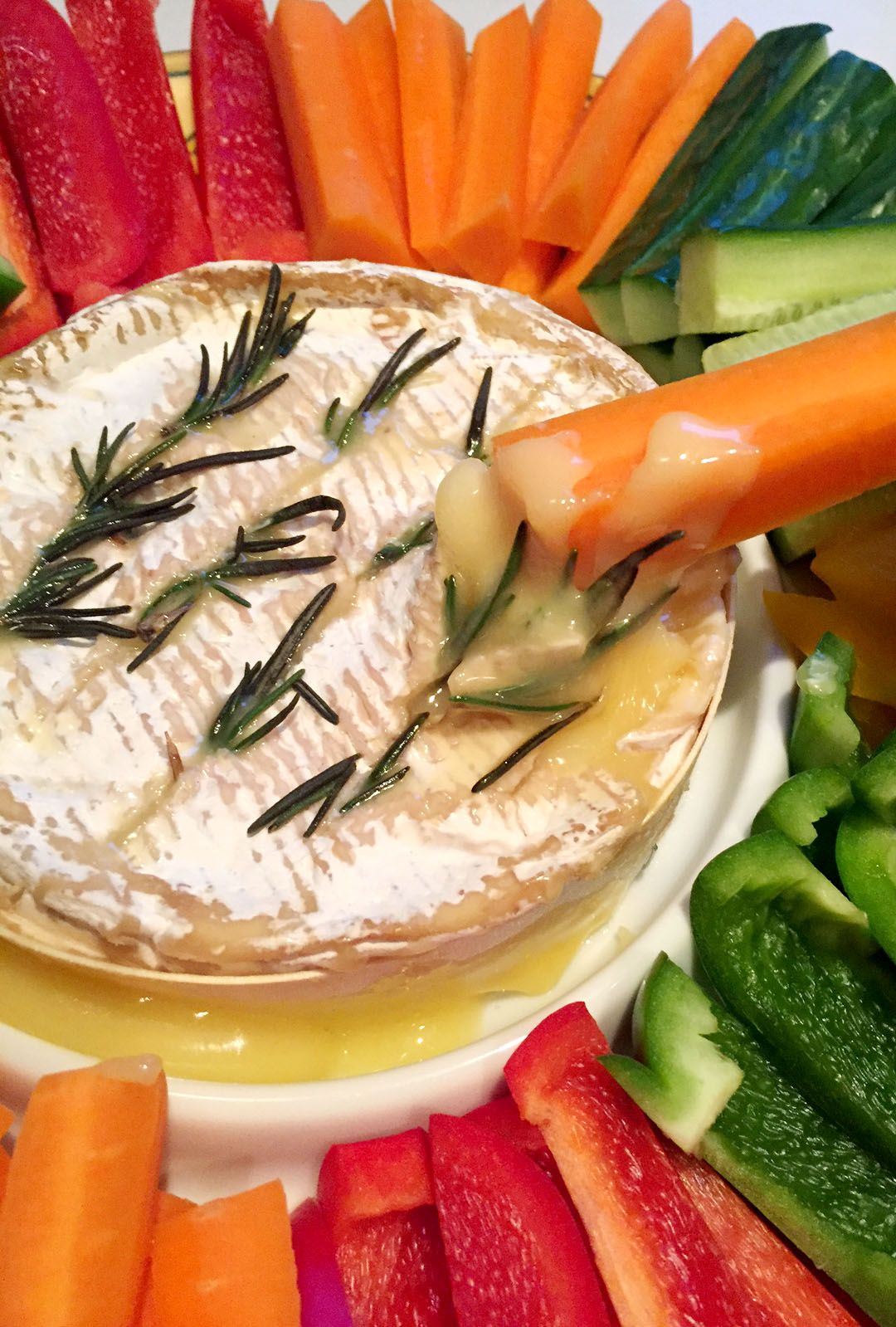 Source: emmaeatsandexplores.com
Gooey, creamy camembert is infused with fresh garlic and rosemary for a delicious flavor!
Score lines into the top of your camembert round. Insert thin slices of garlic and sprigs of fresh rosemary and bake until it's gooey and melted.
Serve with crunchy veggie sticks for dipping. Carrots, red bell pepper, and cucumber are perfect!
Source: bakesbybrownsugar.com
For the ultimate cheesy taste, three kinds of cheese go into these crispy, golden gougeres!
You'll make a basic choux pastry for your gougeres. Staple ingredients include all-purpose flour, eggs, milk, and butter.
Mix Gruyere, cheddar, and parmesan into your pastry dough. Mustard adds a sharp flavor that goes well with the cheese. Scoop dough balls onto a sheet pan and bake until golden brown!
Source: biscuitsandburlap.com
Crisp pastry shells are the vessel for gooey, cheesy bites of deliciousness!
Use store-bought pie crust to make the prep easier for your tartlets. Cut small circles of dough and press into a mini muffin tin.
Fill your pastry cups with shredded Gouda and Fontina cheese. Combine beaten eggs and Greek yogurt for your filling. Add Worcestershire sauce, cayenne, and dried thyme for delicious flavor.
Pour the mixture into the pastry cups and sprinkle more cheese on top. Bake until the filling is set and the pastry is golden!
Source: whatagirleats.com
This appetizer is similar to grilled cheese but elevated with delicious ingredients!
Warm your brie in the oven until it's just gooey and melting. Spread it on toasted bread and pile it up with salty prosciutto, soft caramelized onions, and sweet fig jam.
Source: platingpixels.com
Souffle is one of those delicious appetizers that look difficult. However, it's easy to create with just a few simple ingredients!
Staple items for your souffle are melted butter, all-purpose flour, and eggs. It would help if you separated the egg yolk from the white to create the perfect light, fluffy consistency.
Make your souffle "roux," then carefully fold in cubes of brie. Shredded cheddar, parmesan, and Gruyere also work well.
Pour the mixture into ramekins and bake until the top is crisp and golden brown!
Best French Appetizers
These are the best French appetizers you'll find to enjoy in small servings before your main dish!
Source: pinchandswirl.com
Classic chicken liver pate is elevated with the taste of aromatic spices!
Cook your chicken livers in melted butter with yellow onion and minced garlic. Stir in flavorsome chicken stock and curry powder.
Blend your chicken liver mixture with boiled eggs for a smooth, creamy texture. Add cayenne for an extra kick of flavor!
Source: livingsweetmoments.com
These crispy gougeres have the best flavor and texture from cheese and salty bacon!
Make an easy choux pastry for your gougeres with flour, salt, sugar, butter, and eggs. Add nutmeg for a warming taste.
Stir Gruyere cheese and crispy bacon pieces into your dough. Spoon balls onto a baking sheet, sprinkle with parmesan, and bake until puffed up and golden!
Source: noshingwiththenolands.com
This crispy puff pastry galette is topped with gooey melted cheese and soft potatoes!
Mix goat cheese with minced garlic, fresh chopped chives, and red pepper flakes for a delicious flavor. Spread it all over a sheet of puff pastry!
Add thin slices of potato and sautéed leeks to your galette. Bake until the pastry is golden brown and the potatoes are soft.
Garnish your galette with crumbled prosciutto and chopped chives for even more delicious flavor!
You will also enjoy these other yummy goat cheese appetizers!
Source: chezlerevefrancais.com
This shrimp appetizer is light, refreshing, and full of delicious tastes and textures! The delicate seafood is in your tartare and used as a garnish.
Mix small shrimp with creamy avocado, sliced green onion, and salty capers. Lemon juice adds a bright flavor and stops the avocado from going brown. Fresh dill provides a herbed taste.
Pile your tartare on a plate using a presentation ring. Add king prawns and garnish with small cubes of crunchy cucumber and a sprig of fresh dill!
Check out these other tasty Shrimp appetizers!
Source: thefoodolic.com
These flamiches are a tasty twist on a traditional quiche. Make them with phyllo pastry for a light, crispy crust!
Sauté chopped leeks to make your flamiche filling. Season with salt and pepper, and add extra flavor with vegetable broth. Stir in Gruyere cheese for a creamy texture!
Carefully add sheets of phyllo to a muffin tin. Combine your leek mixture with beaten eggs and pour into the pastry cups. Sprinkle with more cheese and bake until the pastry is crisp and golden!
Source: sumptuousspoonfuls.com
These delicious cheese puffs are beautiful and crispy on the outside and soft on the inside!
Create a basic choux pastry for your puffs. Use milk, water, butter, flour, and eggs for a smooth texture. Add bacon fat, too, for an extra tasty choux!
Stir in chopped crispy bacon and shredded Gruyere. Add black pepper and freshly grated nutmeg for a lightly spiced flavor.
Spoon dough balls onto a baking sheet and bake until the pastry is puffed up and golden brown!
Have extra puff pastry dough? Try these easy puff pastry recipes next!
Source: thesavorycipolla.com
These crispy Palmiers look beautiful and elegant. However, the best part is that they're super easy to make!
Use store-bought puff pastry sheets to make prep easier. Spread vibrant basil pesto all over the sheets of pastry. Sprinkle chopped sun-dried tomatoes and crumbled feta all over, too!
Roll your filled pastry in parchment paper and freeze until firm. Cut into slices and bake until the pastry is golden and crispy!
Source: christinascucina.com
Baked camembert is effortless, but the truffle honey takes it to another level of tasty!
Bake your camembert until it's hot, melted, and gooey. Spoon it onto slices of crusty baguette and drizzle with delicious truffle-infused honey!
Source: artofnaturalliving.com
These gougeres puffs are soft, flaky, and infused with delicious creamy cheese!
A basic choux pastry forms the bulk of your gougeres appetizer. Make it with butter, water, all-purpose flour, and eggs for a silky texture. Stir in gruyere and add black pepper for extra flavor.
Transfer the dough to a pastry bag and pipe rounds onto a baking sheet. Bake until they're puffed up and golden brown!
Source: happykitchen.rocks
French-style stuffed eggplants are tasty and easy to make with a handful of ingredients.
Sprinkle halves of eggplant with olive oil and black pepper, and bake until soft. Scoop it out and use it for your filling.
Mix the eggplant flesh with sautéed onions, garlic, tomatoes, and earthy mushrooms. Add chopped fresh basil and parsley for a delicate herbed taste.
Spoon the filling back into the eggplant shells, sprinkle with shredded cheese, and bake until the cheese is melted!
Source: happykitchen.rocks
Skip the pastry crust for this quiche and use sweet potato instead for a delicious twist!
Layer thin slices of sweet potato on the bottom of a pie pan. Season with salt and pepper and bake until the potatoes are soft.
Mix beaten eggs with quark and shredded gruyere. Add Dijon mustard for a punchy kick. Add spears of asparagus on top of the potatoes, pour in the egg mixture, and add more asparagus.
Bake your quiche until the filling is firm and the top looks lightly charred! This is one of the most versatile French-inspired appetizers!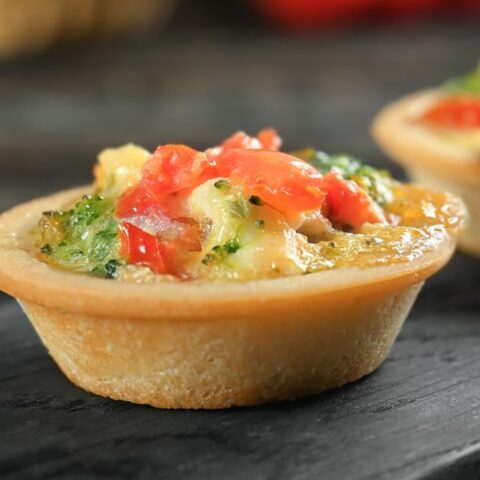 31 Popular French Appetizers You Can Make at Home
Elevate your entertaining with our collection of mouthwatering French appetizers. Bon appétit!
Ingredients
1. Escargot
2. Chicken Liver Pate
3. French Onion Soup
4. Moules Mariniere
5. Bacon Wrapped Prunes
6. Gougeres Gruyere
7. Lyonnaise Salad
8. French Potted Chicken Rillettes
9. Mussels in Mushroom Cream Sauce
10. Mini Quiche Lorraine
11. Mixed Olive Tapenade
12. Chicken Liver Pate with Apples
13. BBQ Brie
14. Crab Canapes
15. Baked Brie Bread with Strawberry Jam
16. Baked Camembert
17. Gougeres
18. Cheese Tartlets
19. Brie with Caramelized Onions
20. Cheese Souffle Brie
21. Curried Chicken Liver Pate
22. Cheese and Bacon Gougeres
23. Potato Galette
24. Prawn Tartare
25. Leek and Gruyere Flamiches
26. Bacon Dill Cheese Puffs
27. Sun Dried Tomato Pesto and Feta Palmiers
28. Baked Camembert with Truffle Honey
29. Creamy Gougeres Cheese Puffs
30. Stuffed Eggplants
31. Asparagus Quiche
Instructions
Scroll up to get a bunch of easy, yummy, and delicious recipes. Don't be afraid to get creative with the ingredients, you might discover a flavor you didn't know you liked.
Get your shopping list going and make sure you've got all the ingredients.
Get cooking and make your next French Appetizer!
Notes
Which one of these recipes was your favorite? Let me know in the comment section or on Pinterest!