If you are missing your favorite classic chocolate chip cookies on a dairy free diet, you need to indulge in these mouthwatering dairy free cookies!
When eating a cookie, you want it to be moist and chewy with crispy edges. A classic chocolate chip cookie is probably at the top of your list. However, it's a big no if you don't eat dairy!
You don't have to go without cookies if you're dairy-free. There are so many options nowadays that you might find the best cookie you've ever eaten!
Don't feel the need to stick to classic cookies, either. You can be creative to your heart's content with ingredients and flavors.
Think vibrant matcha cookies, moist olive oil cookies, sweet honey cookies, or aromatic chai cookies.
What Cookies Do Not Contain Milk?
Cookies with butter, milk, or yogurt contain dairy, but you can use many alternative ingredients.
You can guarantee that vegan cookies don't have milk in any form in either the dry ingredients or the wet ingredients.
Nut butter and oat milk are good dairy-free options for making cookies without milk. You can use vegan chocolate chips if you have a severe craving for a chocolate chip cookie!
Best Dairy-Free Cookie Recipes
We've searched the internet for the best dairy-free cookie recipes. You won't even notice they don't contain milk or butter! Grab your cookie sheet, and let's get baking the perfect cookie!
Source: allnutritious.com
The outside of these paleo cookies is crunchy, but the inside is soft and melts in your mouth!
Use natural peanut butter for your cookies to ensure they're dairy-free. When combined with eggs, this gives your cookies a moist texture.
Almond flour and coconut sugar give your cookies structure and sweetness. Cinnamon and nutmeg add a spiced note that goes so well with peanut butter!
Store these in an airtight container at room temperature and enjoy them all week long!
Source: hauteandhealthyliving.com
These soft, chewy, naturally sweet cookies are effortlessly made with only three simple ingredients!
Mix almond flour with honey and warm water to form a dough. A pinch of salt balances the sweetness of honey. Freeze your dough to firm it up before rolling it out and cutting star shapes.
Line your baking sheet with parchment paper and bake your cookies until they're lightly browned, then let them cool. Decorate them with melted dairy-free chocolate and festive sprinkles!
Source: hauteandhealthyliving.com
These dairy free chocolate chip cookies are a naturally healthy and delicious sweet treat with the perfect texture. This easy recipe doesn't need baking, either!
Soft dates add sweetness to your cookies. Their sticky consistency also helps bind everything together.
Mix your dates with natural peanut butter, oats, and vanilla extract. A pinch of salt makes the other flavors stand out. For a crunch, add dairy-free chocolate chips!
Source: theroastedroot.net
These soft, chewy oatmeal cookies are naturally sweet and taste great.
Your cookies are made sweet with mashed bananas and pure maple syrup. Use rolled oats for a nutty, chewy texture. Almond butter gives your cookies a rich taste.
Fresh blueberries add sweetness and bursts of juiciness! Add a sprinkle of cinnamon for a warming flavor. Sea salt makes the taste of the other ingredients stand out!
Source: allnutritious.com
These healthy cookies have a soft, chewy texture and a sweet, rich chocolaty flavor!
Ripe bananas and almond butter deliver a moist texture to your cookies. Almond flour binds them, and cocoa powder provides a rich taste.
Add warmth to your cookies with ground cinnamon. Chia seeds add crunch, and raisins bump up the sweet factor!
Try these best banana desserts with any leftover bananas!
Source: veganhuggs.com
These vegan chocolate crinkle cookies are buttery and sweet!
Cocoa powder gives your cookies a rich chocolate taste. A splash of vanilla extract and a pinch of salt bring out the delicious taste.
Use vegan butter for your cookies to make them dairy-free. Non-dairy milk and flaxseed eggs provide a moist texture.
Roll balls of dough in cane and powdered sugar before baking. These make the perfect crinkles on your cookies!
Source: tyberrymuch.com
The edges of these chocolate chip cookies are crisp, but the middle is soft and gooey!
Mix baking soda with all-purpose flour to give your cookies a perfect rise. Dairy-free butter provides a rich taste and a tender crumb. Use vanilla extract for depth of flavor.
Dairy-free chocolate chips bring pockets of melted sweetness to every bite!
You might also enjoy this dairy free mug cake for dessert!
Source: veganhuggs.com
These oatmeal cookies are soft, chewy, crispy, and delicious!
Use an overripe banana for the sweetest taste. Cinnamon adds a warming flavor. It also works well with vanilla.
Stir walnuts through your cookie dough. You'll have a crunchy texture and nutty flavor. You could add dairy-free chocolate chips too!
Source: allnutritious.com
Two secret ingredients make these moist, chewy banana cookies healthy and filling!
Use an overripe banana to give your cookies the best sweetness. Almond butter adds a nutty taste that goes well with bananas! Vanilla extract adds a depth of flavor.
Honey adds natural sweetness to your cookies. Rolled oats bring your dough together. They provide a chewy texture too. For extra nutritious cookies, use chia seeds and cooked quinoa!
You also must try this delicious banana chia pudding for a treat!
Source: thrivingnest.com
Mini oat carrot cookies are healthy and delicious. They're a great way to get extra veggies in, too!
The sweetness of your cookies comes from grated carrots and applesauce. Rolled oats and ground flax seeds provide a soft yet chewy texture.
Add cinnamon and nutmeg for a lightly spiced, warming taste. Add maple syrup to your batter if you like your cookies even sweeter!
Source: healthytasteoflife.com
These vegan matcha cookies are delicious, crisp, and chewy!
Use vegan butter in your cookies to keep them dairy-free. The maple sugar provides sweetness, while oatmeal flour makes matcha cookies healthier.
Poppy seeds add a slight crunch to the center of your cookies. Vanilla extract offers a delicious depth of flavor. Add a pinch of sea salt to make your ingredients taste stand out!
Organic matcha powder gives matcha cookies their bright green color!
Source: dishingouthealth.com
These soft, chewy trail mix cookies are full of healthy things!
Rolled oats provide a deliciously chewy texture. Use chunky peanut butter for an authentic trail mix feel!
Add the bits to your cookies that you like in your favorite trail mix. Walnuts, dairy-free chocolate chips, coconut flakes, and raisins are great options!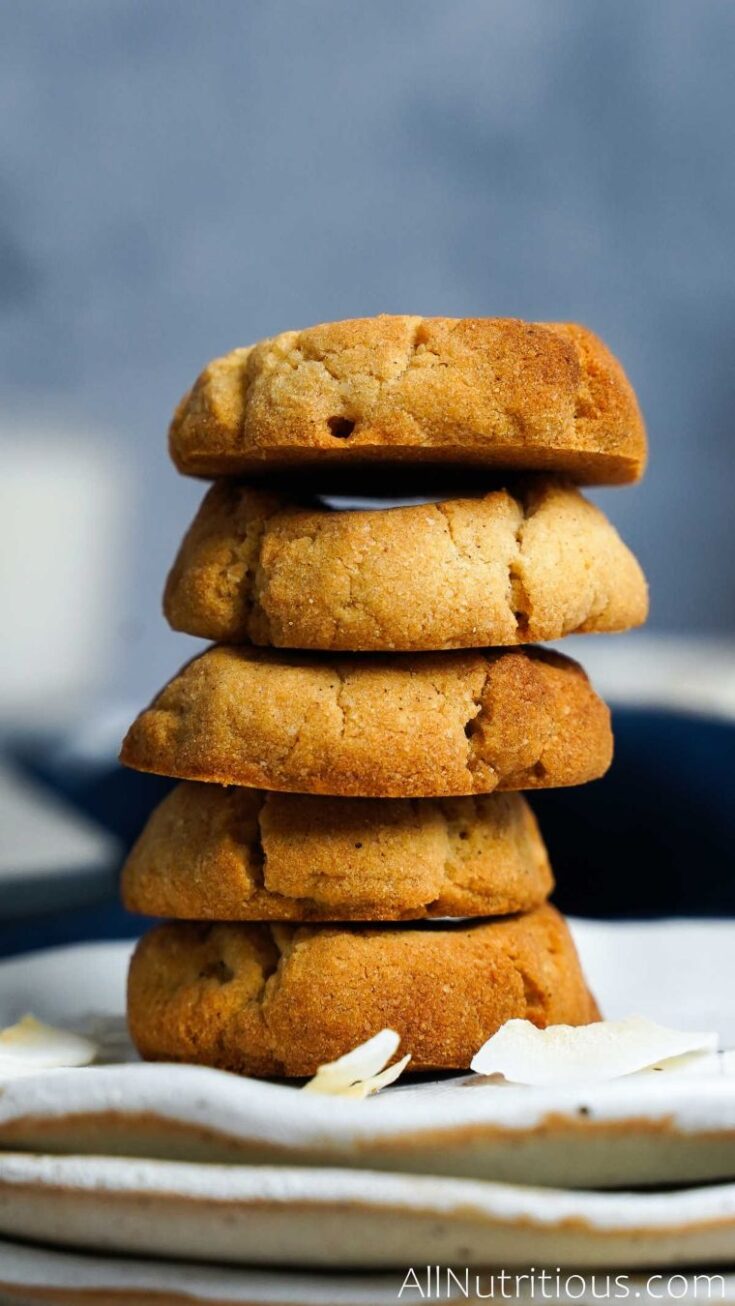 Source: allnutritious.com
These protein cookies taste delicious with a nutty flavor. They are naturally sweet too!
Coconut flour and protein powder are the main ingredients for your cookies. Mix in baking soda for a fluffy texture.
Honey gives your cookies a sweet taste, and vanilla extract adds a subtle depth of flavor. Cinnamon, ginger, and nutmeg are in apple pie spice, which gives your cookies a warming taste.
Source: themondaybox.com
These cookies are perfect for kids' parties. Their bright pink color and sparkling sugar are eye-catching!
Make this sweet treat with a simple sugar cookie recipe. Shortening makes them deliciously crispy on the outside. Vanilla extract adds a delicate depth of flavor.
Pink food gel gives your cookies the most vivid color! Before you bake your cookies, roll the dough balls in sugar for a crunchy texture.
Source: marleysmenu.com
These tasty cookies' warm spices and pumpkin flavor make them great for fall.
Pumpkin puree binds your cookies together and keeps them moist. It also delivers a beautiful orange color. Pumpkin pie spice and sea salt elevate the overall taste!
Light brown sugar gives your cookies a caramelized taste. Mix in vegan chocolate chips to make each bite full of pockets of gooey goodness!
These cookies are one of the most popular fall desserts!
Source: worldofvegan.com
Find a warm, comforting taste in these soft and chewy gingersnap cookies.
The primary flavor comes from ground ginger. Cinnamon and cloves round out the taste nicely.
Ground flaxseed binds your cookies and keeps them moist. Use vegan butter to make them dairy-free.
Brown sugar and molasses give a delicious caramelized taste. This is distinctive in ginger cookies!
Source: easyvegancookies.com
Vegan orange and cranberry cookies are perfect for the holidays!
The sweet, fruity taste comes from orange zest and dried cranberries. They also provide festive pops of color! Vegan butter keeps your cookies dairy-free.
Light brown sugar helps to make the center soft and chewy. Use orange juice in your cookie dough for a bright, citrusy taste!
Source: worldofvegan.com
Try these soft shortbread cookies filled with sweet, fruity jam. The texture is melt-in-your-mouth!
This is a simple shortbread recipe. To make your cookies dairy-free, change from regular butter to vegan.
Vanilla and almond extract add a layer of flavor to your cookies. It matches the buttery taste and texture. Fill the centers with your favorite preserves! Strawberries or apricot are ideal.
Source: easyvegancookies.com
Try these cookies for a decadent treat. Mini peanut butter cups are added to soft, chewy cups of baked dough!
Creamy peanut butter gives your cookies a delicious nutty flavor. Use vegan butter to keep them dairy-free.
Light brown sugar makes your cookies moist. It also offers a caramelized taste. Vanilla extract adds a subtle depth of flavor alongside the nuttiness.
Press a vegan peanut butter cup into your baked cookie dough and let them firm up!
Source: aimadeitforyou.com
Smooth, silky, zesty lemon curd is added to sweet thumbprint sugar cookies!
You'll make vegan lemon curd from scratch for your cookies. Evaporated oat milk delivers a creamy texture! Use lemon juice and zest for the best flavor.
Almond flour offers a delicate nutty flavor that goes well with lemon. Vanilla extract adds a depth of flavor.
Use vegan butter to keep your cookies dairy-free – a pinch of salt balances the sweetness from the sugar and lemon.
Source: lifecurrentsblog.com
With a fudgy center and crisp around the edges, these chocolate pecan cookies are delicious!
Bring out the nutty taste of your pecans by toasting them. Chop them into smaller pieces so you get more in each cookie!
Use unsweetened cocoa powder for a rich chocolaty taste. Powdered sugar adds sweetness to your cookies. A pinch of salt balances the sweetness and brings out the best flavors!
Source: addictedtodates.com
Lemon and blueberry are a match made in heaven. These heavenly cookies are chewy on the outside and soft on the inside!
Fresh blueberries deliver juicy pops of flavor to your cookies. Lemon zest and juice offer a bright, zingy taste to match!
Almond extract provides a touch of nuttiness that works well with lemon and blueberry. Pair it with vanilla extract for a delicious depth of flavor.
Source: perchancetocook.com
These sugar cookies made with olive oil instead of butter are light, chewy, and satisfying!
Use olive oil and apple sauce to make dairy-free cookies that still taste delicious. Baking soda and powder act as leavening agents to produce an airy texture.
Vanilla extract adds depth to the taste. Before you bake your cookies, roll the dough balls in granulated sugar to make them crunchy!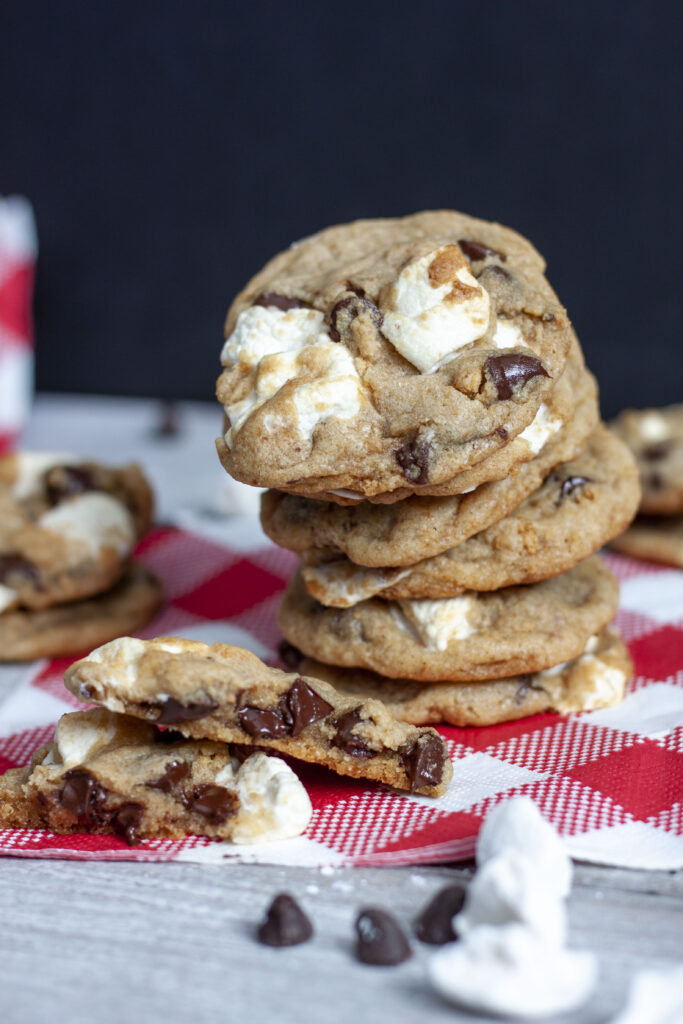 Source: courtneyshomestead.com
Offer the taste of sweet, chocolaty smores in a deliciously soft, chewy cookie!
For a real smores taste, mix crushed graham crackers with your flour. Vegan butter and milk keep your cookies dairy-free.
Smores cookies must have mini marshmallows. Use vegan chocolate chips for the last must-have part of a smores recipe!
Source: rainbowplantlife.com
These tasty cookies are made with chewy oatmeal, sweet dried fruit, and masala chai spice!
Mix your chai with fragrant spices like ground ginger, crushed cardamon, nutmeg, allspice, and cloves. Cinnamon is your prominent flavor.
Creamy almond butter, pure maple syrup, and flax egg bind your cookies. Shredded coconut and chopped pistachios offer a nutty taste. Mix in chopped dates and hemp seeds for chewiness, too.
Source: danastable.com
Sweet honey pairs with comforting spices in these crispy, chewy cookies!
Use good honey because it's the primary taste in your cookies. A flavored type like lavender or orange blossom would taste delicious.
Use vegan butter to keep your cookies free from dairy. Cinnamon and nutmeg add a warming taste. Vanilla extract provides a depth of flavor.
Mix turbinado sugar with your dough for a crunchy texture and sparkling look!
Source: inmamamaggieskitchen.com
The taste of cinnamon runs through these cookies. Find it in the sugar coating and the buttery shortbread!
Cinnamon tea offers your cookies a warm spiced flavor. Add this to bring the dough together after you've mixed the other ingredients.
Vegan butter provides a texture for your cookies that melts in your mouth. Cover them with cinnamon sugar when they're cool!
Source: maesmenu.com
Try these soft, chewy cookies that are packed with chocolaty flavor!
Use vegan butter to give your cookies a rich, buttery taste. Light brown sugar delivers caramelization. The vanilla extract gives a subtle depth of flavor.
Add vegan chocolate chips for sweet, gooey pockets! Salt makes the sweetness of your cookies stand out.
Source: healyeatsreal.com
Inside soft, sweet pumpkin cookies are a creamy cinnamon filling. They are the perfect holiday treat!
There are signs of fall in your whoopie pies! Cashew butter and pumpkin puree provide a light, fluffy texture. Pumpkin spice enhances the pumpkin taste, and maple syrup acts as a natural sweetener.
Use shortening and maple syrup to make your filling. Vanilla extract and ground cinnamon provide a warming flavor.
Source: sumptuousspoonfuls.com
These thin mints contain healthy ingredients and will remind you of Girl Scout cookies!
Your cookies are made with a mix of delicious flavors. Gain a nutty taste from almond and coconut flour. Coconut oil brings everything together, and cocoa powder gives a rich chocolate taste!
Honey provides natural sweetness. The peppermint flavor is essential in these cookies! Mix coconut oil, peppermint extract, and vegan chocolate chips to coat your cookies.
Source: bakedbyclo.com
These double chocolate cookies are chunky, soft, and chewy!
The best thing to use instead of butter is vegan margarine. Soft brown sugar offers a chewy texture. Cocoa powder gives a rich chocolate taste and color.
Chop up a vegan white chocolate bar. Mix it into your dough to get big chunks of gooey chocolate throughout your cookies!
You must try these decadent dairy free desserts next!
31 Best Dairy-Free Cookies for a Delicious Treat
Indulge in these scrumptious dairy-free cookies that promise healthier snacking without compromising on taste!
Ingredients
1. Paleo Peanut Butter Cookies
2. 3-Ingredient Almond Flour Cookies with Honey
3. Raw Peanut Butter Chocolate Chip Cookies
4. 5-Ingredient Healthy Blueberry Oatmeal Cookies
5. Whole30 Cookies with Bananas and Chocolate
6. Vegan Chocolate Crinkle Cookies
7. Eggless Chocolate Chip Cookies
8. Vegan Banana Oatmeal Cookies
9. Banana Protein Cookies
10. Healthy Oat Carrot Cookies with Applesauce
11. Healthy Vegan Matcha Cookies with Poppy Seeds
12. Trail Mix Energy Cookies
13. Coconut Flour Protein Cookies
14. Mexican Pink Cookies
15. Vegan Pumpkin Chocolate Chip Cookies
16. Soft and Chewy Vegan Gingersnap Cookies
17. Vegan Orange Cranberry Cookies
18. Vegan Thumbprint Cookies
19. Vegan Peanut Butter Cup Cookies
20. Vegan Lemon Thumbprint Cookies
21. Flourless Chocolate Pecan Cookies
22. Lemon Blueberry Cookies
23. Soft Olive Oil Sugar Cookies
24. Vegan Smores Cookies
25. Chewy Vegan Chai-Spiced Cookies
26. Honey Cookies
27. Mexican Shortbread Cookies
28. Chocolate Chip Cookies
29. Pumpkin Whoopie Pies
30. Gluten Free Thin Mint Cookies
31. Vegan Double Chocolate Chip Cookies
Instructions
Scroll up to get a bunch of easy, yummy, and delicious recipes. Don't be afraid to get creative with the ingredients, you might discover a flavor you didn't know you liked.
Get your shopping list going and make sure you've got all the ingredients.
Get cooking and make your next Dairy-Free Cookie!
Notes
Which one of these recipes was your favorite? Let me know in the comment section or on Pinterest!