If you avoid sushi because you don't like raw fish, have no fear, cooked sushi is here! These flavorful cooked sushi recipes are for you.
When most people think of sushi, they tend to think of the raw fish on rice variety. But the truth is, there are many different kinds of sushi! Some of them are cooked, while others use raw fish.
Whether you want to learn how to make some sushi yourself or just searching for what to order, these twenty-seven cooked sushi recipes will help you!
Let's dive right in.
Types of Sushi
There are six core types of sushi.
Sashimi. Sashimi is a light dish made of rectangular slices of raw fish. It's a great way to enjoy fresh fish that's in season.
Nigiri. This sushi looks simple, but there's much-hidden technique. A molded piece of sushi rice is covered with a slice of raw or cooked fish.
Chirashi. Think of this like sashimi in a bowl. It's served with a few different garnishes the chef can use to give you a little surprise in the middle of your meal.
Maki. When most people think of sushi, maki is what they think of. It's that traditional roll shape with rice on the outside and the filling on the inside.
Uramaki. This is the reverse of maki sushi, putting the filling on the outside and the rice on the inside.
Temaki. And finally, we have temaki. This is almost like a savory ice cream cone! The nori (seaweed) forms a cone holding rice, fish, and vegetables.
What Are Some Sushi Rolls That Are Cooked?
When it comes to cooked sushi, you can find many different kinds. Nigiri, maki, uramaki, and temaki can all have cooked varieties.
Teriyaki chicken, fried fish, eel, egg, and even vegetables are all ingredients you can enjoy on cooked sushi. Thankfully, these are also super simple to make at home!
Best Cooked Sushi Recipes
Jump into making sushi at home with the internet's best-cooked recipes. The idea of making sushi can feel pretty intimidating. But it doesn't have to! Grab your sushi mat and some seaweed sheets!
Follow along with any of these twenty-seven recipes to achieve sushi greatness. Let's roll!
Source: allergyummy.com
Sushi is one of those meals that take to being vegan with ease. That's why I love this recipe for vegan maki rolls. It's packed with vitamins and nutrients without the stress of cooking with fish.
This recipe calls for bell peppers, creamy avocado, and cucumber as fillings. But you can use any fillers that you want! I recommend including avocado for a dose of healthy, creamy fats.
Have some extra avocados? Use them before they go bad with this avocado wrap with cucumbers!
Source: pressurecookrecipes.com
Here's another maki roll that's so tasty you'll never want to buy takeout again. This type of sushi is called a California roll. The spicy mayo, imitation crab, and avocado are the perfect comforting blend.
The sesame seeds on the outside give every piece of sushi a tasty crunch. This is a great place to start in the world of homemade sushi. It's a super easy recipe with no challenging twists or turns.
These simple lettuce salad recipes would make a perfect side for your rolls!
Source: vegandollhouse.com
This is the recipe you reach for when you want something wild. This vegan sushi cake is bright and beautiful. Every layer has a new color or flavor for you to enjoy.
Bring this cake if you're heading to a sushi lover's party. They'll be blown away by this unique showstopper! Best of all, it's nice and simple to pull together, you'll need to break out your rice cooker.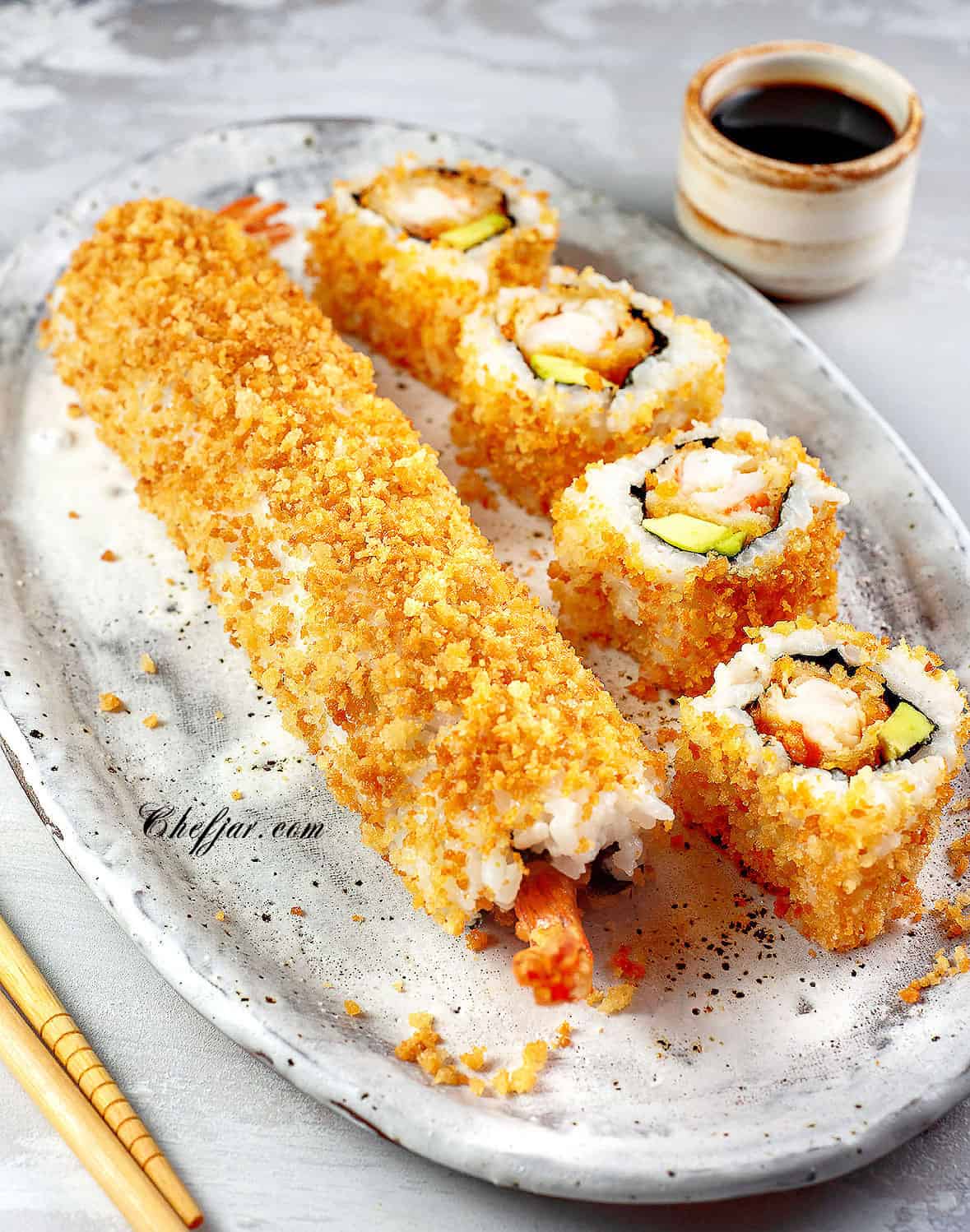 Source: chefjar.com
The one thing that can make sushi even better is a little bit of crunch. I'm a massive fan of the crunchy coating outside this sushi roll. It's fantastic with mayonnaise drizzled on top!
While the recipe has recommended fillings, you can use this method any way you want. Make your favorite sushi roll a bit more enjoyable with a layer of tasty crunch.
You'll need sheets of nori and a bamboo mat for this one!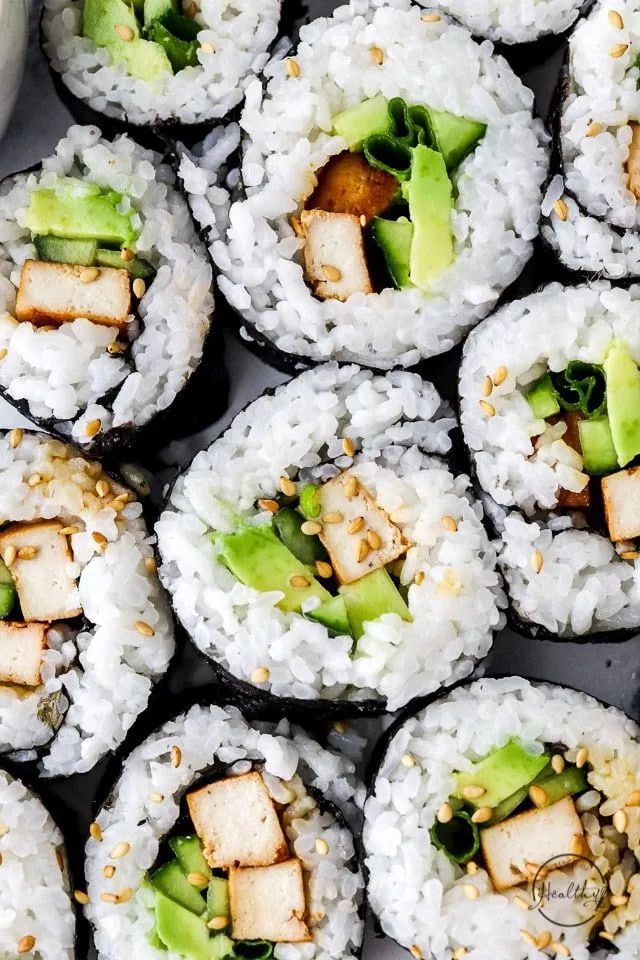 Source: apinchofhealthy.com
Many vegan sushi recipes use avocado as the core ingredient, leaving it at that to avoid raw seafood. But this sushi roll recipe takes the taste and texture one step further. The secret ingredient? Tofu!
The key is marinating the tofu for these homemade sushi rolls, which has a delicious flavor. Without this, it will look too bland to excite your tastebuds.
Pro tip: try freezing and defrosting it a couple of times to help give the tofu a meaty texture.
This tofu recipe would be a great back to school meal to keep you full.
Source: honestandtruly.com
The spicy tuna roll is a staple of the homemade sushi game and great for a sushi party. This is a great place to start if you want to know how to make your own sushi!
This is a super simple maki roll you can knock together in no time. Whip this up ahead of time and keep it fresh in the fridge. Bring it along to your next potluck or picnic for a crowd-pleasing treat!
If you love the kick of spicy tuna you'll love this spicy tuna wrap with veggies.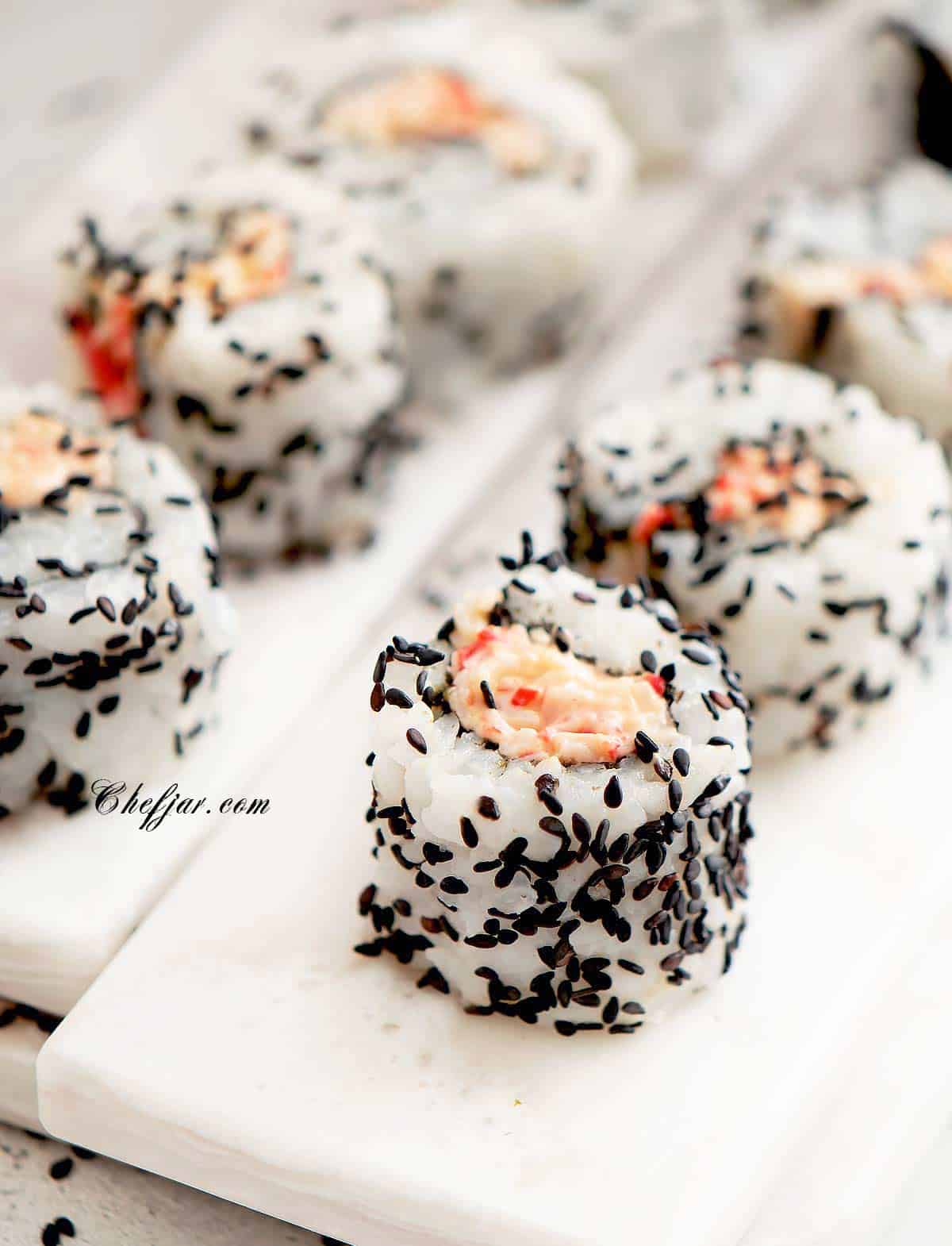 Source: chefjar.com
If you prefer crab meat over tuna, here's a recipe that will have your tastebuds singing. This sushi looks as impressive as it tastes.
The black sesame seeds contrast with the reddish crab stick in the middle.
The result is a gorgeous spicy crab roll that will happily take center stage on any table. Serve with a healthy dose of spicy mayonnaise, sushi vinegar, and sesame-spiked soy sauce.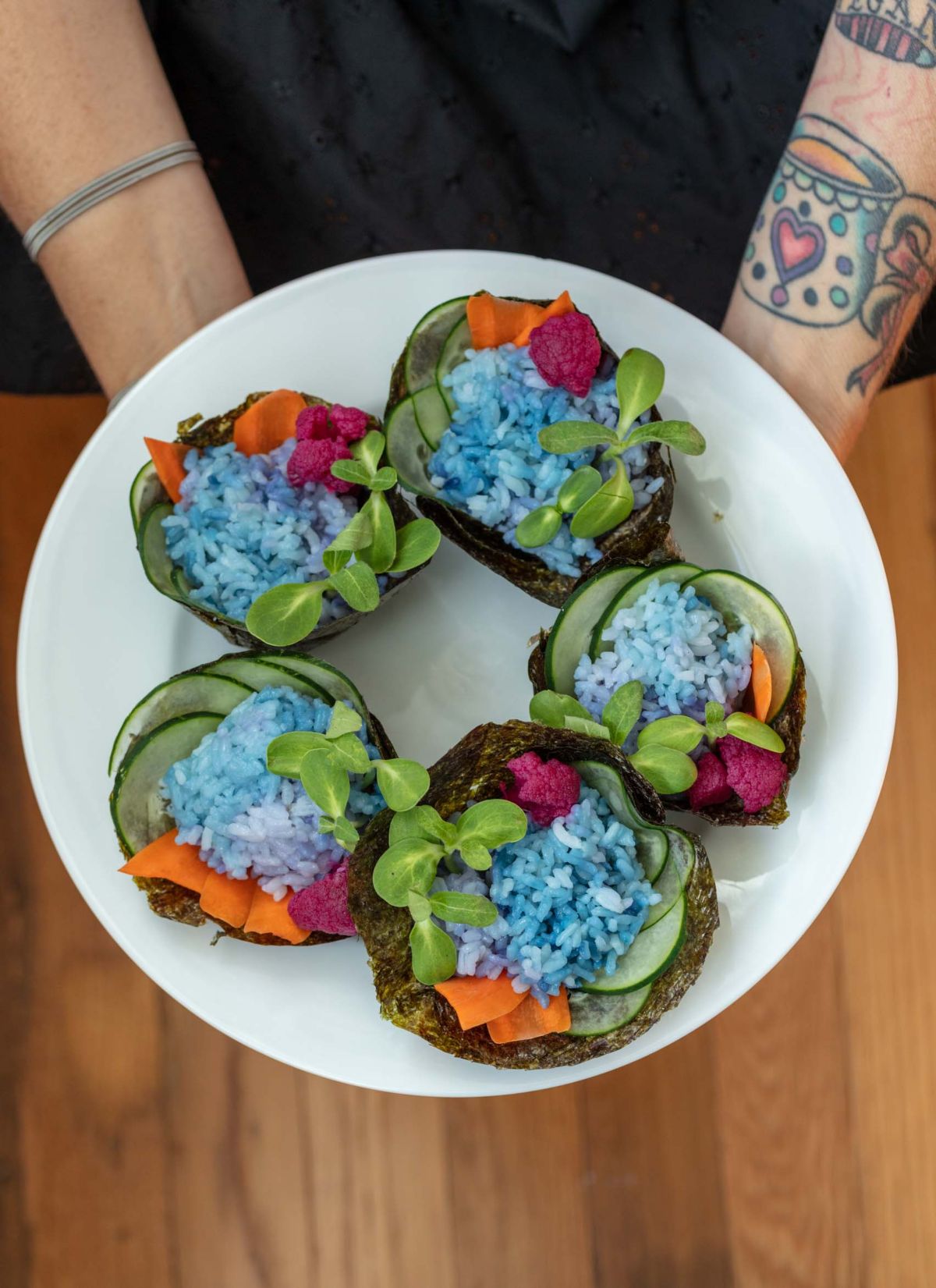 Source: vegandollhouse.com
Love the idea of the sushi cake but don't want to make the whole thing? These sushi cupcakes deliver color and flavor without using up a year's supply of sushi rice or needing a rolling mat.
While these look sweet, these cupcakes are savory. They're great for a simple, easy kids' birthday party lunch if you are doing a sushi bar.
The kids will love the vibrant "cakes," and you can avoid the sugar-high regular cupcakes would promise!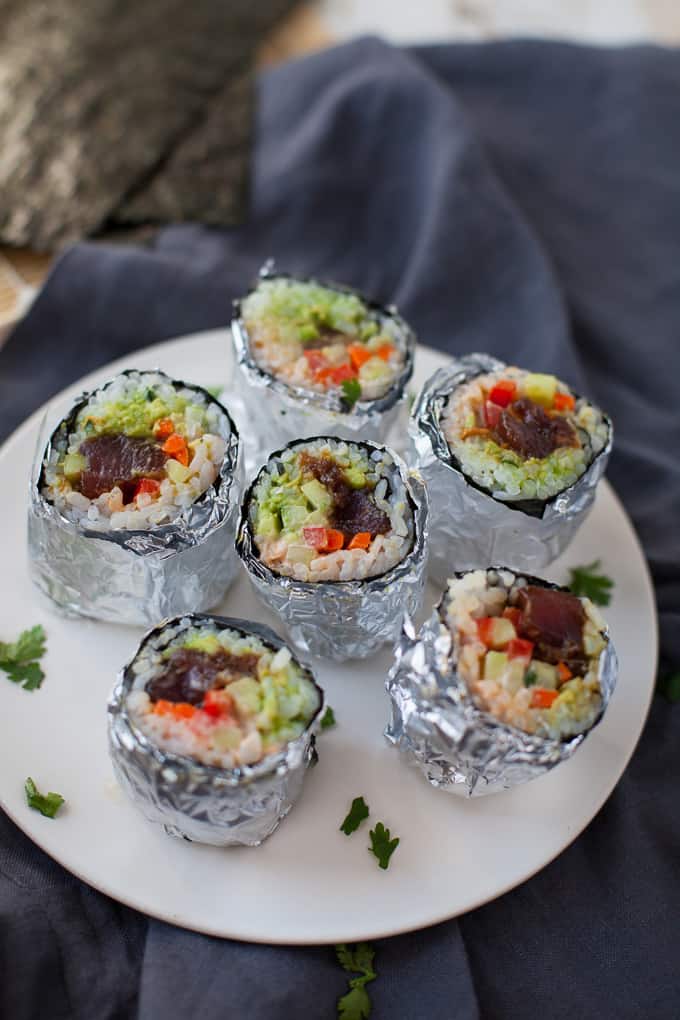 Source: karalydon.com
Searching for a great appetizer for your next party? These tuna sushi burritos are a unique and delicious way to bring your guests' appetites roaring to life.
Whip these up the night before and leave them sitting in the fridge to save yourself time. The foil around the rolls will stop the rice from drying out. That way, you get perfect sushi without the stress.
This sushi recipe would make a great healthy school lunch idea.
Source: lowcarbsimplified.com
Going keto doesn't have to mean going without sushi. This rice-less sushi has all the great flavors you love without the carbs to bring you down. The sesame seeds on top add the perfect finishing touch.
This maki roll also includes smoked salmon. In other words, it's a super rich and delicious sushi roll that even the pickiest eater will enjoy.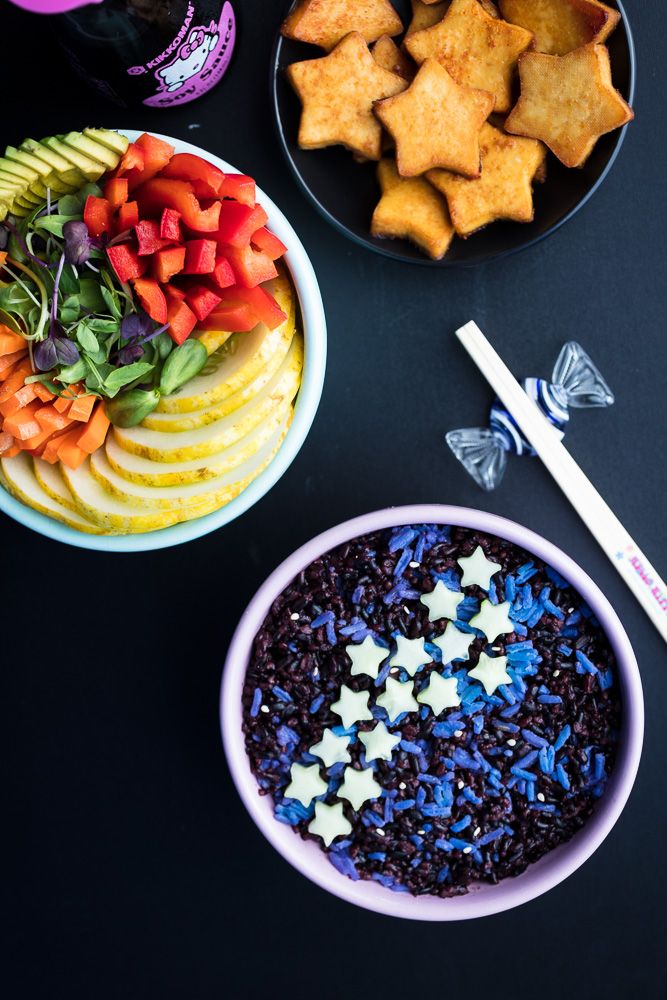 Source: vegandollhouse.com
Make sushi fun for your kids with this super cute galaxy sushi bowl. Food coloring goes a long way to making a healthy dish like sushi attractive to the little ones.
Creating this dish is almost like making tacos. Your rice is the tortilla. Then the rest of the vegetables are your tasty toppings. Let the kids assemble their perfect bowl. No pickiness here!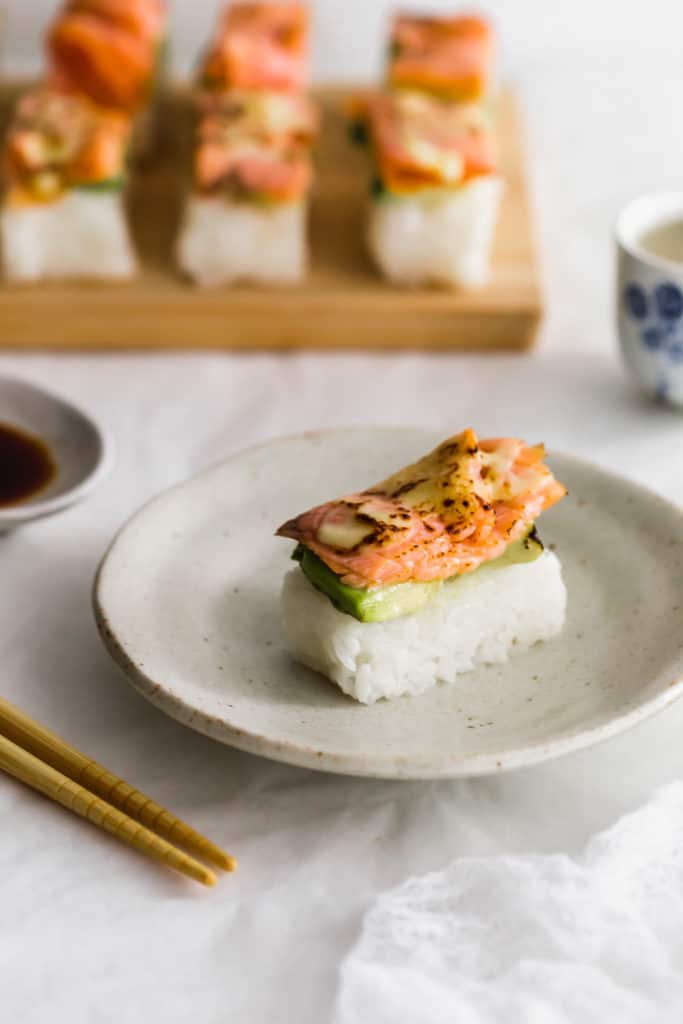 Source: siftandsimmer.com
Think of this recipe as a nigiri-style sushi recipe with delicious smoked salmon. This recipe uses flame-seared salmon. It's extra smoky and simple to make at home with a blowtorch.
Brush with soy sauce and a dash of chili oil to sell it. These refined little pieces of sushi are perfect for impressing guests at your next dinner party.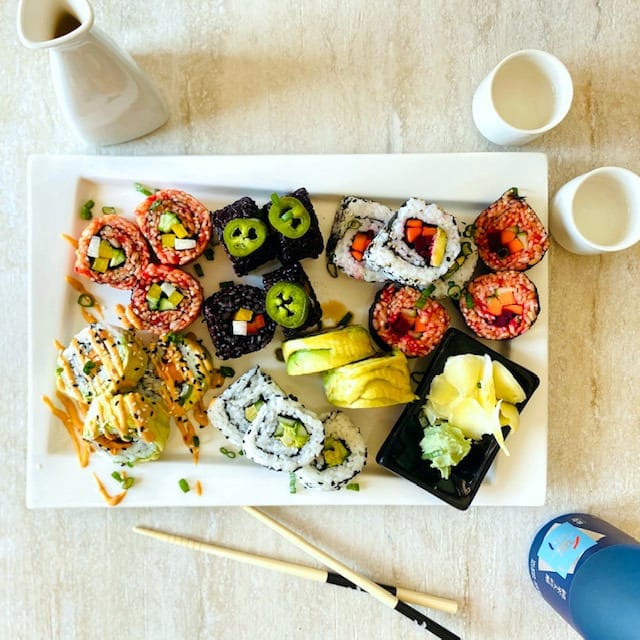 Source: aubreyskitchen.com
Give your vegetable sushi recipe an upgrade. This platter ignores the stereotype of boring single-vegetable vegetarian sushi. Instead, each piece is packed with as much flavor and color as possible.
This is a gorgeous centerpiece to serve at your next lunch or brunch gathering. All the colors and textures keep things interesting without overwhelming your guests.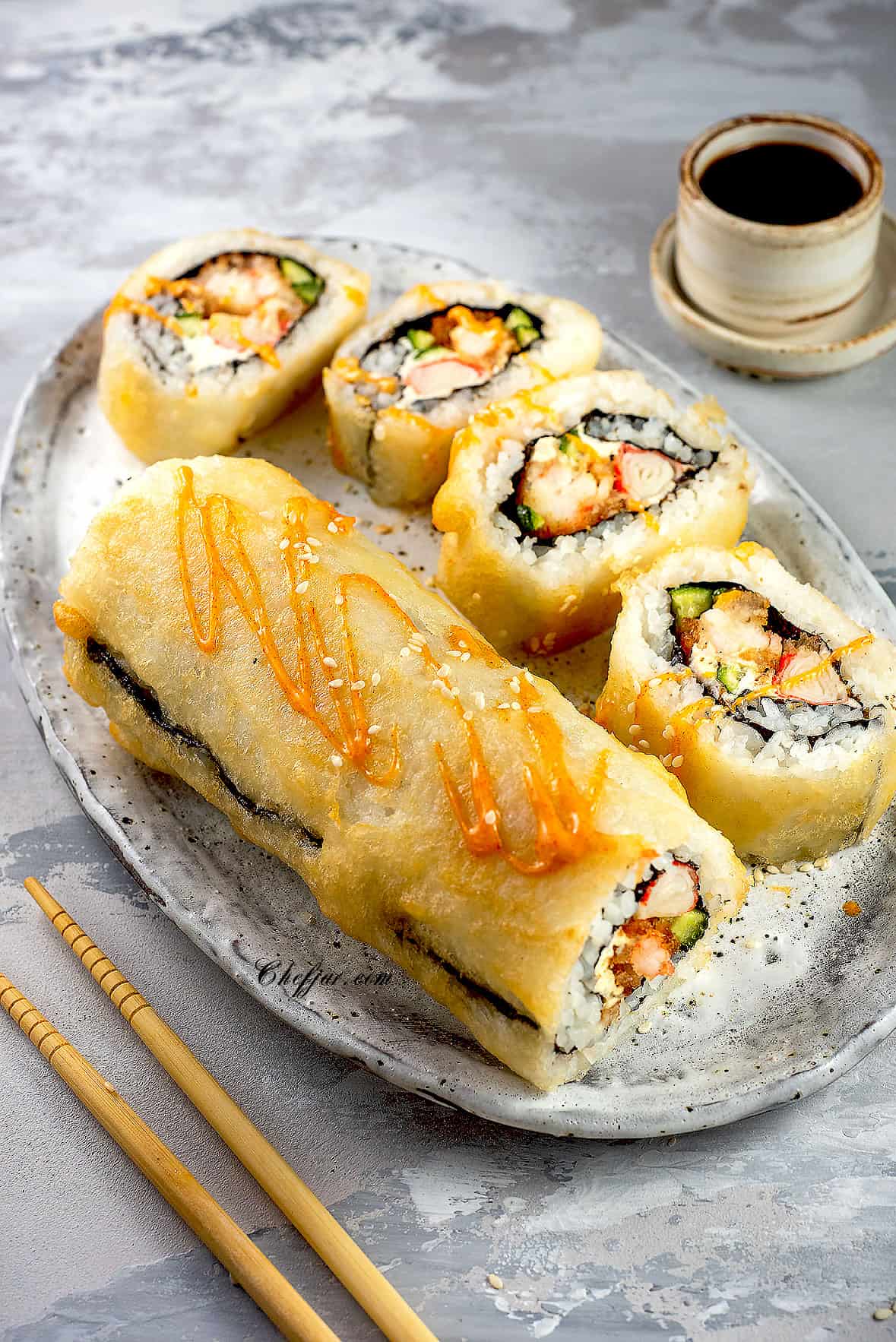 Source: chefjar.com
We've talked about adding panko to the outside of your sushi roll. But what if you took that one step further? This fried shrimp tempura roll uses a light tempura mixture to add that exterior crunch.
This sushi roll looks insanely impressive. But it's super easy to make! You don't need a heap of time, either. The key is to prepare your sushi roll the day before, then fry it right before you serve it.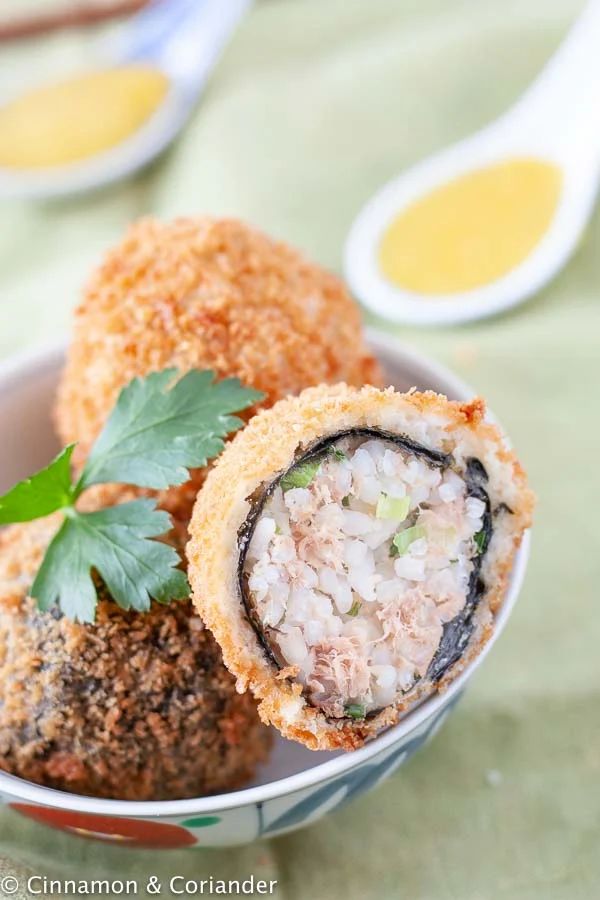 Source: cinnamonandcoriander.com
Speaking of fancy party appetizers… this is an easy meal that will blow your guests away. These are the ultimate holiday hangover treat to help soak up any leftover champagne.
Stick a toothpick in each ball to serve these up as appetizers. Are you looking for a heftier meal? You can serve up a bowl of these to enjoy with your favorite sushi condiments.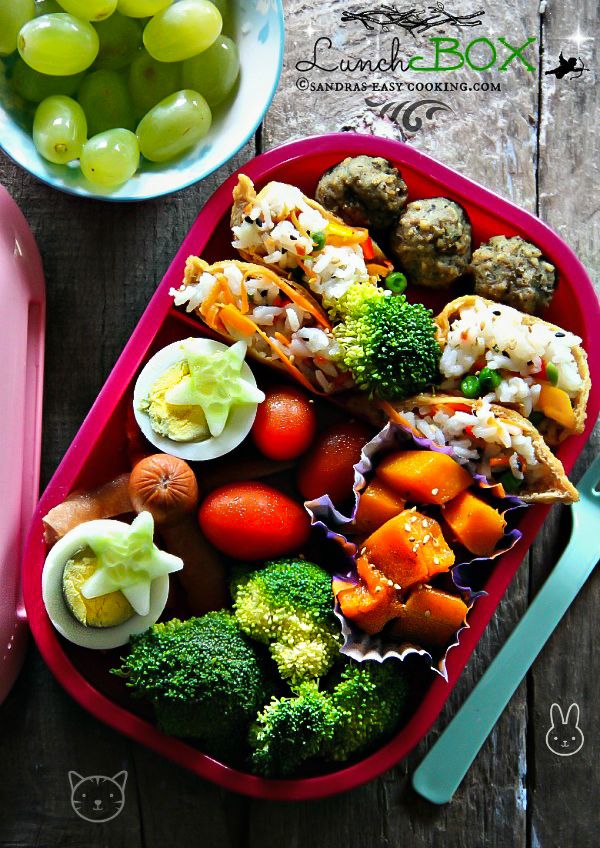 Source: sandraseasycooking.com
This is a sushi variety we didn't touch on at the top of the list. It's not as well-known as the others, but it is delicious. It's inarizushi! That's a soy pocket full of sushi rice, vegetables, and fish.
The earthy soy pocket helps these sushi pieces feel super filling. Hunting for a great meal prep recipe? This one is easy to knock together in the morning and will fill you up for the day.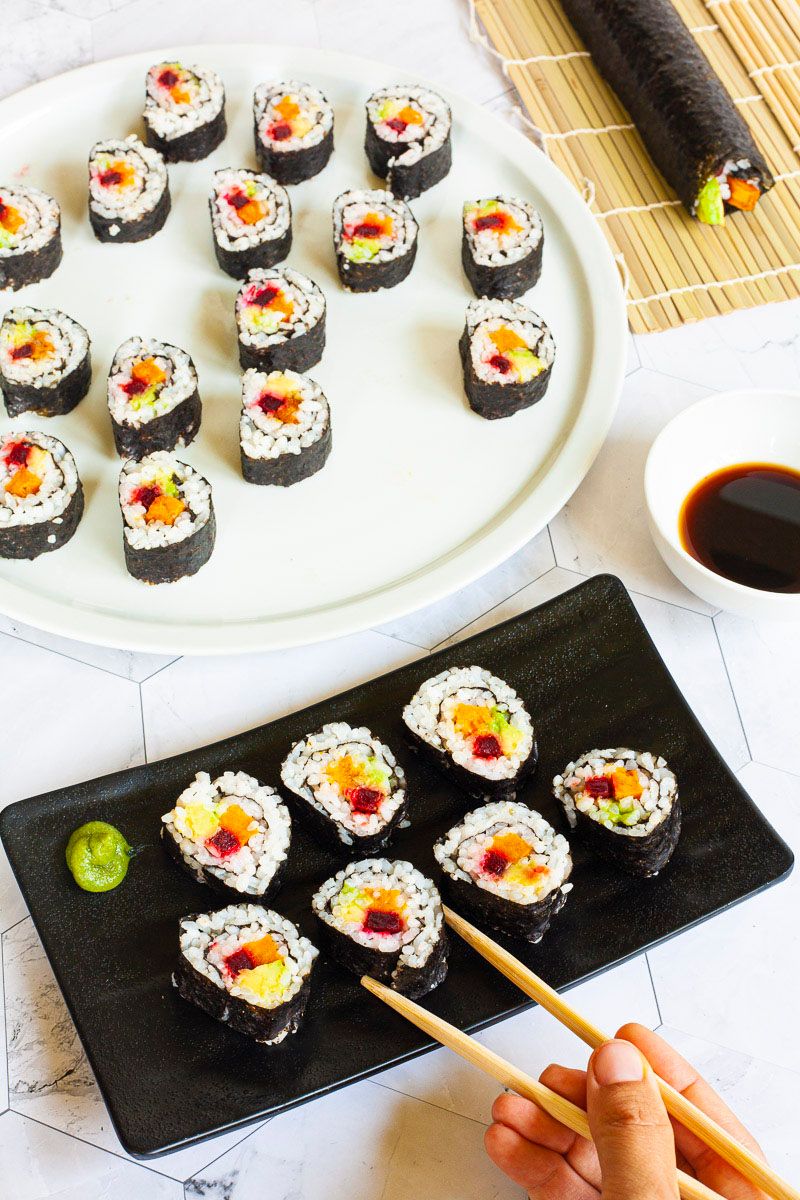 Source: mypureplants.com
Have you ever tried sweet potato sushi rolls? They're sweet, earthy, and have an excellent mouthfeel. The little piece of beet in the middle of each piece adds a bit of welcome brightness.
This is a fantastic way to use leftover sweet potato. Give your old root vegetables new life with a healthy, simple recipe that everyone in your family will love.
Source: masalaherb.com
A dragon roll is a personal favorite. First of all, it looks fantastic. Second of all, it tastes even better than it looks! I think the best way to enjoy this roll is slathered in Japanese mayonnaise.
While this recipe uses avocado as the core ingredient, you can use anything. Think of a dragon roll as both a maki and uramaki roll. The filling is on the inside and the outside.
Talk about luxury!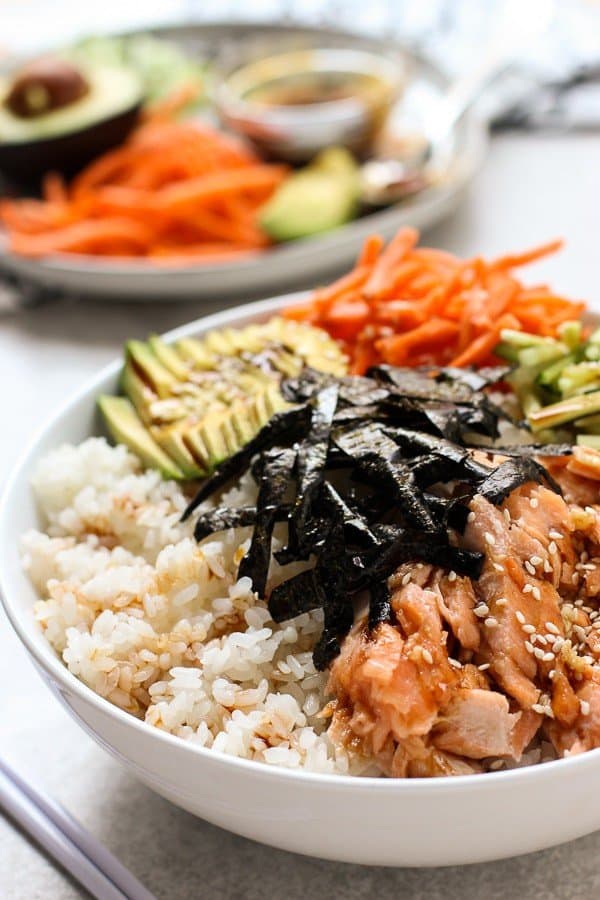 Source: joyousapron.com
Deconstruct your favorite cooked sushi roll for a delightful dinner! This baked salmon sushi bowl looks just as good as it tastes. It's so filling and great as a meal prep lunch box or dinner.
Make sure to season your rice! Rice bowls often have great toppings, but the rice is overlooked. A drizzle of sesame oil and some sesame seeds go a long way.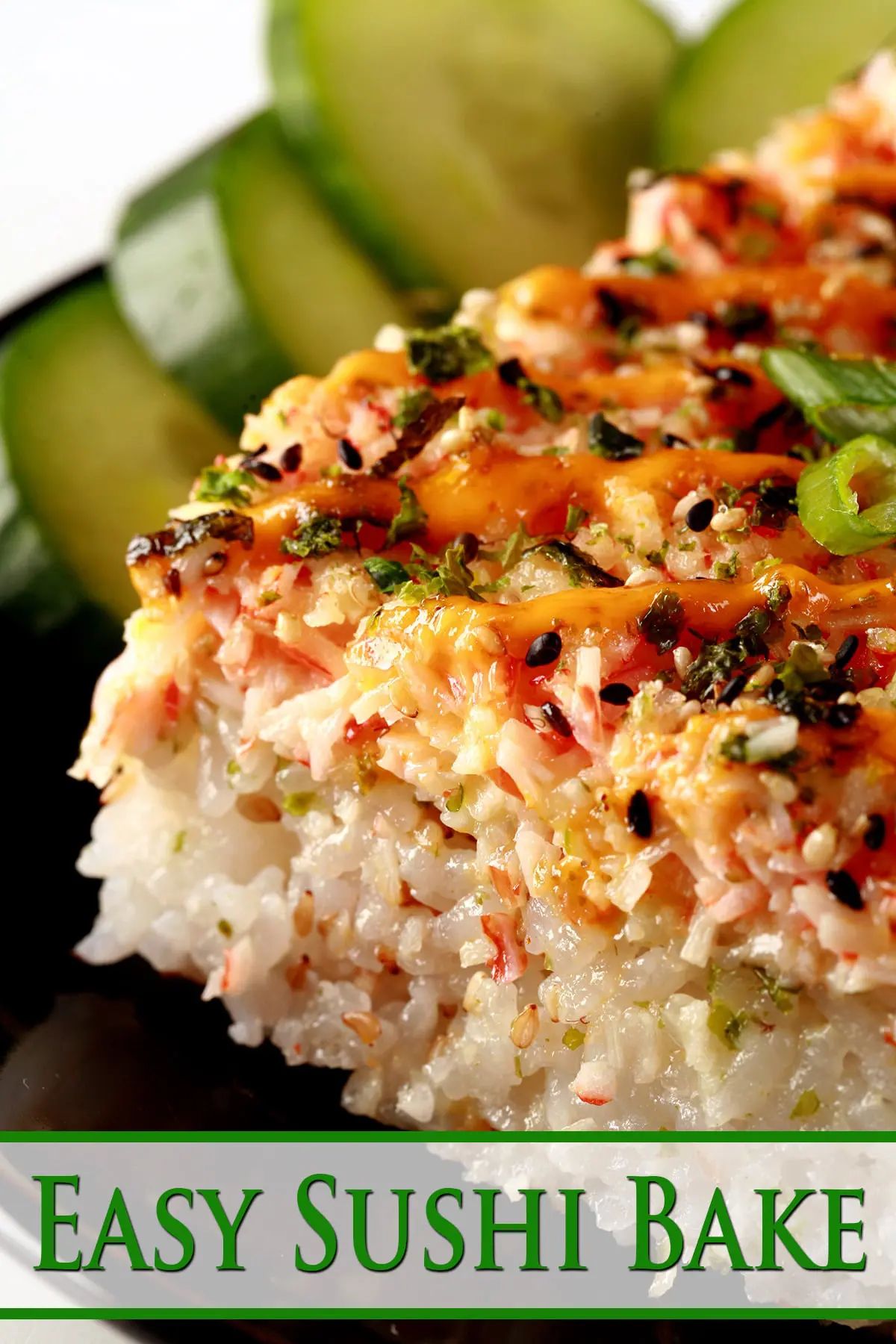 Source: celebrationgeneration.com
Love the flavor of sushi but don't want to fuss with making the rolls? This delicious cooked sushi casserole is the answer! It takes only minutes to assemble, but this is a taste you'll crave forever.
Change out the salmon for teriyaki chicken or even katsu chicken to keep things interesting. This is a versatile dish you can make to suit yourself and your family's tastes.
Source: savorthebest.com
Next up, we have a Japanese-American fusion dish at home on dinner tables across the U.S. Smoked salmon Philadelphia rolls pair smoked salmon and cream cheese. They're peas in a pod!
These go great with a cucumber salad on the side. Serve these up in summer for a refreshing lunchtime treat.
Source: masalaherb.com
We're skipping across states from Philadelphia to Boston. This roll is bright and delicious, with plenty of healthy vegetables. The cooked shrimp is the real hero of this tasty sushi roll.
Try experimenting with different kinds of roe on the outside of the roll. You can make amazing appetizers with all the different colors!
Source: dinner-mom.com
Take that Boston roll and turn it into a bowl with this simple recipe. This is a fantastic recipe to break out in the middle of the week.
This is the place to go when you're tired and need something simple. Every bite is creamy and rich, but the bowl is packed with fresh nutrients.
Source: thegraciouspantry.com
Chicken sushi is one of those things that can polarize a family. Some love it; some hate it. But with this recipe, I guarantee that everyone will be on board.
It's a super-filling recipe you can make ahead of time. So, it's excellent for lunchtime meal prep!
Source: theflavorbender.com
Next up is a unique dish to break out at your next dinner party. Sushi rice buns and a chicken katsu patty are one heck of a combination! And let me tell you, it tastes fantastic.
This burger is a texture and flavor bomb. It's worth the extra time and effort to make it unique.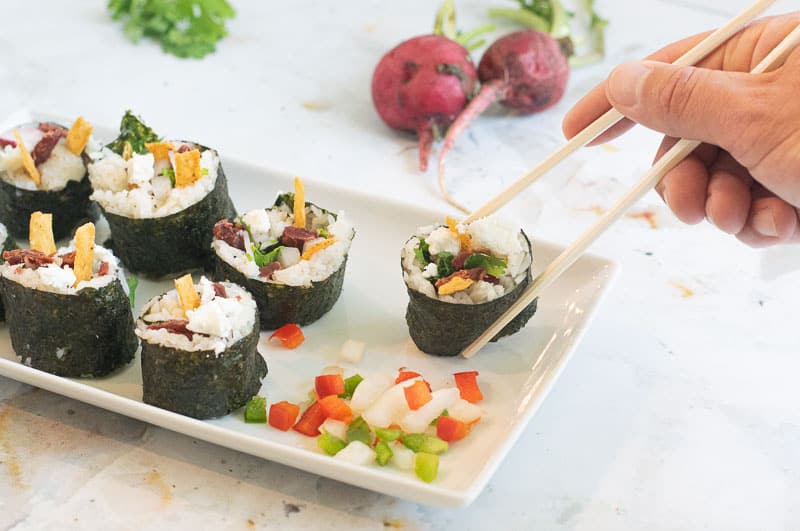 Source: bucketlisttummy.com
Speaking of unique recipes, this taco beef sushi is crazy good! This is like a taco bowl wrapped in nori, and the taste makes my soul sing. I know. The combination might sound crazy.
But the rich taco beef filling is the perfect foil for the light and bright sushi rice. Give it a try!
Source: thesoccermomblog.com
Our final recipe celebrates a classic sushi recipe kids have been enjoying for centuries. This hand roll is delicious and easy to eat without any extra equipment. It's portable and ideal for a picnic lunch.
Try using this method with any meat or vegetables of your choice. Make sure to pick something with a little crunch to give the hand-roll structure.
So, which recipes have made it onto your sushi bucket list? Let me know what your go-to sushi dish is in the comments below!
27 Easy Cooked Sushi Recipes
Making your own sushi is easier than you think. Enjoy one of these cooked sushi recipes for healthy and delicious meal.
Ingredients
1. Vegan Sushi Rolls
2. California Rolls
3. Vegan Sushi Cake
4. Crunchy Roll Sushi
5. Vegan Tofu Sushi
6. Spicy Tuna Roll
7. Spicy Crab Roll
8. Sushi Cupcakes
9. Tuna Sushi Burrito
10. No Rice Maki Roll
11. Galaxy Sushi Bowl
12. Smoked Salmon Oshi Sushi
13. Vegetable Sushi
14. Fried Shrimp Tempura Roll
15. Crispy Fried Tuna Rice Balls
16. Inarizushi
17. Sweet Potato Sushi Rolls
18. Dragon Roll
19. Baked Salmon Sushi Bowl
20. Sushi Bake Casserole
21. Smoked Salmon Philadelphia Rolls
22. Boston Roll
23. Shrimp Sushi Bowl
24. Chicken Sushi
25. Chicken Katsu Sushi Burger
26. Taco Beef Sushi
27. Teriyaki Salmon
Instructions
Scroll up to get a bunch of easy, yummy, and delicious recipes. Don't be afraid to get creative with the ingredients, you might discover a flavor you didn't know you liked.
Get your shopping list going and make sure you've got all the ingredients.
Get cooking and make your next Cooked Sushi Recipe!
Notes
Which one of these recipes was your favorite? Let me know in the comment section or on Pinterest!