Looking for the tastiest chicken burger recipes? You're at the right place! Whichever burger you choose from these options will be a hit!
In the mood for some juicy, chin-dripping burger? Well, these leaner and succulent chicken burgers will satisfy your fast-food cravings in an instant.
Crispy, cheesy, and with tons of sauces, this roundup of juicy burgers pinpoints the absolutely best burgers you can make with chicken.
Feeling adventurous? Try all these juicy chicken burgers and pick a favorite! Come on, I dare you!
What Goes Well on a Chicken Burger?
Anything that goes well on beef burgers will also taste great with chicken patties. However, there are some things that make more sense with chicken.
These include flavors like blue cheese, avocados, dijon mustard, and lemony yogurt.
The best favorite toppings and condiments for a classic burger of chicken are BBQ sauce, bacon, cheese, Buffalo sauce, garlic mayo, ranch dressing, fresh herbs, and fresh, raw veggies.
How Do You Keep Chicken Burgers from Falling Apart?
If your chicken burger patties keep falling apart, it might be because they're missing a binding agent. Meaning they need something to hold the ground meat together.
Your best bet is definitely eggs and breadcrumbs. However, chilling your burger mixture before cooking them can also make a huge difference.
Best Chicken Burger Recipes
Here are the best delicious chicken burgers to seriously boost your summer cookout game!
Source: applytofaceblog.com
This chicken burger recipe is probably the easiest chicken burger you'll ever make. All you need are chicken breast, burger buns, fresh lettuce leaves, and some Cajun spices.
The meat is dusted with Cajun and fried in a pan. But you can also turn on the grill if you feel like cooking out.
Add some mayo or your favorite sauce on top. And dig in!
Source: reciperunner.com
A fan of fajitas? Then, you'll definitely love those flavors in the form of a flavorful chicken burger.
These juicy ground chicken burgers are pan-fried and topped with chicken.
Then, arranged with simple ingredients like peppers and a dollop of guacamole on top, they make a great burger recipe.
If the dish is not too spicy for you, add a sliced jalapeno to it.
Got extra bell peppers? Put them to use with these tasty green pepper recipes!
Source: scrummylane.com
Healthy and golden chicken burgers, straight from the Air Fryer.
This burger patty recipe makes crispy meat that goes so well with the sun-dried tomatoes and avocado on top.
The burgers are brushed with mayo. But if you want some more flavor, you can add your favorite sauce instead.
This is one of the best Saturday dinner ideas for a family night!
Source: baking-sense.com
An Indian-inspired burger. This recipe combines the flavors of a classic chicken satay in a brioche bun.
The recipe doesn't use chicken patties but thighs. And they're topped with pickled veggies and creamy peanut sauce that you simply have to try.
These are juicy, spicy, and super crunchy. If you were not sure whether to choose Indian or fast food tonight, these satay burgers are your answer.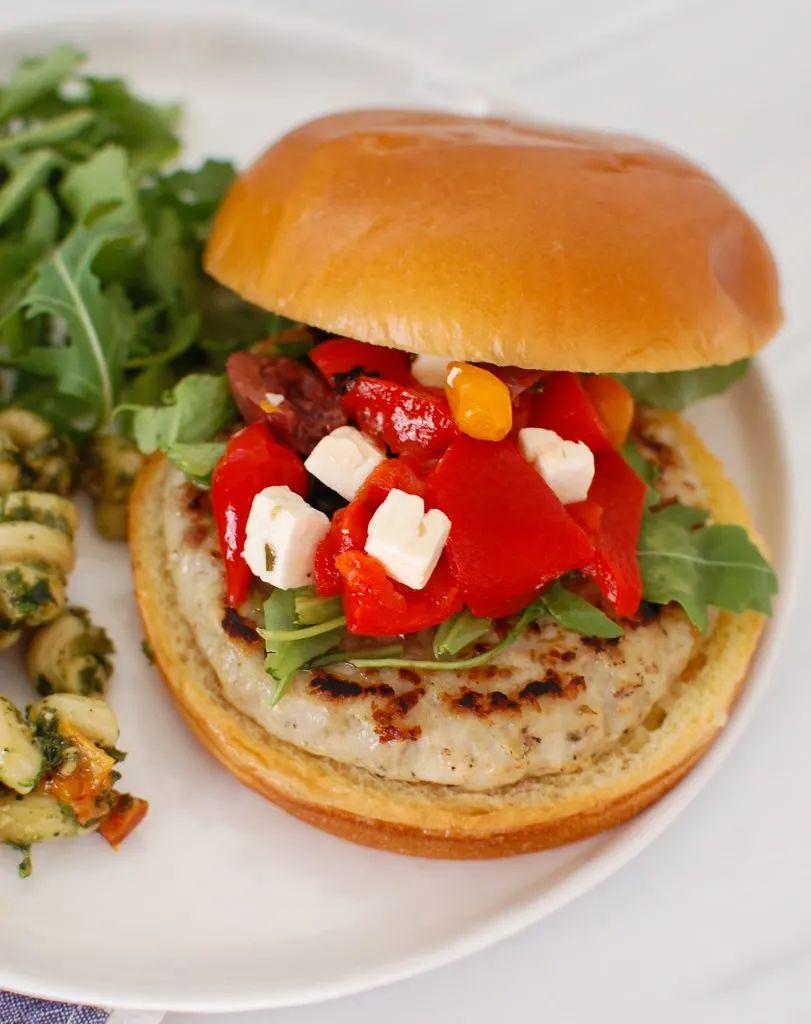 Source: acedarspoon.com
Are you craving Greek flavors and fast food at the same time? Then, this recipe will definitely satisfy you.
Grilled chicken burgers with pepper, feta, and olive topping. For the most delicious get-together meal ever.
The arugula really gives the dish a distinctive taste. So don't substitute it with lettuce. This is a great light dinner recipe for summer nights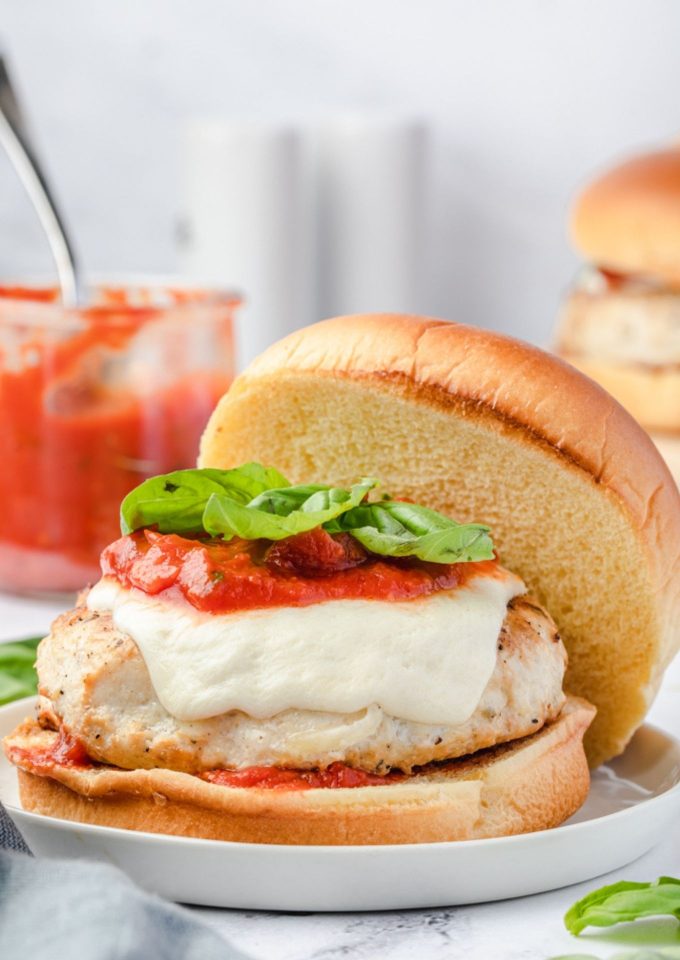 Source: flavorthemoments.com
Chicken parm in a burger!
Topped with cheesy, melty, and gooey mozzarella cheese, this burger is nothing but pleasing.
It also includes a dollop of marinara sauce and fresh basil. And it also has some Caprese flavors to it that everyone will love.
The patties are cooked in a skillet, but you can also grill them.
Source: gritsandpinecones.com
A real Southern burger that is so crispy, you will never think about fast food takeout again.
The burger is made with chicken thighs. Prepared in a traditional buttermilk-marinating way.
The meat is topped with pimento cheese and creamy and crunchy coleslaw.
And how can you not want this for dinner now?
Source: whereismyspoon.co
Talking about crispy, you can not do better than this fried cornflake coating. The meat is super crispy on the outside and incredibly tender on the inside. Just like KFC, but at home.
The recipe uses chicken breasts. But you can also use the same method for thighs.
The key here is to fry the meat in batches so they're not overcrowded in the pan.
Source: twokooksinthekitchen.com
These delicious ground chicken burgers are cooked until super juicy and tender.
This best ground chicken burger is packed with flavor and delicious taste. But they're seriously transformed once they touch the mango avocado salsa.
If you want to make it spicy, just add a diced jalapeno to the salsa as a great addition.
It is best to serve this ground chicken recipe in fresh and soft buns.
Source: vikalinka.com
Juicy chicken breast in soft brioche buns. Combined with tzatziki and feta cheese for the most wonderful Greek flavors in a burger.
The burger also includes fresh veggies, which give the burger a nice crunch.
If you like fast food but want to eat something lighter, then this dish checks all of the boxes.
Cook these over medium heat with a little olive oil until they reach the correct internal temperature on your meat thermometer, and store your extras in an airtight container.
Source: crumbtopbaking.com
Crispy chicken patties from the Air Fryer. This satisfies your fast-food cravings in a healthy and guilt-free way. And let me just add, super delicious, too.
The chicken has a flavorful breadcrumb coating. And yes, that tastes as crispy as it sounds. Even better.
Combine with your favorite sauce and veggies, and assemble some kick-ass burgers in a second.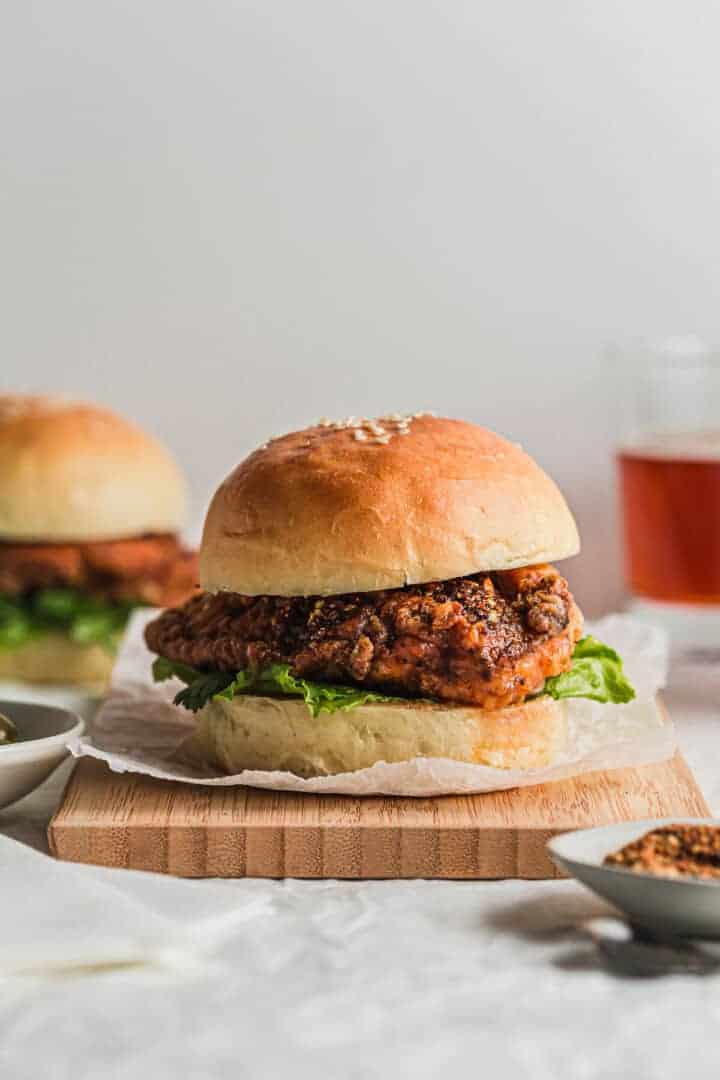 Source: siftandsimmer.com
Take your zesty chicken burgers up a notch with some heat this burger season!
These yummy chicken burgers include a whopping four tablespoons of Mala spice mix. And it is a Sichuan-inspired dish that you will surely enjoy. Especially if you're into spicy Asian foods.
It uses sesame kewpie and lettuce as toppings for something a little different. But you can use regular mayo, too.
Source: blackberrybabe.com
The ground chicken patties here are not only well-seasoned. They also include a grated carrot, which gives the meat some natural sweetness.
They're also loaded with ginger, which further flavors up the meat.
The burgers are topped with sweet peach and orange salsa. This is one of the most fun dinner ideas!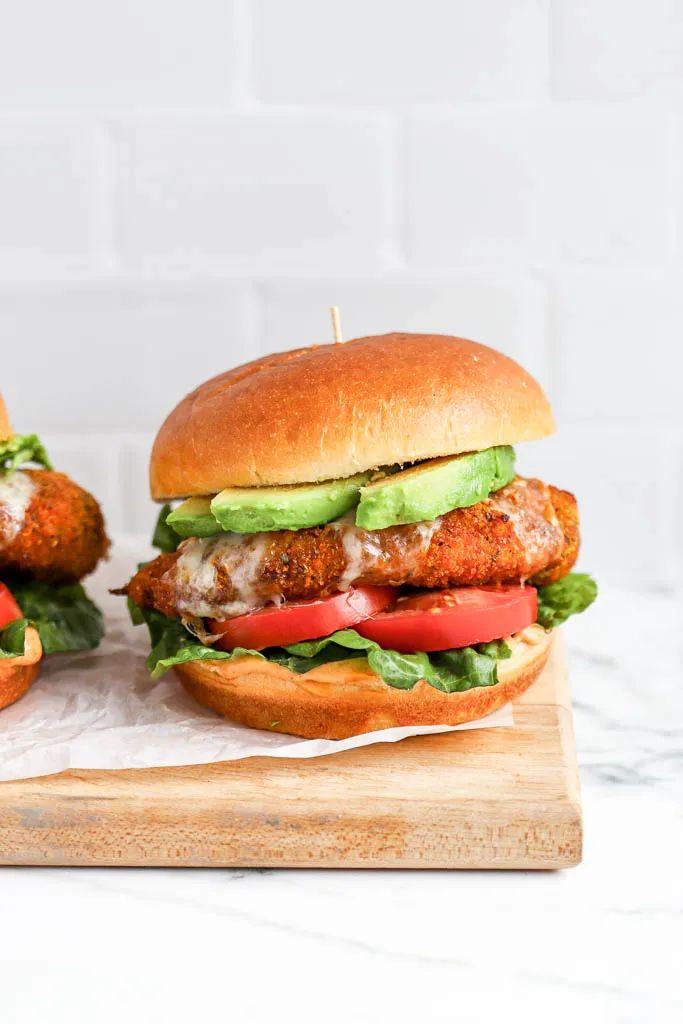 Source: basicswithbails.com
Another Air Fryer recipe for crispy and well-seasoned chicken breasts. That is dying to be turned into a burger.
This recipe involves minimal prep. And it is just the thing you need to be doing after a long day at work.
Once assembled, this burger is a serious eat-in-front-of-the-TV material. And we all just love that sometimes!
Source: whereismyspoon.co
Are you a burger enthusiast? Then, this recipe should definitely be on your "best burgers" list!
It is made with crispy, golden, and breaded chicken breasts. It involves crunchy coleslaw. And toasted buns brushed with chili mayo.
Can anyone say no to this soul-nurturing food?
Source: tiffinandteaofficial.com
Soaked in buttermilk. Coated with flour. And baked until incredibly golden and super crispy. These chicken filets are destined to be in a burger.
When assembling, add some cheese and raw veggies for some more flavor and texture.
And if you choose to toast your buns… Well, I promise you, no one will resist.
Source: krumpli.co.uk
Gochujang mayo is the secret ingredient in this recipe. And it gives the meat a delicious spiciness. That you will not get by simply adding a dash of hot sauce.
The meat of choice here is chicken thighs. And they are loaded with a gingery flavor that pairs perfectly with the rest of the ingredients.
Kimchi is used as a topping. And it gives a touch of acidity that simply rounds out the whole burger. So yummy!
17 Juicy Chicken Burger Recipes
Discover quick and easy homemade chicken burger recipes that are bursting with flavor. Enjoy the flavors!
Ingredients
1. Cajun Chicken Burger
2. Chicken Fajita Burgers
3. Crispy Chicken Burgers
4. Chicken Satay Burgers
5. Greek Chicken Burgers
6. Chicken Parmesan Burgers
7. Southern Crispy Fried Chicken Burgers
8. Crispy Chicken Burgers
9. Chicken Burgers with Mango Avocado Salsa
10. Greek Chicken Burger with Feta
11. Chicken Patties
12. Spicy Mala Chicken Burgers
13. Asian Chicken Burgers
14. Air Fryer Chicken Burgers
15. Chicken Fillet Burger
16. Buttermilk Chicken Burger
17. Korean Fried Chicken Burger
Instructions
Scroll up to get a bunch of easy, yummy, and delicious recipes. Don't be afraid to get creative with the ingredients, you might discover a flavor you didn't know you liked.
Get your shopping list going and make sure you've got all the ingredients.
Get cooking and make your next Juicy Chicken Burger Recipe!
Notes
Which one of these recipes was your favorite? Let me know in the comment section or on Pinterest!