Living a vegan life is a lot more fun than it used to be. Where we used to hunt around for vegan alternatives, now there are hundreds of ways to enjoy vegan food like these vegan appetizers!
The real test of how easy it is to eat a certain way? How easily you can create a party menu that follows those dietary restrictions?
So, this list is packed with sixty-one vegan appetizers guaranteed to delight your guests.
From meat eaters to habitual vegans, everyone attending your party will love these as a vegan appetizer platter.
Let's dive right into these delicious vegan appetizers!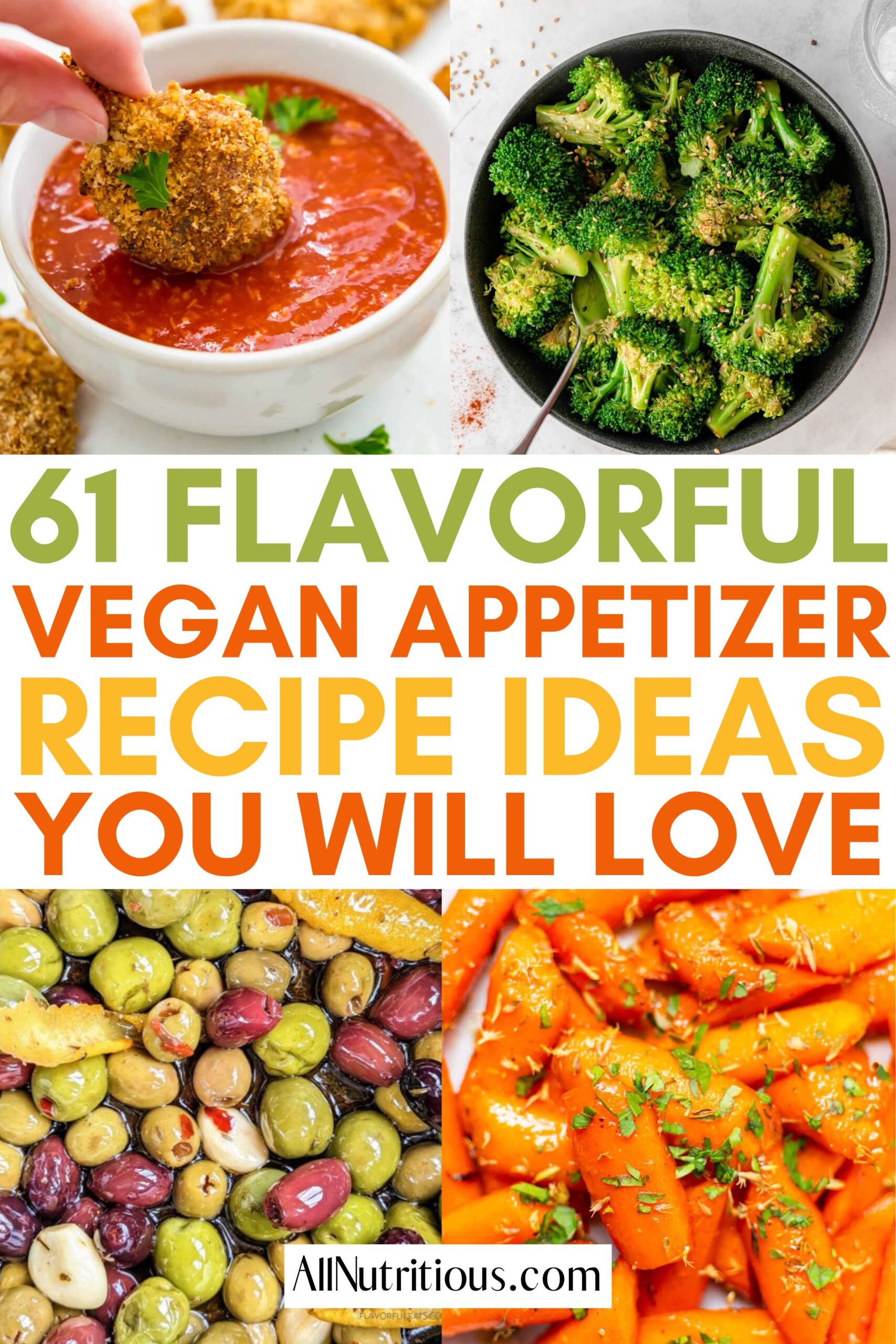 What are Good Finger Foods for a Party?
Finger foods are a party essential! They allow your guests to enjoy a bite of tasty food without chaining them to the table. Mingling is a must, and good finger food allows for a ton of it.
Luckily, great finger food comes in many forms, including vegan ones. Here are some ideas of the most popular, delicious finger foods to wow your party guests:
Mini sliders or burgers: Who doesn't love a bite-sized burger? Black bean, sweet potato, or Impossible Beef patties are wonderful ways to make these morsels vegan.
Spring rolls: Light, refreshing, and crunchy, deep-fried spring rolls are a tried-and-true vegetarian option that you can easily transform into something vegan.
Fruit skewers: Need something summery, fresh, and sweet? Fruit skewers will never let you down on that front.
Best Vegan Appetizers
Let's kick things off with the best of the best. None of your party guests – meat lovers or not – will be able to resist the taste of these amazing vegan appetizers.
These are the cream of the crop (no actual cream included, of course).
Source: lettucevegout.com
Game day is coming, and it's time to gear up. These baked barbecue cauliflower bites will ensure that your guests have something tasty to chow down on as they cheer for their team.
This is the ultimate crowd-pleaser and the perfect party appetizer! It's a wonderful way to substitute for chicken wings without using a store-bought meat substitute.
The secret? A great barbecue sauce makes all the difference here.
Source: veganblueberry.com
Next up is a rich and delicious finger food perfect for a fall or winter party. Stuffed mushrooms are a tasty treat everyone can enjoy!
Crunchy, soft, and singing with vegan parmesan, these are so easy to make in big batches. Best of all, the mushrooms are meaty and rich, so they feel like you're not missing any meat from the dish.
Check out these other dairy-free appetizers next!
Source: joyfuldumplings.com
They say that a plate of good fried chicken makes all your problems go away. But if you're vegan, what are you supposed to do to scare those pesky problems into the night?
Well, start with some fried oyster mushrooms. These are the answer to all plant-based meat needs. When cooked, they flake and peel just like meat and are the perfect replacement for chicken.
Source: masalaherb.com
A great crostini is crunchy, smooth, and delicious all at once. These are a great refreshing option for a summer or spring party, especially if you have a long guest list to take care of.
The thing I love about this recipe is that you can make the crostini in advance super easily! The dryer they are, the crispier they end up, so you can take care of these the day before.
The topping takes barely any time to make, so this is a super time-efficient option too.
Source: veeatcookbake.com
Take this Mexican-inspired dish out to your guests to have their mouths watering in a matter of minutes! These loaded nachos are absolutely scrumptious, packed with different tastes and textures.
This is the kind of crowd-pleasing recipe ideal for a casual gathering with friends.
It's easy to customize, so everyone can make it their own with their favorite toppings. Supply a ton of options with it!
Source: oohlalaitsvegan.com
Create the crispiest potatoes in the world with almost no effort! Your air fryer will make this recipe a breeze, and your guests will be clambering over each other for the last bite.
The secret to making these potatoes so crispy is to smash them once you've boiled them and leave the skin on!
The skin is what gives it that addictive crunch, while the ranch sauce adds some creaminess.
Source: motionsandemotions.com
Whether you need a base for some tasty sliders or you want to enjoy them on their own, these kidney bean patties are a real winner.
One of the things I love about cooking vegan food is how affordable it can be. Avoiding expensive store-bought meat substitutes is easy when you opt for canned or dried beans instead.
Source: asweetalternative.com
Keep things simple, refined, and sweet with these delicious stuffed dates! I love these as a last-minute appetizer option, especially when you top them with a green stalk for the look.
These are chocolate-dipped dates, but you can make them into anything you like. Make a few different types to offer some variety to your guests, from nut-free to kid-friendly!
Source: iheartvegetables.com
I'm forever looking for new and exciting ways to incorporate guacamole into recipes, so this was an awesome find! These guacamole-stuffed peppers are vegan, gluten-free, and keto-friendly!
Unbaked, these peppers are crunchy and sweet, and the creamy avocado really adds to the texture. I can't recommend these highly enough for a summer party, especially if you're headed outdoors.
Source: peasandcrayons.com
Keep things simple and delicious with these blistered shishito peppers. The fresh bite of the peppers is a wonderful contrast to the smokiness of the burnt pieces.
Plus, the blistering helps turn some parts of the pepper deliciously soft. All in all, this recipe is an example of a way you can make a vegan appetizer with just one ingredient.
Source: jcookingodyssey.com
If you've never tried avocado fries before, now's the time to do it!
These air fryer fries are crunchy on the outside and soft in the center, with a delicious saltiness that makes them just as addictive as the real deal.
The crunchy exterior comes from a coating of panko bread crumbs, seasonings, and red chili. If you're looking for a healthy alternative to classic potato fries, these are for you.
This is a great summer appetizer idea for a day by the pool!
Source: maesmenu.com
Starting dinner off with a salad is a great way to warm up your guests' appetites, but aren't you tired of the same old green salad? Switch things up with a roasted cauliflower and cabbage salad.
This beauty is packed with all the nutrients you need to round out a delicious meal. It's super easy to make. All you need is your oven and a few minutes of preparation time.
Source: whereismyspoon.co
I bet you've heard of polenta fries before, but these polenta chips are playing a whole new ball game! These are ultra crispy and delicious, with an earthiness you just can't beat.
This is a great way to impress your guests with your culinary skills without spending hours in the kitchen whipping up an appetizer. Hands-on time is only fifteen minutes, so get prepping!
Source: mycookingjourney.com
A great samosa is its own reward. This Indian pastry contains a rich, hearty collection of vegetables spiced with an array of flavors to warm you from the inside out.
India has many purely vegetarian regions, so it's a great place to look for vegetarian and vegan inspiration.
These samosas are proof positive that you can enjoy something rich without meat or cheese!
Source: diannesvegankitchen.com
Keep it light and bright with these refined tomato tartlets. Every bite bursts with the basil-forward pesto, and the tomato brings an underlying acidity to balance the dish.
Paired with a crispy tart shell and creamy cashew ricotta, these vegan tartlets are like taking a one-way trip to the Italian countryside. Great for picnics and outdoor events!
Source: aimadeitforyou.com
Knowing how to make your own dumplings is one of the most impressive things in the world. Blow your guests away with your skills by whipping up this delicious vegetable gyoza.
Gyoza is fried dumplings, meaning you brown them to a crisp on the bottom and steam the rest with the pan's natural heat. These are, by turns, chewy and crispy, with an unbeatable flavor inside.
Source: happykitchen.rocks
Georgian cuisine is known for its earthiness and dedication to using natural ingredients. These walnut and eggplant rolls are a great example of a classic Georgian dish. Plus, they're vegan!
I love how great these rolls are. They're ideal as finger food, especially when you include the homemade yogurt dip in the middle.
It takes under an hour to whip up a big batch of these beautiful rolls. You can also prepare the eggplant and filling in advance, ready to roll when your guests arrive!
Source: flavorfuleats.com
Take almost all of the work out of the equation with these delicious slow cooker marinated olives. Never has a vegan appetizer felt so refined, simple, and delicious all at the same time.
All you need to do is dump your favorite olives, some spices, and plenty of herbs, garlic, and lemon into a slow cooker. Let that do its work, and when you lift the lid, you'll have the perfect appetizer!
Source: twohealthykitchens.com
While classic chickpea hummus is absolutely stunning, there's something to be said for putting a new spin on a classic. That's where this pumpkin hummus comes in!
Every single bite of this hummus sings with an earthy sweetness. Not only does it taste amazing, but it looks incredible on the table.
A great show-stopper that takes just five minutes to make! This also makes a great late-night snack for after a party!
Source: happykitchen.rocks
Don't miss out on a hearty crostini just because you want a vegan appetizer.
These mushroom crostini are absolutely delicious, delightfully meaty, but light enough to leave room for the main event.
The secret to nailing your crostini is to use old bread. That allows the little slices to get super crispy when you oil and bake them, making them an ideal base for chewy, tender mushrooms.
Source: rachaelhartleynutrition.com
I've said it before, and I'll say it again. If you're hosting a ton of people for lunch or dinner, and you're strapped for appetizer ideas, a creamy dip will never lead you astray!
This grilled eggplant and zucchini dip is far off the beaten track, and your guests will love you for it. It's rich, delicious on a cracker, and so full of nutrients. A great way to get their appetites raring to go!
Enjoy these other delicious dip recipes for your next party!
Source: acedarspoon.com
Need something tasty and approachable for a game day appetizer? Look no further than this cowboy caviar recipe! There's something so addictive about the chunky texture of this dip.
Serve this easy recipe with your favorite tortilla chips, bread, or even other fresh-cut vegetables.
This is a vibrant showstopper that any host should be proud to serve (and it takes next to no time to make!).
Source: alekasgettogether.com
Hear me out! Mango in guacamole is an unbeatable combination. The creamy avocado is such a beautiful base and the chunks of sweet mango contrast with the other savory elements.
Altogether, the ingredients in this mango guacamole create a symphony of gorgeous flavors! This is a wonderful side dish for your next Mexican night or a great appetizer to kick things off.
Easy Vegan Appetizers
The only thing better than a delicious appetizer is a delicious appetizer that's easy to make!
These easy appetizers will make your party preparation as effortless as munching on them when they're done.
Source: thefamilyfoodkitchen.com
When I tell you that these corn ribs are better than some of the actual ribs I've had in my life, I mean it! Vegan or not, these delicious corn riblets are a must-have in any home cook's recipe book.
They're so easy it almost feels like cheating to serve them. All you need to do is quarter some sweetcorn along the cob, bake with some tasty seasoning, and serve with your favorite dip. Done!
This is one of the best party appetizers your guests will love!
Source: blessthismeal.com
Speaking of corn, it's a lovely and natural way to sweeten salsa! It's even better when you bring some mango into the mix. The mango is tasty and floral, while the corn has an earthy sweetness.
Combined with the savory elements in a pico de gallo, these two elements create some real magic! This is a great cooling salsa for your next Mexican night. It's also so easy to make ahead of time.
Source: ambitiousfoodie.com
I've seen honey-glazed carrots enjoyed a lot as a side dish, but who knew that you could have them as an appetizer too? This is a great example of a humble ingredient treated in a five-star way.
These carrots are sticky and sweet but not overwhelming! You still get that delicious natural carrot flavor in there. Top with some fresh herbs to get the party started.
Source: marleysmenu.com
A great spinach dip will kick off any party with a bang! This is a super versatile recipe that you can bring to everything, from picnics to potlucks. Easy to make in advance, this is a real godsend.
It even has a secret hidden ingredient to increase the protein in the dish. It's tofu! The tofu makes the dip extra thick and creamy. Make sure you use silken tofu to get the best results.
Source: lettucevegout.com
Vegan creativity knows no bounds, and this recipe is proof! These vegan crab cakes have no crab in sight, but they taste like the real deal. The secret ingredient? Jackfruit!
You can also use hearts of palm or artichoke hearts to get the same flaky effect. These take a total of forty-five minutes to prepare, and they're so easy to whip up in big batches or ahead of time.
Source: threeolivesbranch.com
Pigs in a blanket are a staple at any potluck or picnic. But if you're vegan, they can be tough to come by in a form that you can enjoy. Or, they used to be, anyway.
Thanks to this delicious and inventive recipe, you can use carrots instead of sausages for your pig-in-a-blanket appetizer! The kids will absolutely love the flaky pastry and soft, chewy centers.
Source: babaganosh.org
Baba Ghanoush is a roasted eggplant dip hailing from the Middle East. It's already out of this world, but you can make it even better by putting some roasted beets in the mix!
The roasted beets add sweetness and color, turning this into a showstopper of an appetizer. This is a great way to get kids on board with eating their vegetables as well because the color is so attractive.
Source: aseasonedgreeting.com
Put a healthy spin on your next chip-and-dip combo with these mushroom chips! Instead of using potatoes to scoop up your favorite dip, why not use crispy garlic mushrooms?
Not only do they add so much flavor to the mix, but they're also much healthier and have twice the protein to offer. This is a wonderful, mouth-watering way to do something unique for your appetizer.
Source: kellystilwell.com
Speaking of dips, here's a quick and easy one for your consideration! Homemade dips can be so simple to make and taste incredible, as this red pepper dip shows.
This recipe takes all of twenty minutes to make, but it will easily serve a crowd with the right sides.
Roast your peppers in advance and blitz your dip just before serving for the perfect convenient appetizer.
Source: veganhuggs.com
If you're searching for an Asian-inspired appetizer, look no further than this sesame-crusted tofu! This is a deliciously crunchy addition to any meal, complete with a golden crunchy exterior.
The tofu inside is soaked in a marinade to give it tons of flavor. Pair that with the zingy dipping sauce, and you've got a winner of an appetizer on your hands.
Light but full of protein, this is a great way to get your guests' appetites raring to go!
Source: thelazyslowcooker.com
There's something to be said for enjoying a taste of the classics. Case in point: this slow cooker Baba Ghanoush. Featuring gently-cooked eggplant, this is a rich and well-spiced dip.
Serve with a variety of options to keep your entire guest list happy. Make sure you're generous with the oil drizzle at the end, as this helps the dip gain some delicious richness.
Source: veganblueberry.com
Just because you're cooking with vegan ingredients doesn't mean you have to miss out on a good old-fashioned cheese dip! We have nutritional yeast and cashews to thank for this next triumph!
You only need ten minutes to whip up this amazingly cheesy dip. It's light, rich, and singing with all the flavors you'd expect from this classic appetizer.
Make sure to soak your cashews before blitzing, as this will give you a texture that's as smooth as silk.
Source: uniquecooks.com
Need something light and tempting for your summer appetizer? Put a Mediterranean spin on the classic green salad with this delightful recipe.
All you need is ten minutes and a few simple ingredients.
The secret is to use high-quality, fresh vegetables and great olive oil.
The Mediterranean is known for treating really great produce simply, which is what produces those fresh flavors we all know and love.
You'll also love these other refreshing cucumber appetizers!
Source: veggieinspired.com
This quick and easy vegan appetizer recipe is kid-friendly and so easy to customize. Featuring a cashew cream cheese (or your vegan cream cheese of choice), this one's a real winner.
All the ingredients are raw, so you don't need to allow for any cooking time! That means these are easy to prepare in advance. They're also great finger food for outdoor occasions.
Source: eatingworks.com
Let your air fryer do the work with these addictive fried red-skin potatoes. Red skin potatoes are deliciously earthy, with a natural sweetness that comes out if you cook them just right.
These baby potatoes are a wonderful addition to any appetizer spread. Offer some herb butter and other roast potato fixings so everyone can dig in at their leisure. Only two minutes of prep time!
Source: veganeverytime.com
Take some inspiration from Japan and create these delicious vegetable tempura appetizers.
Whether you need a quick and easy finger food or you're after a refined Japanese creation, these will do the trick.
It's essential to nail your tempura batter, as that's the element that gives these vegetable bundles their crunch. So, make sure that tempura water is ice cold, and serve fresh for the best results!
Source: ambitiousfoodie.com
Artichokes are a super refined choice for an appetizer, especially if you're hosting a dinner party. But if you're already focusing all your energy on your main meal, you need something quick and simple.
Enter these air fryer artichokes. Tender and delicious, the cup-like leaves are great hosts for your favorite dipping sauce. You can have these ready in just twenty minutes, so have your dip on hand!
Source: simplelivingrecipes.com
Honestly, some weeks I just keep a jar of sauteed chickpeas in my kitchen for whenever I need a quick high-protein snack.
Eating vegan means, it can often be a struggle to get enough protein in your diet.
But not with these in your arsenal! Coming together in less than ten minutes, these are delicious on their own or make for a great topping on dips.
Keep some aside for yourself, too (just trust me on that).
Source: the-bella-vita.com
Who knew that one of the most popular fast food staples in the world could also be a delicious vegan appetizer option? Who doesn't love the idea of chowing down on some onion rings?
These crispy delights are hard-wired into our pleasure system. With a melt-in-your-mouth sweet onion filling and a crispy, salty exterior, these will go down a treat no matter the occasion.
Source: irenemercadal.com
A great carpaccio salad is a wonderful way to kick off a dinner party. But how can you make a delicious carpaccio if you can't have any meat or cheese?
Zucchini is your secret weapon. Tender rounds of this spring vegetable pair with capers and a drizzle of good olive oil in this tasty dish. So easy to prepare ahead of time and absolutely timeless.
If you have lots of zucchini, you must see these other zucchini appetizer recipes!
Source: kellystilwell.com
If you've been vegan for any length of time, then you know that non-vegan ingredients can appear in some of the most unlikely places!
Skip the store-bought crackers and invest in some tasty homemade ones. These delightful crackers come together in just forty minutes, and only fifteen of those need your direct supervision.
Source: healthyrecipes101.com
Roasted beets are so delicious! Whether you enjoy them on their own or as part of a root vegetable medley, there's something so addictively earthy about a tender cube of roast beets.
If you're having friends or family over for Sunday roast, this is a great appetizer to make your dish feel hearty and rich without the presence of any meat.
Source: veganblueberry.com
When making Turkish food, tzatziki is a must-have. But what if you can't make it with yogurt?
Vegan ingenuity to the rescue! This recipe uses either vegan yogurt, silken tofu, or vegan sour cream as a base. The rest of the ingredients are all that you'd expect in a classic tzatziki.
Refreshing and creamy, this is the ultimate summertime dip.
Source: balancewithjess.com
If you're short on time and need something healthy to bulk out your Korean dinner spread, this broccoli salad is for you. The tender stalks of green broccoli are a great way to start off the night.
Best of all, whipping up this salad will only take you fifteen minutes! The hardest part is nailing how you steam the broccoli because the dressing is a piece of cake.
Source: myplantifulcooking.com
Let's hang around in East Asia for a while and try out a wakame seaweed salad! Whether you need something unique to start off your dinner or you're after a refreshing crowd-pleaser, this is for you.
Wakame seaweed has a super silky texture, and it's bursting with bold umami flavor. This is light enough to get your guests' tastebuds interested, but it won't fill them up too much before the main.
Source: marleysmenu.com
Buffalo chicken is a game day classic. If something with buffalo sauce doesn't appear on the table when the game is on, there would be havoc.
So, if you're cooking for vegans sitting down to enjoy some sports, then this buffalo tofu is essential. This is an absolutely delicious way to enjoy an alternative to buffalo chicken strips.
Pro tip: try freezing and defrosting your pressed tofu a couple of times before using it. This dries it out and makes it more porous, helping it to mimic that iconic chicken texture.
Vegan Gluten-Free Appetizers
Making delicious appetizers that are both vegan and gluten-free? That's a challenge. But luckily, there are plenty of innovative cooks out there up to the task!
These stunning vegan and gluten-free appetizers ensure everyone can chow down on a great party treat, no matter what dietary restrictions you're working with.
Source: nibbleanddine.com
An easy hummus recipe is always going to have your back, even when you need to make something both vegan and gluten-free.
This dill pickle hummus is super creative and contains zero animal products!
It uses all the flavors you know and loves from a dill pickle pickling liquid, incorporating it into the earthiness of the hummus.
This is one of the most perfect vegan appetizers; just make sure to serve it with some pita bread!
Source: lbhealthandlifestyle.com
Sprouted hummus is a little different from the classic kind you'll find in stores. Instead of blending chickpeas in their raw form, sprouted hummus is made from chickpeas that are starting to grow.
This not only increases the nutrients in the hummus, but it also claims to provide some other health benefits. Namely, to your digestion!
Source: itsnotcomplicatedrecipes.com
If you know how to do it well, you can turn basically any vegetable into a delicious fritter. That's why these onion patties – or onion fritters – are so delicious!
If you're tired of chips and looking for something new to scoop your dip with, you've found it! These crispy onion rounds are the perfect hosts for a dollop of creamy ranch or earthy hummus.
Source: magicallifeoffruit.com
Falafel is one of the best things to have in your arsenal as a vegan. Not only is each little ball packed with oodles of protein, but it's also such a versatile thing to cook with!
Whether you want to enjoy them on their own, in a pita, on chips, or in a sandwich, this falafel will impress your guests for sure.
Prepare a big batch in advance and freeze the extras for easy, healthy cooking!
Source: eatingworks.com
That's right, you can transform cauliflower into chicken wings with just a little bit of patience and a lot of buffalo sauce. These are absolutely delicious on game day with a side of ranch.
I love this recipe because it takes all the guesswork out of making wings. Aside from being vegan, anyone can love these because they cook to tender perfection so quickly, and no risk of salmonella!
Source: healthyrecipes101.com
For anyone who hasn't worked with tofu before, it can seem really intimidating. But the great news is that it's much easier than it seems! That's why this air fryer tofu is such a great vegan appetizer.
With just three ingredients and twenty-five minutes of your time, you can have a vegan-friendly, high-protein appetizer on the table. It's delicious, quick, and well worth taking the time to learn.
Source: magicallifeoffruit.com
Sometimes, a classic done right is the best thing you can present to your guests. Pair this incredible homemade hummus with a plate of falafel, some pita chips, or in a Middle Eastern bowl.
This is rich and earthy. It's a garlic-free hummus, but if you're missing that element, you can easily include it in the mix. That's what's so great about this dip: it's easy to make it your own!
Source: flavourstreat.com
Pakoras are an Indian vegetarian treat. Similar to Japanese tempura, these little vegetable clusters are dipped in a thin batter and fried to a golden crisp.
These are absolutely delightful, with a cup of chai and a side of chutney. Warm your guests from the inside out with these super simple vegan-friendly appetizers.
Source: maesmenu.com
I know. Who knew that asparagus could anchor a soup? Turns out, it's a wonderful combination! This is a refined recipe with a delicate appearance, perfect for an upscale dinner party or gathering.
Prepare your asparagus soup ahead of time to save yourself from the stress of preparing appetizers on the day. Drizzle with a little bit of herb oil and some croutons to complete the effect!
Source: eatingworks.com
Whether you're avoiding too much potato or you're just looking for something new to spice up your roast meals, this parsnip mash is for you!
Earthy yet sweet, parsnips are so easy to cook with, and they create a delicious mash. Enjoy on the side of your favorite vegan roast dishes, and make sure you bring brown onion gravy to the party!
Source: easyanddelish.com
Spring rolls are some of the best vegan appetizers on the market. Light, fresh, and packed with nutrients, these are so easy to prepare ahead of time, and they taste amazing.
The real winner of this dish is the dipping sauce, as that kicks all the flavors up to a whole new level.
Source: pureandsimplenourishment.com
Finally, we're capping off our list with crispy vegan shrimp! These little nuggets of perfection aren't actually shrimp, of course. They're actually oyster mushrooms.
Oyster mushrooms are known for their almost seafood-like texture and taste (hence their name). That's what makes them a perfect choice here. Give this a try. You won't be disappointed!
There we go! That's sixty-one scrumptious vegan appetizers ready to sweep your party guests off their feet. With these in your arsenal, you'll nail your next party. Just wait and see.
Looking for other appetizers? I've got your back! Check out my Appetizer category for more delicious ways to entertain your guests, no matter what kind of party you're having.
61 Best Vegan Appetizers Party Guests Will Love
Dive into a world of cruelty-free treats with these delicious vegan appetizers and embrace this sustainable lifestyle with each scrumptious nibble.
Ingredients
1. Baked Barbecue Cauliflower Bites
2. Savory Stuffed Mushrooms
3. Fried Oyster Mushrooms
4. Spicy Avocado Crostini
5. Vegan Loaded Nachos
6. Air Fryer Smashed Potatoes
7. Kidney Bean Patties
8. Stuffed Dates
9. Guacamole Stuffed Peppers
10. Blistered Shishito Peppers
11. Avocado Fries
12. Roasted Cauliflower Cabbage Salad
13. Polenta Chips
14. Vegetable Samosa
15. Tomato Tartlets with Spinach Pesto
16. Vegetable Gyoza
17. Georgian Eggplant Rolls
18. Marinated Olives
19. Pumpkin Hummus
20. Vegan Mushroom Crostini
21. Grilled Eggplant and Zucchini Dip
22. Cowboy Caviar
23. Mango Guacamole
24. Corn Ribs
25. Corn Mango Salsa
26. Honey Glazed Carrots
27. Vegan Spinach Dip
28. Vegan Crab Cakes
29. Carrot Pigs in a Blanket
30. Eggplant Dip with Beets
31. Mushroom Chips
32. Red Pepper Dip
33. Sesame Crusted Tofu
34. Baba Ghanoush
35. Vegan Cheese Dip
36. Mediterranean Tomato Cucumber Salad
37. Tortilla Rollups
38. Air Fryer Red Skin Potatoes
39. Vegetable Tempura
40. Air Fryer Artichokes
41. Sauteed Chickpeas
42. Onion Rings
43. Zucchini Carpaccio
44. Vegan Crackers
45. Roasted Beets
46. Vegan Tzatziki
47. Korean Broccoli Salad
48. Wakame Seaweed Salad
49. Buffalo Tofu
50. Dill Pickle Hummus
51. Lemon Dill Hummus
52. Onion Patties
53. Falafel
54. Cauliflower Wings
55. Air Fryer Tofu
56. Hummus
57. Vegetable Pakora
58. Asparagus Soup
59. Parsnip Mash
60. Vietnamese Spring Rolls
61. Vegan Shrimp
Instructions
Scroll up to get a bunch of easy, yummy, and delicious vegan appetizer recipes. Don't be afraid to get creative with the ingredients. You might discover a flavor you didn't know you liked.
Get your shopping list going and make sure you've got all the ingredients.
Get cooking and make your next Vegan Appetizer!
Notes
Which one of these recipes was your favorite? Let me know in the comment section or on Pinterest!