Vienna sausages are closely related to Frankfurters but a little cheaper. That makes Vienna sausage recipes great for home cooks after a cost-effective and tasty meal.
The question is, what do you make with these little sausages? Happily, they're not just cheap but also super versatile.
Original Vienna sausage are at home from breakfast to dinner, no matter the time of day.
What's the Best Way to Eat Vienna Sausages?
The small, canned version of these sausages is ideal as a simple snack or side dish. Wrapped in pastry or floating in a stew, they're an excellent way to add quick and easy protein to a meal.
They're also fantastic when sauteed, especially when you can pack them full of the surrounding flavors. In summary, you can eat them just about any way you like!
Best Vienna Sausage Recipes
Check out thirteen ways to present Vienna sausages at their absolute best with these classic recipes. Let's dive in!
Source: cooklikeczechs.com
Take a leaf from Czechoslovakia's book with a delicious sausage soup.
While this calls for frankfurters, your standard supermarket Vienna sausages will work very well as a fantastic ingredient here.
Picture this: the warming taste of garlic and paprika speckled around floating pieces of Vienna sausages in a dark, tasty broth. This delicious meal takes no more than half an hour to come to life.
This Vienna sausage soup is great as a simple weeknight meal on the dinner table on a cold winter's evening.
Source: siftandsimmer.com
Korean Army Stew – also called Budae Jiggae – is Korea's answer to Chinese hot pot. This is a thick, spicy stew made by cooking various ingredients right on the table in front of you.
Korean style Vienna sausage is one of those ingredients, but you can include almost anything you like and adjust to your personal preferences.
You can easily make this soup your own, from noodles and mushrooms to spam and tofu.
Thanks to gochujang (Korean spice paste), this is one for those who can handle their spice. If you can't access American cheese, shredded cheddar cheese will yield the same results.
Source: clickamericana.com
Casseroles are the ultimate family meal. How do I know? Because casserole recipes stretch back as far as the eye can see! This Vienna sausage variation hails from the 1970s.
In just forty-five minutes, you can enjoy this protein-packed, family-friendly meal. It uses cost-effective ingredients like beans to fill out the rest of the dish, so this one's gentle on the wallet.
With beans, horseradish, and tasty sausages, this is a unique and delicious taste your family will love.
Your whole family will enjoy this yummy summer casserole recipe!
Source: whereismyspoon.co
One of the powers of cans of Vienna sausages over traditional sausage is how quickly you can use them to whip up party food worthy of a crowd.
These glazed cocktail sausages are the perfect way to kick off a gathering.
You can make a huge batch of these sausages in just half an hour, which is great if you're short on time. Serve these over white rice for a complete meal at your next family gathering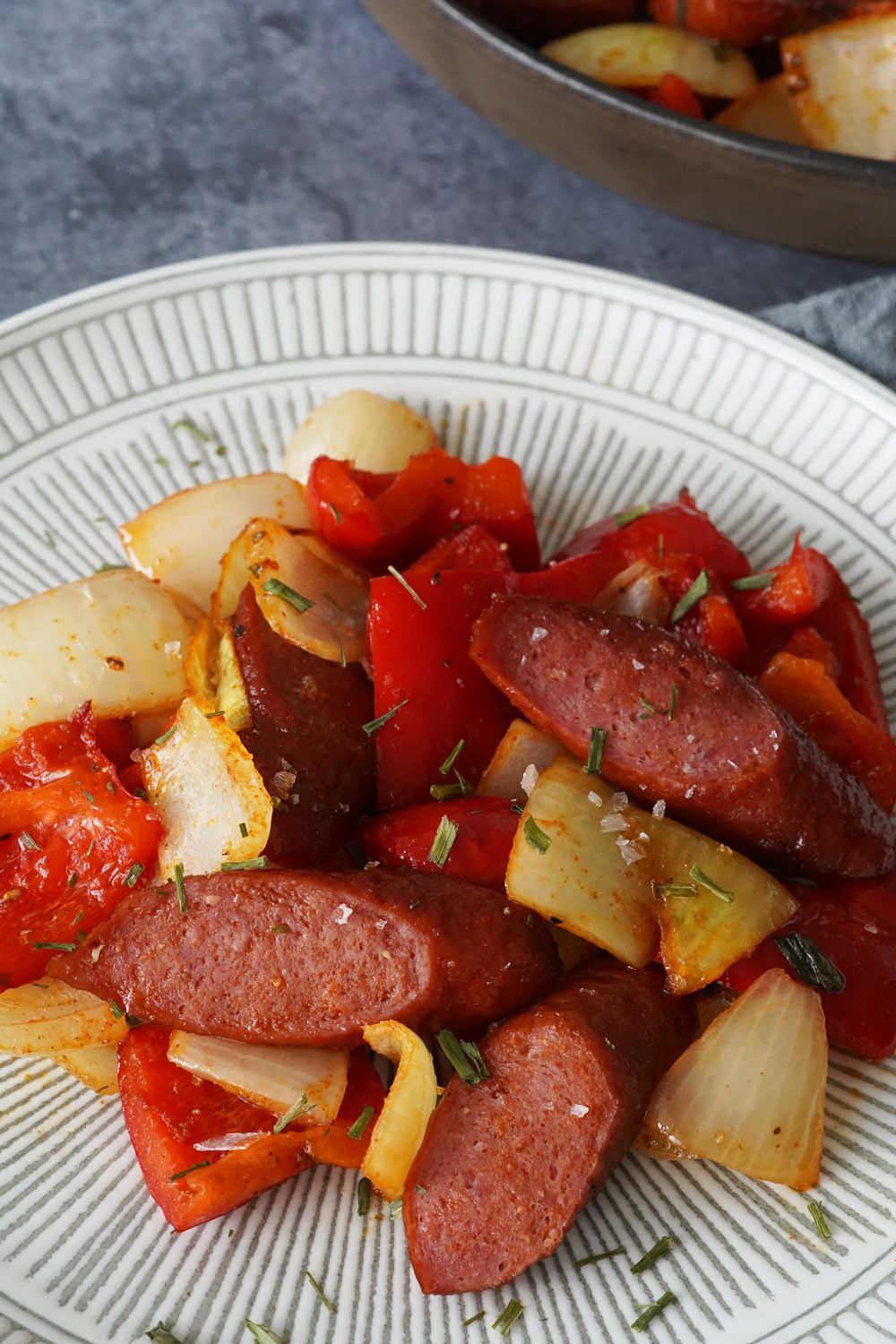 Source: delightfullylowcarb.com
Next, we have a low-carb dinner packed with many vegetables and a can of Vienna sausage. Bell peppers, onions, and mushrooms are the ideal hosts for perfectly-cooked Vienna sausages.
You can use this recipe with any sausage you like for an exciting flavor and pack it with red pepper and green peppers.
That's what makes this such a good low-carb dinner recipe in your back pocket, and the best part is the Vienna sausage version has a long shelf life.
This recipe with sweet peppers is sure to become one of your favorite kitchen recipes
Source: whereismyspoon.co
Linsensuppe – German lentil soup – is a delicious winter warmer you can make in huge batches. Keep this in your freezer for those nights when cooking seems impossible.
Packed with yellow onion, vegetables, potatoes, and sausages, this is a protein-filled dish with a heart of gold and the best flavor combination.
You can also substitute any other protein in place of the sausages to clear out your fridge as needed in the next dish.
Source: masalaherb.com
Cabbage is underappreciated of the main ingredients! The crunchy furls absorb a ton of flavor as they cook, so they're a fantastic base for any meal.
On top of that, cabbage is cheap, keeps well, and is versatile. The meaty flavor of the sausage and black pepper compliments the cabbage so well in this Vienna sausage recipe!
This recipe takes twenty minutes from start to finish, so it's ideal for a busy weeknight meal. The secret to success with this dish is the copious seasonings, so it's packed with flavor.
This really is one of the best meat recipes for dinner!
Source: delightfullylowcarb.com
Gumbo hails from the American South, and it is the very definition of soul food. Thick, hearty broth hosts sausages, plenty of shrimp, and a healthy handful of vegetables like red bell pepper.
This is yet another meal to warm your soul on a winter night. While gumbo historically takes a lot of time to make, this recipe is a good choice that only needs twenty minutes. I call that a win!
Source: cheerfulcook.com
From the American South, we're hopping over to Germany for this creamy, hearty potato soup. Slices of perfectly-cooked sausage float to the surface of this delicious soup in a tasty display.
This is the epitome of home-cooked comfort food. If you're a potato lover – as most of us are – this soup will enrich you with every bite. Plus, it's so easy to whip up as a meal prep recipe!
This is one of the best dinner ideas to make tonight!
Source: mykoreankitchen.com
This Korean-style sausage fry is a sticky and spicy dish perfect for a prepped lunchtime meal. This is a great dish to prepare at the beginning of the week to make your lunchtimes easier and healthier.
The secret to success with this dish is an insanely good sauce.
It uses just three common ingredients that you should be able to find in your pantry easily, like tomato sauce. Add some sriracha for the perfect addition of a little spice!
If you are a stir fry fan, check out this tasty zucchini stir fry with garlic!
Source: guides.brit.co
Bring a splash of delicious Cuban flavor to your week with this super easy rice dish. Arroz Con Salchichas translates to 'yellow rice with sausages, and that's basically all you need to know!
With a warming spice profile and a ton of flavor, this dish is definitely a crowd-pleaser. It's also excellent as a meal prep dish since you can make huge batches in no time.
Source: caribbeanpot.com
Take a pivot to the Caribbean for a deliciously simple breakfast dish. It uses a few simple ingredients, so this won't take your entire morning to create. Ideal for rushed weekend mornings!
This dish is an amazing way to kickstart your day. Not only is it packed with protein, but it's also warming, filling, and just a little bit sweet. What better way to prepare you for the day?
Source: polishfoodies.com
Our final destination is Poland, a place that really knows its sausages. This is the ultimate speedy sausage dish, requiring only five minutes – yes, five minutes! – of your time.
These are served much like hot dogs. Pair with your favorite sauces, a little bit of salad, and your favorite bread roll for a crispy, delicious lunch or dinner.
If you enjoyed these mouthwatering sausage recipes, you might also enjoy these flavorful kielbasa recipes!
13 Vienna Sausage Recipes That are Easy to Cook
We are giving you the best collection of Vienna sausage recipes for your meal plan. These dinner ideas will easily be a hit with the family!
Ingredients
1. Sausage Soup
2. Korean Army Stew
3. Vienna Sausage Casserole
4. Glazed Cocktail Sausages
5. Keto Sausage and Peppers
6. German Lentil Soup
7. Cabbage Sausage Skillet
8. Keto Gumbo
9. German Potato Soup
10. Korean Style Sausage Stir Fry
11. Arroz Con Salchichas
12. Breakfast Vienna Sausages
13. Fried Vienna Sausage
Instructions
Scroll up to get a bunch of easy, yummy, and delicious vienna sausage recipes. Don't be afraid to get creative with the ingredients. You might discover a flavor you didn't know you liked.
Get your shopping list going, and make sure you've got all the ingredients.
Get cooking and make your next Vienna Sausage Recipe!
Notes
Which one of these recipes was your favorite? Let me know in the comment section or on Pinterest!