Gingerbread or sugar cookies? Or maybe vanilla crescents? Whatever your sweet tooth desires! Traditional german cookies are for the most flavorful sweet bites!
Step inside a Brothers Grimm fairytale with one of these delightful german cookie recipes!
Buttery, crispy, soft, gingery, with marzipan… Take your pick. If you're looking for some baking adventure with your kids this holiday, then here are some delicious choices for traditional recipes to whip up.
Baking cookies is a December tradition in Germany. And for a good reason. With so many great recipes, you literally need a month to try them all.
On that note, here are 31 of the best German cookies you could find! Pour yourself a glass of milk, and enjoy!
What is the Most Popular Cookie in Germany?
Germany is the birthplace of gingerbread. And marzipan. So you can expect German cookies to be loaded with warming spices.
There are many winter cookies that are traditionally made in Germany. In fact, Germany is the only country in Central Europe with such a vast biscuit catalogue.
But the one that stands out from the crowd is definitely the Lebkuchen. Or in English, the Gingerbread Man. This is the most beloved biscuit in Germany that floods every Christmas market.
Best German Cookies
Perfect for the holiday season, and super addictive on a random weeknight. Here are the most delicious German cookies you simply have to try.
Source: christinascucina.com
Cinnamon-flavored stars! It doesn't get any more Christmasy than that. This classic German Christmas cookie is made with ground almonds, egg whites, sugar, and cinnamon.
They are easy to cut and take on the snow-white meringue well.
This chewy cookie is a bit on the soft side, meaning they are not your typical crispy cookie. But they are just perfect for your cookie jar!
Try more lovely authentic German desserts!
Source: flavormosaic.com
Cookie cupcakes, anyone? These simple and chocolate-crusted cookies are a lot of fun to make. And even more enjoyable to eat.
With shredded coconut, pecans, chocolate, and butter, there is a lot of flavor and texture inside these yummy cups.
Serve with a glass of milk, and get ready to serve seconds.
Want to try another recipe with shredded coconut? Enjoy these 4-ingredient coconut macaroons!
Source: carolinescooking.com
They are not gingerbread. Nor are they ginger nut cookies. Just simple sugar cookies that are spiced up with some ginger. That's it. But boy do they taste incredible.
Buttery and crispy, they are also easy to customize, too. Add some orange zest or cinnamon to the dough for some more flavor.
These cookies are even better if glazed. Chocolate is my pleasure of choice!
Source: cinnamonandcoriander.com
Yup, they're loaded with hazelnuts. But they're not crunchy. In fact, these cookies are so soft that they practically melt in your mouth.
Simple, quick, and very easy to make. The cookies are best if made with hazelnut flour. But keep in mind that they will also be delicious if you use ground hazelnuts, instead.
Want to make them chocolatey? Just add some cocoa powder to the dough. And voila!
Source: mycookingjourney.com
Although these cookies are a traditional Dutch recipe, they are super popular in Germany, too, which is why they're included in this list.
Flavored with cinnamon and topped with sliced almonds, there is nothing you won't find satisfying in these bites.
Buttery and sugary, there is enough batter to fill an entire pan. Just slice it into your favorite shapes, and serve.
Source: texanerin.com
I like to think of this classic german cookie recipe as a triple-almond cookie. Because these traditional German Christmas cookies are made with almond flour. It includes almond paste. And it is topped with slivered almonds.
The best thing though? This sweet treat is dipped in chocolate, which the little eaters in your house will go crazy about.
The flavoring here is vanilla, but feel free to use cinnamon or even rum.
Source: veggiedesserts.com
A staple in Frankfurt, and very popular throughout Germany. These Marzipan cookies make one great Christmas treat
All you need is marzipan, almonds, one egg, and some sugar. It's really as simple as that.
If you want to, you can also coat them in chocolate. And then sprinkle with coconut. Or even chopped almonds. Really, the options are endless.
Source: cookingwithcarlee.com
This is a classic for the Christmas season. And an absolute must around Christmas. Plus, the kids will love helping out.
Spicy, crispy, delicious, and super fun to make.
Who doesn't like these german gingerbread cookies for the holidays? Gingery and molasses-sweet for a special treat your taste buds will love.
Go crazy while decorating, and have yourself some merry time! And don't forget to snack on some of the cookie dough.
Source: temeculablogs.com
Spicy cookies, without any ginger. This version of Lebkuchen is seriously worth trying. All you need is cinnamon, allspice, nutmeg, and clove. All the favorite holiday spices!
You should really stick to brown sugar as suggested in the recipe. It gives it more depth and an almost-caramelized flavor that you won't be able to get enough of.
Easy to shape, and quick to bake, these are the best busy weeknight cookies to try!
Source: mycookingjourney.com
When that merry time comes knocking on our doors, Central Europe celebrates with these vanilla crescent cookies. Popular on Christmas markets, and you will see why.
You can make it with walnuts or almonds. Delicious, either way. Buttery, crumbly, and loaded with vanilla. Both in the dough and as a topping.
Don't you think this is the sweetest vanilla indulgence?
Source: fearlessdining.com
Gluten-free, crunchy, and super filling, too. These German spice cookies are best served with some dusted powdered sugar on top.
Made with almond flour, butter, and a lot of spices. A holiday treat that warms you up after a single bite.
And besides, who doesn't want their kitchen to smell like cinnamon in winter? If you want to customize, you can also add some ginger to these favorite cookies.
Source: adorefoods.com
When you think of Christmas trees, you'll think of this traditional german recipe. If there's a Christmas time cookie you haven't tried before, I bet it's this three-stars-stacked-on-top-of-each-other cookie. Seriously, there are three star-shaped cookies sandwiched with raspberry jam.
The three stars are different in size. The largest one is at the bottom, and the smallest one sits on top of these jam cookies.
If this won't make a special treat on your Christmas table, nothing will.
If you are more of a chocolate kind of baker, use some melted chocolate instead of jam. Still yummy!
Source: mapleandmango.com
Did your cravings start to kick in with the vanilla recipe from earlier? Then here is another version of the classic for you.
Loaded with butter and super crumbly in your mouth. How can these vanilla crescent-shaped cookies be anything but satisfying?
This recipe uses basic ingredients and a vanilla sugar topping. If you want to, you can add some cinnamon to it, too for the Christmas holidays.
Source: cinnamonandcoriander.com
You may not be a fan of marzipan, but have you tried baking with almond paste instead? This popular choice had marzipan on the ingredient list, but you can substitute it with almond paste in these authentic german Christmas cookies.
Although they taste similar, no these popular german cookies are not the same thing. Almond paste is soft and tends to be coarser. Also, it holds its shape way better than marzipan in baking.
You might want to give this traditional Christmas cookie a try!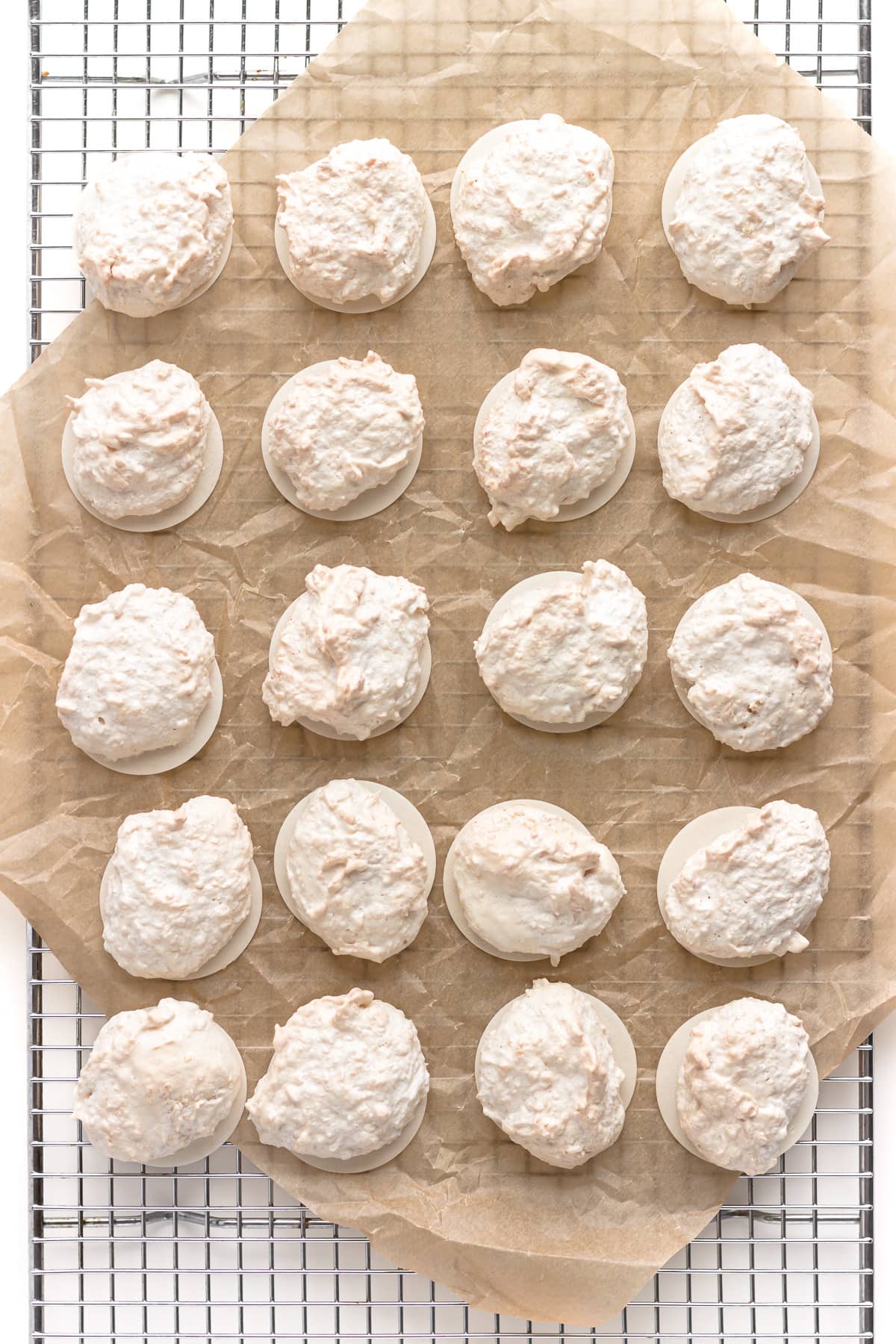 Source: mapleandmango.com
Okay, you think they're French. They're actually from Italy. And they end up on a German cookie list. What!?
That's because this is not your usual macaroon recipe. In fact, this is a traditional German version of it. Super light and almost like meringues. A delicious cookie that melts on your tongue.
How best to serve them? Drizzled with chocolate, of course!
Source: mommyevolution.com
Chocolate cake? Or cookies? How about both? Anyone up for two-in-one delicious treats?
These pecan and chocolate soft nibbles are truly perfect. And how can they not be when they're packed with butter?
So delicious and chocolatey, you simply have to try these. If you don't like pecans, use walnuts instead. Or even hazelnuts!
Are you a chocolate lover? Check out these Whole30 cookies with chocolate!
Source: coffeewithus3.com
Christmas in Germany means there will be some Spritz cookies on the table. If you're not familiar with this desert, here's your chance to give it a try.
They are really simple sugary and buttery cookies. But there's something about these soft and crispy bites that you will find super addictive.
For a fancy treat, drizzle some chocolate over it.
Source: cinnamonandcoriander.com
No, these are not classic meringues. But they're filled with a light meringue filling. Hence the name.
The filling is also nutty and chocolatey, and you will not be able to stop yourself from eating.
The dough includes hazelnuts, and it is super rich in cinnamon. Seriously, there is a whole tablespoon of it. But it fits the recipe perfectly!
If you love cookies but not the calories, you need these low calorie cookies.
Source: theforkedspoon.com
We've all tried Snickerdoodles. And while no one knows who came up with their interesting name, it is well known that they originated in Germany.
And that's why they're quite the popular treat there.
If you're looking for a foolproof recipe, then this is it. Chewy, fluffy, and golden, these buttery cookies are one of the easiest treats you can whip up.
Sprinkle with cinnamon sugar for the most amazing flavor ever!
Source: adamantkitchen.com
Love macaroons? Then, here is another great German version. No condensed milk is needed, nothing fancy like that. Just hazelnut flour and four simple ingredients.
This 5-ingredient recipe is super simple and easy to make. And it yields such a rich flavor.
These cookies really taste great plain. But if you want to, you can go crazy with the toppings.
Source: stephiecooks.com
Linzer cookies are a holiday favorite. Whether you live in Germany or not. Raspberry jam is placed between two crumbly cookies. But you can use another kind. Or even chocolate.
Every bite provides butter-soft crumbles that your palate will enjoy. And if you serve them with some milk, your kids will ask for them all the time.
Source: twobittart.com
What should you bake when you only have one egg, sugar, and some almond flour? What can you possibly make without any butter or milk? These lovely bites!
With just one egg white, almond meal (or flour), sugar, and tons of spices, a yummy treat will be created. These cookies are not too sweet, but they will curb your sweet cravings beautifully.
They are crispy around the edges and have a quite soft interior. Just how I like them!
Have leftover almond flour? Try these almond flour banana muffins!
Source: whereismyspoon.co
Chewy macaroons the German way. Loaded with hazelnuts and just two other ingredients. That's right! You only need sugar, egg whites, and nuts for this lovely recipe.
The recipe also includes a fourth ingredient, but I find that to be optional. A whole hazelnut pressed down the middle of the cookie. If you like a crunchy bite, feel free to include it.
Either way, I promise that you'll find nothing typical about these classic German treats.
Source: themondaybox.com
Ginger and cinnamon cookies. Topped with a sticky orange glaze. That practically screams holiday time to me.
So sweet and rich in warm spices. These are probably the only cookies you'd want to save for tomorrow. Because the intensity of the flavor actually improves in time.
The solution? Plan ahead and whip them up the day before.
Source: ifoodreal.com
Another recipe for gingery cookies that you don't want to miss out on.
Sugary, spicy, and perfect to make ahead of time. These gingersnap cookies use your pantry staples, plus molasses. Although you can swap it with honey for a lighter version.
The recipe uses a whole tablespoon of ginger. And I strongly suggest you do too.
Source: theveganlarder.com
Holiday baking with vegans can be tricky. But not with this recipe. So versatile, this can easily be the base for many Christmas treats. All you have to do is swap a few things.
Chocolate-iced gingerbread cookies filled with the warmest of spices. Seriously, just a single bite will warm up your tummy.
So crispy and delicious, these are true biscuit perfection.
Source: bestservedvegan.com
Are you craving ginger cookies? And you need them to be vegan?
Then you might want to add these spicy treats to your recipe folder. So festive and filled with spices. Even the die-hard butter lovers will enjoy these.
For a lighter version, make them with honey. They'll be delicious either way.
Crispy on the outside and chewy on the inside. How can you be indifferent?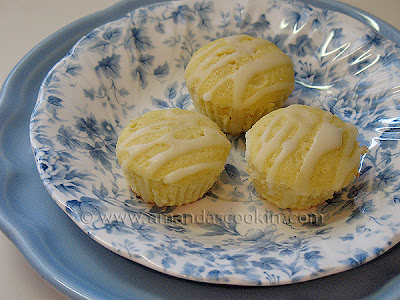 Source: amandascookin.com
If you are in the mood for a lemon cake but don't have the time or energy to make it, these are a quicker alternative. And a super delicious one!
Actually lemon muffins, these soft and zesty cakes go perfectly with your afternoon cuppa.
If you're crunched for time, just skip the glaze. They really don't need anything on top. That's how good they are.
Source: easyhomemaderecipes.ca
Shaped like bow-ties, these fried but super light and fluffy treats will be a total hit amongst children.
They are a traditional recipe that never fails to satisfy.
Plus, there's a secret ingredient – whiskey. It gives the dough another degree of taste and deepens the flavor.
Just dust them with some powdered sugar, and serve straight away.
Don't have time? Just cut them into squares! They won't have the most interesting look, but they will surely be yummy.
Source: mymorningmocha.co
Empire biscuits! These cookies definitely leave up to their name. So what's in those delights?
These cookies consist of two crispy biscuits, sandwiched together with some fruit jam. Plus, they have icing spread over them. And a glace cherry on top. How royal is that?
The dough is buttery and vanilla flavored. And you'll love every single crumb of it!
30 Traditional German Cookies for Christmas
Looking for fun desserts to enjoy this holiday season? Enjoy these traditional German cookies that are perfect for Christmas.
Ingredients
1. Cinnamon Stars
2. Chocolate Cookie Cups
3. Ginger Cookies
4. Hazelnut Cookies
5. Shortbread Cookies
6. Almond Paste Cookies
7. Marzipan Cookies
8. Gingerbread Cookies
9. Spice Lebkuchen Cookies
10. Vanilla Crescent Cookies
11. Pfeffernusse Cookies
12. Terrassen Christmas Cookies
13. Vanillekipferl Crescent Cookies
14. Chewy Almond Paste
15. Coconut Macaroons
16. Chocolate Cake Cookies
17. Christmas Spritz Cookies
18. Hazelnut Meringue Cookies
19. Snickerdoodle
20. Haselnussmakronen
21. Raspberry Linzer Cookies
22. Bergziegenkeks
23. Hazelnut Macaroons
24. Lebkuchen Chewy Cinnamon Ginger Bars
25. Healthy Gingersnap
26. Vegan Lebkuchen Gingerbread
27. Vegan Ginger Cookies
28. Mini Lemon Cakes
29. Bow Tie Cookies
30. Empire Biscuits
Instructions
Scroll up to get a bunch of easy, yummy, and delicious recipes. Don't be afraid to get creative with the ingredients, you might discover a flavor you didn't know you liked.
Get your shopping list going and make sure you've got all the ingredients.
Get cooking and make your next Traditional German Cookie recipe!
Notes
Which one of these recipes was your favorite? Let me know in the comment section or on Pinterest!