Don't enjoy Crown Royal Apple whiskey on its own? You will absolutely love it in these deliciously boozy cocktails! Spice it up with these crown royal apple recipes!
Love quenching your summer thirst with an ice-cold boozy beverage? Then this collection of cocktails, punches, shots, and crown apple drinks is the most delicious way to get your buzz on.
Crown royal apple is the main ingredient in these happy hour recipes and makes the perfect base, and they're all fun, sweet, and incredibly crowd-pleasing.
If you love the honeyed-apple taste of this whiskey, then I guarantee you will enjoy these crown royal apple cocktail recipes.
21 fruit-whiskey-infused delicious cocktails that will make you happy and tipsy! The perfect state for a fun night with your friends, right?
Source: easypartycocktails.com
Cranapple, as you've probably suggested, stands for cranberry and apple. This easy drink recipe, though, doesn't use fruits but store-bought cranapple juice.
If you cannot get your hands on cranapple juice, I suggest making your own. If you have a juicer, just add an apple and a few cranberries to it.
Or, even easier, you can just combine equal parts of apple and tart cranberry juice. You can also use other red fruits for this apple crown royal recipe.
When the juice is ready, just pour it over ice. Add a shot of Crown Royal Apple to it, and garnish with fresh apple slices.
This is a super easy cocktail that doesn't even require any shaking. Just combine everything together, and enjoy that crisp apple flavor!
Source: savvymamalifestyle.com
If you love fall flavors in your glass of booze, too, then this recipe for the colder months is made just for you. A mixture of Apple Crown, rum, brandy, black tea, and all your favorite spices.
Doesn't that perfect combination sound both warming and refreshing at the same time? Just what your fall cocktail party needs, guys.
This perfect cocktail recipe also uses apple cider and plum nectar juice, and let me tell you, they give this cocktail some extra fruitiness in a great way that your palate will love.
If you cannot get your hands on plum brandy, regular brandy will do the job well here, too.
The cinnamon stick is an inevitable part of this fruity drink recipe. Though it is suggested to remove it after shaking, I'd like to leave it in as a garnish. Fancy, right?
Source: kotibeth.com
Cannot decide whether to order a cocktail or lemonade on a hot summer afternoon? Why not combine them both with this delicious drink?
This simple drink recipe is practically ready in seconds if you already have a pre-made lemonade in your fridge.
Just combine it with a shot of apple-flavored whiskey, and add a handful of ice cubes to it.
You can garnish with fresh apples or lemon slices and serve in fancy glasses for more elegant party drinks.
Be careful, though. This popular drink is so refreshing that you will not even notice how tipsy you actually are.
If you don't have lemonade, limeade can also be used.
This refreshing summer punch is great to cool down on a hot summer day at the beach!
Source: alabouroflife.com
If you're all about the short, get-me-drunk-quick drinks, that doesn't mean that you cannot serve them in style.
And these Crown Royal Apple cranberry shooters will definitely earn you some extra points from your friends.
So, how are they made? You just fill a shot glass halfway with Crown Royal and top it off with cranberry juice.
If you're serving a large crowd, you can even make this in a large glass bottle and just fill up shot glasses conveniently.
The most appealing part about these shots has to be the apple-slice fan on top. Check out this recipe and see what I'm talking about.
Source: kotibeth.com
Ah, beloved punch! The inevitable boozy drink at any large party. Or a festive get-together, I would say. And this flavorful drink will transform your fall holidays easily.
Just take a look at the ingredients and tell me I'm wrong. An apple-cider base mixed with sparkling water. A generous amount of ginger beer. And a cup of Crown Royal.
Plus, loads of ice to keep things fresh. And if you garnish it with some sliced apples, even better.
How appealing does that sound? I know I'd like a glass or two of this flavorful punch alongside my Thanksgiving turkey.
Source: thesoccermomblog.com
If you were looking for a simple apple-infused drink, then this is probably the most basic cocktail recipe you could possibly find. But that doesn't mean it tastes anything less than incredible!
Although the ingredients here are simple – apple cider and a Crown Royal whiskey – the taste is full of flavor and super refreshing.
It is recommended to serve this drink with lots of ice, obviously. As for garnish, you cannot do better than apple slices. Just to showcase what this bright orange drink is made of.
If you want some extra kick here, just add a touch of cinnamon to it. That will surely make it more fall-related. Plus, it will introduce lots of flavors, too.
Source: kotibeth.com
What can I say about these Jello shots to make you give this recipe a try?
The fact that they're seriously boozy? Or that they have a bright green-apple color?
Oh, I know. You'll probably love the caramel sauce on top the most. Or perhaps the fact that they are topped with a gummy apple ring?
No, seriously. You better hide these from the kids because they look super tasty. Or just make a batch without the Crown Royal for the little ones. Just make sure not to swap the two.
Source: annsentitledlife.com
Who doesn't like apples and caramel? And if they contain enough booze to keep you happy all night, even better!
These pudding shots are a serious game-changer. And they will probably be the reason why your friends will prefer you to host your casual parties.
Although the original recipe here is made with vodka, adding Crown Royal instead will be even more delicious. Don't you agree that caramel pudding pairs better with whiskey?
These take about 75 minutes before they're ready to be served. But every minute will be so worth it once you try these pudding shots.
Source: simplisticallyliving.com
Another caramel and apple flavor that I am sure you will deeply enjoy.
This recipe is made with Crown Royal, apple cider, ginger ale, and some salted caramel whiskey. Isn't that a crowd-pleasing combo, or what?
Of course, if you cannot find salted caramel whiskey, you can customize it with what you have. For instance, you can use regular whiskey and caramel sauce.
The best way to do this? Freeze caramel sauce in an ice-cube tray. Then add a few of those cubes along with your regular ice. Yummy!
Source: kotibeth.com
Just wait before skipping to the next one, you slushie haters. Because you don't actually have to turn this drink into a slushie if you don't enjoy this icy beverage.
This cocktail will be equally delicious if you combine Crown Royal with apple juice and pour it over ice.
But wouldn't it be more fun if you blended it all together?
I seriously suggest making a larger batch of this cooling beverage and serving it in mason jars with wide straws. That's giving me a better summer vibe. Don't you agree?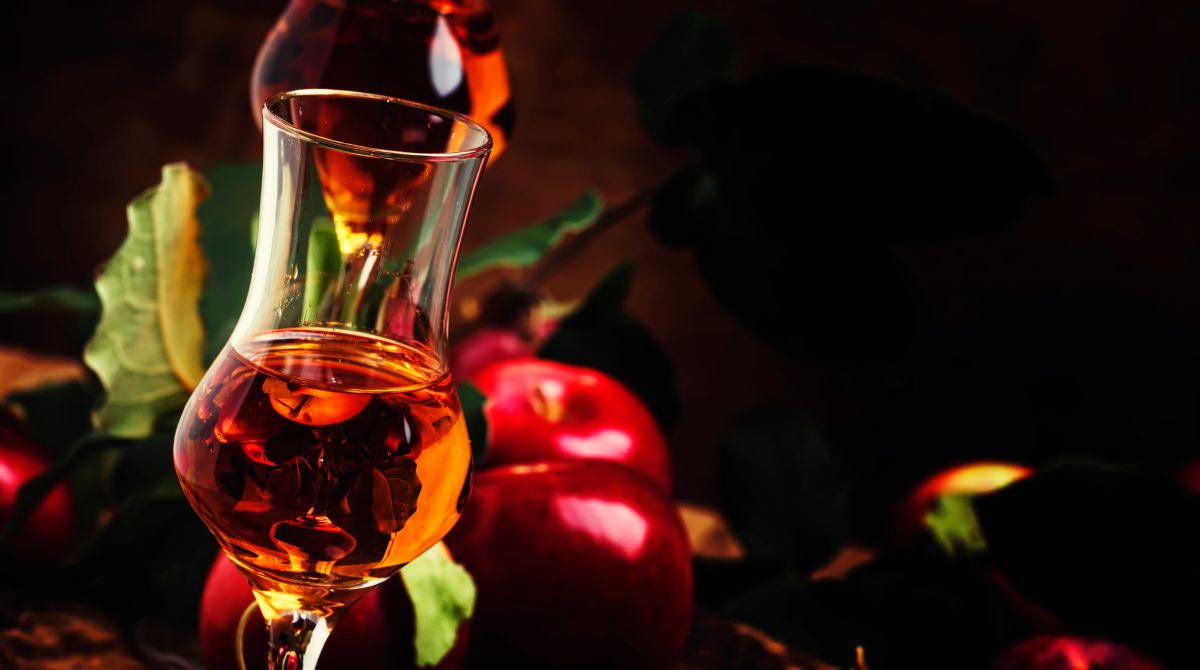 Source: champagneandcoconuts.com
Only three ingredients are needed for this delightful cocktail, if we're not counting the ice. Crown Royal Apple whiskey, Sour Apple Pucker, and some sweet cranberry juice.
Cranberry juice is perfect for cocktails. It does not only give your drinks a deep red color, but it also pairs well with the booze.
But you can use another fruity juice if you don't have cranberry, as long as it is sweet.
To make this cocktail, you will need to fill your shaker with ice and add everything to it. Then you shake vigorously until it's well combined, and pour in fancy cocktail glasses.
Don't own a cocktail shaker? Don't sweat it! Just pour the drinks over ice, and mix it up well with a straw.
Source: dailyappetite.com
Not "cranberry" but "crownberry." That is the name of this lovely red cocktail that combines cranberry juice and Crown Royal Apple Whiskey.
This has to be one of those last-minute choices that can save your entire party.
Why? Because it is made in just 2 minutes, and it looks so fancy, your friends will think you've spent the entire day cocktail planning.
And if you serve it in a fancy glass, topped with some apple slices on a cocktail stick, even better.
Sweet, subtle, and fruity, with a sharp kick at the back of your tongue, so you don't forget you're indeed drinking alcohol. You will absolutely love it!
Source: mantitlement.com
If you're looking for a dessert cocktail, then this is it. This apple pie float, loaded with whiskey, will not only succeed in making you tipsy, but it will also satisfy your sugary cravings.
So, this cocktail is like enjoying an apple pie with vanilla ice cream on top. While sipping on your whiskey at the same time.
Besides the Crown Royal whiskey, this recipe also includes vanilla vodka. And while there is a generous scoop of vanilla ice cream, this vodka gives another flavorful note to the drink itself.
The cinnamon sprinkling on top is optional but highly recommended.
Source: troprockin.com
Three ingredients (plus ice!) and a total of five minutes. That's all you need to whip up this sweet and refreshing cocktail.
This drink is the perfect thing to serve at a late-summer party. It is a bit bubbly, citrusy, and loaded with fruity flavors to keep you coming back for more.
Crown Royal Apple, cranberry juice, and lemon-lime soda are the stars of this recipe.
There is no need for shaking here, although you can definitely do that if that's how you prefer to make your cocktails.
You can serve it with both cubed or crushed ice. As long as it is super cold, this drink will satisfy absolutely everyone.
Source: homemadefoodjunkie.com
Baileys. Apple Pie. Whiskey. You can already guess that we're whipping up some creamy, sweet, and dessert-like flavors.
This recipe, obviously, uses Baileys Apple Pie liqueur, but you can also use regular Baileys if you don't have the apple-flavored one.
This recipe is perfect for those who wish to make fancy cocktails. It also features instructions on coating the rim and garnishing this beautiful beverage.
The caramel syrup is a total hit. You might want to skip sugary treats for the day because you will be upping that syrup intake at your party, for sure.
Source: troprockin.com
Fuzzy. Boozy. Refreshing. And incredibly tasty. How about enjoying such a smooth drink on a hot summer day?
Well, with some Crown Apple whiskey and half a can of Sprite, you surely can. Okay, okay, a full can of soda. Because you will definitely need a refill!
This cocktail is easy, quick to make, and doesn't require shaking. Just pour both beverages over some ice, and voila.
If you want to serve it a bit fancier, you can play around with some apple slices and cocktail sticks and see what you come up with.
Source: troprockin.com
Crown Royal whiskey, mixed with caramel sauce, topped off with ginger ale and apple cider. Bubbly and oh-so-sweet, there is nothing you'd change about this recipe.
The glass rim is dipped in caramel sauce and then coated in brown sugar, which makes this cocktail even sweeter.
The best thing about it? This is one of those cocktails that you can seriously enjoy, even without any ice. However, I would suggest a few cubes to make it a bit more refreshing.
For garnishing and some extra flavor, it is suggested to use a small cinnamon stick.
A decadent apple and caramel cocktail, perfect for the fall!
Source: mantitlement.com
Make this crown apple cocktail for your next party, and you'll become the crowned host among your friends.
Because yes, this cocktail is so delicious that everyone will be begging you to share the recipe. And the truth? There's nothing more than Crown Apple whiskey and cranberry juice in it.
Not really a fan of cranberries? No problem. This cocktail takes on other fruity juices well, too. Pomegranate, blueberry, or even pineapple juice will also be tasty additions.
Or, you can decide to go full-apple and use apple juice instead. If using non-red juice, though, you might want to add a touch of grenadine for a pop of red color. Or, you can just use a red fruit sauce.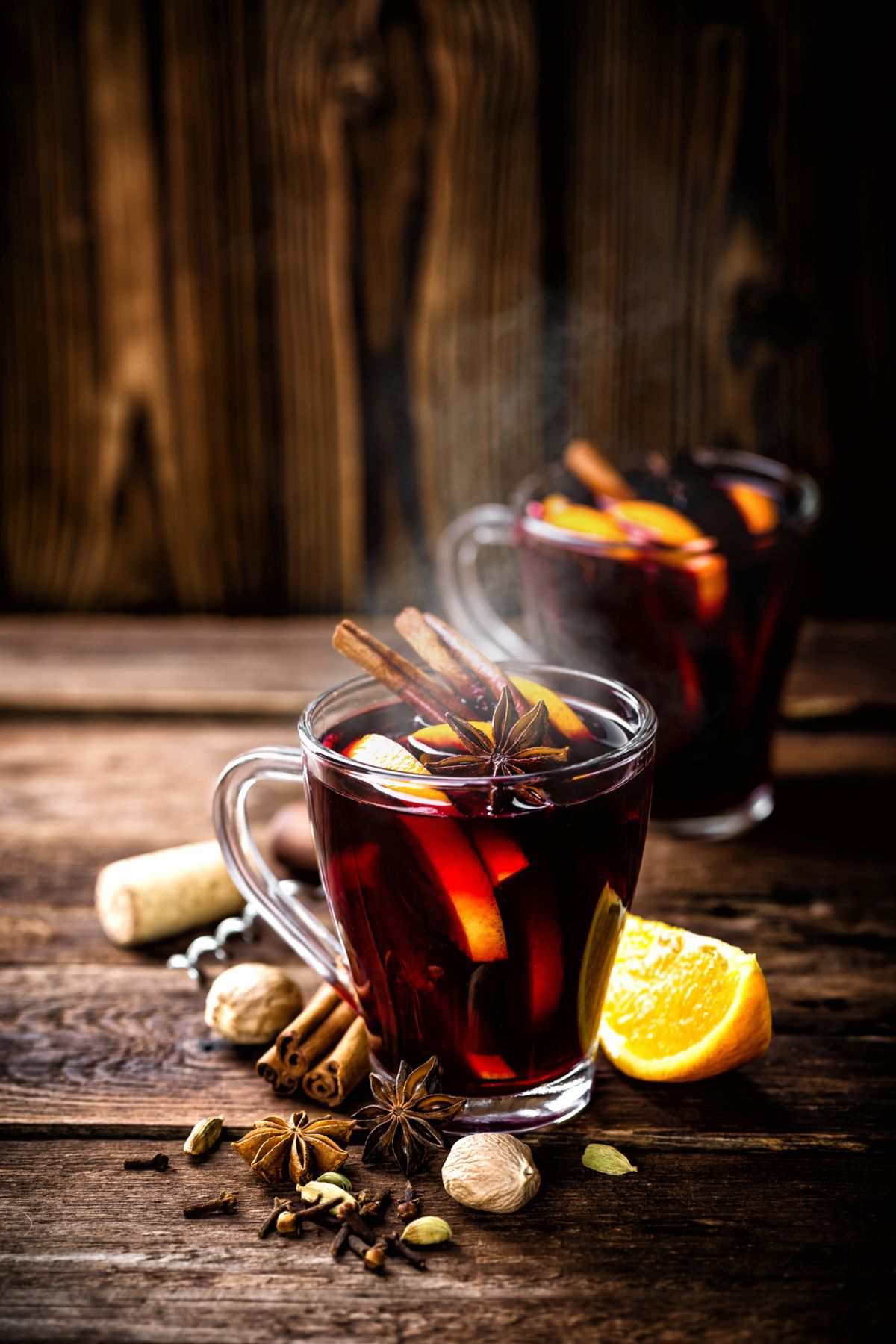 Source: bakedbroiledandbasted.com
A hot toddy is a traditional Irish beverage made with liquor, water, sugar, and spices. It is served warm and is usually considered a winter remedy that can help fight off a cold.
Whether whiskey can really soothe your throat or not, I cannot guarantee. But I can tell you that you will L O V E this amazing recipe.
Made with tea, a shot of Crown Royal, and honey. This will warm you up and put a smile on your face after just a sip. And you will not be able to stop sipping.
This recipe uses cinnamon and apple spice tea, but other types of tea will work well. If you cannot find flavored tea that you like, just use black tea and add a cinnamon stick to it.
Garnish with an orange slice. Heck, you can even add an extra slice inside for an infusion of orange flavors.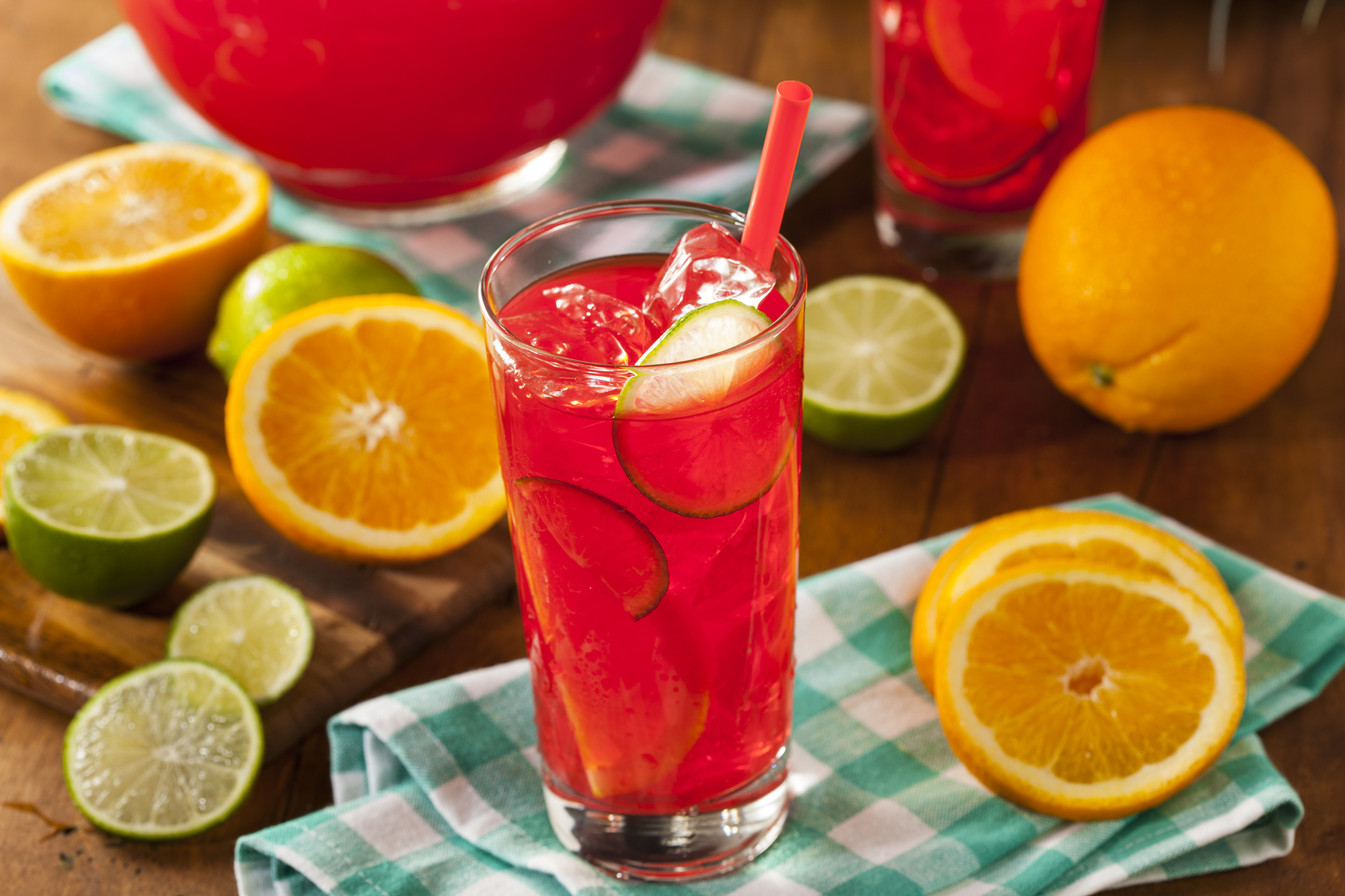 Source: styleonmain.net
Bubbly, sweet, and insanely elegant-looking! Although the title says "Mardi Gras," it is perfect for any other occasion, as well.
Especially for a girls-night party. The cocktail has a lovely feminine look that your girlfriends will just adore.
It features a shot of Crown Royal, some berry liquor, lemon, and champagne. If you don't have any champagne, this can also be made with regular sparkling water, too.
Serve garnished with a lemon twist, and enjoy!
Source: wholefully.com
If you are a hardcore fan of Moscow Mules but need something a bit cozier at the moment, then this cocktail is perfect for you.
The recipe combines Crown Royal whiskey, apple cider, and kombucha. Which, despite being loaded with crushed ice, can still warm you up.
The cocktail is also rich in cinnamon flavor thanks to the cinnamon stick, but you can omit that if you want.
Garnish with apple slices, and enjoy this fall twist of the summer classic!
You might also enjoy these Crown Royal Peach Recipes!
21 Best Crown Royal Apple Cocktail Recipes
Sip, savor, and repeat with these scrumptiously satisfying Crown Royal Apple Cocktail recipes that will make every gathering extra special!
Ingredients
1. Crown Cranapple Cocktail
2. Plum Apple Cider Toddy Cocktail
3. Crown Royal Apple and Lemonade
4. Crown Royal Apple Cranberry Shooter
5. Fall Punch
6. Crown Apple Cider
7. Caramel Apple Jello Shots
8. Caramel Apple Pudding Shots
9. Caramel Apple Cider Cocktail
10. Crown Apple Slushie
11. Crown Royal Whisky Sour Apple Cocktail
12. Crown Royal Apple and Cranberry Cocktail
13. Whisky Apple Pie Float
14. 3 Ingredient Crown Apple Drink
15. Baileys Apple Pie Drink with Crown Apple
16. Crown Apple and Sprite
17. Crown Royal Caramel Apple Drink
18. Crown Apple Cocktail
19. Apple Crown Hot Toddy
20. Carnival Queen Mardi Gras Cocktail
21. Autumn Apple Kombucha Moscow Mule
Instructions
Scroll up to get a bunch of easy, yummy, and delicious recipes. Don't be afraid to get creative with the ingredients, you might discover a flavor you didn't know you liked.
Get your shopping list going and make sure you've got all the ingredients.
Get cooking and make your next Crown Royal Apple Cocktail Recipe!
Notes
Which one of these recipes was your favorite? Let me know in the comment section or on Pinterest!