Are you on a pureed food diet? Then these delicious creamy pureed diet recipes will give you spoonfuls of buttery smooth satisfaction!
Has your doctor ordered a special soft diet of puréed foods? Or do you simply love smooth pureed meals? Whatever has forced you to look "pureed recipes" up, you are definitely at the right place if you are looking for soft foods!
Pureed veggies, creamy soups, delicious mashes, and velvety bites that won't overwork your jaw.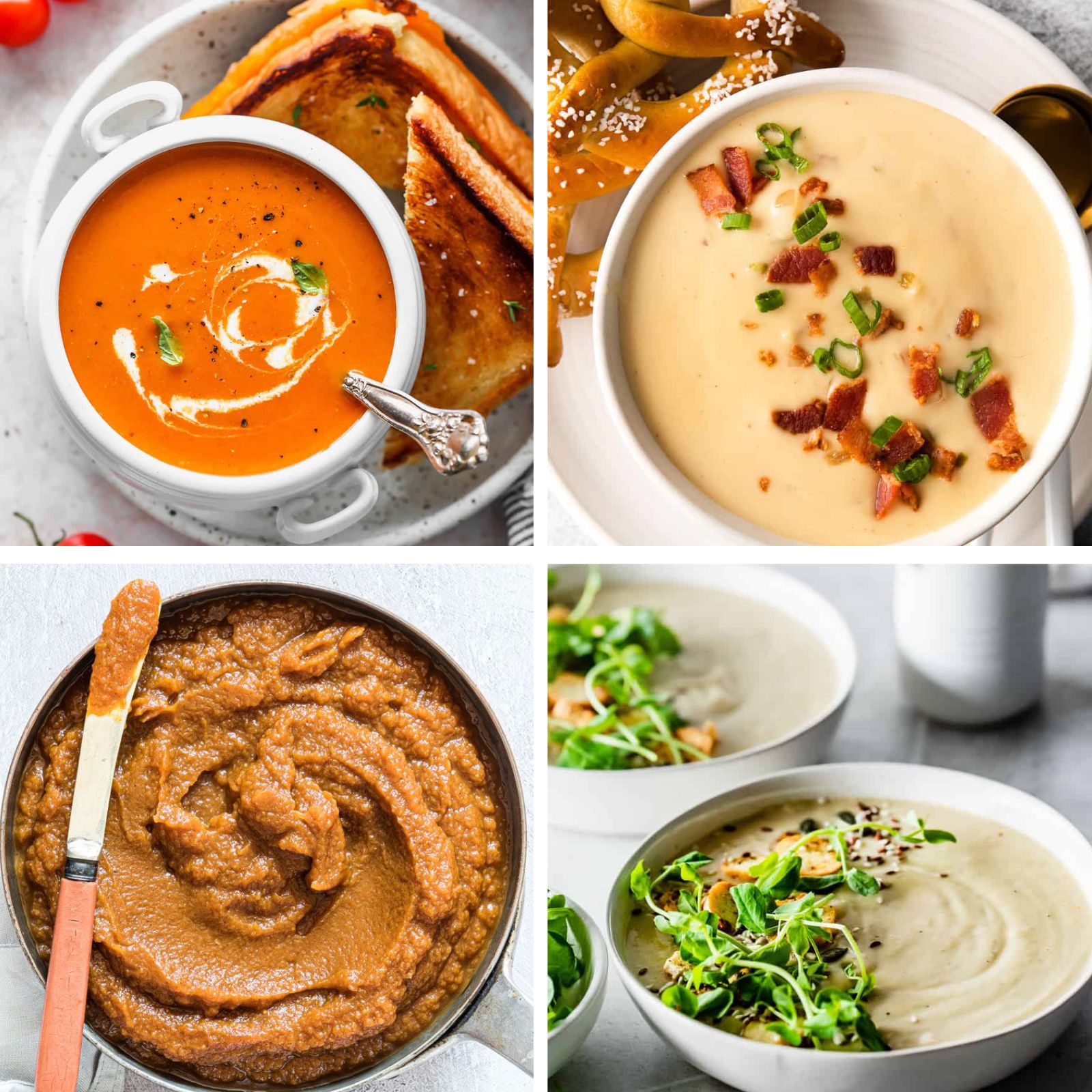 What Veggies Can Be Pureed?
All well-cooked vegetables can be pureed. But not all will yield the same rich and creamy consistency.
Working with root veggies is the easiest. They do not have any seeds and make thick and smooth vegetable purees.
However, avoid heavy starches. They can easily become sticky and give you a glue-like texture.
Squashes, pumpkins, and cauliflower are some other great options.
Fibrous veggies, on the other hand, are tougher to handle. They tend to leave strings behind that cannot be further processed.
Best Pureed Diet Recipes
Preparing the perfect puree is not as easy as dumping a bunch of veggies into your food processor. But with these smooth puree recipes, a lovely creamy texture is guaranteed, and they won't taste like baby food.
Source: knowyourproduce.com
Want to use something more vibrant in color than your mashed potatoes? This carrot puree is the perfect dish for you.
For the perfect texture and silky smooth consistency, use a blender. Not a hand masher.
The recipe uses Vitamin X, but any powerful appliance will do the trick well.
Source: masalaherb.com
Spicy, creamy, flavorful, and golden in color. This pumpkin and carrot silkiness tastes (and looks) almost like sunshine in a bowl.
Pumpkins, carrots, and onions. Creamed with some milk and butter. Then seasoned with turmeric, cayenne, ginger, and garlic.
If you love this warming puree, check out these other healthy Fall recipes.
Source: joyfoodsunshine.com
This recipe roasts the tomatoes first. Hence the incredibly delicious taste. It also uses quite a bit of garlic and some basil for flavor.
Everything is simmered in veggie broth. So, yes, this is a vegetarian dish. If you prefer, use chicken broth instead. It will be equally tasty.
Drizzle with some heavy cream when serving.
Source: joyfoodsunshine.com
Squash soups are velvety and packed with enough warm flavors to force you to cozy up in your nook afterward.
With cinnamon flavors, maple and brown sugar-sweetness, and a whole pint of heavy cream for silkiness, you'll be licking your bowl in no time. Almost tastes like dessert, right?
This soup would also be a lovely healthy Thanksgiving recipe.
Source: bobbiskozykitchen.com
If you love curry flavors with squash, this creamy bowl is perfect for you.
Besides the curry paste, it is also packed with coconut milk, sweet applesauce, and enough ginger to make it super flavorful.
Spicy and earthy, it is cozy comfort at its best!
Source: recipesfromapantry.com
Mmm, pumpkin butter! That sweet, aromatic, thick, and super comforting spread is the perfect match for your soft food diet.
This puree food recipe combines brown sugar, pumpkin pie spice, apple fruit juice for creaminess, and a touch of vanilla.
Get more use out of your slow cooker with these other easy Crockpot recipes.
Source: masalaherb.com
Haven't tried a kohlrabi puree before? Trust me, it will become your fall dinners' new best friend. Along with potatoes, it makes one starchy, filling, and incredibly satisfying dish.
Make sure to discard them before mashing, though. Chewing on these black rounds is no fun.
Source: christinascucina.com
Adding leeks instead of onions in your soups is a great way to introduce some depth to that creaminess into pureed food recipes.
Plus, they have a more delicate flavor, which goes perfectly with potatoes' smooth texture. Cooked in chicken stock and creamed with some butter for the silkiest thing ever.
Source: christinascucina.com
The thing I love the most about broccoli soups? They are so darn quick and easy to make. Plus, it is just as tasty with frozen florets, which saves a lot of time.
This soup features some onions and celery for a fragrant flavor and balanced diet. Plus, a couple of potatoes for a thicker consistency.
Source: splashoftaste.com
Better than potatoes, this parsnip mash makes one creamy winter meal to meet your nutritional needs.
The trick to the smooth creaminess here? The parsnips are actually cooked in milk and cream, rather than water or broth. And I highly suggest you try this the first time!
Simple, quick, incredibly rich and flavorful with good nutrition!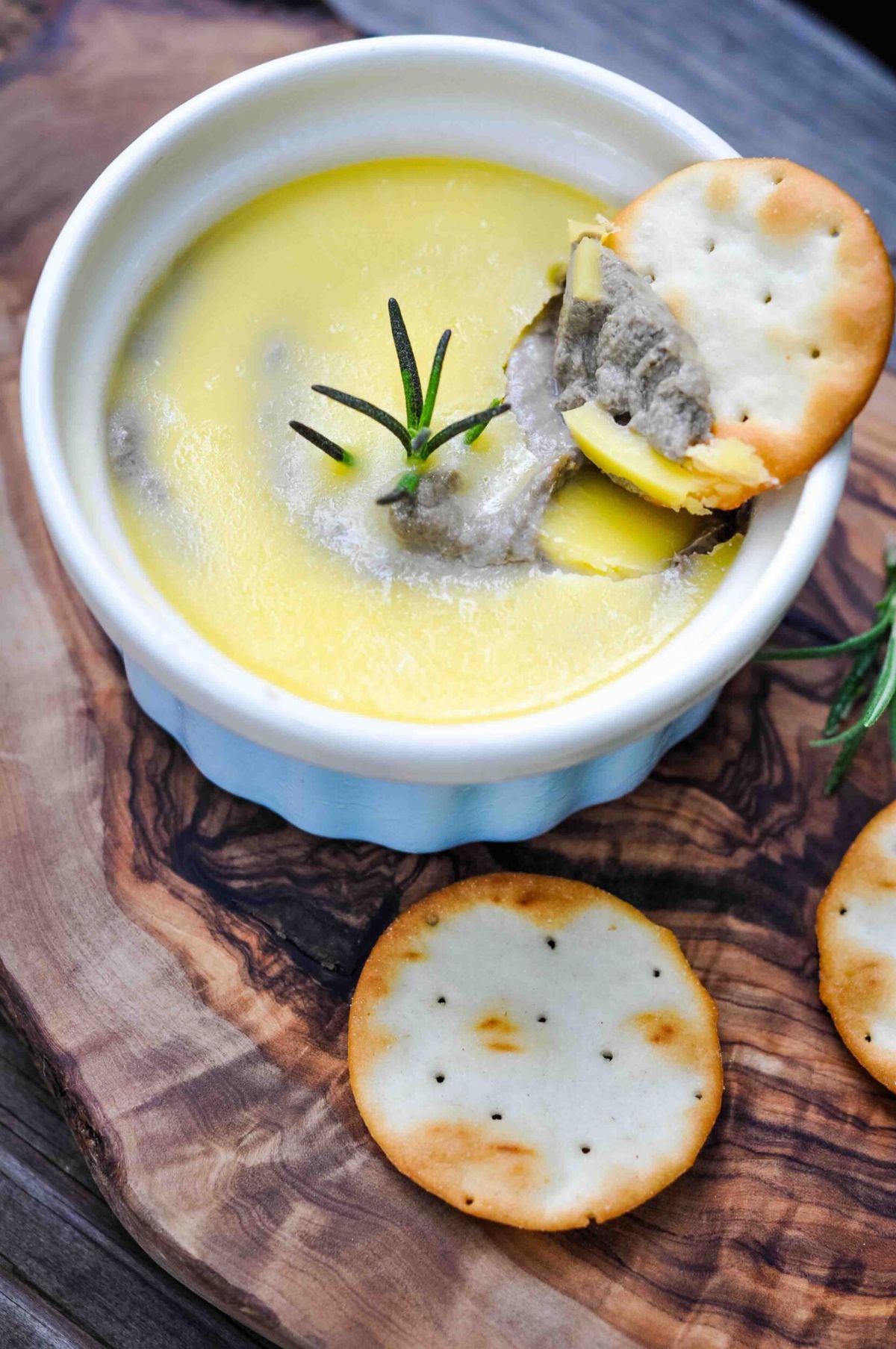 Source: healthychristianhome.com
Not used to cooking with chicken organs? This recipe is the perfect place to start, then!
Loaded with mushrooms, infused with rosemary, blended to smooth creaminess, and then topped with melted butter. Yes, it is as silky as it sounds!
Just grab your immersion blender and get cooking!
Source: kidtestedrecipes.com
This hummus is packed with enough protein to energize you until dinner. Which makes it a perfect addition to your lunch box.
The classic flavors of chickpeas, tahini, lemon, and cumin, join forces in this creamy dip.
Serve with your favorite crunchy vegetable sticks. And there's nothing else to do but enjoy.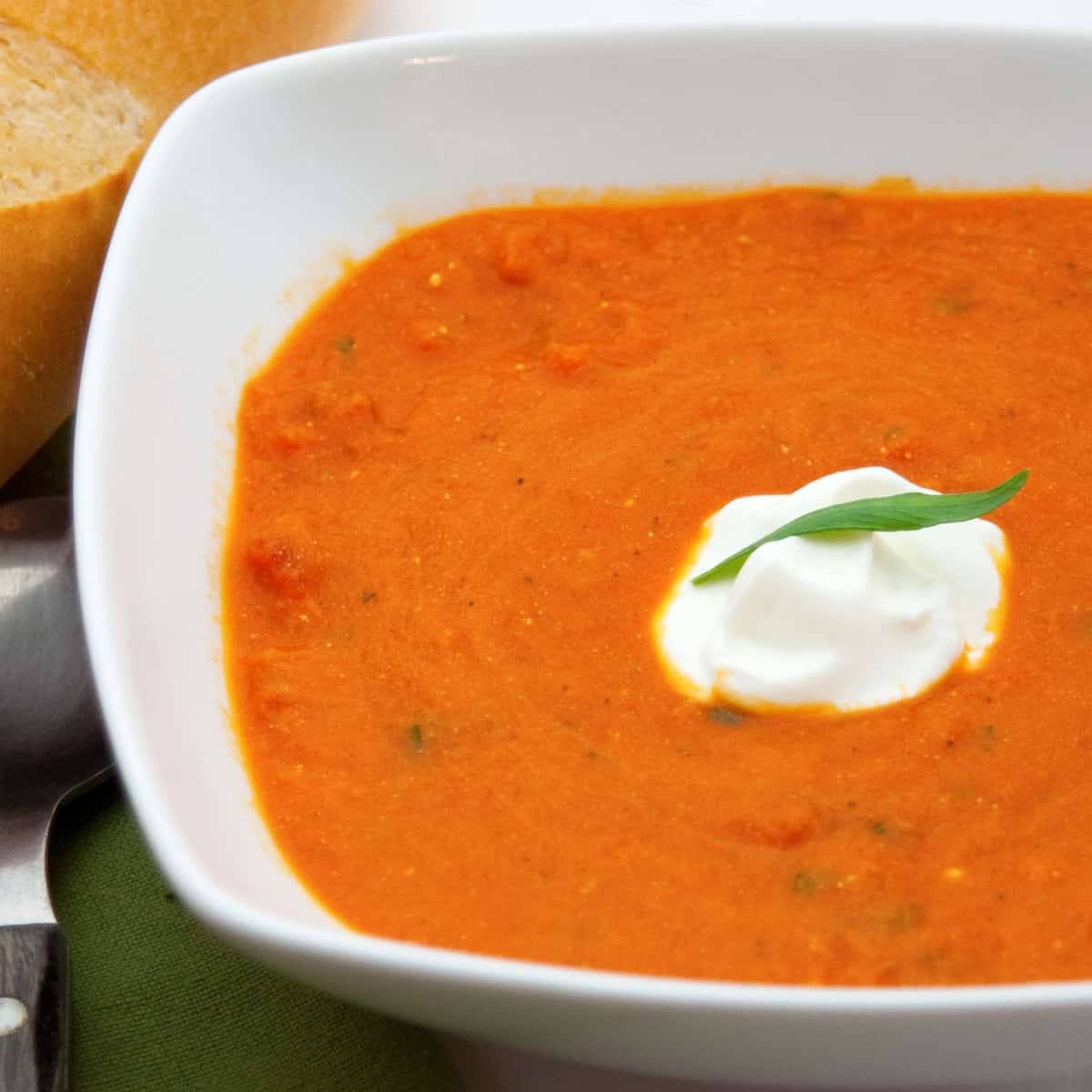 Source: lanascooking.com
Tarragons and tomatoes? Have you tried this combination before? If not, you're in for some surprise. Pleasant, of course!
Rich, creamy, and herby, you cannot help yourself but top this vibrant soup with some sour cream. It only takes 20 minutes to make.
Source: healthychristianhome.com
Only six ingredients are needed for this creaminess, so add them to your grocery list now. Who knew that avocado and dark chocolate could create such a healthy treat?
The recipe includes coconut milk, vanilla, chia seeds, and maple. But feel free to swap the syrup with some sugar-free option.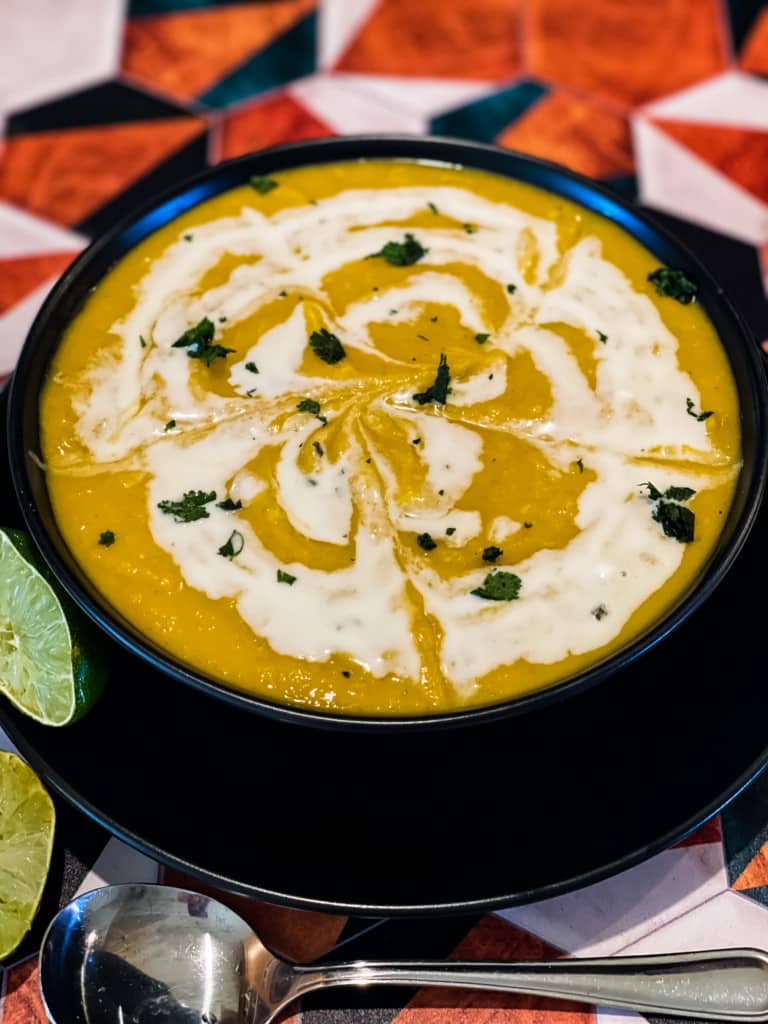 Source: veggiefunkitchen.com
If a flavorful vegan soup is what you're looking for, here is some good news.
Roasted squash and poblano peppers, then cooked with some onions in veggie broth and… wait for it… beer!
Yes, this spicy vegan soup uses amber beer, maple syrup, coconut milk, and a touch of cinnamon for some warmth.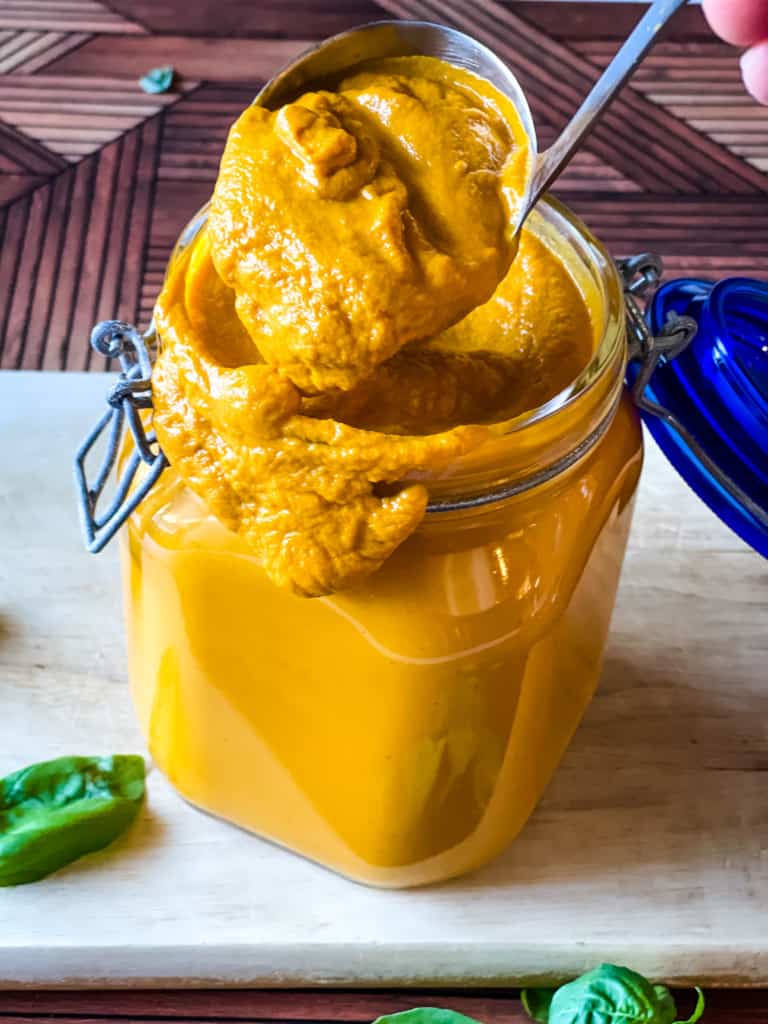 Source: veggiefunkitchen.com
While it certainly lacks flavor, vodka gives this sauce richness. Simply put, it just adds a bit of something that completely transforms this sauce.
It is based on pumpkins, cauliflower, tomatoes, and cashews. Plus, a whole array of spices that work really well with the booze here.
This Instant Pot delight will be perfect for your cooked pasta.
Source: gatheringdreams.com
A gingery carrot soup with lentils and onions. A great vegan lunch option for anyone looking for more plant-based recipes.
It also contains turmeric. Together with ginger, they create a real explosion of flavors and fragrances.
This yummy soup would pair nicely with these high-calorie smoothies.
Source: belleofthekitchen.com
Another beer-loaded soup that you will absolutely adore!
Smoky bacon, spicy jalapenos, and smooth white cheddar cheese! The main stars of this recipe. Combined with the beer and heavy cream, together they create one flavorful and velvety bowl.
That will warm you up in an instant.
Source: baking-ginger.com
Roasting the cauliflower head before adding it to your soup pot really makes all the difference. And if you haven't tried this before, this recipe will be the perfect introduction to roasted soups!
With garlic, thyme, heavy cream, and shredded cheese, this is as close to comfort food as any soup could possibly get.
Source: veggiefunkitchen.com
Peaches and amaretto are my new favorite flavor combination! But this recipe also includes crushed pineapples.
The step you shouldn't skip here is the four-hour marinade. The peaches are coated with sugar, amaretto, and a touch of lemon juice and nutmeg. And then chilled for four hours.
Source: thereidhomestead.com
Root veggies make a wonderful mash. Seriously, they do not have hard skin, no seeds. Nothing gets in the way.
This creamy side dish is made with butternut squash, onions, rutabagas, carrots, parsnips, And of course, the inevitable butter. Lots and lots of butter.
Source: baking-ginger.com
Spicy and hot hummus, anyone?
Chickpeas, tahini, lemon, and garlic also play the main role here. But with a guest star that will definitely steal the show – jalapeno peppers.
Creamy, rich, and really thick. This can easily be a spread for your crusty bread.
Source: cravingsomethinghealthy.com
Creamy, thick, and super-rich. But without any cream! This 30-minute squash soup with celery, onions, carrots, and apples is nourishment at its best.
With tons of warm spices to elevate the flavor, I urge you to try this out. Acorn squash is truly the best ingredient for healthy fall soup recipes.
Source: goodfoodbaddie.com
Roasted tomatoes, caramelized onions, fresh basil, and lots of garlic. Seriously, there are seven cloves in this recipe. And you need them all!
The best thing is that you only need 10 minutes to prepare things. No peeling veggies, not heavy chopping either.
Just roast, caramelize, blend, and that's it!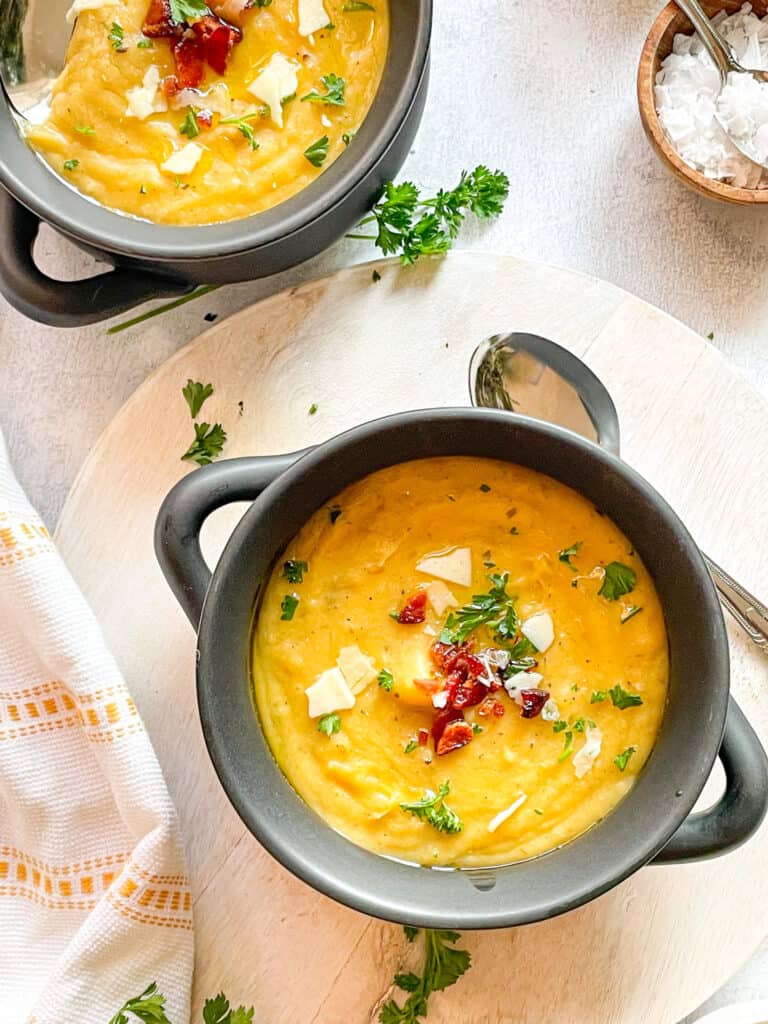 Source: goodfoodbaddie.com
Parsnips. Yukon gold potatoes. Leek. And a whole garlic bulb. Plus, the perfect Italian seasonings boost the flavors.
Cooked in nourishing chicken broth, this is one hearty dish that will inject so many nutrients into your day.
I like it topped with sour cream, but that's just my tangy-craving palate talking.
Source: turningclockback.com
Mixed veggies with coconut milk and a touch of lemon. Then blended to smooth perfection.
This recipe combines onions, celery, garlic, carrots, broccoli, and cauliflower. How tasty and nutritious does that sound?
Plus, there is harissa paste for some warm Middle Eastern flavors. This soup is destined to satisfy your taste buds.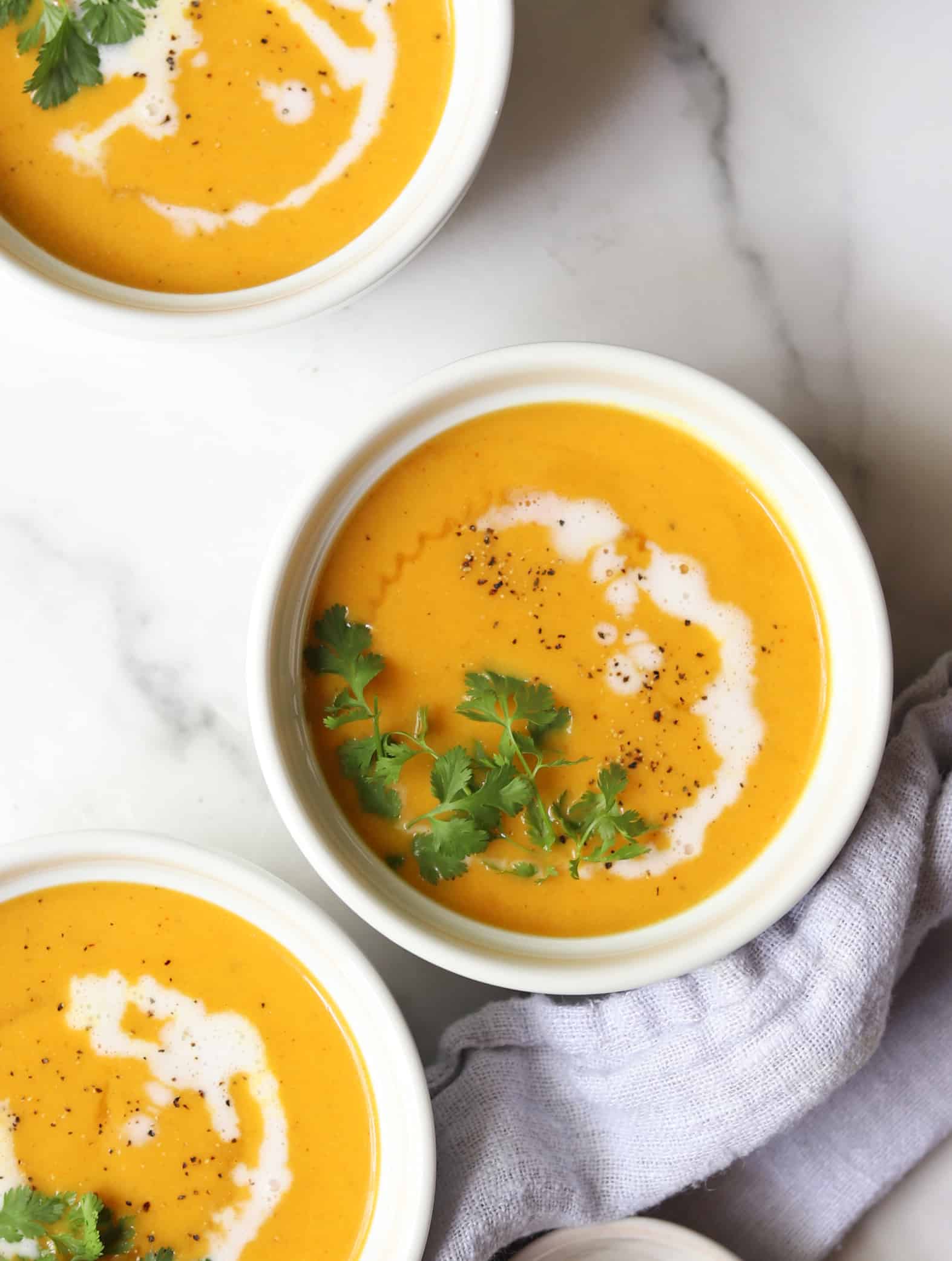 Source: thehealthyepicurean.com
Curried soups are a warm addition to your fall dinners when the temperatures suddenly drop.
This one also includes garlic, ginger, onions, and lime juice. So it is also packed with an irresistible fragrance.
Plus, it is creamed with coconut milk. A spicy and nourishing cauliflower soup that deserves a spot in everyone's recipe folder.
Source: twokooksinthekitchen.com
Roasted red peppers with almonds, garlic, and olive oil, for a creamy and incredibly thick, spread-like sauce.
The recipe uses some basil leaves and lemon zest for a bit of oomph to the taste. Do not omit it, as it will otherwise be a bit on the bland side.
Source: flavorthemoments.com
Pumpkin soups have to be one of the most regular creamy delights during the fall. But have you ever tried them with apples?
This recipe from scratch is packed with nutritious food like raw pumpkins and apples. Which are roasted. Then mixed along with carrots and onions in a veggie broth. And finally, blended to creamy perfection.
Source: atastefortravel.ca
With dried fava beans, this classic Italian antipasto is made from scratch. And with ease!
Bring tasty Mediterranean flavors to your table, in the simplest way possible! With just fava beans, chicory, olive oil, and some salt and pepper, magic is created here.
Source: masalaandchai.com
No, it is not the chicken that's pureed here, but the buttery sauce.
And let me tell you, it is THE best thing to pour over your cooked chicken. Especially if you are looking to incorporate more solid foods into your mechanical soft diet.
Ready to start incorporating some solid foods? These yogurt bowl ideas are a great place to start!
31 Creamy Pureed Diet Recipes for Soft Food Diet
Are you on a soft food diet? You will love these pureed diet recipes for easy, soft foods that you won't have to chew.
Ingredients
1. Carrots
2. Spiced pumpkin with carrot
3. Tomato Soup
4. Butternut Squash
5. Curried Squash
6. Pumpkin Butter
7. Mashed Potato and Kohlrabi
8. Leek and Potato Soup
9. Broccoli
10. Parsnip
11. Chicken Liver Pate
12. Hummus
13. Tomato Tarragon Soup
14. Chia Avocado Chocolate Mousse
15. Roasted Butternut Squash Soup with Coconut Lime Cream Drizzle
16. Vegan pumpkin Vodka Sauce
17. Carrot and Ginger
18. Beer Cheese Soup
19. Roasted Cauliflower Soup
20. Peach Butter
21. British Root Veggie Mash
22. Jalapeno Hummus
23. Roasted Acorn Squash Apple Peanut Soup
24. Tomato Basil soup
25. Potato Parsnip and Leek Soup
26. Vegetable Soup
27. Curry Coconut Cauliflower Soup
28. Roasted Red Pepper Sauce
29. Roasted Pumpkin Apple Soup
30. Fava Bean
31. Butter Chicken
Instructions
Scroll up to get a bunch of easy, yummy, and delicious recipes. Don't be afraid to get creative with the ingredients, you might discover a flavor you didn't know you liked.
Get your shopping list going and make sure you've got all the ingredients.
Get cooking and make your next Pureed Diet Recipe!
Notes
Which one of these recipes was your favorite? Let me know in the comment section or on Pinterest!