Limiting sodium in your diet? Then I know just the type of low-sodium recipes your table needs. Check out these heart-healthy delights!
Has your doctor ordered you to skip the salt? Don't be overwhelmed!
You may not be allowed to reach for your favorite sauces and salad dressings, but you are allowed to take pleasure in your meals.
And this loaded-with-delights round-up article will help you gain a healthier perspective on cooking.
Fresher, leaner, and easier on your heart and high blood pressure. These 31 delicious low-sodium recipes will show you that your new diet can satisfy your taste buds, too.
What Meat Has Lowest Sodium?
First of all, stay away from proteins that are loaded with sodium. That means no processed and lunch meats allowed.
Go for lean cuts only, and make sure that the meat is skinless. So, lean beef cuts and poultry. Some pork cuts, like pork tenderloin, can also have less milligrams of sodium.
No store-marinated meats are allowed.
But beware! Most commercial meats like poultry are usually injected with sodium. To be safe, keep an eye on the sodium content when buying your protein.
What Foods Have No Sodium at All?
Fresh fruits and veggies (with some exceptions) are almost free of salt. So if you're looking to load up on something, know that they will not spike your sodium levels.
Most grains also contain almost no mg of sodium. This includes brown rice and white rice, quinoa, oat, and bulgur. Keep in mind that I am talking about whole grains here, so skip the processed kind.
Dry beans and Israeli couscous are also extremely low in sodium
When it comes to condiments and fats, you can use dried spices that are not salted, raw nuts and seeds, unflavored cooking oils, and vinegar.
What Are Some Good Low Sodium Meals?
Any combination of the previously mentioned ingredients will be approved by your low sodium diet.
You can make veggie soups, stews with lean meats, rice casseroles, couscous salads, quinoa bowls…
Make sure to use fresh ingredients. Frozen can work too if they haven't been seasoned. Flavor them up with fresh and dried spices.
If you don't have any good ideas, check out these healthy recipes below.
Low-sodium meals can really taste great!
Low Sodium Chicken Recipes
Craving meat on a low-sodium diet? These low-in-salt easy recipes will satisfy your taste buds without hurting your health.
Source: whatagirleats.com
Roasted whole chicken, flavored with lemon and brushed with olive oil.
You may not be allowed to eat the skin. But, these gold and crispy bites can surely satisfy someone in your family.
After all, roasted chicken is a crowd-pleasing and holiday favorite!
Thanks to the whole lemon inside, this delicious low sodium meat is super juicy.
Source: theoregondietitian.com
Did you think that your feverish days would go without chicken soup? Nonsense! Even on a low-sodium diet, you can freely enjoy a warming and nourishing bowl.
This chicken and noodle soup recipe without much sodium combines kale, carrots, celery, and onions. How nutritious does that sound?
Plus, it uses low-sodium broth. So you have really nothing to worry about.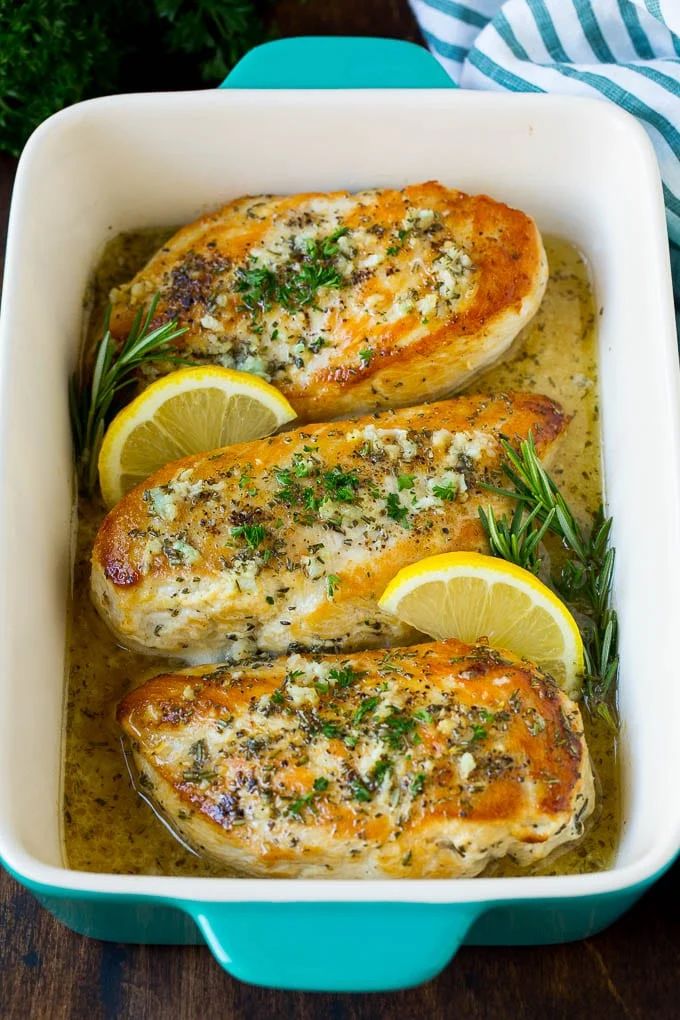 Source: dinneratthezoo.com
Rosemary-flavored chicken makes one delicious dinner base. You can serve it with any side dishes like salad, sauteed, grilled, or roasted veggies without much salt.
This recipe uses herbs, garlic, and a bit of butter. That creates one silky and herbal sauce that will be enjoyed by everyone.
The prep time is 5 minutes. So it's safe to say this will be every busy mom's favorite recipe.
Low Sodium Soup Recipes
Whether with meat or vegan, low-sodium soups are tasty, delicious, and extremely hearty and good for preventing heart disease. Here are the best choices with a low amount of sodium.
Source: earthtoveg.com
This Korean tofu stew is a well-known Asian dish that is often served with seafood and meat. This Vegan low-sodium version, though, is even more delicious than restaurant meals.
With green onions, mushrooms, tofu, kelp, and vegan kimchi. Classic flavors from the East that are beloved all over the world.
Silky, comforting, and incredibly warming. This is not to be missed, and neither will your salt shaker!
Source: theoregondietitian.com
Veggies and beef have never been this nourishing!
Carrots, celery, potatoes, tomatoes, onions, garlic, black pepper, and heaps of chopped veggies by choice. Peas, green beans, and mushrooms all work well here.
This delicious meal uses a touch of Worcestershire sauce which is high in sodium. You can either swap it with low-sodium soy sauce or omit it entirely.
Get warm and cozy with more healthy fall soup recipes.
Source: lowcarbspark.com
Low in carbs but rich in veggies, this Keto-approved vegetable soup is comforting and filling at the same time.
Cauliflower, peppers, green beans, zucchini, celery… You can add whatever you have in your veggie drawer. It will still be delicious.
The trick is to simmer on low and use good-quality broth. And, of course, it has to be low in sodium.
Low Sodium Crockpot Recipes
Do you own a crockpot? If so, then I am happy to share these delightful low-sodium main dishes with you.
Source: theoregondietitian.com
Looking for a tender meat recipe that falls apart easily? Well, this rump delicacy deserves a special spot on your table, then!
Serve it with roasted veggies, rice, or salad on the side. Either way, this shredded meat will make one healthy and super satisfying dinner.
And, it is made in the crockpot for the ultimate convenience. There is nothing you would change about this delight.
Get more use out of your slow cooker with these easy crockpot recipes.
Source: thishealthykitchen.com
Your beloved veggie pot-pie flavors. But in a stew! So nutritious and colorful. This vegetable-loaded pot will both nourish and fill you up. So it is a perfect option for both lunch and dinner.
Potatoes, corn, peas, carrots, onions, and garlic powder. Plus, flavorful spices and nourishing broth.
With a touch of cornstarch and cashew milk, this stew is also very creamy.
Low Sodium Dinner Recipes
Low in sodium doesn't mean low in taste. And these healthy dinner recipes will show you that with every single bite.
Source: theforkedspoon.com
Not only is it low in sodium, but this recipe is also low in carbs. A great way to eat for anyone following a Keto diet. And for weight loss, too.
Whether you choose to grate it, process it, or even chop it, cauliflower can make a wonderful rice alternative.
This recipe is also vegan and gluten-free, so perfect for everyone.
Lemon, shallots, and garlic, give it tons of flavor!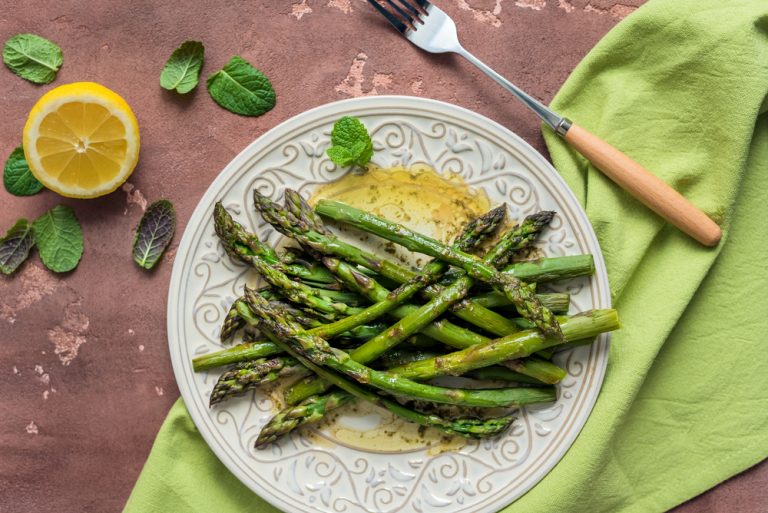 Source: cookingschooldropout.com
Not sure what to serve with your main dish for dinner? Then, let this recipe be a crispy and yummy solution!
Air-fried asparagus for a healthy and nutritious side. And it goes well with everything. Especially lean proteins like white fish or skinless chicken breasts.
The recipe features butter and garlic, but feel free to change the seasonings to taste.
Source: earthtoveg.com
If you're all about trendy foods, then this is something you shouldn't miss. First introduced to the Western world less than a decade ago, kalettes on your table will definitely be a hit.
A hybrid between Brussels sprouts and kale, these flower-like packs of nutrition can be super yummy. If prepared the right way.
And this recipe nails that perfectly!
Source: theshortordercook.com
Do your kids hate broccoli? Have you tried tricking them with broccolini? Broccolini has thinner stalks and a much less pungent taste.
And when there is lemon juice and parmesan cheese, and they come out crispy from the Air Frier, who could possibly resist them?
Source: wholesomemadeeasy.com
Tons of aromatic spices with lots of low sodium ingredients. This Spanish-style rice with pinto beans and onions is not only one of the healthier low-sodium dinner recipes but finger-licking good, too.
Seasoned with unsalted tomato sauce and tons of flavor-boosting spices, this rice will be a feast for your taste buds.
The thing you'll love the most? It comes together in just 30 minutes.
Source: melissatraub.com
Drenched in lemon-herb dressing with a touch of sweetness that makes the veggie dance in your mouth, this salad is perfect for your low-sodium table.
Quinoa, cucumbers, beans, lettuce, and whatever veggies you can find in your kitchen to chop up.
Plus some pecan halves for crunchy bites that go so well with the citrusy flavors.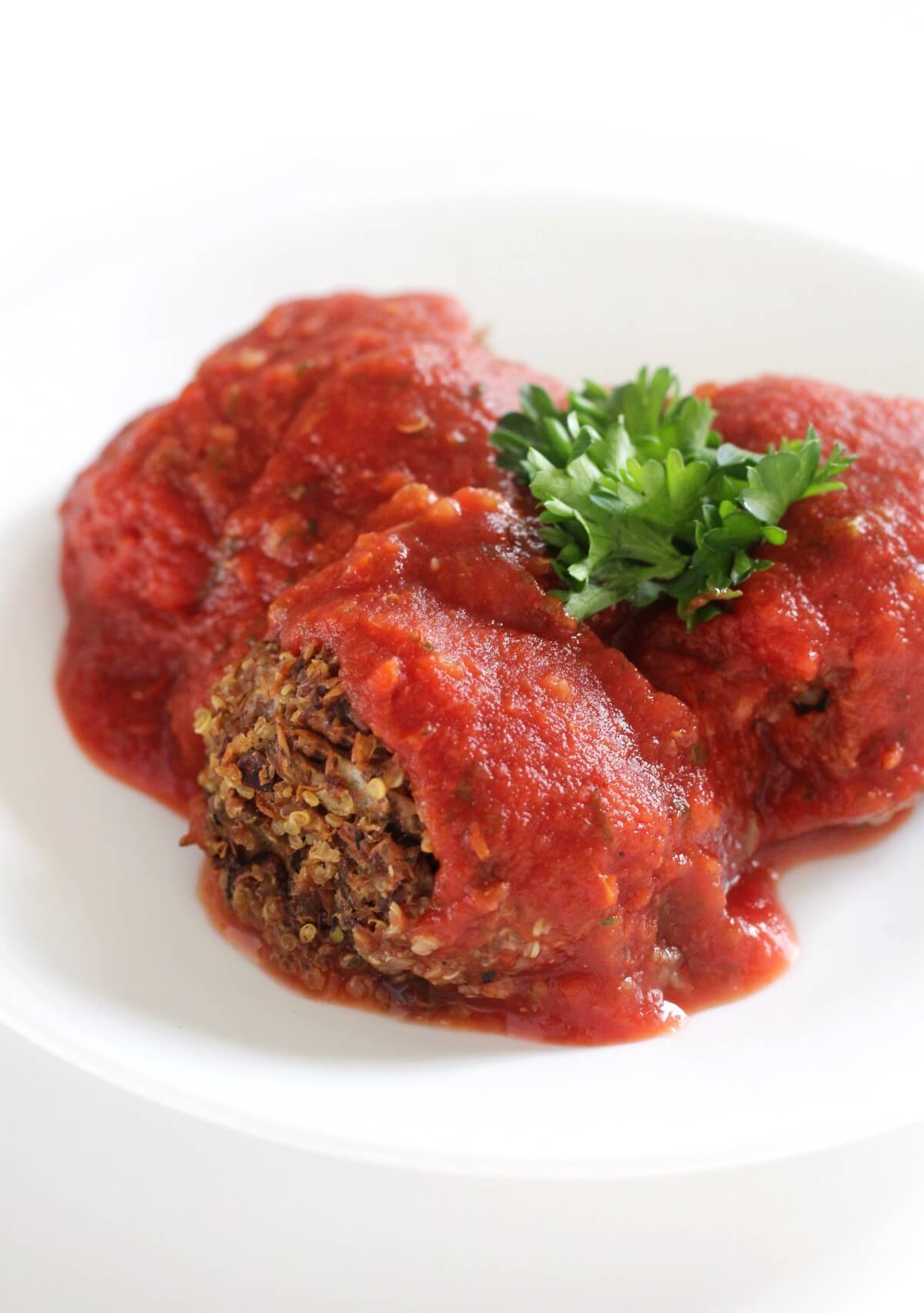 Source: strengthandsunshine.com
Meatballs without any meat! These vegan balls of flavor are dying for your low-sodium tomato sauce.
Don't have a decent sauce? Don't worry! This recipe also includes instructions for a homemade tomato sauce, so you're good to go.
Lentils, mushrooms, flax seeds, quinoa, and onion make soft bites that you won't be able to stop eating.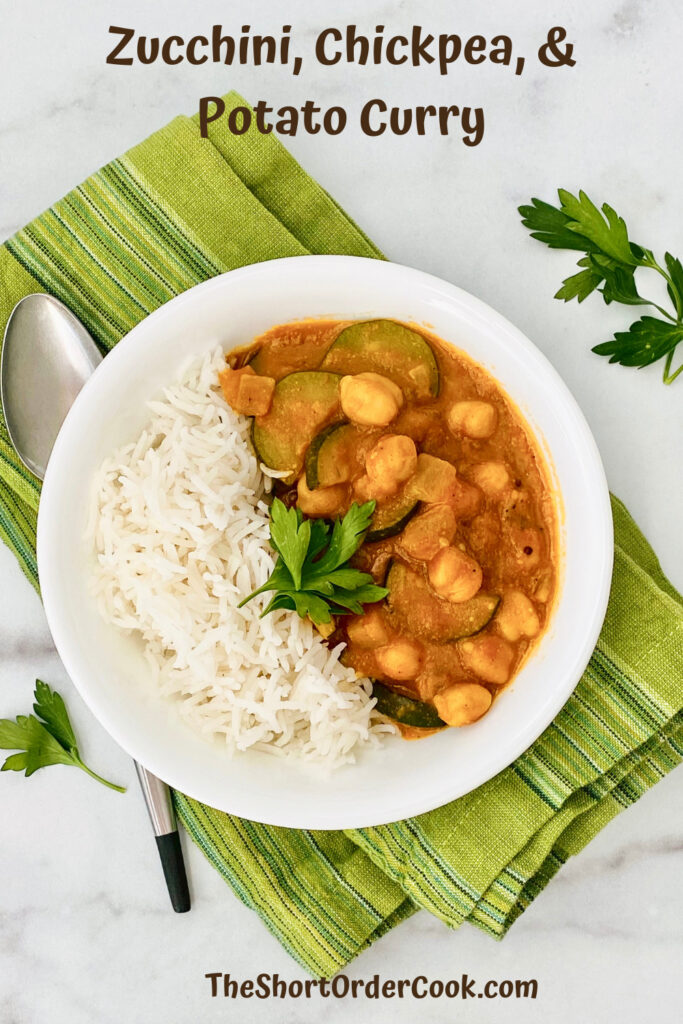 Source: theshortordercook.com
Curry with veggies and lots of spices. Potatoes, chickpeas, tomatoes, and zucchini play their part here. But you can use other beans and vegetables if you want to.
Indian-inspired creamy stew that goes perfectly with a side of fluffy white rice.
Vegan, rich, and super flavorful! The veggies are butter-soft in a creamy sauce, and they practically melt in your mouth.
Source: masalaherb.com
Creamy, vibrant, and oh-so-tempting! This chickpea curry is spiced to perfection and loaded with coconut milk.
Served with white rice, it will be a delightful crowd-puller on your table.
Make sure to use low-sodium spices for this, and check the label before adding them to the pot.
Source: theshortordercook.com
Fava beans and rice, loaded with lemon flavors and a touch of mustard. Plus some scallions for a sharper bite and some more nutrients.
A full dinner that both looks and taste great!
The green pop of color makes this fluffy bowl even yummier.
Source: strengthandsunshine.com
Italian pasta salad. Or as I call it, a rainbow bowl. Once you whip this up, you'll see what I'm talking about.
Tomatoes, red onions, cucumbers, black olives, and colorful bell pepper. Tossed with Italian dressing for a yummy dish.
The recipe uses colorful rotini. But regular pasta will do just fine, too.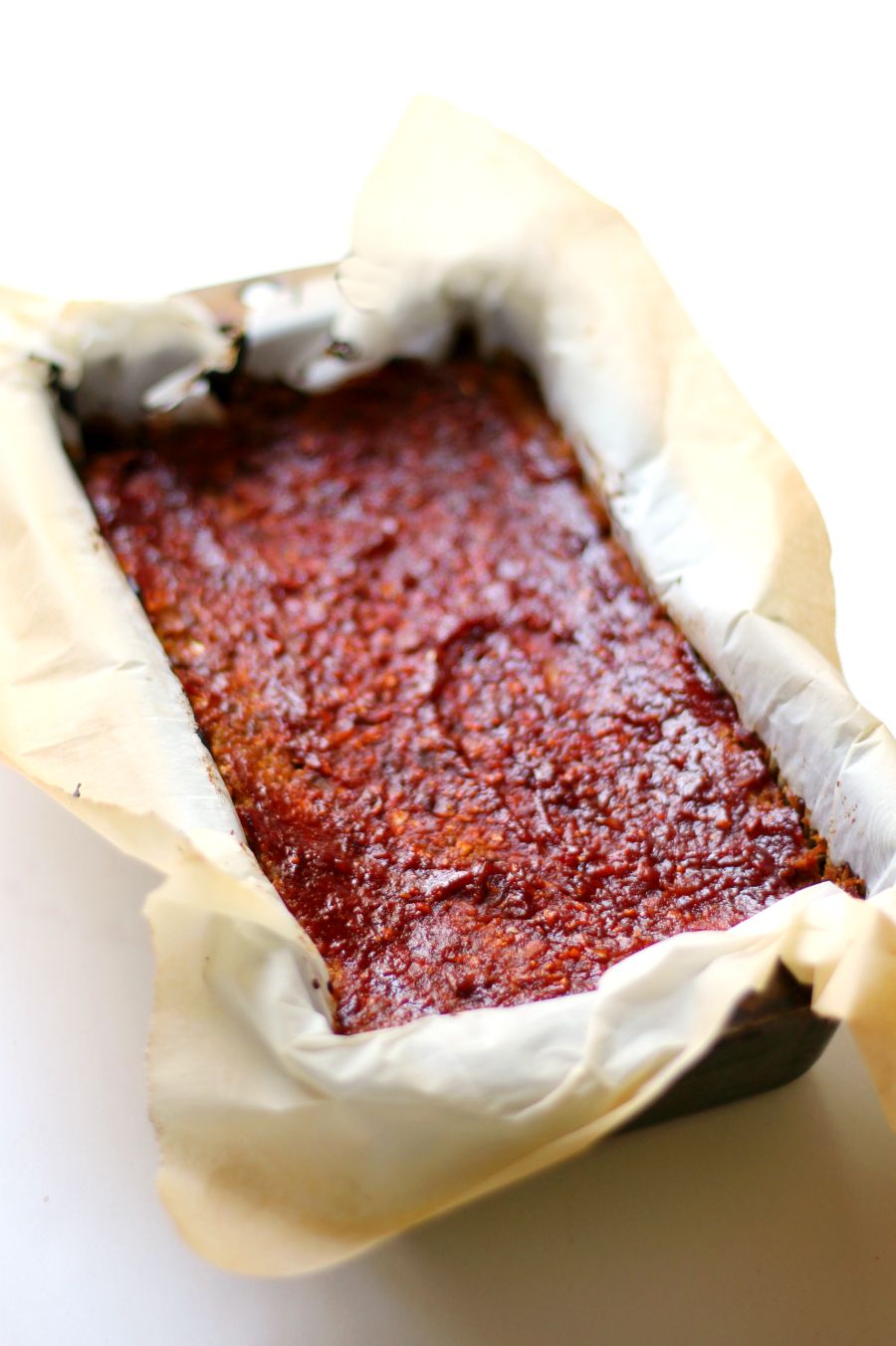 Source: strengthandsunshine.com
A vegan alternative to meatloaf! This is the yummiest swaps ever.
A lentil loaf loaded with cauliflower, peppers, onions, and lots of seasonings.
Topped with low-sodium ketchup and some liquid smoke? It is pretty darn irresistible.
Perfect for a holiday feast. But also as a regular weeknight dinner, as it can be made in just 45 minutes.
Low Sodium Dessert Recipes
Just because you are ditching sodium, doesn't mean you don't get to enjoy deserts. Here are the best choices your health approves of.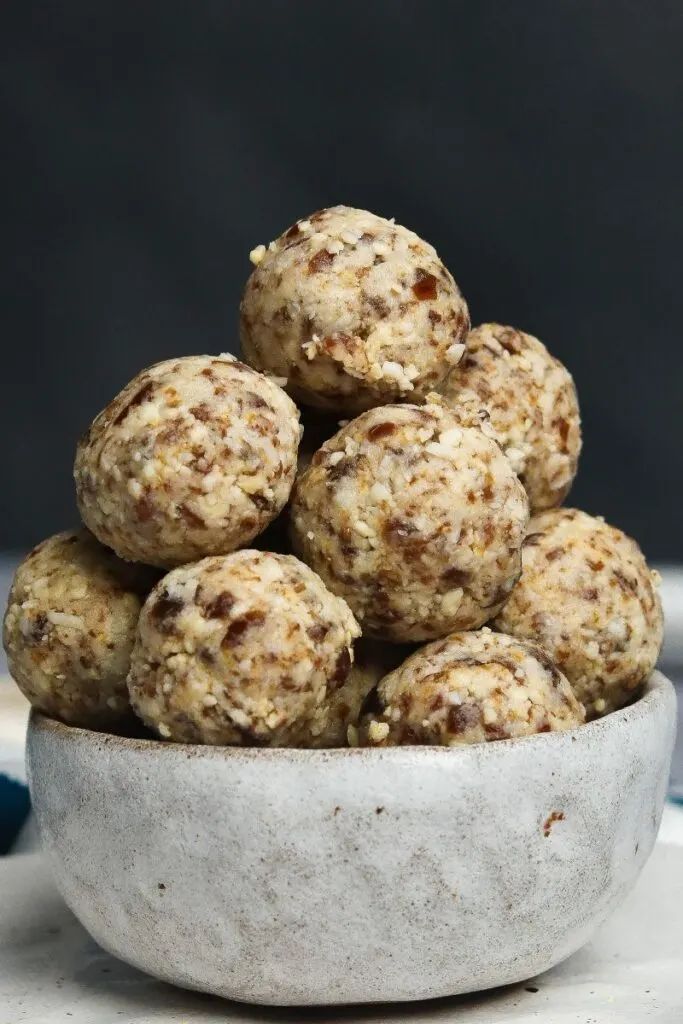 Source: allnutritious.com
Nutty, sweet, and incredibly healthy dessert/snack. Loaded with cashews, coconuts, dates, and a touch of vanilla for some extra flavor.
With only five ingredients, these energy-injecting balls will be on your table in under an hour.
Plus, they're Vegan, Whole30, and low in sodium. And, the kids will go crazy about them!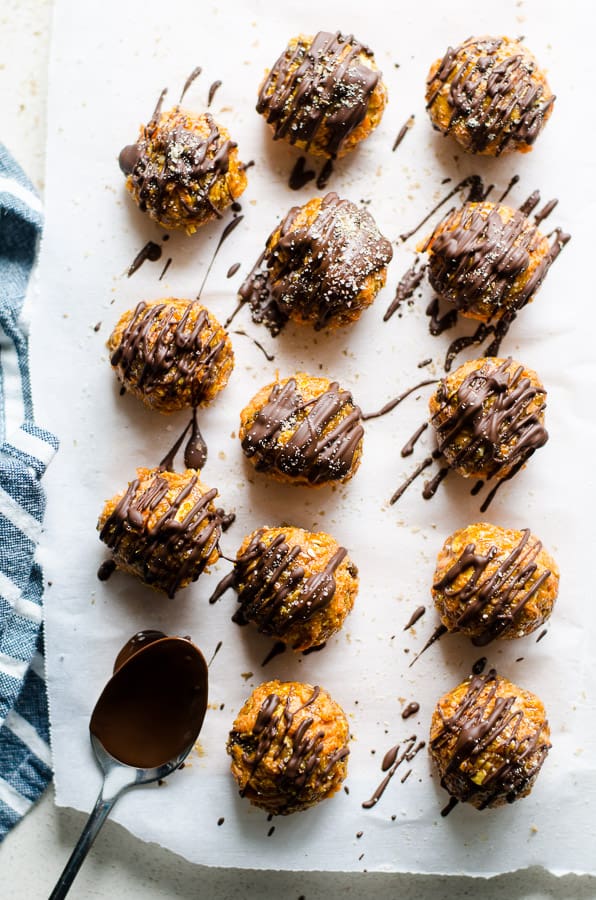 Source: ifoodreal.com
Carrot cake truffle bites, drizzled with chocolate? Anyone?
With almond butter, pats, coconut, raisins, and all of the warming spices that you can think of.
These energy balls are healthy, sweet, and ready in just 35 minutes.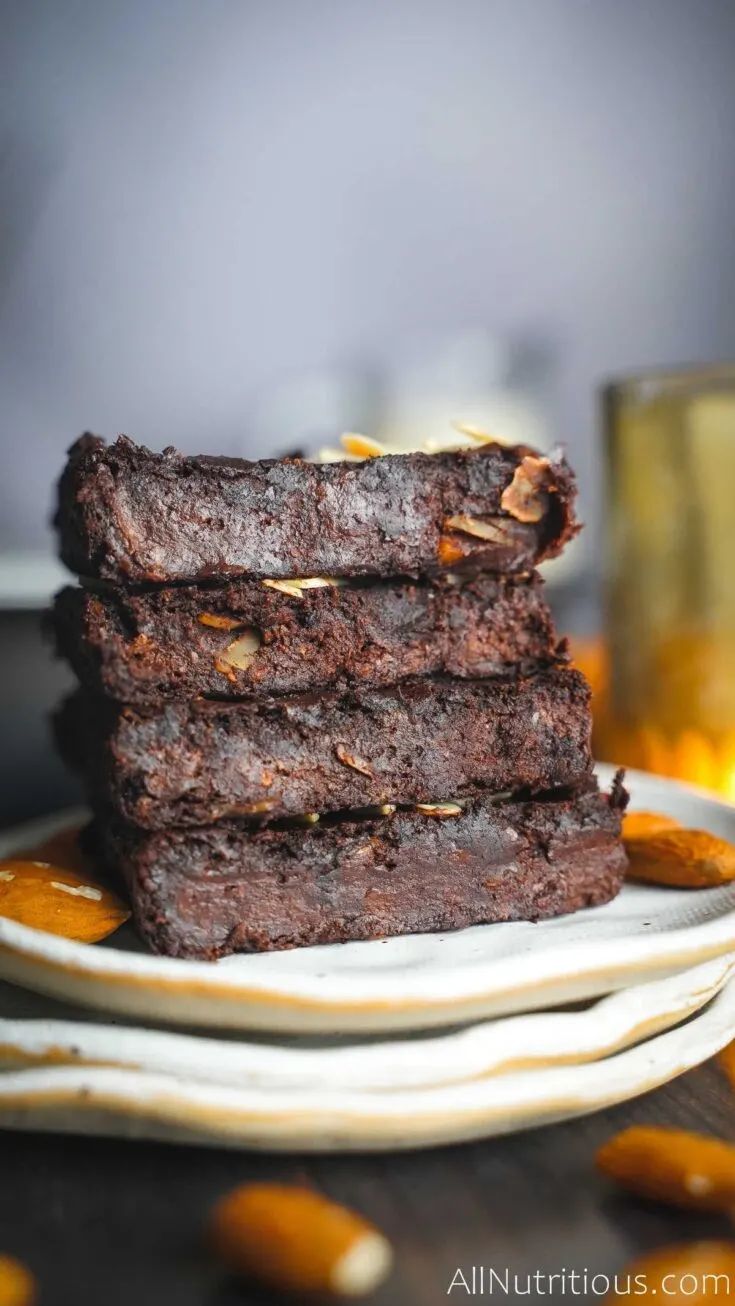 Source: allnutritious.com
The name says it all – brownies made with only five ingredients. But what it doesn't tell you is how fudgy, sweet, and incredibly chocolatey these bars are.
With a fruity banana base, almond butter, and cocoa powder.
There are also some almond flakes for crunchiness and a secret spice that ties everything together. Check this recipe out to see what it is!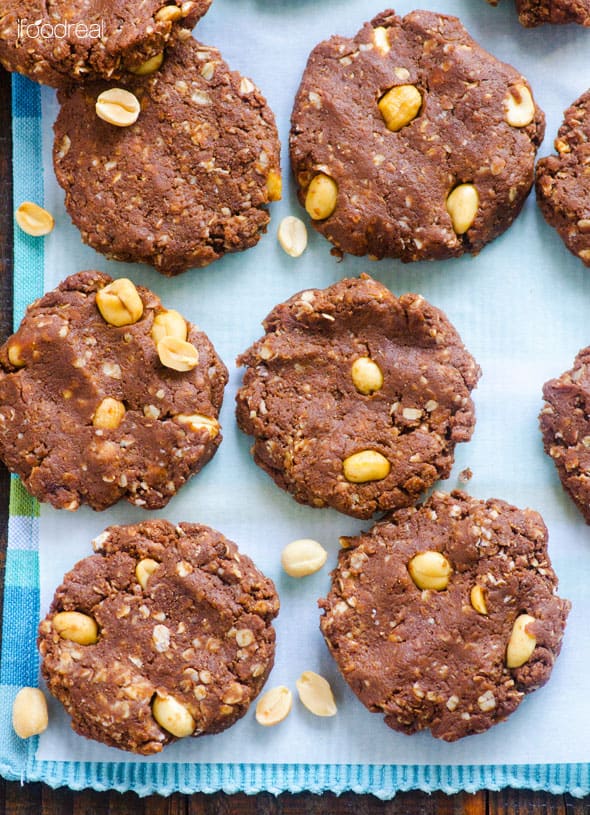 Source: ifoodreal.com
Healthy, protein-packed cookies for a tasty sweet-tooth-satisfying treat. And they won't even require your oven!
No bake and filled with oats, dates, and peanut butter.
Yummy and super convenient!
The best thing about them? They are made in just 20 minutes.
Source: allnutritious.com
Only five ingredients? This has to be a recipe that you need in your recipe folder. Today.
Vegan, dairy-free, high in protein, and low in sodium.
With oats, bananas, and peanut butter. These chewy cookies are perfect for a sweet breakfast on the go. Or with a glass of milk. Whichever you prefer.
Source: thehealthyepicurean.com
Not a fan of chia pudding? Maybe it's because you haven't had it the tasty way? And this raspberry and chocolate recipe is nothing but delicious.
A mix between oatmeal and chia pudding, this chewy and sweet parfait-like dish will please all your senses.
If you don't like raspberries, feel free to use other fruits.
Looking for more healthy oatmeal recipes? Enjoy these healthy porridge recipes.
Source: allnutritious.com
If you're craving something chewy and super nutty, this is it! This is the one recipe you need to be making.
With walnuts, pecans, coconuts, and dates. Plus some almond butter to combine everything together.
Low in sodium and without any gluten or dairy. This dessert is a guilt-free pleasure!
Source: theforkedspoon.com
When in doubt, make a fruit salad. It doesn't get any healthier and fresher than that. Perfect for a snack or dessert, no one can possibly pass on a colorful bowl of chopped fruits.
The recipe uses berries, kiwi, mangoes, pineapples, watermelon, and grapes. And everything is tossed in a citrusy dressing.
Enjoy more fresh salads with these summer salad recipes.
Source: allnutritious.com
To say that this chia pudding is fancy would be an understatement. Seriously, you'll have to try this one and find the words to describe it yourself.
But I'll say this. Whether you're a fan of chia pudding or not, this is one recipe you'll be coming back to regularly.
With mangoes and almond milk, no one will be able to pass on this fruity creaminess.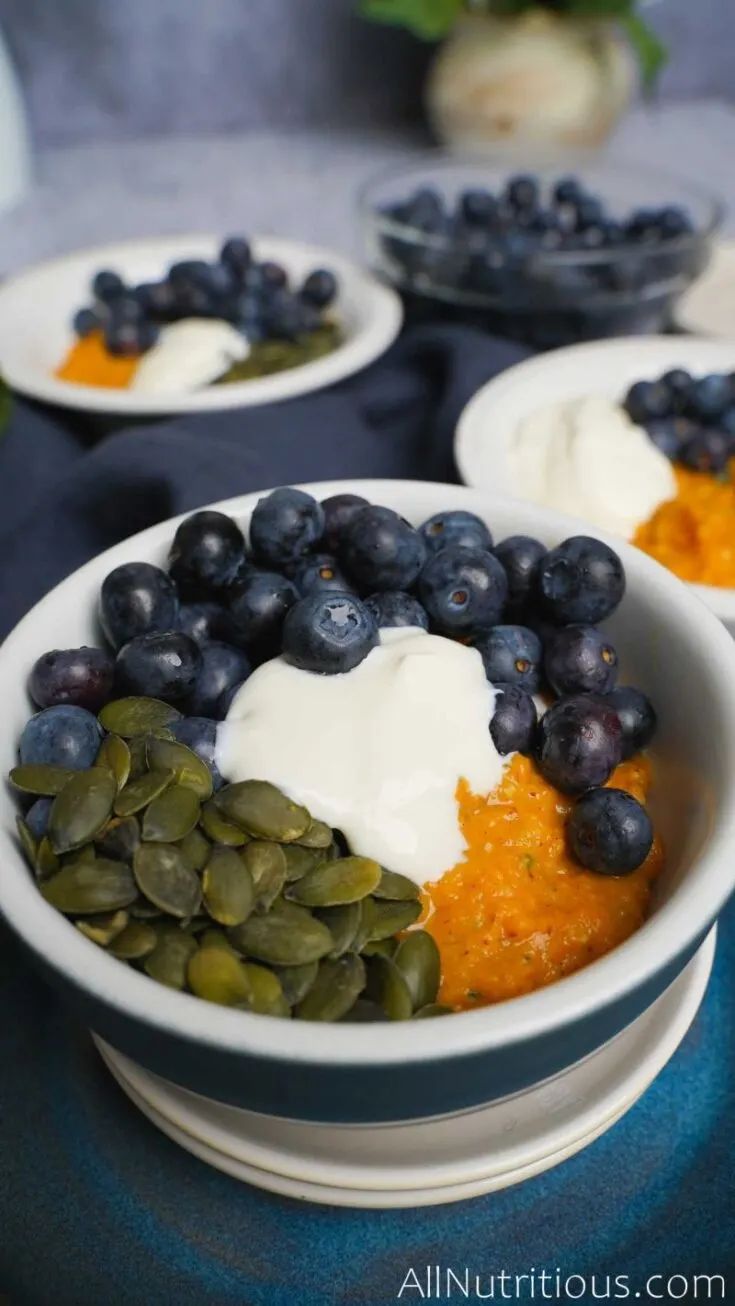 Source: allnutritious.com
Technically, this is best if served for breakfast. But for all of you prone to sugary cravings, this is a recipe you'll want at any time of the day.
Whipped, thick, and super creamy. This velvety potato and almond butter mixture is topped with yogurt, blueberries, and seeds.
Enjoy these yummy yogurt bowl ideas.
Source: ifoodreal.com
Fluffy blueberry muffins make one moist and guilt-free dessert.
They are made with whole wheat flour, applesauce, coconut, and blueberries.
The recipe suggests honey or maple syrup. Keep in mind that maple syrup is much lower in sodium. So go with that.
31 Low Sodium Recipes That Taste Good
Treat your heart well by switching over to these low-sodium recipes. These include low-sodium chicken, soups and stews.
Ingredients
1. Lemon Roasted Chicken
2. Chicken Noodle Soup
3. Rosemary Chicken
4. Vegan Soondubu Jjigae Soft Tofu Stew
5. Beef Vegetable Soup
6. Keto Vegetable Soup
7. Rump Roast
8. Vegetable Pot Pie Stew
9. Cauliflower Rice
10. Air Fryer Asparagus
11. Kalettes Flower Sprouts
12. Broccolini with Lemon Parmesan
13. Spanish Rice and Beans
14. Salad with Beans and Quinoa
15. Vegan Meatballs
16. Zucchini Chickpea and Potato Curry
17. Chickpea Tikka Masala
18. Rice and Fava Bean Salad
19. Italian Pasta Salad
20. Vegan Cauliflower Lentil Loaf
21. Cashew Energy Balls
22. Carrot Cake Truffles
23. 5 Ingredient Brownies
24. No Bake Protein Cookies
25. Peanut Butter Protein Cookies
26. Chocolate Raspberry Oatmeal Chia Pudding
27. Date Energy Balls
28. Fruit Salad
29. Mango Chia Pudding
30. Sweet Potato Breakfast Bowl
31. Blueberry Muffins
Instructions
Scroll up to get a bunch of easy, yummy, and delicious recipes. Don't be afraid to get creative with the ingredients, you might discover a flavor you didn't know you liked.
Get your shopping list going and make sure you've got all the ingredients.
Get cooking and make your next Low Sodium Recipe!
Notes
Which one of these recipes was your favorite? Let me know in the comment section or on Pinterest!