Looking for a low sodium lunch ideas for your lunch box? Well, your search ends in a great way with these low-sodium recipes!
Restricting sodium can feel overwhelming. But planning your meals without much sodium to be healthier doesn't have to be a challenge.
Wondering what to have for lunch after your doctor has restricted your sodium intake to lower high blood pressure and prevent heart disease?
This article with healthy recipes will surely help you lower your sodium content!
With these delicious low-sodium lunches, you will be satisfied and full until dinner. Plus, most of these low sodium recipes are super easy to make.
And they are perfect for your lunch box on a low sodium diet! A double win!
What Can I Eat That Has Low Sodium?
The most suitable foods on a low-sodium diet include fresh, whole, and unprocessed ingredients.
Grains, beans, veggies, fresh fruits, eggs, dairy, and unsalted nuts and seeds are the staples of this diet, as they naturally have a low amount of sodium.
The most important thing is to avoid salt as much as you can. Steer clear from processed foods, high-sodium cheeses, store-bought condiments, and canned products that contain salt.
Low Sodium Sandwiches
Just because you're cutting back on milligrams of sodium doesn't mean you should be cutting back on sandwiches.
Here are the most delicious sandwich ideas that are low in sodium and are sure to become one of your favorite foods.
Source: rainbownourishments.com
If you're all about appearances when it comes to fixing your sandwiches, then you have to try this.
An epic multi-layered sandwich made with peppers, zucchini, butternut, carrots, and avocados.
Plus, some beetroot hummus and kale pesto. That gives the sandwich a pop of color. Plus, it ties everything together.
The veggies are roasted, and the bread is toasted. This rhymes, yes. But it also complements itself in texture.
So irresistible. Your family will be begging you to make them sandwiches from now on.
Per Serving:
Calories: 859
Fats: 58g
Protein: 25g
Carbs: 73g
Sodium: 83mg
Source: veggiedesserts.com
Another sandwich with roasted vegetables that I'm sure you're going to love.
Eggplants, zucchini, and peppers make the filling here. They are flavored with thyme and rosemary, which really brings the roasted veggies to life.
But things wouldn't be so exciting if it wasn't for the pea pesto.
This creamy and nutritious spread can be quickly whizzed up. And yet, it seriously transforms this sandwich.
You'll want to know these other best sandwich ideas that aren't boring!
Per Serving:
Calories: 92
Fats: 20g
Protein: 6g
Carbs: 23g
Sodium: 95mg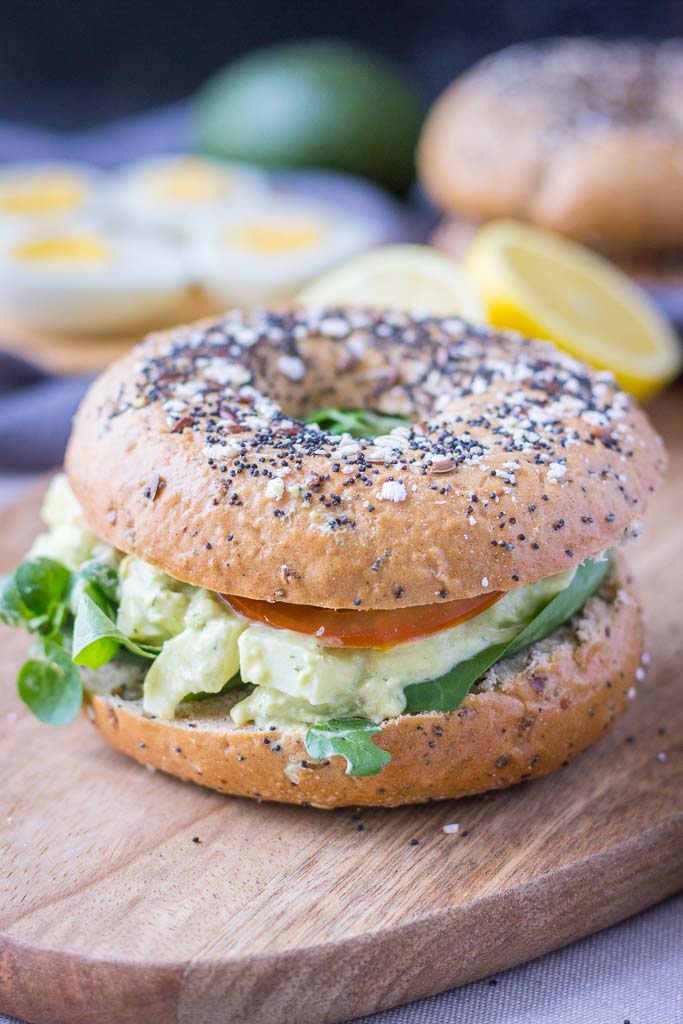 Source: natalieshealth.com
Eggs and avocados are a popular breakfast choice. But these superfoods also make a wonderful lunch sandwich.
Bursting with proteins, vitamins, minerals, healthy fats, and omega-3 fatty acids. Plus, it has an incredible taste. Now, seriously. How can you say no to this delight?
Turmeric and dill add some flavor. But it is thanks to the lemon and yogurt that this sandwich is so refreshing.
Per Serving:
Calories: 266
Fats: 21g
Protein: 12g
Carbs: 10g
Sodium: 135mg
Source: bellyfull.net
Whether a brunch or an afternoon tea party, cucumber sandwiches put some Royal-like touches on your table.
This finger food is simple to make. It is convenient to eat. It's very light on your digestive system. And on top of all that, it is super tasty!
The creamy mixture of mayo, cream cheese, and herbs pairs perfectly with the English cucumbers. And how can you not pour yourself a herbal cuppa?
Per Serving:
Calories: 71
Fats: 4g
Protein: 2g
Carbs: 7g
Sodium: 114mg
Source: debraklein.com
What to make if you're vegan and are suddenly craving some tuna? This creamy sandwich, duh!
Made with chickpeas, celery, and shallots, you won't even miss the lack of fish in this filling.
And it couldn't be simpler! You just have to mash everything together, add some vegan mayo, and that's it.
Then, you take two slices of your favorite bread and assemble the sandwich.
You can add some fixings such as lettuce, onion, or tomatoes. But really, even on its own, this fake vegan sandwich will be more than delicious.
Per Serving:
Calories: 254
Fats: 12g
Protein: 8g
Carbs: 30g
Sodium: 97mg
Low Sodium Cold Lunch Ideas
Prefer your lunches cold? Then you will find more than a few delights among this group of low-sodium lunch recipes.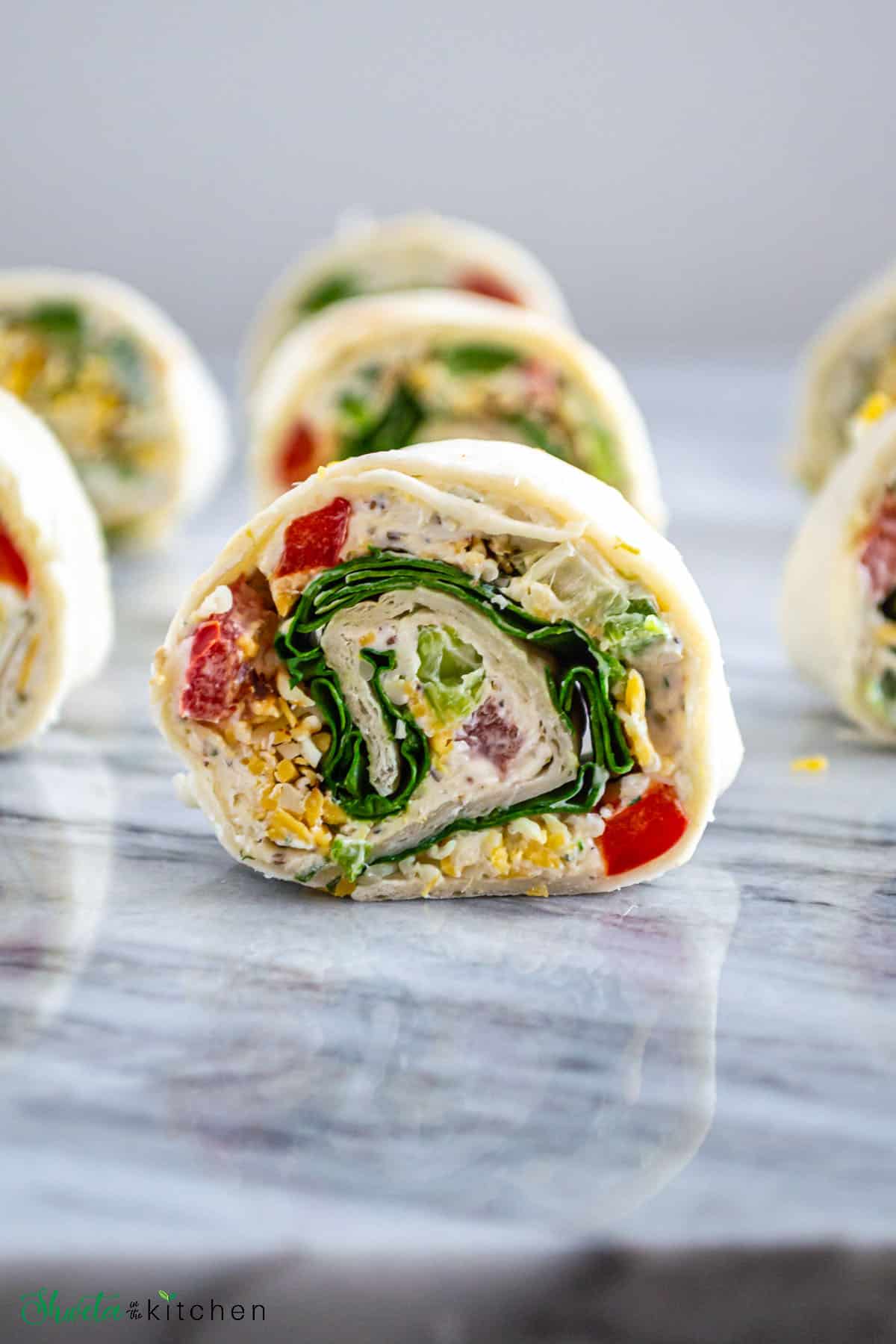 Source: shwetainthekitchen.com
Tortilla pinwheels are fun to make. Convenient to eat. And they give you enough room to sneak some not-so-favorite veggies into the mix. Which is especially clever for picky kids.
These pinwheels are loaded with spinach, broccoli, peppers, onions, and carrots.
Plus, they have a generous cream cheese spread. Some shredded cheddar. And a decent amount of spices to make the bites even more flavorful.
Per Serving:
Calories: 58
Fats: 4g
Protein: 2g
Carbs: 4g
Sodium: 106mg
Source: inthekidskitchen.com
Another pinwheel recipe, only slightly healthier this time.
Spinach, carrots, and cucumbers are the veggies of choice. The creaminess comes from cream cheese. And the hemp hearts are there for texture and extra nutrients.
Packed with protein and healthy vitamins and minerals. This is a guilt-free lunch that you can freely enjoy.
Per Serving:
Calories: 49
Fats: 2g
Protein: 2g
Carbs: 7g
Sodium: 67mg
Source: thefoodblog.net
A very vibrant Southwestern salad with quinoa, beans, and corn.
It also combines tomatoes, red onions, and cilantro. And as if that's not fresh enough, it is also drizzled with a lime and honey dressing.
The dressing has some chili powder in it. But you can either omit or swap it with paprika for a kid-friendly lunch.
This is one of the best cold lunch ideas to pack for work!
Per Serving:
Calories: 113
Fats: 7g
Protein: 1g
Carbs: 12g
Sodium: 81mg
Source: theshortordercook.com
A mixture of textures, colors, and complementary flavors. This fresh salad is made with blueberries, fresh spinach, parmesan cheese, and crunchy pecans.
If you don't have blueberries, feel free to add raspberries instead. However, keep in mind that the taste will be a bit more on the tangy side.
The dressing here is simple. Just live oil and vinegar. Because these lovely ingredients don't need any more flavoring.
Per Serving:
Calories: 174
Fats: 15g
Protein: 3.6g
Carbs: 8.9g
Sodium: 59mg
Source: theheirloompantry.co
Looking for a lunch recipe to serve cold and impress your guests? Then you cannot do any better than this.
A delightful Japanese bowl of rice enriched with ikura, Hamachi, and shiso. Sounds fancy enough?
Smooth, buttery, while firm with a slight bite at the same time.
The flavor here is mild, but the taste is incredible.
Everything seems layered up well, and this rice bowl is not only fun to eat, but you'll love assembling it, too.
Per Serving:
Calories: 360
Fats: 2g
Protein: 10g
Sodium: 26mg
Source: servedfromscratch.com
Bean salad may not be as fancy as Sashimi, but let me tell you, it is equally tasty. In a slightly different way, though.
The flavor here comes from onions and a mustardy vinegar dressing. And this sweet tanginess gives the kidney and green beans a completely new taste.
This Hearty winter salad tastes even better the day after!
Per Serving:
Calories: 240
Fats: 9g
Protein: 5g
Sodium: 134mg
Source: throughthefibrofog.com
Cucumbers and beetroots are the main ingredients here. But it is the mint and pumpkin seeds that boost the flavor and texture of this salad.
The recipe also features one cup of lettuce or arugula, but any green salad will do fine here.
Tossed in a sweet and gingery dressing, you will love eating this salad straight from the fridge.
Per Serving:
Calories: 178
Fats: 8g
Protein: 3g
Carbs: 16g
Sodium: 102mg
Source: theforkedspoon.com
I love tabbouleh! Maybe it is the texture, color, or the fact that it is a light summer meal that you can enjoy cold. Whatever it is, it definitely works for me. And this recipe will work for you, too.
Bulgur, tons of parsley, tomatoes, green onions, and mint. Plus, lemon juice and olive oil to wrap everything nicely.
A Middle Eastern recipe that has found its way into Western cuisine. So delicious!
Per Serving:
Calories: 165
Fats: 8g
Protein: 4g
Carbs: 22g
Sodium: 24mg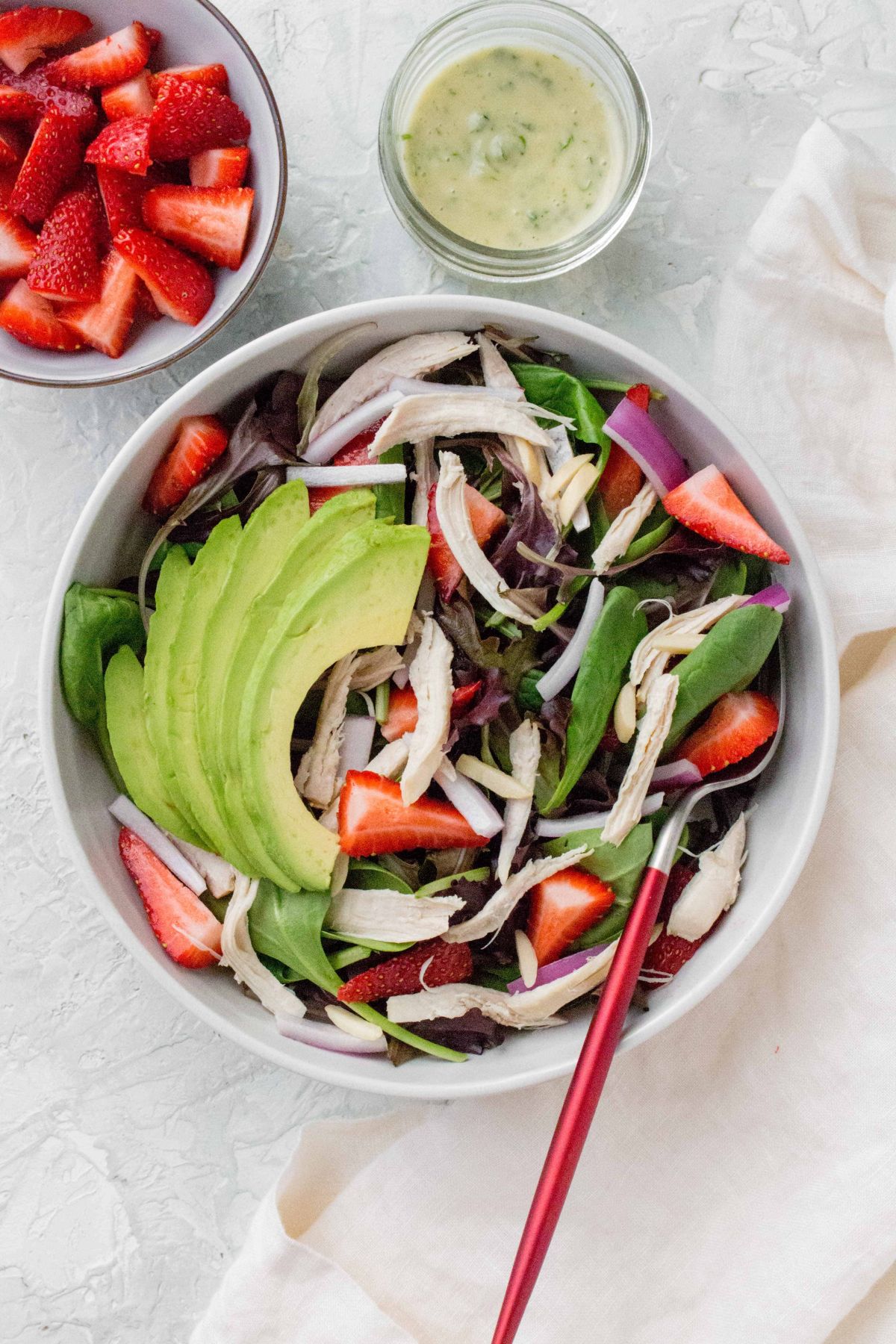 Source: carmyy.com
Strawberries and avocados pair magically in this recipe. This salad is fresh and nutritious. And it will surely brighten up your lunch.
It is also loaded with shredded chicken. But you can also use turkey here.
The basil, tarragon, and onions offer a sharp and refreshing bite. Combined with the rest of the ingredients, the herbal infusion makes total sense.
The lovely bonus has to be the slivered almonds, which offer a delicious crunchiness.
Per Serving:
Calories: 438
Fats: 21g
Protein: 21g
Carbs: 22g
Sodium: 107mg
Source: itsavegworldafterall.com
A deep note of caramelized onions. Smooth texture from the white beans. And an incredible flavor of lemons, thyme, and garlic that runs throughout this dip.
If this doesn't beat your store-bought hummus, nothing ever will.
Perfect to serve with carrots, cucumbers, or peppers. Or even tortilla chips and crackers. Heck, I'd even dip some fruits into this goodness.c
Per Serving:
Calories: 103
Fats: 5g
Protein: 3g
Sodium: 8mg
Low Sodium Lunch Ideas
Grabbing a bite at the office may not be suitable when trying to cut back on salt.
With these lovely low-sodium meals, I am sure you will be enjoying your packed low-salt lunches with these easy recipe ideas.
Source: thedizzycook.com
If you love roasted squash soup but don't have the time to make it, this recipe the easy way is the perfect alternative without much salt.
Made in the Instant Pot in just 10 minutes, plus the time needed for prepping, this great option is quick, simple, and super healthy since it's packed with fresh vegetables.
It features squash, carrots, shallots, and apple juice. It is spiced up with ginger and curry.
The heavy cream is almost a must because the creamy result is to die for. This is one of the best low-salt recipes for a healthy lunch during the fall season.
Per Serving:
Calories: 185
Fats: 12g
Protein: 2g
Carbs: 20g
Sodium: 82mg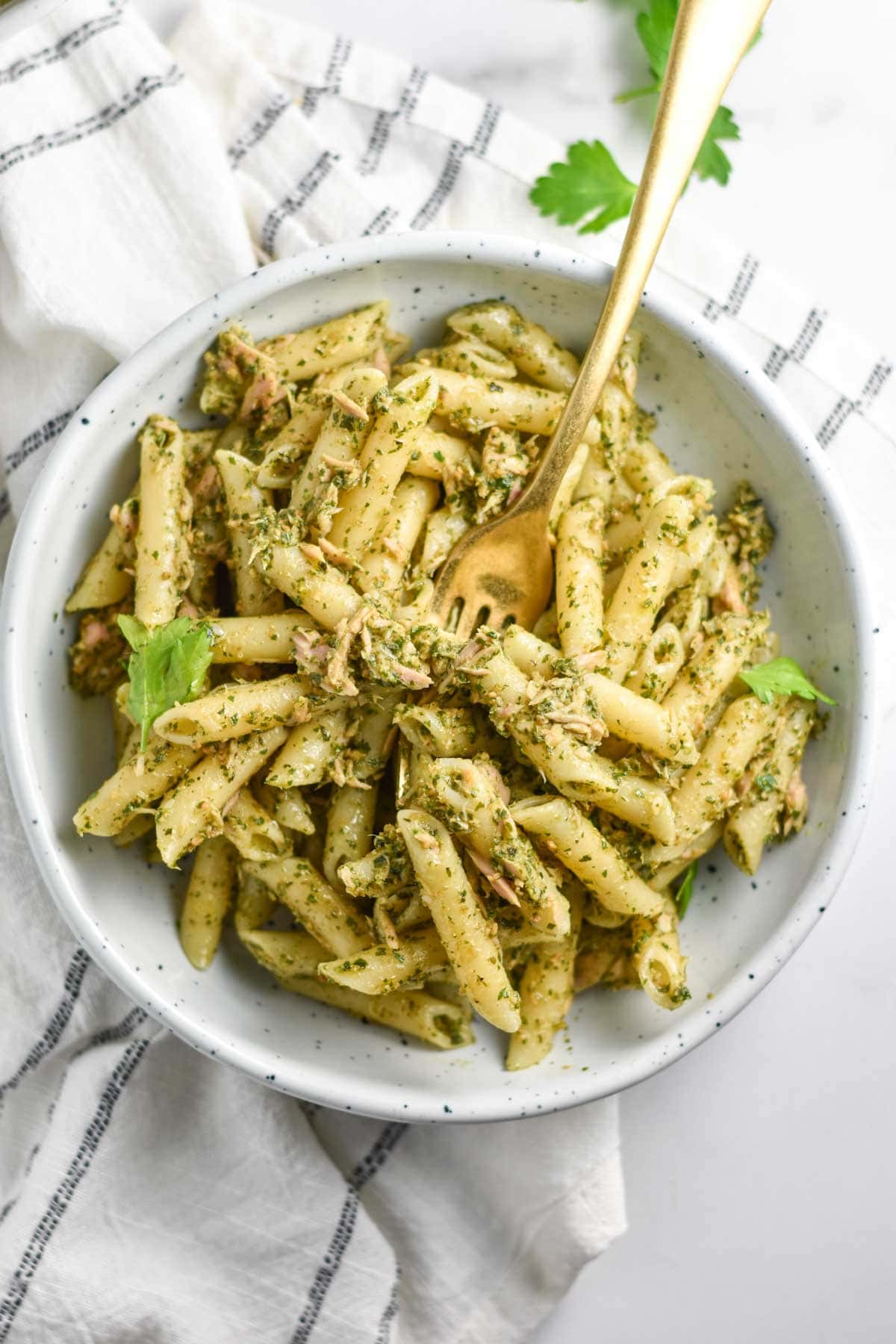 Source: thedizzycook.com
If you don't have time to cook, just whip up this healthy pasta for your healthy lifestyle, transfer it to your lunch box, and voila. Lunch is served!
You can make this with either a store-bought pesto sauce or the homemade version featured in this recipe.
If you are using store-bought, just make sure it is low in sodium.
This lovely sauce works well with any kind of pasta. And with just 8 mg of sodium per serving, you can be free to indulge.
Per Serving:
Calories: 233
Fats: 3g
Protein: 8g
Carbs: 43g
Sodium: 8mg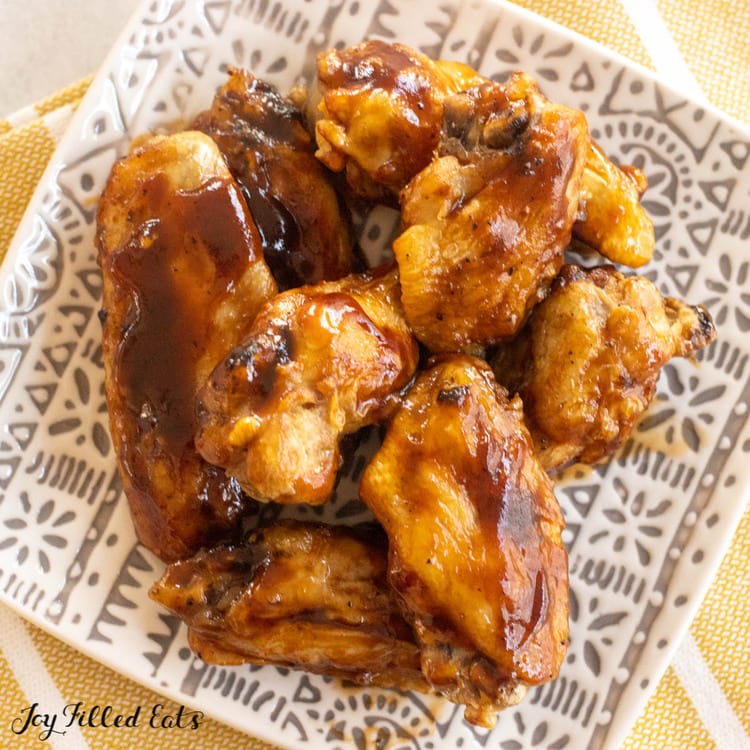 Source: joyfilledeats.com
Have some chicken wings in the freezer? Then this has to be the most convenient recipe for you!
Because this method doesn't even require thawing them. Simply dump them in the Air Fryer basket, and let it do its thing.
You may need to flip them over once to ensure even crispies, and that will be it.
Feel free to add some low-sodium seasonings to boost the flavor according to your taste.
Per Serving:
Calories: 153.9l
Fats: 9.8g
Protein: 11.2g
Carbs: 0g
Sodium: 44.7g
Source: chefsavvy.com
Although not technically pasta but zucchini cut into noodles, this recipe is surprisingly filling.
The sauce consists of crushed tomatoes, onion, garlic, and some basil for flavor. And it tastes amazing!
This healthy meal is on your table in just 30 minutes, and it is one of those "weeknight specials" that will be playing on repeat in your kitchen.
Don't have a spiralizer? Don't worry! You can simply cut the zucchini thinly with a knife.
Per Serving:
Calories: 106
Fats: 4g
Protein:4g
Carbs: 16g
Sodium: 138mg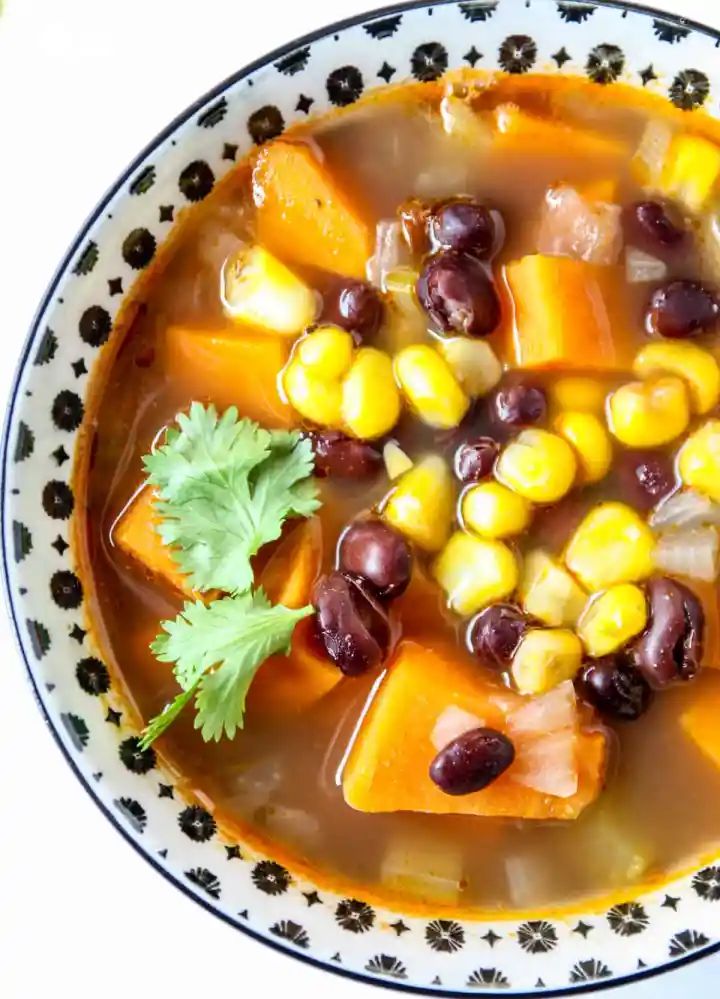 Source: thefoodblog.net
Being a super versatile veggie, sweet potatoes take on seasonings well. Here, they're paired with lime, adobo sauce, and cumin, and they are seriously packed with flavor.
This soup is nourishing and comforting. It also contains black beans, carrots, celery, and corn. And it is best consumed warm.
It can be made in 30 minutes, and it has no more than 80 mg of sodium per serving. Check out these other cheap soup recipes to stay on budget!
Per Serving:
Calories: 164
Fats: 6g
Protein: 2g
Carbs: 25g
Sodium: 80mg
Source: throughthefibrofog.com
If you love cheesy veggie fritters, then this zucchini and mascarpone version will fit into your lunch plans perfectly.
Sharper cheese is high in sodium, so mascarpone is a great choice here. And it does not only work well for your diet, but it also absorbs flavors better.
And since there are a lot of herbs in this recipe, you can only imagine the result.
These fritters use mint and chives, but parsley or cilantro will also work well.
Per Serving:
Calories: 138
Fats: 8g
Protein: 4g
Carbs: 12g
Sodium: 14mg
Source: homecookingcollective.com
Creamy, nutritious, and satisfying. This nourishing, velvety bowl of broccoli adds a light and refreshing touch to your palate. And I assure you that you will be pouring seconds!
Hearty, smoky, and with just the right touch of spiciness.
Broccoli and almonds with onion, garlic, and yogurt. Plus, mustard seeds for a nice pop of flavor.
Aromatic and smooth, this will be the only broccoli soup you will be making.
Per Serving:
Calories: 173
Fats: 14g
Protein: 4g
Carbs: 10g
Sodium: 40mg
Source: sprinkledwithbalance.com
Chicken tacos, but from the Air Fryer!
These are crispy and soft and offer the perfect clash of textures. They feel like guilty pleasures, and yet, they are loaded with fresh and nutritious ingredients.
Packed with chicken breasts, avocado, lettuce, tomatoes, and cilantro. Plus, a good amount of cheese. Because how can you have tacos without it, right?
The perfect thing about them? They are made in just under 14 minutes, making them the perfect low sodium lunch option!
Per Serving:
Calories: 203
Fats: 10g
Protein: 14g
Carbs: 13g
Sodium: 131mg
Source: cookingwithmammac.com
This recipe calls for three ingredients only. Turkey tenderloins, olive oil, and a mix of your seasonings of choice.
The turkey is seasoned with Seasonello. But you can use pepper, garlic powder, and a bit of salt. If your diet can allow it. If not, omit it completely and use low-sodium spices instead.
After 30 minutes of baking, you will have well-seasoned and juicy meat that's dying to be sliced up and placed in between bread slices.
Per Serving:
Calories: 115
Fats: 2g
Protein: 23g
Sodium: 124mg
Source: wholesomemadeeasy.com
Perfect for weeknight gatherings. This Spanish rice with black beans and tomatoes is a quick and delicious way to feed a crowd.
Plus, it is very aromatic and flavorful. The paprika, garlic powder, oregano, cumin, and cayenne pepper, really pack a tasty punch.
The rice is ready in 30 minutes and only requires one pot. Perfect for busy dinners, right?
Per Serving:
Calories: 191
Fats: 2g
Protein: 7g
Carbs: 36g
Sodium: 86mg
Source: diabetesstrong.com
Cheese and mushrooms join forces with spinach in this ultimately nutritious and tasty quiche recipe.
With a touch of Dijon, creamy half & half, and garlic, this egg-based dish is rich in texture and flavor.
This recipe is perfect for meal prepping, too. It can stay fresh in the fridge for up to 3 days and can be a great addition to your lunch box.
Packed with protein and healthy fats but low in sodium.
Per Serving:
Calories: 202
Fats: 13.9g
Protein: 13.3g
Carbs: 5.9g
Sodium: 120.0g
Source: theforkedspoon.com
If I have to describe these vegetable skewers, "summer on a stick" will be my choice of words.
So colorful and nutritious, these make great use of your summer veggies, especially if you have a garden.
Peppers, onions, zucchini, drizzled with a garlicky herbal sauce. Doesn't that sound like the most flavorful veggie roast ever?
Serve with some pita bread and feta cheese on the side, and everyone will go crazy for these skewers.
Per Serving:
Calories: 324
Fats: 19g
Protein: 5g
Sodium: 26mg
Source: clankitchen.com
A nice recipe for roasted veggies is always a great addition to your recipe folder. But this mix of veggies will not be collecting dust in your drawer.
So simple to make, and yet, perfect for serving a crowd. These sheet-pan veggies are great on their own, as a side dish, or as a nutritious addition to other meals.
The recipe uses broccoli, cauliflowers, carrots, peppers, Brussels sprouts, and zucchini. But you can customize this as you see fit.
Per Serving:
Calories: 134
Fats: 7.4g
Protein: 4.9g
Carbs: 15.8g
Sodium: 103mg
Source: cooktoria.com
As a giant okra fan, I might be biased when it comes to this recipe. But if you have at least some inclination for this veggie, you absolutely have to try this.
Cut into bite-sized pieces. Seasoned lightly with paprika and cayenne (omit the salt for an even lower-in-sodium treat). And baked until tender and slightly browned.
Healthy and delicious, you will be devouring this veggie bowl on its own.
Per Serving:
Calories: 106
Fats: 7g
Protein: 2g
Carbs: 9g
Sodium: 8mg
Source: chefsavvy.com
I know, I know. Brussels Sprouts are far from the ideal lunch to many. But that's only because you haven't tried this fool-proof recipe.
Great alongside some protein, these tiny green cabbages make a great lunch choice.
Tossed with some olive oil and peanuts, then drizzled with balsamic reduction for some glazed and irresistible bites.
I promise you that you will find this recipe satisfying even if you're not a fan.
Per Serving:
Calories: 133
Fats: 5g
Protein: 5g
Carbs: 19g
Sodium: 43mg
Source: bluesbestlife.com
Overnight oats are usually a choice for breakfast. But these are so loaded with protein that they make a decent lunch, too.
And the best thing? They only require three ingredients. If you don't count all of the toppings you will be putting. Because this creamy oatmeal can seriously handle all sorts of add-ons.
Made with old-fashioned oats, almond milk, and vanilla protein powder. You can add some chopped fruits, berries, unsalted nuts and seeds, and even your favorite spices.
Per Serving:
Calories: 309
Fats: 1.6g
Protein: 18.6g
Carbs: 43.8g
Sodium: 113.3mg
Source: runningtothekitchen.com
Another Brussels Sprouts recipe, only this time, a bit sweeter.
It features tablespoons of maple syrup and one tablespoon of Balsamic. And that's the ideal combo of sweetness and acidity. Enough to satisfy both your sweet and tangy cravings.
It works well with almost all proteins. But chicken and fish are my absolute favorite.
If the sodium is too much for your taste, omit the salt whatsoever. The maple and balsamic mixture gives enough seasoning.
Per Serving:
Calories: 82
Fats: 1g
Protein: 0g
Carbs: 6g
Sodium: 99mg
Source: thatgirlcookshealthy.com
I am always surprised to hear that there are people who haven't tried steamed cabbage. Because it is so tender and naturally sweet that you literally cannot stop eating it.
If you don't like cabbage and have always steered clear from recipes that contain this veggie, please make this exception.
At least just once. Because that's all it takes for you to fall in love with this recipe.
Loaded with peppers, onions, carrots, and flavors like garlic and thyme, it is impossible not to love this.
This Caribbean dish is usually served as a side, but I love having this bowl for lunch.
Per Serving:
Calories: 157
Fats: 10g
Protein: 3g
Carbs: 17g
Sodium: 131mg
Source: recipesfromapantry.com
Quick and simple, this has to be one of those fast recipes you will always be coming back to.
Lightly seasoned Brussels Sprouts, brushed with olive oil and made in the Air Fryer.
No prep, no messy kitchen, no fuss at all. Just 12 minutes from start to finish. And a bowl of perfectly crispy veggie bites will be set on the table.
Per Serving:
Calories: 48
Protein: 3g
Carbs: 10g
Sodium: 28mg
Source: ifoodreal.com
Steaming veggies in the Instant Pot is super convenient. But even if you don't have the appliance, you can easily make this recipe on the stove.
The recipe combines carrots, cauliflowers, and Brussels Sprouts. Which are coated in butter for the most satisfying taste ever.
If you have other veggies, feel free to use them, too. Green beans, okra, asparagus, and even zucchini will be great here.
Per Serving:
Calories: 123
Fats: 6g
Protein: 4g
Carbs: 15g
Sodium: 103mg
Source: beyondthechickencoop.com
This is probably the simplest squash spaghetti you could ever make.
And it is a fun recipe for the kids to make, too. Just give them a fork and let them poke holes. Then place the squash in boiling water and cook for about half an hour, depending on the side.
Loosening the spaghetti strands has to be the most exciting part!
You can have them with melted butter and seasonings. Or your favorite sauce. It will be delicious however you choose to serve it.
Per Serving:
Calories: 74
Fats: 1g
Protein: 1g
Carbs: 16g
Sodium: 41mg
Source: thatgirlcookshealthy.com
This recipe offers a fool-proof method of steaming veggies.
Steamed in a basket over boiling water. These veggies are tender and moist and retain all their nutrients.
And these are really a blank canvas. You can drizzle with oil or butter and season with whatever flavors you prefer.
Broccoli, carrots, green beans, and cauliflower are some great choices for steaming.
Per Serving:
Calories: 181
Fats: 1g
Protein: 9g
Carbs: 38g
Sodium: 133mg
Source: happykitchen.rocks
Let me tell you something. This vegetable fajita recipe will save you so many times on busy weeknights. Especially when you have a sudden guest coming to dinner.
Because it is ready in just 25 minutes.
Peppers, mushrooms, and onions, sauteed to perfection. Then combined with black beans and guacamole. And packed into irresistible tortilla wraps.
The yummiest thing about these has to be the fajita seasoning. It requires a teaspoon of salt. Cut this in half or omit it altogether to lower the sodium.
Check out these other best tortilla wrap recipes for lunch!
Per Serving:
Calories: 269
Fats: 20g
Protein: 6g
Carbs: 24g
Sodium: 39g
Source: cookathomemom.com
If you don't like boiling eggs, then you might want to check out this Air Fryer method.
You can cook them for anywhere between 9 and 15 minutes, depending on the desired consistency.
This may not exactly be a lunch recipe per se. But once you pair it with some leafy greens, veggies, or even extra protein like ham or bacon, this can become one heck of a salad.
Or you simply pack these lovely eggs in your lunch box along with other fresh ingredients. Yummy, right?
Per Serving:
Calories: 79
Fats: 5g
Protein: 6g
Carbs: 1g
Sodium: 71mg
Source: diabetesstrong.com
Whether you're following a low-carb diet or not, this cauliflower bowl should substitute rice occasionally.
It is healthier and quicker if you use store-bought cauliflower rice, that is. If not, you can pop it into the processor or even grate it. The idea is to get cauliflower grains.
This recipe also uses onions, garlic, and ginger for flavor.
If you want a silkier dish, use butter instead of coconut oil.
Per Serving:
Calories: 76
Fats: 4g
Protein: 3g
Carbs: 9g
Sodium: 71mg
Source: theshortordercook.com
Rice and fava beans may be the main ingredients here. But really, it is the lemon vinaigrette that steals the show.
So mustardy, tangy, and satisfyingly refreshing, this dressing goes so well with rice. You simply have to try it.
The rice is also enriched with some lemon zest, which further enhances the flavor.
Per Serving:
Calories: 393
Fats: 11.6g
Protein: 13.4g
Carbs: 59.8g
Sodium: 112mg
41 Easy Low Sodium Lunch Ideas
Eating well has never been so easy. Explore these low sodium lunch ideas for a happy and heart-healthy meal time.
Ingredients
1. Autumn Squash Soup
2. Tuna Pesto Pasta
3. Air Fryer Frozen Chicken Wings
4. Baked Okra
5. Balsamic Sprouts
6. Protein Overnight Oats
7. Maple Roasted Brussel Sprouts
8. Jamaican Steamed Cabbage
9. Air Fryer Brussel Sprouts
10. Instant Pot Steamed Vegetables
11. Spaghetti Squash
12. Stovetop Steamed Vegetables
13. Veggie Fajitas
14. Air Fryer Eggs
15. Cauliflower Rice
16. Rice and Fava Bean Salad
17. Zucchini Pasta
18. Sweet Potato Soup
19. Zucchini and Mascarpone Fritters
20. Roasted Vegetables
21. Broccoli Almond Soup
22. Chicken Tacos
23. Turkey Lunch Meat
24. Spanish Rice and Beans
25. Spinach Quiche
26. Veggie Skewers
27. Avocado Egg salad
28. Cucumber Sandwiches
29. Vegan Tuna
30. Rainbow Roast Vegetable Sandwich
31. Roasted Vegetable Sandwich with Pea Pesto
32. Spinach Blueberry Salad
33. Caramelized Onion White Bean Dip
34. Sashimi Bowl
35. Bean Salad
36. Quinoa Salad
37. Cucumber Beetroot Salad
38. Tabbouleh
39. Tortilla Pinwheels
40. Healthy Veggie Pinwheels
41. Strawberry Avocado Salad
Instructions
Scroll up to get a bunch of easy, yummy, and delicious recipes. Don't be afraid to get creative with the ingredients, you might discover a flavor you didn't know you liked.
Get your shopping list going and make sure you've got all the ingredients.
Get cooking and make your next Low Sodium Lunch Idea!
Notes
Which one of these recipes was your favorite? Let me know in the comment section or on Pinterest!