If you're looking for inspiration for a can of salmon, you've come to the right place! These canned salmon recipes show that fish can taste as delicious as fresh fish, even from a can.
Canned salmon doesn't require prep, so it's great for a quick and easy meal to get more healthy fats! You can use it the same way you would canned tuna.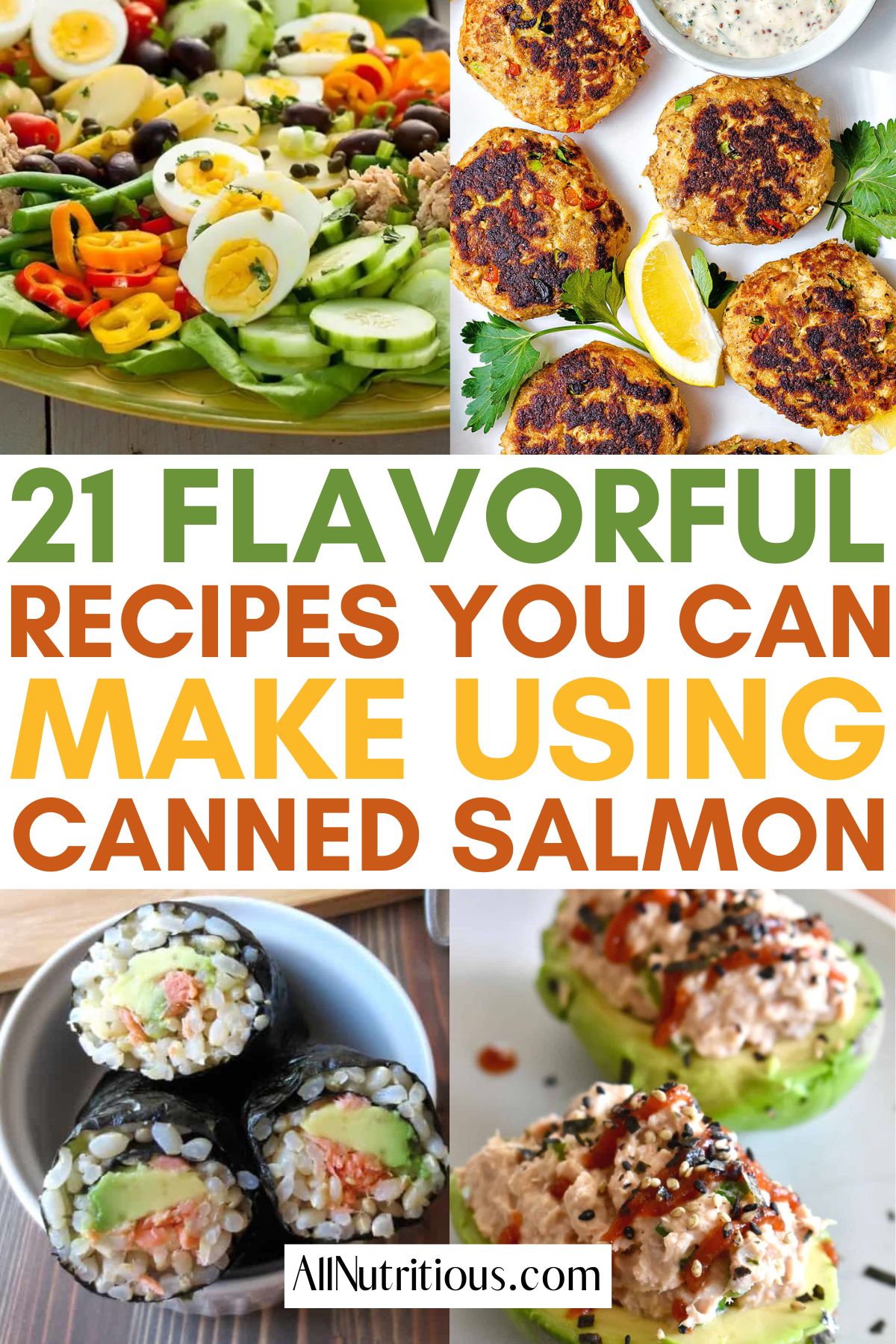 What is the Best Way to Eat Canned Salmon?
Some of the best ways to eat canned salmon are healthy salads, pasta dishes, and creamy dips. You can make it into burgers, croquettes, or even sushi if you have extra time.
One of the pros over fresh salmon is that it's more convenient as it's already cooked for you!
Is Canned Salmon Good or Bad for You?
Canned salmon is just as beneficial as fresh salmon. It contains the same nutrients: calcium, protein, vitamins B & D, and omega-3 fatty acids.
Although canned salmon from the grocery store is generally more affordable than fresh, it's best to choose the wild variety rather than farmed. It's more sustainable and has no additives.
Best Canned Salmon Recipes
These are the best recipes to make with canned salmon!
Source: thecookreport.co.uk
A creamy lemon and dill sauce make light and fresh gnocchi bake with fresh herbs a great recipe for summer!
The best part is light and bright sauce is easy to make. Heat mascarpone with lemon zest, juice, and dill for a fresh herb taste. Stir in your salmon so it's well combined.
Mix your sauce with cooked gnocchi and sprinkle with shredded parmesan cheese. Bake until it's golden and bubbling!
Source: theroastedroot.net
Tasty salmon salad inspired by food from the Med has lots of texture and flavor!
Make your salad with crunchy red onion, sliced avocado, salty feta, and sundried tomatoes. They all taste delicious with salmon!
Greek yogurt, garlic powder, dill, lemon juice, sea salt, and black pepper make your creamy dressing. Toss your salad with your dressing until everything is coated well!
Source: thecookreport.co.uk
This tasty salmon pasta has a rich tomato sauce with a spicy kick. It has plenty of garlic, too!
Garlic and chili form the spicy base for the tomato sauce. Add red wine vinegar for an extra tangy taste!
Mix your sauce with canned salmon, tender linguine, and capers for a salty punch of flavor!
Source: frugalnutrition.com
Don't be fooled by the look of these delicious salmon seaweed rolls. They're easy to make with a handful of ingredients!
Nori is the wrapper for your rolls. Layer your nori with cooked rice, flaky salmon, and pieces of creamy avocado. Mix your canned salmon with soy sauce to add an umami flavor.
Roll your filled nori carefully and let it rest briefly before slicing it into bite-sized pieces!
Source: lifeloveandgoodfood.com
These classic southern salmon croquettes are crispy on the outside and soft inside!
This salmon croquettes recipe packs a bunch of flavors. Add green onions, bell pepper, garlic powder, and Dijon to your salmon mixture. Lemon juice delivers a bright burst of flavor!
Cook your patties in a skillet until they're crispy and golden brown! Serve them with a homemade tangy tartare sauce.
Source: 4sonrus.com
This easy recipe is a delicious alternative to regular tuna salad! It's perfect for using as a dip or spreading on crostini, or even making a salmon salad sandwich.
Green onions and celery offer a crunchy texture to your cans of salmon. Lemon juice, chopped dill, and parsley deliver bright, fresh flavors.
Smoked paprika and cayenne add a lightly spiced taste to this simple recipe in a great way.
Combine your salmon mixture with mayo and Dijon mustard for a beautiful creamy texture!
Source: thequickerkitchen.com
Rich and creamy salmon chowder is easy to make, and using canned salmon makes it budget-friendly too!
The typical trio of celery, onions, and carrots form the base of your chowder. Chicken broth provides a delicious depth of flavor.
Diced potatoes and sweet corn kernels add texture alongside flakes of salmon. When the potatoes are tender, stir in heavy cream for a silky smooth mouthfeel!
Run out of heavy cream? check out these best substitutes for heavy cream!
Source: lovefromthetable.com
This creamy casserole-style version of a sushi roll is delicious with its fusion of Asian flavors!
Sushi rice provides a firm but chewy texture to your salmon rice bowl. Add flavor with rice vinegar, sugar, and salt.
Combine your canned salmon with mayo and sriracha hot sauce for a creamy texture and spicy taste. Layer your rice and salmon in a baking dish with furikake seasoning for Asian flavor!
Top your baked casserole with your favorite sushi toppings. Diced cucumber, creamy avocado, and green onion are excellent choices!
​You can store this delicious recipe in an airtight container and enjoy it as meal prep lunches the easy way, all week long.
Source: lifeasastrawberry.com
Soft and flavorful burgers are quick and easy to make with canned salmon. They're satisfyingly crispy on the outside, too!
Dijon mustard provides a tangy taste for your burgers. Mix in chopped parsley for a fresh herb taste. Panko and beaten eggs help hold your salmon patty mixture together.
Serve your golden brown salmon burgers in whole-meal rolls with crispy bacon, fresh arugula, and homemade tartare sauce!
Source: strengthandsunshine.com
Make this quick, easy, delicious salmon stir fry with simple ingredients!
Use a pouch of barbecue salmon and a Minute Rice & Quinoa cup for your stir fry. They make the prep for this dish effortless!
Sauté the rice and salmon with snow peas, scallions, and fresh broccoli for texture. Add extra flavor with minced garlic and chili paste. Sesame oil and sesame seeds provide a mild nutty taste!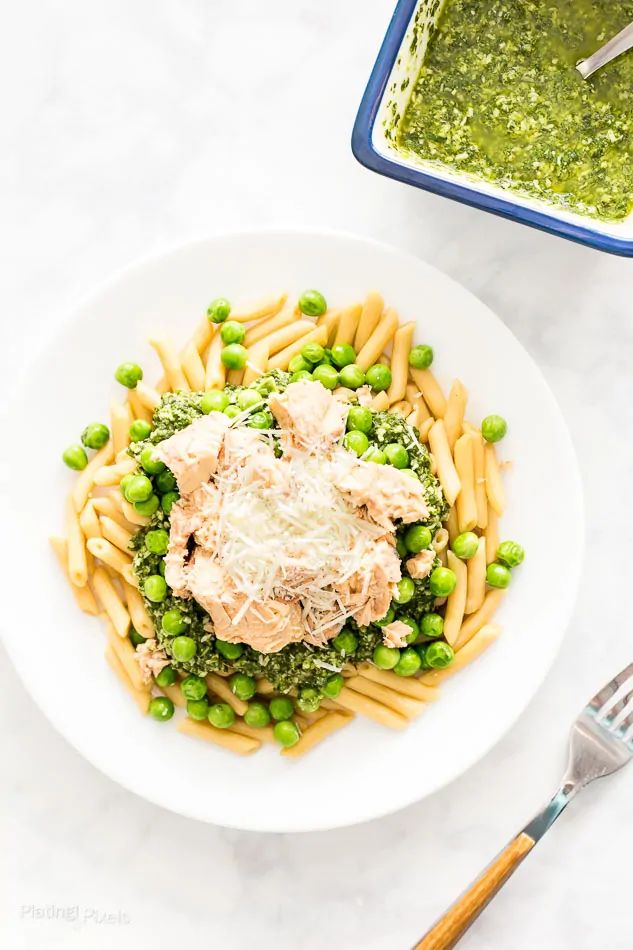 Source: platingpixels.com
Tasty homemade basil and pine nut pesto delivers this salmon pasta dish with great flavor!
Fresh basil leaves impart the primary taste to your pesto. Blend it with fresh parmesan, garlic, pine nuts, and olive oil. Lemon juice offers a bright, fresh flavor.
Layer cooked pasta noodles with your pesto, snow peas, and canned salmon!
Not sure what to serve with your pasta? Check out these best sides for salmon!
Source: whatagirleats.com
Salmon offers a tasty alternative to classic niçoise salad. It's full of fresh, healthy ingredients and textures that match well.
Carefully place your salad on butter lettuce leaves for an elegant, classic look. The main ingredient is canned salmon!
Layer your salad with tender potatoes, green beans, crunchy cucumber, and colorful bell peppers. Hard-boiled eggs offer a creamier texture. Black olives and salty capers deliver a classic French feel!
Serve your salad with a flavorsome dressing. Make this with Dijon, red wine vinegar, lemon juice, and olive oil. Add minced garlic, fresh thyme, and anchovy paste for extra depth of flavor.
Source: mapleandmango.com
Salmon and asparagus is a classic flavor combination that makes this pasta salad shine!
This is easy to put together. Combine cooked pasta, asparagus, hard-boiled eggs, and canned salmon. Sliced green onion adds little bites of crunch.
Make your creamy dressing with yogurt, mayo, and fresh dill. Lemon juice, zest, and Dijon mustard add a punchy flavor. Toss it with your salad until well combined!
This is one of the absolute best summer salad recipes!
Source: fromvalerieskitchen.com
Lemon, dill, and salmon are the delicious flavors that make these easy sandwiches!
Green onion slices and diced celery give your salmon sandwich filling some crunch. Dried dill, salt, and lemon juice deliver a fresh flavor. Mix everything with mayo to make it creamy!
Spread your creamy salmon-dill mixture between slices of ciabatta. Layer it with crunchy cucumber, juicy tomatoes, and crisp lettuce!
Source: thisdelicioushouse.com
For this easy, delicious dish, Asian-inspired salmon is stuffed inside avocado "shells"!
The flavors in your salmon mixture come from umami soy sauce, tangy rice vinegar, and spicy sriracha. Add mayo for a creamy texture and green onions for crunch.
Spoon your mixture into creamy halves of avocado and serve right away. If you have any furikake spice on hand, sprinkle it on top!
Source: flavourandsavour.com
Crispy baked salmon patties are easy to make and flavorful!
Garlic, green onions, and red bell pepper add a delicious taste to your burgers. Season them with lemon juice, parsley, and dill for a fresh flavor. Dijon provides a tangy kick!
Parmesan adds a robust cheesy taste to your patties! Make a creamy, tangy dipping sauce using Greek yogurt, lime juice, capers, and chives.
Source: juliesapron.com
This creamy and flavorful salmon dip is effortless with a handful of simple ingredients!
Combine canned salmon with cream cheese for a beautiful texture. Minced garlic, red bell pepper, and fresh dill provide the perfect flavor!
This is one of the best potluck recipes to feed a crowd!
Source: mychefsapron.com
Nutritious kale salmon salad is hearty and filling, packed with delicious flavors!
Dinosaur kale provides an earthy taste for the base of your salad. Raw fennel adds a unique aniseed flavor that works well with the salmon and creamy mozzarella.
Combine olive oil, Dijon, lemon, and orange juice, for a punchy, citrusy dressing!
Source: runningtothekitchen.com
Crispy salmon bites make the perfect one-mouthful snack or appetizer!
Fresh garlic and onion form the aromatic base of your salmon bites. Add extra flavor with dill, cayenne, salt, and pepper. Dijon provides a tangy kick!
Use panko to make the outside of your salmon bites extra crispy when cooked!
Source: mikhaeats.com
Crispy Japanese rice balls are filled with tender salmon. They're a bomb of umami!
Combine your salmon with Japanese mayo and soy sauce to add umami flavor. Mix cooked rice with furikake seasoning for flavor here, too.
Brush soy sauce on your rice balls for an umami taste throughout!
Source: recipezazz.com
A crispy pie crust holds a smooth and creamy salmon filling packed with flavor.
Lemon juice adds brightness to your quiche. Sautéed onion, salt, pepper, and parsley add an extra layer of flavor.
Combine milk and beaten eggs to pour over your canned salmon for a creamy filling. Bake until the filling is firm and the crust is golden!
Check out these best canned chicken recipes next!
21 Best Canned Salmon Recipes That Are Easy To Make
Elevate your lunchtime routine with our easy and delicious canned salmon recipes! Packed with protein and Omega-3s.
Ingredients
1. Salmon Gnocchi Bake
2. Mediterranean Salmon Salad
3. Salmon Linguine
4. Salmon-Avocado Seaweed Rolls
5. Salmon Croquettes
6. Salmon Salad Spread
7. Salmon Chowder
8. Spicy Salmon Sushi Bake
9. Salmon Burgers with Bacon and Arugula
10. Korean BBQ Salmon Stir Fry
11. Salmon Pesto Pasta
12. Salmon Nicoise Salad
13. Salmon Asparagus Pasta Salad
14. Salmon Salad Sandwiches
15. Salmon Stuffed Avocado
16. Baked Salmon Patties with Creamy Lime Sauce
17. Salmon Dip with Dill
18. Kale Salmon Salad with Mozzarella Cheese
19. Crispy Salmon Bites
20. Salmon Yaki Onigiri
21. Salmon Quiche
Instructions
Scroll up to get a bunch of easy, yummy, and delicious recipes. Don't be afraid to get creative with the ingredients, you might discover a flavor you didn't know you liked.
Get your shopping list going and make sure you've got all the ingredients.
Get cooking and make your next Canned Salmon Recipe!
Notes
Which one of these recipes was your favorite? Let me know in the comment section or on Pinterest!