When you're on a high protein diet snacking is important. These high protein snack recipes are great for meal prep, day-to-day snacking, and more.
If you've just started your weight loss or found yourself wanting to eat a little healthier, you'll know that protein is an essential macronutrient. It's a building block for muscles, you need it to make enzymes, hormones, and a lot of other important chemicals in your body.
It's essential if you want to stay healthy, look healthy, and feel better. So, it's only natural to want to increase the amount of protein you consume during the day.
It can be a little hard to do that. That's because a lot of the protein snacks you find in supermarkets also contain loads of sugar.
So, it does make sense to meal prep some of your healthy snacks and have them somewhere near you. You'll most probably end up consuming more protein, eating healthier, and avoiding a lot of unnecessary sugars.
1. No-Bake Apple Pie Protein Bars
Credit: thebigmansworld.com
These apple pie protein bars are easy to make and taste amazing. On top of that, they're actually healthy and full of protein.
For the recipe, you'll be using a mix of spices that will give naturally sweet coconut flour a little bit of a twist. So, the recipe does include a granulated sweetener, and I highly recommend to use erythritol in this case, but it's optional.
I'd suggest trying the first batch without the sweetener as you might soon find out that the sweetness of coconut flour is just enough by itself. If that's not the case, add the sweetener.
A healthier version of a sweetener – erythritol – can be bought here. Also, here is the coconut flour I recommend.
Per Serving:
Calories: 213
Fats: 7g
Carbs: 29g
Protein: 10g
2. No-Bake Protein Balls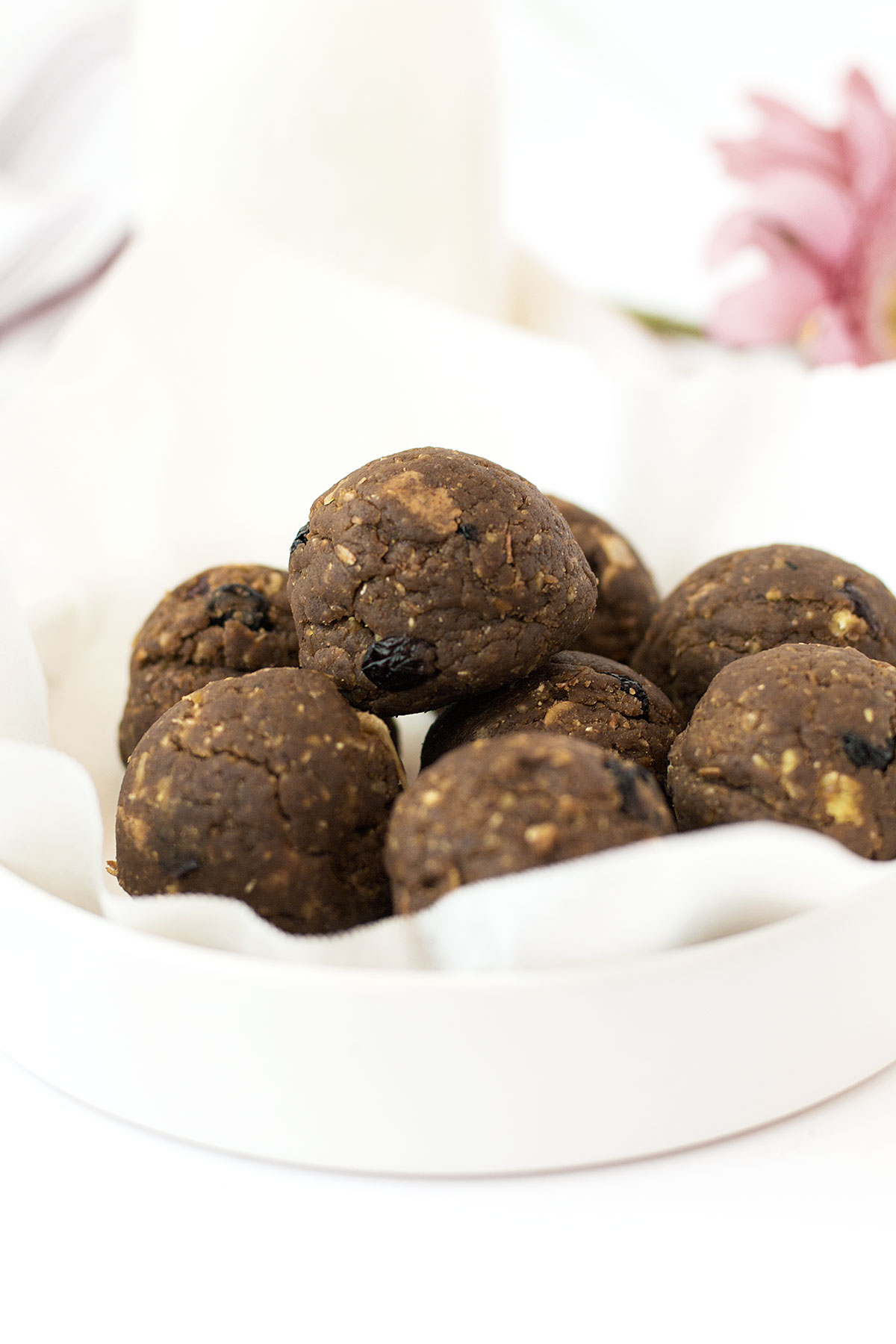 Credit: poshjournal.com
These no-bake protein balls are very high in fiber and protein. On top of that, they are rich in fats.
A beautiful blend of bananas, almond butter, unsweetened coconut flakes, and coconut oil can prove to be magical. The balls do taste amazing and they're a rich source of energy.
So, if you're busy and need a quick snack for work that hits all the macros, this is the recipe to try. Here are the unsweetened coconut flakes I highly recommend.
Also, make sure the coconut oil (or any other oil) you use is high quality. This one is great for food.
Per Serving (for a total of 10 balls):
Calories: 356
Fats: 23g
Carbs: 27g
Protein: 15g
Watch High Protein Snack Ideas
If you're more of a visual learner, you can check out these easy high protein snacks! There are many more ideas below!
3. Healthy Tuna Salad
Credit: healthylittlefoodies.com
This tuna salad is great to have with veggies or crackers. Put it on slices of cucumber and feel free to enjoy this snack every day.
What I love about this salad is that it's very high in protein and low in both fats and carbs. Thus, if you have your protein macro goals to hit, this is a perfect snack to have without overdoing it with carbs.
Per Serving:
Calories: 101
Fats: 1g
Carbs: 1g
Protein: 21g
4. Peanut Butter Protein Balls
Credit: wonkywonderful.com
If you're one of those people who always have peanut butter at home, you'll love this recipe. It's always nice to use up the ingredients from your cabinets.
Now, these protein balls are definitely going to be sweet because they contain honey too. So, if you're looking for a sweet treat, these peanut butter balls might work too.
You will need almond flour to make these tasty snacks. Here is the flour I recommend.
Per Serving:
Calories: 158
Fats: 12g
Carbs: 11g
Protein: 6g
5. Cherry Pie Energy Balls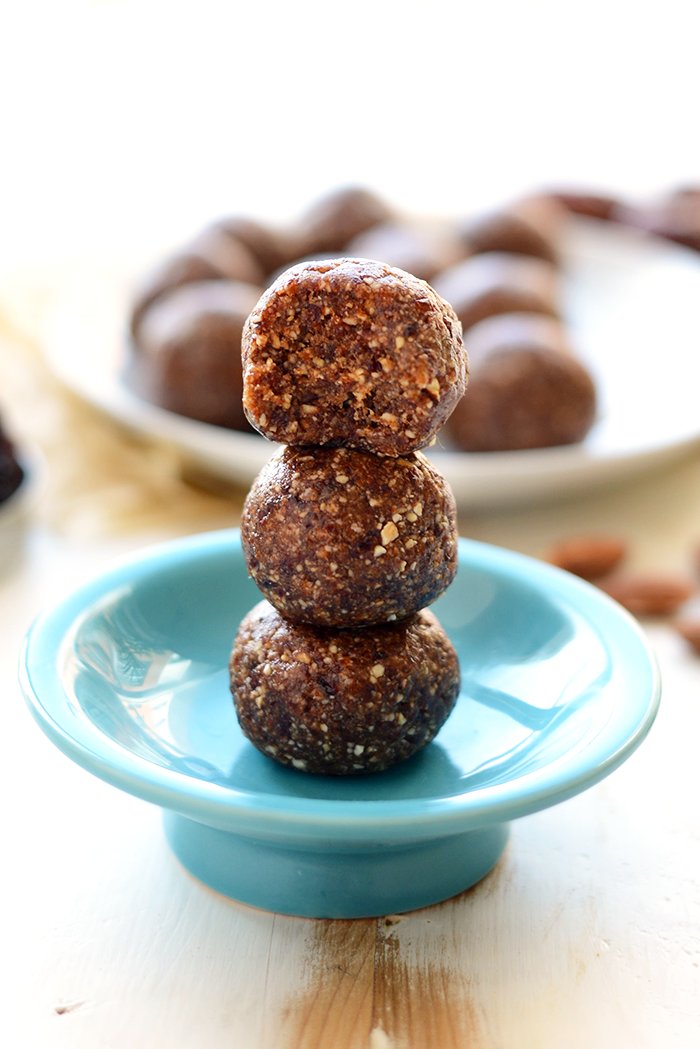 Credit: fitfoodiefinds.com
These energy balls are great for those who love almonds and dried tart cherries. They are delicious, vegan, and aren't super sweet.
That's what I truly love about them. Some of the energy balls out there might contain a little too much sugar and be too sweet.
Even if you just use sweetener. In case you're not sure where to get these dried tart cherries, just order them online here.
Also, you'll definitely need a food processor for this one. If you don't own one, here is a decent food processor for lower budgets that will work perfectly fine.
Per Serving:
Calories: 122
Fats: 6g
Carbs: 16g
Protein: 3g
6. Banana Matcha Energy Bites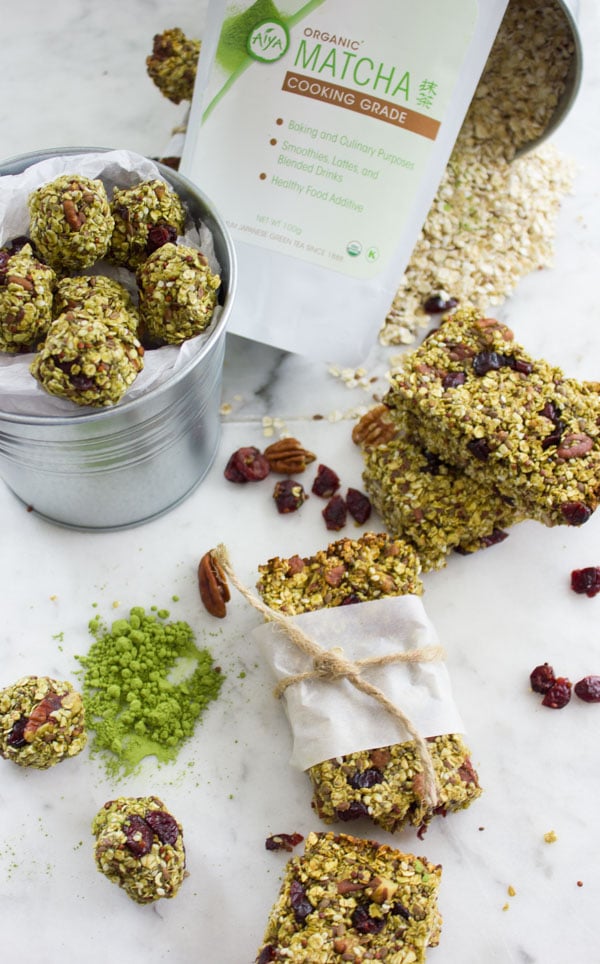 Credit: twopurplefigs.com
I know there are loads of matcha lovers out there. This recipe is just for you.
For those who don't know, matcha is a ground powder made out of green tea leaves. What's great about it is that it's full of antioxidants and it helps you to boost your metabolism.
Obviously, the research isn't very consistent on whether green tea actually has an effect on metabolism. But, it doesn't hurt to try.
Per Serving:
Calories: 212
Fats: 14g
Carbs: 14g
Protein: 7g
7. Edamame Avocado Hummus
Credit: wellplated.com
There is nothing quite as delicious as hummus. This avocado hummus recipe is just amazing.
It's very high in fats and fiber, so it's truly a great source of energy for when you're snacking. It's nice to eat something that'll take a little more time to digest.
You'll be full for longer! You can have this hummus with some of the crackers I've mentioned in the recipe or your favorite veggies.
Per Serving:
Calories: 169
Fats: 13g
Carbs: 9g
Protein: 5g
8. Almond Poppy Crackers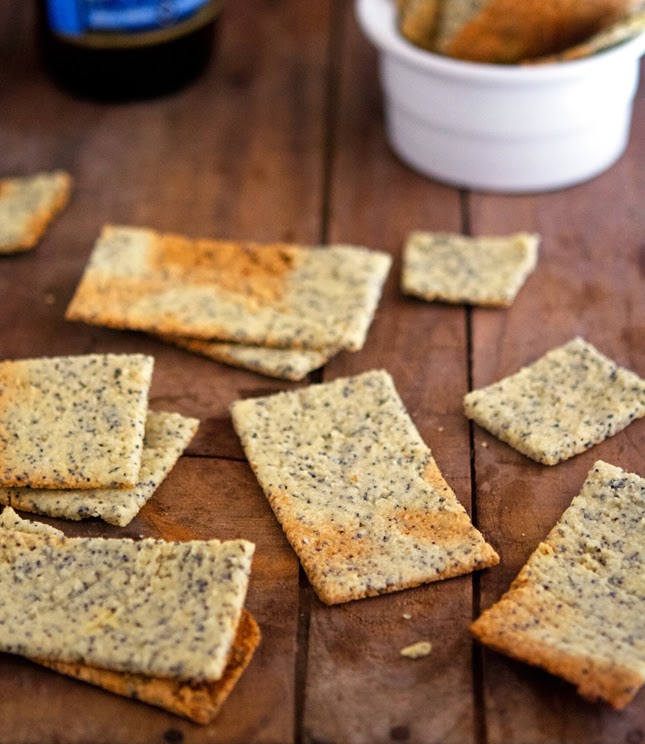 Credit: theironyou.com
If you love snacking of crackers, most of the ones you find in shops are full of carbs or even sugar. They're not great if you have a goal to lose some weight and build some muscle.
These poppy crackers are totally worth making! They are low in carbs
Per Serving:
Calories: 60
Fats: 5g
Carbs: 2g
Protein: 2g
9. Egg and Pesto Stuffed Tomatoes
Credit: paleoleap.com
If you're a fan of roasted tomatoes, you're going to love this healthy snack. While these stuffed tomatoes might look like a very fancy snack that's hard to make, that's not true at all.
All you need is delicious and well-sized tomatoes. The better quality these are, the tastier the snack will be.
Per Serving:
Calories: 411
Fats: 35g
Carbs: 13g
Protein: 11g
10. Egg Muffins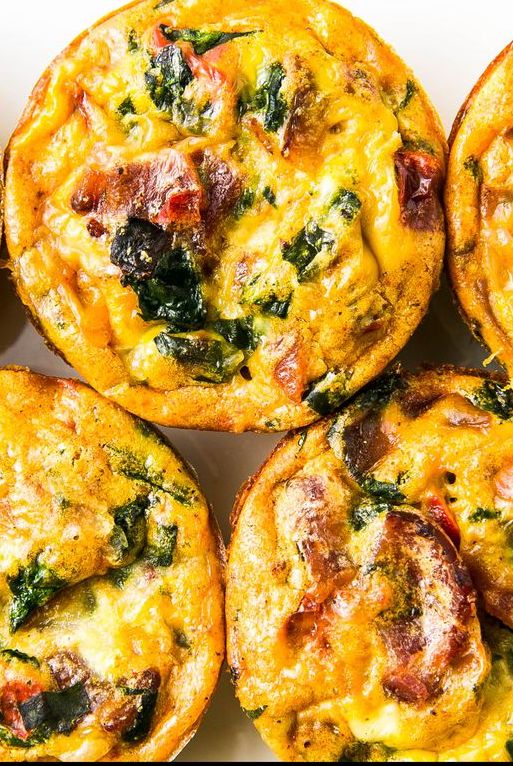 Credit: delish.com
These egg muffins are great if you're looking for a high protein breakfast snack. If you want to turn it into a full-on meal, just eat more of these muffins.
They're not very quick to make, takes around 55 minutes to get the batch out. Thus, you should probably use this recipe for meal prepping.
Anyway, these are totally worth your energy!
Per Serving (Calculated):
Calories: 81
Fats: 5.3g
Carbs: 2.9g
Protein: 5.8g
11. Zucchini Cheddar Bites
Credit: liveeatlearn.com
Want to trick the kids into eating more vegetables? Here is your perfect snack.
These cheddar bites contain a little bit of zucchini and carrot. Also, garlic and onion truly give the cheddar a very needed palette of flavors you're going to love.
You might also like these broccoli cheese bites.
Per Serving:
Calories: 36
Fats: 2g
Carbs: 2.6g
Protein: 2.3g
12. Crustless Mini Quiches
Credit: michellesmithrdsecrets.wordpress.com
These mini quiches are great for breakfast but you can definitely bring them to work for lunch too. What I love about quiches, in general, is that you can get creative with them.
Mix in your favorite products, meats, or vegetables to keep them interesting. Especially when you get tired of eating the same thing over and over again.
Per Serving:
Calories: 124
Fats: 8g
Carbs: 2g
Protein: 10g
13. No-Bake Protein Balls
Credit: eatingbirdfood.com
These protein balls come in 4 flavors: chocolate peanut butter, tahini chocolate chip, almond joy, and cinnamon raisin.
Thus, you'll definitely never get bored with this high-protein snack. Make a batch of one flavor for one day, another batch of a different flavor another day and you'll never find yourself bored with the food.
Incorporate a plant-based protein powder into this recipe and never worry about consuming enough protein again!
Per Serving:
Calories: 104
Fats: 5g
Carbs: 10g
Protein: 5g
14. Baked Vegan Tofu Nuggets
Credit: delishknowledge.com
These tofu nuggets are absolutely delicious. It will feel like you're cheating!
However, I definitely recommend giving these a try. They're baked so you get to avoid a lot of additional fat that you'd otherwise have to deal with if you've ordered from a restaurant.
Also, you could always play around and use almond flour instead of regular wheat flour. It'd reduce the number of carbs in each nugget. Also, don't go too hard on honey because it does contain sugar!
Per Serving:
Calories: 217
Fats: 8.8g
Carbs: 22.4g
Protein: 11.7g
15. Pop-And-Go Egg Bites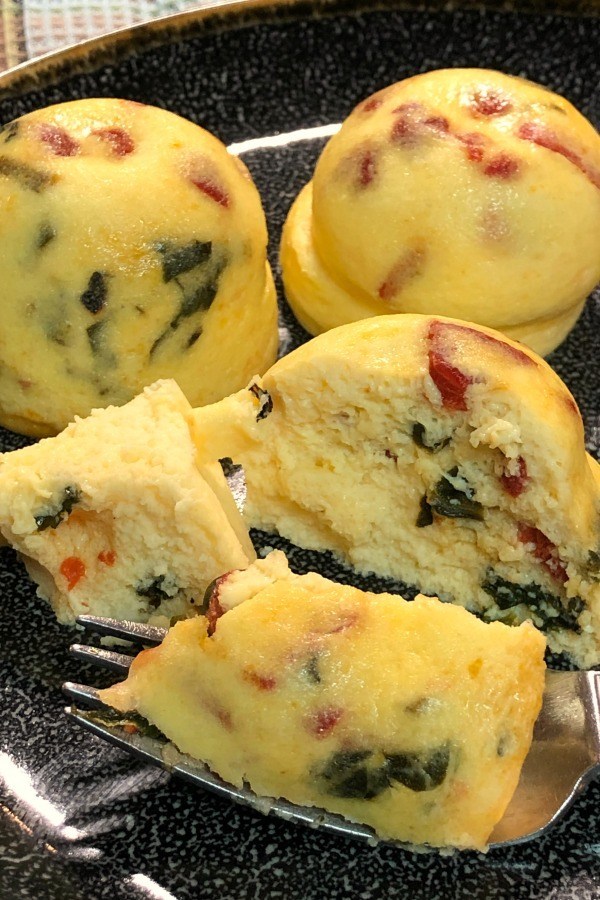 Credit: chefalli.com
If you're simply one of those people who loves eggs and don't mind to eat all types of foods with them, try this recipe. These egg bites are nutritious, delicious, and totally easy to make.
It takes around 20 minutes to get these egg bites on the table. So, it's definitely one of those foods that are great to have when you're on a low carb diet.
Per Serving (Calculated):
Calories: 163
Fats: 13g
Carbs: 2g
Protein: 10g
16. Classic Deviled Eggs
Credit: downshiftology.com
This is an amazing snack for large parties or events. But, it's just as good as a quick dinner snack.
If you're looking for a quick savory treat to make for yourself or a family, definitely recommend this recipe!
Per Serving:
Calories: 125
Fats: 10.5g
Carbs: 0.7g
Protein: 6.4g
17. Crispy Baked Chickpeas
Credit: minimalistbaker.com
Chickpeas are just such a delicious bean that you cannot try but incorporate it into your diet. While they are quite high in carbs and fiber, they also do contain a good amount of protein.
If you are looking for ways to incorporate more protein if you're vegetarian or vegan. Chickpeas are definitely the way to go.
It doesn't have to be just a snack. You can always make your own lunch with it too. So, definitely worth trying!
If you like this recipe, you might like these spicy roasted chickpeas!
Per Serving:
Calories: 141
Fats: 2.7g
Carbs: 22.9g
Protein: 7.3g
18. Air-Fryer Jalapeño Poppers
Credit: eatingwell.com
These crispy jalapeno poppers will bring a little bit of spiciness into your life. Literally!
With a little bit of buffalo sauce, these snacks can taste absolutely amazing. Do keep in mind that you'll need whole-wheat panko breadcrumbs.
They create this crunchiness that you're absolutely going to love. If you do love crunchy foods, that is!
Per Serving:
Calories: 104
Fats: 8g
Carbs: 4g
Protein: 5g
19. Meat Roll-Ups
Credit: brilliantlyketo.com
These meat roll-ups are absolutely great for the days when you quickly need to eat some lunch. You can bring these roll-ups to work or just have them at home.
The good thing about these snacks is that they're full of protein and fats. So, definitely will fill you up for longer than just an hour.
If you do bring these snacks to work, make sure you get good quality lunch boxes. These BPA- free plastic food containers seal very well and are super convenient to have.
You might also like these ham roll-ups.
Per Serving (Calculated):
Calories: 240
Fats: 12g
Carbs: 3g
Protein: 31g
20. Vegan Protein Crackers
Credit: mayihavethatrecipe.com
These vegan crackers are such a lovely treat after a workout or when you're too busy to have lunch at work. They are low carb and vegan, which makes it just an amazing snack.
The crackers are full of nutritious seeds like flax seeds, sesame seeds, and chia seeds. Thus, each cracker is full of fiber which is essential for healthy digestion.
Make sure the coconut flakes you get are unsweetened. Here is a lovely product to try.
Per Serving (Calculated for 15 Crackers):
Calories: 52
Fats: 3g
Carbs: 3g
Protein: 3g
21. Skinny Baked Mozzarella Sticks
Credit: skinnytaste.com
Mozzarella sticks are just one of those cheat foods you cannot stop eating once you start. Unfortunately, a lot of over the counter mozzarella sticks contains loads of sugar.
That's where making your own mozzarella sticks comes in handy. Don't be afraid to try new things with this recipe and use almond flour instead of regular flour to reduce the number of carbs in the recipe.
Otherwise, these mozzarella sticks are absolutely delicious.
Per Serving:
Calories: 87
Fats: 5g
Carbs: 7g
Protein: 7.5g
22. No Carb Cheese Crackers
Credit: findingtimetofly.com
This is the best one-ingredient recipe you'll find on the internet. Not joking!
Get some sliced cheese, cook it in the oven and you'll have these amazing cheese crackers that have little to no carbs, a lot of fat, and protein.
Safe to say it's one of the best keto snack recipes that exist out there.
Per Serving:
Calories: 130
Fats: 11g
Carbs: 1g
Protein: 8g
23. Broccoli Cheese Balls
Credit: gimmedelicious.com
When I saw these broccoli cheese balls right away I realized that it's such a good way to eat more green vegetables. Especially if you're not a fan of broccoli and your kids don't quite appreciate it by itself.
This recipe truly offers a way to sneak in some of that broccoli and get them used to eating it. Trust me, it'll help them in the future!
The recipe does require some almond flour. Here is the almond flour I personally recommend.
If you love the combo of broccoli and cheese, you might enjoy these high protein broccoli cheese bites.
Per Serving:
Calories: 32
Fats: 2g
Carbs: 1g
Protein: 2g
24. Quinoa Bites with Sweet Potato and Black Beans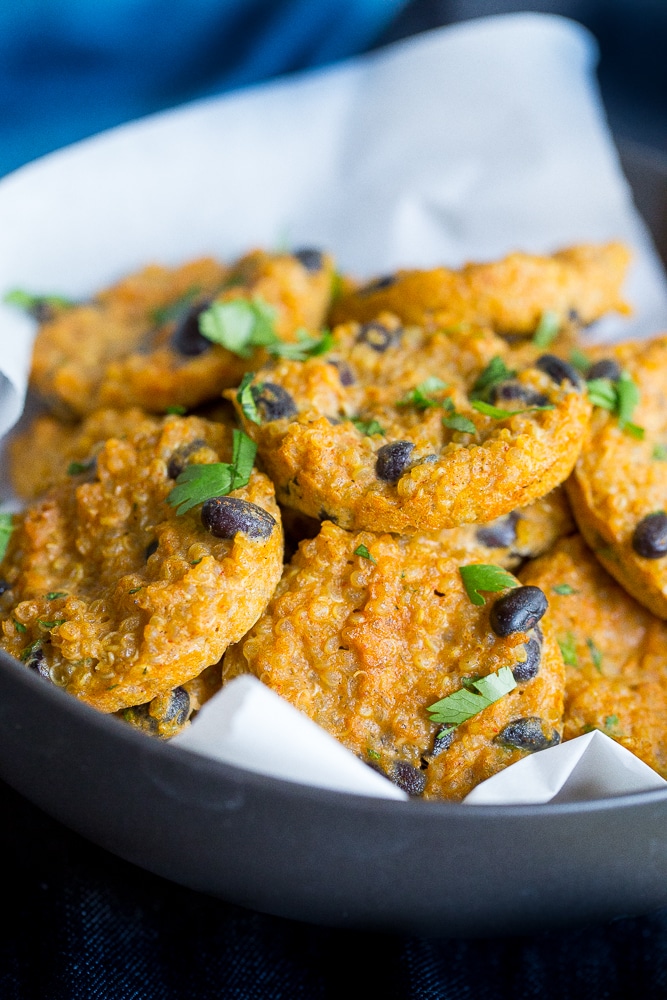 Credit: shelikesfood.com
These quinoa bites are absolutely delicious and packed with protein. On top of that, it's actually a vegan snack, so perfect for someone who's vegan and wants to increase protein consumption in a natural way.
Also, it's great to just eat vegan snacks and dishes when you can for environmental purposes. Black beans are an amazing source of protein and fiber, so it's one of those superfoods you want to incorporate into your diet.
Per Serving (Calculated):
Calories: 34
Fats: 1g
Carbs: 5g
Protein: 2g
25. Ham & Cheese Egg Cups
Credit: delish.com
These ham and cheese egg cups offer a perfect way to start your mornings. While they can serve just as a quick snack in the morning, have a couple of the cups and you'll be full for the whole day.
This is one of those snacks you can regularly have if you're on a ketogenic diet.
Per Serving:
Calories: 205
Fats: 11g
Carbs: 2g
Protein: 23g
Conclusion
Enjoyed some of these high protein snacks? Click share buttons to show them to your friends or just save for future use!