So, you have guests coming over or going to a potluck or a picnic. However, you need to cater to a dairy-free diet. These yummy dairy free appetizers are a must at your next party!
Finding ready-made appetizers that don't have dairy in them can be tricky. Many finger food recipes often contain milk, yogurt, cheese, or products that are derived from dairy.
It's easy to make your own dairy free party foods. You rarely need unique ingredients; they're just as tasty as buying them from a store!
What Party Food is Dairy-Free?
There are many options for dairy-free party appetizers. Popular finger foods like chicken wings, spring rolls, and bruschetta can be modified to be dairy-free.
Try an easy appetizer like fruit salsa or veggies and chips with a dip. It's easy to make a dairy-free dip.
You can use blended creamy beans for savory or nut butter for sweet dips, perfect for a special occasion or game day!
Herbs and spices flavor appetizer food that might be bland, like veggies or chicken. Nutritional yeast is excellent for adding a cheesy taste to delicious dairy-free appetizers!
Even if your guests aren't dairy-free, they will love these best dairy-free appetizers!
Dairy-Free Appetizers
Discover a variety of tasty dairy-free appetizer recipes below! There are options for different dietary needs like meat-eaters, vegetarians, and those following a vegan diet.
Source: allnutritious.com
You'll love these delicious bites if you like creamy avocado and smoked salmon!
Use slices of smoked salmon as the vessel for your other ingredients. Mashed avocado balances the salty taste of the salmon.
Mix your avocado with lemon juice to stop it from turning brown. It adds a slightly zesty flavor, too. Layer slices of red or white onion on your salmon with your avocado before rolling the bites.
Source: theshortordercook.com
Try this twist on nachos by making them out of wontons! The ahi tuna poke topping bursts with delicious flavors.
Marinade your sushi-grade tuna in soy sauce, sesame oil, and wasabi paste. Red pepper flakes add an extra spicy kick. Throw sliced red onion in for crunch!
Use wonton wrappers to make your chips. You'll cut them into triangles and fry them in a skillet until they're crispy and golden brown.
Load your nachos up with the marinated tuna and add your toppings. Creamy avocado, jalapenos, and sliced red onion are perfect. Mix sriracha and mayo and drizzle all over your nachos!
Source: veganhuggs.com
Crispy baked BBQ cauliflower wings are a great alternative to chicken wings!
Make your batter with non-dairy milk and water. Add onion granules, garlic granules, and salt to your batter and panko. Coat your cauliflower florets with the batter, then panko.
Brush BBQ sauce on your "wings" when golden and crispy. This turns caramelized when you return them to the oven. Delicious!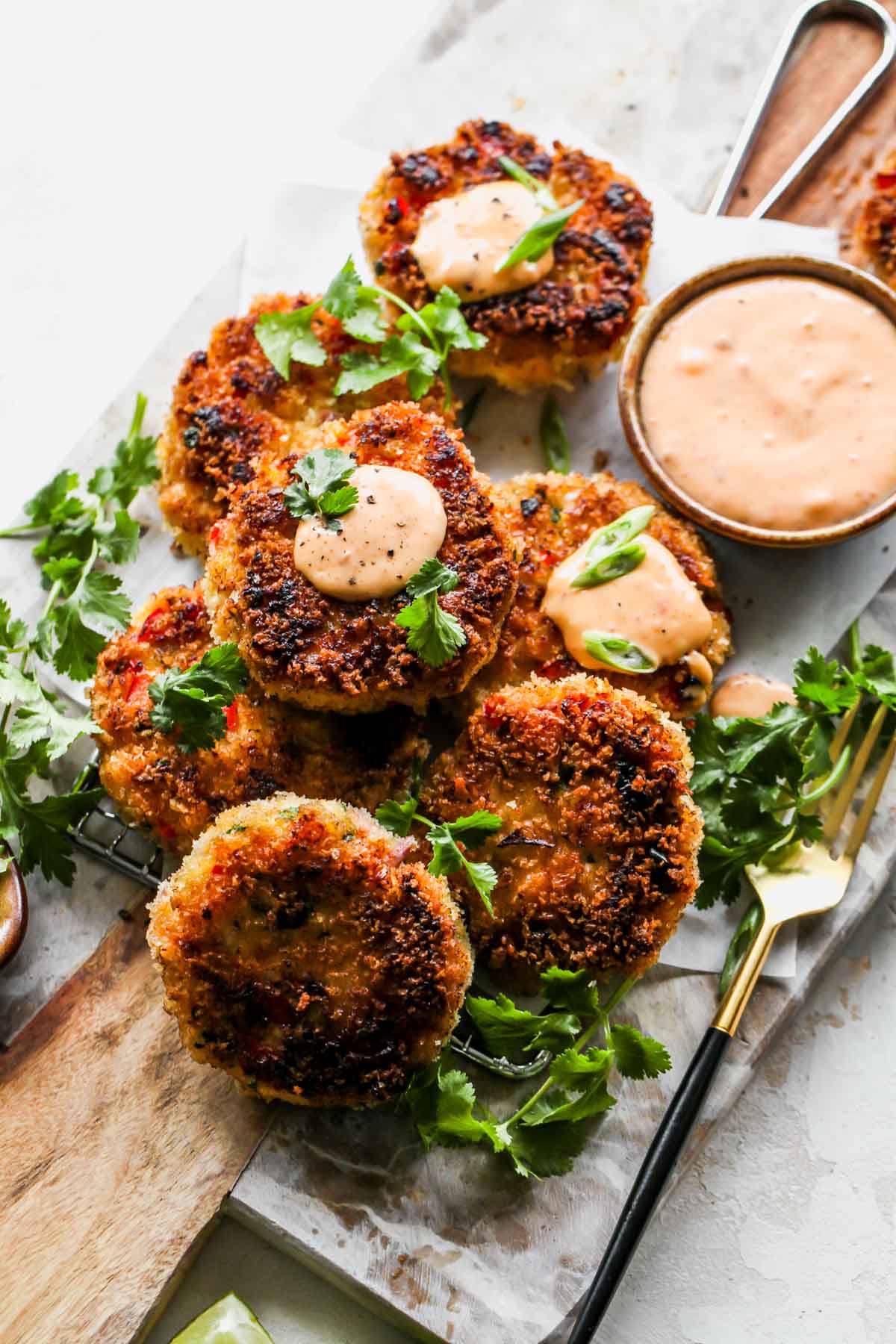 Source: dishingouthealth.com
These spicy Thai shrimp cakes have a golden, crispy panko crust. Serve them with creamy aioli for a contrast of textures!
Add a ton of flavor to your shrimp cakes with red bell pepper, cilantro, shallots, and fish sauce. Sweet Thai chili sauce and sriracha deliver a kick of heat!
Use panko, mayo, and an egg to bind your cakes. Mayo also helps keep them moist. Once you've made patties, dredge them in more panko for the ultimate crispy texture on the outside.
Make your flavorsome aioli with mayo, sriracha, sweet Thai chili sauce, and lime juice. Use sesame oil, too, for a nutty depth of flavor.
This is a party appetizer that will surely impress your guests!
Source: veganblueberry.com
Crispy fried wonton puffs are filled with a gooey vegan cream cheese mixture. The vegan crab substitute is a mushroom!
Combine your vegan cream cheese with minced scallion, garlic powder, onion powder, and vegan Worcestershire sauce.
Finely diced mushroom adds an earthy flavor and texture. However, you can skip this.
Serve your Rangoon with vegan sweet and sour sauce. Make this with vegan ketchup, rice vinegar, soy sauce, and onion powder for ultimate flavor. Use agave nectar for natural sweetness.
Source: profusioncurry.com
Crispy pasta chips might sound unusual. However, they're simple, delicious, and crunchy. They're great to try different flavors too!
Coat your cooked pasta with a simple seasoning. Olive oil, minced garlic, salt, and pepper are ideal. Vegan parmesan makes it go golden on the outside. Cook it again in your air fryer until it goes crispy!
Tricolor butterfly pasta is perfect for this recipe. It looks and tastes great!
Source: mikhaeats.com
This tasty veggie snack is salty, sweet, and spicy. It's also effortless!
Soy sauce, chili oil, and oyster sauce flavor your edamame. Sweet shallots and minced garlic add even more!
Source: dashfordinner.com
This is one of the easiest recipes you'll come across. All you need is your air fryer and some sliced pepperoni!
All you need to do is briefly cook pepperoni slices in your air fryer. Once they're cooked, Let them drain excess fat on a paper towel. They will crisp up during this time!
Source: cusskitchen.com
Nostalgic memories will come flooding back to you with this "pigs in a blanket" appetizer! Delicious mini hot dogs rolled in crispy puff pastry.
Coat strips of puff pastry with a cheesy baking sauce before adding mini hot dogs. Make the sauce with eggs and parmesan!
Brush more cheesy egg wash on your pastry hot dogs once you've rolled them. This is going to make them crispy too! Sprinkle pancetta on top before baking for a salty taste and crunchy texture.
Source: tastefulventure.com
Vibrant veggie spring rolls are light, healthy, and delicious. Serve them with a spicy peanut sauce for a bit of indulgence!
Ideal fresh veggies for your rice paper rolls are cabbage, carrots, colorful bell peppers, and avocado.
Thinly sliced veggies make it easier to fill and roll! Mint and cilantro leaves add an herby, fresh flavor.
Peanut butter is essential for your spicy peanut sauce! Combine it with tamari, chili garlic sauce, and sesame oil. Use honey as a natural sweetener. Lime juice adds a zesty kick.
Source: kaleenaskitchen.com
These tasty chicken poppers are tangy, salty, and meaty! Chicken stuffed jalapenos are wrapped in crispy bacon for the ultimate flavor combination.
Season chicken pieces with salt and pepper before cooking in a skillet and then shredding. Mix your shredded chicken with mayo and hot sauce.
Add extra flavor with garlic and onion powders, dried chives, parsley, and dill.
Fill halves of jalapeno with your chicken mixture and wrap them in strips of bacon before cooking. Soft jalapenos and crispy bacon complement each other well!
Source: makehealthyrecipes.com
Make a healthier swap of sliced veggies to replace crostini. They make the perfect vessel to carry creamy avocado and juicy tomatoes!
Slices of white potato, sweet potato, and eggplant are the perfect veggies. Season them with balsamic vinegar, olive oil, sea salt, and black pepper.
Cook them with garlic cloves and mushrooms to impart extra flavor.
Mix chopped tomatoes and diced avocado for your bruschetta topping. Combine them with balsamic vinegar, olive oil, basil, salt, and pepper.
Use parmesan to add a cheesy flavor. Crush your roasted garlic and add this, too! Spoon your bruschetta on top of your veggies and serve straight away!
Source: veganhuggs.com
Vegan corn fritters are packed with delicious flavors and healthy veggies. They're soft on the inside and crispy on the outside!
Add garlic, salt, and black pepper to your batter made with non-dairy milk. You can add your favorite dried spice, too, for an extra punch of flavor.
Red bell pepper and green onions are ideal veggies with yellow corn in your fritters. Cook your patties in a skillet until they're golden and crispy!
Source: babaganosh.org
This roasted eggplant dip with beets is vibrant, delicious, and healthy. The sweetness of the beets marries beautifully with the savory of eggplant.
Roast garlic cloves with your eggplant and beets for a mild garlicky taste in your dip. Blend your roasted veggies and garlic with tahini, lemon juice, olive oil, salt, and pepper.
Garnish your dip with fresh parsley before serving. Crackers and veggie sticks are perfect accompaniments!
This is one of the best dip recipes for parties!
Source: feedgrump.com
Thin and crispy spring rolls are filled with juicy minced pork and crunchy veggies. They have a delicious meaty, umami flavor!
Use shiitake mushrooms, napa cabbage, bamboo shoots, and scallions for spring rolls. They go perfectly with pork. Add flavor with salt, white pepper, and soy sauce.
Make a flavorsome sweet and sour chili dipping sauce with your spring rolls!
Gluten-Free Dairy-Free Appetizers
Cater for your gluten-free and dairy-free guests with this selection of delicious gluten-free recipes!
Source: acedarspoon.com
This vibrant Tex-Mex-inspired dish is the perfect appetizer for summer to avoid food allergies. It's packed with creamy beans, crunchy veggies, and spiced up with jalapeno!
Best of all, no need to worry about dairy allergies!
Black-eyed peas are the key element of this recipe. Pair them with creamy black beans and sweet yellow corn. Red and green bell peppers and red onions make your caviar crunchy.
Make a zingy dressing with olive oil, lime juice, and red wine vinegar. Garlic powder, chili powder, and cumin add extra spice.
Check out these other great gluten-free appetizer recipes!
Source: karalydon.com
These kohlrabi fries have a smoky, warming taste. They're crispy on the outside and soft on the inside. It's the ideal way to use kohlrabi from the farmer's market!
Add flavor to your fries with smoked paprika, garlic powder, cumin, salt, and pepper. Serve your fries with creamy garlic aioli for dipping!
Source: healthmylifestyle.com
This tasty chili corn salsa is a copycat of the version at Chipotle Mexican Grill! It tastes fresh, crunchy, and delicious!
Yellow corn works well with the flavors in this recipe. Jalapeno peppers add a kick of spice to your salsa. Sweet red onion delivers a satisfying crunch!
Fresh lime juice provides a refreshing zingy taste, while cilantro adds freshness. Salt is essential to enhance the rest of the flavors!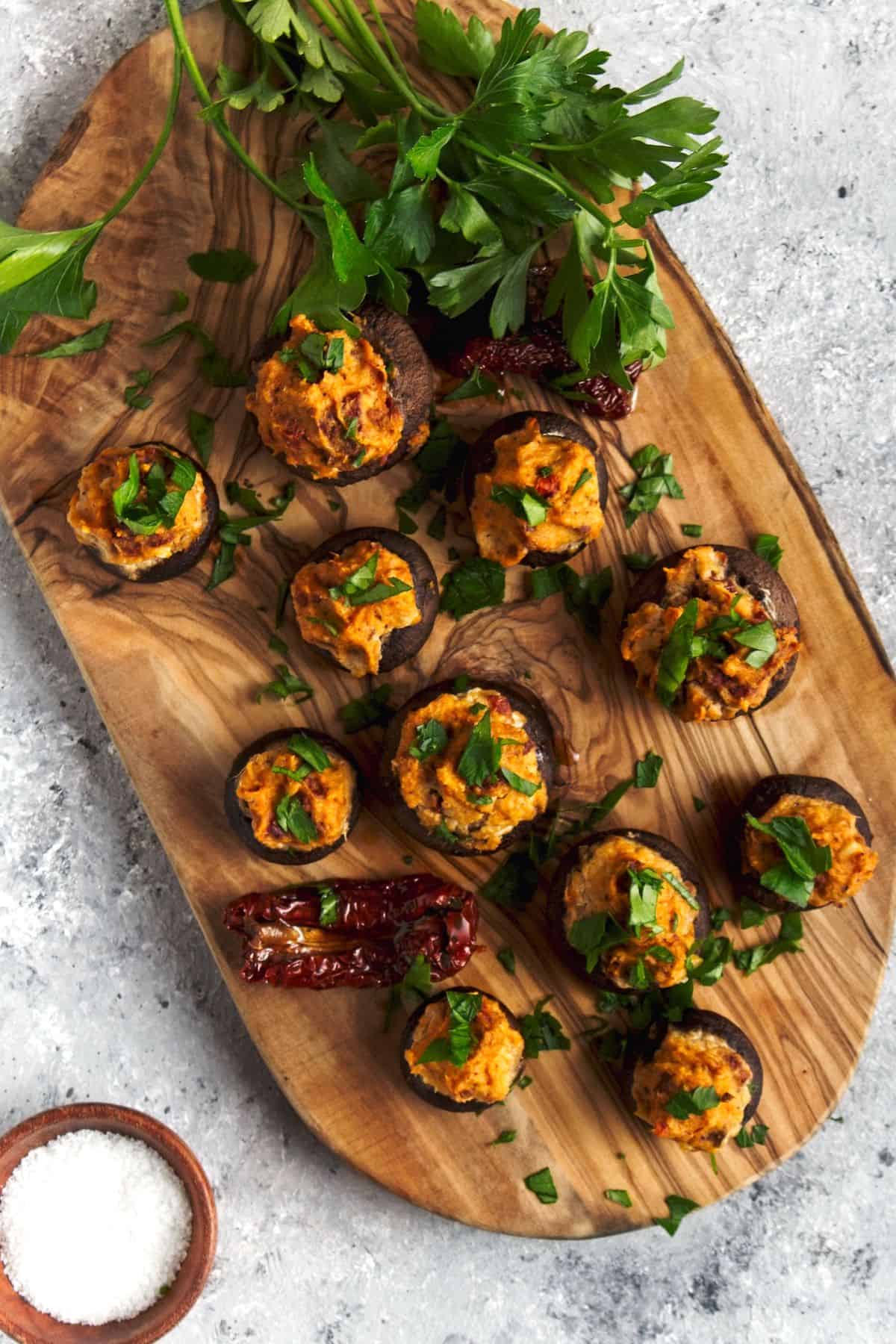 Source: kellystilwell.com
Cremini mushrooms stuffed with artichoke and sundried tomatoes are a hearty and delicious appetizer.
Soaked cashew nuts help hold your mushroom filling together. Blend them with garlic cloves and lemon juice for a delicious flavor. Add nutritional yeast for a cheesy taste.
Blitz your cashew mixture with artichoke hearts and sundried tomatoes. Spoon it into your mushroom caps and bake until the mushrooms are soft. It should have a lovely golden topping, too!
Source: veganblueberry.com
This flavorful dip is rich and smooth. It's perfect for dipping veggies or crispy tortilla chips!
The base ingredients of your vegan dip are soaked cashew nuts and almond milk. Nutritional yeast is the magic ingredient that gives it a rich cheesy taste!
Garlic powder, onion powder, smoked paprika, and sundried tomatoes deliver a punch of flavor. Lemon juice adds a light freshness to your dip.
Source: debraklein.com
Try a twist on the traditional dough with these pizza bites. Sliced zucchini acts as a vessel for your pizza toppings!
Spoon marinara or pesto onto slices of zucchini. If you can't decide, then do some of both! Make vegan parmesan with nutritional yeast.
Blend it with hemp seeds, dried oregano, garlic powder, and salt.
Add your pizza toppings and sprinkle them with your vegan parmesan! Sliced olives, diced bell peppers, and caramelized onion are good options for toppings.
This is one of the best zucchini appetizers out there!
Source: theveganatlas.com
Marinated artichoke hearts, mushrooms, and fresh asparagus are the stars of this tasty appetizer.
Add sliced zucchini and dill pickles to your other ingredients. Mix fresh dill and parsley, vegan mayo, lemon juice, salt, and pepper. Stir everything together until it's well combined!
Source: perchancetocook.com
Raspberries and bacon are two ingredients that sound like they shouldn't work. But with this recipe, they go perfectly, especially with the dates!
Tuck juicy raspberries inside dates that are cut in half. The flavors meld together when heated for a sweet raspberry center!
The crispy, salty bacon wrapped around the dates is an excellent savory contrast!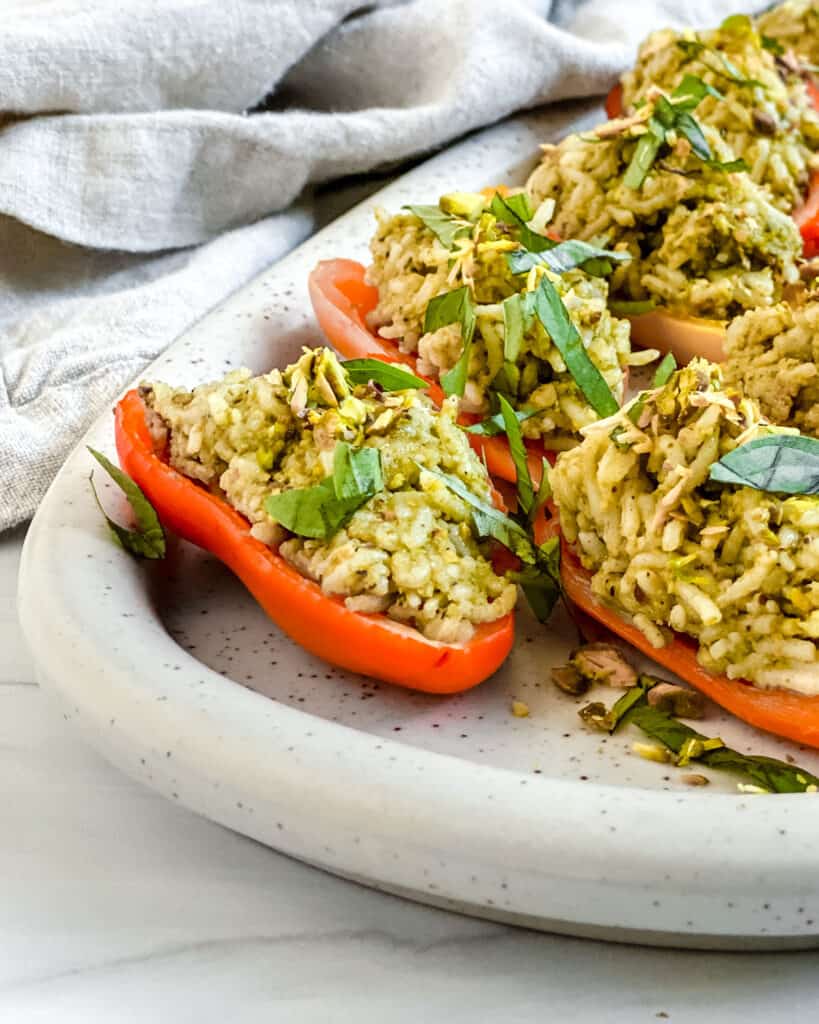 Source: plantbasedonabudget.com
Crunchy, sweet baby red peppers are stuffed with flavorful basmati rice and roasted until tender.
Combine fresh basil, olive oil, garlic, salt, and pepper in a blender. Add pistachios to give a nutty flavor to your rice.
Stir this mixture into your cooked rice before adding it to your peppers. Garnish with chopped fresh basil before serving!
Source: itsnotcomplicatedrecipes.com
These fried crispy fritters are full of delicious caramelized onion flavor!
Use a combination of yellow onion and scallions for a savory and sweet taste. You only need a simple seasoning of sea salt and black pepper for your fritters.
Add cornmeal to your batter for a slight crunch. Sugar helps the onions caramelize, and the fritters gain crispy edges!
Source: plantbasedonabudget.com
Try these tasty cucumber bites for an appetizer with a crunch! It's a contrasting texture to the creamy cheese topping.
You'll need to blend sunflower seeds to make your filling. Add onion, chives, garlic, and lemon juice for a fresh herby flavor. Nutritional yeast adds a cheesy flavor!
Spoon your sunflower seed mixture onto slices of crunchy cucumber. Garnish with chives before serving!
You'll love these other fresh cucumber appetizer recipes!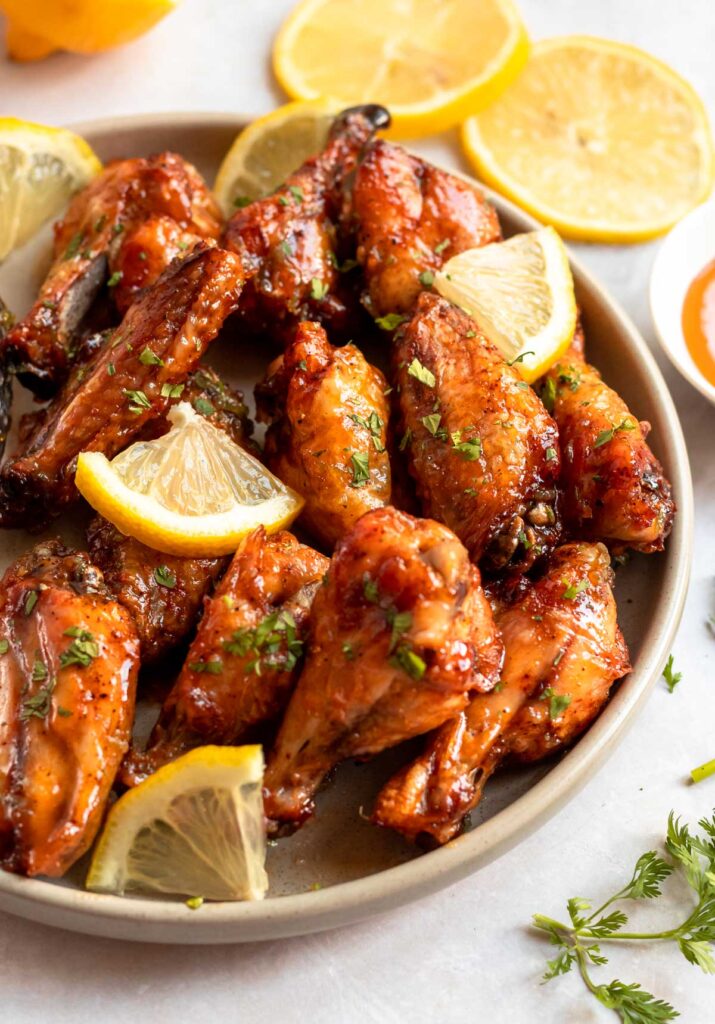 Source: richanddelish.com
The sticky glaze on these chicken wings is delicious. It's sweet from honey and lemon, with a slight savory kick from paprika. This also gives them their vibrant color!
Coat your chicken wings with paprika, salt, black pepper, and olive oil before cooking. Make lemon pepper sauce with lemon juice, zest, honey, oil, and minced garlic.
Toss your cooked wings in the tasty glaze before serving!
Source: cookeatlivelove.com
This vegan spinach and artichoke dip is creamy, flavorful, healthy, and delicious!
Blended cooked cauliflower and silken tofu make the creamy base for your dip. Add flavor with garlic, onion, mustard, lemon juice, miso, and hot sauce. Nutritional yeast delivers a cheesy taste.
Stir wilted spinach, chopped artichokes, and vegan parmesan into your cauliflower sauce. Bake your dip until it's golden and bubbling!
Source: recipesfromapantry.com
This crispy, salty seafood dish is effortless! Add a ton of flavor with a tasty seasoning blend.
Toss your shrimp with avocado oil and Old Bay seasoning. Wrap each piece in a thin slice of bacon. The fat from the bacon will help the shrimp to go crispy when cooking, too!
Source: thehelpfulgf.com
Make this vibrant green hummus with creamy white beans and fresh green herbs.
Cannellini beans are ideal for this hummus. Cilantro and parsley add a bright green color. Blend your beans and herbs with garlic and green onions.
Add olive oil and tahini to produce a creamier texture. Lemon juice and salt lift the flavor of the other ingredients!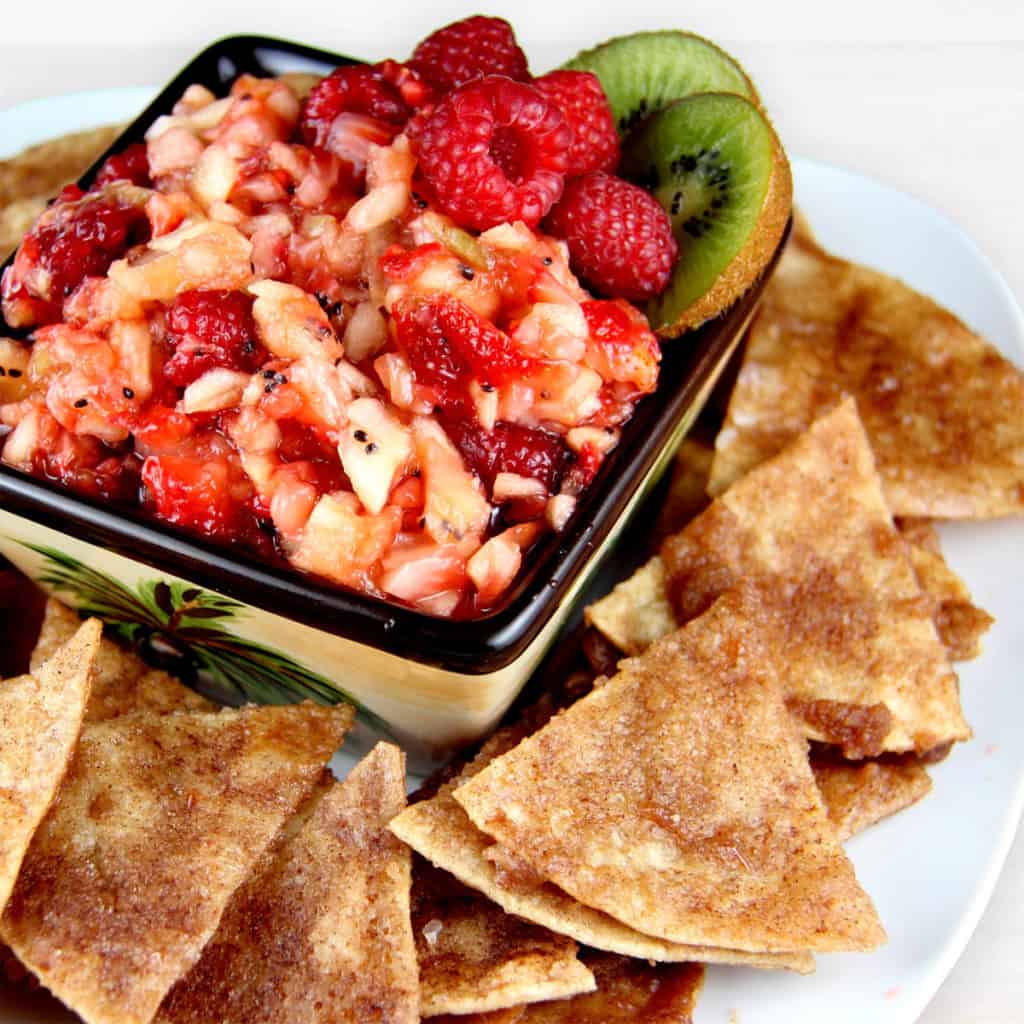 Source: regainyoursparkle.com
This healthy salsa is a twist on one of your favorite appetizers! It's naturally sweet from the sugar in the vibrant fruit.
This recipe uses kiwi, apples, strawberries, and raspberries. However, it's versatile as you can use your favorite fruits.
Mix your fruit with lemon juice to stop it from going brown. It also adds a slight zesty kick!
Make your chips with gluten-free soft tortillas. Cut them into wedges, sprinkle them with cinnamon sugar, and bake!
31 Best Dairy-Free Appetizers For Your Next Party
Dairy-free appetizers just got better with these scrumptious dishes that everyone will love.
Ingredients
1. Smoked Salmon Bites
2. Ahi Tuna Poke Nachos with Wontons
3. BBQ Cauliflower Wings
4. Thai Shrimp Cakes with Chili Aioli
5. Vegan Crab Rangoon
6. Air Fryer Pasta Chips
7. Spicy Edamame with Garlic
8. Air Fryer Pepperoni Chips
9. Hot Dogs in Puff Pastry with Pancetta
10. Veggie Spring Rolls with Spicy Peanut Sauce
11. Buffalo Chicken Poppers
12. Bruschetta with Avocado
13. Vegan Corn Fritters
14. Beet Baba Ganoush
15. Cantonese Spring Rolls
16. Cowboy Caviar
17. Kohlrabi Fries
18. Roasted Chili Corn Salsa
19. Vegan Stuffed Mushrooms
20. Vegan Cheese Dip
21. Zucchini Pizza Bites
22. Marinated Artichoke Hearts with Mushrooms and Asparagus
23. Raspberry Stuffed Dates Wrapped in Bacon
24. Stuffed Roasted Sweet Peppers
25. Crispy Onion Fritters
26. Cucumber Bites with Sunflower Chive Cream Cheese
27. Honey Lemon Pepper Wings
28. Spinach Artichoke Dip
29. Bacon Wrapped Shrimp
30. Green Goddess Hummus
31. Healthy Fruit Salsa and Gluten-Free Cinnamon Chips
Instructions
Scroll up to get a bunch of easy, yummy, and delicious recipes. Don't be afraid to get creative with the ingredients, you might discover a flavor you didn't know you liked.
Get your shopping list going and make sure you've got all the ingredients.
Get cooking and make your next Dairy-Free Appetizer!
Notes
Which one of these recipes was your favorite? Let me know in the comment section or on Pinterest!