Sticky, roasted buffalo cauliflower bites are a perfect comfort food! A healthy, flavorful treat the fam will love! Vegetarian and gluten-free!
If you're as hungry as a buffalo, grab your bowls and apron as this recipe is going to blow your mind!
These sticky and roasted cauliflower bites have been made to fit a mouth perfectly, so start forming a queue now!
Who knew cauliflower could be taken to superhero status with just a tasty Buffalo sauce and a few simple ingredients?
You could add these to a table crowded with friends or serve them as a far superior alternative to popcorn; these Cauliflower Bites are perfect for loads of occasions.
Ingredients You'll Need
Cauliflower – A large head, perfectly ripe, would be the best here. If you can find organic, even better, but avoid any soft heads as you want a bit of crunch here.
Almond flour – You could use coconut flour or oat flour here too, or just regular flour – this can be changed to suit.
Garlic powder – This ingredient is a great way to boost some garlicky flavor in dry ingredients without having large pieces of garlic. You could omit, though, and add something else. Onion powder or smoked paprika would also work well.
Sea salt – Sea salt provides the best nutrition and strength of flavor, but you could use regular table salt.
Black pepper – freshly ground black pepper gives far more taste, but already ground pepper would be good.
Egg – A large egg, free-range if possible, to give you the best nutrition.
Sauce Ingredients
Buffalo sauce – Choose your favorite one and be generous! We want these cauliflower Bites able to bite!
Olive oil – Choose a good quality oil where possible. You could use another flavorless oil if you wish.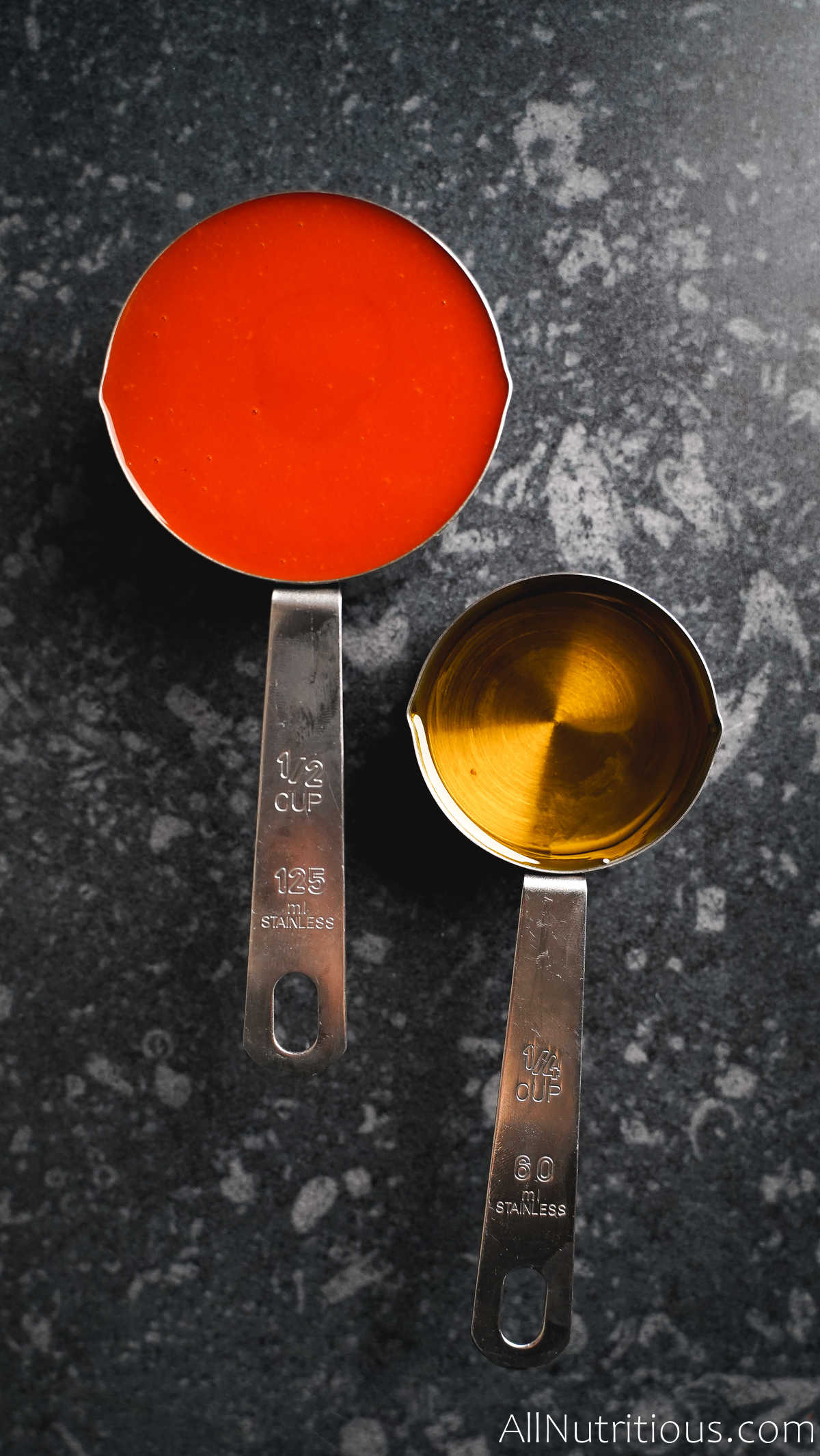 How to Make Buffalo Cauliflower Bites
Preheat the oven to 400F.
Wash the cauliflower head well and cut it into florets—place to one side.
In a large bowl, combine the almond flour, garlic powder, sea salt, and black pepper, stir well.
In another bowl, break the egg and whisk it well.
Add the cauliflower florets into the bowl with the egg and then stir to fully coat the cauliflower.
Add the egg-coated cauliflower to the other bowl with the almond flour mixture.
Cover the bowl and shake until the cauliflower is fully coated.
Spread the cauliflower on a greased baking sheet, like this one, and roast in the oven for 30 min. You could take out and turn all the bites over halfway if you wish to get an even color.
When golden and crisp, transfer the cauliflower to a bowl.
Stir together the buffalo sauce and olive oil and then heat in a microwave until hot. A good cup size of the sauce and 2 tbsp of olive oil would be good if you like it sticky; however, feel free to add as much as you like.
Pour the hot sauce over the cauliflower bites and gently stir to cover completely.
What Can I Serve with the Buffalo Bites?
These Cauliflower bites are perfect for many dishes. You could add them to a buffet table as a vegetarian option for the family and use them for birthday parties and social events.
You could serve these Cauliflower Bites with sticks of celery and carrot sticks, a simple addition to this fiery snack.
They transport well so you could make up a dish and take it to a friend's house, for a social evening with drinks and other snacks.
Add to a picnic or lunchbox with salad ingredients and a sandwich, although they will go a little softer when packed up.
Serve with boiled rice or a baked sweet potato.
Add to the top of a salad to create a flavor boost.
These Cauliflower Bites could be added to a spicy stir fry with slices of bell pepper and noodles.
Why Are My Cauliflower Bites Soggy?
These Cauliflower Bites can go soggy if you leave them to go cold and cover them. The crispy finish from the oven can also be lost when they have been left in steam.
They still taste great with less crisp, though, so make sure you haven't overcooked them beforehand in the oven. You want your bites with some crunch, not just in the outer coating!
Easy fix, you can pop them into an air fryer to crisp up again, or you could put them back in the oven or under a hot grill briefly – beware it won't take long, the Buffalo Dip is likely to catch a bit under a high heat.
What's The Best Buffalo Sauce?
Buffalo sauce is a delicious hot sauce made from cayenne pepper, melted butter, and vinegar, and the best one would be a brand that uses the least processing and no added sugars. You could try and make your own version, too, and there are a number of recipes out there to try. You could add this hot sauce to so many other dishes, though, so it's well worth the effort.
Other Recipes You May Like
Buffalo Cauliflower Bites (Viral TikTok Recipe)
These buffalo cauliflower wings are yummy, strong in flavor, and easy to make. A perfect healthy snack for buffalo sauce lovers! Vegetarian and gluten-free.
Ingredients
1 large head cauliflower (cut into florets)
1 cup almond flour
2 tsp garlic powder
1/2 tsp sea salt
1/2 tsp black pepper
1 large egg
Sauce
1/2 cup Buffalo sauce
1/4 cup olive oil
Instructions
Preheat the oven to 400F.
Cut your cauliflower head into florets.
In a large bowl, combine almond flour, garlic powder, sea salt, and black pepper.
Break an egg into another bowl and whisk it.
Add the cauliflower florets into the bowl with the egg and stir to fully coat the cauliflower.
Now, add the coated cauliflower into the other bowl with the almond flour mixture. Cover the bowl and shake until the cauliflower is fully coated.
Spread the cauliflower on a baking sheet and roast in the oven for 30 min.
Once fully cooked, transfer to a bowl.
Heat a mixture of buffalo sauce and olive oil in a microwave and pour over the cauliflower bites. Gently toss to coat.
Nutrition Information:
Yield:

4 small bowls
Serving Size:

1 small bowl
Amount Per Serving:
Calories:

361
Total Fat:

29g
Saturated Fat:

3.6g
Trans Fat:

0g
Unsaturated Fat:

24.2g
Cholesterol:

47mg
Sodium:

1126mg
Carbohydrates:

18g
Net Carbohydrates:

10g
Fiber:

8g
Sugar:

5.7g
Protein:

12g
Nutritional values were obtained with automatic software using the amounts of products used. To get the most accurate representation of the nutritional values, you should calculate them with the actual ingredients used in your recipe. You are solely responsible for the nutritional information obtained to be accurate.