Feeling full and satisfied while eating healthy? Yup, brown rice can help you do that! Here are the best healthy brown rice recipes to get you started!
Brown rice is a versatile grain with a nutty flavor that packs a powerful fiber punch and keeps you full. It is healthy and nutritious. But do you know how to cook it to be exquisite, too?
Healthy main dishes are often labeled as bland or tasteless. But these amazing brown rice recipes will show you just the opposite.
With meat, veggies, cream, and/or cheese. Pick your choice. This roundup of recipes with fresh ingredients offers so many different rice ideas in a great way. And I bet you'll want to try them all!
What is the Healthiest Way to Eat Brown Rice?
Brown rice is a more nutritious alternative to white rice. And just this swap alone will make your meals healthier in an easy way.
To ensure you get the most out of this powerhouse, follow these simple rules. Do not overcook it. Toss it with olive oil. And pair it with healthy veggies and proteins.
If you are worried about phytic acids, you may want to consider soaking it before cooking so that it's more digestible.
How to Eat Brown Rice for Weight Loss?
The fiber in brown rice will help you keep full longer and prevent you from snacking in between meals. That can have a great impact on your weight loss journey.
Now, how you exactly eat rice to lose weight also depends on what you pair it with. Stick to healthy fats and oils, and don't be afraid to throw in more low-carb veggies.
Chicken and Brown Rice Recipes
Brown rice's number one partner is, without a doubt, chicken. So here come some best brown rice recipes with this match-made-in-heaven combo.
Source: neilshealthymeals.com
Brown rice, chicken, peas, mushrooms, and onions. How healthy does that sound?
Oven-baked casserole dish that the whole family will love. It serves six generous portions, so there will be plenty of food for everyone.
The prep time is just 10 minutes, but you'll have to wait for an hour before you devour this goodness.
Moist, tender, and packed with flavor. To make it a bit sharper, top with some parmesan cheese.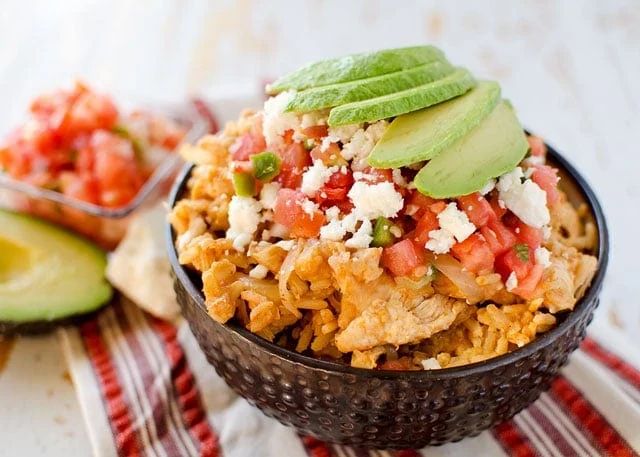 Source: julieseatsandtreats.com
Rice, chicken, enchilada sauce, green chilies, and pico de gallo. If that doesn't sound like fiesta in a bowl, then I don't know what does.
This recipe is made in the crockpot, so it takes a bit more to make. However, it is totally fuss-free and convenient.
An easy and delicious meal that is bursting with nutrients.
You can even serve with some pita chips for an added crunchy bite. Totally yum!
Source: ifoodreal.com
Both chicken breast and thighs are added to this yummy pot. Along with brown rice and carrots, they make one filling dish that is loaded with protein and fiber.
The flavor comes from thyme, oregano, bay leaves, and cumin.
This delicacy is made in just under an hour, and it really is the simplest dish ever.
Plus, it is creamy and so irresistible.
Source: thecleaneatingcouple.com
Healthy fried rice with chicken and veggies for some Asian takeout at home.
Loaded with peppers, carrots, onions, peas, and eggs. Plus, garlic and toasted sesame oil for some deep and earthy notes.
The bowl also contains coconut aminos, and it's full of flavor.
For that Chinese restaurant look, you can serve it topped with some sesame seeds and sliced green onions.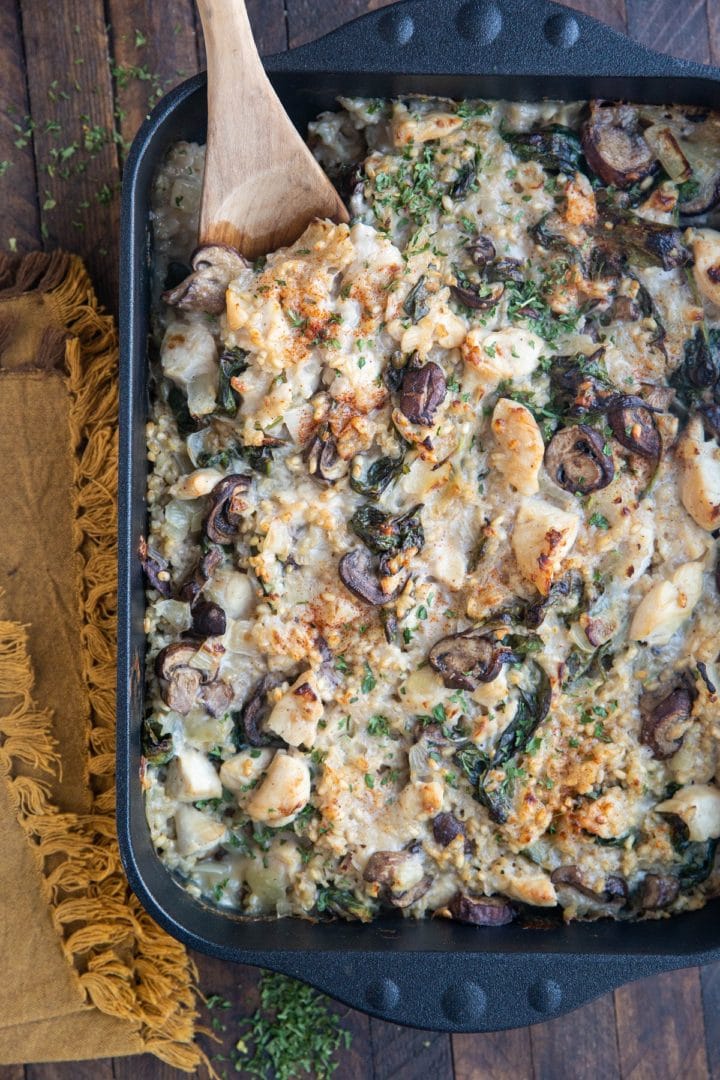 Source: theroastedroot.net
If you enjoy the cream of mushroom soup, you will go crazy for this nutritious recipe. Loaded with all that creaminess minus the dairy, this lovely dish is the perfect comfort food to serve for dinner.
The ingredients here are simple. The method is straightforward. Onions, mushrooms, chicken, baby spinach, rice, and coconut cream.
I bet you can almost smell this rich casserole!
Source: currytrail.in
Well, meal-prep enthusiasts, this one is definitely for you!
A made-in-advance lunch/dinner that has all the needed nutrients to keep you full. Rice, chicken, broccoli, zucchini, and cherry tomatoes.
Pan-fried meat and veggies with rice for protein, fiber, and much-needed minerals and vitamins.
The absolute must here has to be the garlic. Ten whole cloves are added to this recipe, and it is just what this simple meal needs.
So much flavor and aroma. You will be tempted to open your lunch box as soon as you arrive at the office.
Source: livinglou.com
If you're not familiar with Congee, it can best be described as rice porridge.
It is creamy, full of flavor, and definitely handles different ingredients well. Which is perfect if you like experimenting in the kitchen.
The rice here is cooked in chicken broth, water, and soy sauce. It combines chicken, ginger, and garlic. Plus, a touch of lime juice and sesame oil for flavor.
It's best if you add some chili flakes to this dish. However, a simple sprinkle of paprika will also do fine.
Source: ministryofcurry.com
Chicken biryani, but in a healthier way. This dish features brown rice for more fiber. And it is spiced up with herbs and aromatic seasonings that add a warm touch.
The color of this dish is vibrant and orange. And it pairs wonderfully with the chicken.
The rice packs a powerful saffron taste. And the yogurt-marinated chicken complements this perfectly.
Source: theflavoursofkitchen.com
This recipe is one of those dishes that you often make to use up leftover rice. But trust me, this rice bowl is so worth making it from scratch, too.
Besides brown rice, this dish combines peppers, broccoli, bok choy, and some cherry tomatoes.
It is seasoned with Italian flavors. Plus, it requires two red chilies and seven garlic cloves.
Which means that it is spicy, aromatic, and nothing close to boring.
Source: therecipewell.com
Pretty simple to put together, yielding comforting results. This nourishing soup is perfect for cold days, but to be honest, I love making this in summer, too.
It features all the chicken soup staples and warming spices. It is loaded with chicken, onions, carrots, and broth. And it is packed with brown rice for a more filling meal.
The aromatics of choice are ginger, garlic, thyme, and bay leaves.
Serve with a squeeze of lemon and some chopped parsley on top.
Healthy Shrimp and Brown Rice Recipes
As a seafood paella lover, I admit that rice and shrimp are also an unbeatable combo. But don't take my word for it. Check out these delicious healthy recipes.
Source: thisdelicioushouse.com
With frozen shrimp, peas, and corn, this has to be one of those simple dinners to whip up after a long day at work.
It takes only 22 minutes to make. It is super healthy. And it also packs a pretty delicious bite. So, how can you possibly not give this a try?
Rich in ginger and garlic, this Chinese-inspired meal is definitely better than takeout.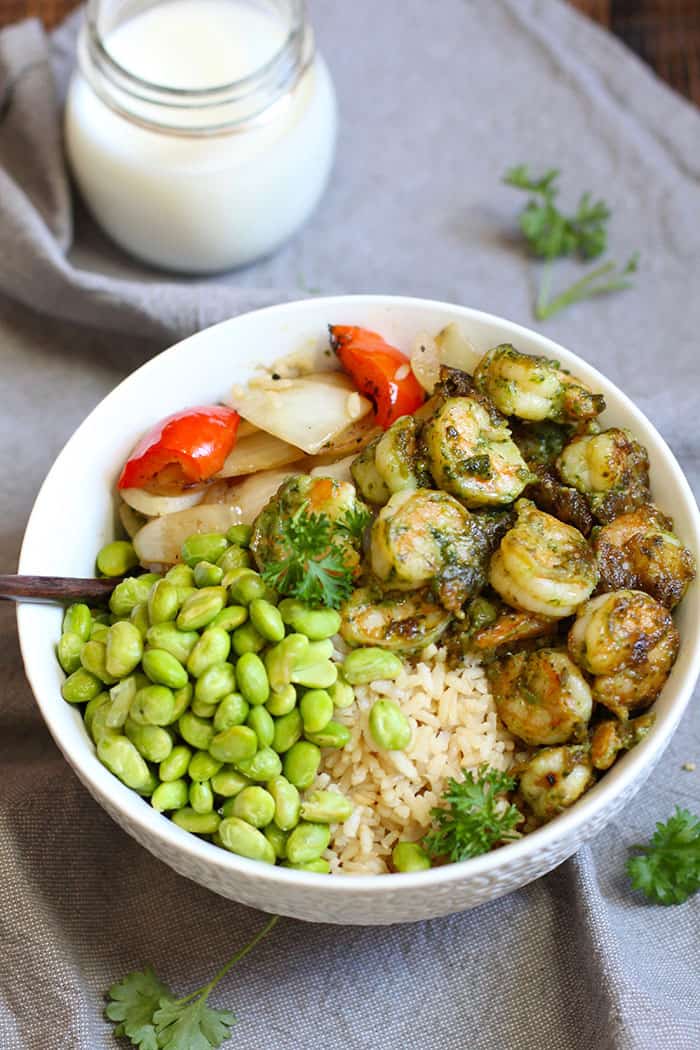 Source: suebeehomemaker.com
I love layered dishes. And this lovely bowl packs shrimp, onions, edamame, and peppers on a bed of brown rice.
The most flavorful thing here has to be the pesto-marinated shrimp. And this recipe even shows you how to make the sauce yourself.
Everything's grilled and rich in flavor, which makes this dish even tastier.
Source: cravingsomethinghealthy.com
Just like white rice, brown rice also has an affinity for Asian cuisine. It takes on soy sauce and other Asian staples with grace. And it provides you with an incredible flavor.
And that's also the case with this Asian salad.
It is packed with rice, carrots, cabbage, mushrooms, radishes, cucumbers, and shrimp. And it is as crunchy, colorful, and delicious as it sounds.
The Asian dressing combines everything together. But it is the basil, cilantro, and mint that work well against the Asian flavors and provide freshness.
Source: ministryofcurry.com
Tender shrimp. Fluffy rice. Caramelized onions. And warm Indian spices that bring fragrance and flavor to your table.
All that, made in the Instant Pot for a fuss-free dinner. It is made in 40 minutes, and it is something that you will be making on the regular.
This recipe features basmati rice, but please try this with brown rice and see the difference.
Source: dinneratthezoo.com
Shrimp and vegetables smothered in a finger-licking teriyaki sauce and served on top of fluffy brown rice.
This delicious dinner is on your table in just 20 minutes, and it will instantly become a favorite.
This brown rice stir-fry recipe recommends bell peppers and snow peas, but whatever's in season will work well here for extra flavor.
Or you can even add frozen veggies, too, for an easy vegetable boost.
It generously serves four people, but you might want to double the batch, just in case. I bet you will be asking for refills.
You need to try these other frozen shrimp recipes for dinner next!
Source: theflavoursofkitchen.com
For best results, this recipe recommends a cast-iron skillet. Simply toss the shrimp with the Cajun seasoning, and fry for about four minutes.
Then you mix it up with onions, garlic, peppers, and tomatoes. Then the rice comes into play, and everything's drowned in stock.
So juicy, tender, and fluffy, this recipe is the perfect use for your Cajun jar.
This is one of the best weekend dinner ideas for a fun family night!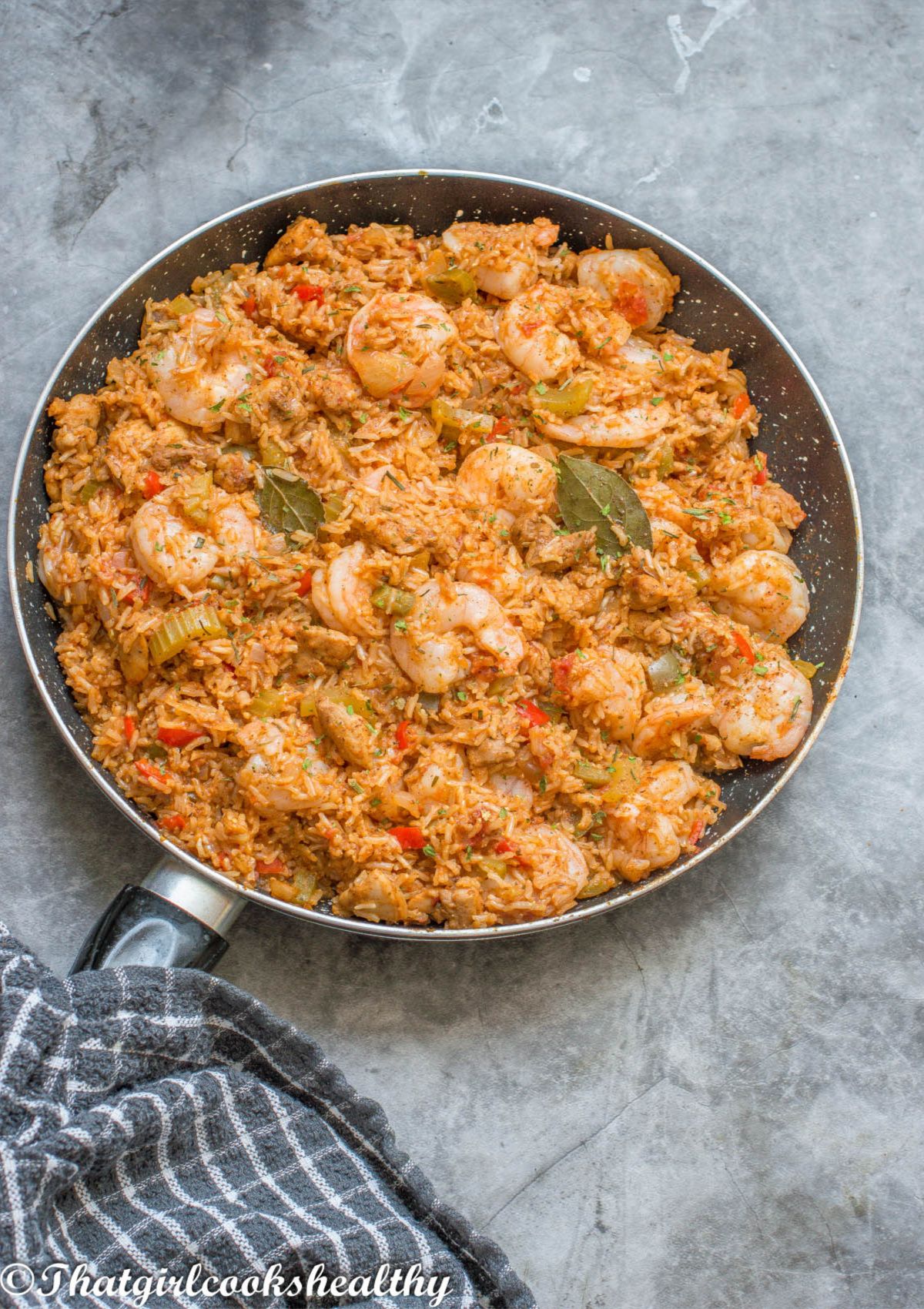 Source: thatgirlcookshealthy.com
Not only does this recipe feature tender shrimp but it is loaded with juicy chicken, too. Not to mention, there are a whole lot of veggies, too.
Onions, celery, peppers, and tomatoes all play their part and give this dish a distinctive taste.
There are also thyme, paprika, oregano, and a decent amount of Cajun to spice things up.
If you want some New Orleans flavors in your kitchen, then this recipe will surely satisfy you.
Source: livinglou.com
If you love adding salty, spicy, and acidic touches to your dishes, then this stir fry with kimchi, shrimp, and rice belongs on your table.
The shrimp here are marinated in a soy and gochujang sauce and are loaded in garlicky flavors.
Then, they're mixed with kimchi and served over fluffy brown rice.
This meal is rich in fiber, nutritious, and incredibly delicious. See for yourself!
Easy Brown Rice Recipes
All about simple and quick recipes? Then these easy brown rice delights packed with healthy whole grains are made for your busy weeknights!
Source: thecinnamonjar.com
This has to be the most vibrant and colorful clash of flavors and textures ever.
Fluffy brown rice is mixed with corn, red peppers, dried apricots, pecans, and sultanas. And it also contains a handful of coriander to freshen things up.
Everything's tossed in a honey, Dijon, and orange dressing.
But the warmth that comes with every bite comes from the generous teaspoon of cinnamon that the rice is infused with.
Source: theveganatlas.com
This pilaf is inspired by the Pakistani delight Tehri. And it boasts an incredible combo of flavors.
Sweet potatoes, curry powder, garlic, scallions, and a tablespoon of ginger.
Aromatic, warm, fluffy, and so soft that it practically melts in your mouth. You really have to give this a try.
It is recommended to finish the pilaf off with toasted cashews. They boost the texture and offer a crunchy bite.
Source: theveganatlas.com
Whether with meat or not, stuffed peppers are always a welcome addition to my table.
They are filling and nutritious, and they are pretty convenient to serve, too. Especially if you have guests coming over.
This recipe is not only meatless but 100% vegan, too. It is a combination of brown and wild rice. It is also packed with fruity notes of apples and oranges.
Plus, there is cinnamon for warmth and chopped walnuts for texture.
Source: cookeatlivelove.com
A family-friendly meal that doesn't fail to impress at gatherings. And how could it possibly be anything less than spectacular when there are so many flavors supporting this grain?
This recipe is for brown rice and mushrooms with onions and garlic. It is baked in the oven, and it is super simple to make.
Red miso and soy sauce offer the most powerful flavor punch. But you can also mix in some parmesan cheese to add some sharpness to the casserole.
Source: thebellyrulesthemind.net
You can serve this for lunch, dinner, or as a side dish. Isn't that just the versatile rice recipe every busy cook needs?
And speaking of being busy, this recipe comes together in 30 minutes, which is yet another reason why you should definitely make it.
It combines beans, onions, garlic, and tomatoes. And it is the most flavorful Spanish rice you'll ever taste.
Source: whatagirleats.com
The thing about rice salads is that they can serve as a whole meal or as a side.
They're so versatile and pair with anything that they make a great thing to bring to a potluck or large gathering.
This particular salad is best served cold. It is loaded with cannellini beans, feta cheese, and lots of herbs.
It is also tossed with lemon and garlic flavors, which makes it even more aromatic.
Source: runningtothekitchen.com
Brown rice with onions and collard greens. Spiced up with cumin, ginger, turmeric, and coriander. And tossed with lemon juice.
The mixture also uses one tablespoon of hot sauce. But for those who don't enjoy the spiciness, feel free to omit this step.
This rice takes 15 minutes from stove to table, and it serves four people.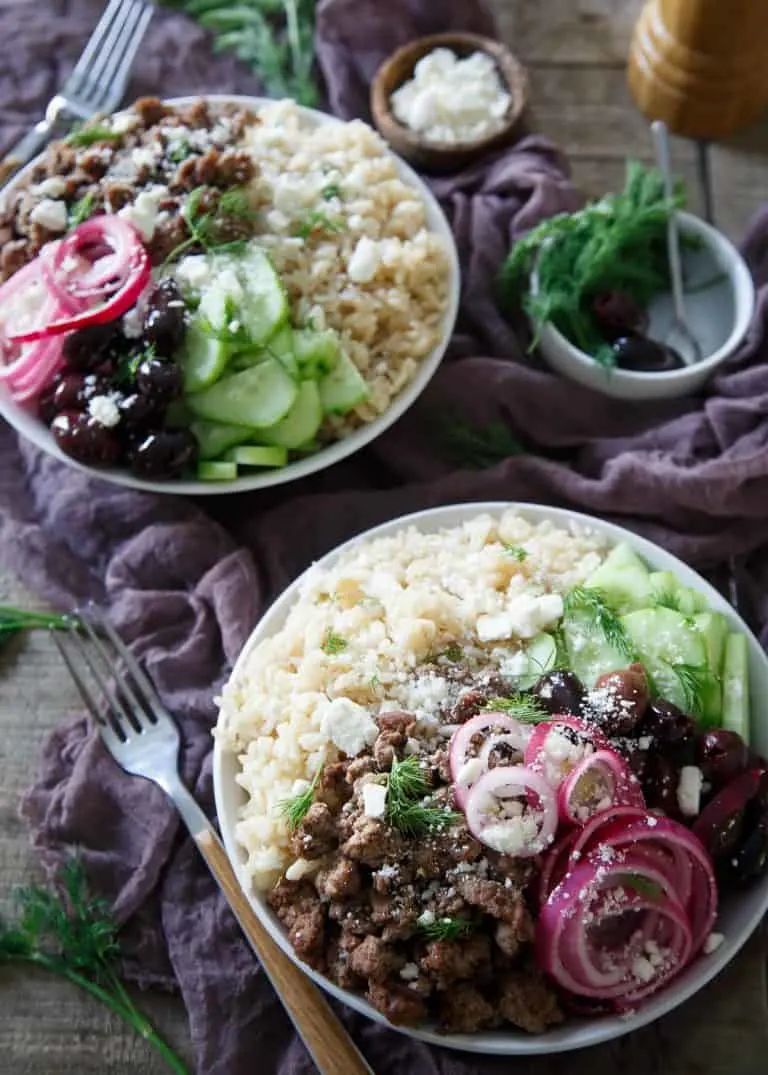 Source: runningtothekitchen.com
Feeling nostalgic about your Greek vacation? Then bring the flavors of Greece to your kitchen with this filling grain bowl recipe with perfect brown rice.
If you love both Gyros and Greek salad, this comes in between. Except there is brown rice for the best result to keep you full.
Ground lamb, red onions, cucumber, kalamata olives, fresh herbs, and, obviously, feta cheese to wrap it all up.
This flavorful, healthy food recipe is ready in 35 minutes, and it is super bursting with great texture.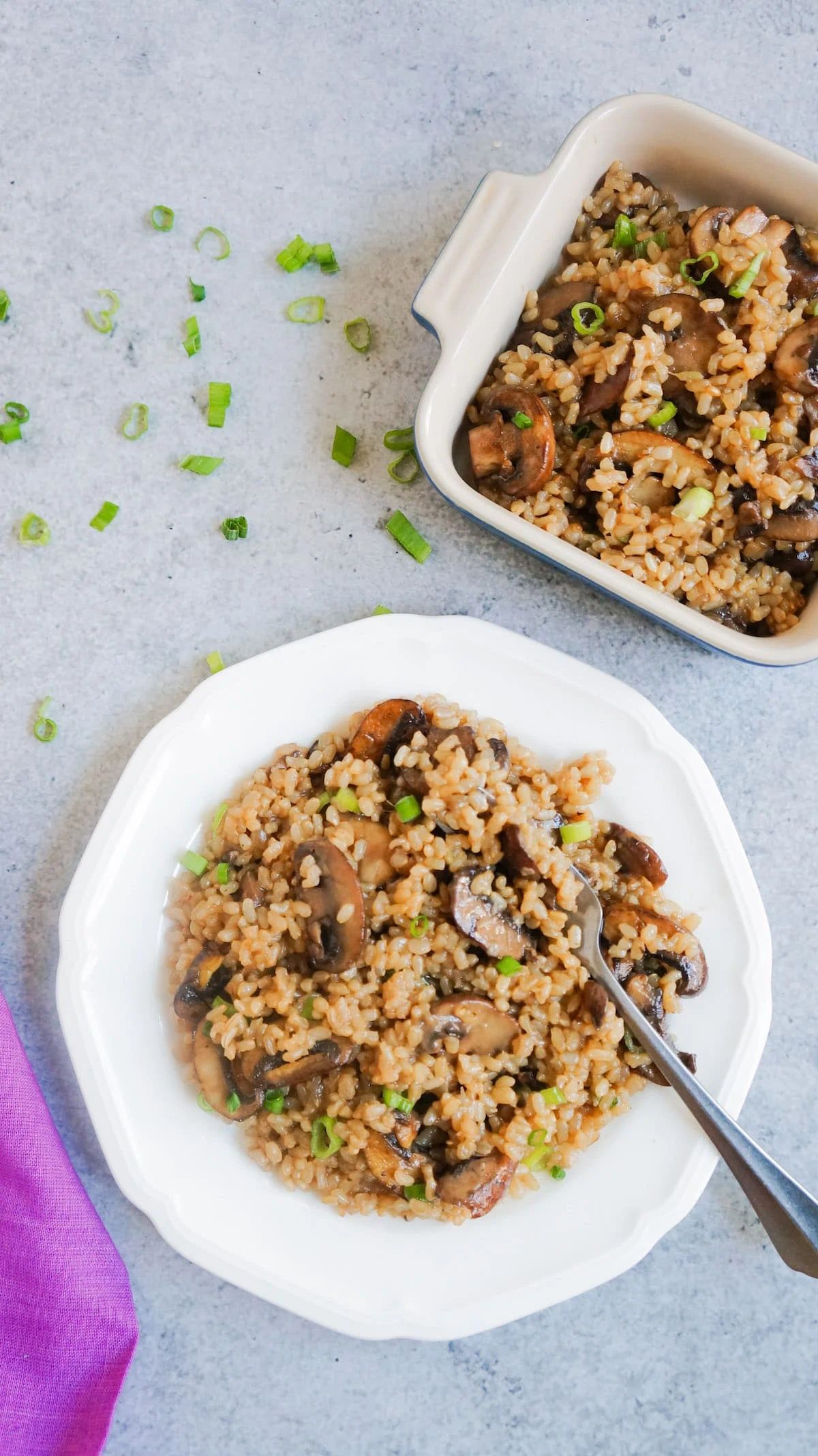 Source: pipingpotcurry.com
Easy meals should require no more than one pot and five ingredients. Like this recipe right here.
Brown rice, onions, garlic, mushrooms, and broth. Of course, you can add some salt, butter, or even parmesan cheese to it to flavor it.
The recipe offers two methods, stovetop and Instant Pot. But even if you have the appliance, I suggest you try both versions.
Source: pipingpotcurry.com
This Mexican casserole looks like something you've come up with to use up leftovers.
But whether you have leftover rice or not, this Mexican brown rice dish is something you'll gladly come back to.
It packs red onions, tomatoes, corn, black beans, jalapenos, and lots of peppers. It is also loaded with cheeses. And it features some lime juice to make these veggies sing.
It is oven-baked, ready in 40 minutes, and super simple. This is one of the best meatless dinner ideas for Monday night dinner!
Source: profusioncurry.com
Lime and cilantro are probably one of the freshest combinations ever. It can seriously uplift any rice or veggie dish by giving it aroma, zestiness, and lots of flavor.
The brown rice in this recipe is also infused with garlic. So it can never be boring.
Earthy, fluffy, and flavorful. If you use leftover rice, this recipe can be put together in a jiffy.
Source: maesmenu.com
Edamame and cranberries may not seem like an obvious pairing. But once you put them to work together, they give you so much joy.
Great complementing texture. And flavors that excite with each bite. This rice is chewy, fluffy, and crunchy, with touches of crunchiness and tanginess.
Source: gastronotherapy.com
All of your favorite Mexican seasonings are in this pot of rice and beans. Chili powder, cumin, paprika, and oregano join forces to give you the best possible flavor.
Except for beans, this rice also combines peppers, tomatoes, and jalapenos. And it is cooked in a lovely vegetable broth that makes it super creamy.
Perfect for your Tex-Mex dinners. This recipe is a serious crowd-pleaser.
Have leftover beans? Check out these canned pinto bean recipes!
Source: veggiessavetheday.com
Brown rice, beans, corn, avocado, and cherry tomatoes. Colorful, fluffy, and soft. Plus, a bit crunchy and with a touch of acid.
This fiber-loaded salad comes together in 20 minutes. And it is perfect for your lunch box.
The thing you'll love the most about this recipe? It features Indian, Mediterranean, and Mexican variations of this salad. So neat!
Source: streetsmartnutrition.com
No, this is not a hash-brown recipe. But I promise you, it is just as comforting. And much more exciting!
Sweet potatoes, corn, edamame, and chicken are combined within this brown rice pot. But it is the pecans and cranberries that make it super interesting!
Great texture. Great taste. And great as a leftover meal. This easy recipe is done in just 30 minutes.
Source: twohealthykitchens.com
One pot means a night without too many dishes to clean. And I'm all about that. Especially after a long and tiring day.
If you need something easy that doesn't require too much work, this skillet dinner can help.
Rice, corn, onions, cheddar, plus salsa and a lot of Taco seasoning. This Tex-Mex delight comes together quickly and disappears even quicker.
The recipe uses hot sauce, but you can also add some chopped jalapenos.
Source: plantbasedonabudget.com
If you're a meat lover, you must have a certain aversion to vegan dishes. But trust me, this delight will make you change your mind.
Packed with protein, fiber, and such flavorful ingredients, this nutritious meal will have you thinking you're eating chicken.
Creamy rice, broccoli, peppers, onions, and tofu. All combined together, cooked in a pan, and flavored with lots of garlic.
Source: whereismyspoon.co
Speaking of vegan, here is a pilaf that will satisfy even the hardcore meat fans. Because it is so loaded with veggies and different tastes, it is impossible not to satisfy.
Mushrooms, peppers, zucchini, onions, lentils, and carrots. Plus, ginger and garlic. And a bunch of warm Indian spices.
A one-pot dish for a convenient dinner. And to tell you a secret, the leftovers taste even better.
Just sprinkle some parmesan cheese over to add a bit of a kick, reheat, and enjoy.
Source: plantbasedonabudget.com
Ah, risotto! If you have been craving something filling and creamy, nothing beats this velvety dish.
This recipe is plant-based and doesn't even use vegan creams. The smooth texture comes from a silky bean puree that the rice is smothered into.
If you're not vegan, feel free to add some parmesan on top. But please, give this recipe a try on its own. It is so rich, and I promise you'll be satisfied.
Source: cravingsomethinghealthy.com
The name is enough of a spoiler to tell you what this recipe is about. Bell peppers stuffed with a creamy tuna salad with rice.
Unlike other stuffed pepper recipes, this one is eaten raw and doesn't require you to turn the oven on.
The tuna stuffing combines cucumbers, tomatoes, olives, hummus, and, obviously, brown rice.
You'll want to try these other flavorful green pepper recipes next!
Source: pipercooks.com
This deconstructed sushi bowl is an ingenious way to use up your rice leftovers. It combines tuna, cucumber, avocado, and nori sheets.
And on top of it all, it is drizzled with a spicy sriracha and mayo sauce.
You can make a large bowl or serve as individual smaller portions.
Besides, this recipe is easy to customize. Another great addition to it is smoked salmon.
Source: thepyperskitchen.com
This dish is bursting with umami flavors. It is so earthy and buttery at the same time that you cannot help but ask for seconds.
Kale, mushrooms, rice, and butter are the main ingredients here. But it is the white miso and soy sauce that combine them all beautifully.
The kale and mushrooms are baked, not pan-fried, which adds the flavor some depth.
Source: cravingsomethinghealthy.com
Have you ever tried shakshuka with rice? Adding some fiber turns your favorite breakfast into a filling and satisfying brunch. Or lunch. Heck, even dinner!
This recipe includes rice, peppers, tomatoes, spinach, onions, and, of course, eggs and feta cheese.
It boasts Mediterranean flavors. And it is incredibly soft and creamy.
Plus, it takes only 30 minutes to make.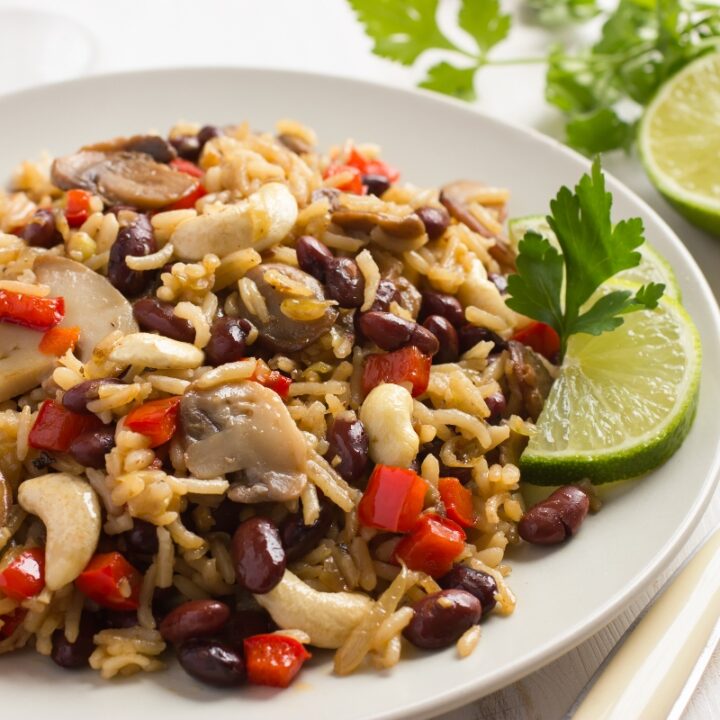 41 Best Brown Rice Recipes You Need
Elevate your mealtime with these delicious and healthy brown rice recipes, perfect for a balanced lifestyle.
Ingredients
1. Oven Baked Chicken and Brown Rice Casserole
2. Crockpot Fiesta Chicken Rice Bowls
3. Instant Pot Chicken and Rice
4. Healthy Chicken Fried Rice
5. Creamy Mushroom Chicken and Brown Rice Casserole
6. Chicken Brown Rice Meal Prep
7. Brown Rice Chicken Congee
8. Chicken Biryani
9. Chicken and Vegetable Brown Rice
10. Instant Pot Chicken and Rice Soup
11. Shrimp Fried Rice
12. Shrimp Pesto Rice Bowls
13. Rainbow Asian Rice Salad
14. Shrimp Biryani
15. Shrimp Stir Fry
16. Cajun Shrimp and Rice
17. Creole Shrimp Jambalaya
18. Shrimp and Kimchi Stir Fry
19. Healthy Brown Rice Salad
20. Brown Rice and Sweet Potato Pilaf
21. Brown and Wild Rice Stuffed Peppers
22. Miso Mushroom Brown Rice
23. Rice and Beans
24. Mediterranean Rice Salad
25. Collard Greens Rice
26. Greek Brown Rice Bowls
27. Brown Rice Mushroom Pilaf
28. Vegetarian Mexican Casserole
29. Cilantro Lime Brown Rice
30. Edamame Cranberry Brown Rice Salad
31. Mexican Pinto Beans and Rice
32. Brown Rice Salad
33. Brown Rice and Sweet Potato Hash
34. One Pot Mexican Rice Skillet Dinner
35. Veggie Stir Fry
36. One Pot Vegan Pilaf
37. Creamy Brown Rice Risotto
38. Sprouted Brown Rice Tuna Stuffed Pepper Salad
39. Tuna Sushi Bowl
40. Miso Fried Rice
41. Shakshuka with Rice and Greens
Instructions
Scroll up to get a bunch of easy, yummy, and delicious recipes. Don't be afraid to get creative with the ingredients, you might discover a flavor you didn't know you liked.
Get your shopping list going and make sure you've got all the ingredients.
Get cooking and make your next Healthy Brown Rice Recipe!
Notes
Which one of these recipes was your favorite? Let me know in the comment section or on Pinterest!