Think that it's tricky to find a good pairing for uniquely packaged tamales? Then these complementing Mexican sides will make you think again about what to serve with tamales!
When tamales are the centerpiece of your dinner table, you need some more Mexican cuisine flavors to perfectly round out your feast!
But what if you don't know how to serve tamales? Or what to pair this Latin staple with? Then this article couldn't come at a better time.
Pick your match from these 21 amazingly delicious side dishes! Then enjoy the delight and see how satisfying and tummy-filling can a proper tamale dinner be.
What Kind of Food is Tamale?
Originally from Mesoamerica but mainly a Mexican street food dish, tamales are delicious corn dough pockets with meaty fillings and topped with sour cream or Mexican crema.
In short, a tamale is a complete meal that comes in a to-go package.
The most unique thing about this Mexican staple is the fact that it is wrapped in corn husks. Or banana leaves. Obviously, the banana leaf wrap isn't edible, but it seriously adds to the flavor.
The dough is filled with slow-cooked meat, steamed, and wrapped in a beautiful package. And I promise it is too darn hard to resist opening.
What to Serve with Tamales
Any salad-like dish will pair well with your traditional Mexican dish of tamales, but it's the Mexican flavors that you need to be aiming for for the ultimate indulgence. Here are the best choices: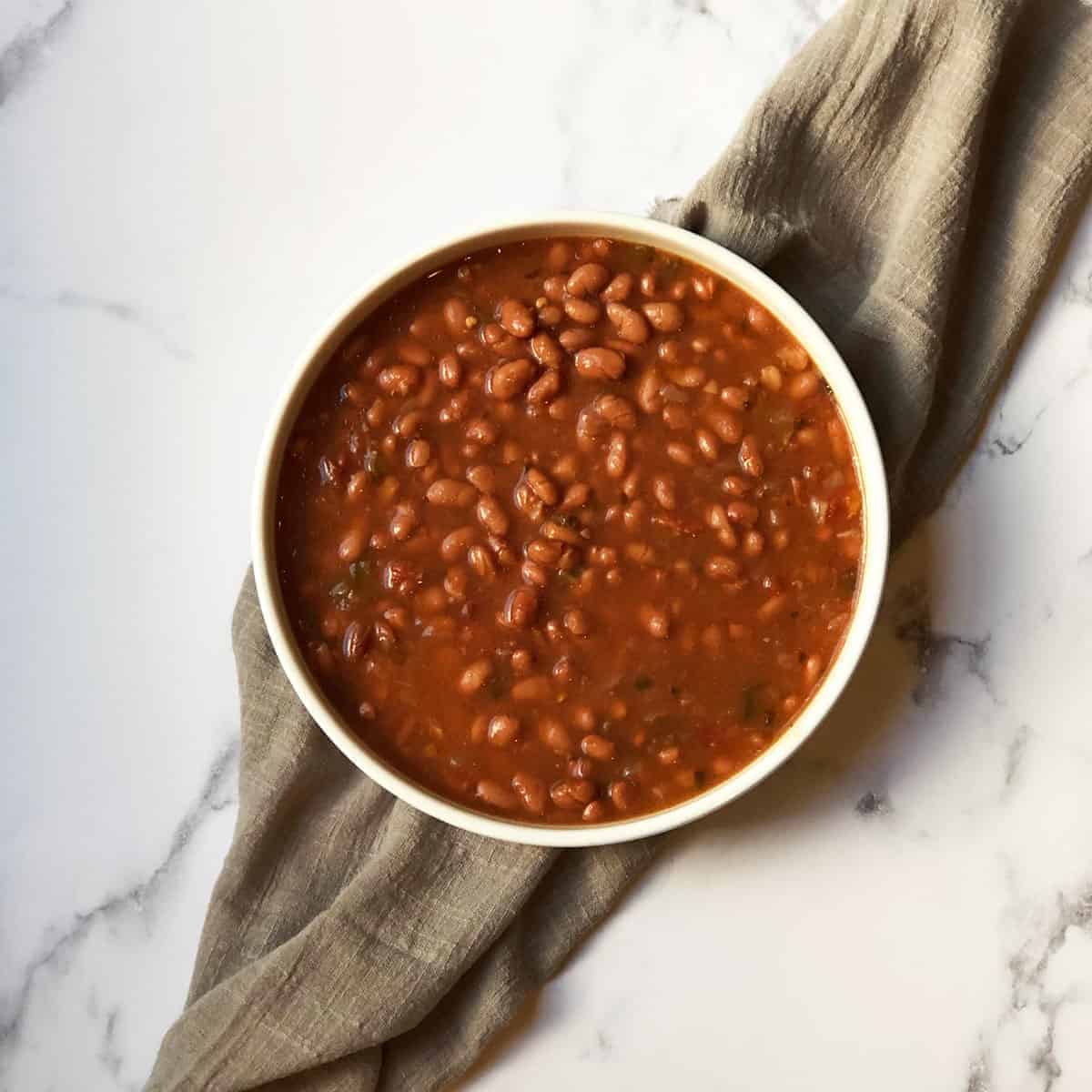 Source: twopinkpeonies.com
Does your Spanish go beyond your high-school "Donde esta la biblioteca?" Then you already know that this recipe features alcohol. Borracho means drunken in English.
The pinto beans are loaded with beer, jalapenos, spices, and bacon. And yes, that's why there are loads of flavors. And when each bite is equally tasty, how can you not be tempted to devour the whole bowl?
The best way to make this perfect side dish is in a crockpot. However, the stovetop version can be just as delicious to pair with your Mexican tamales. The only thing you need to do is simmer it slowly.
You can enjoy another tasty side dish with bacon, check out these brussels sprouts with bacon and dates.
Source: bellyfull.net
Okay, tomatillo salsa has to be one of the most versatile sides that just fits every Mexican dish. But trust me on this, this green dip is a great option for your spicy tamales.
With garlicky flavors, spicy jalapeno notes, and rich roasted tomatillos, this salsa will add a flavorful punch to your tamales, burritos, and pretty much any meat and bean-loaded dish.
Plus, it is the perfect addition to serve with your corn chips!
Source: theforkedspoon.com
Pico de Gallo, fresh salsa, or diced tomatoes, onions, and peppers. Whatever you call this side dish, know that it's perfect for your tamales.
The cilantro and lime in the mix add fresh flavors and zestiness. And the serrano peppers are in charge of the spicy kick.
Add some salt or spices to taste, and who can possibly resist? Just finely dice and mix well, and this colorful bowl's ready.
Source: thequickerkitchen.com
Can't think of a party without your queso and chips? Then you will love this queso-inspired Mexican rice side dish.
Loaded with melted cheese, this rice dish will seriously transform your Mexican dinners. Spiced up with some tomatoes with chiles, it's even better.
The recipe suggests cooking the rice with chicken broth, for the best taste ever. I suggest topping it off with some parmesan for extra cheesiness.
Want to make this dish a little healthier? Check out these healthier alternatives to white rice!
Source: acedarspoon.com
Arugula, lemon juice, and pine nuts are old friends that know how to complement each other well. Give them tomatoes and parmesan, and the party of three becomes a real feast in your mouth.
And this lovely salad is nothing but festive!
Refreshing, filling, zesty, and with a crunch that your tamales need, this is a great salad for any Latin-inspired dinner.
If you want to, you can add some chili flakes for a nice kick.
Source: acedarspoon.com
Coleslaw with mango, anyone? If you haven't tried it already, give it a shot with your tamales. The acidity, sweetness, and zestiness, will pair perfectly with the soft meaty filling.
This easy recipe includes jalapenos for spiciness and fresh fruit for sweetness. Feel free to omit for a kid-friendly side, though. Either way, this creamy coleslaw is perfect for Mexican dishes.
Add some grilled meat to it, and it becomes a meal on its own, too!
Source: areinventedmom.com
Only five ingredients are needed to whip up this great side dish. But the short ingredient list doesn't mean the taste is weak. Quite the contrary!
Mexican-inspired and loaded with refreshing lime juice, this rice goes well with any wrap-style dish. Yes, that includes your tamales, too!
Make sure not to omit the butter, as it makes the dish silky to perfection. Feel free to add more spices, though.
This refreshing rice recipe would also make great pulled pork sides at your next BBQ!
Source: thaicaliente.com
How do you like your salad? With cactus, please! I know it seems weird, but nopales (pre-cut Mexican cactus) are just the veggie your tomato salad needs.
If you can get your hands on a fresh batch, don't hesitate to do so. Mix them up with some tomatoes, cilantro, onions, and jalapenos, and voila. The perfect side for your tamales is served.
Add some lime juice for acidity, and you're good to go!
Source: allwaysdelicious.com
There is something magical about pairing hot habaneros with sweet fruit. And this time, we do that with mangoes.
Add some red onions for a sharp crunchy bite, cilantro for freshness, and some lime to wrap things up.
The result is so delicious, that you will be tempted to sacrifice some of your main dish for a second serving of this side.
Great with tamales, but even better with plain corn chips!
Source: cookwhatyoulove.com
Mexican street corn is, well, the definition of what a side dish for tamales should be like. But even if you've tried many versions, I suggest you give this recipe a shot.
Bold and super delicious, this corn bowl is perfect for large get-togethers. The chili lime and mayo dressing is to die for.
The recipe uses cotija cheese. Feta can be a good substitute as it is both salty and crumbly.
Source: cleaneatingkitchen.com
Ready in just 20 minutes, this tomato-drowned rice will be perfect for your Mexican dishes. Rich in flavor but mild in spices. Perfect if serving it to kids, as well.
The recipe is plant-based and uses vegetarian broth. If you don't mind the extra protein, though, feel free to use chicken broth for some more flavor.
Top off with chopped cilantro, and dig in! Fluffy satisfaction with every bite!
Source: pinchandswirl.com
Whether you're on Keto or you simply want to cut back on the carbs, this recipe is a must-try. Cauliflower rice is a tasty and lighter version of the classic that tastes amazing.
Fluffy, creamy, and drenched in tomato sauce, you will absolutely adore this recipe. The spiciness from the jalapenos works with any Mexican dish. But feel free to omit for a milder side.
Rich in texture and flavor, there is nothing you would change about this dish!
Looking for more tasty sides with Mexican flavor? Check out these Mexican side dishes!
Source: suburbansimplicity.com
Sweet salsa bowls have been my thing for a while now. There is something about the fruity and spicy combo I find irresistible.
The recipe uses pineapples. However, if you have mangoes or peaches on hand, they can work, too.
The thing you shouldn't swap is the red onion. It is the ideal type of onion for this recipe. Sharp and crunchy, it gives satisfying bites that work well with both the sweetness and spiciness here.
Source: beyondthechickencoop.com
When you don't have any fancy ingredients or don't know what to make, this side dish saves the day. With a couple of pantry staples – black beans and rice – your tamales will taste even better.
Just throw some spices or herbs into the mix, and there you go. A simple, yet very delicious side dish (or even main meal) will be served.
The cilantro and lime are used for freshness, but they're not mandatory here.
Source: temeculablogs.com
Have some Jiffy corn muffin mix in your pantry? Then you need no more than 10 minutes to prepare a beautiful and authentic Mexican cornbread.
Along with some butter, corn, eggs, milk, and chilies (duh!), you can whip up an old-fashioned side dish in no time. Yup, this is probably the easiest cornbread you'll ever make.
And you know what? Your guests won't even know you took a shortcut.
Source: theviewfromgreatisland.com
Tangy and fruity, this sweet and bright salad comes together so quickly. Which is perfect for your spring or summertime parties! This rainbow-like bowl will complement any Mexican dish well.
With a lime dressing and feta cheese on top, there are all the flavors you can possibly think of. I'd serve this with a slight honey drizzle over, for an even fancier look.
The fruits here make a tasty combo, but you can surely customize them to your liking. Watermelon, pineapples, or peaches will also work well.
If you love tangy mango you will enjoy this yummy mango avocado salad!
Source: healthmylifestyle.com
If you're vegan, then you will seriously appreciate this salad. Made with hearts of palm, chopped veggies, and avocados. Super refreshing, filling, and 100% plant-based.
The lime juice gives the zestiness that the palm hearts really need.
This fake ceviche with palm "seafood" is as healthy as any appetizer can get. And the best part? It doesn't have a single drop of oil. Raw and nutritious has never tasted this good!
The salad is perfect for your Mexican dishes. But the truth is I'd just have some tortilla chips and dig right into the goodness.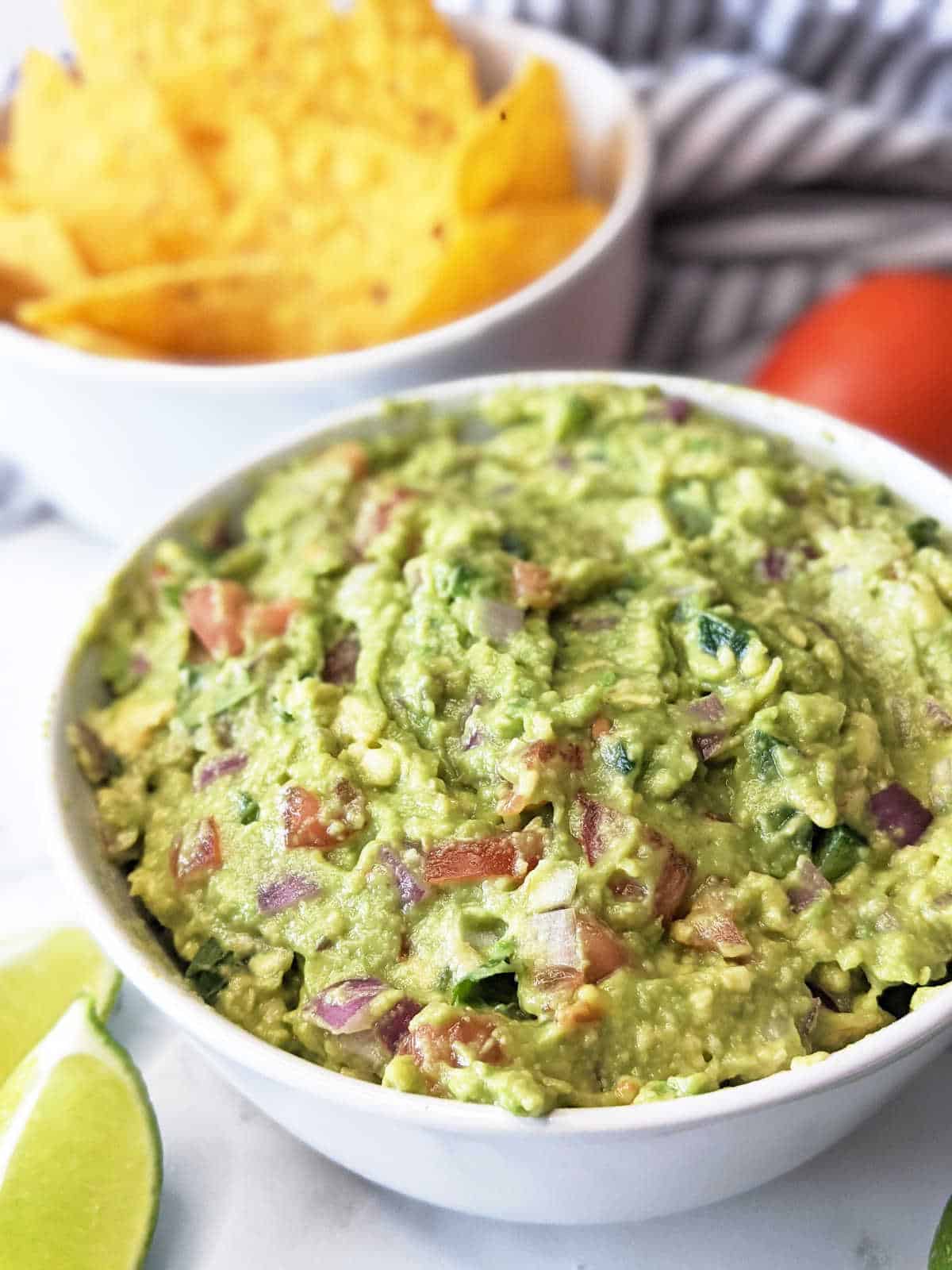 Source: healthmylifestyle.com
Avocados. Lime. Jalapenos. That's all you need for simple spicy guacamole. But to take things to the next level? A few more ingredients are needed! And this recipe knows just the right combo!
Creamy, spicy, refreshing, and super zesty, this 100% vegan recipe will satisfy everyone. Whether as a snack or a side dish, this healthy dip will bring Mexican flavors to your kitchen.
Super quick to make but it disappears from the bowl even quicker. You might want to double the batch. Just saying!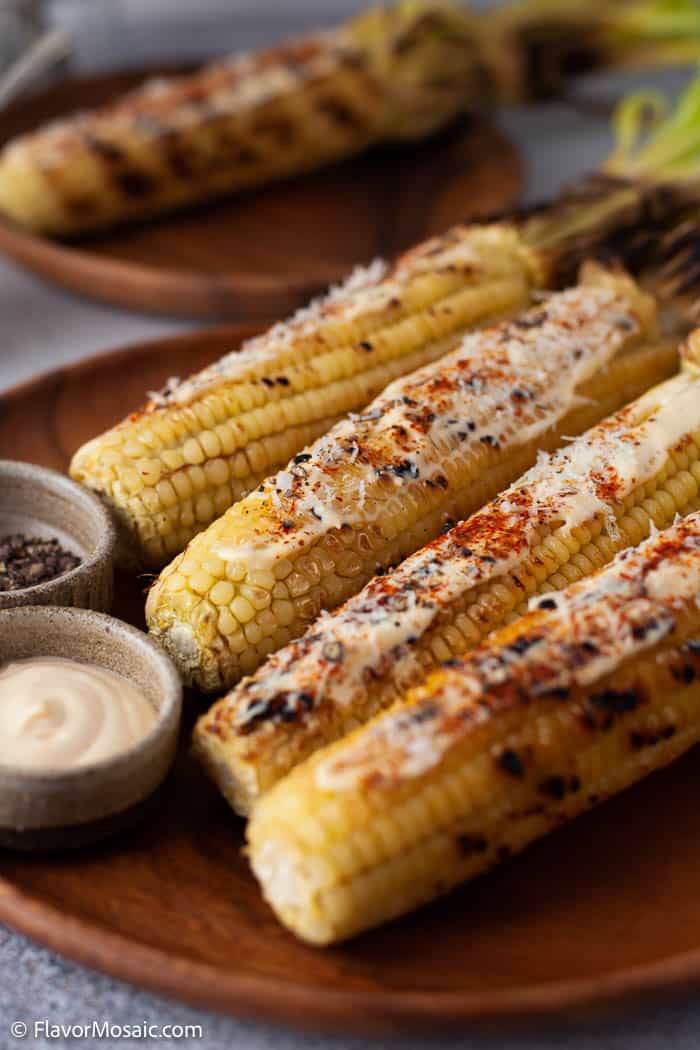 Source: flavormosaic.com
Grilled corn and Mexican food? Isn't that a match made in heaven? If you're crunched for time or don't have anything special in your pantry, then grilled corn is the perfect side to make.
Tried and true, this spicy, cheesy, and charred corn tastes absolutely amazing. All you need is some chili powder, mayo, butter, and cotija cheese.
If that's not the ultimate side for your summer backyard dinner parties, then I don't know what is.
Source: flavormosaic.com
Beans have to be one of the best side dishes for Mexican sides. Especially if there is a soft and meaty filling like that in your tamales.
Rich in creaminess and irresistible, these refried beans are something you simply have to try. There is enough garlic and cumin for them to be incredibly flavorful.
This instant pot version is perfect for busy cooks. However, know that you can also make them on your stovetop. Just cook until the beans become soft, and that's it.
What to Serve with Tamales: 20 Sides
Want some ideas for what to serve with tamales? These side dishes are easy to prepare with simple ingredients and will go well with your meal!
Ingredients
1. Crockpot Borracho Beans
2. Salsa Verde
3. Pico De Gallo
4. Cheesy Queso Rice
5. Lemon Arugula Salad with Pine Nuts
6. Mango Cabbage Coleslaw
7. Instant Pot Cilantro Lime Rice
8. Mexican Cactus Salad
9. Mango Habanero Salsa
10. Mexican Street Corn Salad
11. Instant Pot Spanish Rice
12. Mexican Cauliflower Rice
13. Pineapple Salsa
14. Black Beans and Rice
15. Mexican Cornbread
16. Cantaloupe and Mango Salad
17. Palmito Ceviche
18. Vegan Guacamole
19. Mexican Grilled Street Corn
20. Instant Pot Refried Beans
Instructions
Scroll up to get a bunch of easy, yummy, and delicious recipes. Don't be afraid to get creative with the ingredients, you might discover a flavor you didn't know you liked.
Get your shopping list going and make sure you've got all the ingredients.
Get cooking and make your next Side for Tamales!
Notes
Which one of these recipes was your favorite? Let me know in the comment section or on Pinterest!