Not sure which side dishes go well with chicken salad? Well, let this article help! Read on to discover what to serve with chicken salad.
So, you've made a huge bowl of chicken salad for dinner, but don't know what to serve it with? You're at the right place!
Combing through the net, I've piled up the most delicious chicken salad side dishes that will completely transform your meal.
From bread, salads, fries, soups, and all things crunchy, here are the ultimate 21 sides for chicken salad.
What is a Good Pair with Chicken Salad?
When a classic dish of chicken salad is the main star of the table, you need a great side dish that can complement its lovely creamy texture.
For best results, you should serve this meaty goodness with something crispy. Think bread choices, french fries, fritters, and practically all roasted starches.
But, it will be just as delicious with some raw crunchy fresh veggies on the side.
Also, keep in mind that you can never go wrong with a warm and nourishing soup. Serving this alongside your chicken salad sandwiches will satisfy and fill you up.
Best Sides for Chicken Salad
Crispy, crunchy, and utterly satisfying! Here are the most foolproof best side dishes for a full-blown classic chicken salad dinner.
Source: recipesfromapantry.com
Tater tots always work with creamy dishes. Why? Because they are perfectly crispy on the outside, which pairs well with smooth bites for a complete meal.
But these healthier treats also have a super soft interior. Which makes them even more tempting. I know!
And guess what? They are made in the Air Frier, so they are not only grease-free but guilt-free, too making them one of the best options.
This recipe uses some garlic powder and oregano, but you can combine the potatoes with your favorite spices instead.
These tasty tots would also make a good side dish for quiche.
Source: christinascucina.com
Have you ever tried adding parsnips to your scones? I suppose not! But trust me, this will be a wonderful use of this veggie. Not to mention, super delicious, too!
Soft and flaky, these scones are perfect for soups and smooth dishes. And your chicken salads.
The recipe includes one cup of shredded parsnips, but you can also use other root veggies, too. Think carrots, for instance. Wouldn't that be yummy, too?
Source: urbanblisslife.com
Bread knots with garlic and parmesan? Isn't that the perfect side for most dishes? And yes, it will go absolutely amazing with your creamy salads.
The recipe uses pre-made pizza dough. You can also make one from scratch, or even use something else. Like puff pastry, for instance. I bet that will be as crispy. Have to try it myself, too!
Source: splashoftaste.com
Cooked and mashed potatoes. Loaded with corn, peas, green onions, and cheese. Plus, a touch of paprika and garlic for flavor.
If you have some leftover mashed potatoes, this is a delicious way to use them.
The fritters are golden and crispy on the outside. Soft on the inside with surprise bites. And super cheesy!
Source: splashoftaste.com
Fries, olive oil, and some Peri Peri seasoning. Okay, lots of seasoning. How else can you get that flavorful and finger-licking bites?
The recipe uses store-bought frozen fries and then bakes them to perfect crispiness.
However, you can also use raw potatoes, cut them up into wedges, and just cook them until they get a nice color. I like them the most when their edges become almost burned.
So yummy with a creamy salad. Is it not?
Peri Peri fries are also a must-have side dish for grilled chicken.
Source: recipesfromapantry.com
A classic coleslaw prepared with fresh ingredients the authentic, Southern way. Tangy, crunchy, and naturally sweet.
Just the thing to bring to a potluck. And put it next to that chicken salad. Because yes, these two make one delightful combo.
Fresh vegetables like shredded cabbage and carrots, and sliced onions. All dressed up with mayo, Dijon, and buttermilk creaminess.
The recipe uses dried dill. But seriously, it will be so much better with a couple of teaspoons of chopped, fresh herbs or dill pickles.
Loving this yummy coleslaw? Try it as a tasty side dish for chicken wings!
Source: casuallypeckish.com
You can never go wrong with garlic bread as a good side dish. Whether it's with lasagna, roasts, curries, or a creamy chicken salad.
This crispy and flavorful bread with cheddar cheese always disappears first from my table.
And this perfect side dish recipe upgrades it to the maximum!
Butter, cheddar, mozzarella, parsley, and lots of garlic. Now imagine topping your baguette with this lovely mixture.
Cheesy, aromatic, and really tempting! And how can it not be when it is such stretchy goodness?
Source: flavormosaic.com
Can you pair a creamy dish with more creaminess? Absolutely! Just try this chowder with your chicken salad, and you'll see what I'm talking about.
Besides, this is a loaded dish. It is rich in corn and peppers. And it is topped with crumbled bacon bits and sliced green onion.
So yes, there is a lot of crunchiness involved here, too. So, how can you possibly not want this with your smooth chicken delight?
Source: baking-ginger.com
Crispy, crunchy, and soft. Plus with a bit of bitter earthiness to seal the deal.
This side dish is also loaded with cream, cheese, bacon, and flavorful seasonings.
Sauteed tiny cabbages topped with crispy and smoky bacon and stretchy cheese?
Serve that with your good chicken salad, and watch everyone dig into this nutritious low-carb friendly dish.
You must try this cheese side dish for ribs as well!
Source: christinascucina.com
Looking for a homemade bread recipe but are not in the mood for kneading? Then this recipe is what your lazy cooking needs.
Crispy, crusty, and with an irresistible rustic look. Get ready for some praise, because this delicious bread will definitely be the talk of dinner.
It comes together in just under an hour, and it will not tire your wrists. How perfect is that?
Source: recipesfromapantry.com
Potatoes are, hands down, the most versatile side dish ever. No matter how they're cooked.
And this potato side is just another great option to have alongside your chicken salad.
Sliced potatoes with bell peppers, and onions, are sauteed with butter and seasoned with some flavorful spices.
The flavor that wraps everything up is the creole seasoning. But you can use Cajun powder instead.
Crispy, soft, silky, and so delicious, these are great with chicken.
Healthy Sides for Chicken Salad
Want to feel less guilty about all of that cream in your chicken salad? Then how about serving it with one of these healthy side dishes of a fresh green salad with a nice crunch?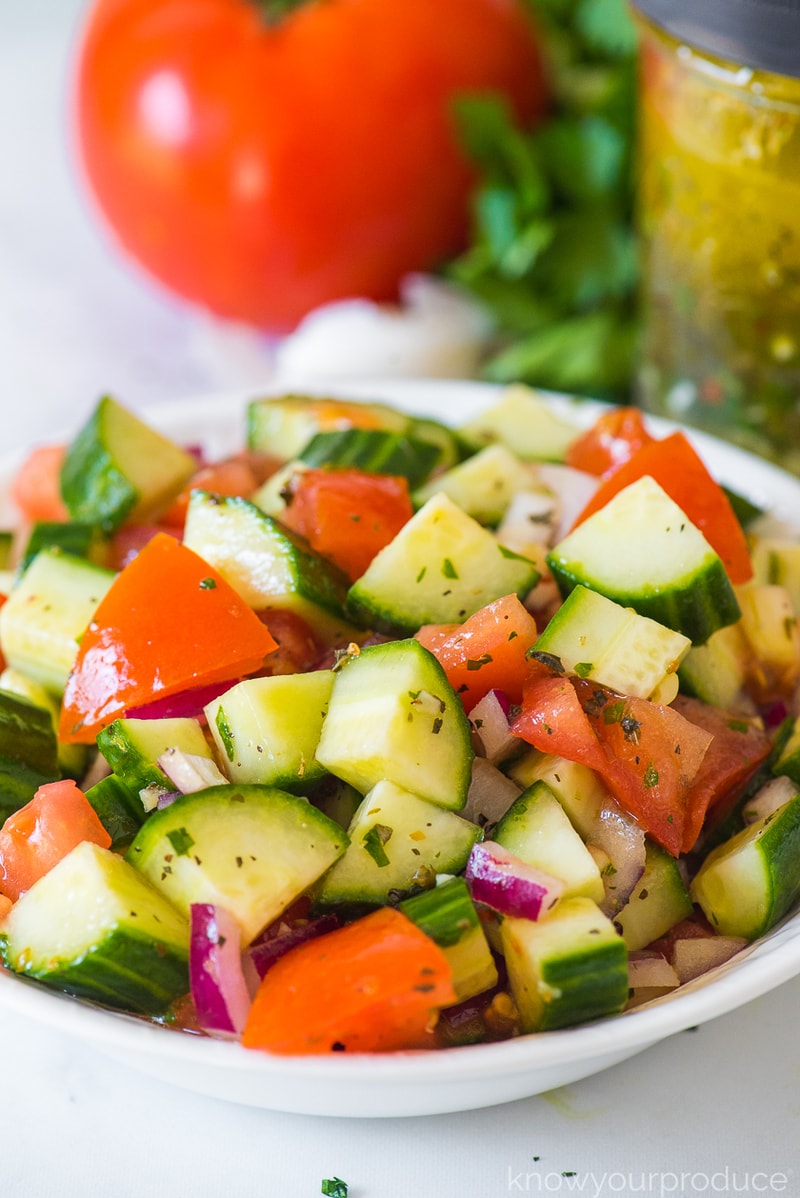 Source: knowyourproduce.com
Cucumbers and tomatoes are the perfect addition to any kind of salad. While this is more than a suggestion rather than a recipe to follow, you have to try it out.
Cucumbers, tomatoes, and red onion on a bed of lettuce.
Mix them all up, and season to taste. Or smother in your favorite dressing. And serve with your creamy salad. I guarantee satisfied tummies!
Source: knowyourproduce.com
When the watermelons are in full bloom make this salad. But this is not the only summer fruit here. This fresh fruit salad also combined blueberries and strawberries.
And it has some lime flavors, too.
To take it to a whole new level? I'd also add some feta cheese on top and serve with some crisp iced tea. And even drizzle some honey over.
So minty, sweet, fruity, and incredibly refreshing for the warmer months!
14. Marinated Green Bean Salad
This marinated green bean salad tastes as flavorful as it sounds. Plus, it has a nice crunchiness to it, too. The perfect choice for your creamy salads!
The key here is not to overcook your green beans. Otherwise, this delicious dish will lose that crunch and your salad will become soggy.
It is best to keep the veggies in the fridge for at least four hours. That way they can really soak up all of those garlicky and Dijon flavors.
Source: urbanfarmie.com
Pumpkin soup is just the thing your fall dinners need. Even if you're serving chicken salad as a main dish. Trust me, this spicy creamy bowl will be delicious alongside the chicken.
Loaded with garlic and Indian seasonings, this aromatic, spicy, and super flavorful soup tastes incredible.
Don't skip the roasting part as it is what gives its depth and complex flavor profile.
If you want it crunchy, top the soup with some pumpkin seeds.
Source: urbanfarmie.com
Do I really need to give an intro to this recipe? I mean, air-fried Brussel Sprouts, right? They have to be super crispy perfections.
And they surely are. In a very simple and hassle-free way, I must add.
Drizzle with avocado oil and tossed with simple seasoning. Of course, if you want them spicy, feel free to welcome all your favorite seasonings.
The Brussels sprouts can take whatever you throw their way.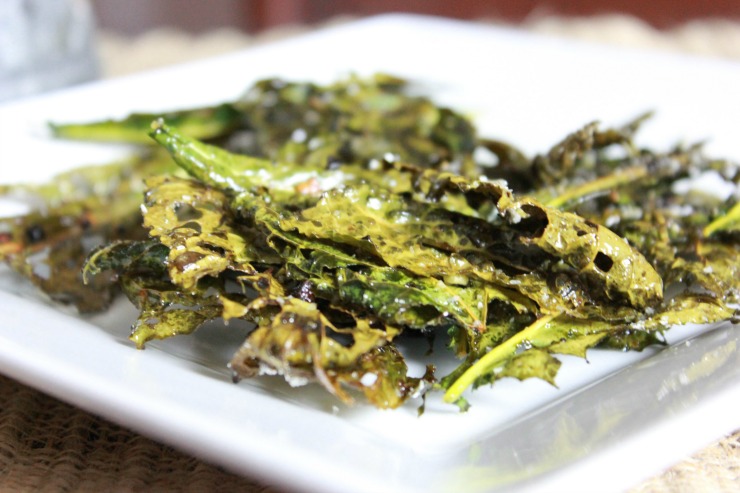 Source: consumerqueen.com
Kale chips are a much healthier alternative to your fries or potato chips. But without losing that satisfying crispiness.
And that's exactly what your chicken salad needs!
Flavorful and garlicky crispies, loaded with nutrients. That takes away those guilty feelings over the mayo salad. Does it not?
Source: kidtestedrecipes.com
Tired of Caprese salads? How about you use beets instead of tomatoes? Have you ever tried it this way?
Pickled beets, goat cheese, and sweet candied walnuts. It is crunchy, tangy, sweet, soft, and cheesy. All at the same time!
Source: baking-ginger.com
Roasted carrots and pumpkins, tossed with lentils, garlic, celery, and thyme, and cooked in veggie broth. Then blended to silky perfection. And creamed with coconut milk.
That has to be THE versatile side dish that goes well with anything.
The recipe also includes curry powder and other Indian flavors which, as we all know, are perfect with chicken.
Source: nourishedkitchen.com
The perfect thing to whip up in advance. These flavor-loaded chickpeas will pair perfectly with creamy salads.
Accompanied by shallots, green onions, parsley, and garlic, they make one delicious side dish that can save any meal.
And, they come together in just 15 minutes.
Source: sweetandsavourypursuits.com
Sweet potato wedges. Seasoned with a lovely combo of herbs and spices. Then baked until super crispy and brown.
The feta cheese here is a very delicious addition. Plus, it is also baked and whipped with some yogurt and oregano.
And it plays beautifully along with the sweetness and spiciness of the potatoes.
The potatoes are a bit on the spicy side, so feel free to change the seasonings to adjust.
A perfect match for a creamy salad, either way.
Have leftover sweet potatoes? Make this apple sweet potato bake!
What to Serve with Chicken Salad: 21 Best Sides
Need some ideas for what to serve with chicken salad? Here are some healthy and delicious recipes to pair with your meal.
Ingredients
1. Tater Tots
2. Parsnip Scones
3. Garlic Parmesan Knots
4. Potato Fritters
5. Peri Peri Fries
6. Southern Coleslaw
7. Cheese Garlic Bread
8. Corn Chowder
9. Cheesy Brussel Sprouts with Bacon
10. No Knead Bread
11. Smothered Potatoes
12. Cucumber Tomato Salad
13. Watermelon Salad with Cucumber and Mint
14. Marinated Green Bean Salad
15. Spicy Pumpkin Soup
16. Air Fryer Brussel Sprouts
17. Garlic Parmesan Kale Chips
18. Beet Salad with Candied Walnuts
19. Pumpkin Lentil Soup
20. Marinated Chickpeas
21. Baked Sweet Potatoes with Feta Cheese
Instructions
Scroll up to get a bunch of easy, yummy, and delicious recipes. Don't be afraid to get creative with the ingredients, you might discover a flavor you didn't know you liked.
Get your shopping list going and make sure you've got all the ingredients.
Get cooking and make your next Side for Chicken Salad!
Notes
Which one of these recipes was your favorite? Let me know in the comment section or on Pinterest!