A BLT is super-layered. But that doesn't mean that it should sit alone on your plate! Here are the best BLT sides to accompany your BLT sandwiches.
What to serve with juicy BLT? Napkins, of course. Drooling is inevitable. And encouraged! But what about a BLT side dish? Is there anything that goes well with this layered delight? Of course!
And I can think of not one, but twenty-one delicious BLT sides. From french fries to potato salad to tomato soup. Whatever your guilty-pleasure-craving heart desires. All in one place.
All you have to do is reach the bottom of this page to find your sandwich's best match!
What's a BLT sandwich?
BLT. It stands for bacon, lettuce, and tomato. A classic American sandwich. And If I'm honest? My ultimate favorite fatty pleasure.
Usually, the bacon is flat. And crisped. There is also creamy mayonnaise.
The key to making a killer classic BLT sandwich? Just a few steps. First, season well. Second, use fresh tomato slices. And third, layer everything carefully.
And the bread? Just regular sandwich slices of bread. Don't use chewy bread.
Best Sides for BLT
What to serve with your classic BLT sandwiches? One (or two!) of these delectable side dishes, of course!
Source: urbanfarmie.com
Craving a BLT on a hot summer afternoon? Then this sweet mango salad with red onions is the perfect side for this simple sandwich!
Fruity, zesty, refreshing, and loaded with a natural sweetness that fills your tummy. And heart! How can you not want that next to your crispy bacon sandwich?
The lemony notes packed inside this delicious side dish will pair perfectly with the crispy and juicy sandwich. Trust me!
Plus, this sunshine-in-a-bowl comes together in just 15 minutes.
Source: crazyadventuresinparenting.com
Who said that bacon cannot be paired with bacon? Try your BLT with this salad, and see how amazing the combo is with its creamy texture!
Creamy broccoli with crumbled bacon, cheese, and sesame seeds! Yummy, right?
This simple recipe uses raw broccoli. If you prefer, you can cook it for a minute or two. But not longer. There's nothing more displeasing than soggy broccoli salad.
If you don't tolerate creamy mayo well, you can also use yogurt.
This salad would also make a tasty side dish for quiche!
Source: kidtestedrecipes.com
Macaroni salad for the win! A super versatile pairing. I could literally eat macaroni salad with anything. Try it with a BLT though, and it will become your regular combo.
Super creamy but not heavy at all. This creamy pasta salad features a variety of veggies. So yes, it is both delicious and nutritious.
It is also sweet and tangy at the same time. For the best flavor profile? Eat it cold. Plan ahead and refrigerate this great side dish for an hour.
Source: splashoftaste.com
A classic combination of juicy tomato, cucumbers, and onions. But with a refreshing lime twist. Plus a load of cilantro.
Not a fan of this herb? Don't worry! You can easily use parsley or even mint.
Crunchy, soft, and incredibly flavor-packed! A real summertime salad that just screams vitamins. Just imagine devouring this with your crispy perfect BLT.
And the best thing about this salad? It is ready in just about 5 minutes! Yup, it's that quick and easy.
Wanting more tasty side salads? Check out this spinach tomato salad with feta!
Source: siftandsimmer.com
Who doesn't love tater tots? They're crispy, delicious, and so addictive. But are you tired of your regular tater tots flavor? Then this perfect side dish recipe is definitely for you.
So spicy and Asian-inspired. And generously seasoned with a Mala spice mix. Isn't that an explosion of flavors, or what?
There's also a decent amount of garlic, for a deeply infused snack. Or side. Don't you think this will pair perfectly with the taste of BLT sandwiches?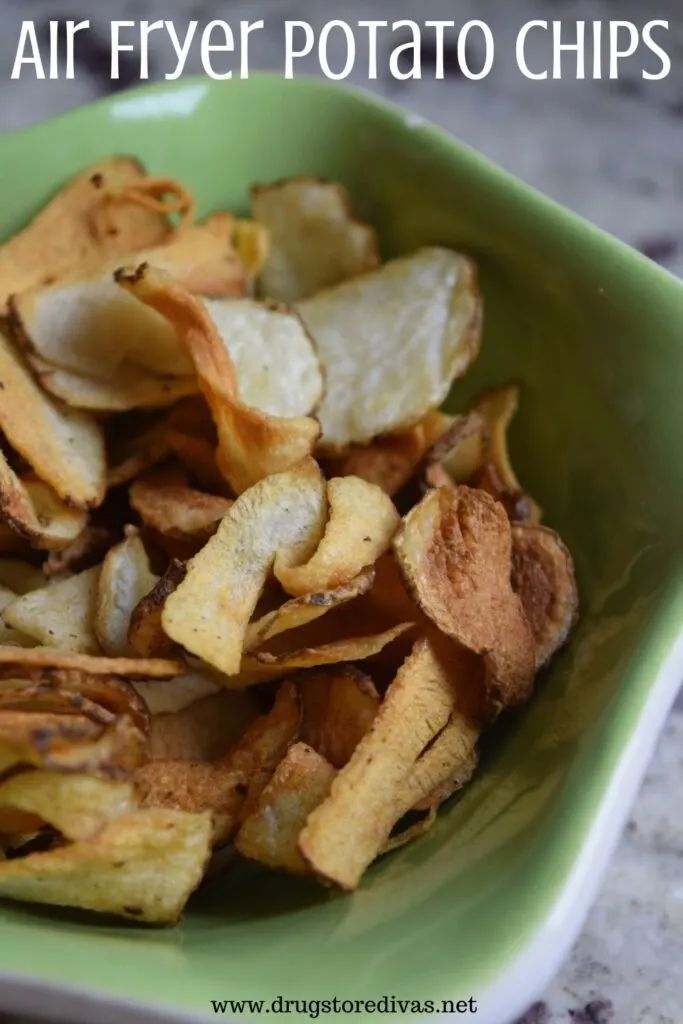 Source: drugstoredivas.net
Not all of us want to admit it. But we're all secretly addicted to potato chips. And how can we not be? When they're so crispy and comforting.
But just because they're a big health no-no, doesn't mean that you don't get to enjoy them. And this recipe will show you how to enjoy them with a balanced diet.
Air-fried to perfection, these salty chips with much crunch are just the thing any BLT recipe needs. If you like them spicy, feel free to add your seasonings of choice to the mix or even try them as BBQ potato chips.
Source: the-bella-vita.com
Have you ever tried breaded mushrooms? If not, then here is a good reason to introduce your simple BLT sandwich to an exciting flavor with one of the most popular side dishes.
Garlicky and loaded with parmesan cheese any cheese lover will enjoy this great addition. The breading is not only crispy but super delicious, too.
This great recipe features an Air Frying cooking method. However, these mushrooms will be just as delicious if baked. Or even deep-fried. If you don't mind making things a bit greasy.
Porcini mushrooms work best here. But, whatever you have in your kitchen will surely work to enjoy that crunchy texture.
Source: hezzi-dsbooksandcooks.com
Ranch dressing, barbecue sauce, cheddar, and bacon. What a finger-licking indulgence, right? This mixture also includes peppers, onions, and sour cream. And I cannot get enough of it!
Served in small portions, this salad makes one heck of a side. But trust me, you'll be tempted to devour a giant bowl. So yes, it makes a great lunch, too.
After all, this recipe makes quite a large batch. So feel free to dig in.
If you are a bacon lover you will also love these brussels sprouts with bacon as a side.
Source: twopinkpeonies.com
When you want a fun look to your table, use farfalle. This bow-tie pasta will bring that oomph to any bowl. And this protein-packed, cheesy, and peppery salad proves that.
Hard salami, ham, and Colby cheesy. Plus, red and yellow peppers. So colorful and rich!
You'll be surely tempted to skip the refrigerating part. But I suggest otherwise. Consumed cold, this salad is to die for.
But that's not all. This salad uses a generous bottle of Italian dressing. This is why it has such a smooth and delicious flow.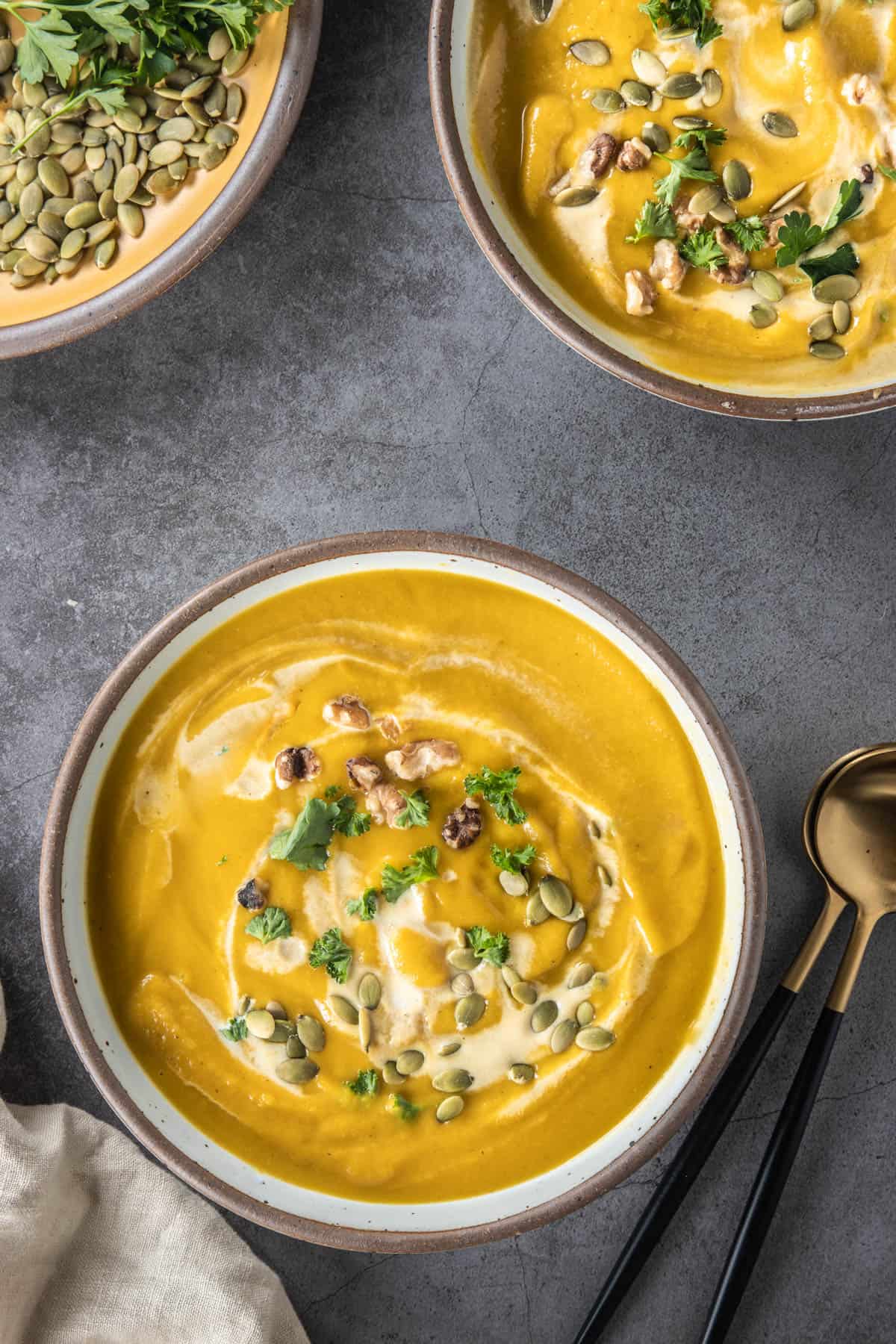 Source: urbanfarmie.com
When you think of sandwich sides, you probably don't think of soups. But this spicy pumpkin creaminess will surely change your mind.
A fall classic, this heavily-spiced and ultimately flavored dish is perfect to enjoy with your BLT.
The deep flavor comes from the roasting step. Roasting the pumpkin and onions beforehand makes all the difference.
Serve with pumpkin seeds on top, and everyone will love it.
You will also love this fall soup as a side dish for ham dinner.
Source: splashoftaste.com
Thick, well-seasoned, and super crispy. That's how I'd describe these peri peri fries. If spicy snacks are your thing, then you better not skip these addictive bites.
But as unhealthy as they may seem, these fries are actually not that bad for you. For starters, they are baked, not fried. And they use olive oil instead of the vegetable kind. Which is a lot healthier.
Do they seem too spicy for your taste? Feel free to cut back on the Peri Peri. No hard feelings!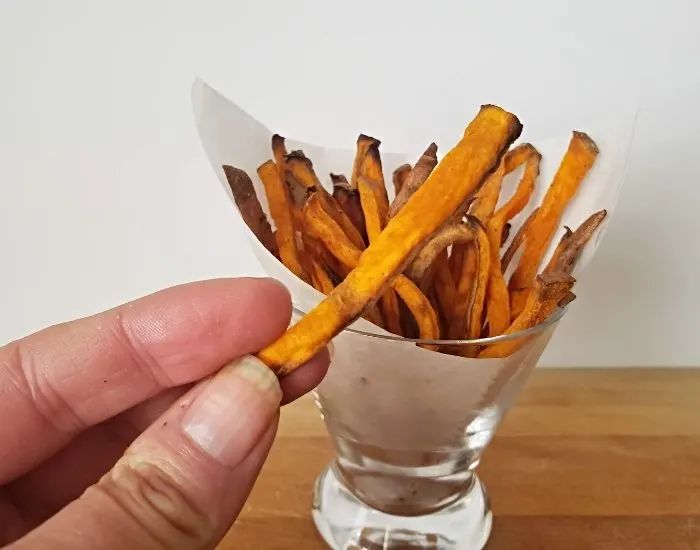 Source: honestandtruly.com
Want an even healthier recipe for fries? Try these baked sweet potatoes, then! So simple and incredibly easy to make. This will become the base for many fry recipes in your kitchen.
With nothing but olive oil, salt, and pepper, you make an enjoyable snack or side. And the thing is? Such simple crispiness goes perfectly with a BLT sandwich.
Just grab your dipping of choice, and enjoy!
These crispy fries would be the best side dish for fried fish also!
Source: sweetandsavourypursuits.com
Feta cheese and sweet potatoes. A combination that doesn't need any extra ingredients. Still, this side is well-seasoned.
Baked potato wedges, coated with sumac and chili flakes. With softened feta cheese flavored with oregano. How tasty does that sound?
If you have an Air Fryer, even better. appliance.
Isn't that the side dish your BLT has been looking for?
Source: thehealthyepicurean.com
Do you need something light with your juicy BLT? Then this refreshing summer salad will cool your taste buds instantly.
Fruity, sweet, minty, and tangy, all at the same time. Not to mention, the ideal soft and crunchy combination. The feta cheese is a real treat here. A tip? Give it a try with goat's cheese, too.
To achieve the best taste? Use only fresh and ripe strawberries!
Source: urbanfarmie.com
If you are into hot and spicy food, then jalapenos have to be a regular on your table. But have you tried pickling them at home? If not, this recipe will get you started!
Whether you want to use it as a topping in your BLT or have these slices on the side, one thing is certain. Pickled jalapenos go perfectly with any sandwich.
Besides, pickling is the best way to preserve food. So If you've got a batch of jalapenos at home, try this recipe!
Source: splashoftaste.com
Let's face it. Deep-fried onion rings, as delicious as they may be, are not the healthiest snack. That's why recipes like this exist. To keep your cholesterol in check, use this Air Fryer method instead.
This recipe is as quick as it can be. Just 8 minutes from start to finish, and voila. KFC-style onion rings right on your table. Minus all that grease.
Don't have any store-bought onion rings? Just slice white onions and dip them into the breading of choice. Then follow the air-frying method, and that's it.
Source: the-bella-vita.com
Corn on the cob may be your go-to side dish for your steak grilling parties. But did you know that it goes equally well with sandwiches like BLT?
But this corn-on-the-cob recipe doesn't require preheating your grill. You can make it without any smoke and fire. Right in your beloved Air Fryer.
So quick, easy, and delicious, this basic recipe can easily be adjusted to taste. Just get your favorite spices out of the cupboard, and you're good to go.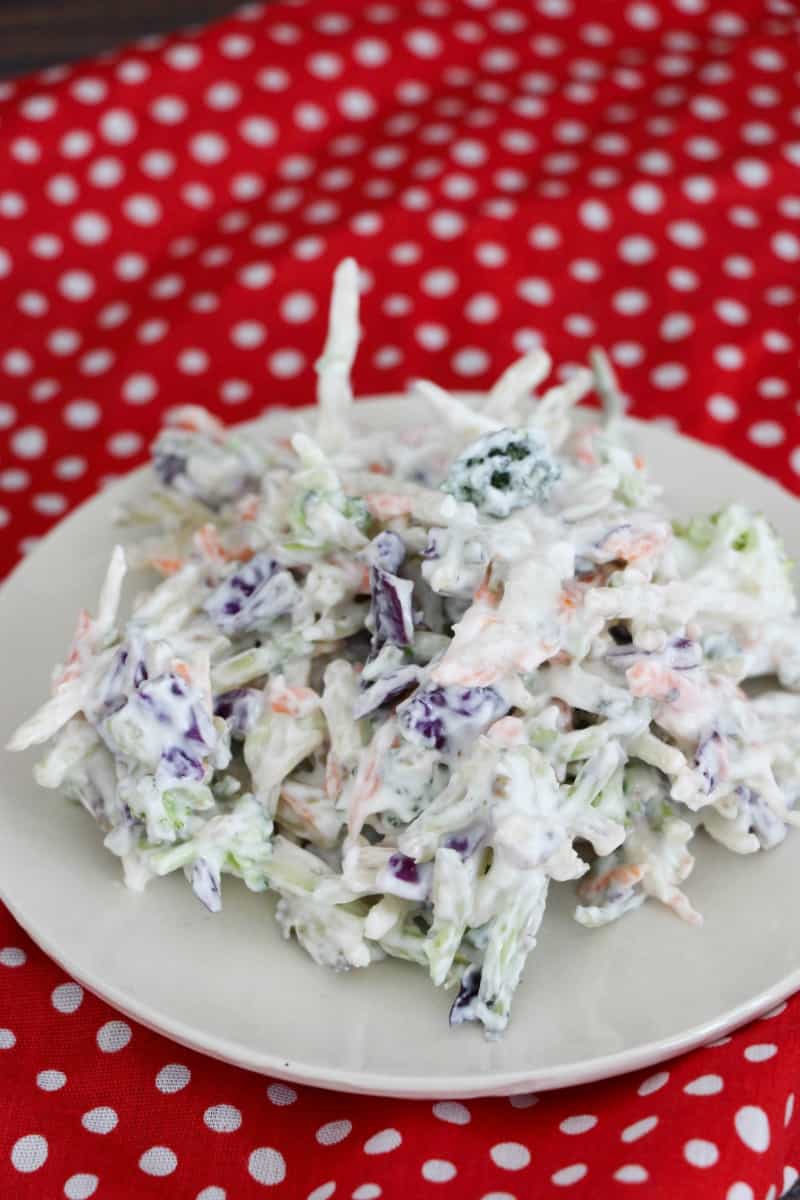 Source: confessionsofanover-workedmom.com
Homemade coleslaw is welcome at any potluck or backyard party. It is the creamy, crunchy delight that goes so well with most meat dishes. Sandwiches, too!
But what if you don't handle mayo well? Then this yogurt version will be a great alternative.
With simple ingredients like sour cream, Greek yogurt, lemon juice, and vinegar, you can instantly bring your coleslaw mix to life.
Source: veganhuggs.com
If the pumpkin soup recipe has tickled your imagination, here is another delicious option. Roasted squash for a warm and fall-welcoming treat!
Cumin, ginger, nutmeg, and garlic. The staple ingredients for most fall soups, give this squash bowl an intense flavor that can be a delightful opening to any meal. Or in this case, a side for your BLT.
The thing I love the most about this recipe has to be the cashew cream. So nutty and velvety, you'll want to double the batch for this soup.
Source: troprockin.com
Sliced pickles, breaded into crispiness, and air-fried for a healthy side dish that will upgrade any sandwich.
The key here is to drain the pickles on paper towels before breading them, to prevent sogginess.
Whether you serve them as a snack with your favorite dipping sauce, add them to your sandwiches, or simply have them on the side, Air Fryer pickles will become your new favorite.
Even if you're not a pickle fan!
Source: momsdinner.net
Serve this tomato and basil soup in smaller portions, top with crunchy croutons, and your BLT cooking game will take on a whole new meaning.
This recipe uses dried basil. If you have some fresh leaves, though, even better.
The homemade garlic croutons sit like cherries on top. It is so darn impossible not to devour them with the first spoonful.
What to Serve with BLT: 21 Best Sides
There are so many easy and delicious side dishes to serve with sandwiches. These are the best BLT sides to elevate your meal.
Ingredients
1. Mango Avocado Salad
2. Broccoli Salad with Bacon
3. Macaroni Salad
4. Tomato Onion and Cucumber Salad
5. Mala Tater Tots
6. Air Fryer Potato Chips
7. Breaded Mushrooms
8. BBQ Bacon Ranch Pasta Salad
9. Bow Tie Pasta Salad
10. Spicy Pumpkin Soup
11. Peri Peri Fries
12. Baked Sweet Potato Fries
13. Baked Sweet Potatoes with Feta Cheese
14. Strawberry Cucumber Salad
15. Pickled Jalapenos
16. Air Fryer Onion Rings
17. Corn on the Cob
18. Coleslaw
19. Vegan Roasted Butternut Squash Soup
20. Air Fryer Pickles
21. Tomato Basil Soup
Instructions
Scroll up to get a bunch of easy, yummy, and delicious recipes. Don't be afraid to get creative with the ingredients, you might discover a flavor you didn't know you liked.
Get your shopping list going and make sure you've got all the ingredients.
Get cooking and make your next Side for BLT!
Notes
Which one of these recipes was your favorite? Let me know in the comment section or on Pinterest!