In the world of simple, healthy, high-quality meals, lettuce wrap recipes are king. Lettuce is a great low-carb alternative to burger buns and tortillas.
Not only that, but they're also a light, refreshing, and affordable way to put a new spin on some of your old favorites.
I'm a huge fan of lettuce wraps for quick weeknight dinners, meal prepping, and family-friendly lunches. So, if you're ready to get on board, I've rounded up thirty-one recipes for you to try!
What Kind of Lettuce is Best for Lettuce Wraps?
You can use any lettuce you can get your hands on! However, for the best results, shoot for green, leafy, crisp, and fresh.
Romaine lettuce hearts or cos lettuce are the ideal choices for easy lettuce wraps.
Butter lettuce is also a great choice if you want something with a more robust flavor. Regardless of the type you choose, ensure you've cleaned your lettuce well and stored it for ultimate crispiness.
The best way to store lettuce is to keep it in an airtight container in your fridge. Line the container with some paper towels to get rid of excess moisture, and your lettuce will stay lovely and crisp.
What Tastes Good with Lettuce Wraps?
Lettuce wraps are common in East Asian cuisine. For example, San Choy Bow is a delicious main meal that features ground pork or chicken packed with punchy flavors.
This dish is a great example of how lettuce cups are best enjoyed. These light and bright wraps are perfect with refreshing flavors, Asian flavors, and salad toppings. They're the ultimate summer wrap.
Chicken Lettuce Wrap Recipes
Chicken is a fantastic protein to enjoy with a lettuce wrap! It's lean, great for absorbing flavor, and super affordable too.
When you need a high-protein meal with a ton of nutrients and healthy fats, chicken and lettuce wraps are the place to go!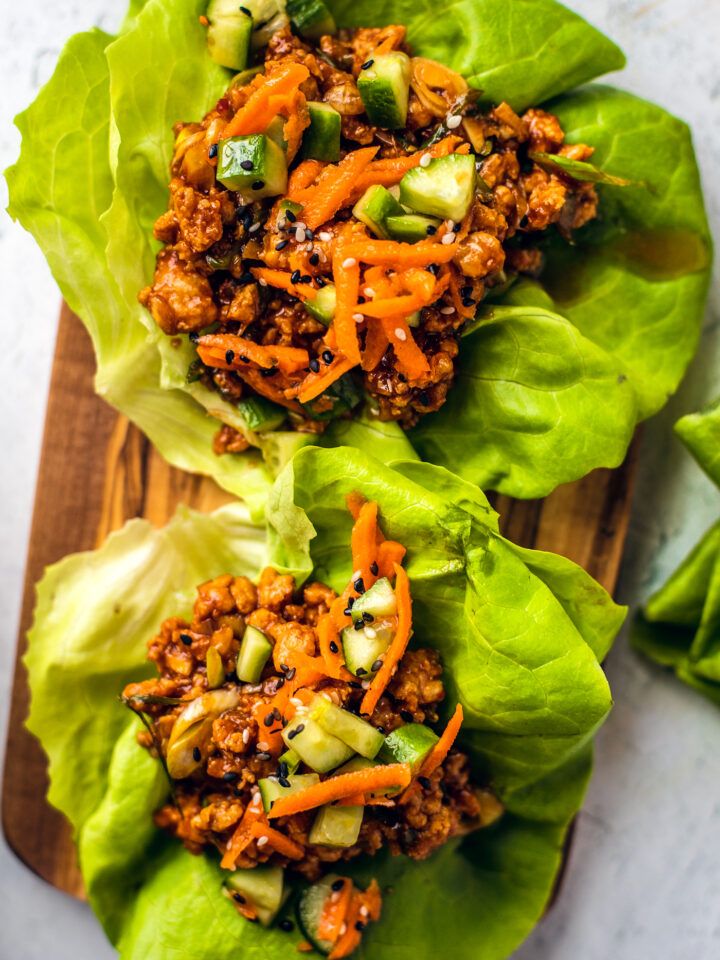 Source: killingthyme.net
Enjoy a healthy weeknight meal in just thirty minutes with these tasty hoisin chicken wraps!
There's nothing like the warm embrace of a well-balanced sauce, and this dish really delivers on that.
You'll need to pick up a few simple ingredients from the grocery store for this easy recipe, like sesame oil, soy sauce, hoisin sauce, green onions, and of course, some crisp lettuce leaves.
Perfectly tender chicken coated in a sticky hoisin dressing, all wrapped in a leaf of crunchy lettuce? Sign me up! This is a light and bright meal ideal for any day of the week.
Source: healthyseasonalrecipes.com
Rather than opting for a tortilla, why not try enjoying your next Mexican meal with a lettuce cup instead? This is a great way to enjoy more of the protein without the tortilla filling you up.
The spicy chicken salad is an absolutely delicious recipe. Plus, these healthy chicken lettuce wraps are so easy to make that you can have this for breakfast, lunch, or dinner.
These wraps make one of the best cold lunch ideas for work!
Source: pressurecookrecipes.com
Do you feel the takeout cravings coming after you? Don't give in! instead, indulge in tender chicken with a delicious sweet and sour sauce, all wrapped in a perfectly crispy lettuce leaf.
This copycat recipe for General Tso's chicken has a delicious kick that's tough to beat. It's affordable, comes together in no time, and relies on an Instant Pot for ultimate convenience.
Source: thedizzycook.com
Thai flavors are typically super fragrant thanks to the variety of aromatics common in Thai cuisine. That's what makes these Thai-inspired chicken lettuce wraps so delicious!
The notes of lemongrass, coconut, and Thai basil in this dish are to die for. They're a great pair for the refreshing lettuce wrap.
This really is one of the most delicious chicken wrap recipes!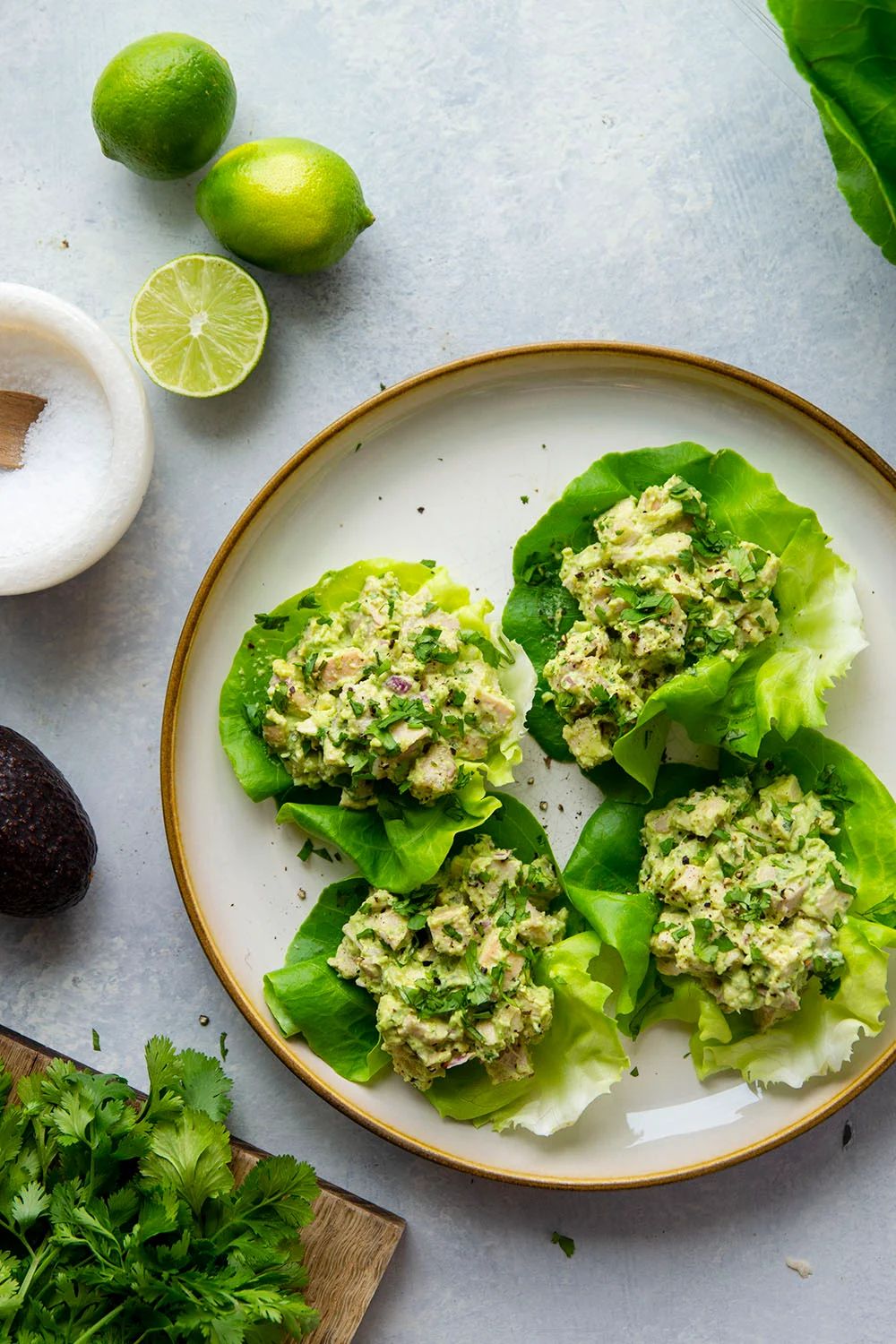 Source: wholeandheavenlyoven.com
Take a basic chicken and avocado salad to a higher level with this clever hack! Not only do these lettuce wraps make the salad more fun to eat, but they also make it more portable.
Feed your family a healthy lunch while out on a picnic, or take care of your work lunch with ease thanks to the no-muss, no-fuss lettuce wrap approach.
Source: joyfoodsunshine.com
These Asian-inspired chicken lettuce wraps are twice as good as anything you'll find at your local takeout Asian food place.
These Asian lettuce wraps are also much healthier and more affordable!
You only need to sacrifice twenty-five minutes of your time to pull these healthy lettuce wraps together.
Best of all, you can make the chicken filling ahead of time and whip it out when you need some great food fast.
Source: simplylowcal.com
Caesar salads come in so many different variations. Everyone's got their own chicken Caesar salad recipe, so why not stand out from the crowd? Say "no" to the idea of the salad altogether!
Instead, create these tasty, functional, healthy lettuce cups. Whether you're hosting friends for lunch or you just need a quick weeknight dinner, these chicken lettuce cups will deliver.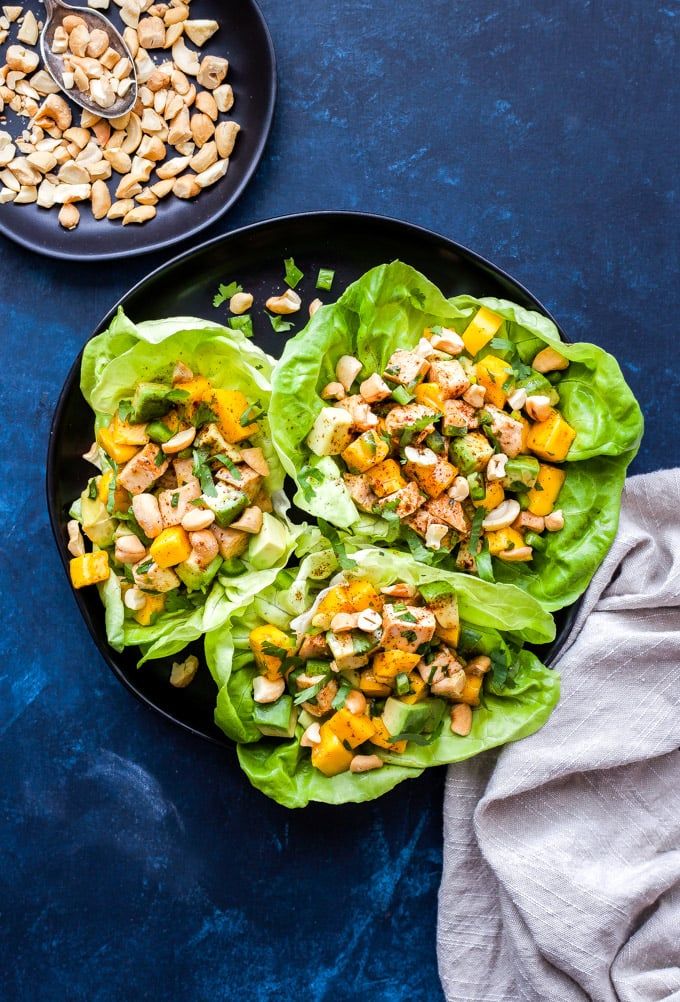 Source: reciperunner.com
Mango and avocado is an underrated combination, and these wraps with chicken breasts are here to prove it!
The addictive sweetness from the mango pairs beautifully with the crunchy lettuce.
The avocado helps bring the combination back to earth, turning it savory without losing any of that delicious mango fragrance.
In other words, this is a well-balanced dish with an interesting twist. This healthy recipe makes a great appetizer or even a nice light meal on a hot summer day with so much flavor!
Source: jz-eats.com
If you've been here before, then you know I'm a big fan of sheet pan recipes. They're so convenient, and they're easy to customize to suit your dietary needs on a given day.
That's why I'm in love with this recipe with bell pepper! Fajitas are typically enjoyed with a side of tortillas, but these come with a lettuce cup instead.
They're so easy to make, super delicious, and very summery.
Source: everydayfamilycooking.com
If you've ever seen a game day spread, then you know it could benefit from a little bit of lettuce on the table. A splash of green goes a long way, especially when it goes so well with the flavors.
Case in point, these buffalo chicken lettuce wraps! The buffalo sauce is super powerful, so the lettuce wraps are mainly there to add some much-needed texture.
These are a delicious and vibrant addition to any game day table.
Source: lifeasastrawberry.com
Chicken and apple is a classic combination, usually enjoyed by pairing chicken with apple sauce.
But these chicken mixture lettuce wraps prove that you can enjoy this pairing in more ways than one!
The sweet, crunchy, fragrant apple is an amazing addition to these wraps. The tender chicken helps ground the meal, while the lettuce and apple keep things light and refreshing.
Vegan Lettuce Wrap Recipes
If you live vegan, lettuce wraps are a wonderful staple meal to have in your repertoire. They're light and versatile, so they make a great option for meal preparation (especially for work lunches!).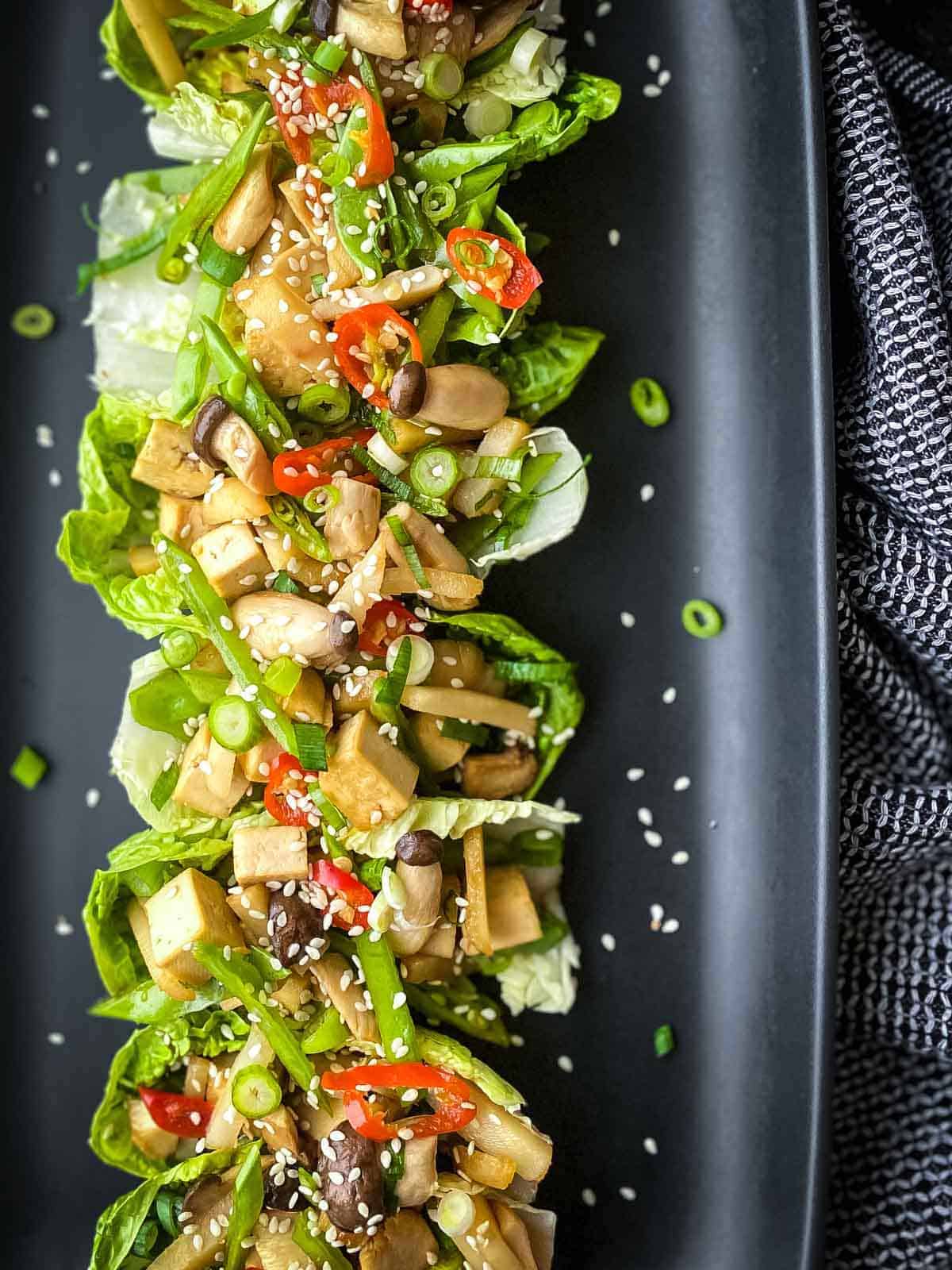 Source: thedevilwearssalad.com
Water chestnuts are so good! The texture is super crunchy, almost fruit-like, making them an ideal addition to any salad. Paired with the crunchy lettuce cup, this is a refreshing lunch or dinner option.
The mushrooms help add some necessary protein to the dish, helping it to feel more filling and nutritious.
Source: cookeatlivelove.com
In love with buffalo chicken? Enjoy the vegan version with these stunning lettuce wraps! These crunchy lettuce cups are packed with punchy, bold buffalo-covered chickpeas.
Not only are they a great host for this well-loved sauce, but chickpeas are also a great source of vegan protein. Plus, they're super easy to cook with.
Source: mycookingjourney.com
Turkish kofte is usually enjoyed with flatbread, but why not try substituting lettuce? This lettuce wrap version is light and delicious, giving the spotlight to the kofte while making the meal sing.
The red lentils and bulgur in the kofte also make them extra hearty and filling, so you won't miss the lamb!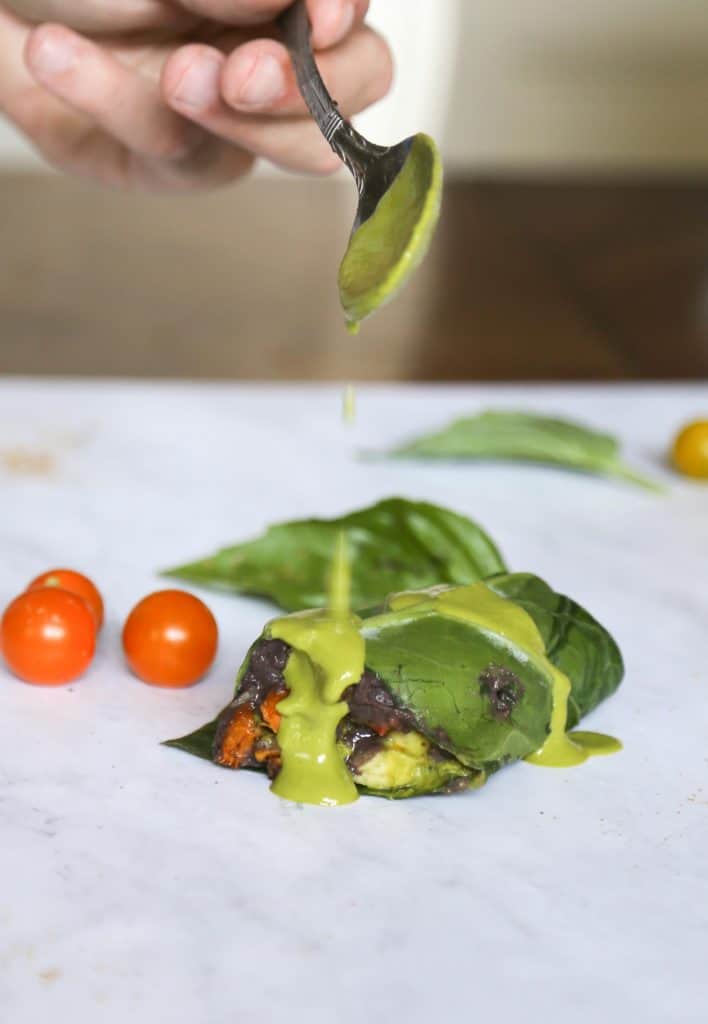 Source: eatingworks.com
Bring the South to your table with these genius collard green wraps.
This is such a cool take on a classic lettuce wrap that uses salty collard greens instead of standard iceberg lettuce to wrap the meal.
Stuffed inside is everything that makes life worth living: delicious refried beans and sweet potatoes baked to perfection. High in protein and taste, this is a must-try.
Source: makeitskinnyplease.com
Fast, easy, high-protein, and delicious, these Thai lettuce wraps live up to the hype. The filling is made from extra firm tofu, which is a great way to add protein while keeping things fresh.
This dish has a ton of aromatics, so the whole block will be able to smell how good dinner is shaping up to be.
Source: myquietkitchen.com
For the uninitiated, larb is the national dish of Laos. It's a delicious meat salad enjoyed inside cups of lettuce, usually with a side of green papaya salad and sticky rice.
It's a fantastically well-rounded dish with a ton of nutrients in every mouthful. Plus, it tastes incredible!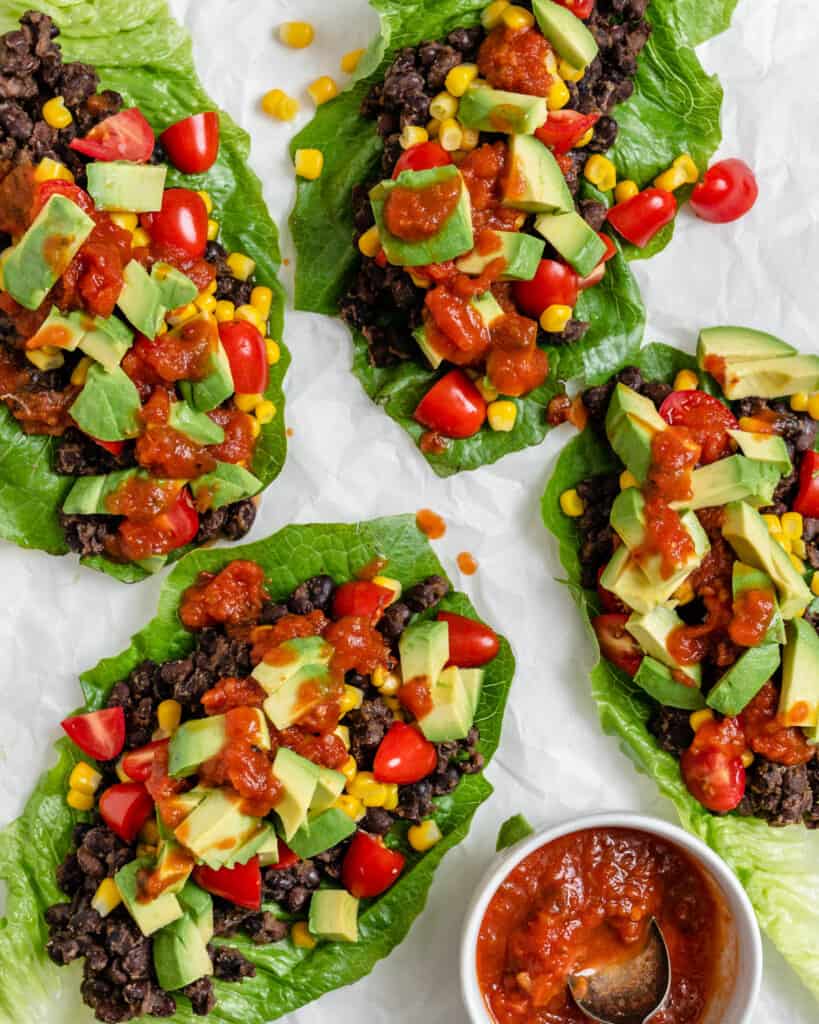 Source: plantbasedonabudget.com
Black beans are one of my go-to ways to pack protein into a meal. They're just so affordable and easy to cook with. Not to mention, they soak up spices and condiments like a sponge.
The spiced black beans in these lettuce wraps prove my point! In just 15 minutes, you can have dinner ready for you and the whole family, no stress included!
This is one of the best vegetarian lunch ideas!
Source: frugalnutrition.com
The same principle applies to lentils. Lentils have a ton of protein, meaning they create filling meals without the stress of cooking with beef or chicken. They also keep really well, so you can meal prep.
These lentil lettuce wraps are great for work lunches or quick weeknight dinners.
Best Lettuce Wrap Recipes
Finally, we have the best of the best. The cream of the crop! These lettuce wrap recipes embody the best in their category, putting a healthy spin on your favorite sandwiches, salads, and other meals.
Source: threeolivesbranch.com
Put a healthy spin on one of the most iconic sandwiches of all time. If you miss the flavors of your favorite Philly cheesesteak but you don't want the bread to go with it, I've got the solution!
These lettuce cups live up to the hype, making Philly cheesesteak feel less heavy and more refreshing. Toss some ground beef in a large skillet, and let's get cooking!
Source: adorefoods.com
When in Greece (or, really, anywhere), it's time to eat Greek food! These Greek-style lamb wraps are out of this world. Every inch is packed with robust spices to give the lamb a kick.
Paired with an array of Greek-style side dishes to stuff inside, these lettuce wraps are a great option if you're after a crowd-pleasing meal.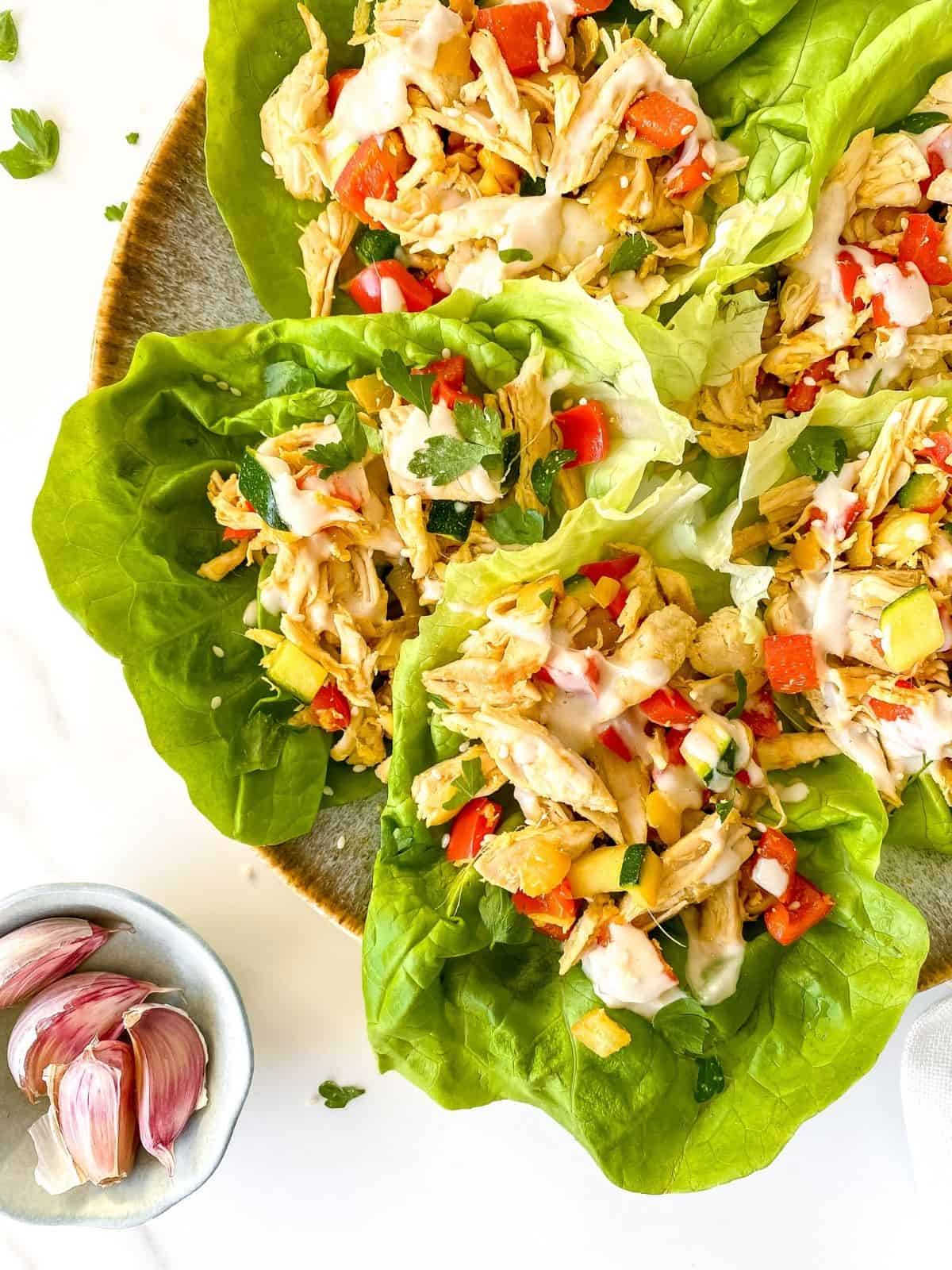 Source: throughthefibrofog.com
Use up your leftover holiday turkey to make something light and easy to digest. After a heavy Thanksgiving dinner the day before, there's nothing better than a simple, tasty leftover meal.
These lettuce wraps are spicy, a little sweet, and super fresh.
Source: officiallyglutenfree.com
Lettuce wraps are a great way for anyone living ketogenically to enjoy their favorite sandwiches and burgers without the buns! Case in point: this keto salmon burger.
The patty is unbelievably tasty, singing with a range of spices designed to enhance that rich salmon taste.
Source: theforkedspoon.com
Take some inspiration from East Asia with these bulgogi wraps. Bulgogi is a Korean dish made from richly-spiced beef or pork mince, usually enjoyed with rice or on a sandwich.
In this case, the lettuce helps pull back the rich spices slightly, making this a light and refreshing meal option.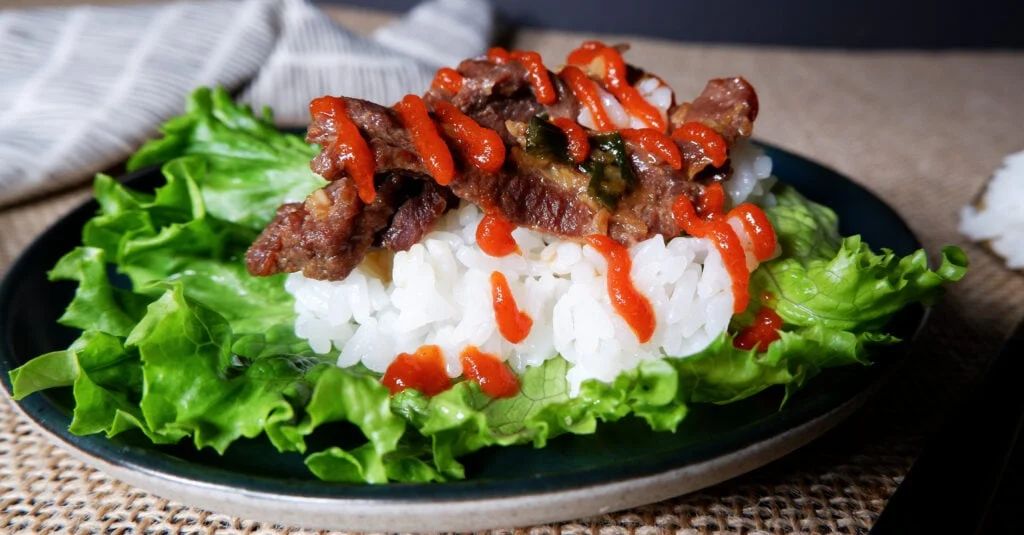 Source: peaktoplate.com
Speaking of Bulgogi, here's another take if you're a fan of the game! The slightly gamey flavor of the venison is a great pair for the bulgogi spice mix.
Make sure to serve this with a wide variety of fresh vegetables, as they help to balance the heavy taste of the venison.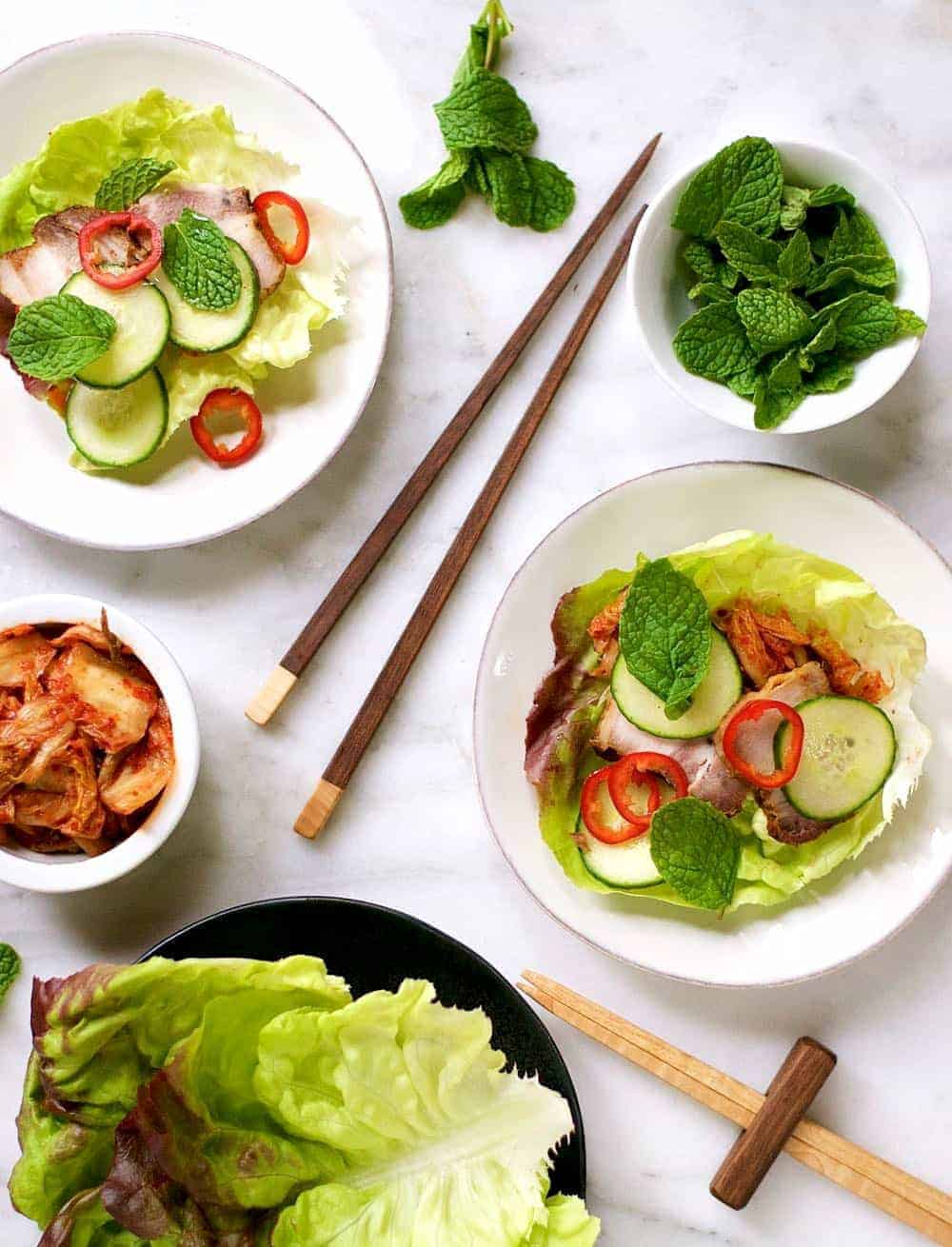 Source: pinchandswirl.com
Did someone say 'spicy pork belly'? There's nothing better than a melt-in-your-mouth bite of pork belly, so imagine how good it is wrapped in crunchy lettuce!
These wraps are out of this world, especially with the cucumber kimchi to help them along. If you have a little time to spare and you're craving some Korean gems, this is where to go!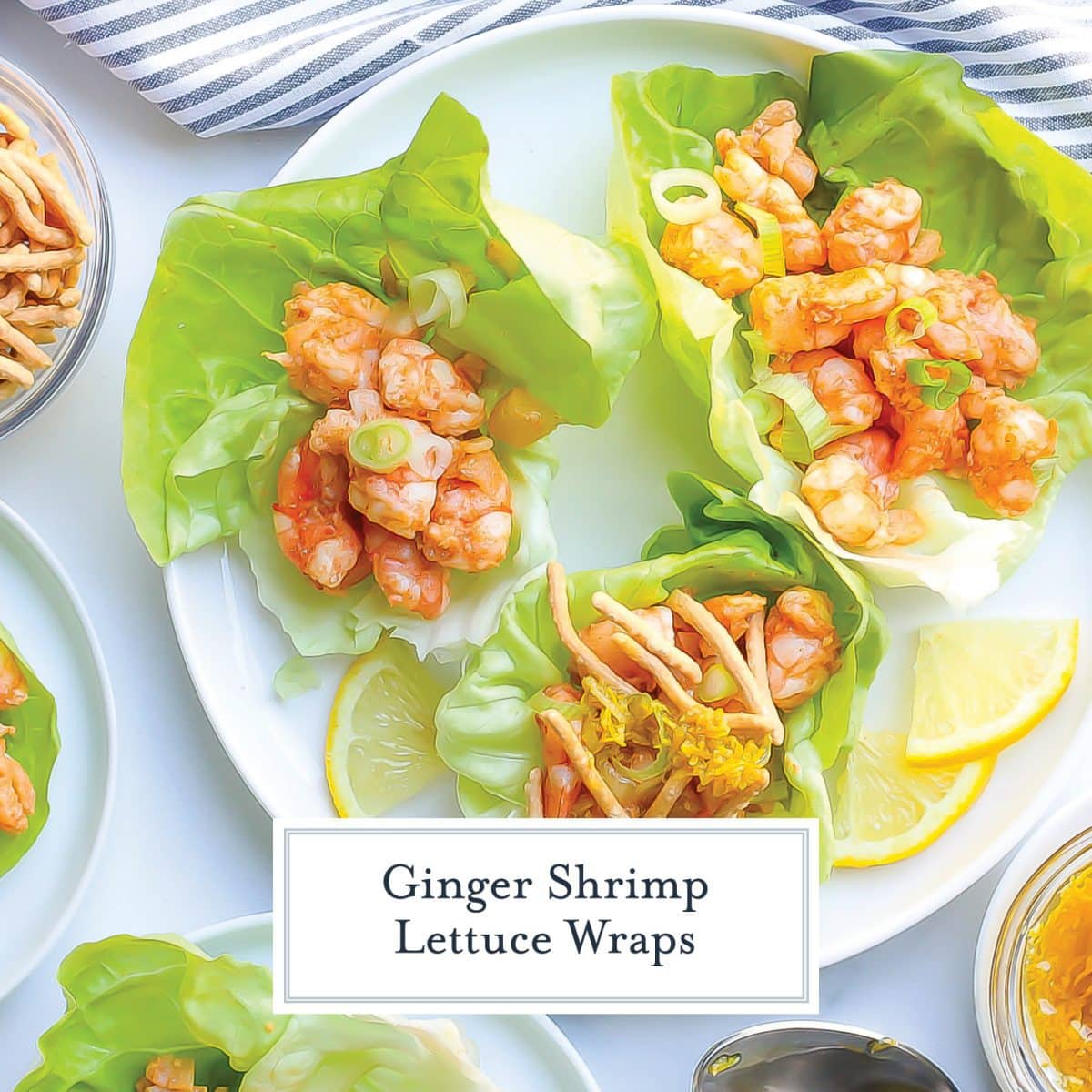 Source: savoryexperiments.com
Shrimp is such a good summer protein. It's light and juicy without being overwhelming, and they cook lightning-fast!
Gather your friends around the grill for a go at these ginger shrimp lettuce wraps. The Asian-inspired flavors make this a guaranteed success!
You might also enjoy these other tasty Asian shrimp recipes!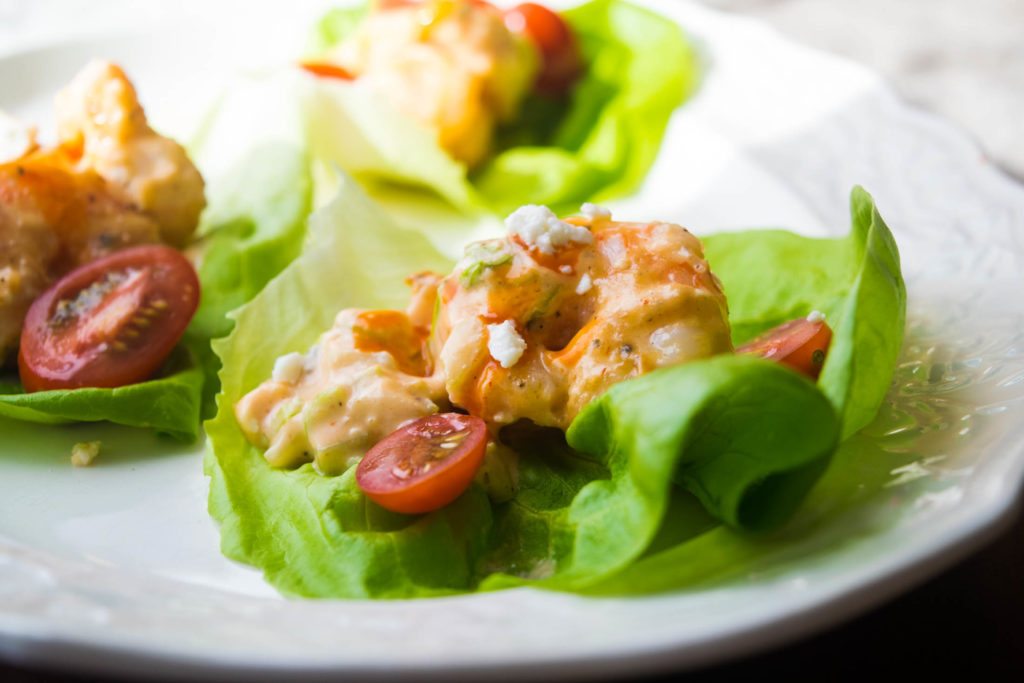 Source: jawnsicooked.com
Ever tried buffalo sauce on shrimp? Now's the time! The sweet, delicate flavor of the shrimp is a great contrast to the bold and punchy buffalo flavor.
Aside from its flavor, the best part of this dish is how easy it is to make. Whip up a quick and easy dinner to feed a crowd so you'll actually have time to socialize with your guests!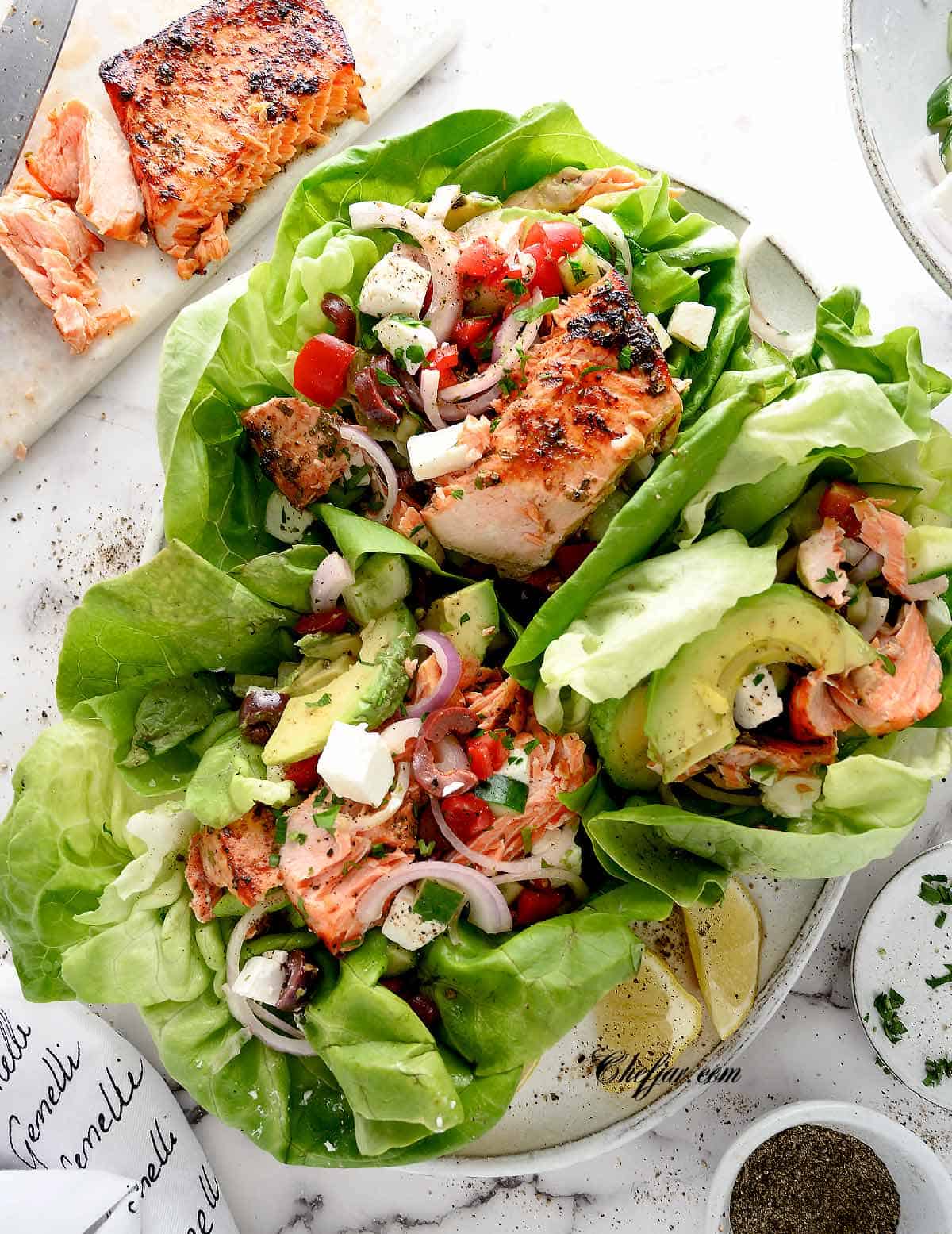 Source: chefjar.com
When taking inspiration from the Mediterranean, you can't go wrong. These refreshing salmon lettuce wraps are the perfect way to usher summer in.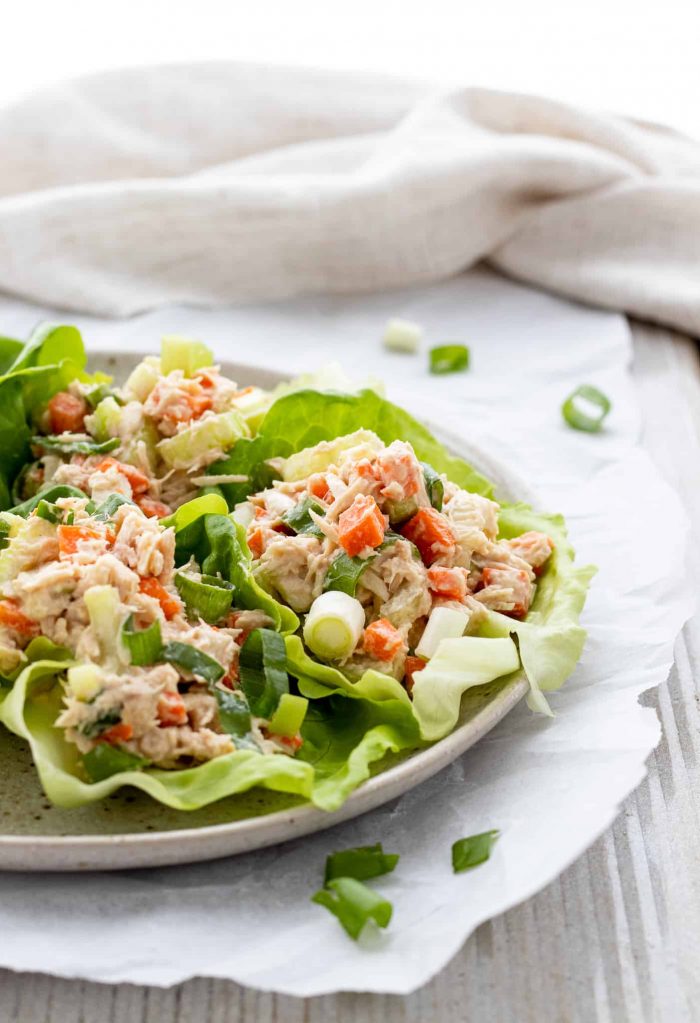 Source: hauteandhealthyliving.com
We all know that tuna and mayo make a great tuna salad, but sometimes you want the taste without the extra richness. That's where this mayo-free creamy tuna lettuce wrap comes in!
This is ideal as a light lunch to get you through a tough work day. You can even make the salad ahead of time and enjoy it throughout the week, so there's no lunch-hour stress.
Source: acedarspoon.com
Finally, embrace Mexican flavors and make this lettuce wrap sing! This is a bright and bold choice, perfect for a summer evening with your friends and family.
The best part is, even though this is a filling dish, it's so easy to make in large quantities. Even if you end up with leftovers, you'll know exactly what to do with them the next day!
Looking for something a little more filling? Check out these best tortilla wrap recipes!
31 Healthy Lettuce Wrap Recipes For An Easy Meal
These lettuce wrap recipes are loaded with flavor and fresh ingredients - a great option for anyone looking for a healthy and satisfying meal.
Ingredients
1. Sesame Hoisin Chicken Lettuce Wraps
2. Mexican Chicken Salad Lettuce Cups
3. Instant Pot General Tso Chicken
4. Thai Chicken Lettuce Wraps
5. Avocado Chicken Salad Lettuce Wraps
6. Asian Chicken Lettuce Wraps
7. Chicken Caesar Lettuce Cups
8. Mango Avocado Chicken Lettuce Wraps
9. Sheet Pan Chicken Fajitas in Lettuce Wraps
10. Buffalo Chicken Lettuce Wraps
11. Chicken Apple Salad Lettuce Wraps
12. Mushroom and Water Chestnut Salad
13. Vegan Lettuce Wraps
14. Turkish Red Lentil and Bulgur Kofte
15. Collard Green Wraps with Veggies and Healthy Refried Black Beans
16. Thai Lettuce Wraps
17. Thai-Inspired Vegan Larb
18. Black Bean Lettuce Wraps
19. Lentil Lettuce Wraps
20. Philly Cheesesteak Lettuce Wraps
21. Greek Style Lamb Lettuce Wraps
22. Spicy Turkey Lettuce Wraps
23. Keto Salmon Burger
24. Bulgogi Korean BBQ Beef Lettuce Wraps
25. Venison Bulgogi Lettuce Wraps
26. Spicy Pork Belly Cucumber Kimchi Lettuce Wraps
27. Ginger Shrimp Lettuce Wraps
28. Buffalo Shrimp Salad Lettuce Wraps
29. Mediterranean Salmon Lettuce Wraps
30. Mayo-Free Creamy Tuna Lettuce Wraps
31. Mexican Turkey Lettuce Wraps
Instructions
Scroll up to get a bunch of easy, yummy, and delicious lettuce wrap recipes. Don't be afraid to get creative with the ingredients, you might discover a flavor you didn't know you liked.
Get your shopping list going, and make sure you've got all the ingredients.
Get cooking and make your next Lettuce Wrap Recipe!
Notes
Which one of these recipes was your favorite? Let me know in the comment section or on Pinterest!