When a busy week is looming, and your schedule is packed, the last thing you want to do is plan a week of meals. Well, don't worry. These easy dinner ideas, for one, have got you covered!
These super simple dinner ideas are the perfect thing for someone living solo.
Whether you're getting a quick night alone to enjoy or you're living that solo life, these easy meals will warm your evening in a great way!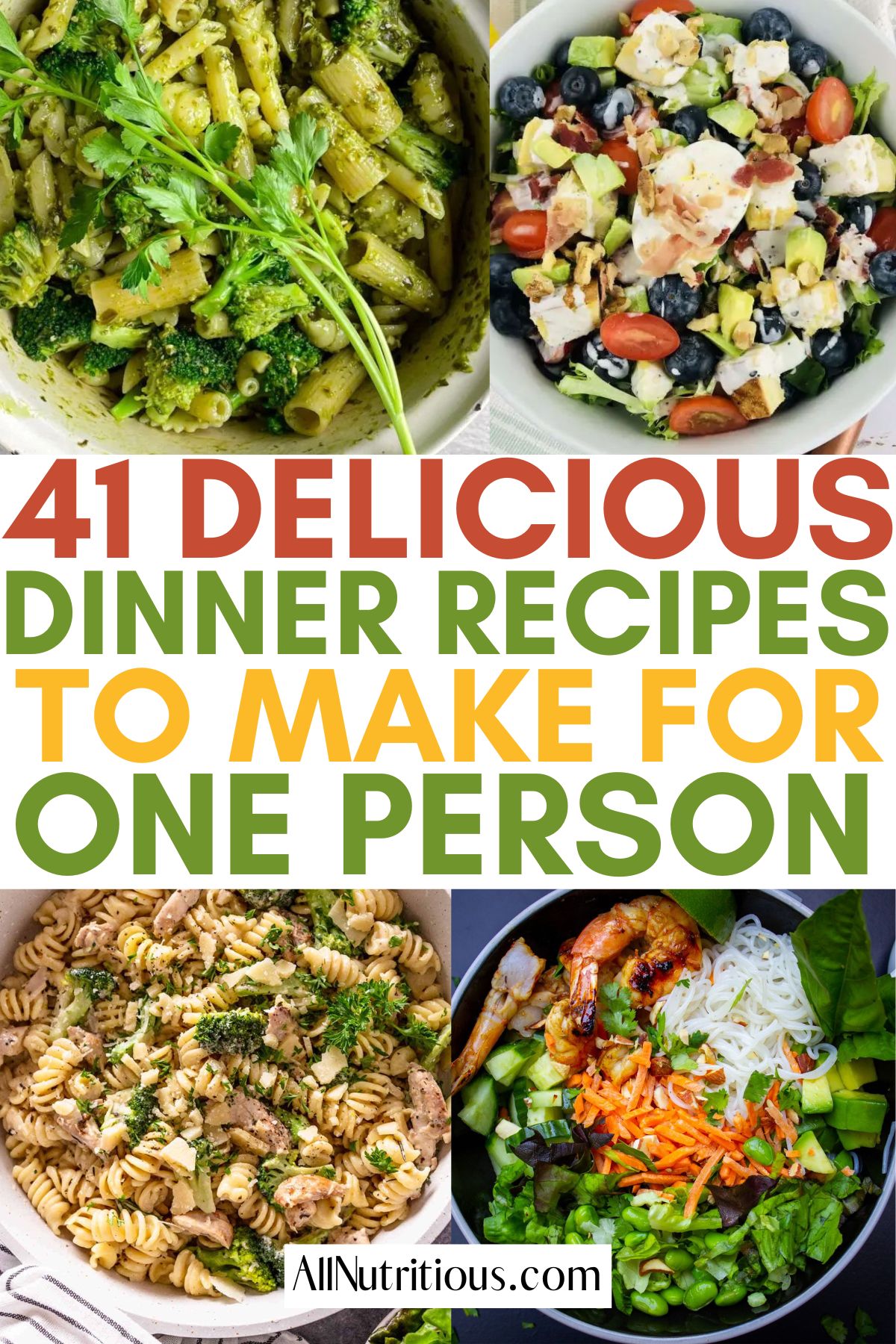 What Should I Eat for Dinner for One Person?
Whatever you want! When you're in charge of dinner, no one can tell you what to do. Create a delicious meal that makes your tastebuds want to dance a jig.
What's great about cooking for one, however, is that you can often rely on there being leftovers to enjoy the following day for more easy dinners.
Casseroles, meal preparation dishes, and simple dishes are great in this case.
Healthy Dinner Ideas for One
Bring some healthy recipes to your table without giving up your time or energy too much! Healthy and delicious, these solo easy recipes are all great for boosting your daily nutrients.
Source: allnutritious.com
Discover a delectable and healthy meal prep idea with this Salmon and Veggies recipe. Succulent salmon fillets are perfectly paired with a colorful array of roasted vegetables.
Quick, easy, and packed with nutrients, this dish is perfect for busy weeknights. A delicious way to maintain a balanced diet without compromising on taste. Get ready to savor every bite!
Source: madeinapinch.com
Wholesome and vibrant, this brunch salad is a delightful medley of fresh greens, juicy berries, creamy goat cheese, and crunchy candied pecans drizzled with a tangy balsamic vinaigrette.
The perfect balance of flavors and textures makes it a scrumptious choice for a healthy and satisfying brunch option.
Source: healthyfoodiegirl.com
Try this delicious White Bean Tuna Salad! A protein-packed blend of tender white beans, flaky tuna, crunchy vegetables, and zesty lemon dressing.
Perfect for a quick and nutritious lunch or light dinner option. This refreshing salad is easy to make and will satisfy your taste buds while keeping you energized throughout the day.
Source: sumptuousspoonfuls.com
Indulge in a delightful dish with this Easy Parmesan Pistachio Salmon topped with a refreshing Pomegranate Avocado Salsa. Succulent salmon fillets encrusted with parmesan and pistachios.
Perfectly cooked to flaky perfection and served with a zesty salsa of pomegranate seeds and creamy avocado. A delectable and healthy choice for a delightful dinner!
Source: strengthandsunshine.com
Discover the mouthwatering delight of Tuna Thai Red Curry! This vibrant recipe blends succulent tuna, aromatic red curry paste, and creamy coconut milk, creating a tantalizing fusion of flavors.
With fresh veggies and exotic spices, it's a quick and easy one-pot wonder that promises to transport your taste buds straight to Thailand. A must-try for any curry lover!
Source: chocolatemoosey.com
This recipe from Chocolate Moosey is a symphony of flavors.
Succulent salmon fillets are marinated in a blend of ginger, garlic, soy sauce, and honey, creating a tantalizing balance of sweet and savory. A must-try dish for seafood enthusiasts!
Source: christinascucina.com
Indulge in the perfect blend of flavors with this delightful Kale Salad. Toss crisp kale, toasted pine nuts, and tangy Pecorino Romano cheese in a simple homemade dressing.
A healthy and satisfying dish that's quick and easy to make. Say goodbye to boring salads and hello to a burst of taste!
Source: twokidsandacoupon.com
Discover the delectable Weight Watchers Thai Mango Wrap! This quick and healthy recipe combines refreshing mango, crunchy veggies, and zesty Thai flavors, all wrapped in a light tortilla.
With only a few simple steps, you'll enjoy a mouthwatering meal that's perfect for a satisfying lunch or a delightful snack.
Source: madeinapinch.com
This delectable grilled chicken salad recipe from Made in a Pinch is a burst of flavors and textures.
Tender grilled chicken tops a bed of fresh greens, juicy cherry tomatoes, crunchy cucumbers, and creamy avocado slices, all drizzled with a zesty lemon vinaigrette.
A delightful and healthy summer delight!
Source: strengthandsunshine.com
Discover a soothing Tummy Healing Soup for One! This gluten-free and vegan recipe from Strength and Sunshine features nourishing ingredients like ginger, turmeric, and veggies in a delicate broth.
Perfect for comforting and healing your stomach. A delightful bowl that's easy to make and packed with wholesome goodness.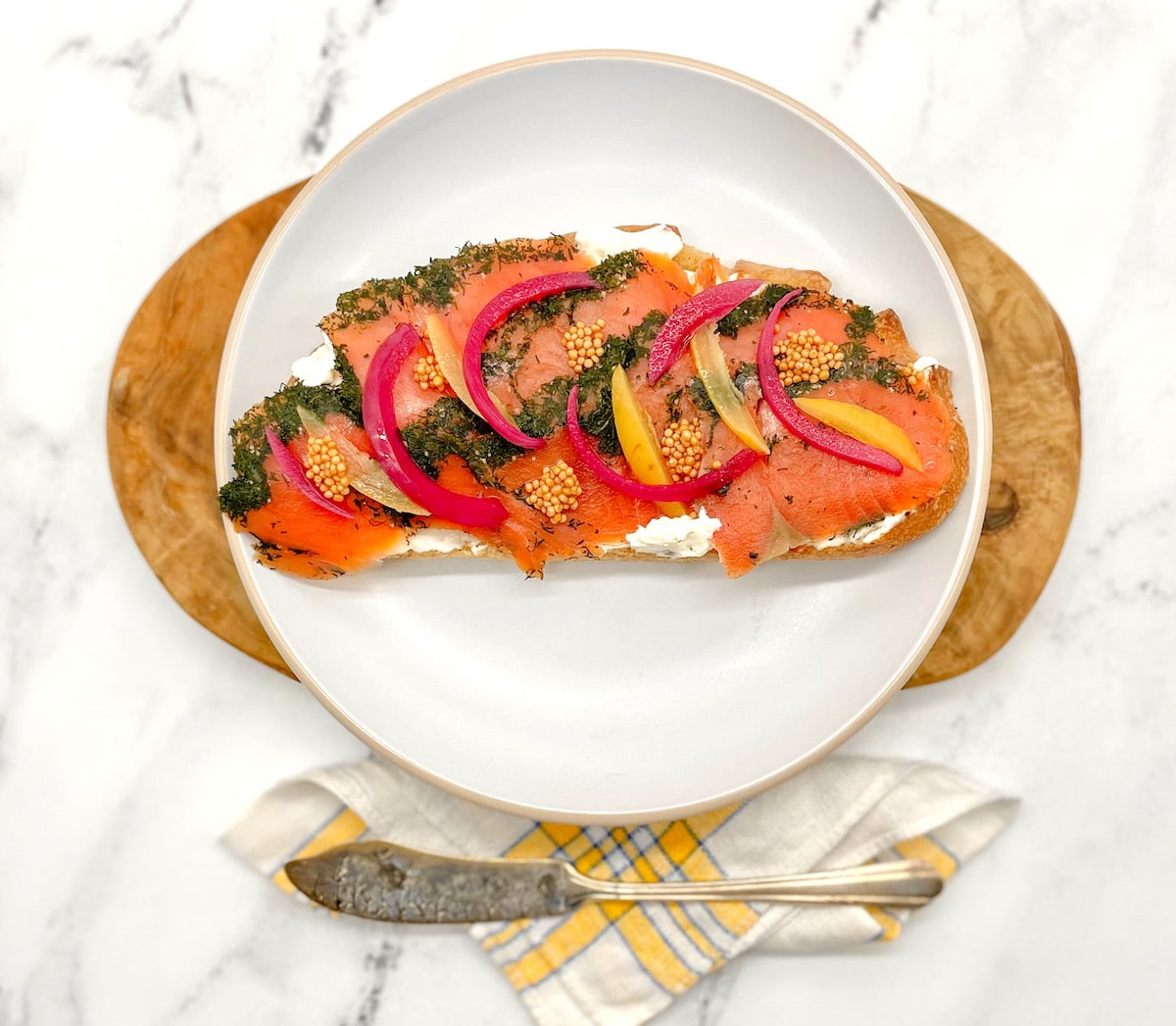 Source: twocloveskitchen.com
Indulge in the exquisite flavors of Gravlax Tartine! This stunning Scandinavian-inspired recipe features silky, cured salmon atop a crusty baguette.
From there, it's layered with zesty dill mustard sauce, pickled cucumber, and a sprinkle of dill. A refreshing and elegant open-faced sandwich perfect for brunch or a light lunch.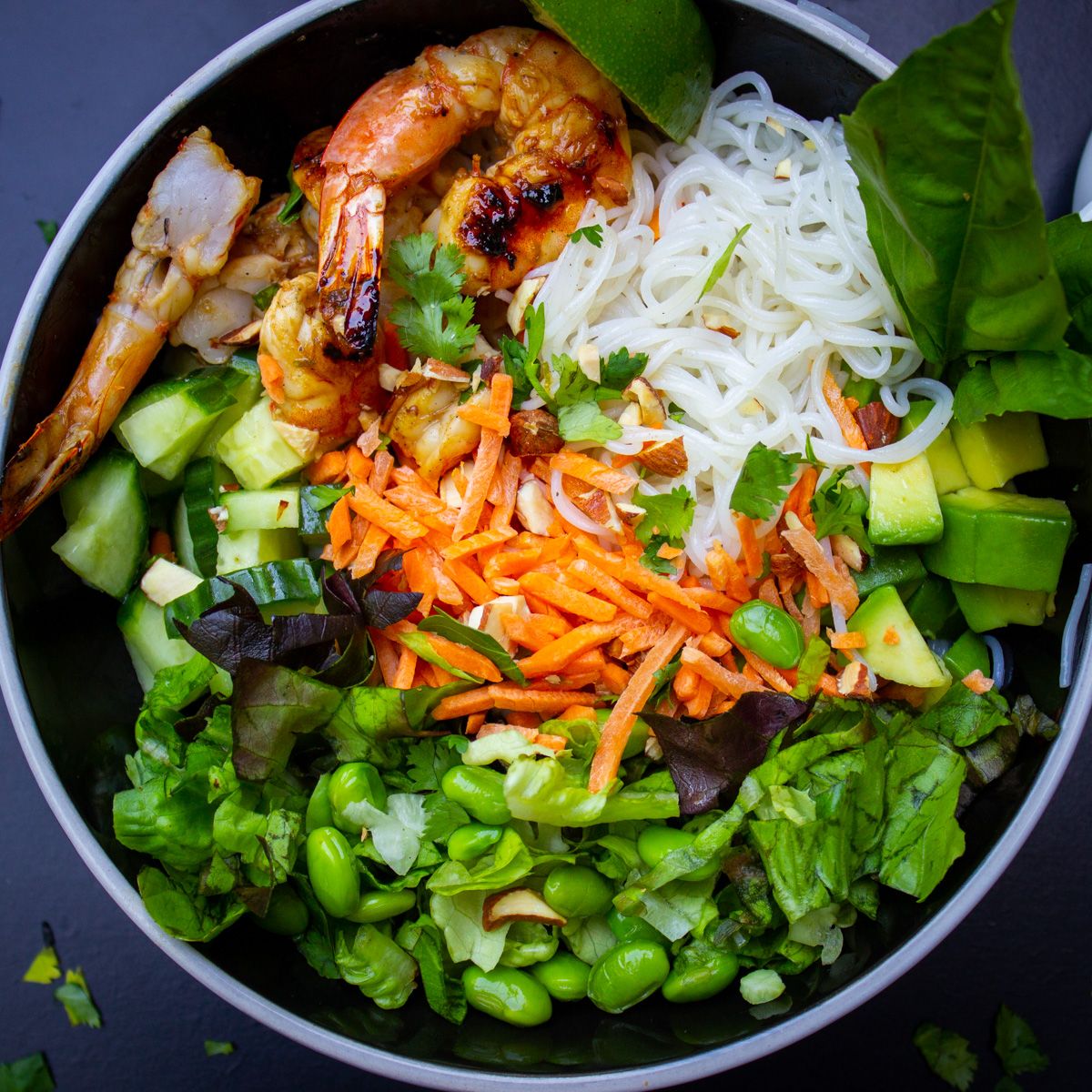 Source: twokooksinthekitchen.com
Spice up your taste buds with our Dynamite Noodle Bowl! This delectable recipe combines tender noodles, succulent shrimp, and vibrant veggies in a fiery Sriracha-infused sauce.
Quick and easy to make, it's a guaranteed explosion of flavors that will leave you craving for more!
Quick Dinner Ideas for One
If your schedule is packed, and you just need something for dinner tonight to get you through the evening, you're in the right place.
These fast and tasty dinner ideas are all you need to free up some time in your evening.
Source: allnutritious.com
Learn how to make delicious and healthy baked chicken cutlets with this easy recipe. This one is one of mine, and I reach for it all the time!
Tender chicken breasts coated in a flavorful mix of breadcrumbs, Parmesan cheese, and spices, then baked to perfection. A quick and wholesome meal the whole family will love!
You might also enjoy these other tasty chicken cutlet recipes!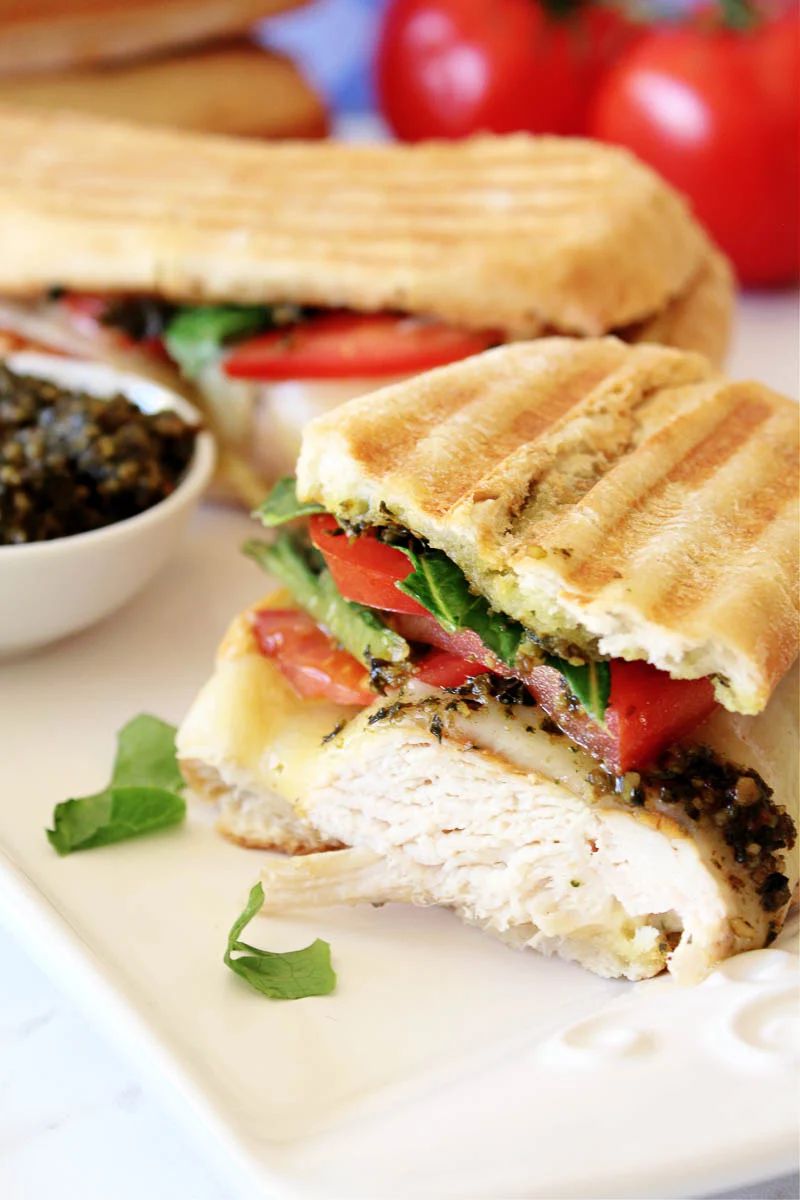 Source: thislittlehomeofmine.com
Enjoy the delightful flavors of Chicken Pesto Sandwiches with this easy recipe. Tender grilled chicken, creamy pesto spread, and fresh veggies are layered between soft buns for a mouthwatering treat.
Perfect for a quick lunch or picnic, these sandwiches are a scrumptious blend of savory and fresh ingredients.
Source: allnutritious.com
This is the perfect cast-iron chicken breast recipe! Juicy, tender chicken seasoned with a delightful blend of herbs and spices, cooked to perfection in a cast-iron skillet.
This easy and flavorful dish is sure to become a staple in your kitchen. Try it now for a delicious and wholesome meal!
Source: servedfromscratch.com
Discover the ultimate 10-Minute Peanut Noodles recipe! Whip up this mouthwatering Asian-inspired dish with ease.
Boil noodles, whip together a delectable peanut sauce, toss in fresh veggies, and top with cilantro and peanuts for a quick and satisfying meal that's bursting with flavor in just 10 minutes. Delish!
Source: theorganickitchen.org
Here comes the ultimate 5-minute lunch idea with a delicious Egg Drop Soup! This organic kitchen delight brings together rich broth, silky eggs, and vibrant veggies for a satisfying meal in no time.
Perfect for busy days and guaranteed to please your taste buds!
Source: sabrinacurrie.com
Indulge in the delectable Brie and Apple Grilled Cheese with Hot Honey! This delightful recipe features melted brie and crisp apple slices, grilled to perfection between buttery slices of bread.
To elevate the experience, a drizzle of hot honey adds a sweet and spicy kick. A gourmet twist on a classic comfort food!
This is one of the best fun dinner ideas!
Source: twocloveskitchen.com
What's better than a creamy and nutritious toast-based masterpiece?
This recipe features ripe avocados mashed with zesty lime juice topped with cherry tomatoes, red pepper flakes, and fresh basil.
All served on crispy artisanal bread, this simple and wholesome dish is a perfect breakfast or light lunch option.
Source: joyfilledeats.com
Looking for a quick and delicious dinner idea? Check out this easy Air Fryer Frozen Salmon recipe!
In just 15 minutes, you can have perfectly cooked, flaky salmon with a flavorful herb crust. Healthy, hassle-free, and full of taste – a must-try for seafood lovers!
Source: servedfromscratch.com
This quick and easy recipe from ServedFromScratch combines savory garlic, tender noodles, and a medley of veggies, all stir-fried to perfection in just 15 minutes.
A mouthwatering Asian-inspired dish that's perfect for busy foodies craving bold flavors in a flash.
Source: theforkedspoon.com
Delight your taste buds with savory Chimichurri Steak Bites! Tender and juicy steak, seasoned to perfection, is seared and served with a zesty homemade chimichurri sauce.
That sauce is absolutely bursting with fresh herbs, garlic, and tangy vinegar. This quick and easy recipe is a crowd-pleaser and perfect for any occasion. Get ready to savor the flavors!
This is truly one of the best meat recipes for dinner!
Vegetarian Dinner Ideas for One
Living the meatless lifestyle? No problem! Vegetarian meals are fantastic for leftovers and meal prepping, so they absolutely suit making dinner for one.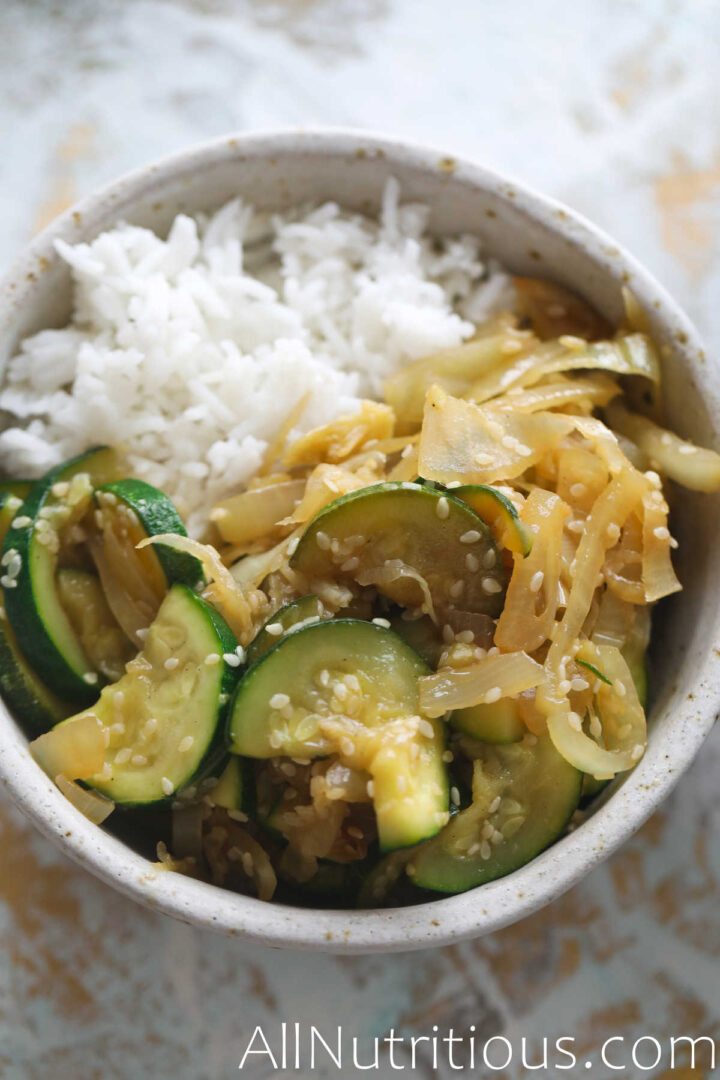 Source: allnutritious.com
Uncover a delectable and healthy Zucchini Stir-Fry in this easy-to-follow recipe.
Sautéed with colorful bell peppers, garlic, and flavorful seasonings, this dish is a perfect balance of taste and nutrition.
Enjoy a quick and satisfying meal that will please your taste buds and nourish your body. This is one of mine, and it's great either as dinner or a meal-prepped lunch.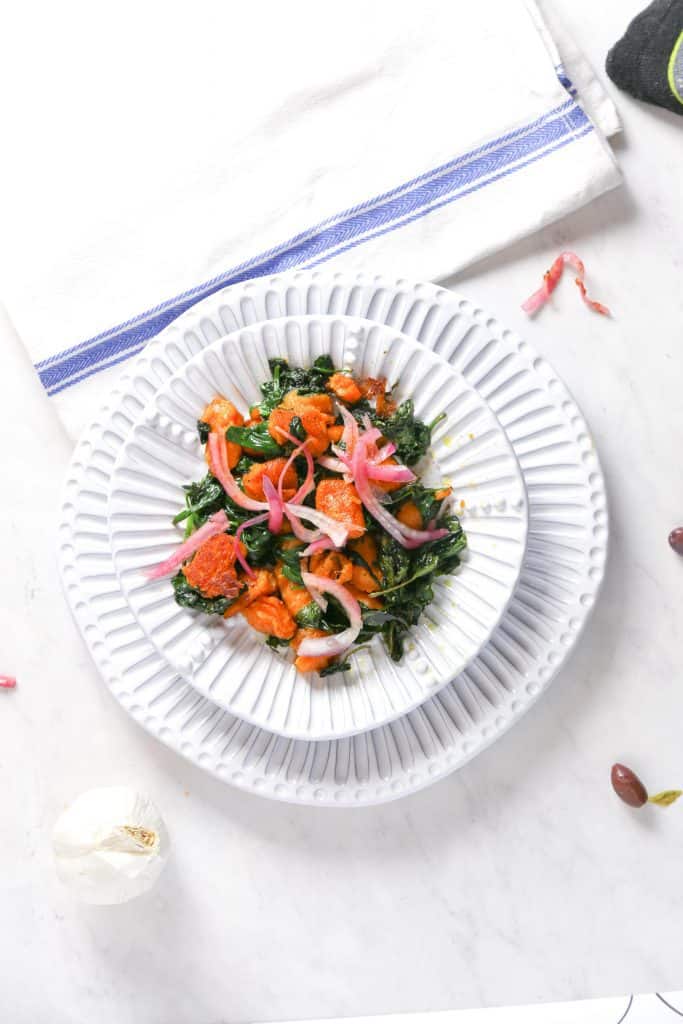 Source: eatingworks.com
Indulge in pillowy soft gnocchi made from sweet potatoes, flour, and love. We already know that standard potato gnocchi is wildly good… but what if they feature sweet potato instead? Heaven!
Boil, cut, and shape the dough, then pan-fry until golden. Serve with a savory vegan sauce of choice, and top with fresh herbs for an unforgettable, plant-based Italian-inspired delight.
Source: flavorfuleats.com
Break up a tough week with comforting, savory goodness thanks to these Mushroom Goat Cheese Wraps!
Sautéed mushrooms, onions, and garlic mingle with creamy goat cheese, wrapped in warm tortillas for a delectable treat.
Bursting with flavors and simple to make, these wraps are perfect for a quick and delightful meal.
Source: earthtoveg.com
Take the stress out of your week with this 3-ingredient, one-pot vegan pesto pasta from Earth to Veg!
This hassle-free recipe combines pasta, basil pesto, and cherry tomatoes for a quick, mouthwatering meal.
Perfect for busy days when you crave a delicious and satisfying plant-based dish without the fuss!
Source: magicallifeoffruit.com
This mouthwatering plant-based dish features a medley of fresh veggies, seasoned jackfruit, vegan cheese, and creamy avocado sauce, all wrapped in a crispy tortilla.
A satisfying and flavorful treat for vegans and non-vegans alike!
Source: karalydon.com
This delightful Roasted Vegetable Pizza is a veggie-lover's dream! A thin, crispy crust topped with a medley of colorful roasted vegetables, zesty tomato sauce, and gooey mozzarella cheese.
A healthier twist on a classic favorite that will satisfy your pizza cravings without guilt. There's no downside, so what are you waiting for? Give it a try!
You might also enjoy this delicious mozzarella-stuffed chicken breast!
Source: sumptuousspoonfuls.com
Try these delightful 10-minute lentil avocado tostadas! A quick and easy recipe that's bursting with cheesy goodness and loaded with healthy toppings.
Ideal for a satisfying weeknight meal or a flavorful appetizer to impress your guests.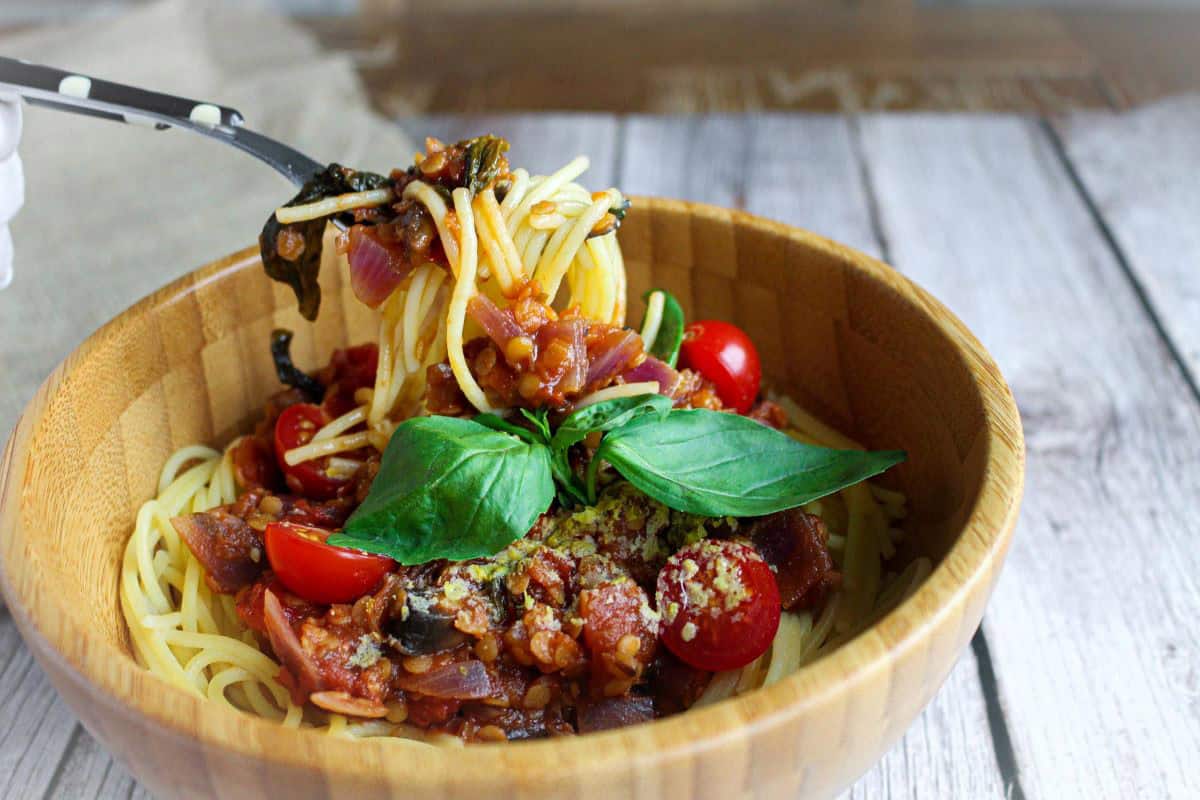 Source: magicallifeoffruit.com
Discover a delightful twist to classic Bolognese with Red Lentil Spaghetti! Savor the rich, plant-based sauce made from lentils, tomatoes, and aromatic spices.
This wholesome, gluten-free dish is a burst of flavors and a perfect comfort food option. An easy, nourishing recipe that brings joy to your taste buds and keeps you coming back for more.
Source: thedizzycook.com
Up next, a dish for the ages! Check out "The Dizzy Cook's" mouthwatering recipe for Creamy Boursin Pasta.
This delectable dish combines tender pasta with a luscious Boursin cheese sauce infused with garlic, spinach, and sun-dried tomatoes for a burst of flavor.
Quick and easy to make, it's a perfect go-to option for a delightful weeknight dinner.
Source: karalydon.com
Delight your taste buds with Kung Pao Vegetables – a savory Asian-inspired stir-fry bursting with flavors.
Crispy tofu, colorful veggies, and crunchy peanuts are tossed in a zesty sauce of garlic, ginger, and chili. This vegan dish packs a punch of umami and spice.
It creates a perfect balance of textures and tastes in every bite.
Source: homemadeandyummy.com
Find a delightful recipe for Vegetarian Burrito on Homemade & Yummy. Fill a tortilla with beans, rice, veggies, and cheese. Spice it up with salsa and guacamole. Roll it tight, then toast until golden.
Savor this satisfying, meatless delight bursting with flavors. A perfect option for a hearty, quick, and tasty meal. Enjoy the goodness guilt-free!
Cheap Dinner Ideas for One
Finally, we've got one of my favorite categories on any list! Affordable, budget-friendly dinners are the highlight of my week. They're delicious, and they don't harm your wallet. Heaven!
Source: christinascucina.com
Check out this easy Welsh Rarebit recipe from Christina's Cucina! A delicious twist on cheese on toast, this classic dish features a savory cheese sauce with Worcestershire sauce and mustard.
Perfectly toasted bread is smothered with the rich cheese mixture, creating a satisfying and comforting meal in no time. Try it today for a flavorful treat!
Source: thislittlehomeofmine.com
Next up, savor the taste of Tuscan Chicken Pasta with this delightful recipe. Cook penne pasta until al dente and set aside. Sauté garlic and chicken until golden brown.
Add spinach, sun-dried tomatoes, and seasonings. Stir in cream and Parmesan cheese until creamy. Combine with pasta and serve garnished with basil. A rich and satisfying Italian-inspired dish.
Check out these other delicious chicken and spinach recipes!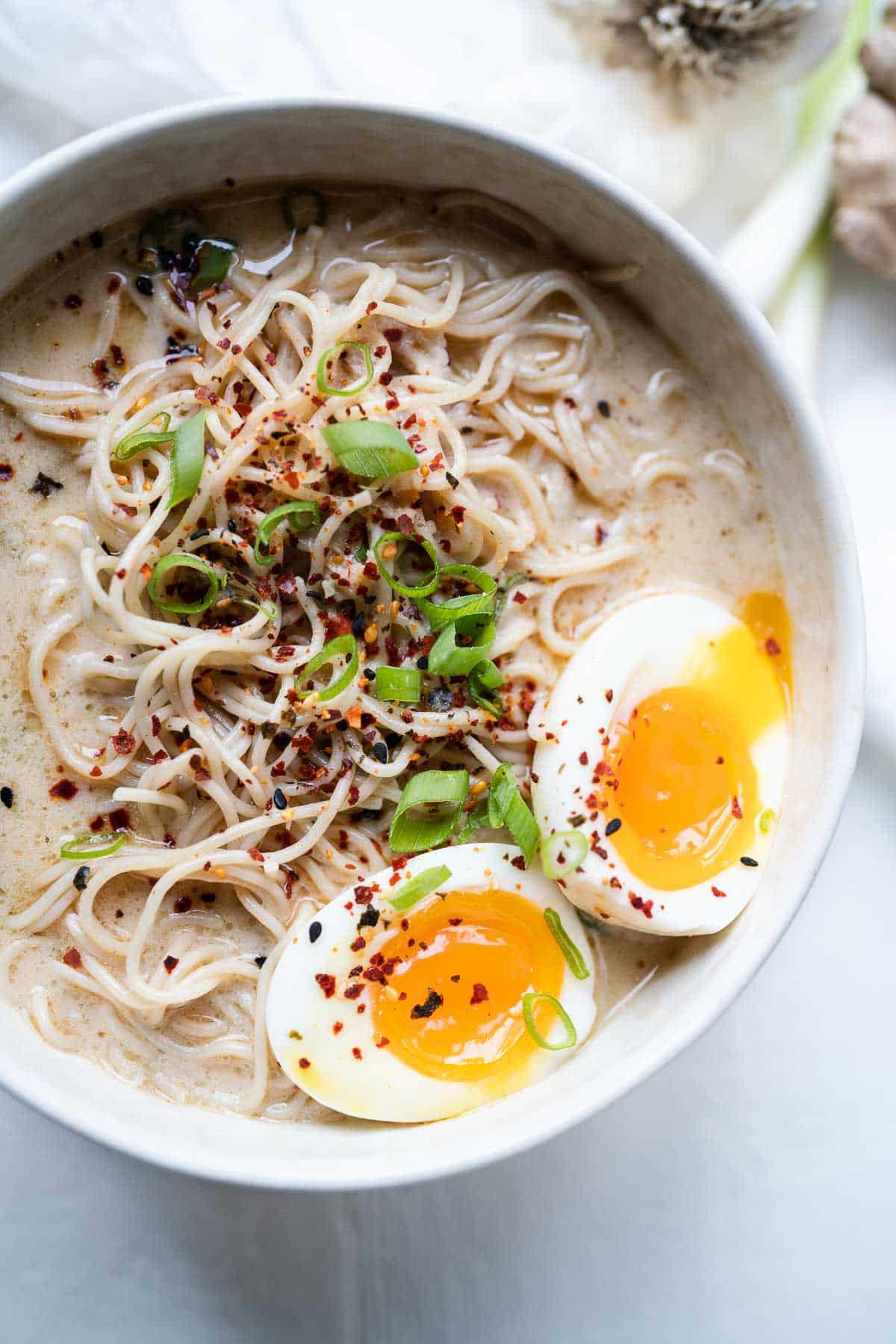 Source: freeyourfork.com
This one goes out to the gluten-free lovers out there! Tender rice noodles, savory broth, and a medley of fresh vegetables come together in a delightful bowl of comfort.
A perfect option for those with dietary restrictions or anyone craving a delicious noodle dish that's both healthy and tasty.
Source: lifeasastrawberry.com
Here's a quick and easy weeknight butter beans recipe for when you need a bigger dose of protein in your life. Sauté garlic and onions. Add tomatoes and spices. Simmer with butter beans until tender.
Serve with crusty bread, and enjoy a comforting and flavorful dinner in no time. Perfect for busy evenings and a satisfying vegetarian option.
Source: stefseatsandsweets.com
Delight in savory Lemon Rosemary Chicken Ramen! Tender chicken and fragrant herbs simmered in a zesty lemon broth served over toothsome ramen noodles.
A comforting and flavorful dish that's quick and easy to prepare. Perfect for a cozy weeknight dinner or a satisfying lunch. Get ready for a burst of deliciousness!
Source: strengthandsunshine.com
Say goodbye to store-bought alternatives with this homemade delight. This is a quick and easy microwave gluten-free, vegan mac and cheese recipe.
With simple ingredients, it's perfect for those with allergies. Enjoy a comforting bowl of creamy goodness in no time.
Source: theyummybowl.com
Next up, this recipe from The Yummy Bowl combines tender chicken, crisp broccoli, and al dente pasta in a creamy, garlicky sauce.
A delightful harmony of flavors and textures, perfect for a quick and satisfying weeknight dinner. Easy to make, this one-pot meal will surely become a family favorite!
Source: jz-eats.com
Check out this easy Air Fryer Shrimp and Peppers recipe. Toss shrimp and colorful bell peppers in olive oil and seasonings, then air fry until crispy.
It's a quick and delicious dish perfect for any weeknight dinner. Enjoy a healthy and flavorful meal in no time!
There we have it! Forty-one deliciously simple dinner ideas to keep the stress out of your life and a symphony of great flavors on your table.
What are your go-to easy dinner recipes when a busy week is on the horizon?
41 Easy Dinner Ideas for One To Cook Again and Again
Planning a night in? Savor the joy of a simple, solo meal with these easy dinner ideas for one!
Ingredients
1. Salmon Meal Prep with Veggies
2. Brunch Salad
3. White Bean Tuna Salad
4. Parmesan Pistachio Salmon with Pomegranate Avocado Salsa
5. Tuna Thai Red Curry
6. Asian Salmon Recipe
7. Kale Salad with Easy, No Fuss Dressing
8. Thai Mango Wrap
9. Gouda and Grilled Chicken Salad
10. Tummy Healing Soup
11. Gravlax Tartine
12. Noodle Bowl
13. Baked Chicken Cutlets
14. Chicken Pesto Sandwiches
15. Cast Iron Skillet Chicken Breast
16. 10 Minute Peanut Noodles
17. Egg Drop Soup
18. Brie and Apple Grilled Cheese with Hot Honey
19. Avocado Tartine
20. Air Fryer Frozen Salmon
21. 15-Minute Garlic Fried Noodles
22. Chimichurri Steak Bites
23. Zucchini Stir Fry with Garlic and Sesame Seeds
24. Vegan Sweet Potato Gnocchi
25. Mushroom Goat Cheese Wraps
26. 3-Ingredient One Pot Vegan Pesto Pasta
27. Vegan Crunch Wrap
28. Roasted Vegetable Pizza
29. Cheesy 10-Minute Lentil Avocado Tostadas
30. Red Lentil Vegan Spaghetti Bolognese
31. Creamy Boursin Pasta
32. Kung Pao Vegetables
33. Vegetarian Burrito
34. Classic Cheese On Toast
35. Tuscan Chicken Pasta
36. Gluten Free Ramen
37. Weeknight Butter Beans
38. Lemon Rosemary Chicken Ramen
39. Microwave Gluten Free Vegan Mac and Cheese
40. One-Pot Chicken Broccoli Pasta
41. Air Fryer Shrimp and Peppers
Instructions
Scroll up to get a bunch of easy, yummy, and delicious dinner recipes. Don't be afraid to get creative with the ingredients, you might discover a flavor you didn't know you liked.
Get your shopping list going and make sure you've got all the ingredients.
Get cooking and make your next Easy Dinner Idea!
Notes
Which one of these recipes was your favorite? Let me know in the comment section or on Pinterest!