Dairy-free cupcakes are the ultimate sweet treat. Biting into a perfectly springy cupcake with frosting piled on top is the best way to celebrate the sweet things in life.
But with so much butter and milk in standard cupcake recipes, how can we enjoy these things dairy-free? The good news is that there are plenty of vegan or dairy-free cupcake lovers out there.
In fact, dairy free cupcakes have their own unique benefits. They usually use oil instead of butter and milk alternatives.
So, they become super moist, with ultra-smooth frosting compared to regular cupcakes.
Even if you don't typically eat dairy-free, I'd definitely recommend giving these dairy free cupcake recipes a try. Grab a large bowl and your cupcake liners, and let's get baking!
Do Cupcakes Contain Dairy Usually?
Usually, cupcake recipes contain a good amount of dairy. Softened butter forms the base of most frostings, and melted butter helps make cupcake batter super smooth and delicious.
Aside from butter, milk is another key ingredient in cupcake batter and frosting.
Luckily, dairy-free cupcakes find ways around including these ingredients.
Instead of butter, most dairy-free cupcake recipes use a kind of oil to substitute in the wet ingredients like vegetable oil for the essential fats.
Milk is usually switched out for another kind of liquid binder, like applesauce, water, or a dairy-free milk alternative like soy milk, coconut milk, or oat milk.
Dairy-free cupcakes are also usually vegan, as the two go hand-in-hand. In many cases, that means they're even easier to make than standard cupcakes! It's like you can't lose with these recipes.
So, with all that covered, let's get straight into the best dairy-free cupcake recipes I could find!
Whether you're jumping into birthday party planning or just want a sweet treat to wrap up the week, there's something on this list for you.
Best Dairy-Free Cupcake Ideas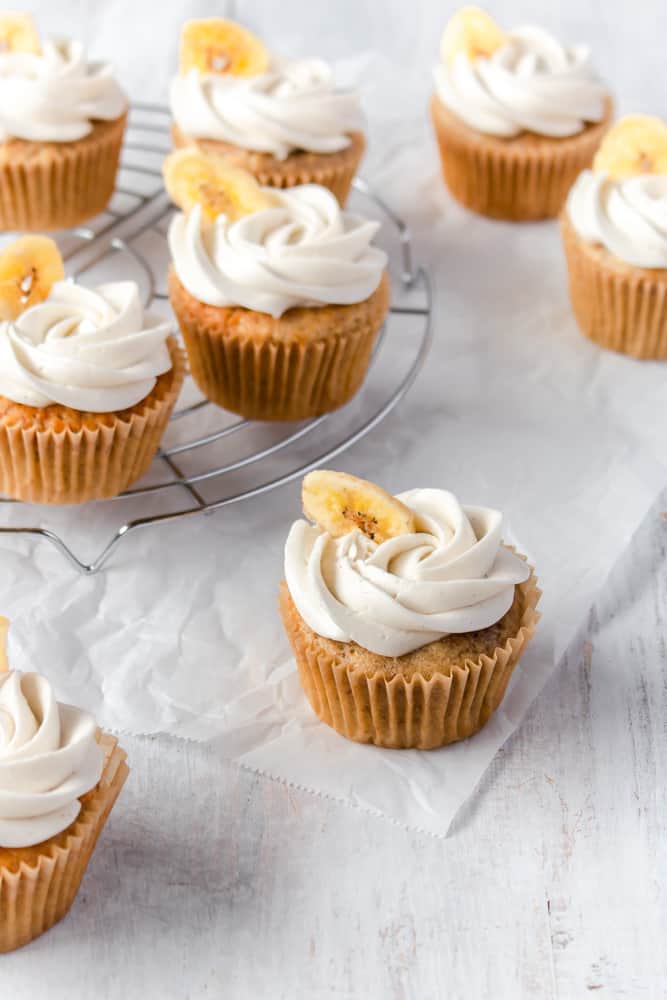 Source: aimadeitforyou.com
Nothing hits better than a banana cupcake, especially if you're a fan of dairy-free recipes. The base of these cupcakes is a lot like a banana loaf. The frosting is what creates the cupcake transformation.
If you need to make them in advance, they stay nice and soft in the refrigerator. What's not to love?
Enjoy these other best-ever banana dessert recipes!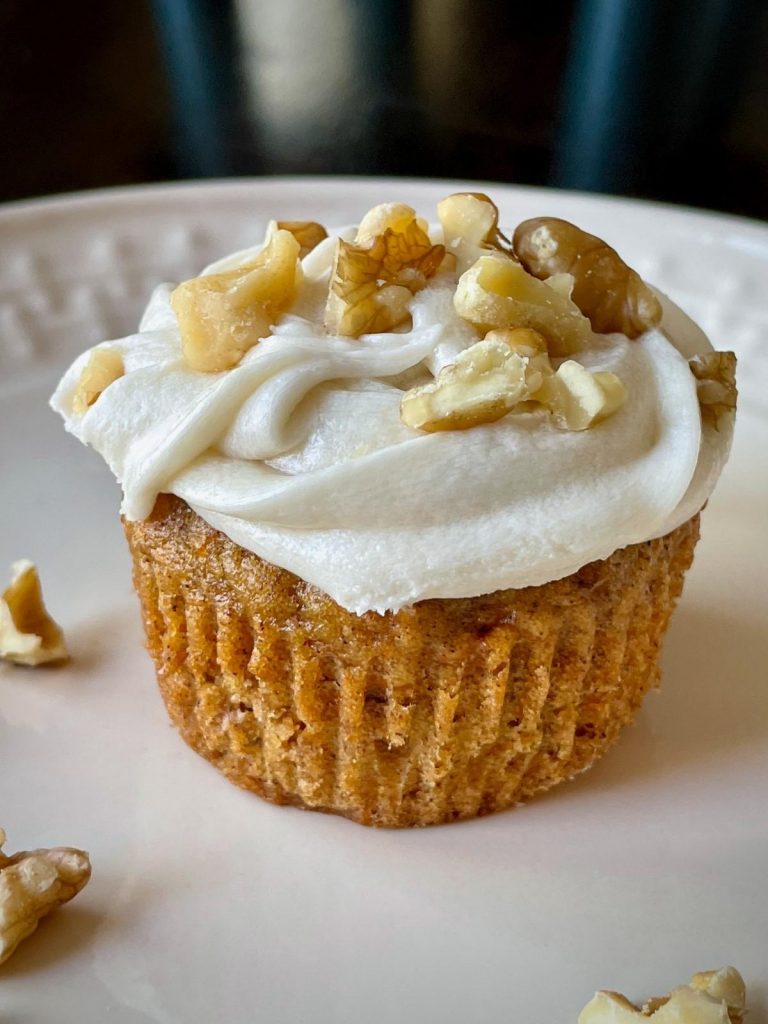 Source: serenetrail.com
If you're a fan of banana cupcakes, chances are you're a fan of carrot cake as well! These vegan carrot cake cupcakes have no egg or dairy in sight. So, how are they so moist and delicious?
The secret ingredient is applesauce. It's a great substitute for eggs and adds some tasty, nutritious sweetness.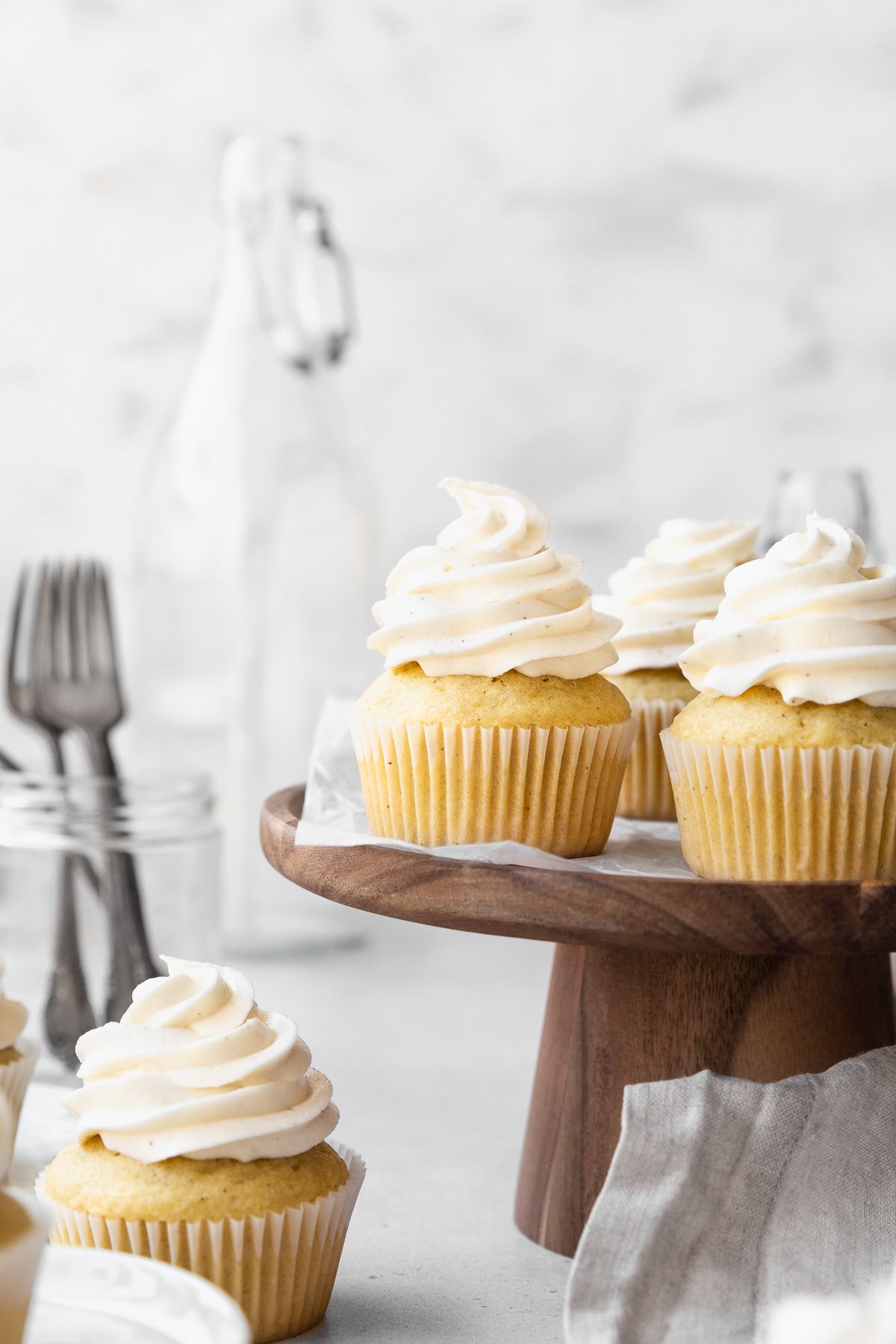 Source: aimadeitforyou.com
Who doesn't love a classic vanilla cupcake recipe? Impress your friends and family with this fool-proof people-pleasing recipe.
No dairy in sight, simple ingredients like all purpose flour and vanilla extract are used here but the secret ingredient in these dairy-free vanilla cupcakes? Mayonnaise.
That's right, mayonnaise! Thick, creamy, and acidic, this is the perfect sour cream alternative to give your cupcakes some extra richness.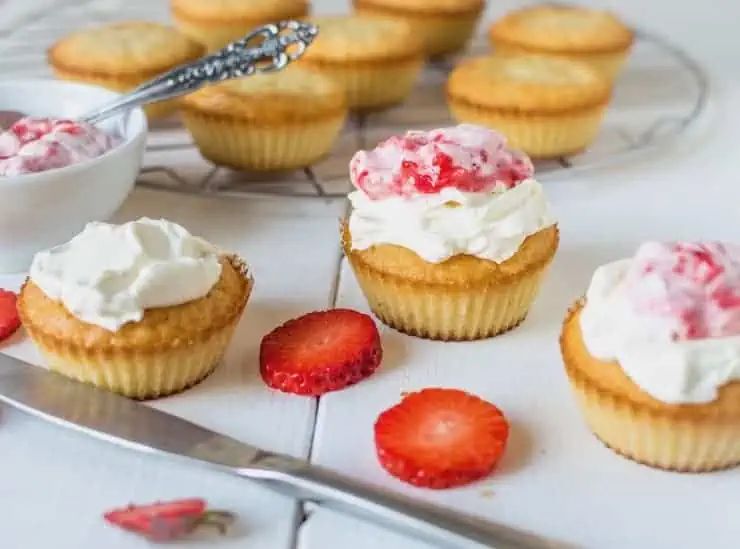 Source: healyeatsreal.com
Strawberry and lemon is the perfect summery cupcake combination. Whether you're headed to a picnic or on a cross-country road trip, these are the perfect pick-me-up.
The frosting is optional with these babies! They're naturally gluten-free thanks to the gluten-free flour that is almond flour in the dry ingredients.
The optional frosting for this great recipe uses coconut cream instead of whipped cream.
Source: veganhuggs.com
If you're more of a classic lemon fan, I've got vegan cupcakes for you.
You, eleven ingredients, and some quality time in your kitchen will produce the best results in a cupcake pan in no time at all!
If you live dairy-free, you most likely have all these ingredients waiting in your pantry. So, they're the ideal last-minute cakes.
Source: somebodyfeedseb.com
Another citrus cupcake option uses the iconic grapefruit! The blushing pink of the frosting comes naturally. It's perfect for bachelorette parties, birthday parties, and lovers of all things pink!
The citrus in the batter also makes it super moist and delicious, so there's no downside to this recipe.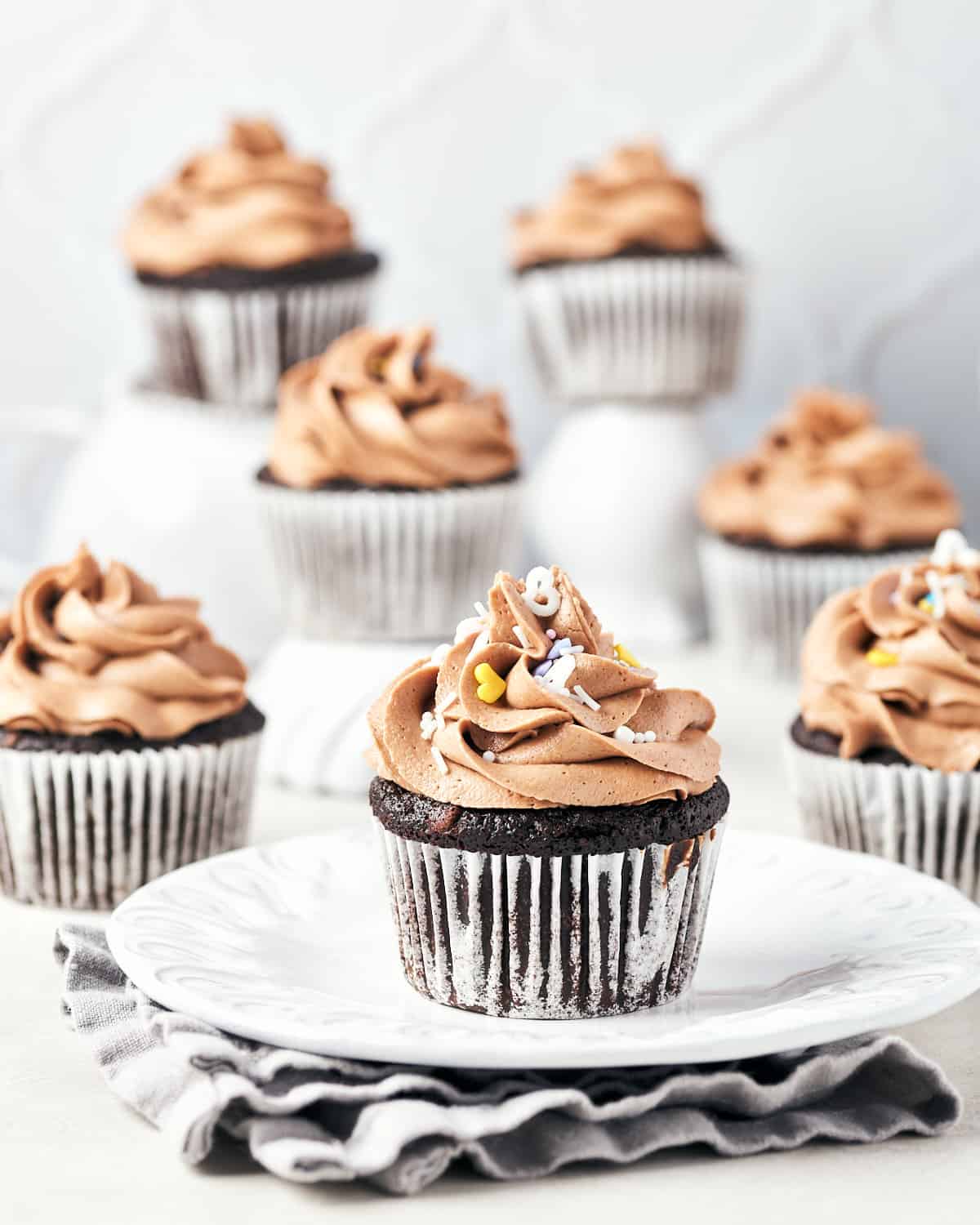 Source: resplendentkitchen.com
Chocolate and fig is one of the most refined dessert combinations. These easy chocolate cupcakes are upscale, elegant, and absolutely delicious.
So, these vegan chocolate and fig cupcakes are a great way to enjoy a classy combination in an accessible way for special occasions.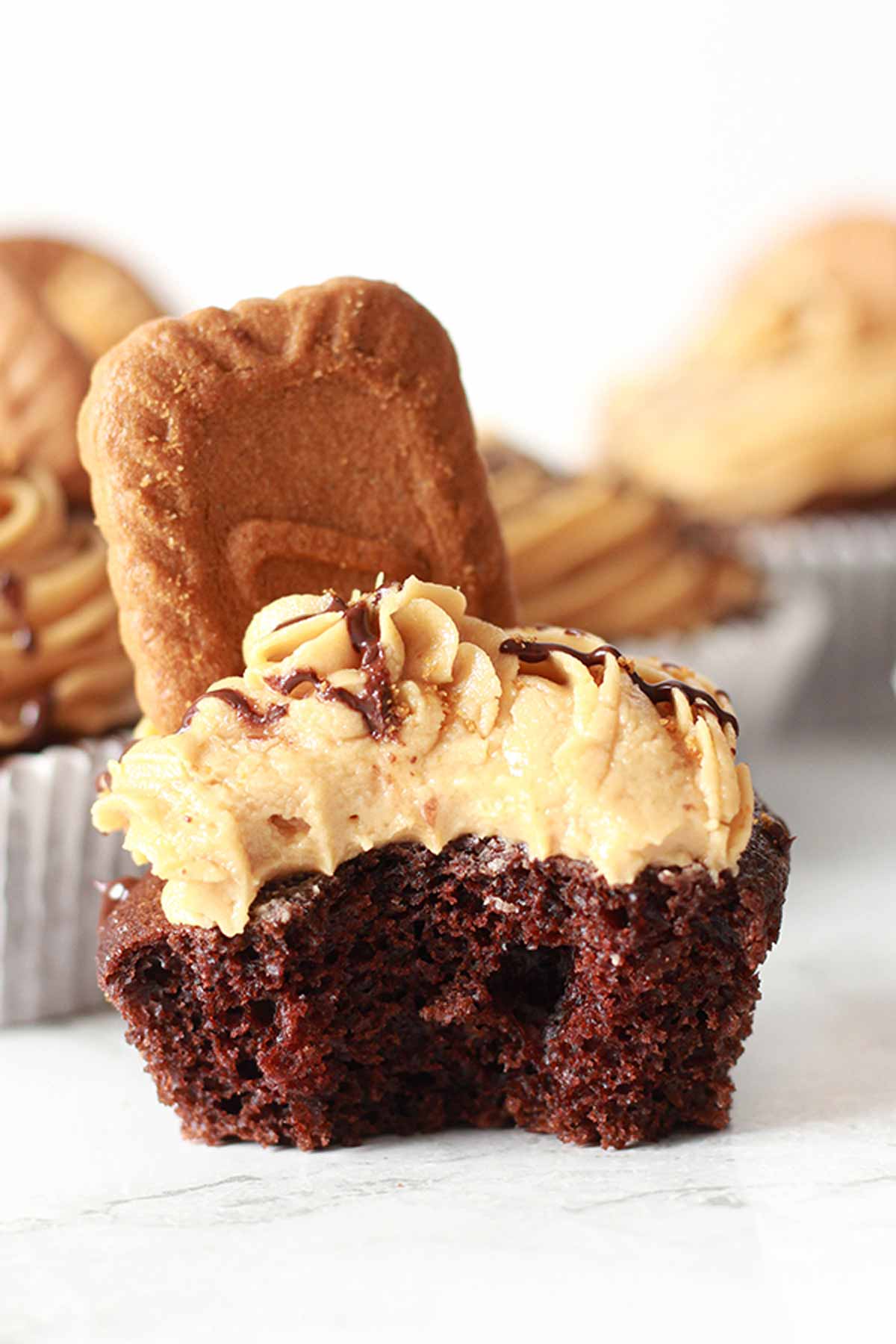 Source: bakedbyclo.com
If you've ever indulged in chocolate and Biscoff before, then you know how delicious this is bound to be.
These rich and moist dairy free chocolate cupcakes feature a salty, sweet, nutty Biscoff frosting.
To nail the presentation of this dairy free cupcake recipe, make sure to include a Biscoff cookie on top of these eggless cupcakes.
You can store these cupcakes in an airtight container in paper liners to enjoy for days to come.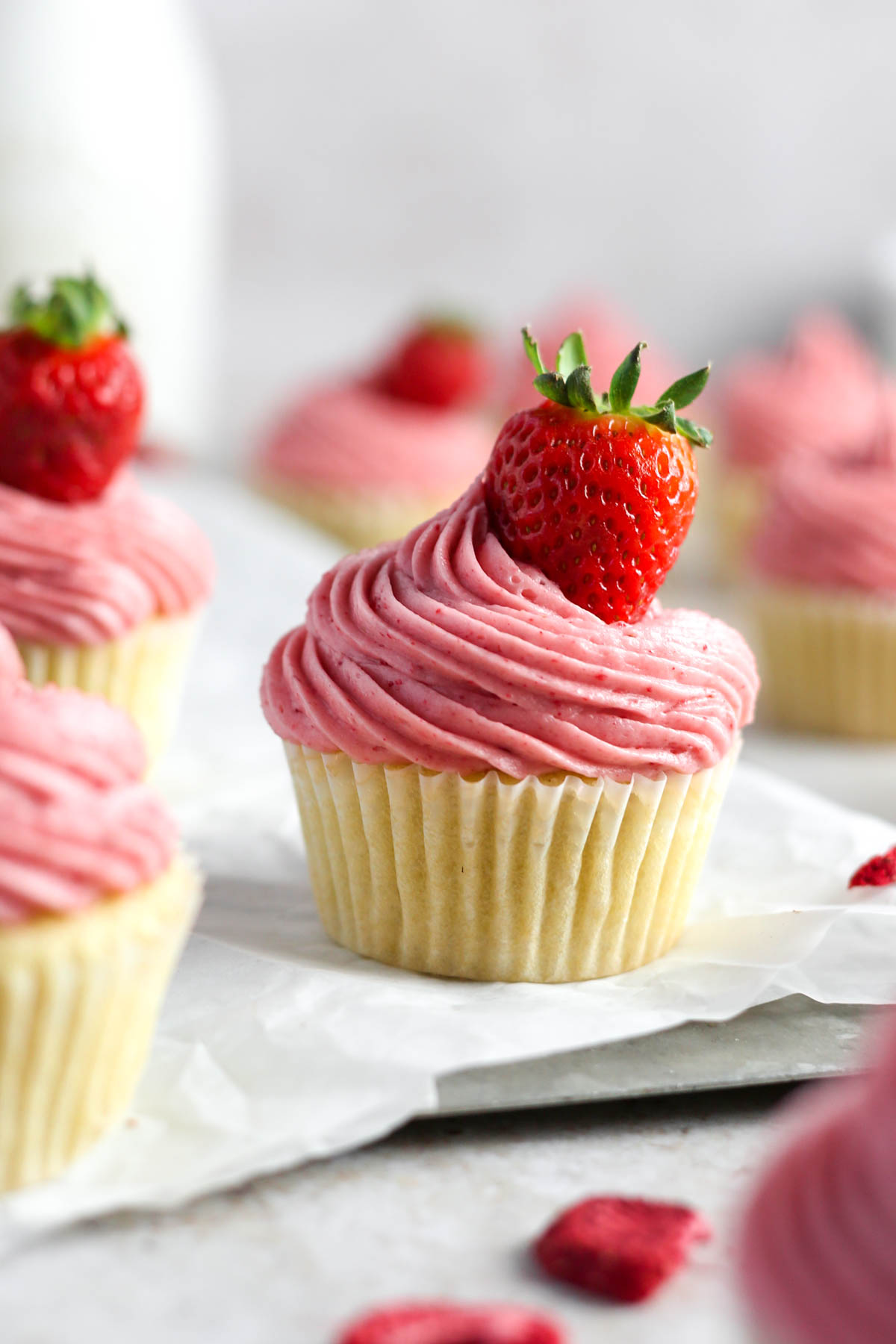 Source: savorthespoonful.com
Bring summer to the fore with these strawberry-filled cupcakes. With no artificial colors or flavors and no dairy, these light and refreshing delights are next-level.
The frosting is light and buttery (thanks to vegan butter), and the acidic strawberry at the center of the cupcakes is scrumptious.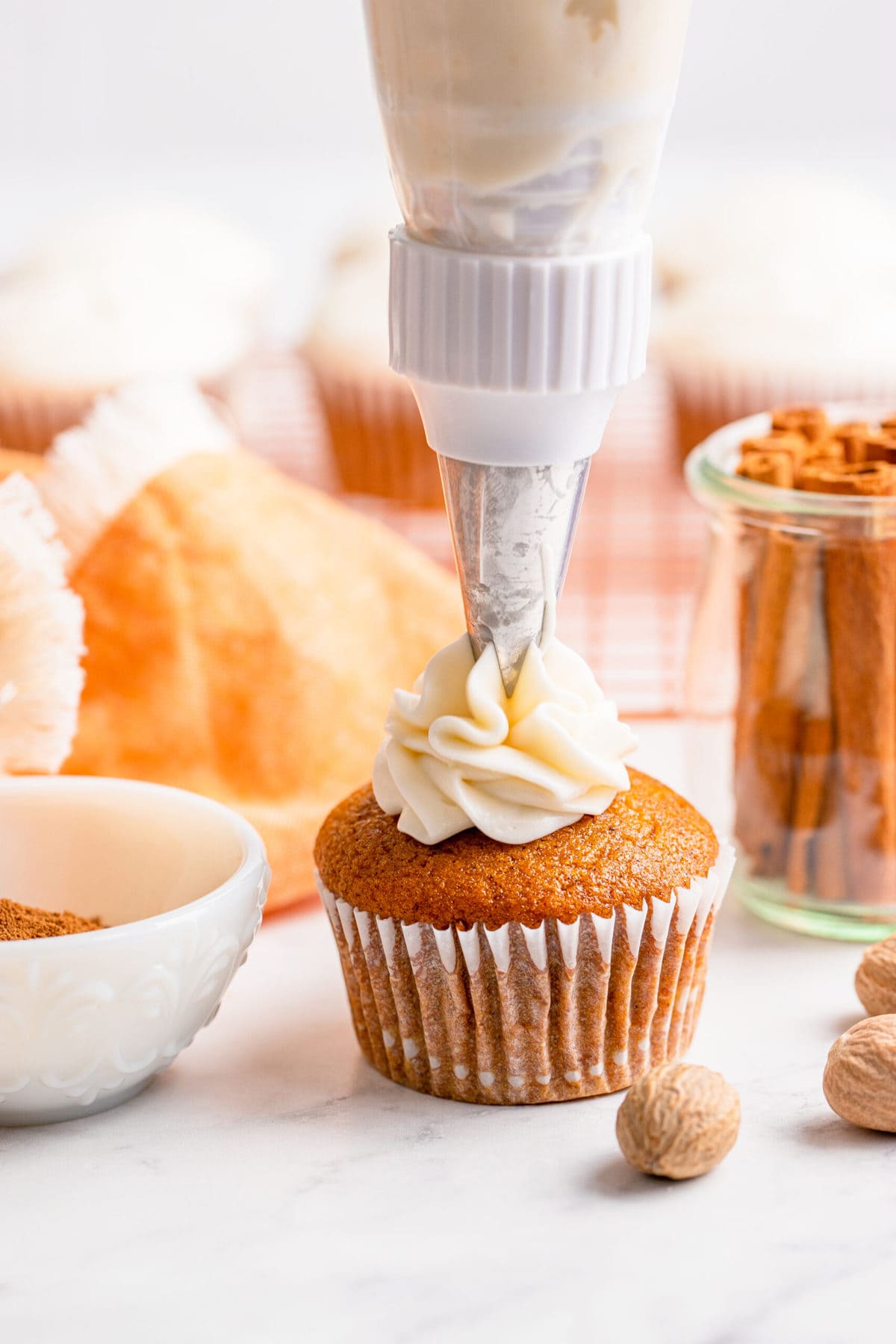 Source: oohlalaitsvegan.com
If you're a fan of pumpkin pie, these cupcakes are for you. The batter is spiced with all that goodness that makes pumpkin pie filling so addictive, and the frosting is the perfect cream cheese bite.
And the best part? A full batch of these cupcakes takes only thirty minutes to make from start to finish!
Source: veggieinspired.com
Bring Reese's peanut butter joy to your desserts with this chocolate and peanut butter combination. Dark, rich, and insanely moist cupcakes plus salty sweet frosting? I'm in.
Instant espresso powder is the secret ingredient to making the cupcakes extra dark and rich.
Source: traditionalplantbasedcooking.com
Take a leaf out of a Scottish cookbook and enjoy these amazing Scottish Dundee cupcakes. A Dundee cake is usually a baked round cake with almonds studded on top.
It's crunchy, nutty, and the perfect cake for a cold winter night.
Source: asweetalternative.com
Who knew that whole wheat cupcakes could be this good?
The deep chocolate cake flavor in these cupcakes, thanks to the cocoa powder, helps mask the wheat aftertaste, making them taste just like the real deal.
Remove these sweet treats from the cupcake tin and cool them on a wire rack for the best results.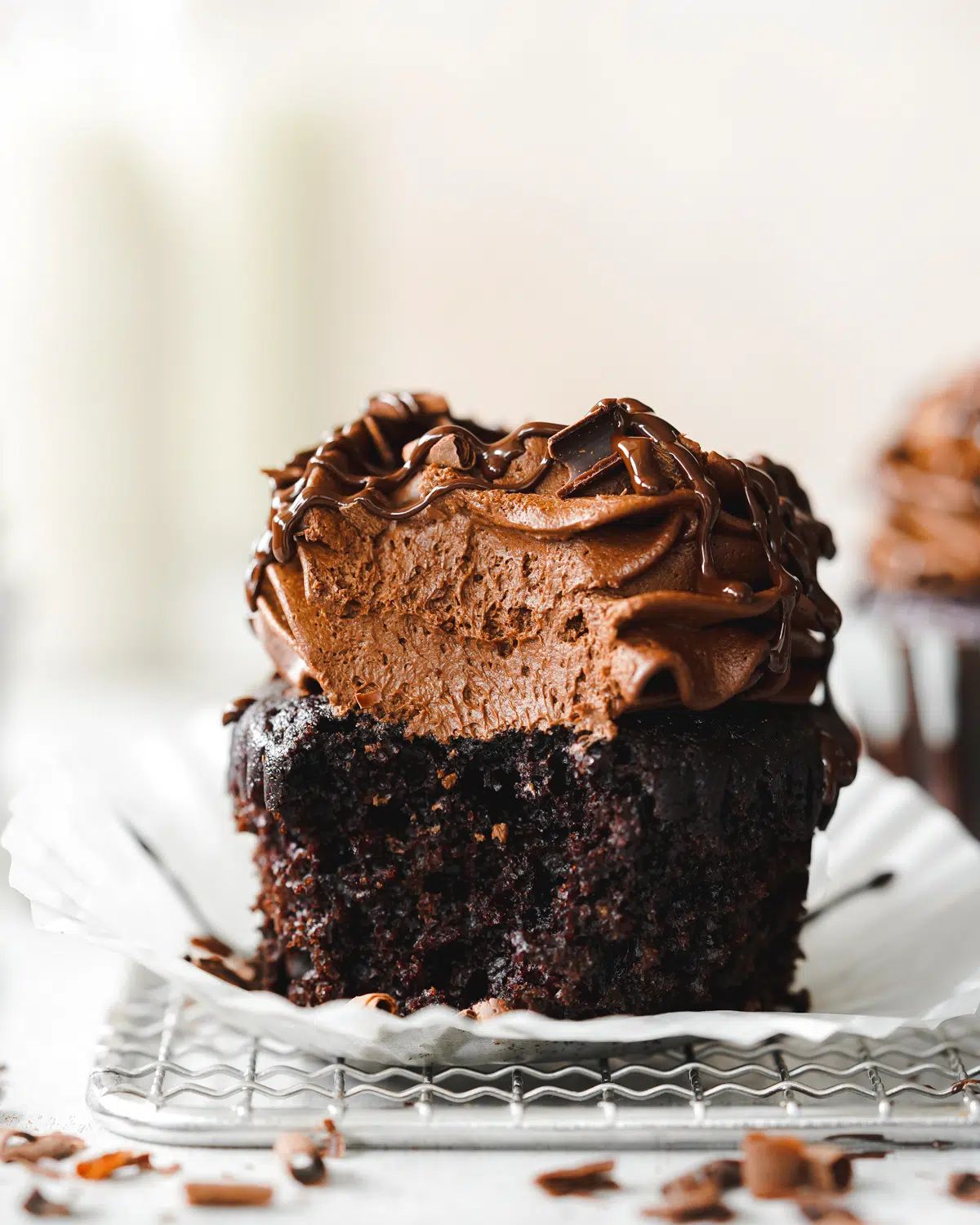 Source: addictedtodates.com
There are a lot of great recipes on this list, but this might be my favorite. There's just something about vegan chocolate cupcakes that hits home.
The rich cocoa and the moist batter pair with ultra-smooth frosting to create the ultimate vegan cupcake. Trust me, the non-vegans in your life won't even be able to tell these don't have dairy.
You also need to try this easy vegan mug cake recipe!
Source: theurbenlife.com
If you're more of a caramel fan, then this recipe is perfect for you. This recipe pairs vanilla cupcakes, vanilla buttercream, and oodles of salty caramel sauce.
In other words, these cupcakes are heaven on a plate. These are the ideal fall-inspired cupcakes.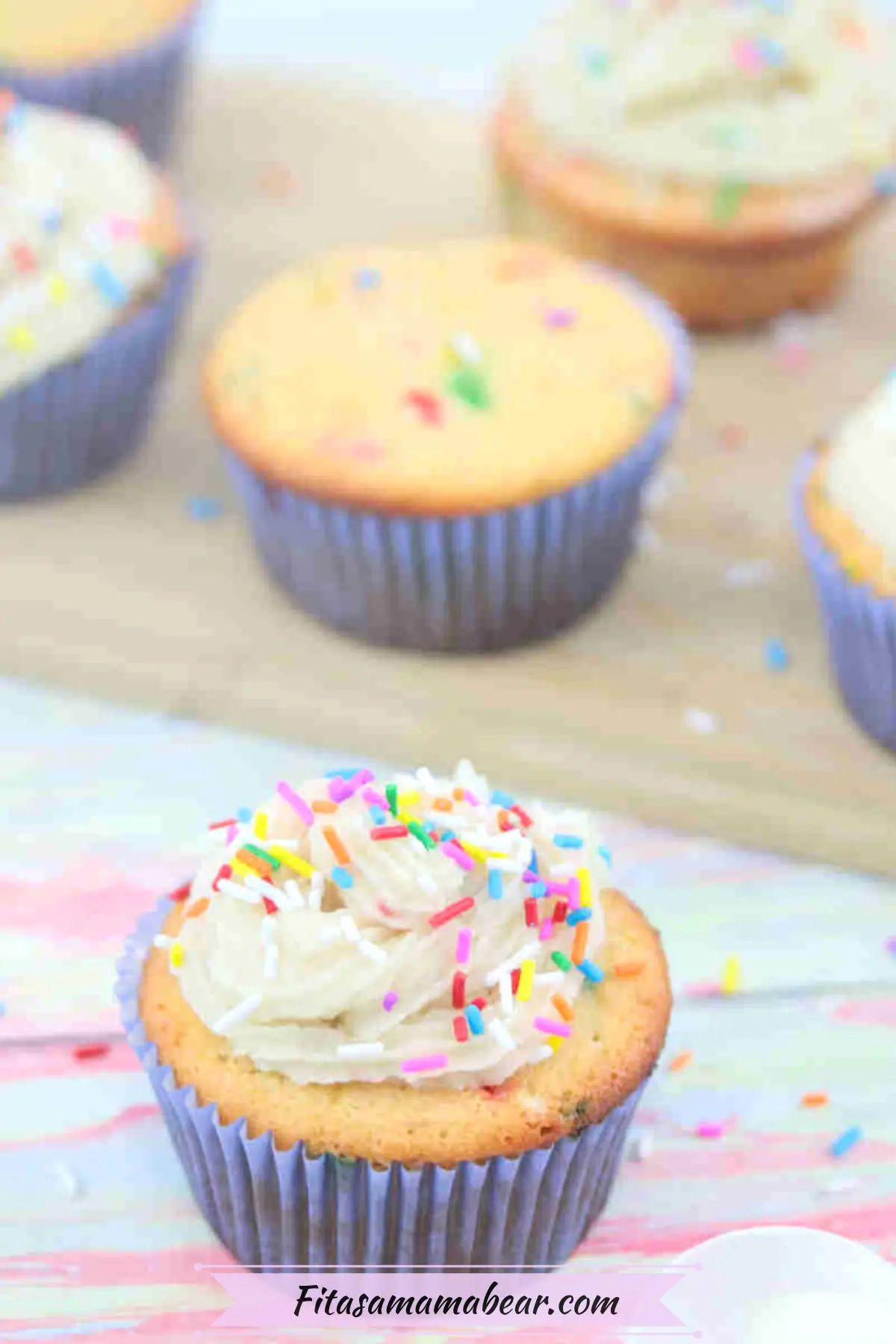 Source: fitasamamabear.com
Need a more nutritious version of birthday cake cupcakes? Funfetti sprinkles, vanilla frosting, and a funfetti batter make these unforgettable.
Source: aimadeitforyou.com
Take the natural moist texture of banana cupcakes and pair that with some dark chocolate cocoa to create the perfect natural vegan cupcake!
Banana is a fantastic foundational ingredient for a vegan cupcake. It's moist and a great binder, so you don't need eggs. It's also a wonderful source of natural sugar to enhance the rich cocoa!
Try this yummy banana chia pudding recipe next!
Source: fitasamamabear.com
Bring a little more love into your life with some vegan heart-shaped cupcakes. These chocolate hearts feature vibrant pink frosting on top to put your loved ones in the Valentine's Day mood.
Source: fitmamarealfood.com
Applesauce is usually a vegan substitute for eggs, so it's a binding ingredient rather than the main event. But now, applesauce is the star of the show!
These delicious cupcakes are moist and rich, with the gentle sweetness of apples in every bite. The applesauce acts as a binder and flavoring, so these come together in around half an hour.
Talk about efficiency!
Source: thecarrotunderground.com
Transform your favorite cocktail into a delicious cupcake to enjoy on vacation! These cupcakes have a light hint of pineapple and an unbeatable coconut buttercream.
The coconut cream is the perfect dairy-free alternative and an ideal base for this boozy cupcake.
Enjoy these other tasty coconut dessert recipes!
Source: hezzi-dsbooksandcooks.com
Finally, if you're after something unique, try these on for size! These beauties combine three of life's greatest pleasures: banana bread, French toast, and cupcakes, of course.
Featuring plenty of cinnamon and moist banana bread, these cupcakes will blow your next bake sale out of the water. Thankfully, they're also super easy to make!
There we have it! I scoured the net to find twenty-one of the best dairy-free cupcake recipes for you to indulge in. A sweet-tasting journey to the land of all things celebratory and delicious.
Did I miss any essential dairy-free cupcake recipes on my list? Let me know in the comments which one is your favorite. Better yet, drop your favorite recipe down below too!
Looking for more dairy-free dessert ideas? We've got you covered!
21 Easy Dairy-Free Cupcakes for a Dairy Free Diet
Treat yourself to these incredibly tasty dairy-free cupcakes - Everyone deserves a sweet slice of happiness!
Ingredients
1. Vegan Banana Cupcakes
2. Vegan Carrot Cake Cupcakes
3. Vanilla Cupcakes
4. Strawberry Lemon Paleo Cupcakes
5. Vegan Lemon Cupcakes
6. Vegan Grapefruit Cupcakes
7. Vegan Chocolate Fig Cupcakes
8. Vegan Chocolate Biscoff Cupcakes
9. Strawberry Filled Cupcakes
10. Vegan Pumpkin Pie Cupcakes
11. Chocolate Peanut Butter Cupcakes
12. Vegan Scottish Dundee Cake Cupcakes
13. Whole Wheat Cupcakes
14. Vegan Chocolate Cupcakes
15. Cupcakes with Vegan Caramel Sauce
16. Birthday Cake Protein Cupcakes
17. Vegan Chocolate Banana Cupcakes
18. Vegan Heart Shaped Cupcakes
19. Applesauce Cupcakes
20. Vegan Pina Colada Cupcakes with Coconut Buttercream
21. Banana Bread French Toast Cupcakes
Instructions
Scroll up to get a bunch of easy, yummy, and delicious cupcake recipes. Don't be afraid to get creative with the ingredients, you might discover a flavor you didn't know you liked.
Get your shopping list going and make sure you've got all the ingredients.
Get cooking and make your next Dairy-Free Cupcake!
Notes
Which one of these recipes was your favorite? Let me know in the comment section or on Pinterest!