Chipotle chicken salad is sweet, spicy, fruity yet filling, and nutritious. It's high in protein and gluten-free.
If you're looking for a meal that's flavorful, colorful, and good for you, this is the right recipe for you. Add this chipotle chicken salad to your weekly meal plan list right now.
This salad is made up of chipotle chicken on a bed of fresh greens and vegetables. Then it's drizzled with the most delicious honey mango dressing.
We are all looking for a little variety in our meal planning, and this is a great recipe to do just that. The depth of flavor will make you feel like your eating a restaurant-quality salad.
The best part is that it's much better for you than a salad from a restaurant. Some of those salads can be over 1500-2000 calories.
This salad has less than 600 calories.
Is Chipotle Chicken Salad Healthy?
This homemade chipotle chicken salad also has a lot of other health benefits.
For example, it has 39 grams of protein. It's also is gluten-free (and can easily be made dairy-free). So, it's definitely a high protein meal.
How to Make Chipotle Chicken
This recipe has three separate components: the chicken, the salad, the dressing. First, we'll start with the chicken.
Chipotle Chicken
The chicken develops its delicious flavor by marinating first before cooking. You'll need a few ingredients to make the marinade.
Ingredients You'll Need
Chicken breasts – Chicken is the main protein of this protein salad. Lean chicken breasts provide high amounts of protein with less fat.
Remove the skins (or purchase skinless) to avoid even more additional fat and calories.
Olive oil – Olive oil is a healthy cooking oil with monounsaturated acids and cancer-fighting properties. Avocado oil is another healthy cooking oil that could be used as an alternative.
Chipotle chili powder – Chipotle chili powder is what's going to provide the smokey flavor to the chicken. Paired with the other spices, it creates a tasty marinade for the chicken.
Paprika – Paprika is made from ground peppers. It's not all that spicy, though.
It provides an earthy flavor and also provides Vitamin A, and promotes healthy digestion.
Garlic powder – Garlic powder is an easy way to add garlic flavor without fussing with fresh cloves. Granulated garlic or garlic salt would work as substitutes.
Cumin – Cumin can help with weight loss and help those with high cholesterol levels. It provides another great flavor that completes the delicious marinade.
Onion powder – Onion powder provides onion flavor without the teary eyes. You could use onion salt or granulated onion if you don't have onion powder.
Lime – Lime provides the acid that balances out the flavor from the spices. Lime and chipotle pair so well together, so make sure you don't forget that squeeze of lime juice.
Salt
Step 1: Make Marinade
Now it's time to make the marinade.
First, start by mixing all of the ingredients (except the chicken) in a bowl.
Then, place the chicken breasts into the marinade.
Allow the chicken to marinate for about thirty minutes. This will give you time to make the dressing and prep the other salad ingredients.
Step 2: Cook the Chicken Breasts
Heat a non-stick skillet on medium-high heat. A skillet like this will work great.
It will cook the chicken perfectly without making a big mess.
Cook one side of the chicken for about 4-5 minutes or until it starts to brown. It's ok if it even looks a little burnt.
That's just the marinade developing a delicious, flavorful crust for the chicken.
Flip the chicken breast over and cook it through until it is no longer pink and charred on both sides.
Now simply remove the chicken from the pan and place it on a cutting board. Next, slice the chicken.
Place the chicken to the side while you prep the rest of the salad.
Honey Mango Dressing
This honey mango dressing is so delicious. It's sweet, tangy, and low calorie.
All that you need are the items below and a blender to make.
Ingredients for Dressing
Mango – Mangos are a tropical fruit that has a lot of vitamins A and C.
However, suppose you can't find any fresh mangos. In that case, you can use frozen mango pieces (just be sure to thaw first) or another tropical fruit like pineapple.
Honey – Honey is a natural sweetener with antioxidants and many other health benefits. Some of those benefits include being a natural cold remedy and helps improve cholesterol.
Raw, organic honey is best. Alternatively, if you don't have honey, you could use pure maple syrup or agave.
White vinegar – Vinegar is an essential component in most salad dressings. It adds acid to the dressing that is much needed.
It can be replaced with apple cider vinegar or additional lime juice.
Limes – Limes provide citrus, acidic flavor without any unnatural ingredients.
If you don't have a lime handy, you can substitute it with lemon or a splash of apple cider vinegar.
Garlic – Garlic is another ingredient that enhances flavor and also has many health benefits. It has medicinal properties that also ward off colds and flu (like honey).
So, paired together, this dressing is becoming quite the superfood!
Chili powder – Chili powder will bring a small amount of spice to the dressing. Believe it or not, tropical fruit (like mango) and chilis pair really well together.
Cumin – Cumin can help with weight loss and help those with high cholesterol levels.
Salt
Black pepper
Canola oil – Canola oil is a much milder oil than some others, like olive oil. It's pretty bland, which is why it's great for this dressing.
The canola oil allows the other ingredients to shine and is simply a vessel for these fantastic flavors.
Now it's time to make the dressing! Simply puree the ingredients (except the oil) together in a blender.
Step 3: Blend the Ingredients to Make the Dressing
Now, you can drizzle the canola oil in and blend it with the rest of the ingredients.
That's it! You're done with the dressing.
Salad
Finally, you need to make the actual salad!
Ingredients for Salad
Romaine lettuce – Romaine lettuce is easily accessible and is a great option for this salad. If you can't find romaine, you can substitute with spring greens, iceberg, or fresh spinach.
Tomato – Tomatoes are a good source of vitamin C, vitamin K, and potassium. You can use any tomato you can find here – including Roma, grape, cherry, or heirloom.
Avocado – Avocados provide healthy fats, fiber, and many vitamins. Make sure that you are using a ripe avocado for the best flavor.
Canned corns – Corn is going to add a little sweetness to the salad. You could also use frozen corn (be sure to thaw it first) if you don't have any canned corn.
Black beans – Black beans are going to provide more fiber to this salad. Additionally, they are high in protein and help you gain the energy you need for the day.
Red bell pepper – Red bell peppers are low in calories and high in vitamins A and C. You could use yellow or green bell pepper, as well.
English cucumber – English cucumbers are going to help you stay hydrated. They might not provide as much flavor as some of the other ingredients, but they help balance out the salad's flavor.
Cheddar cheese – This salad resembles something you might find at a Mexican restaurant, right? And what's Mexican food without cheese?!
Cheddar cheese will provide calcium here and a sharp flavor that really adds to the salad. Of course, you can omit if you are trying to stay dairy-free.
Red onion – Red onions are excellent sources of antioxidants and can help improve heart health. You can substitute with green or yellow onions, as well.
Step 4: Make the Salad
Once all of the ingredients are chopped and ready, simply toss them together in a bowl.
Make sure that you use a big enough bowl so that all of the ingredients are distributed evenly. You're going to want a little bit of everything in every bite!
Now it's time to build the salad.
First, plate the salad mixture on a plate or large bowl. Then, add the sliced chicken breasts.
Lastly, pour the dressing over all of the ingredients.
Grab a fork and enjoy!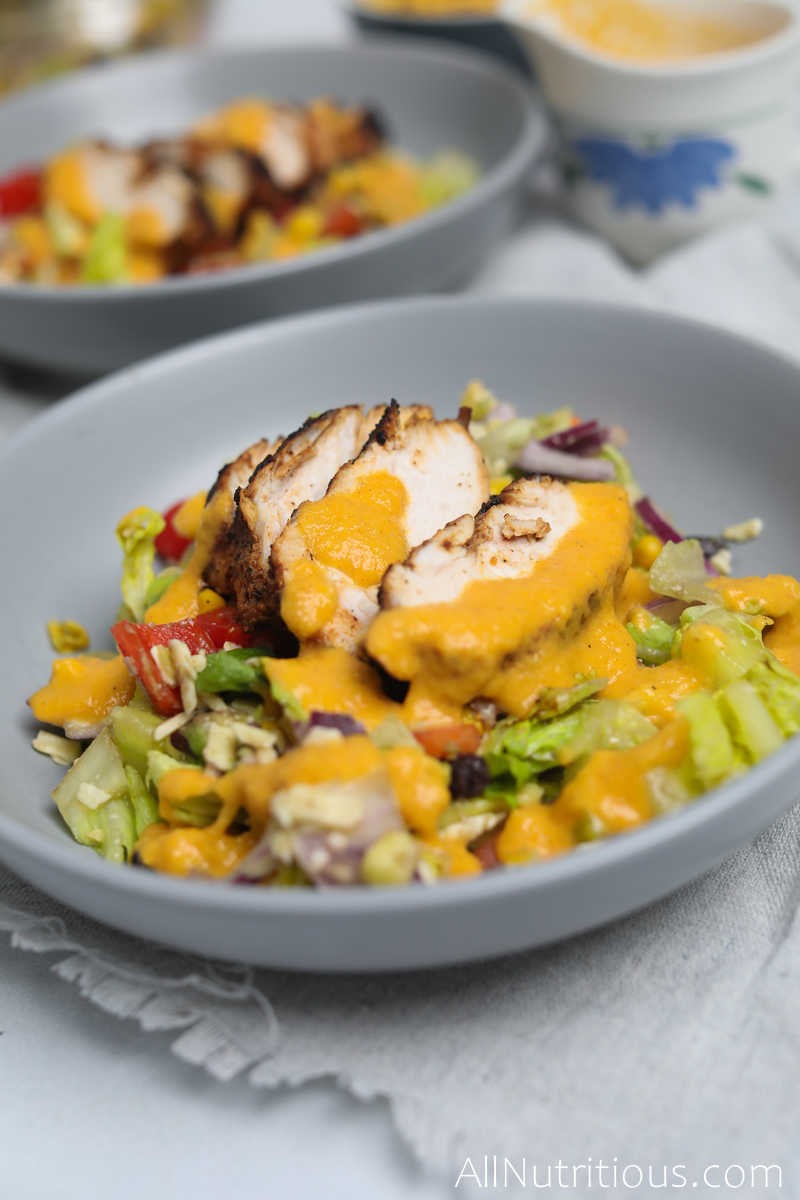 How Long Will This Salad Stay Fresh?
Because this salad has three separate components, you could easily make them separately and store them for another time.
The dressing remains fresh in the refrigerator for 2-3 days. You can store it in a mason jar and simply give it a good shake before you're ready to use it again.
The chicken will also stay fresh in the refrigerator for a few days. Just be sure that you keep it separate from the tossed vegetables and greens.
Store the tossed greens and vegetables in a separate container like this. It's recommended to use these ingredients within three days.
Try to keep the cheese separate for the best flavor. You can simply add that in when you're ready to eat the salad.
Why Is Chipotle Salad High Protein?
This chipotle chicken salad is high in protein for several reasons!
First, lean chicken breast is an excellent source of protein. In fact, one chicken breast can have as much as 35-40 grams of protein.
The salad also has some other high protein items like black beans and fresh vegetables.
High protein meals are essential in a weight loss diet plan. Therefore, this recipe is an excellent option to add to your program!
Other High Protein Lunches
Watch More Salad Recipes
If you liked this chipotle chicken salad, you can see the full recipe here! I share another 5 salad recipes too.
Chipotle Chicken Salad with Mango Dressing
Bring Mexican flavors into your kitchen with this healthy version of chipotle. The chipotle chicken salad is fruity, refreshing, filling, and a little spicy. It's gluten-free and high protein.
Ingredients
Chipotle Chicken
2 chicken breasts
2 tbsp olive oil
1 tsp chipotle chili powder
1 tsp paprika
1 tsp garlic powder
1/2 tsp cumin
1/2 tsp onion powder
1/2 tsp salt
1 tbsp lime juice
Salad
1 head romaine lettuce (chopped)
1 salad tomato (diced)
1 avocado (cubed)
1 cup corn (canned)
1/2 cup black beans (drained, rinsed)
1 red bell pepper (chopped)
1/2 English cucumber (peeled and chopped)
1 cup cheddar cheese (shredded)
1/4 red onion (sliced)
Honey Mango Dressing
1 mango (peeled and chopped)
2 tbsp honey
1 tbsp white vinegar
2 tbsp lime juice
2 garlic cloves, peeled
1/2 tsp chili powder
1/4 tsp cumin
1/2 tsp salt
1/8 tsp black pepper
1/4 cup canola oil
Instructions
Chipotle Chicken
Mix together all the ingredients except for the chicken in a bowl. Add in the chicken breasts and cover them with the rub we've just made.
Let the chicken sit for 30 minutes before cooking (you can make the dressing meanwhile).
Heat a non-stick skillet over medium-high heat. Once hot, add chicken.
Cook the chicken for 4-5 minutes on one side until it's nicely browned or even a little burnt. Turn the chicken over, reduce the heat, and let it cook for another 6-7 minutes until the chicken has fully cooked through.
Once finished, let it cool down and slice the chicken breasts.
Honey Mango Dressing
Add all the ingredients into a blender except for canola oil. Puree until one smooth texture.
Now add in the canola and blend the mixture. Let it sit.
Salad
Add all the chopped salad ingredients into a bowl and toss them together.
Divide the salad into 4 separate bowls, top with chicken slices, and drizzle with the dressing.
Nutrition Information:
Yield:

4 bowls
Serving Size:

1 bowl
Amount Per Serving:
Calories:

596
Total Fat:

25g
Saturated Fat:

7.8g
Trans Fat:

0.3g
Unsaturated Fat:

13.9g
Cholesterol:

97mg
Sodium:

946mg
Carbohydrates:

61g
Net Carbohydrates:

46g
Fiber:

15g
Sugar:

28g
Protein:

39g
Nutritional values were obtained with automatic software using the amounts of products used. To get the most accurate representation of the nutritional values, you should calculate them with the actual ingredients used in your recipe. You are solely responsible for the nutritional information obtained to be accurate.