If you are looking for the best chicken and sweet potato recipes, you've come to the right place! Pairing juicy chicken with fresh sweet potatoes is a match made in heaven.
Chicken is an excellent source of high-quality protein, ideal for those who want to support muscle mass, boost their metabolism, or increase their fullness levels.
But making chicken and sweet potatoes the same way can become tiresome. Here, we'll review 21 chicken and sweet potato recipes to help you add variety to your diet.
What to Pair with Sweet Potatoes?
Since chicken is a source of protein, and sweet potatoes are a source of healthy carbs, the best thing you can pair them with is vegetables.
They will add some color to your plate and give you the nutrients you need to keep your body healthy.
So, try adding as many different colored vegetables as possible to get a wide range of nutrients—for example, mushrooms, zucchini, celery, and broccoli.
Best Chicken and Sweet Potato Recipes
Ready to talk about all those delicious foods made with chicken and sweet potatoes? Let's go over the best chicken and sweet potato recipes to help you add some variety to your diet.
Source: allnutritious.com
First on our list is this delicious sheet pan chicken breasts and sweet potatoes.
What I love about cooking with a baking sheet is that you won't have a lot of dishes to clean after you are done, even better on a busy weeknight.
And you don't need to take care of several pots simultaneously with this easy sheet pan meal.
Simply cut the ingredients (Brussels sprouts, sweet potato, red onions, apples, and chicken, and you'll have a delicious meal in a couple of minutes.
Store your leftover chicken in meal prep containers for easy meals all week long!
Source: neilshealthymeals.com
This easy chicken and sweet potatoes recipe is the best option for easy dinners if you are looking for a quick and easy recipe for the whole family to enjoy.
The creaminess and smooth texture of the dish are the best comfort food for your taste buds when it's cold or you've had a lousy day.
The best part is that you can do this recipe with common ingredients in your pantry or fridge.
Source: vikalinka.com
This chicken and sweet potato curry is packed with nutrients and flavor. You'll find yourself going back for seconds after you finish your bowl.
And the best part is that it uses healthy ingredients.
Keep in mind that you can add some variety to the vegetables. You can swap or add more vegetables to your liking.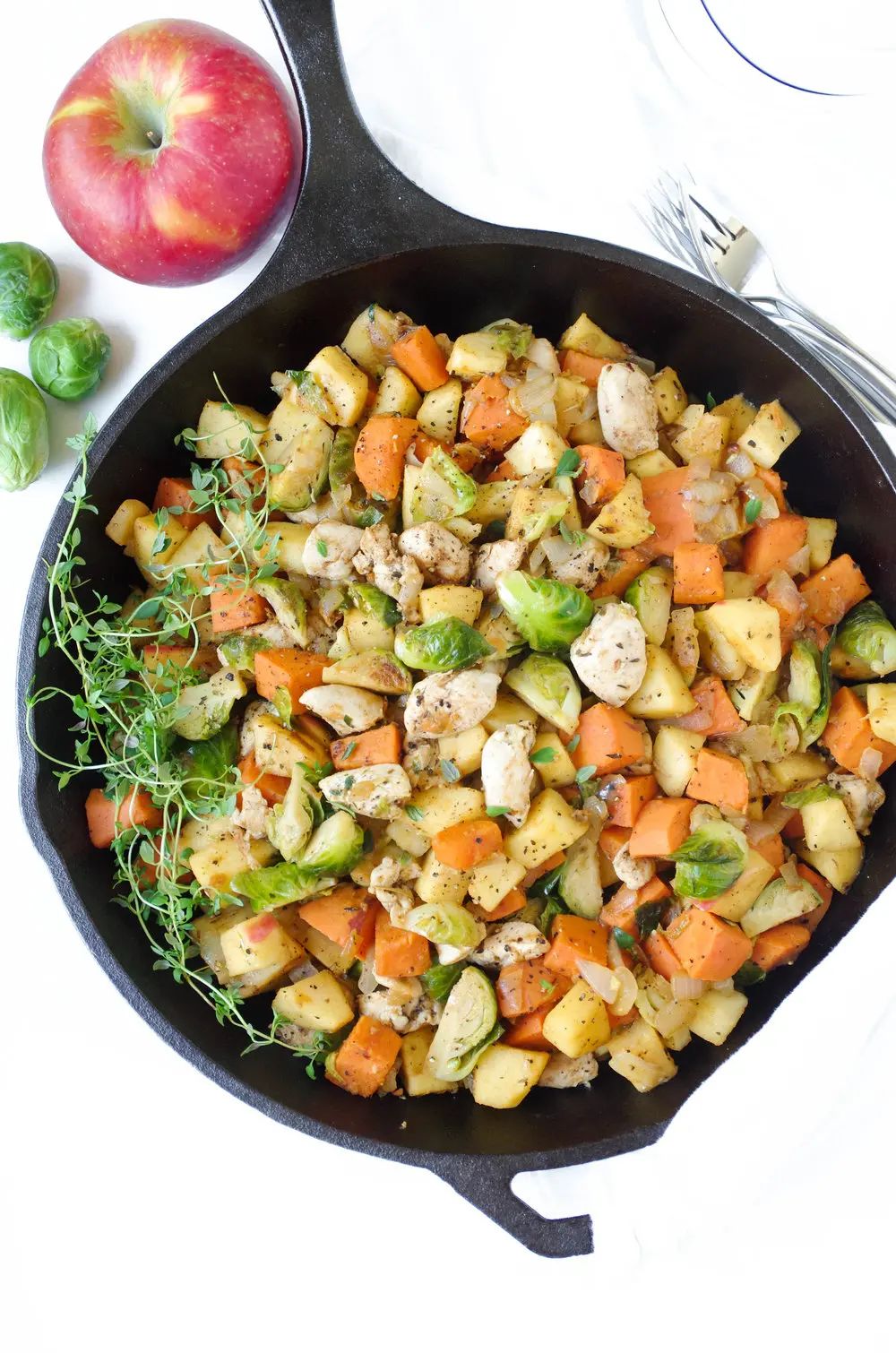 Source: theforkedspoon.com
Have a skillet and don't know what you can cook with it? Here is the solution!
This delicious and easy meal with tender sweet potatoes is a one-pot home run you will love every day.
Each bit is packed with the perfect balance of flavors, and the best part is that you can place them in an airtight container for later in the week.
So, if you want a delicious meal-prepping recipe, this might be it!
Source: twokooksinthekitchen.com
Wait until your entire house fills with the aromas this recipe offers. Your neighbors will even be jealous of this Moroccan chicken with sweet potatoes.
This is another one-pot wonder that will prevent you from spending all the time after eating, and cleaning the kitchen.
For this dish, you'll need chicken, garlic, broth, sweet potato, onion, apple, lemon, prunes, and seasonings. I know my mouth just started to water after reading this!
Source: cheneetoday.com
This chicken thighs with roasted vegetables recipe is so easy to make you'll keep on making it week after week. But don't let its simplicity fool you. It is still high in nutrients and very flavorful.
The best part about this dish is that it is gluten-free and paleo-friendly. With this recipe, you'll realize that following a meal plan doesn't have to be plain and boring.
Source: cookedandloved.com
Need an idea for dinner? Try this one-pan chicken and vegetable skillet.
The recipe takes roughly 30 minutes and a large skillet, meaning you don't need to spend much time in the kitchen and can spend more quality time with the family.
Besides being incredibly delicious, this chicken and sweet potatoes skillet recipe is also gluten-free, paleo-friendly, and high in protein.
So, this healthy recipe can fulfill your needs regardless of your eating style.
Source: creativeinmykitchen.com
Need something to impress your party guests? This recipe is delicious, and its vivid colors will make your dinner table look out of this world.
The hints of green, purple, red, and orange will provide a pop of color to turn a boring-looking table into the party of the century.
Source: gohealthywithbea.com
Try this potato salad with a twist! Not only it's made from sweet potatoes, but you'll also find other ingredients, such as chicken, red bell pepper, green bell pepper, olive oil, and vinegar.
If you want to take a healthy lunch to work but are tired of the same old green salad, this can be a great way to help you deliciously nourish your body.
Source: mychefsapron.com
This healthy and delicious roasted chicken drumstick with sweet potato recipe is only going to take 15 minutes of your time.
One of the things I love about this recipe is its versatility. You can add more or replace the ingredients to your liking.
Try adding some bell pepper to boost the flavor and increase your vitamin C intake.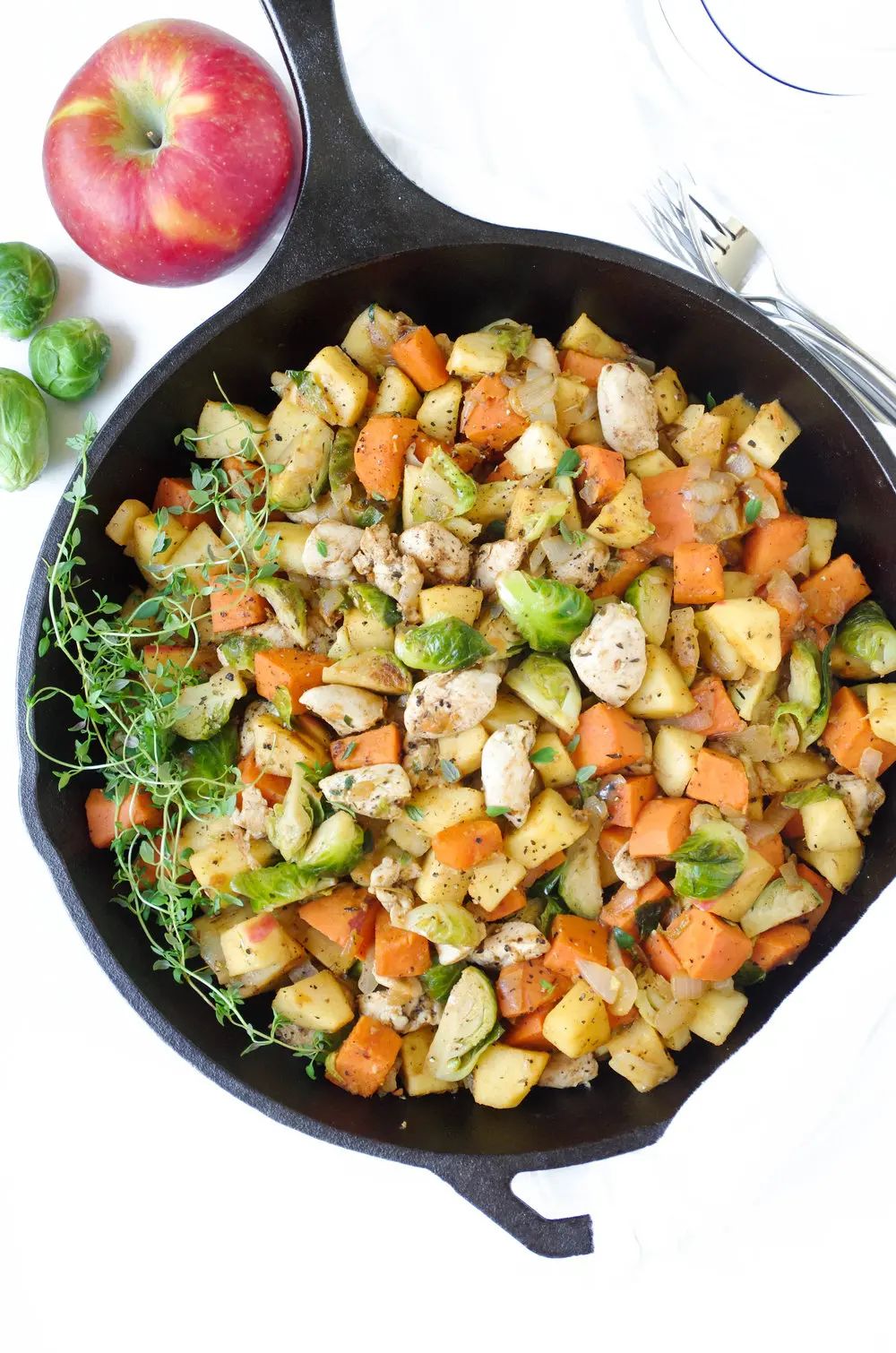 Source: theforkedspoon.com
If you are looking for the perfect recipe that reminds you of autumn, this delicious chicken skillet with apples and sweet potatoes is autumn in a bite.
This fall dinner recipe uses ingredients like chicken, thyme, cinnamon, butter, garlic, onion, Brussels sprouts, sweet potatoes, apples, chicken broth, and lemon juice.
Try making a batch of this recipe and place it in the freezer for a pick-me-up on those gloomy days.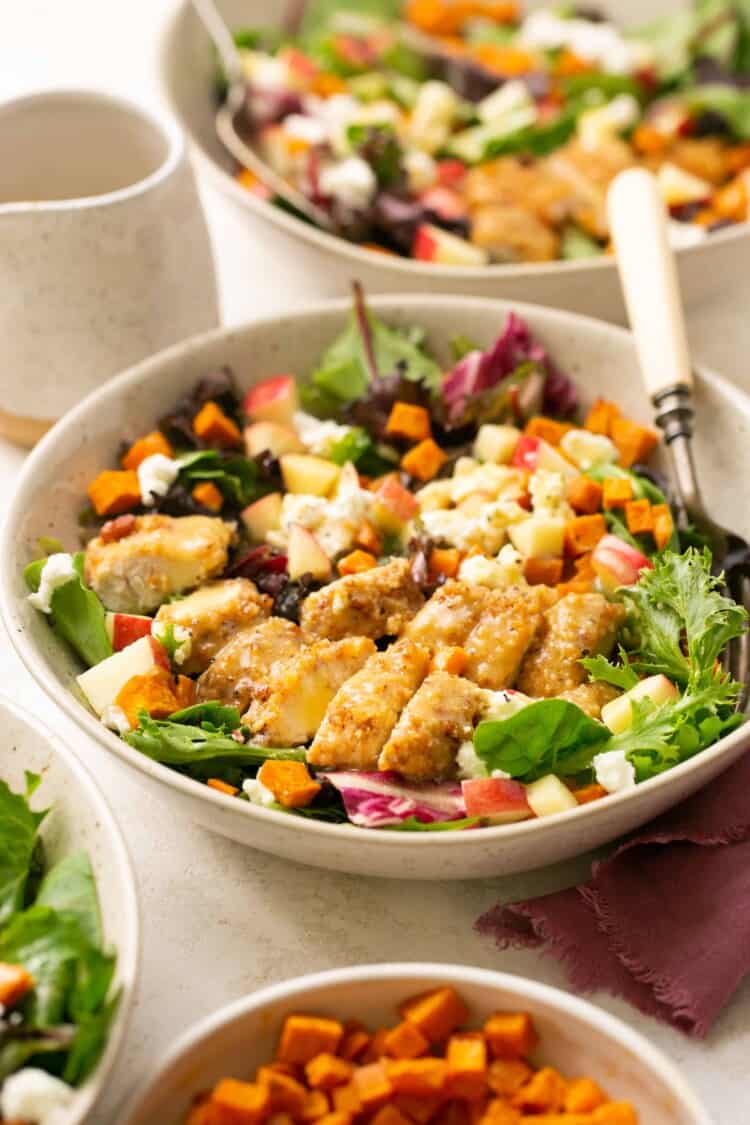 Source: laurenfitfoodie.com
Who doesn't love crusted chicken? What if I told you there is a way to make crusted chicken with pecans?
That's right!
This fall harvest salad with pecan-crusted chicken and sweet potatoes offers an explosion of flavors and textures with every bite.
Try making this fall chicken recipe for Thanksgiving or Christmas (or when you need a little seasonal mood in the middle of the year).
Source: cinnamonandkale.co.uk
Only have 10 minutes to make a delicious meal? Say no more!
This healthy chicken tray bake only takes 10 minutes of prepping time, and while it takes 35 minutes to cook, you can leave it in the oven and forget about it until it's done.
So, while cooking, you can spend time with your family, do chores, or any fun activity you have in mind. Once it's done cooking, you'll have a delicious meal waiting for you.
Source: cinnamonandkale.co.uk
If you have a slow cooker but don't know what to do with it, this slow-cooker chicken curry is the best dish to prepare.
It is fairly easy to make, and you won't need to spend a lot of time preparing the ingredients.
There is always room for variations in this recipe. You can switch sweet potato to butternut squash, or you can add other vegetables that you love.
Source: beginwithbalance.com
Craving a baked potato? Try this instead!
This buffalo chicken stuffed sweet potato is a healthier alternative to the well-known baked potatoes. It is a fun and unique plate that the whole family is going to enjoy.
Every bite will bring some heat to your meal, but the best thing is that you can increase or decrease the spiciness to your liking.
You need to try these delicious stuffed chicken recipes!
Source: suebeehomemaker.com
A casserole is a great comfort food that can bring some warmth to those cold nights.
So, what do you need to make this fantastic dish? You'll need sweet potatoes, chicken, black beans, corn, Mexican cheese, onions, garlic, chipotle peppers, tomatoes, cumin, and onion powder.
For the best side dish, try adding a nice green salad, some guacamole, or pico de gallo. You can't go wrong with either option.
Check out these easy chicken and tomato recipes next!
Source: babaganosh.org
Caught a cold and are in the mood for something besides plain chicken soup? This black bean chicken and potato stew is what you need to help you fight it off.
This soup is so high in nutrients that it will help enhance immune function and make that cold go away.
Try this comforting recipe, and let me know how it goes!
Source: babaganosh.org
Who doesn't love chicken nuggets? However, we know they might not be the healthiest option.
These sweet potato chicken nuggets are a recipe your kids are going to love! Try making a batch and placing it in the freezer uncooked.
So, whenever they are in the mood for some chicken nuggets, you can only grab, cook, and eat.
Source: sidewalkshoes.com
Salad doesn't have to be solely lettuce. There are fun ingredients that can turn a boring salad into the most delicious meal you've ever had.
This chicken sweet potato farro salad is a great way to help you add more nutrients to your diet without feeling bored about your decisions.
Source: housewivesoffrederickcounty.com
What a different take on nachos? These loaded sweet potato fries with BBQ chicken are the best party dish your friends will love.
And don't worry, if you cannot make fries from scratch, you can use frozen sweet potatoes. Or, if you want to shake things up, you can also use onion rings or other types of fries.
This is one of the most fun weekend dinner ideas for families!
Source: boulderlocavore.com
The last option I have for you is this chicken and sweet potato noodle soup.
It is packed with nutrients and flavors to provide you with a satisfying meal everyone will love.
This low calorie option only has 82 calories per serving, making it a great option for those trying to lose a couple of pounds.
21 Chicken and Sweet Potato Recipes
Get ready to indulge in a perfect harmony of flavors with these mouthwatering chicken and sweet potato recipes.
Ingredients
1. Sheet Pan Chicken and Sweet Potatoes
2. One Pot Chicken, Leek, and Sweet Potato
3. Chicken and Sweet Potato Curry
4. Chicken Skillet with Apples and Sweet Potatoes
5. Moroccan Chicken with Sweet Potatoes
6. Chicken Thighs with Roasted Vegetables
7. One Pan Chicken and Vegetable Skillet
8. Roasted Zaatar Chicken Platter with Sweet Potato Salad
9. Chicken and Sweet Potato Salad
10. Healthy Chicken Drumstick with Sweet Potato
11. Autumn Chicken Skillet with Apples and Sweet Potatoes
12. Fall Harvest Salad with Pecan-Crusted Chicken and Sweet Potatoes
13. Healthy Chicken Tray Bake
14. Slow Cooker Chicken Curry
15. Buffalo Chicken Stuffed Sweet Potatoes
16. Mexican Chicken and Sweet Potato Casserole
17. Black Bean Chicken and Sweet Potato Stew
18. Sweet Potato Chicken Nuggets
19. Chicken Sweet Potato Farro Salad
20. Loaded Sweet Potato Fries with BBQ Chicken
21. Chicken and Sweet Potato Noodle Soup
Instructions
Scroll up to get a bunch of easy, yummy, and delicious chicken recipes. Don't be afraid to get creative with the ingredients, you might discover a flavor you didn't know you liked.
Get your shopping list going and make sure you've got all the ingredients.
Get cooking and make your next Chicken and Sweet Potato Recipe!
Notes
Which one of these recipes was your favorite? Let me know in the comment section or on Pinterest!