Chicken or sausages? Hmm, why not both? These yummy chicken and sausage recipes include both proteins and taste so darn delicious!
Chicken and sausage go incredibly well together. They each give a bit extra to the other so that the overall flavor of the dish is improved.
These tasty recipes with sausage and chicken are well-balanced. The proteins work in harmony without overpowering each other. The result? Pure delightfulness!
Whether baked, simmered, or fried, here is a variety of delicious dinner recipes where chicken and sausages(or sometimes just chicken sausages!) play the main role.
Can You Cook Chicken and Sausage in the Same Pan?
Of course! Different meats can be cooked together in the same pan.
One protein may need more cooking time than the other. But other than that, it is absolutely safe to use the same pan.
In fact, many one-pot recipes call for both chicken and sausage.
Best Chicken and Sausage Recipes
These are the ultimate chicken sausage recipes and recipes that combine chicken and sausage. And they all taste amazing!
Source: afarmgirlskitchen.com
All you need is a cast-iron skillet, chicken sausages, onions, and some bell peppers. And this easy dinner will be served in just 30 minutes.
The veggies and sausage are smothered in marinara sauce.
There's an added touch of butter for silkiness. But it is the Marsala wine that adds depth of flavor.
It is recommended to serve this delight in Hoagie rolls, topped with cheese, and baked until melted.
Source: dailyappetite.com
This traditional recipe with basic ingredients combines both chicken thighs and Italian sausages. And it is a clash between these two proteins and sauteed peppers.
And let me tell you, this delicious meal tastes so good!
This hearty meal yields six portions, and it is a real family favorite. Serve it with some rice on the side, and everybody will be satisfied.
Source: drugstoredivas.net
Italian sausages, bone-in chicken breast, potatoes, peas, and peppers. How's that for a wholesome meal?
This bake is full of nutrients and delicious flavors. And it is sure to please a crowd. Plus, it makes a great budget-friendly dinner for busy weeknights.
The great option uses dry wine for deglazing, but you can do that with some broth, too, to have lots of great flavor.
If you loved the flavors here, these chicken breast on the bone recipes are for you!
Source: sticksscratchkitchen.com
This recipe combines chicken sausage, cremini mushrooms, and apples. Plus onions and walnuts. It is soft, tender, juicy, and crunchy at the same time.
It is full of flavor and great nutrients.
The base in this recipe is farro. And it is so good, thanks to all of the soaking up of the sausage juices.
This dish is filling, nutritious, and super comforting.
Source: sticksscratchkitchen.com
Creamy spinach, rich cheese filling, tomato sauce, and buttery mushrooms. That's what this lasagna features.
The rich layers of topped noodles are really to die for.
Ricotta, mozzarella, and parmesan are the three cheeses here. And the whole cup of basil really makes this dish super Italian.
Baked until bubbly and perfect. I am sure that everyone will be asking for seconds of this chicken and spinach recipe.
Source: somebodyfeedseb.com
Chicken and chorizo smothered in tomato. That is the sauce for this pasta dish. And you will absolutely love it!
It makes such a quick weeknight meal, as it is ready in 20 minutes.
Of course, you also need parmesan cheese for topping. But it is the double cream that adds such a velvety texture to this chicken and tomato recipe!
Source: tastythin.com
Are you into Greek flavors? Then this chicken and sausage sheet pan with veggies is just for your dinner table.
The recipe uses artichoke & garlic chicken sausages. But you can use any sausage link for this recipe, too.
The veggies include peppers, onions, and olives. And everything's flavored with some Mediterranean seasoning. And topped with feta cheese, of course.
Source: theforkedspoon.com
This dish does not only contain chicken and sausages, but it combines shrimp as well. A classic Jambalaya dish for an authentic dinner experience. Your guests will be impressed!
This protein-loaded pot also includes peppers, celery, and tomatoes. And it is packed with rice.
So filling and delicious that everyone will love this creamy delight.
The recipe uses Andouille sausage, but you can use whatever you have.
Source: sumptuousspoonfuls.com
Are you in the mood for hot creole? Then, this is what you need to be making.
This lovely chicken sausage skillet with peppers, mushrooms, tomatoes, and zucchini is so healthy and filling.
The recipe also includes one hot pepper. But feel free to omit that if you don't like the heat.
Ready in 25 minutes, this recipe makes three generous or four normal portions.
Have extra sausages? Check out these other easy chicken sausage recipes!
Source: beginwithbalance.com
Let's be honest, who has time for cooking after a long day at work? Well, this recipe is made just for those late afternoons.
This dish comes together quickly and easily and still satisfies a family.
It combines chicken sausages, broccoli, peppers, sweet potatoes, and onions.
The thing I love the most? The pesto drizzles on top of this baked dish. So yummy!
Source: drugstoredivas.net
A one-pot dish that combines chicken, sausages, peas, carrots, and potatoes. This recipe uses a whole chicken, so there will be plenty of meat for the whole family.
This Italian-American dish is infused with white wine, and it really makes a big difference.
The best part about it? It is a full and wholesome dish. And it doesn't even need a side dish.
Source: threeolivesbranch.com
Bold flavors are packed in this dish. Smoked sausage is combined with okra, tomatoes, and generous Cajun seasoning.
The dish is also infused with bay leaves. And it uses celery and garlic as aromatics, too.
This gumbo has a bit of hot sauce that gives it a nice kick. But feel free to omit that if you don't want it to be that spicy.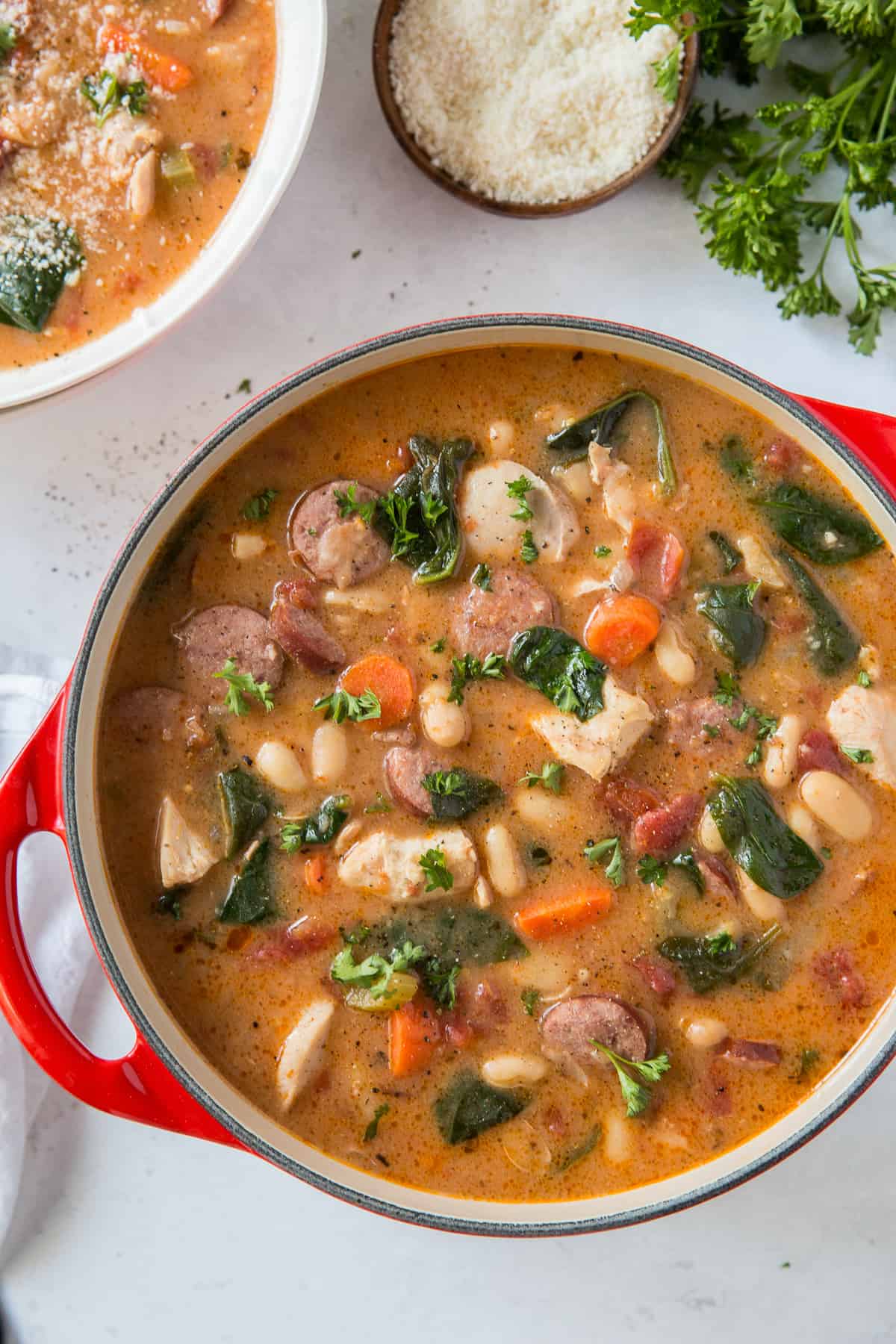 Source: fromvalerieskitchen.com
Some things are meant to be paired together. And this stew is a pure example of that. Chicken thighs and sausages combine their forces to create the most flavorful and nourishing broth ever.
This stew is packed with nutrients and warms you up in a jiffy.
It combines beans, tomatoes, carrots, celery, and spinach. And it is such a nice choice for a comforting winter meal.
Serve it with some homemade bread. And pat yourself on the back for nailing dinner.
Source: simplystacie.net
I'm sure we've all tried chicken soup to pick us up when feeling under the weather. But have you ever tried a chicken and sausage combo? It works like a charm!
Perhaps there's something in all that sausage fat that's in the broth. Perhaps the bolder taste. I'm not sure. But this soup brings you back from the dead. It's that good.
It is also loaded with beans, which is yet another source of protein to boost your mood.
Plus, there is a secret ingredient in the recipe that you simply cannot omit. Click to find out what it is.
Source: savorthebest.com
This recipe uses kielbasa sausage, and it is a one-pot delight that you simply have to try.
A full dinner with protein, rice, peppers, and tomatoes. And so much flavor!
It is ready in 50 minutes. And it serves six people. So, pretty decent for a nice family dinner.
I'd serve this topped with parmesan cheese for some extra flavor.
Source: masonfit.com
Do you shy away from sausages because of the fat and calorie content? Well, you might want to put a stop to that. These meaty bites are much healthier. And tastes equally good!
They're made with ground chicken and a handful of spices. And are a much leaner option. Especially for breakfast!
Make these patties and serve them at any time of the day. And with any side dish. Because, yes, they are super versatile.
Source: saltandlavender.com
Lemony and garlicky in flavor. With a touch of sun-dried tomatoes for some feel-good hints.
This lovely pasta with chicken sausage and green beans is so flavorful. And it is pretty quick and easy to throw together, too.
It also includes spinach and Italian seasonings. And it is one of those no-sauce pasta toppings. So, they are much healthier than other creamy options.
Source: saltandlavender.com
Creamy orzo with Italian sausage, spinach, and parmesan cheese.
This recipe is quick to make, and it is delicious enough to satisfy everyone.
It takes 30 minutes to make, and it is a bit heavier on the calories, but it is so darn good.
The fluffy orzo is rich in broth flavors. The heavy cream gives it a velvety texture that your palate will surely enjoy.
If you want a spicy kick, just add more chili flakes.
Source: thecozycook.com
Chicken breasts smothered with a creamy and flavorful sour cream mixture. Topped with green beans. And a combo of stuffing and sausages on top.
Baked in the oven until golden, crispy, and bubbly. This dish is so filling and delicious.
To take things to a new level, add a layer of cheese on top.
Source: skinnyspatula.com
Creamy risotto with chicken, chorizo, and parmesan cheese.
Plus, some thyme for flavor. And a white-wine infusion. This recipe tastes like restaurant-made. But it is so simple to make.
It takes about 50 minutes and will serve six generous portions.
A super comforting meal is rich in protein, fiber, and pick-me-up flavors.
If you don't have chorizo, feel free to add some other type of sausage.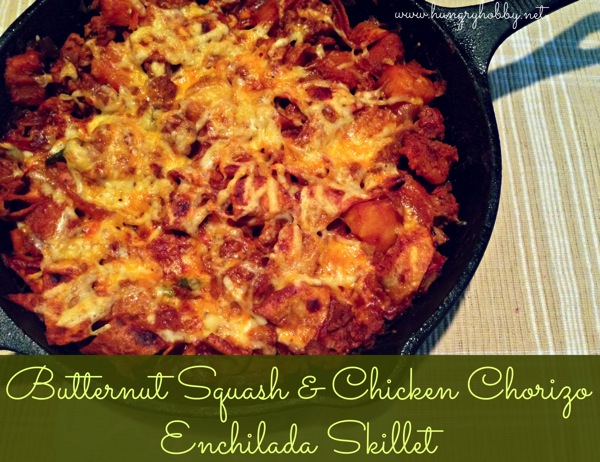 Source: hungryhobby.net
Squash and chicken enchilada pan, made with chorizo and cheese.
This recipe uses tortilla strips. And it is a deconstructed enchilada that the whole family will love.
It also includes one jalapeno pepper for heat. But you can add ½ diced bell pepper instead if you're serving this to kids.
I'd serve this fall chicken recipe with sour cream, lime, and cilantro.
Source: julieblanner.com
Vibrant in color. Loaded with protein. And incredibly delicious. This lovely pasta dish will satisfy your whole family. And you will love making it over and over again.
It is spicy, crispy, and incredibly rich. It also has a certain zest to it that will keep your guests asking for more.
Serving it with parmesan cheese is almost a must.
Source: sidewalkshoes.com
Ground chicken and chorizo pack these tacos with protein in the most flavorful way possible.
It combines all of the usual taco ingredients. So, there are avocados, beans, cilantro, and sour cream. It is a great choice for a game night or other casual get-togethers with friends.
This dish is ready in 30 minutes. And it serves four people.
Source: skinnyspatula.com
This pasta is coated with a deep orange sauce. And it is an absolute delight to serve at a more elegant dinner where regular pasta dishes are too casual.
And if you garnish it with chopped herbs, it will look even fancier.
Double cream is added to the tomato sauce for a thick and smooth sauce.
It combines both chicken and chorizo, and it only takes 30 minutes to make.
Source: whereismyspoon.co
Who doesn't love a rich paella? This one combines both chicken and chorizo. And it is also tomatoes, peppers, peas, and, of course, rice.
It is a filling and nutritious dish that will easily feed a crowd.
It also requires a large pinch of saffron, which gives it a distinctive taste and a pop of color.
Source: slowcookermeals.com
Robust flavors with a touch of heat make this pasta incredibly delicious.
If your Cajun blend is on the milder side, add a few more dashes of cayenne to the sauce. Trust me, this pasta can handle its spiciness.
It is creamy, buttery, and cheesy. It also has peppers and onions, and it can satisfy you in an instant.
Source: scrummylane.com
Cherry tomatoes go so well with chorizo and chicken. And this recipe is a tasty way to prove that.
And perhaps the simplest, too. This recipe is really easy to make.
Just dump everything in a baking dish, pop into the oven, and bake until nice and bubbly.
The recipe uses a whole garlic bulb, and it is full of warm and earthy flavors.
Source: dinneratthezoo.com
Spiced chicken thighs, or almost blackened. Combined with chorizo, potatoes, and peppers. A full and hearty family dish that is made in a sheet pan.
And it really couldn't be simpler. Just season everything well, arrange on a pan, and bake.
You can choose a fresh green salad to go with this dish for a fully nutritious meal
Source: thecozycook.com
A creamy rice dish with onions, sausages, peppers, and lots of cheese.
It is made in one pot, and it is a casserole-style dish that your family will love. Especially since it's so cheesy.
It comes together in 45 minutes, and it is rich in amazing textures and flavors.
If you want to, you can make it a real casserole and finish it off in the oven. Heck, you can even add a crunchy layer of breadcrumbs on top.
Source: saltandlavender.com
Orzo, tomatoes, and chicken sausage For a creamy, filling, and nutritious dish.
It is also packed with peppers and broccoli. But you can use other veggies here, too.
Served with grated parmesan cheese, this smooth dish is almost irresistible. Just give it a try and tell me I'm wrong.
Source: thecozycook.com
Creamy, nourishing, and packed with comforting flavors. This warming soup with potatoes, sausages, carrots, and celery is so cozy and delicious.
And it makes such a nutritious bomb. That it will make you feel better even after the first sip.
The heavy cream is inevitable here. It gives the soup a thick and velvety texture. And it works so well with the potatoes and sausage.
31 Best Chicken and Sausage Recipes
Find your next favorite dish with these diverse and tempting chicken and sausage recipes.
Ingredients
1. Chicken Sausage and Peppers
2. Chicken Scarpariello
3. Chicken Sausage Bake
4. Apple Chicken Sausage Skillet
5. Sausage and Spinach Lasagna
6. Chicken Chorizo Pasta
7. Chicken and Veggies Sheet Pan
8. Jambalaya
9. Creole Chicken Sausage Skillet
10. Pesto Chicken, Sausage and Veggie Sheet Pan
11. Sheet Pan Chicken Vesuvio
12. Chicken Smoked Sausage Gumbo
13. Chicken and Sausage Stew with White Beans and Spinach
14. Chicken and Sausage Soup
15. Sausage and Rice Skillet Dinner
16. Homemade Chicken Breakfast Sausage
17. Chicken Sausage Pasta with Green Beans
18. Italian Sausage Orzo
19. Chicken and Stuffing Casserole
20. Chicken Chorizo Risotto
21. Butternut Squash and Chicken Chorizo Enchilada Skillet
22. Chicken and Chorizo Pasta
23. Chicken and Chorizo Tacos
24. Creamy Chicken and Chorizo Pasta
25. Chicken and Chorizo Paella
26. Crockpot Cajun Chicken Pasta
27. One Pan Baked Chicken with Chorizo and Tomatoes
28. Spanish Chicken with Potatoes and Chorizo
29. Sausage and Rice
30. Tomato Orzo with Chicken Sausage
31. Sausage and Potato Soup
Instructions
Scroll up to get a bunch of easy, yummy, and delicious recipes. Don't be afraid to get creative with the ingredients, you might discover a flavor you didn't know you liked.
Get your shopping list going and make sure you've got all the ingredients.
Get cooking and make your next Chicken and Sausage Recipe!
Notes
Which one of these recipes was your favorite? Let me know in the comment section or on Pinterest!