Canned chicken is a great thing to keep in your pantry for last-minute meals. It's cost-effective, tasty, and versatile enough for many flavorful canned chicken recipes.
The best thing is that the chicken stays usable for a long time. Much longer than raw fresh chicken in the fridge making a delicious meal easy on busy days.
Unfortunately, grocery store canned chicken has a bit of a rough reputation. But I believe good food and quick meals aren't a matter of picking the most high-quality ingredients.
It's about knowing how to use what you have to make an easy recipe. To that end, let's explore thirty-one delicious ways you can use these pantry staples to create a deliciously easy meal.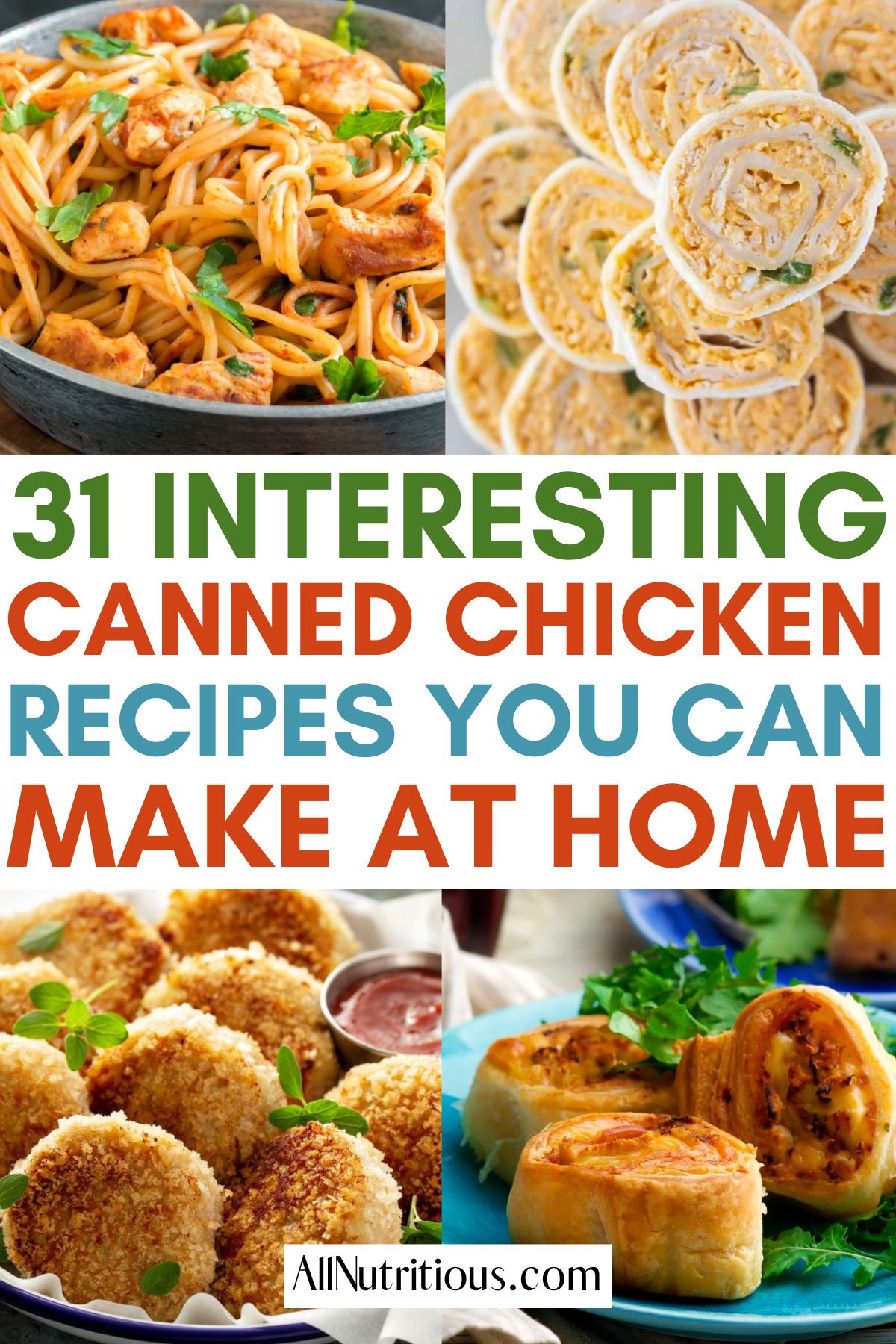 Is Canned Chicken Healthy?
For the most part, yes. If you're looking for a convenient, healthy option for your family and picky eaters, canned chicken is a great ingredient to reach for next time.
Of course, how healthy it is will depend on what's in it.
For example, canned chicken mixed with mayonnaise or olive oil will most likely be higher in fat. However, canned chicken in spring water or brine will be much lower.
So, it's all up to your individual needs to find the best canned chicken for an easy dinner recipe.
What is Canned Chicken Good In?
Canned chicken is particularly good in meals with a great sauce like pasta recipes. The sauce can wake the chicken up again, bringing it to life with flavor and moisture.
Think casseroles, wraps, pasta, and soups or stews if you're cooking with canned chicken. Anything that can add extra moisture and flavor to the protein will be your best bet.
So, without any further ado, let's get on the list! These recipes will get you from A to Z in half an hour or less, so they're ideal for busy weeknights or last-minute get-togethers.
Easy Canned Chicken Recipes
Source: practicallyhomemade.com
Buffalo sauce is one of the best things you can put on chicken, period. It's rich in flavor and super colorful, making any dish feel special! That's why I love these buffalo chicken flour tortillas.
These are excellent for quick lunches on the go for the whole family. Portable and lunchbox-friendly, you can easily send your kids to school (and yourself to work) with a batch of these simple wraps.
Source: theforkedspoon.com
Take just fifteen minutes out of your busy evening to create this delicious angel hair pasta.
This perfect meal has many fresh ingredients to offset the canned chicken, making it feel fresh and healthy at the dinner table.
The angel hair pasta has a cooking time of five minutes, so the rest of the time is dedicated to chopping your vegetables.
I love this busy weeknight recipe for clearing out the vegetable drawer at the end of the week.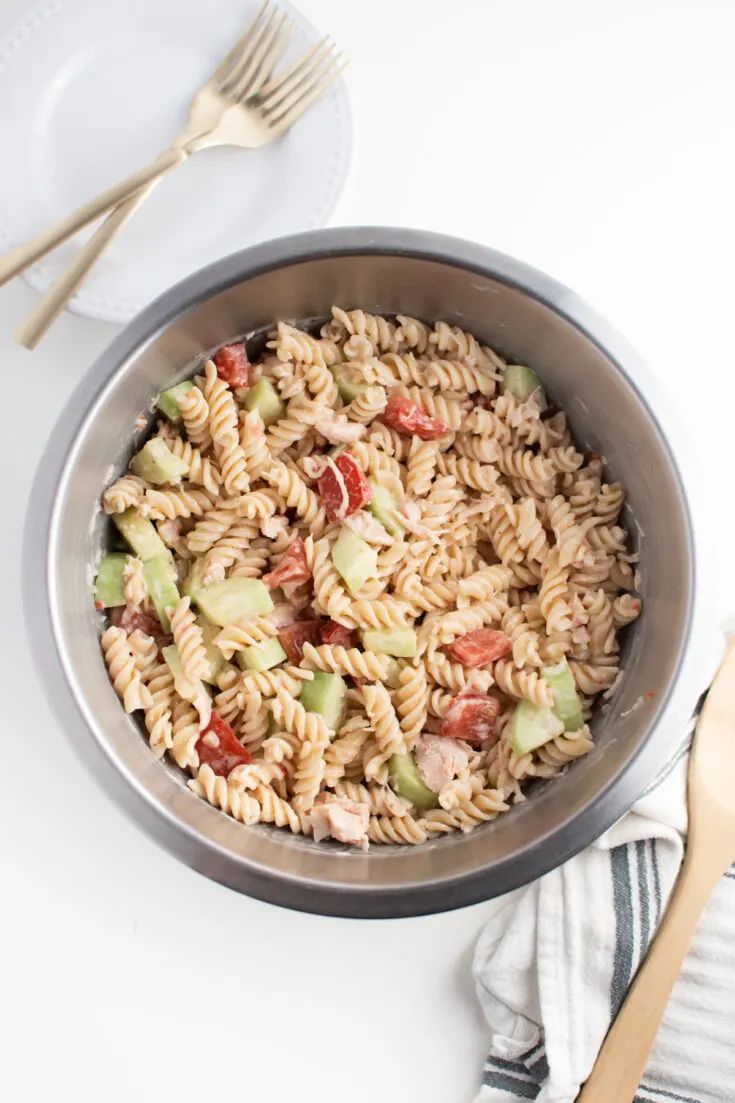 Source: ashcroftfamilytable.com
On a hot summer day, there's nothing better than hanging out at a barbecue with your loved ones. And what is a classic barbecue staple?
A cold pasta salad, of course! This simple rotini version is great.
You can prepare this salad using ingredients you probably already have in your pantry in just fifteen minutes. If you can, I recommend making this a day in advance so the flavors can mingle.
Source: ashcroftfamilytable.com
Chicken salad and grapes might sound strange, but hear me out! The refreshing sweetness from the grapes is the perfect thing to cut through the creamy chicken mixture.
Sandwich this chicken salad between two buns for an addictive, lunchbox-ready sandwich you won't be able to put down. This tastes great, is cheap, and you can make it in ten minutes.
This is one of the best healthy pantry recipes for an easy meal!
Source: healthyambitions.co
Canned chicken is fantastic as part of a noodle dish, but it's tough to enjoy noodles if you're keto. Well, not anymore. It isn't! Combine chicken and some simple ingredients to make your own!
These noodles are a beautiful foundation for any Asian dish. Smother them with your favorite sweet and sticky sauce, or use them as the base for a quick weeknight stir fry. They're amazing!
Source: ashcroftfamilytable.com
Macaroni and cheese is the kind of dish that invites you to make it your own. Create a signature macaroni and cheese with a can of your favorite chicken and a few minutes in the kitchen.
Not only does this come together super quickly, but it also tastes amazing. This is the definition of comfort food. It's so good that it will feed your family with no complaints!
Source: mindyscookingobsession.com
I'm a big fan of calzones. They're basically pizza sandwiches. These chicken calzones are super easy to make, requiring just half an hour of your time!
Whether you need an after-school snack for your kids or a quick dinner on a Monday, these will do the trick. All of the ingredients are pre-made, so they come together super easily.
You could even have your kids make these for you. That's how simple they are!
Source: fabeveryday.com
The Instant Pot is a favorite tool among home cooks, offering a super simple way to pack a ton of flavor into soups and stews. This recipe puts that tool into practice, creating an amazing soup.
Chicken and rice are a delicious combination in any form. As a soup, it's so warm and comforting that it will chase any negativity away. Sickness, cold, or sadness, begone! This soup is here to stay.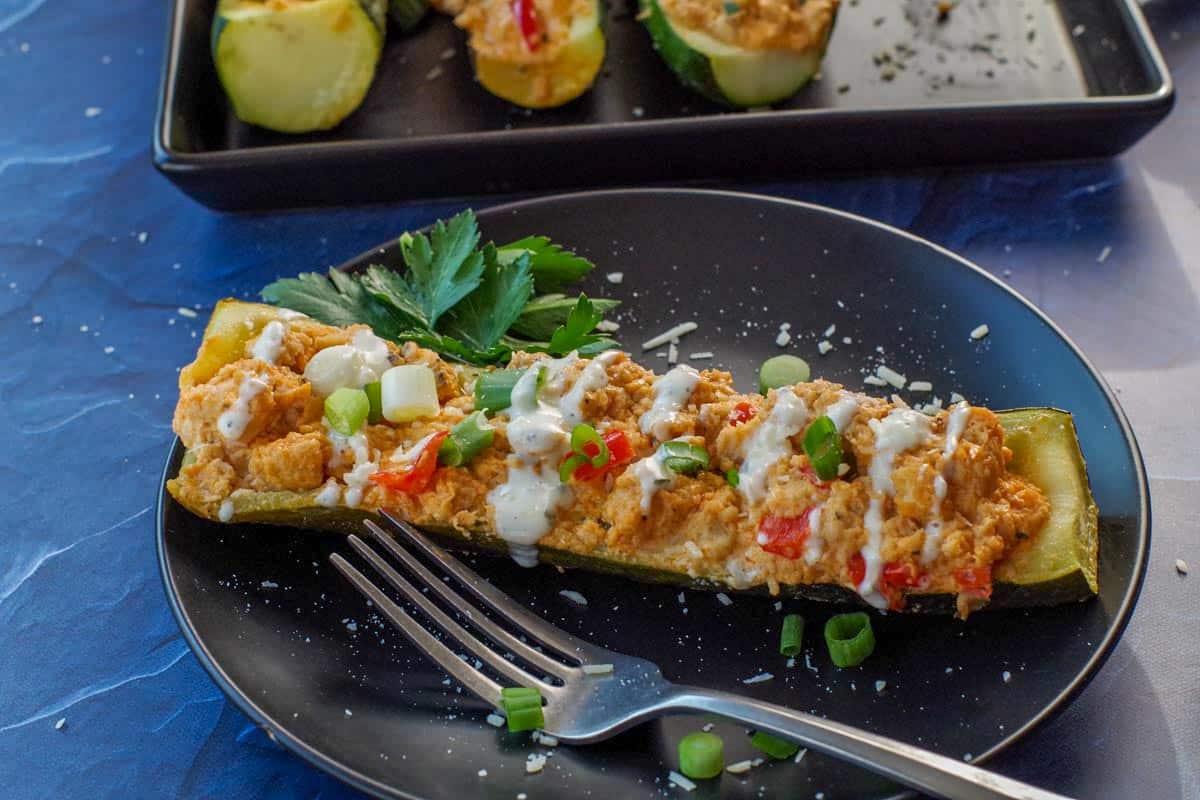 Source: foodmeanderings.com
Put a healthy spin on a traditional game day snack with these buffalo chicken zucchini boats.
The zucchini and cream cheese helps keep the leftover chicken moist while roasting, making it ten times better.
The buffalo sauce and cheddar cheese is the real hero here, packing tons of flavor into every cell of the canned chicken.
By the time you take the first bite, you'll have forgotten the chicken you used came out of a can!
Source: honestandtruly.com
Here's another quick and easy way to make empanadas for your mid-week meal. Spice it up or crank the heat down according to your preference by tweaking the hot sauce you add.
These empanadas are perfect as leftovers the next day, too. They reheat beautifully. But, if you don't have access to a microwave, they're still delicious cold.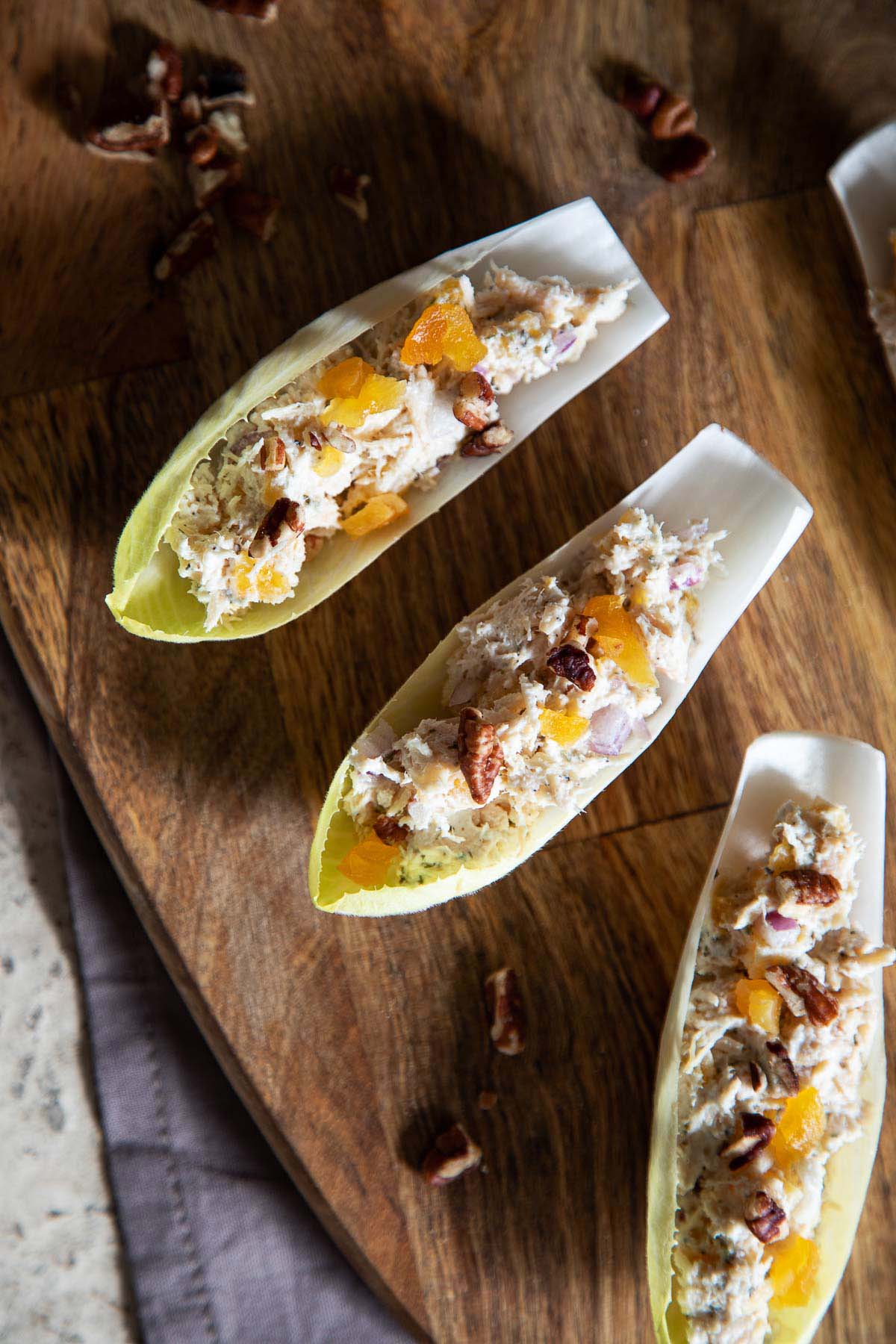 Source: lucismorsels.com
Who knew you could make canned chicken refined enough to be an appetizer? This super simple chicken salad recipe does just that. And it's all thanks to little wedges of butter lettuce.
These individual salad cups are a great way to get your guests' appetites raring to go. This is cost-effective, delicious, and impressive enough to appear on a restaurant menu.
Source: thetoastykitchen.com
Remember how I said powerful, vibrant sauces are the key to making your chicken sing? Well, this recipe is proof that it works. This is a five-ingredient pesto chicken pasta that packs a punch.
In just twenty minutes, you can enjoy amazing pasta for dinner. The zesty, herbaceous pesto adds a tinge of green and a ton of flavor to bring the dish up a few notches.
Source: jamilghar.com
This delicious Instant Pot buffalo chicken dip will take game day to the next level. This dip has all the pantry ingredients to make your next gathering successful, including buffalo sauce and cheese.
It tastes incredible with tortilla chips, so make sure to serve plenty of chips alongside your dip! Trust me, this will be gone in the blink of an eye. Luckily, it's very easy to make again.
Source: jamilghar.com
Put down the takeout menu and step away from the phone. Why order out when you can make this incredible pizza recipe in the same time it would take to get the pizza to your door?
This recipe is designed for two people, so it's ideal if you and your significant other feel like a quiet night in. With no carbs and tons of protein, this unique pizza tastes incredible.
Source: 24bite.com
Save yourself a ton of time and stress with this fantastic one-pot wonder. This chicken pot pie soup is exactly what it sounds like. It's as if you took a chicken pot pie and turned it into soup.
In other words: comforting, warm, and super creamy. This ultimate winter meal is designed to comfort you and your loved ones on even the coldest nights.
This is a great, easy back to school dinner idea for busy nights.
Source: healthyfoodiegirl.com
Three unlikely companions come together to create perfection in this tasty recipe. Grapes offer refreshing sweetness, while the chicken and tarragon take care of things on the savory side.
The result is a balanced bowl of chicken salad you can proudly bring to any potluck, party, or picnic.
Source: healthyfoodiegirl.com
Make your chicken salad sandwiches sing with this tasty recipe. Making this salad is a breeze, requiring only ten minutes to prepare. That's because it uses pre-made buffalo sauce!
Sandwiched between two pieces of bread, this is an addictive filling that will keep you returning for more. Try adding extra vegetables to sneak some extra nutrition into the meal undetected.
This chicken salad would make one of the best sandwich ideas for lunch!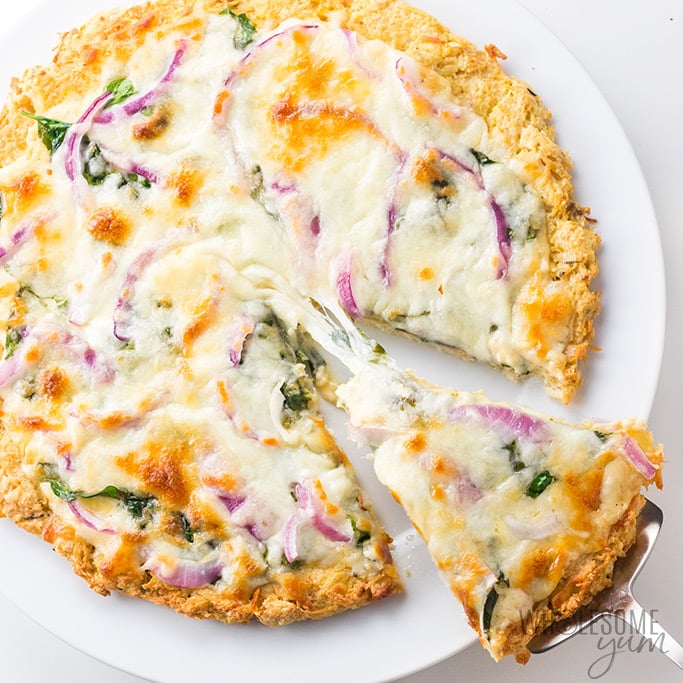 Source: wholesomeyum.com
Here's a variation on the chicken crust pizza idea. This time, it's a white pizza instead of a BBQ pizza! The creamy alfredo sauce and oodles of mozzarella make this a real treat any night of the week.
Make it a date with your significant other to prepare this recipe together. It's a fun way to spend time together; the result is so delicious!
Source: thriftyfrugalmom.com
Are you looking for a simple, cost-effective way to take care of dinner this week? These salsa ranch chicken wraps take next to no time to make.
They're packed with flavor, nutrients, and tons of protein.
Best of all, they're crowd-pleasers. Even the pickiest eater in your family will get a kick out of these flavorful wraps. They're also great the next day as lunch for work or school.
Source: lowcarbquick.com
A chaffle is a chicken 'jaffle,' which is an Australian term for a grilled sandwich. In other words, this is an extra-grilled buffalo chicken tender packed with flavor and protein.
This is an ideal snack if you're living the keto lifestyle. With just 1g of carbohydrates and tons more protein than a regular sandwich, this will keep you going for hours and hours.
Source: anediblemosaic.com
Make something simple, healthy, and delicious with this tasty chicken salad. This comes together in ten minutes, offering the perfect filling for a wholewheat chicken sandwich.
This recipe replaces most of its mayonnaise with Greek yogurt to make things extra healthy. This is a fantastic alternative to mayonnaise. Just make sure to use a non-flavored version for the best results.
Source: thisolemom.com
Gear up for your next potluck or barbecue with this tasty, cost-effective chicken pasta salad. This recipe is ideal if you need to feed a crowd on a budget.
Try making this the night before to save time the next day. This also allows the flavors to mingle, giving you the best possible results with minimal effort.
This is a great summer salad recipe for BBQs!
Source: favfamilyrecipes.com
Make your next weeknight dinner a breeze with these Crescent chicken roll-ups. Crescent dough is an ingredient sent from heaven to make home cooking easier on busy parents, of that much I'm certain.
These roll-ups are packed with deliciously creamy chicken, offering a great way to get more protein into your little ones' diets. Serve with brown rice and their favorite vegetables, and dinner's made!
Source: thestayathomechef.com
Chicken pot pie might be one of the best ways to use canned chicken I've ever seen. The chicken gets to cook in its own steam and juices, packing it full of flavor.
The result is an out-of-this-world pie with a moist filling and addictive, crunchy crust. The only thing that would improve this pie is if you could make it in under an hour. Oh, wait, you can!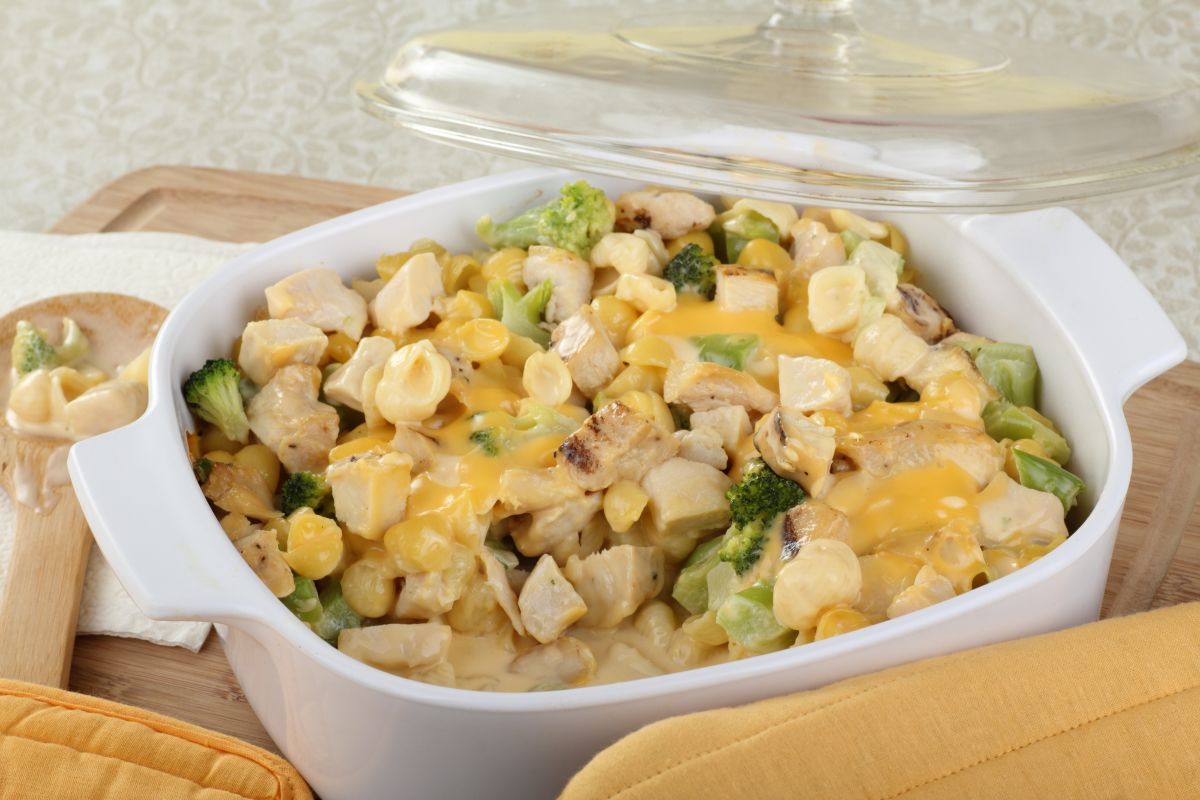 Source: thecountrycook.net
Take some of the cheapest ingredients in your pantry and turn them into culinary success with this simple recipe! This creamy and light casserole offers ample space for vegetables to live.
You can tweak this recipe to suit your family's needs with ease.
Source: insidebrucrewlife.com
Similarly, you can make cheesy chicken pasta in a single skillet. I love one-pot recipes because they take all the dishes out of the equation, making clean-up a breeze.
The best part of this bake is the sauce, which you can drizzle generously over the top. Whip up this crowd-pleaser in just half an hour to feed to even the pickiest of eaters.
Source: natashaskitchen.com
Beef patties may be good, but so are chicken patties! These crisp, juicy chicken patties are perfect for enjoying your next burger night.
Not only is chicken cheaper than beef, but it's also better for your health. These tasty, healthy patties promote lower cholesterol and less sodium in your diet.
Source: areinventedmom.com
Who says you must spend hours in the kitchen making delicious comfort food? Not the author of this recipe, that's for sure! This is a dead-easy chicken spaghetti recipe perfect for rushed weeknights.
Your family will love every bite of this ultra-creamy pasta dish. It's also easy to sneak vegetables into, so you can ensure your little ones get their five-a-day with no tantrums.
Source: natashaskitchen.com
This recipe proves that canned chicken can be the hero of a delicious salad! With many Caesar-salad-inspired ingredients, this is a great way to enjoy brunch or lunch with friends.
Assemble it and serve it to each person, or create a make-your-own-salad bar that won't break the bank!
You'll love this healthy summer recipe on a hot day!
Source: madaboutfood.co
This recipe is for you if you have leftover rice waiting for a new life in your fridge. Leftover rice is essential for making good fried rice, as newly-cooked rice will become too soft.
Whip up the perfect fried rice on the fly with a can of chicken, leftover rice, and whatever vegetables you have.
This is the perfect recipe to reach for when supplies are running low at the end of the week.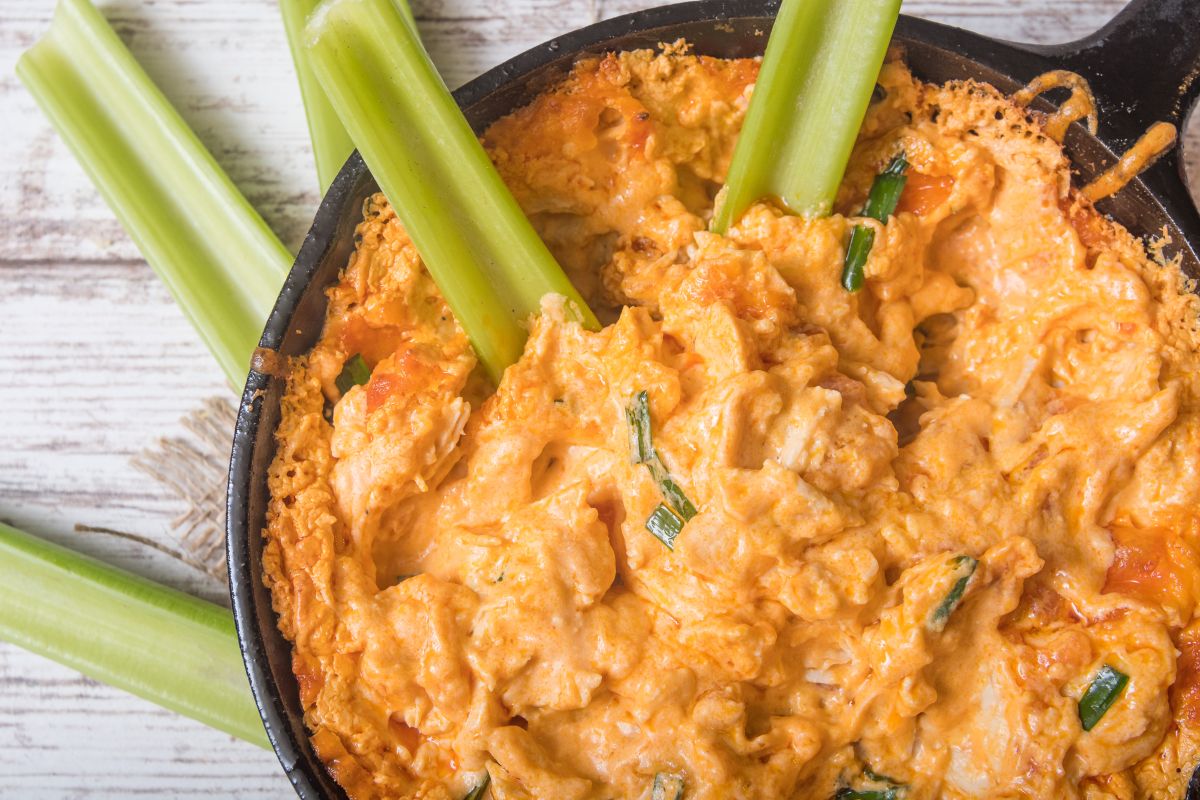 Source: butterwithasideofbread.com
Finally, we have a delightful appetizer that your party guests will love! Packed with the creamy notes of ranch and cheese, this dip is an indulgent one that your guests won't forget any time soon.
That's a wrap! Thirty-one delicious ways to use one of the most humble ingredients: canned chicken. Give this underappreciated protein its day in the sun with any of these recipes!
Let me know in the comments which one you went with. Also, if you're after more affordable meal ideas, check out my other Recipe Roundups for inspiration!
31 Easy Canned Chicken Recipes
Get your daily dose of protein with these delicious and easy canned chicken recipes - perfect for any occasion.
Ingredients
1. Buffalo Chicken Tortilla Wraps
2. Angel Hair Pasta with Chicken
3. Summer Rotini Pasta Salad
4. Chicken Salad with Grapes
5. Keto Noodles
6. Cheesy Chicken Macaroni Casserole
7. Chicken Calzones
8. Instant Pot Chicken and Rice Soup
9. Buffalo Chicken Zucchini Boats
10. Chicken Empanadas
11. Chicken Salad Appetizer
12. Pesto Chicken Pasta
13. Buffalo Chicken Dip
14. BBQ Chicken Crust Pizza
15. Chicken Pot Pie Soup
16. Chicken Salad with Grapes and Tarragon
17. Buffalo Chicken Salad
18. Low Carb Keto Chicken Crust Pizza
19. Salsa Ranch Chicken Wraps
20. Buffalo Chicken Chaffle
21. Canned Chicken Salad
22. Chicken Pasta Salad
23. Crescent Chicken Roll Ups
24. Chicken Pot Pie
25. Chicken Noodle Casserole
26. Cheesy Chicken Pasta
27. Chicken Patties
28. Chicken Spaghetti
29. Avocado Chicken Salad
30. Chicken Fried Rice
31. Ranch Canned Chicken Cheese Dip
Instructions
Scroll up to get a bunch of easy, yummy, and delicious canned chicken recipes. Don't be afraid to get creative with the ingredients, you might discover a flavor you didn't know you liked.
Get your shopping list going and make sure you've got all the ingredients.
Get cooking and make your next Canned Chicken Recipe!

Notes
Which one of these recipes was your favorite? Let me know in the comment section or on Pinterest!