Finding many pre-made snacks suitable for a dairy-free diet is difficult. You can easily have a great snack without dairy products thanks to these dairy free snacks.
A selection of dairy-free snack ideas that are easy to make at home is a good idea. You can eat a delicious snack without dairy that is still healthy and nutritious.
Plus, you won't need to check the labels for food allergies in everything you buy at the grocery stores!
What Snacks Can Dairy-Free Eat?
Almost any type of regular snack can be made dairy-free.
Nut or seed butter can be used if you're making a filling snack that requires butter as a binding ingredient and healthy fats. Try almond, peanut, or sunflower.
Coconut or oat milk are great dairy-free options if you need milk in a nutritious snack recipe. These different types of butter and milk add extra flavor too.
You don't need to miss out on chocolaty snacks either in you have lactose intolerance. Pure cocoa powder is dairy-free.
You can also buy dairy-free chocolate chips to add to cookies, cakes, and granola bars!
Veggie bites, roasted chickpeas, and hummus are just some of the delicious savory snacks you can enjoy. There's no need to miss out on cheese either – vegan cheese is a lifeline!
Best Dairy-Free Snacks
You'll find an array of delicious dairy-free snacks below. There is everything from veggie bites to cookies to cakes!
Source: allnutritious.com
Smashed Brussels sprouts are delicious, caramelized, and crispy!
Roasting them in the oven brings out their natural sweet flavor. An olive oil, salt, and black pepper seasoning elevate the taste.
Combine mayo, garlic, thyme, lemon zest, and juice. This makes a tasty dipping sauce for your roasted smashed sprouts!
You might also enjoy these crispy Brussels sprouts chips for a healthy snack!
Source: veganhuggs.com
These vegan baked pretzels are crispy on the outside and soft and chewy on the inside! They're easier to make than you might think.
You must make dough, but the most challenging part is waiting for it to rise! Mix flour, yeast, salt, baking soda, and sugar. Vegan butter provides a rich, buttery taste and soft dough.
Once you've immersed your shaped pretzels into boiling water, you'll bake them until they're golden. An "egg wash" of almond milk and maple syrup helps achieve a lovely color!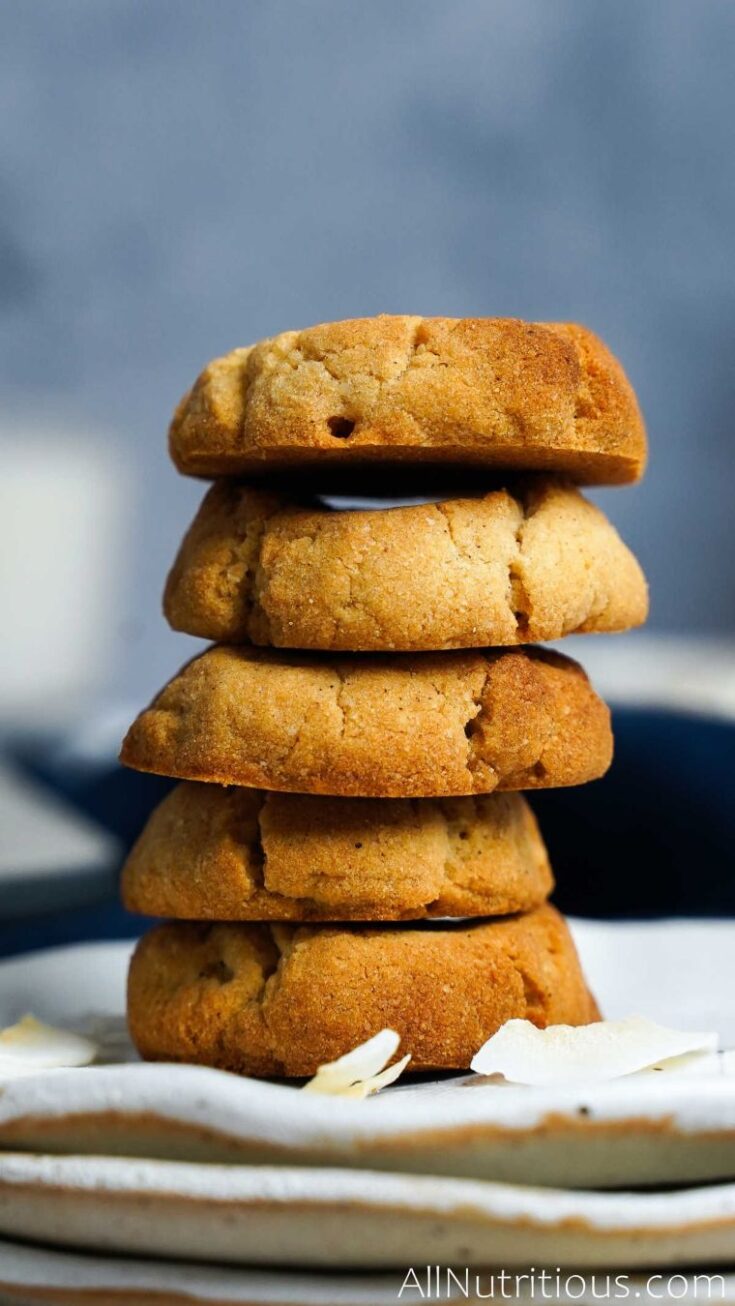 Source: allnutritious.com
Coconut protein cookies are nutty and delicious! They're also healthy and naturally sweet.
Combine baking soda, coconut flour, and protein powder for a chewy texture. Coconut oil and honey bring your dry ingredients together. They also add sweetness.
Add flavor to your cookies with apple pie spice and vanilla extract. Bake them until golden and the outside is crispy!
Source: cheneetoday.com
These muffins are moist, healthy, and the flavors go well together, making it one of the best healthy snack ideas!
Whole wheat flour makes your muffins even better for you. Pumpkin pie spice elevates the taste of pumpkin and banana!
Mashed ripe banana slices are naturally sweet. Also, they have a more robust banana flavor.
Together, the banana and pumpkin puree creates a lovely moist texture. Use coconut sugar for sweetness, too.
Source: allnutritious.com
Lift the taste of bland cauliflower with these sticky buffalo bites!
Before roasting, season your cauliflower bites. Use garlic powder, sea salt, and black pepper. Almond flour helps to achieve a crunchy texture on the outside!
Combine hot sauce and olive oil for your sticky buffalo coating. Heat it, pour it over your bites, and mix to coat the cauliflower well!
Source: worldofvegan.com
This chocolate mug cake is decadent yet healthy, packed with 10 grams of protein! This high protein treat also takes minimal time and effort.
Blend rolled oats until they're fine to make oat flour. Cocoa powder gives your mug cake a rich chocolate taste.
A banana and maple syrup act as natural sweeteners. The banana works as an egg replacement too. Dark chocolate chips add extra indulgence and a slightly crunchy texture!
You will also enjoy these other super easy sweet snacks!
Source: maesmenu.com
These banana muffins have the taste and texture of moist banana bread. However, the single servings are great for an on-the-go breakfast or lunchbox!
Use coconut oil for a tropical aroma. Brown sugar gives a caramelized taste. Mayo is the secret to making your dairy-free muffins moist!
Ripe bananas give the best soft texture. Vanilla extract and ground cinnamon add an extra layer of flavor.
Source: earthtoveg.com
This banana chocolate chia pudding is rich, creamy, and tasty. Although it's chocolaty, it's healthy too!
Chia seeds make your pudding thicker and are nutritious. Mashed banana helps with the thick texture. This is as well as being one of the primary flavors!
Use maple syrup to add a natural sweetness to your pudding. Cocoa powder and chocolate chips provide a rich taste. Soy milk hydrates the chia seeds and provides a creamy texture.
Source: plantbasedonabudget.com
These easy peanut butter oatmeal cups are the perfect snack to make ahead of time. They're naturally sweet, nutty, and chewy!
The vital ingredients for this snack are rolled oats and peanut butter. Smooth or crunchy, it's up to you!
Use maple syrup to add a natural sweet taste. Cinnamon adds a hint of warmth to your oatmeal cups.
These are versatile to make to your taste. Add walnuts for an extra nutty flavor and crunch. Blueberries for a fruity version. Or vegan chocolate chips for indulgence!
Source: oohlalaitsvegan.com
The crunchy texture of these cauliflower bites is from a tasty batter and dried breadcrumbs!
The wet parts of your batter are vegan buttermilk and BBQ sauce. Use paprika, onion powder, garlic powder, salt, and black pepper to season your cauliflower.
A flavorsome dipping sauce also serves as a coating for your bites. You'll add this in the final 15 minutes of cooking time.
Make this with barbecue sauce, hoisin, sweet chili sauce, aioli, and cayenne pepper.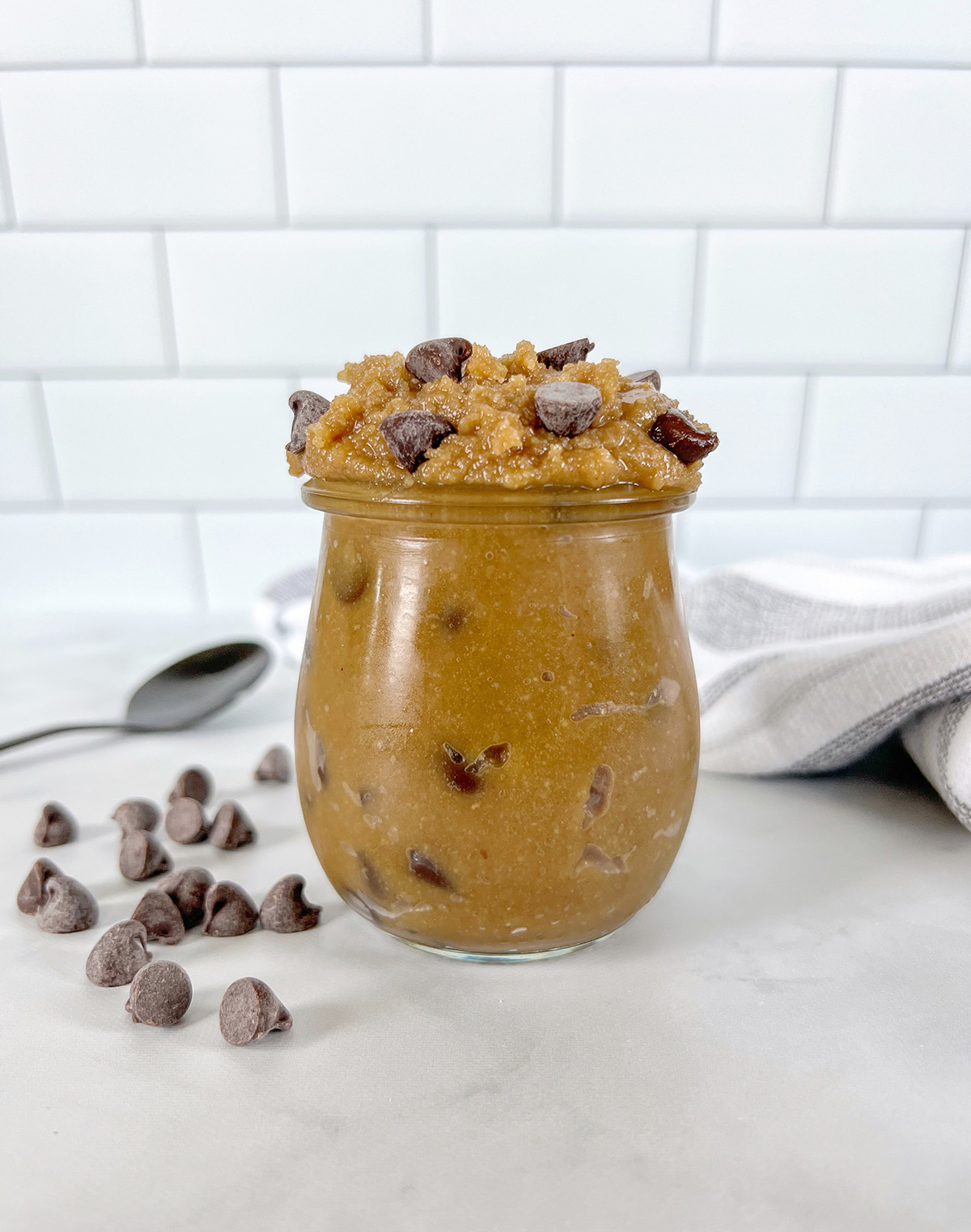 Source: theurbenlife.com
Eating dairy-free doesn't mean you can't enjoy cookie dough. This vegan version is soft, sweet, and indulgent!
It is effortless to make. Choose your favorite nut or seed butter. Mix this with coconut oil, dairy-free milk, maple syrup, and vanilla extract. The syrup delivers a natural sweet taste.
Stir almond flour into your wet mixture until it's combined well. Then add vegan chocolate chips! This is a versatile recipe.
Change how much of each ingredient you use based on how you like the taste and texture.
Source: throughthefibrofog.com
Take a bunch of healthy pantry staple ingredients and turn them into these delicious energy balls!
Oats and almond butter provide protein to keep you full for longer. Sticky dates hold your balls together and give a naturally sweet taste.
Use cinnamon to add flavor to your energy balls. Pumpkin seeds add a crunch!
Source: theurbenlife.com
These tofu nuggets are full of flavor and have a wonderful texture! They're crispy on the outside and tender on the inside.
Marinade your nuggets of tofu in soy sauce to give them an umami taste. Oat milk or almond milk works well for your dairy-free batter.
Combine panko bread crumbs, Italian herbs, garlic powder, paprika, and salt. Add nutritional yeast for a cheesy, nutty flavor. This produces the most satisfying crunch when baked in the air fryer!
Source: asweetalternative.com
Apple and cinnamon go well together in terms of taste. They're both inside these delicious muffins!
Use fresh apples for natural sweetness. Maple syrup adds this too. They also help to keep your muffins moist. Leave the skin on for nutrition!
Almond butter provides a rich taste and smooth texture. Vanilla extract and cinnamon add a lovely, warming flavor.
You might also enjoy these healthy apple snacks!
Source: plantbasedonabudget.com
Lemon and poppy seeds are a classic yet tasty flavor combination. This sheet cake is zesty and moist, with a slight seed crunch.
You'll use applesauce to replace eggs and make your cake soft. So it's vegan-friendly too. It also acts as a natural sweetener.
Add the zest and juice of two lemons to your cake – you're going full lemon flavor here! If you like a more robust lemon flavor, drizzle your cake with a zingy lemon glaze.
Gluten-Free Dairy-Free Snacks
You don't need to miss out if you must follow a dairy-free and gluten-free diet. There are some delicious snacks you can try!
Source: allnutritious.com
This sweet twist on a takeaway favorite is chocolaty, nutty, and delicious!
Lemon juice stops your slices of apple from browning. It also adds an extra layer of flavor to the fresh fruit. Drizzle melted nut butter on your apples to help the toppings stick.
Add a selection of tasty toppings to your apple nachos. Dark chocolate chips and shredded coconut add a satisfying crunch. Hemp seeds provide a soft, nutty texture.
Finish your nachos with a sprinkle of cinnamon. It goes perfectly with apples and chocolate!
Try these tasty baked apple chips next!
Source: hauteandhealthyliving.com
These chewy granola bars are a perfect mix of sweet and savory without any added sugar!
Large or rolled oats give the best chewy texture. Use peanut butter and honey to meld your ingredients. Honey adds a natural sweetness to your bars, too.
Cashews, pumpkin seeds, and dairy-free chocolate chips add crunch and a great source of protein. Dried cranberries add a pop of sweet flavor and bright color to every bite!
It's easy to adapt to the taste of these granola bars. They're ideal for using leftover dried fruit and nuts from your pantry and are much healthier than traditional protein bars!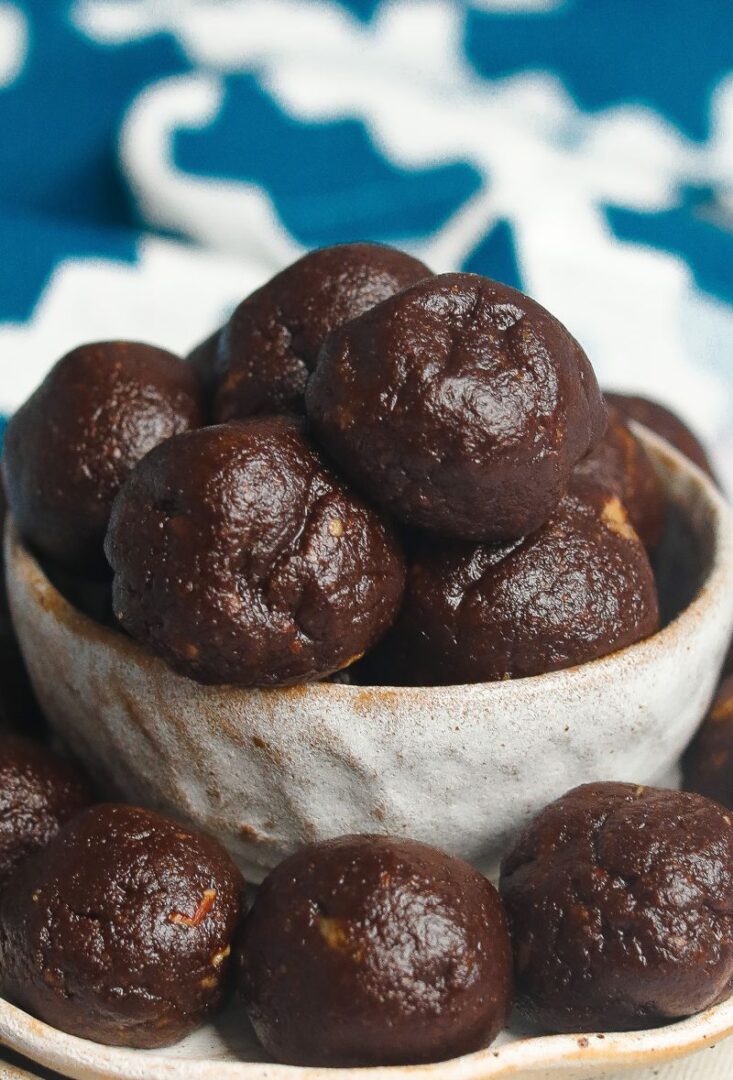 Source: allnutritious.com
Almond butter energy balls are nutty, sweet, and effortless!
Coconut flour and almond butter give your energy balls a tasty nutty flavor. Use maple syrup for natural sweetness. Cocoa powder makes your bites taste rich and chocolaty!
Use ground flaxseed to bind your energy balls and stop them from falling apart. It would be best to refrigerate your balls for a couple of hours before eating them.
Try these delicious date energy balls next time you need a treat!
Source: acedarspoon.com
You can have these chickpeas in any different flavors you like. Sweet, spicy, or just with a drizzle of olive oil and a sprinkle of salt!
Coat your chickpeas thoroughly with olive oil for maximum crunch! When your chickpeas are roasted, crispy, and golden, sprinkle them with your choice of spice.
Smoked paprika or garlic works well. You could even try honey and cinnamon for your sweet tooth! These are also a great source of plant-based protein!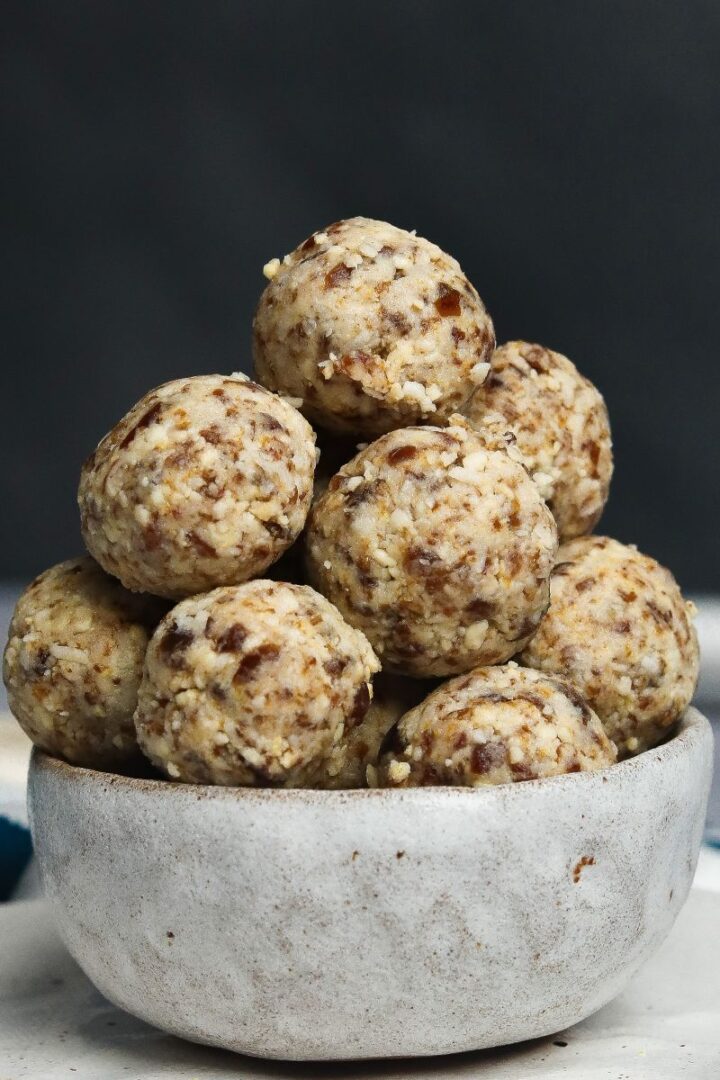 Source: allnutritious.com
These soft, sweet, nutty cashew energy balls are an effortless dairy-free snack.
Blending your cashews makes the texture of your balls smoother. Naturally, sweet dates help your energy balls bind when combined with other ingredients.
Shredded coconut provides a tropical taste. It's also another natural sweetener for your balls. Vanilla extract adds a delicious natural flavor.
A touch of sea salt elevates the overall flavor of your cashew energy balls!
Source: healthyseasonalrecipes.com
This Mexican-inspired black bean hummus is smooth, creamy, and tasty. It's a great twist on the classic version!
Blended black beans, tahini, and olive oil produce the creamy texture of your hummus. Tahini adds a delicate sesame flavor too.
Lime juice, garlic, cilantro, and ground coriander are the ideal flavors for your black bean hummus.
Sprinkle chopped cilantro on your hummus and drizzle with olive oil before serving with your favorite gluten-free crackers or fresh vegetables for a crunchy snack!
Source: joyfoodsunshine.com
Sweet and salty kettle corn takes five minutes to make on the stovetop. It's the perfect snack for movie nights with your family!
Use coconut oil and sugar to cook your corn kernels. This produces a mild, nutty, sweet taste. Sprinkle your kettle corn with popcorn salt before serving!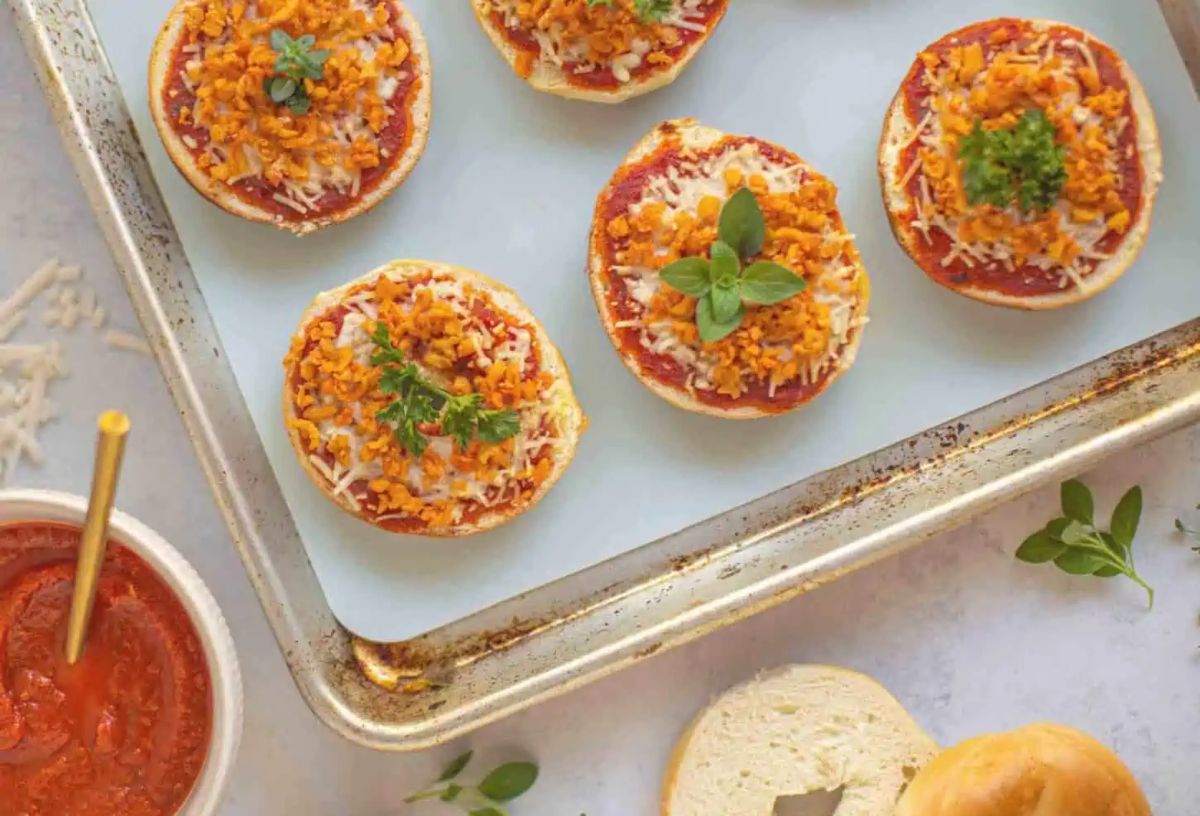 Source: worldofvegan.com
These tasty bagel bites are like a pizza. However, add your topping to halves of mini bagels instead of dough!
Add a generous amount of herby pizza sauce to each half of your mini bagels. Sprinkle on dairy-free shredded cheese and finish your toppings with vegan meaty crumbles.
Garnish with your favorite herbs once your bagel bites are baked and the cheese is melted. Parsley, chives, oregano, or basil work well!
Source: healthmylifestyle.com
Peanut butter and chocolate are popular flavor combinations. Combine them with soft, chewy dates and have the perfect sweet palate snack!
Your stuffed dates are super easy to make. Slice the dates lengthwise and spoon a little peanut butter inside.
Dip them into melted dairy-free chocolate once they're firmed in the freezer. You'll need to freeze them again for the chocolate to harden, but the taste is worth the wait!
Source: happy-mothering.com
Zucchini chips with a simple seasoning are a great way to use your haul of veggies! They're so easy to make, too.
Coat thin slices of zucchini in olive oil. This makes sure your spices stick well. Use sea salt and garlic powder to add flavor to your zucchini.
Source: runningtothekitchen.com
This chocolate banana bread is so soft and decadent. You wouldn't think it's super healthy too!
Use gluten-free and oat flour to make your banana bread. Dark cocoa powder produces a rich taste – unsweetened is best. Bananas and coconut sugar deliver a natural sweetness.
Coconut oil and vegan buttermilk make your chocolate banana bread lovely and moist. Add vegan chocolate chips for extra indulgence!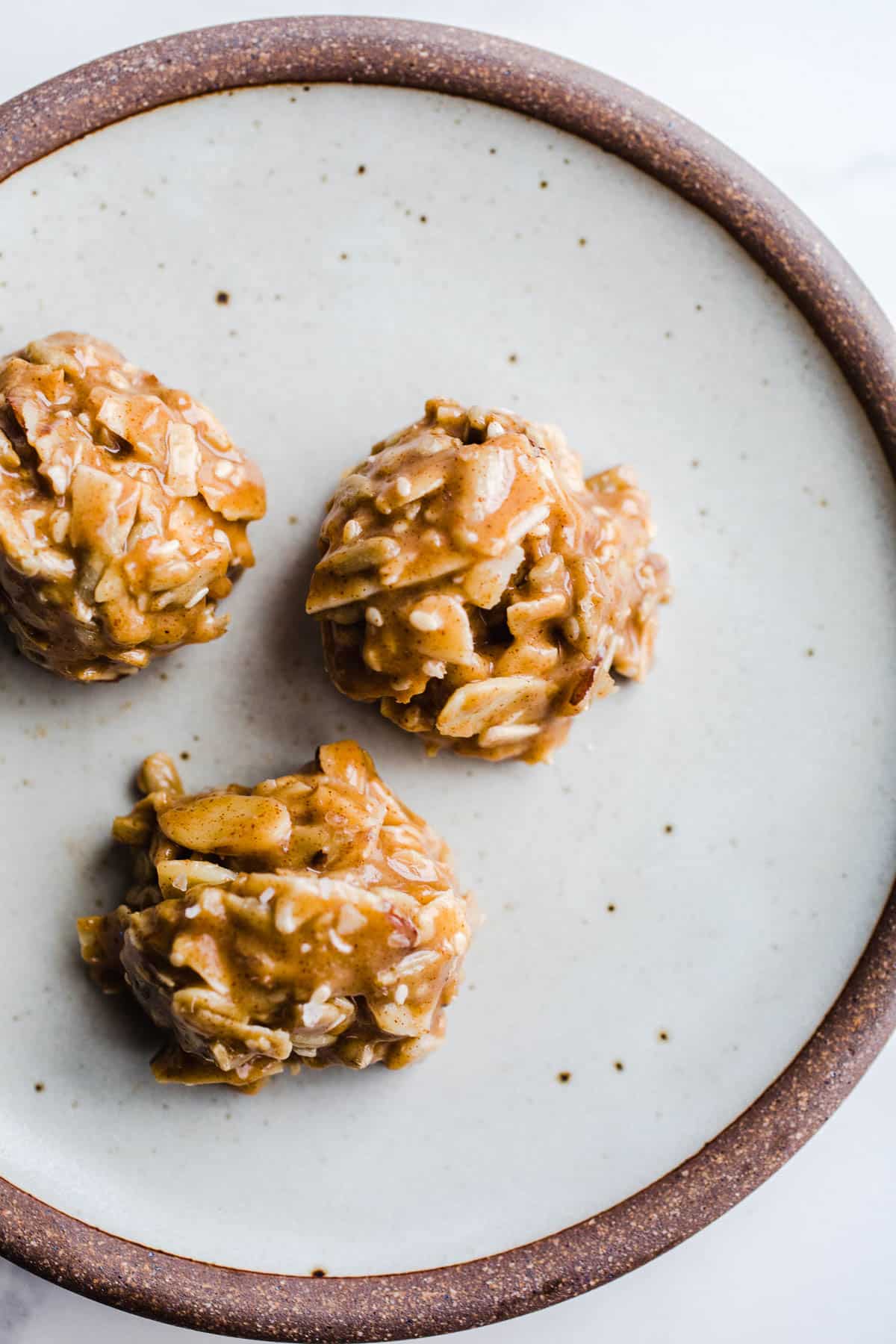 Source: saltedplains.com
These honey almond bites are nutty, chewy, sweet, and delicious!
Almond butter provides an intense almond flavor as well as binds your ingredients. Use honey to add natural sweetness to your bites. Vanilla extract balances the sweet and salty.
Sliced almonds, coconut flakes, sesame seeds, and sunflower seeds add texture to your healthy honey almond bites.
Source: strengthandsunshine.com
Bring back memories from your childhood with these homemade Goldfish crackers! They're easy to make with a small cookie cutter and a toothpick.
Use chickpea flour mixed with water to make your crackers free of both gluten and dairy. Nutritional yeast adds a classic cheesy flavor.
Elevate the taste of your Goldfish with onion powder, turmeric, and paprika.
Source: saltedplains.com
This delicious cheesy Chex mix is savory, crunchy, and salty. It's the perfect snack for a party or a movie night!
The mix is easy to make with four primary ingredients and some spices. Combine roasted salted peanuts, rice Chex, and gluten-free pretzel sticks. Add vegan, gluten-free cheese puffs at the end.
Add flavor to your mix with garlic powder, onion powder, mustard powder, paprika, nutritional yeast, salt, and pepper. Whisk them into vegan butter and coat your nuts, Chex, and pretzels before baking.
Source: cinnamonsnail.com
Elevate the taste of regular popcorn by coating it in a delicious, sweet vegan caramel!
Make your caramel with vegan butter, maple syrup, and sugar. You can add your favorite spices to lift the flavor even more! Vanilla extract enhances the taste of your caramel.
Mix your caramel into your popcorn and bake it in a single layer. This makes it satisfyingly crunchy!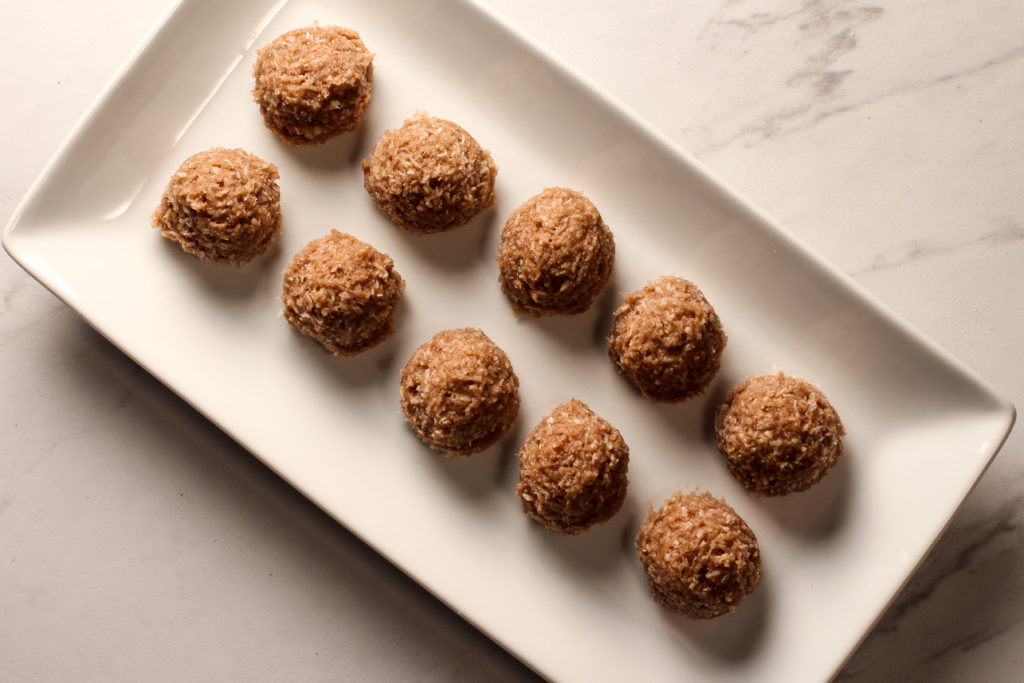 Source: wholesomefamilyliving.com
These healthy protein bites are easy to make and don't need baking. However, they taste just like banana bread!
Bananas are an essential ingredient for these bites. The riper they are, the stronger the banana flavor. Cinnamon adds a sweet spice flavor that goes well with bananas.
Use vanilla protein powder and coconut flour to make these gluten-free. Coconut butter makes your bites dairy-free but also enhances the tropical taste.
Add shredded coconut and dairy-free chocolate chips for a delicious crunch in every bite!
31 Best Dairy-Free Snacks For Both Adults and Kids
Dairy free snacks never tasted so good! Treat yourself to these treats that won't disappoint.
Ingredients
1. Smashed Brussels Sprouts
2. Vegan Soft Pretzels
3. Coconut Flour Protein Cookies
4. Pumpkin Banana Muffins
5. Buffalo Cauliflower Bites
6. Protein Mug Cake
7. Banana Muffins
8. Banana Chocolate Chia Pudding
9. Individual Peanut Butter Oatmeal Cups
10. Crispy Cauliflower Bites
11. Vegan Edible Cookie Dough
12. Oatmeal Bliss Balls
13. Air Fryer Tofu Nuggets
14. Vegan Apple Muffins
15. Lemon Poppy Seed Snack Cake
16. Healthy Apple Nachos
17. Healthy Granola Bar
18. Almond Butter Energy Balls
19. Crunchy Roasted Chickpeas
20. Cashew Energy Balls
21. Black Bean Hummus
22. Kettle Corn
23. Vegan Bagel Bites
24. Chocolate Peanut Butter Stuffed Dates
25. Dehydrated Zucchini Chips
26. Double Chocolate Banana Bread
27. No Bake Honey Almond Bites
28. Vegan Goldfish
29. Cheesy Chex Mix
30. Vegan Caramel Popcorn
31. Banana Bread Protein Bites
Instructions
Scroll up to get a bunch of easy, yummy, and delicious recipes. Don't be afraid to get creative with the ingredients, you might discover a flavor you didn't know you liked.
Get your shopping list going and make sure you've got all the ingredients.
Get cooking and make your next Dairy-Free Snack!
Notes
Which one of these recipes was your favorite? Let me know in the comment section or on Pinterest!